For "old-school" companies, creating a quote is easy.
The deals are usually one-and-done, the products are standardized, and the process is more or less the same for everyone.
But for a company selling complex SaaS products, a quote can turn into a logistical nightmare.
How do you include every possible product configuration, pricing option, discount, and customer detail reliably every time?
By using a dedicated SaaS CPQ software, that's how.
Read this article to learn about the nature of CPQs, how they help SaaS businesses, and the best options on the market.
What are CPQs?
CPQ (Configure, Price, Quote) systems are software tools that businesses use to simplify the sales process.
The main idea is to help companies automate things like identifying customer needs, customizing sales proposals, generating pricing models, and creating sales quotes.
In short, CPQ systems help businesses close deals easily and quickly.
The Configure part of CPQ involves selecting what products or services the customer wants or needs, how soon they need those items with respect to availability, and tweaking the products/services to meet the customer's specific requirements.
Next, the sales rep presents that customer with a suggested configuration, including delivery timetable. Once this is done, the system automatically calculates the pricing.
The Price portion of CPQ involves setting the correct price for the solution or bundle of products that the rep has configured for the customer, taking into account any rules, discounts, or volume-based pricing that may apply.
CPQ software typically has built-in algorithms that help to calculate it based on customer details, contracts, discounts, and sales history.
Lastly, the Quote piece of CPQ involves presenting the customer with a highly detailed and personalized proposal.
This quote includes a description of exactly what the customer is purchasing, as well as any applicable warranty or maintenance agreements, payment terms, or other contract details.
The quotation is presented in a professional-looking document that can be delivered digitally or in print.
Differences of SaaS CPQ
While regular CPQ systems apply to a wide range of businesses, CPQ systems specifically designed for SaaS (Software as a Service) businesses have some key differences.
The first is that they typically integrate with other cloud-based systems that the SaaS business uses, such as customer relationship management (CRM) or enterprise resource planning (ERP) software.
These integrations allow CPQ systems to pull critical data from these systems and incorporate it into sales proposals quickly and accurately.
For example, PandaDoc effortlessly connects with Zapier, Salesforce, Zoho, and other useful tools, speeding up the sales process.
Another difference is that SaaS-focused CPQ systems have a high degree of flexibility to accommodate the specific requirements of each customer.
This is because SaaS solutions often have a variety of pricing models, including subscription-based plans, usage-based fees, and pay-per-use options.
The SaaS-focused CPQ systems are able to accurately and easily calculate the pricing for each of these models to ensure that customers receive accurate quotes.
The third notable thing about such systems is that they allow the quoting process to be streamlined across different sales channels.
Your company can acquire leads through road shows, content marketing, paid ads, or word-of-mouth — and redirect them to the CPQ.
People who come through digital channels can even use the self-service option, if applicable.
Benefits of CPQ
The configure, price, quote systems can bring a lot of value to businesses using them.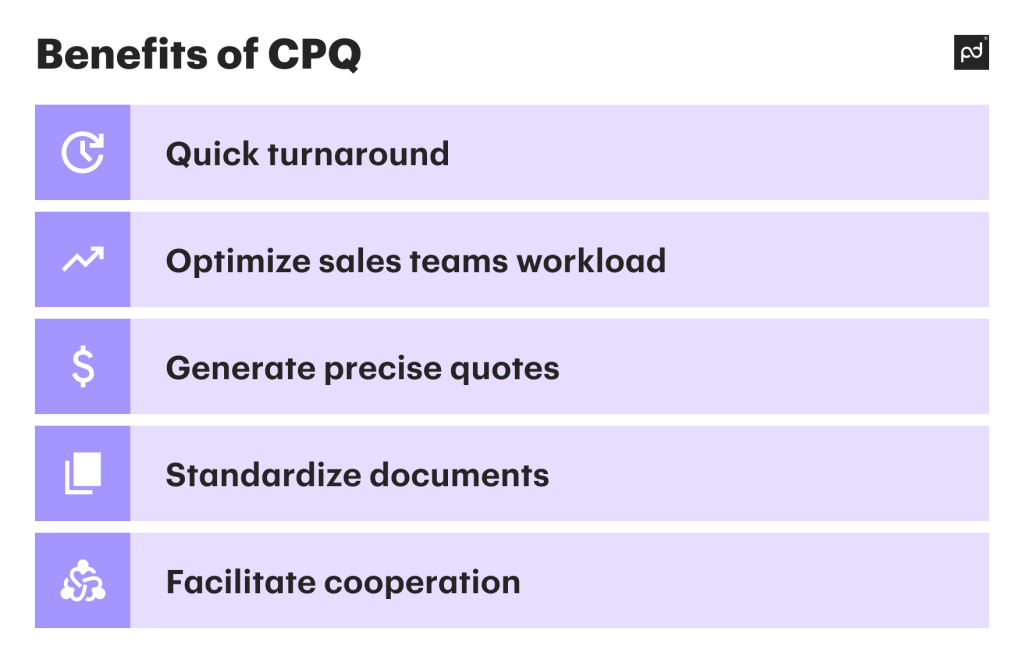 Quick turnaround
CPQ can generate quotes in a matter of minutes and send them to leads immediately.
Even if a sales cycle takes months, being the first to present your offer gives you an edge over the competition and helps close the deal faster.
Optimizing the workload of the sales team
Sales reps can spend hours preparing quotes and proposals manually.
With a CPQ, the process is automated, and the sales team can get accurate and professional-looking quotes with minimal effort.
This frees up more time for your employees to focus on nurturing prospects and closing deals.
Generating precise quotes
A human error at this stage can cost you money, time, and customer goodwill.
Precise quotes, on the other hand, ensure that clients have a complete understanding of pricing, making them more likely to agree to the terms.
By using CPQ, businesses can avoid errors and prevent losing deals.
Standardizing documents
When businesses create quotes manually, documents may have inconsistencies in formatting, pricing, and terms.
With CPQ, documents are standardized, making it easier to understand and compare different quotes. After you streamline documents, auditing, compliance and reporting become easier.
Cooperation
When sales reps create a quote, they might need to confirm certain aspects or nuances (e.g. custom development) with other departments.
This can cause delays and inconsistencies.
CPQ automates these processes, ensuring that all departments collaborate seamlessly. This leads to smoother processes, speedier PandaDoc CPQ, and a better overall customer experience.
Top 5 SaaS CPQ solutions
The following CPQs are the cream of the crop, some of the best systems on the market.
We have chosen them based on their popularity, user testimonials, and professional reviewers' opinions.
1. PandaDoc CPQ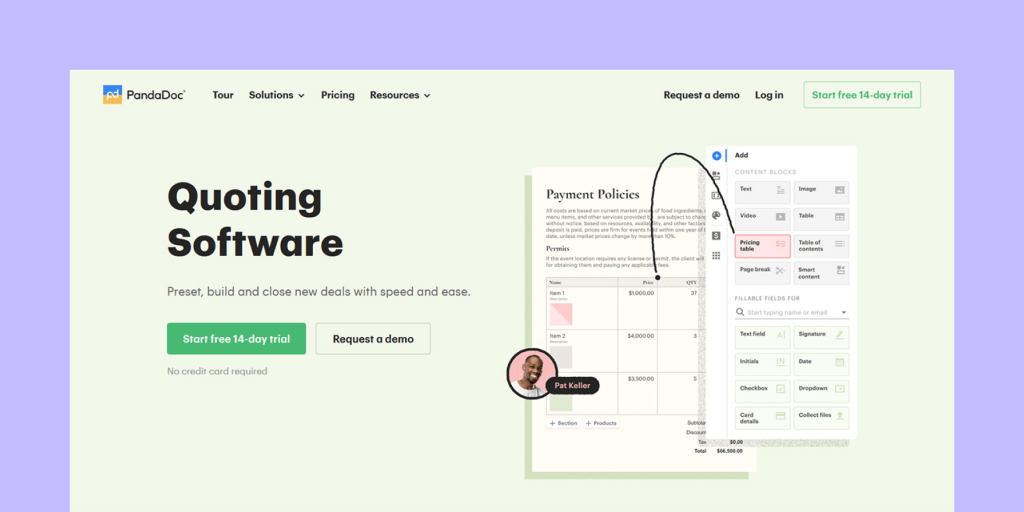 PandaDoc is a reliable and popular CPQ, used by companies like Autodesk, Rakuten, Konica Minolta, Bonusly, and others.
The company has made a name for itself in the e-signature and document template space, which proved invaluable when developing this product.
PandaDoc's CPQ solution is web-based, making it accessible on almost any device with a screen and an Internet connection. Its competitive advantages include:
Many integrations
It seamlessly exchanges information with CRMs (e.g. Hubspot and Sugar), ERPs, and other business software.
This helps optimize the sales process and decrease the time it takes to present a quote.
User-friendly interface
PandaDoc Quoting is easy to understand and use.
This means your sales reps will quickly start generating quotes with it, bringing you all the benefits of a CPQ.
Moreover, the templates are easy to modify, which helps adjust the work for any new products or add improvements to existing ones.
Collaboration
Several people can work on one template, making it easier to create and review them.
Recurrent bill support
Support for subscription-based and usage-based payment models allows PandaDoc Quoting to fit SaaS business operations.
Payment system
PandaDoc has a payment system, so you can process charges in the same software that you use for quotes.
Overall, this is one of the best CPQ products on the market and a right product for any SaaS company.
2. Salesforce CPQ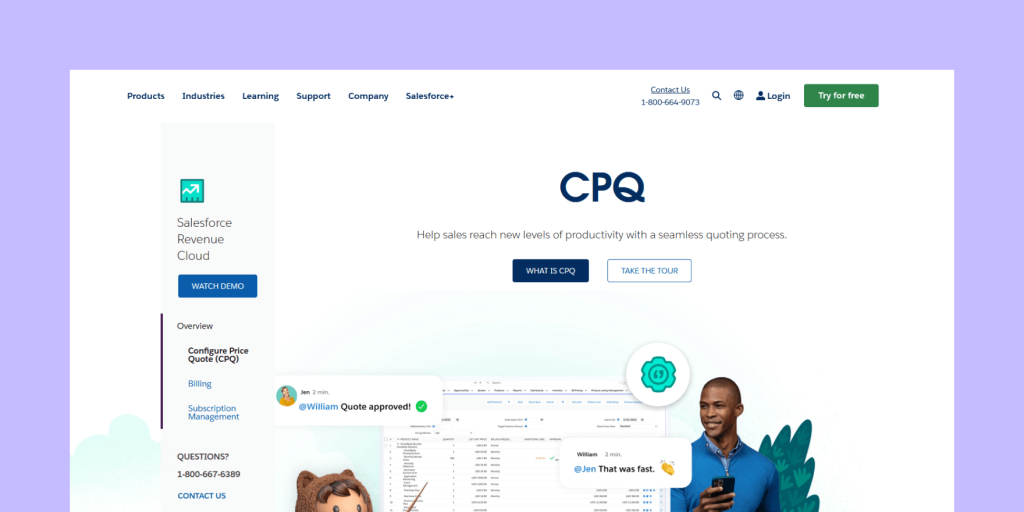 Salesforce CPQ is a leading CPQ software for SaaS businesses.
It offers a unique combination of CPQ, billing, and revenue recognition capabilities, making it a comprehensive solution for sales teams.
It has an intuitive user interface that makes it easy to configure pricing and quotes, and it is also highly customizable to meet specific business requirements.
Salesforce CPQ can also integrate with various other Salesforce solutions, such as Sales Cloud and Service Cloud, making it an excellent choice for businesses that are already using Salesforce as their CRM.
3. Oracle CPQ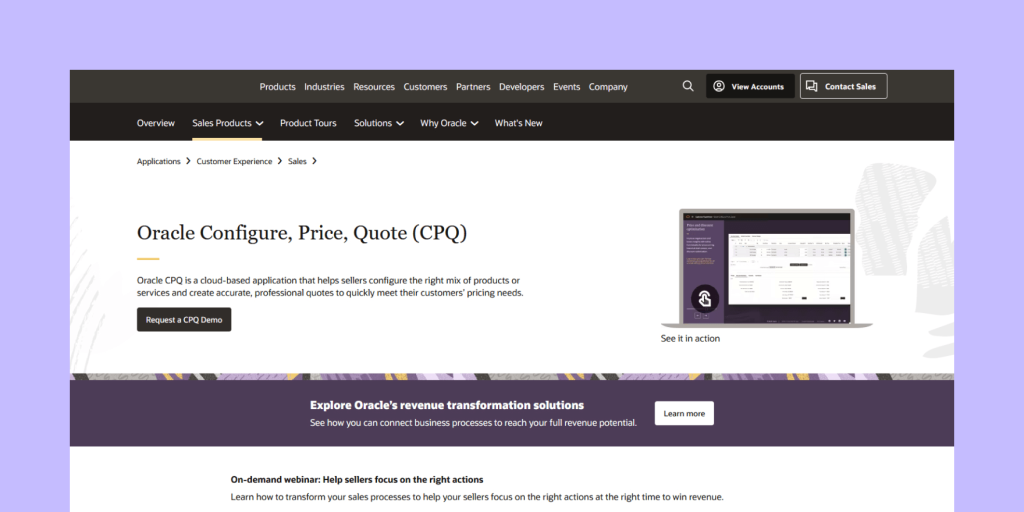 Oracle CPQ is another popular choice for SaaS businesses, providing a complete set of tools for managing the entire quote-to-cash process.
It has a powerful rules engine that enables businesses to create complex pricing and quote configurations, and it can integrate with Oracle's other cloud solutions, such as Oracle Sales Cloud and Oracle Marketing Cloud.
Oracle CPQ is also highly scalable, making it suitable for businesses of different sizes and in various industries.
4. Apttus CPQ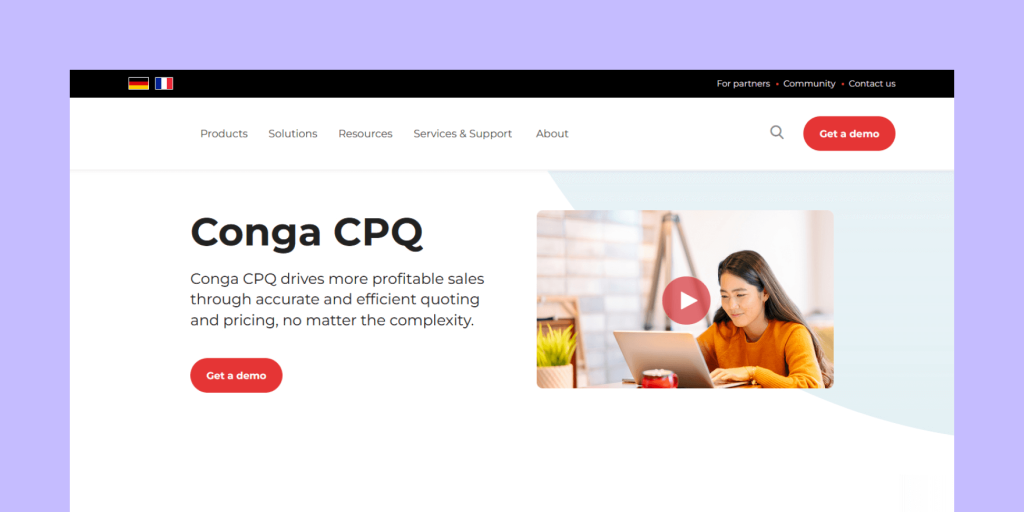 Apttus CPQ is a cloud-based, enterprise-class CPQ solution that can automate complex quote-to-cash processes.
It has a powerful rules-based engine that enables businesses to create complex pricing and quote configurations, and it is also highly customizable to meet specific business requirements.
Apttus CPQ can integrate with various other enterprise applications, such as SAP, Oracle, and Salesforce, making it an ideal choice for businesses with large, complex workflows.
5. PROS CPQ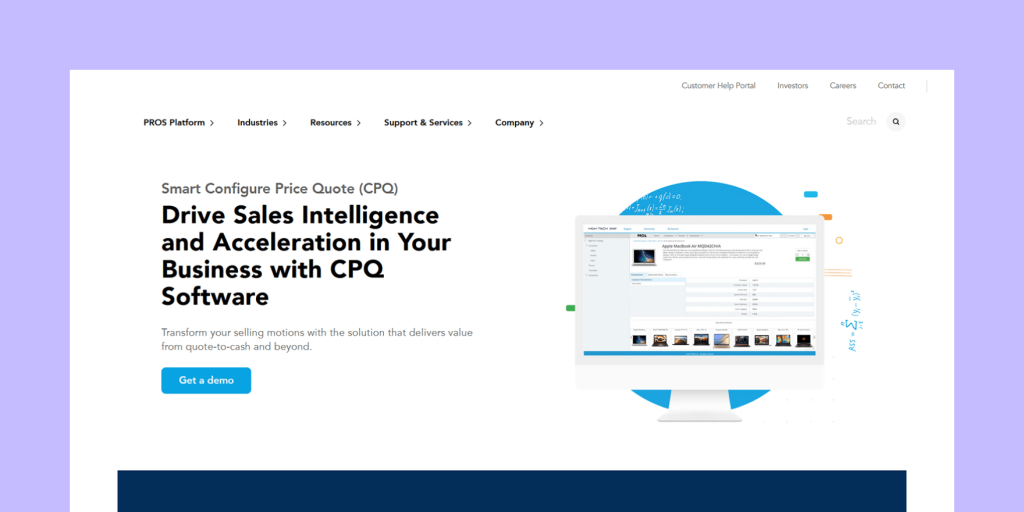 PROS CPQ is a powerful, cloud-based CPQ solution that provides advanced pricing optimization capabilities.
It has a machine learning-based pricing engine that enables businesses to optimize pricing based on customer behavior, market trends, and other factors.
PROS CPQ also has a user-friendly interface that makes it easy to configure pricing and quotes, and it can integrate with various other enterprise applications, such as ERP and CRM systems.
PROS CPQ is an excellent choice for businesses that want to implement advanced pricing strategies to maximize revenue.
Leverage PandaDoc CPQ to drive revenue
A CPQ solution allows sales reps to generate complex quotes in minutes.
It is a useful tool for a SaaS business, as it helps close deals, makes quoting for customizable products less time-consuming, and helps earn client goodwill.
There is little reason to forgo CPQ implementation, especially in today's fast-paced business world.
If you are looking for the right one, PandaDoc CPQ is likely to fit a SaaS company best, as it has many integrations, a convenient interface, recurring payment support, and a payment system.
Disclaimer
PandDoc is not a law firm, or a substitute for an attorney or law firm. This page is not intended to and does not provide legal advice. Should you have legal questions on the validity of e-signatures or digital signatures and the enforceability thereof, please consult with an attorney or law firm. Use of PandaDocs services are governed by our Terms of Use and Privacy Policy.