Just opening this article means you're serious about proposal management. Are you looking to step up your managerial game when it comes to keeping your docs organized?
Or is "how to win more bids" what interests you? Or maybe you're eager to learn best practices for proposal management as we head into 2023?
We've covered these points (and many more) below.
After reading this article, you'll walk away with a plan on how to make your proposal management work better than ever before.
Let's get to it!
What is proposal management?
If you want your business to grow, you need to win proposals. You can do this with good planning, organization and oversight — that's what managing proposals is all about.
Proposal management is the process you build around a bid creation from start to finish.
It's about how you meet the deadlines, communicate with contributors, and submit a response on time. In the long run, proposal management creates standards in bid creation and helps you close more deals.
Many companies still do not take proposal management seriously — the proposal processes are poorly defined, and what and who you manage is unclear.
Proposal management matters as much as other functions your company cannot live without, like financial operations or paying taxes.
So, take this gap that exists elsewhere as an opportunity to create a highly-capable niche for yourself that keeps you and your team ahead of your competitors.
How do you manage a proposal?
The most effective way to do this is by using proposal management software. Its popularity among businesses is growing as fast as the number of emerging tools being developed for its use.
In fact, the global market for managing software bids is expected to grow from USD 1.5 billion in 2019 to USD 3.1 billion by 2024.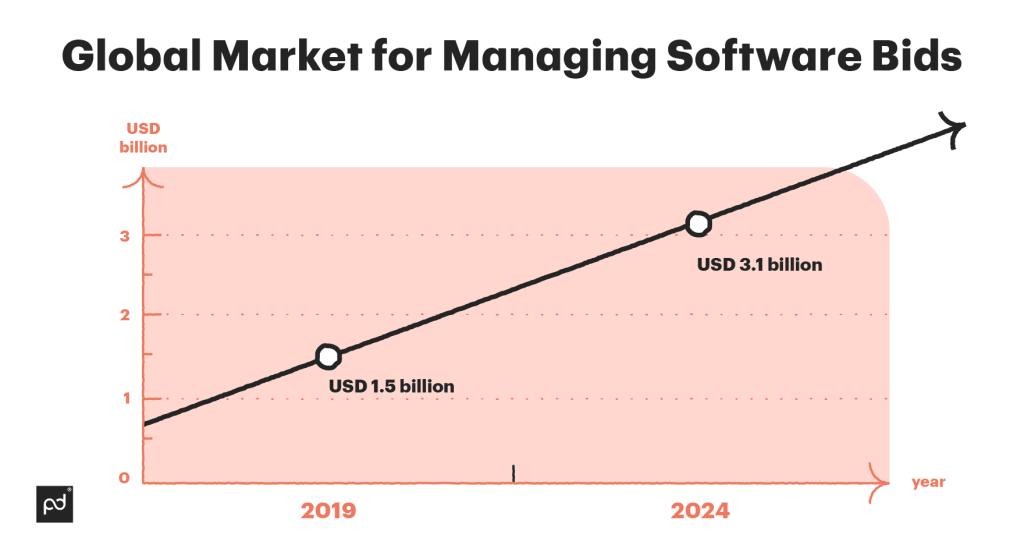 Proposal management tools help businesses create, organize, and collaborate on proposals faster and smarter.
At PandaDoc, we specialize in proposal management software.
Our solutions come with countless perks that accelerate your workflow — pre-built templates, a drag & drop library of content, an electronic signature, and CRM integration.
Even if you don't have a proposal software tool (or are evaluating whether to get one), you can still excel at managing proposals — by learning best practices.
It's like practicing yoga. You can go to a yoga studio, but you can also practice at home. Or you can do both!
As long as you practice, it's effective — although it may take more patience, depending upon the "feature set" at your disposal.
Let's review our list of best practices that will make your proposal management more effective.
How to kickstart your proposal management process
1. Hire a dedicated proposal manager for your team
You need someone to help you manage a proposal from start to finish.
A good proposal manager comes with project management, knowledge management, and content editing skills. These skills help to facilitate and oversee a proposal as a unified whole.
The role of a proposal manager is to be a bridge between everybody involved in proposal creation. A manager creates a timeline, gathers a team, assigns tasks, and ensures that all deadlines are met.
Doing so helps to create a quicker bid turnaround, and increase the number of RFPs being processed simultaneously.
Studies show that having the right people in place brings a visible change in proposal management.
In 2020, companies with dedicated proposal managers submitted 3.5x more RFP responses than those without.
A proposal manager can assist in all aspects of compliance, from properly tracking submission requirements to ensuring a bid isn't immediately disqualified for stepping outside the RFP guidelines.
In 2022, 42% of proposal managers/teams own the RFP process within their organizations.
Despite these impressive statistics, many firms try to split the responsibilities of a proposal manager between various employees.
As a result, they cope with frustration and spend less time on their primary duties. The lesson here? Hire a proposal manager and let the sales team do sales and the developers do coding.
2. Qualify every proposal that lands in your email
The rule "the more you do, the higher your chances to win" does not work in the world of proposals.
You should be highly selective with every single RFP that lands in your email and focus on those where you have enough capabilities and the best chance to win.
A go/no-go decision (also known as a bid/no bid decision) will help you to make that choice.
A go/no-go approach is a set of criteria or questions that help you to determine the right decision.
They're set by organizations individually and are discussed with the stakeholders whose job is to consider potential risks and benefits.
Today, 72% of companies with a high win rate use a go/no-go approach.
If you don't have your own criteria, you can use our list of questions to get started:
Do we understand the customer's mission and the project scope?
Do we have the technical capability and staffing for this project?
Are there any obstacles in the terms and conditions?
What is our relationship with the customer?
Will we be competitive in this project?
Do we have a compelling win strategy?
What is the price estimate?
What are the potential risks and assumptions we will have?
How does this opportunity fit into our overall strategic growth plan?
Will this project open new market opportunities for us?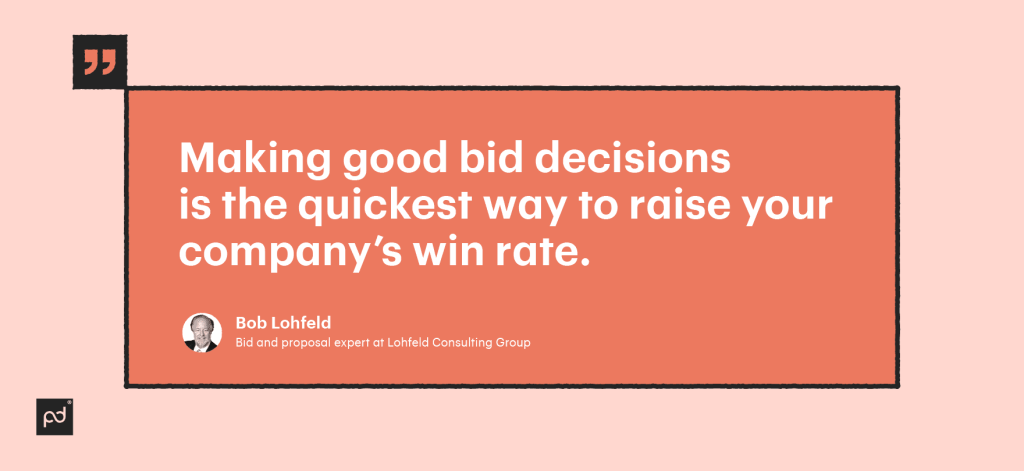 3. Launch an initial kickoff meeting with your proposal team
After you said "yes" to a proposal opportunity, your next step is to launch a kickoff meeting.
The goal of the meeting is to gather the proposal team together and get everyone on the same page about a bid.
It's up to you to clearly communicate specifics about the project background, assign roles and responsibilities, share a project timeline, and define the frequency of check-ins.
Remember, everyone should leave the meeting room knowing what they will do next.
Be sure to take time to get properly prepared for the meeting. Read the request for proposal, extract the essential information, and create the meeting agenda.
Present the data on slides and pass the proposal materials to the entire group by the end of the session.
Planning and managing a proposal
1. Outline proposal content to make the writing easier
Most RFPs have a similar structure. But the level of detail and number of requirements can vary.
Use an RFP as a map. Outlining your proposal based on the order of RFP sections, will help you define which subject matter experts can help you with content.
Below are the most common proposal items you will find in bids:
Executive summary. Tell a prospect about your company, summarize the most important parts of your proposal and write why you're qualified to meet their needs.
Project scope. Describe the work that your team members will execute. What are your goals and deliverables? What steps will you take to accomplish them? Be straightforward in your answers — nothing should distract a potential client from your ability to tackle the project.
Team composition. Include information about a project team, roles, and rates.
Timeline. Specify a starting/ending date of a project and milestones. Be specific about the length — these can be days, weeks, months, or years.
Budget. Create a budget estimate. Break down costs according to your implementation phases.
References/case studies. Prepare testimonials or references from companies or individuals you've worked with, ideally in the same industry as your client. You could add case studies if you created similar projects in the past.
Again, using an off-the-shelf solution can help you out: at PandaDoc, we have 167+ free templates with proposal outlines and writing tips.
They have boilerplate language and standardized formatting that you can always use to create a high-quality proposal.
2. Communicate with subject-matter experts
If a proposal were a cake, then the filling would be information given by subject-matter experts (SMEs).
They are your primary resources. And they know everything about the technical side of your solution.
But communication with subject-matter experts is not always an easy thing.
In fact, collaboration with SMEs is the #1 challenge in the proposal management process, especially in getting responses on time.
To avoid this problem:
Involve SMEs from the start. Invite them to the kickoff meeting, then conduct a short one-to-one meeting with each of your experts to explain the project details.
Provide simple instructions. If you need an expert to answer only one section, indicate what pages to reference.
Create a schedule to work with SMEs. Do regular check-ins and schedule internal reviews if needed.
Remember that your communication with subject matter experts is a continuous process.
Tell your experts if you won or lost a bid. Keep them involved and show that they matter.
It's also a good idea to show experts a final proposal document.
Let them see how a proofreader or editor changed their original content (probably written in more "tech speak") into clear language. They can learn from it!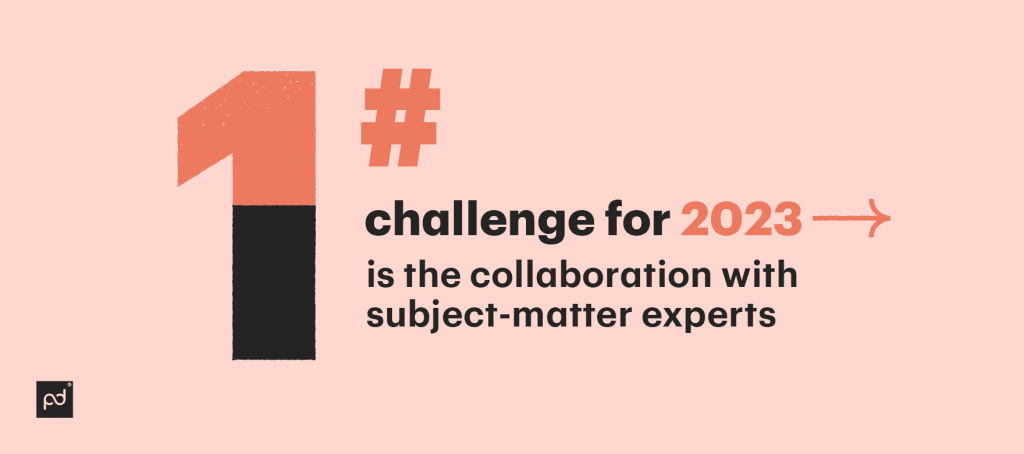 3. Conduct regular review meetings
To plan review meetings and be on schedule speaks to the art of proposal management. Schedule review sessions beforehand and set an agenda for each meeting.
Don't try to discuss everything all at once; dedicate each session to a specific topic of the proposal.
When holding a review meeting, try to give instructions-like feedback.
For example, instead of saying "it's not clear" say "it's not clear how [this] becomes [this], please explain step by step."
Similarly, ask specific questions like "how can I improve this section?" or "what resources do we need for implementation?"
Leave commentary in a proposal draft during the review sessions.
Whether you use a simple Google Doc or proposal management software, your contributors can do simultaneous editing and communicate in the chat.
You will receive notifications every time they have updates.
Writing a proposal
1. Stick to one visual and writing format
The first thing a customer sees in your proposal is the way it's formatted. And it says a lot about your company.
Make sure your proposal writing and visuals correlate to your branding. Check brand colors, font, logo, and tone of voice.
Include photos or videos in your proposal. By doing so, you increase the chances of closing a deal by 32%.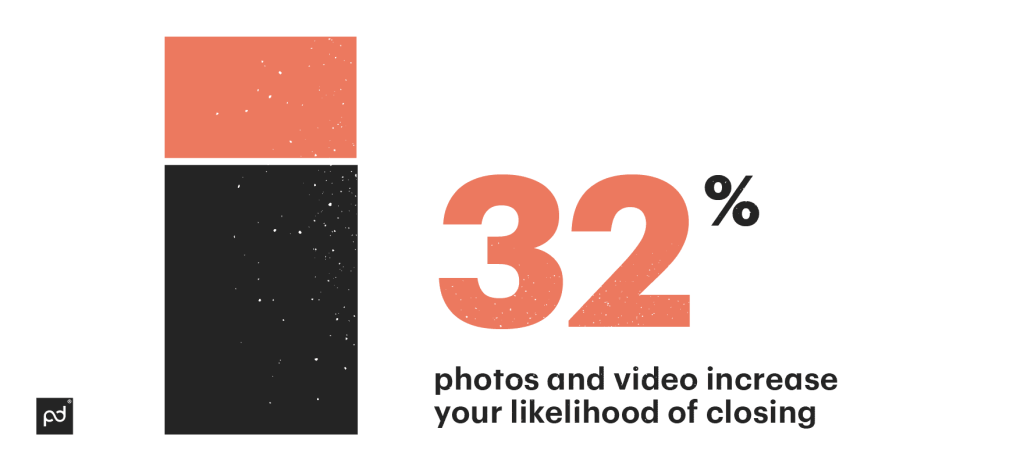 Stick to high-quality images only. This concerns graphics, charts, and infographics too. Remember to design pictures in high resolution or use royalty-free image websites.
Balance the amount of text and visuals you have on each slide. Do not overcrowd a page — keep your content visually readable.
Using PandaDoc's tailored proposal templates will help you follow best practices in balancing how text and visuals look.
Think of creating content and design guidelines for proposals. When you stick to the correct format (and encourage your contributors to do the same) from the start, you speed up proposal creation.
2. Use content from your previous proposals
Imagine that you received an RFP for which you have enough expertise and resources.
But there is a catch: the deadline for answering a proposal is the next business day. You will likely meet that deadline with no problem if you stored content from your previous proposals.
Use content from earlier proposals when:
You need to create a quick first draft
Your RFP has a generic outline without specific sections
In each case, you should edit content before sending it out.
When you compile content out of previous bids and leave it without edits, a client can start questioning your attention to detail and reliability in general.
Clients expect to read content that speaks directly to their needs. So place yourself in their shoes when preparing content.
3. Take time to proofread a proposal
Proofreading is the last chance to find and fix errors in your proposal before it goes to a client.
It's a step you take to get your writing consistent from the first page to the last. As proposals are a collective product, you need to edit content provided by experts and present it as a story.
A proposal should be proofread by an editor (if you have one), or by someone ideally not involved in proposal creation.
Ensure your content is free from grammatical, punctuation, and spelling errors. Clarity, readability, and correct word choice matter when a client reviews your solution to their problem.
Check the numbers in your text and diagrams. One little mistake in a pricing quote can ruin everything.
Lastly, don't neglect to proofread! After all the work you've put in to get to this point, you don't want decision-makers to doubt your content accuracy, right?
Closing a proposal
1. Send a follow-up email to confirm the receipt
The time after you send a response is always frustrating.
You are in waiting mode. Help offset that tension by sending a follow-up email to a client and confirming they received your proposal.
But first, check if your RFP includes a deadline for informing vendors about selection results. If not, then send an email three days after your submission.
Ensure your email is concise, short, and has a clear subject. Indicate the date when you sent a proposal, your project title, and your company name.
You can create a sequence of emails, but three follow-ups should be your limit. Don't be annoying.
If a client does not respond during the days that follow, move on to the next proposal.
2. Add your proposal content to the content library
A content library is where you keep content that can be used for all your future compelling proposals.
Maintain a content repository in a shared folder or drive, or keep content generated via proposal templates stored with the vendor.
You can try PandaDoc's content library to store your relevant data like case studies, videos, and testimonials.
Customize your space with subfolders and themes, upload content from a file, or create new content from scratch.
Here are some tips for holding a content library:
Keep the most common topics in your repository. Those can be topics that reflect your domain expertise or team capabilities.
Edit content right after you submit a proposal. Remove client-related information within 24 hours after sending it out.
Use [placeholders]. They indicate that you updated the content and that your team can use it to craft their proposals.
Organize content with tags. You can categorize them by industry, technology, or product line. Tags will help you to find content faster.
Do regular library reviews. The more proposals you create, the bigger your library becomes. So review your repository to delete out-of-date information, for example, once every 6 months.
3. Track your proposal analytics
Tracking analytics is another way to release yourself from frustration. Because you get an answer to your most concerning question, "Did the client open my proposal?"
The proposal analytics feature is a part of PandaDoc's proposal management software. You get page-by-page metrics about:
Time your customer spent on a page
Time your customer viewed a page
Links your customer clicked
PDFs your customer downloaded
These metrics show you which part of a proposal was the most interesting for your customer.
Analyze how a well-performed section differs from one that performed poorly. Is it a matter of content quality or something else?
When a client opens up your proposal, you receive a notification.
So, if you want to start a negotiation with a customer, the proposal analytics tool gives you a hint about choosing the right moment.
Conclusion
Now that you know the steps to make your proposal management work, it's time to convert all that knowledge into action!
Managing a proposal means being involved in each stage of proposal development.
You execute repetitive actions with the help of smart software, communicate with SMEs, and then a process starts working for you. In your own way, that process begins with converting winning proposals.
Be patient, stay focused and good luck on your way to getting more wins!
Originally published October 11, 2017, updated November 16, 2022
Disclaimer
PandDoc is not a law firm, or a substitute for an attorney or law firm. This page is not intended to and does not provide legal advice. Should you have legal questions on the validity of e-signatures or digital signatures and the enforceability thereof, please consult with an attorney or law firm. Use of PandaDocs services are governed by our Terms of Use and Privacy Policy.