RFPs and RFQs are perhaps the two most important acronyms existing in the procurement world.
Any time you get in contact with a prospect, it is more likely than not they will ask for an RFP or an RFQ or an RFI. But what do all these letters mean, exactly?
Well, the trick is in the (full) name. RFQ is a request for quote, RFP is a request for proposal, and RFI is a request for information. They all sound slightly similar, so it's easy to get them confused.
In this article, we'll zoom in on RFQs and RFPs and do our best to help you understand each term.
What is RFQ?
RFQ (request for quote) is a document that is specifically constructed for the purpose of getting a quote from multiple vendors. When a company designs an RFQ document, it usually knows what it wants.
In the RFQ document, the company writes about the needs of the organization, what they are looking for, how to contact them, and requests vendors for their prices.
The purpose of an RFQ is for multiple potential vendors to bid on the price, thereby allowing the aforementioned company to move forward with a vendor and a price that is most suited to the request.
The main goal for an RFQ is to get the best price, hence money is the primary factor why an RFQ is constructed.
Here's an example of a situation where one might need an RFQ: Company XYZ wants to purchase 30 chairs of a particular material, color, and finish for a school.
They construct an RFQ and send it to multiple vendors and then wait for the vendors to respond to them with the best price.
What is RFP?
RFP (request for proposal), on the other hand, is more comprehensive in nature. That is to say, when a company produces an RFP document, pricing is one factor of consideration, but not necessarily the main factor.
When a company constructs an RFP, it's possible that they're not 100% sure of what, exactly, they are looking for.
They may have a budget in mind, but not yet know in detail what kind, category, and type of product they require.
Hence, in situations like these, they draft up an RFP document, send it out to a select list of vendors, and ask them for their input and cost to execute a solution.
Whichever proposal the company likes best, that's the one they move forward with finalizing an agreement.
An example of when an RFP would be constructed is when a company is looking to open a new chain of stores in a different city.
They might have an objective idea of what they want but are unsure or yet undecided on the requirements of the project, or how they want the end result to look. (For example, should they match the same aesthetic or try something new?)
In situations like these, they would write up an RFP and send it to a list of potential vendors who would hopefully be able to provide a solution to them.
On a related note, certain nonprofits and those working with government agencies are required to submit RFPs for almost all projects as a general rule, as well as in order to consider all possibilities and directions a project could take.
If you often reply to RFPs, then we have two handy guides that'll help you win clients.
The first one has all of PandaDoc's best tips, which you can access here. The next one is the podcast from Consulting Success Podcast, which you can listen to as well.
What's the difference between them?
To truly understand the difference between RFPs and RFQs, you must understand the intent behind which they were produced.
Say, for example, if a company wishes to receive the best price for the same service from multiple vendors, they will draft up an RFQ (request for quote), but if a company wishes to understand how to move forward with a project and is looking for the input of its vendors, then they would draft up an RFP (request for proposal).
If you're on the other end of receiving these documents, then your aim with an RFP should be telling the company how you wish to spend the money that they would (potentially) entrust you with, and your aim with an RFQ should be to tell the company what price will you accept to get the job done.
In most cases, a company would share an estimated budget with the vendor when they send out an RFP, but if they send an RFQ, then there would be no mention of price from the company's end.
Another main difference between RFPs and RFQs is that when a person is constructing an RFP, they're looking to build a long-term relationship with the vendor.
However, the same is not true for RFQs. In this case, the person is only looking to get a product/service in exchange for money (mostly as a one-time thing).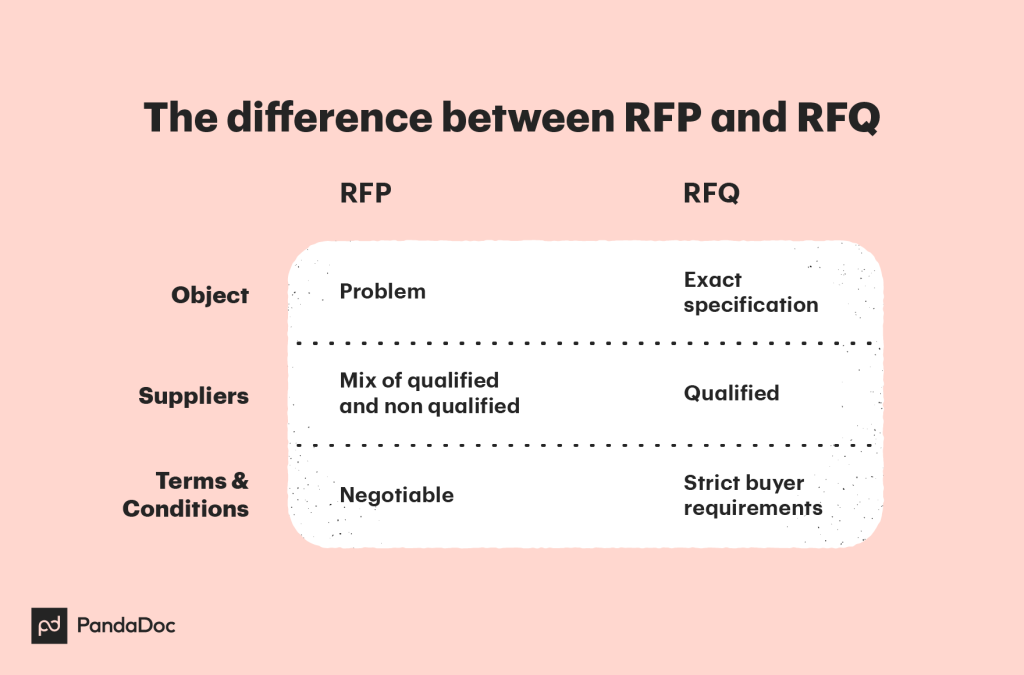 Here's what John Linden, an interior designer (Mirrorcoop), has to say about the differences between RFQs and RFPs:
"An RFP is typically more formal and specific, while an RFQ is more general and allows for more flexibility. For example, if you are looking for a designer to create a custom piece of furniture, you would want to submit an RFP. This would allow you to be very specific about what you are looking for, and give designers a chance to submit their proposals. On the other hand, if you are looking for a designer to help you with a renovation project, you might submit an RFQ. This would give designers a chance to give you a general idea of their services and pricing, without having to commit to a specific project."
1. Purpose of use
If a business deals in procurement processes, they often need to prepare RFPs and RFQs.
RFQs are a request for a quote that is used when companies know what their business needs are and are only asking potential suppliers for the best price they can offer.
RFQs can be of different kinds, such as open bids, sealed bids, invited bids, or reverse auctions.
RFPs, on the other hand, occurs when businesses don't know what they want exactly and are looking at a potential shortlist of vendors to answer that question.
They might have a budget set in mind, but they don't have a concrete idea about the functionality of the project.
RFPs can be of different types too, such as government RFPs, nonprofit RFPs, PR RFPs, branding RFPs, design RFP, etc.
2. Structure and content
For the most part, the structure of an RFQ and RFP remains the same.
That is to say, they both usually have an introduction or background of the company, contain detailed specifications about the project, have some information on the formal process to apply for bidding, and some context about how they will conclude the selection process.
RFQs are generally shorter than RFPs, so RFQs might have to briefly mention everything that's relevant.
An RFP, on the other hand, can take some liberty in explaining things with a little more in-depth information.
The content changes between both of these documents. An RFQ asks questions about the cost of services from potential vendors.
An RFP, however, gets to know the shortlisted vendors (since they'd ideally be in a long-term partnership).
When submitting an RFP request, the vendor should mention details about the proposed plan, what they can offer the company, and why the company should select them.
If you're confused about how to structure an RFP document, then you'll be happy to know that there are many RFP software choices out there — PandaDoc being one of them.
While our competitors may have found a name for themselves in the industry, PandaDoc has become the preferred choice for many customers due to its level of service offerings.
Compare PandaDoc and its alternatives here.
3. Questions to ask
Let's tackle the questions about each of these documents individually.
An RFQ should mention details about the timeline of the project, a list of products required, requirements from the project, and quality required from the product/service, etc.
In return, the potential suppliers should write back about how much the project would cost. Hence, the questions here are focused on pricing.
On the other hand, RFP questions can be very detailed and thorough. You may ask questions about the potential vendor's business, background, experience, and expertise.
Your questions may even go as far as to discuss work samples, company recognition, future plans, employees, competitors, sourcing, payment terms, and other general information.
A word of advice: always focus on and write about questions that will genuinely help you with vendor selection.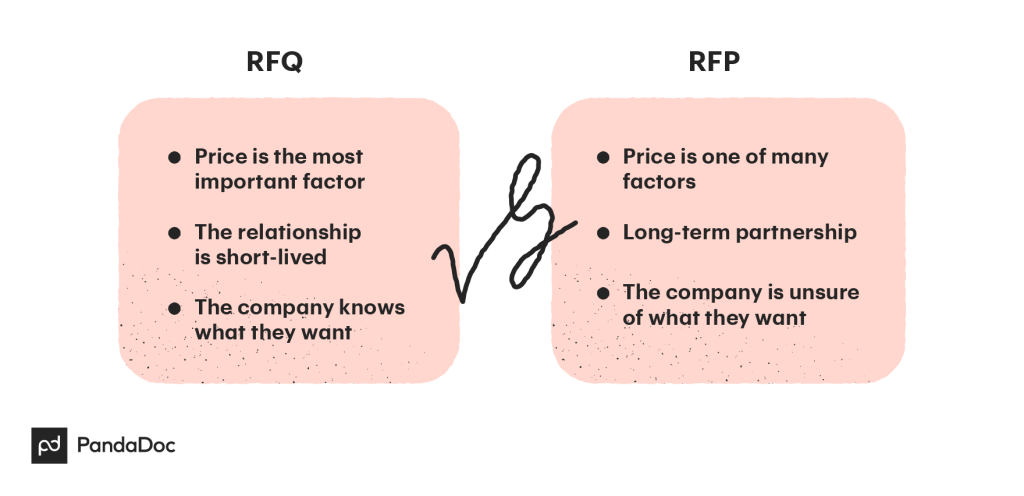 How to create an RFP and an RFQ document
Begin creating your RFQ document by first addressing certain things internally, such as the requirements you have from the project, what kind of problems you wish to solve, etc., and once you've established all those things and noted down your scope of work, send the information along with your RFQ document to all the bidders.
The usual length of an RFQ document is around a page (but there's no compulsory rule that you must follow).
You need to break down this page into at least three sections (company information, project details, and pricing), and leave the pricing questions to be answered by potential vendors.
Here's a guide on the process of creating RFQs (with a free template inside) that might turn out to be helpful: 6 steps to create a request for quotation.
Because of the amount of information that is required from an RFP document, it might run a few pages long — and that's okay.
Begin your RFP document by introducing the company and giving some information about your background.
Moving on, you will need to mention submission guidelines and requirements, project description, project scope, and timeline.
Alternatively, you can also utilize the RFP template from PandaDoc, which you can get here.
We also have an RFP software solution that will increase close rates by 36%, decrease 50% of the time spent on document creation, and increase completed documents by 87% — all of this can be done seamlessly, and you can track RFPs along the way.
Access the software here.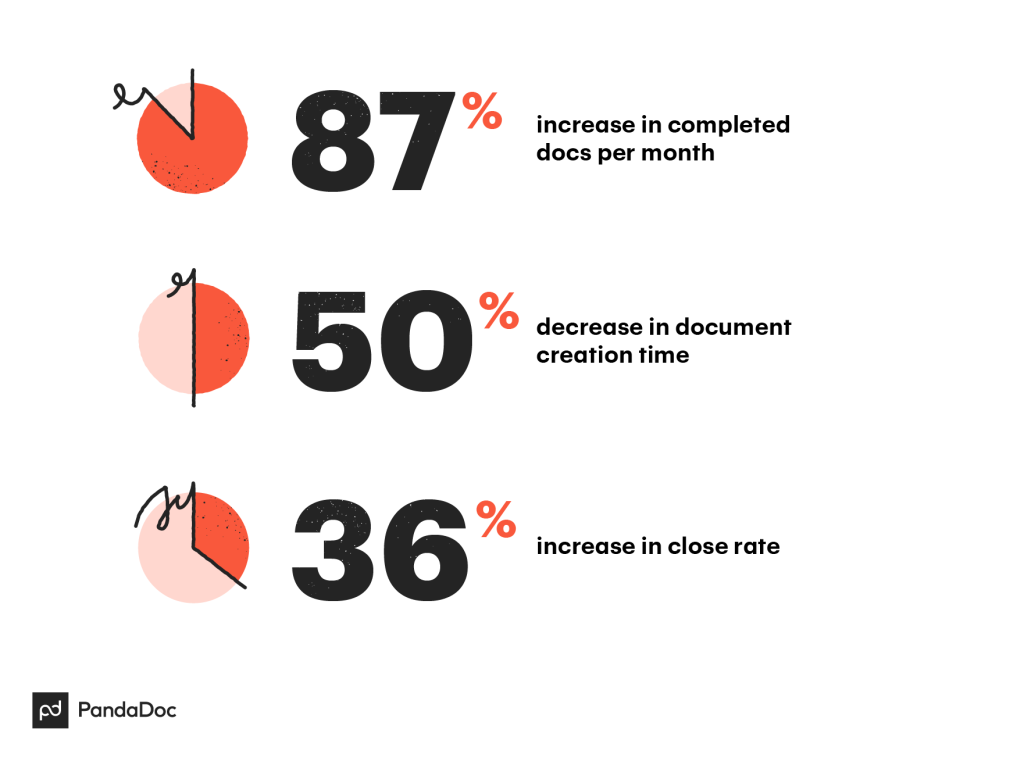 Last words
There's no denying that RFPs and RFQs (and even RFIs for that matter) require a lot of time and effort from both parties to construct and execute.
Winning an RFQ/RFP bid can translate to substantial revenue, which is always good for your organization.
But riddle us this: why must you waste unnecessary time constructing them when you can streamline everything and save yourself and your team hours and hours in the process?
If you're wondering how, then we have an answer: you can streamline your entire workflow and save precious time by simply having PandaDoc automate all your tasks.
Interested in finding out more? Take us for a spin.
Disclaimer
Parties other than PandaDoc may provide products, services, recommendations, or views on PandaDoc's site ("Third Party Materials"). PandaDoc is not responsible for examining or evaluating such Third Party Materials, and does not provide any warranties relating to the Third Party Materials. Links to such Third Party Materials are for your convenience and does not constitute an endorsement of such Third Party Materials.