Stop Chasing Down Important Documents
Simplify your sales workflow by eliminating the document chaos and streamlining the way you organize and access your documents.
Your Docs at Your Fingertips
Find the docs you need, when you need them. Your files are just one click away when you use smart search or create your own unique organization system.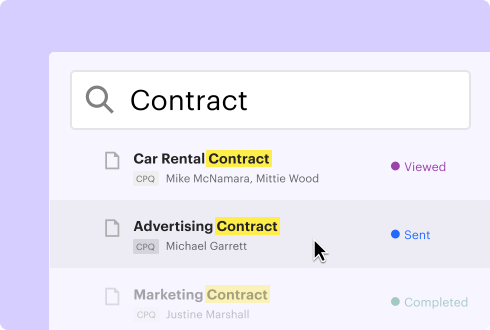 Keep a Pulse on Your Docs
It's easy for your team to keep track of every stage and action item attached to their sales docs. They'll never miss another chance to close, upsell, or renew a deal.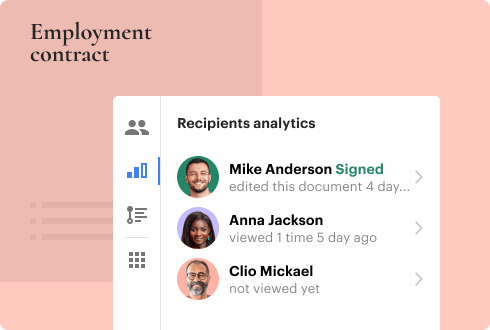 Keep Your Desk Clean
Streamline your organization of all accumulated docs, no matter how many there are or when they were created. Free up space, time, and spend it on what matters.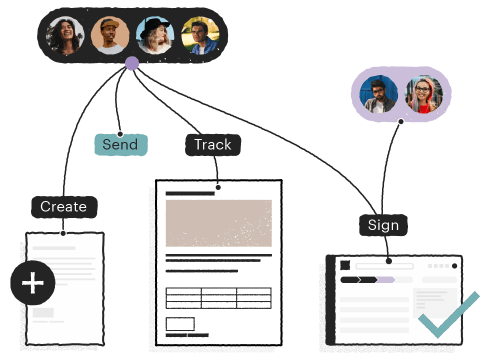 6 Ways to Easily Store & Access Your Documents
Our latest updates are designed to help you regain control over your ever-growing number of documents.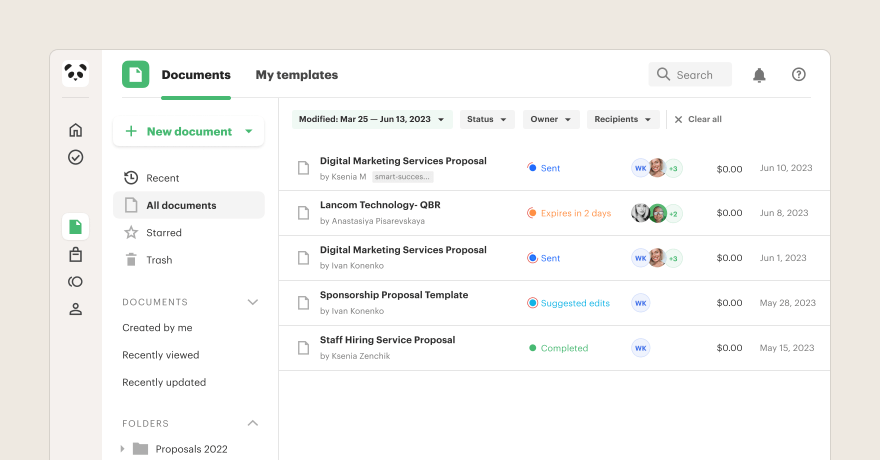 Folder Tree
The hierarchy of nesting folders keeps your files organized in a logical way. It's easy for your team to find the docs they need with an adjustable list view where they can drag-and-drop new files.
Drag-n-Drop
Organize and reorganize your growing list of documents in a single click with drag-n-drop functionality.
Custom Category Tags
Find your sales documents faster when you label them with custom tags. PandaDoc automatically creates filters for all of your tags and helps you retrieve docs at lightning speed.
Status and Action Filters
Simplify the way you track your docs and easily identify action items with our pre-filtered lists and quick status views. You'll see which documents require your attention.
Bulk Actions
Turn chaos into control by moving, downloading, and deleting as many documents and folders as you want at once. Create an offline archive for your documents with eSignature certificates in a zip file in one click.
Smart Search
Easily find the documents you need, when you need them with smart search navigation. Searching by recipient or by content will help you track down any document in seconds.