Taking care of your sales pipeline is essential for all salespeople, but this task can quickly become time-consuming when you have to handle your pricing, quoting, and ordering processes at the same time, and it's not uncommon to make mistakes.
Unfortunately, this is time you eat up not selling.
According to a Forbes study, salespeople spend only 35.2% of their time selling.
If you are in this situation, you should consider a CPQ solution to save time and accelerate efficiency.
What is Configure Price Quote?
Configure price quote (CPQ) is a tool that automates the creation of sales quotes, making it easier and faster for your sales team to create quotes for customers.
This can significantly improve the overall customer experience, as well as boost sales productivity.
In this post, we'll introduce you to different CPQ software, their advantages with respect to specific industries, and how they can streamline your pipeline and make you more efficient.
CPQ systems to consider for your industry
When choosing a Configure Price Quote (CPQ) software solution, many options are available on the market.
Here is a list of some of the most popular CPQ software solutions:
1. Salesforce CPQ for software and technology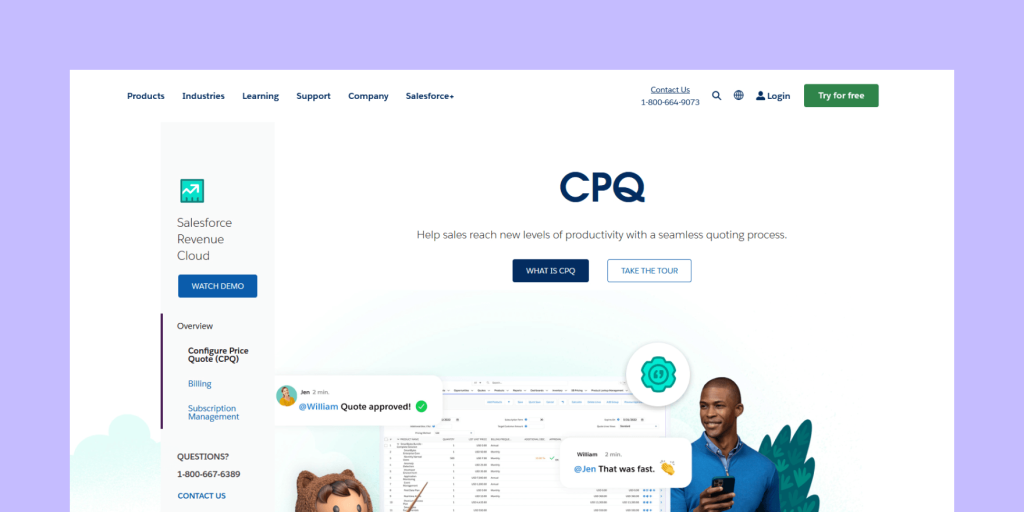 Pricing: Salesforce CPQ has two different plans: CPQ at $75 per user per month and CPQ Plus at $150 per user per month.
According to research, of all the different industry types that use Salesforce CPQ, computer software accounts for 26% of the total, and information technology and services account for 23%.
If your sales teams have trouble coordinating their quotes or staying consistent in their proposals, Salesforce CPQ is a great software to consider.
Using this CPQ software, salespeople can easily create quotes and make adjustments as needed, connecting all the necessary pieces using a single cloud-based platform.
It's worth mentioning that Salesforce CPQ is also available on your mobile device.
Here's a list of Salesforce CPQ features:
Product configuration. The software lets you create bundles to sell the right combination of products and customize configurations.
Pre-built quotes. Salesforce CPQ can create an accurate quote document with the right supporting documents by default, then provide a seamless buying experience for partners.
Application of discounts. Sales representatives can apply basic discounts or add predefined parameters. Thus, the discounting process is simplified and automated.
Creating a contract and renewing a quote. Salesforce CPQ makes it easy for your sales team to create contracts and then quote renewals by automating the process.
Does PandaDoc have this feature?
If you are already familiar with the Salesforce CRM environment, Salesforce CPQ is the ideal solution.
PandaDoc's distinctive toolset, on the other hand, allows you to complete the creation of your quotes.
Indeed, PandaDoc has a content library from which you can select various quotation and business proposal formats.
Additionally, our drag-and-drop system makes it simple to personalize your quotes. Lastly, PandaDoc is also a Salesforce partner, which means that it is fully integrated with the CRM.
2. PandaDoc CPQ for legal, sales and HR teams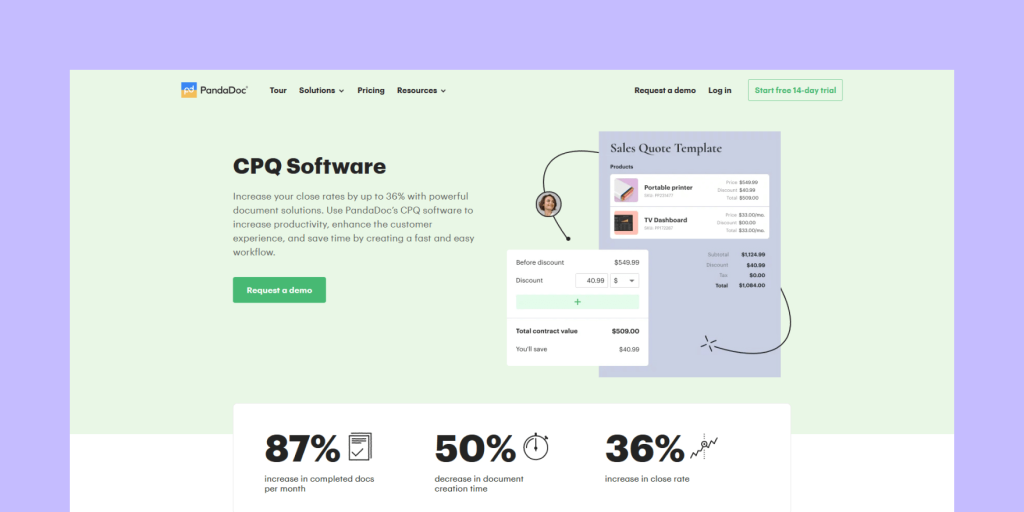 Pricing: $19 per month per user.
Looking at PandaDoc customers by industry, the three largest segments are software and technology, professional services, and retail or wholesale.
PandaDoc CPQ offers many features for the management of your quotes and integrates perfectly with the CRM and ERP platforms of your company.
So in just a few clicks, your sales teams can install PandaDoc on Salesforce, Hubspot, Salesloft, or Pipedrive and start creating business offers and quotes.
PandaDoc stands out from competitors like DocuSign when it comes to document management by providing an approval workflow and hundreds of pre-built templates to create highly customized proposals and quotes.
In addition, PandaDoc provides additional features like team workspaces and e-signatures certificates, which other services, such as Qwilr, do not, and PandaDoc CPQ is accessible via mobile apps for Android and iOS.
Collaborate easily with your team
The CPQ system facilitates real-time collaboration with both internal and external partners.
Customers and sales team members can collaborate on documents, communicate, and share media files using PandaDoc.
With the new Virtual Data Room (VDR) features, you can collaborate on sensitive documents with your customers in a secure manner.
Creating quotations
You no longer need to enter your data manually from your spreadsheet to generate your quotes.
Users can instantly select the appropriate price for any service or product they require using interactive pricing tables.
Processing of payments
In order to accept, record, and reconcile financial transactions, PandaDoc CPQ includes a payment system.
As a result, the typical payment time is now just two days.
Additionally, PandaDoc CPQ is compatible with secure merchant solutions like PayPal.
Analytics and integrations
PandaDoc CPQ is compatible with a number of CRMs and sales tools, making it simple to quickly create, send track, and e-sign documents without leaving your current applications.
With all of your company's information in one place, your teams can easily make the important decisions that will advance your deals.
What people think about PandaDoc:
"Get real-time access to approvals, comments and version tracking. Smart features like variables and conditional logic help you eliminate document errors."

Matt Nyman Client Success Manager at HPC CPA
"Pandadoc eliminates the need to leave Salesforce to get things done."

Michael Sproles Director of Sales Operations at TPM
3. Conga CPQ for IT and software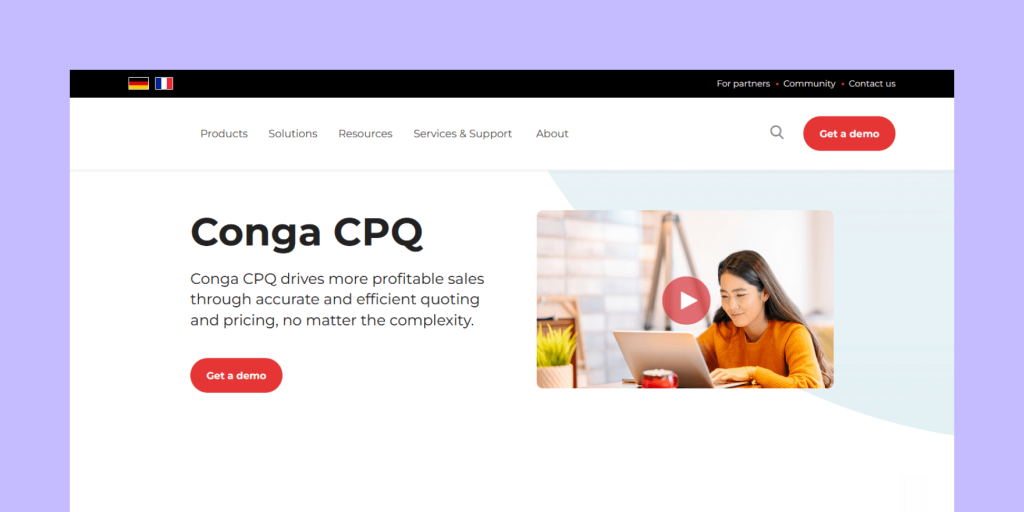 Pricing: $35 per user per month.
When we break down Conga clientele by industry, we find that Information Technology and Services (28%), Computer Software (12%), and Financial Services (6%) dominate.
Conga CPQ, previously known as Apttus, is a cloud-based solution that provides real-time pricing and configuration and integrates with popular CRM and ERP systems.
If you are experiencing difficulties in managing your quotes, the various features of the software allow sales reps to limit the churn rate by being more efficient in preparing and closing deals.
With its X Author technology, Conga makes it easy to generate price quotes by making use of Microsoft Office tools.
It also offers guided selling capabilities and contract management features.
Perform a swift search for desired goods or services
The software has advanced options for product filtering and comparison, such as Asset-based, which lets you order items that have already been purchased and set up.
Optimization of promotions and prices
Users are able to define multiple price types (such as one-time, recurring, and cancellation) by utilizing a sophisticated pricing engine for any items.
Management of subscriptions
With automated renewal management and the flexibility to modify subscriptions based on customer preferences, you can manage subscription sales in the manner that customers prefer.
AI capabilities
The CPQ software also uses artificial intelligence from the Microsoft Azure Learning service for data and prescriptive recommendations.
Conga drawbacks that PandaDoc solves
To ensure maximum security for all your documents, PandaDoc protects and stores your data on a daily basis on Amazon AWS.
Also, with PCI DSS level 1 security, you can even process payments directly into your documents.
When it comes to quote management, PandaDoc also moves past Conga by leveraging Salesforce product catalogs to streamline product and service pricing.
As a result, you can automatically populate product data and prices and offer customers discounts, optional items, and editable quantities.
4. IBM Sterling CPQ for IT and services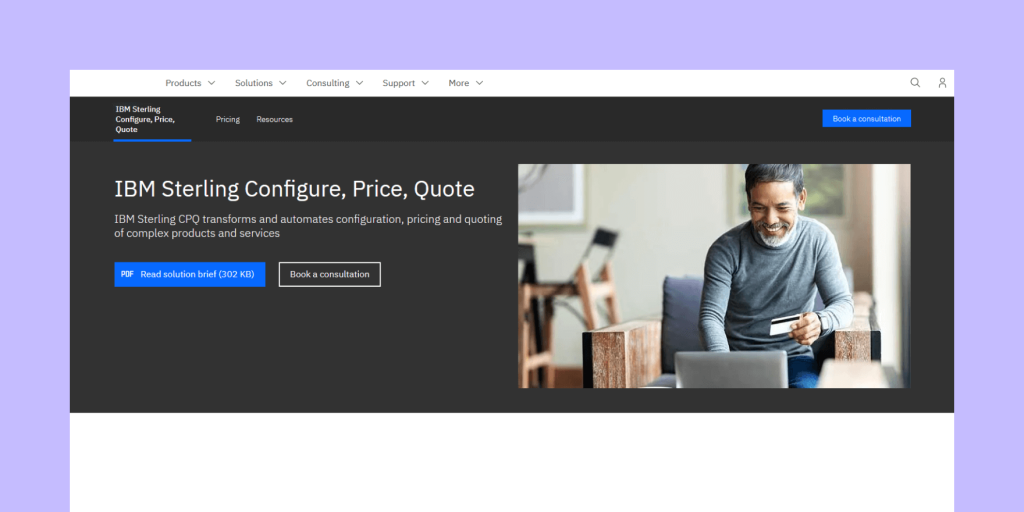 Pricing: price on request.
When we look at IBM Sterling CPQ clients by industry, we find that the main sectors are information technology and services (42%), telecommunications (10%), and computer software (7%).
The IBM Sterling CPQ system supports direct sales, customer self-service, and partner sales in its multi-channel engagements.
The main difference with Conga or QuoteWerks is its Object Map feature that enhances the pricing logic of products and services.
The CPQ tool also provides features that allow teams to do their work without having to perform many preliminary activities, such as duplicating pricing engine rules, inheritances, etc.
Automated sales processes
The software allows you to set up bundles and quotes to speed up sales processes.
With this tool, your sales teams can cross-sell and upsell more easily and improve customer satisfaction.
Quote management
You can also easily create sales opportunities, build digital storefronts and present multiple quotes to customers.
With IBM CPQ, you increase visibility in quote cycles by converting quotes directly into orders.
Centralized pricing system
Another benefit of this software is maintaining pricing consistency and automating changes through a centralized system.
By doing so, your sales representatives will eliminate manual pricing execution, which reduces long cycle times.
Real-time insights
This feature lets your teams track buying trends and assess product flows by period.
It helps your sales team avoid overcompensating during slow periods with real-time information on order status, history, and activity reports.
Does PandaDoc have this feature?
Although the IBM CPQ software is easy to use, it lacks tutorials that would help take full advantage of all its functionality. PandaDoc, on the other hand, has 24-hour support and other useful features, such as a content library with pre-designed templates.
Another point that differentiates PandaDoc from IBM CPQ is our software's availability on mobile devices, which allows your sales team to be permanently connected to manage customer quotes.
5. Oracle CPQ Cloud for IT and software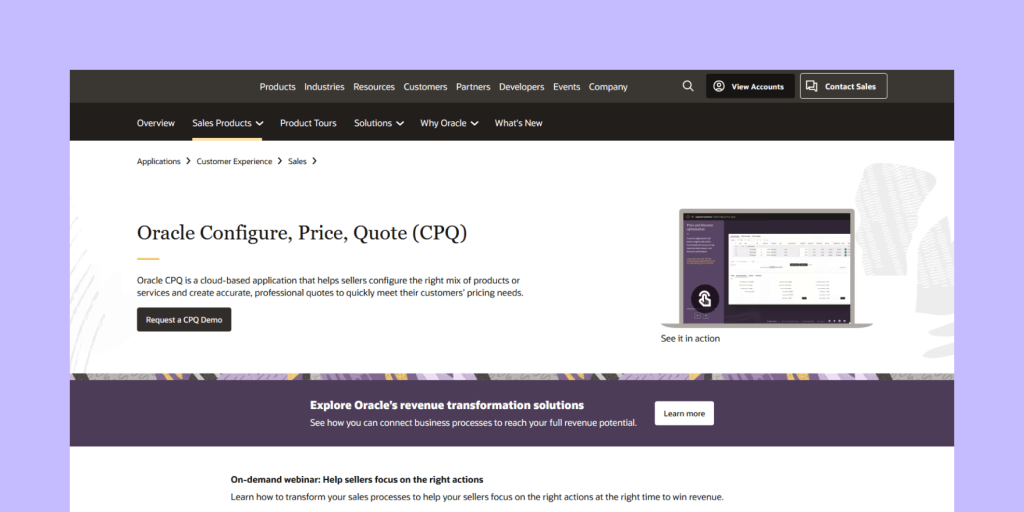 Pricing: $240.0 per month.
Looking at Oracle clients by industry, the two largest segments are Information Technology and Services (36%) and Computer Software (13%).
Oracle CPQ is a cloud-based application that enables sellers to quickly meet their customers' pricing needs by providing accurate, professional quotes and assisting them in selecting the appropriate mix of products or services.
Unlike Salesforce CPQ, where supporting multi-channel sales often requires partner plug-ins, new license settings, or multiple CPQ instances, Oracle CPQ helps you drive all processes across all sales channels without needing third-party partner functionality.
Intuitive configuration
Use a standard product template to get a one-click quote to quickly navigate the configuration process.
Direct sales, partner sales, and customer self-service channels all benefit from reusable rules and easy-to-understand screens.
Simplify contract management
In addition, you can create dynamic contracts, including routing of signatures and approvals.
Contracts can be compared and merged, and differences between contract versions can be highlighted to all stakeholders.
Benefit from intelligent deal management
The system's features enable you to perform in-depth transaction analysis and metrics, such as cost, discounts, margins, and profitability, to align sales activities with business objectives and focus on the right deals.
Integrate with your ERP
Oracle CPQ integrates with over 20 ERP systems, including Oracle E-Business Suite, SAP, or Microsoft.
By integrating with your existing ERP system, salespeople can be confident that quotes are accurate and convert them to orders with a single click.
Does PandaDoc have this feature?
If Oracle CPQ offers more data management and visualization possibilities, it comes at a price.
The software has a single plan that costs $240 per month, which means it's likely a more affordable fit for midsize and large companies.
PandaDoc, on the other hand, offers a much cheaper option at $19 per month, which is ideal for small businesses.
With PandaDoc, you can automate and streamline all your quotation and business proposal creation processes at a lower cost.
6. QuoteWerks for IT and software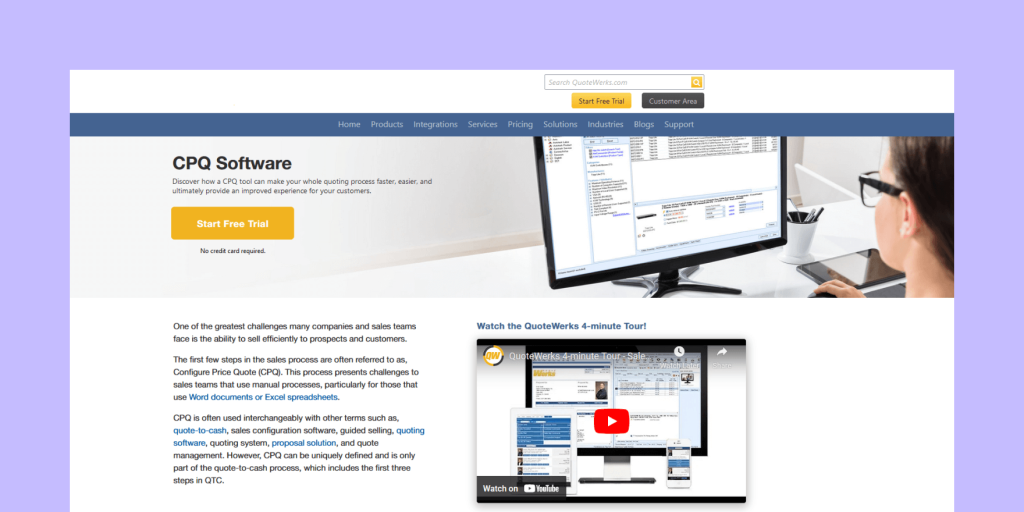 Pricing: $15 per user per month.
Looking at QuoteWerks customers by industry, the two major groups are Information Technology and Services (35%) and Computer Software (10%).
QuoteWerks is a quote and sales proposal software solution for your CPQ and quote-to-cash sales process that allows your company to centralize your data and eliminates costly mistakes, all of which ultimately save you time and money.
Unlike PandaDoc or Salesforce, QuoteWerks Web is a hybrid cloud solution.
As such, it is possible for companies to host their SQL database on their network (Amazon RDS, Microsoft Azure, etc) or with QuoteWerks own database hosting service.
Include labor quote costs
A labor charge can be linked to a parent item as a line item by businesses so that the labor quantity changes with the parent item's quantity.
Price comparison
By using the product content subscription feature, you no longer need to download and import product files from major distributors.
It compares prices and provides you with product photos, descriptions, and more.
Work on any device
With QuoteValet Mobile, you can create quotes on your iPad or any other HTML5-compatible tablet or browser.
CRM integration
QuoteWerks integrates seamlessly with CRM/PSA systems such as Salesforce or Microsoft Dynamics.
In addition, the tool has a COM-based API to extend QuoteWerks functionality by creating custom applications.
QuoteWerks drawbacks that PandaDoc solves
PandaDoc includes access to over 20 integrations at no extra charge, while QuoteWerks offers 8 CRM and contact management integrations with its Standard and Professional editions and 14 with its Enterprise plan.
Also, on QuoteWerks, document analysis (e.g., who is viewing the documents you send and exactly how much time they spend on each page) requires an additional fee, while this feature is free on PandaDoc.
7. SAP CPQ for IT and machinery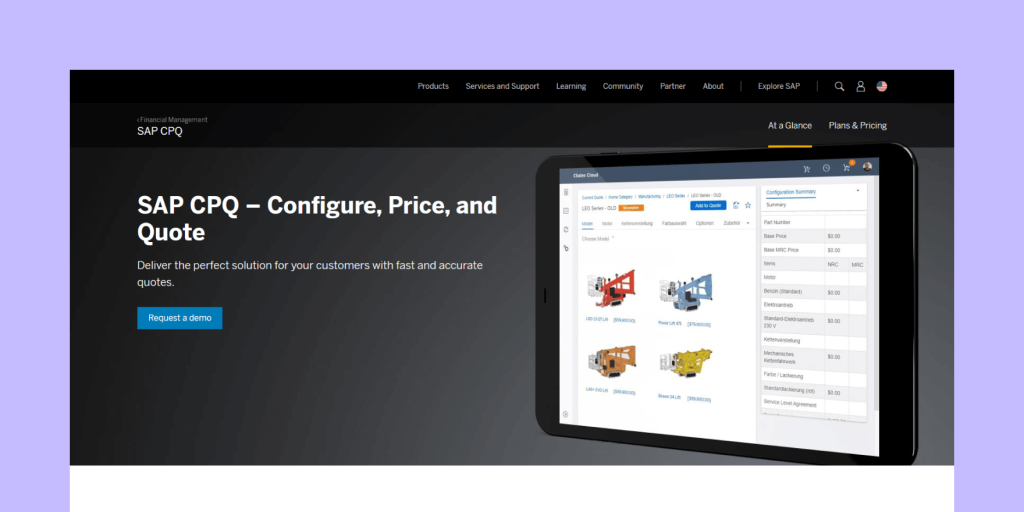 Pricing: SAP CPQ has two different plans: Standard at $62 per user per month and Professional at $99 per user per month.
When we look at SAP CPQ clients by industry, we find that the major segments are information technology and services (24%), Machinery (9%), and computer software (7%).
SAP CPQ is an enhanced sales configuration solution that enables sales teams, customers, and channel partners to accurately and efficiently configure, price, quote, and order products and solutions.
The main difference between SAP and Salesforce is that SAP offers CRM and ERP solutions, while Salesforce is only CRM.
Configuration optimization
Your sales reps can quickly create error-free branded quotes that comply with company policies.
By streamlining and automating processes, the software allows you to generate 10,000 line quotes in seconds.
Protect your margins
SAP CPQ allows you to control product, customer, and channel pricing.
As a result, you can reduce the use of abusive discounts and protect your profits.
Connect your CPQ to your business
By using preexisting variant configuration templates and ERP data, the software enables you to streamline quoting.
Thus, you have a single model that is connected to SAP Service Cloud, SAP Commerce Cloud, and SAP Sales Cloud.
Does PandaDoc have this feature?
SAP uses DocuSign for document management and electronic signatures. With PandaDoc, you have a single service for managing your quotes and e-signing your documents.
Also, unlike DocuSign, PandaDoc has a content library with over 750 different templates that you can customize.
8. Experlogix CPQ for IT and machinery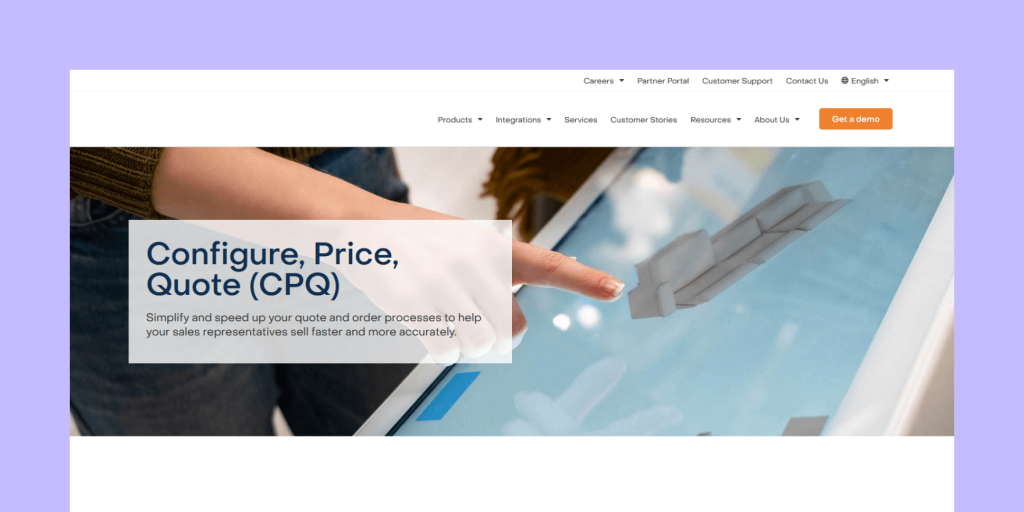 Pricing: price on request.
When we look at Experlogix customers by industry, the two main segments are Information Technology and Services (19%) and Machinery (14%).
Experlogix CPQ is designed for Microsoft Dynamics, Salesforce, and NetSuite that offers processes from sales to production.
It manages complex configuration, pricing, and quoting requirements, reduces quoting time, and eliminates errors.
The software also has an integrated document management and electronic signature feature, unlike SAP CPQ, which uses DocuSign.
Workflows for approval
By utilizing automated workflow approval requests, your sales team can effectively collaborate with sales management and engineering to eliminate bottlenecks.
Pricing and discounts
With an intuitive interface for configuring pricing and discounts, non-technical users can create and maintain sophisticated rules and formulas without the need for programming knowledge.
Smart Sales
Experlogix CPQ provides immediate, intelligent feedback via color-coded highlights and simple-to-understand contextual messages by confirming the accuracy of each selection in real-time.
Advanced Document Generation
The CPQ tool allows you to create, generate, and electronically sign quotes and proposals through automated and consistent processes.
Does PandaDoc have this feature?
Experlogix has many points in common with PandaDoc, especially in the management of quotes and electronic signatures.
However, PandaDoc can be integrated with 15 enterprise CRMs, whereas Experlogix can only be integrated with 3 CRMs: Salesforce, Microsoft Dynamics, and Oracle NetSuite.
9. DealHub for IT, manufacturing and finance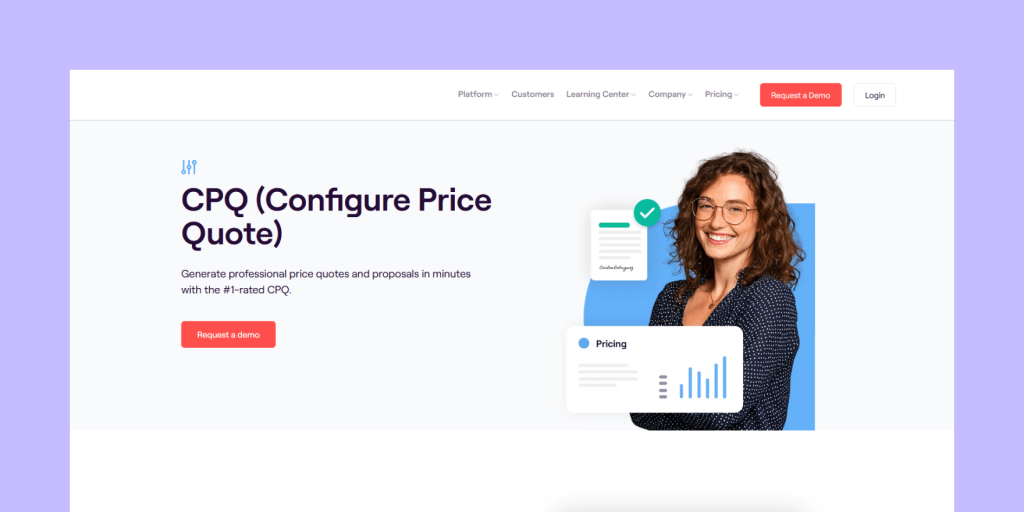 Pricing: price on request.
The sectors that use DealHub the most are software and IT, manufacturing, finance, and telecommunications.
With real-time insights into your prospects' levels of engagement and interest, the DealHub CPQ sales engagement platform makes quoting quick and simple.
Although it is not available in a mobile version with a content library like PandaDoc, its simple configuration allows you to quickly define your business rules and start quoting.
A simple quoting process
DealHub's features allow you to generate error-free quotes in any branded format (PDF, Word, Excel, etc.).
You can also change quantities and apply discounts without complicated calculations.
PandaDoc also has a volume-based pricing function that allows you to automatically show your customers the discounted rate when they adjust quantities in the pricing tables.
Easy adoption for your teams
CPQ software guides the user through the configuration process with guiding questions.
In addition, DealHub automatically triggers upgrade, upsell, and cross-sell suggestions to increase deal volume.
Control your sales operations
The CPQ tool allows you to ensure price and discount consistency across the enterprise.
In addition, you can grant different levels of approval to authorized managers.
Alternatively, you can use PandaDoc's document approval workflow software to automate the entire approval process.
DealHub drawbacks that PandaDoc solves
PandaDoc is a good alternative to Dealhub as it offers more flexibility; for example, the online drag-and-drop editor makes it easy to create templates and documents, upload them, and send them immediately for signature.
In addition, PandaDoc's content and image library makes it simple to store, arrange, and update business content, making document customization easier.
Another feature you won't find on DealHub is payment processing. In fact, PandaDoc allows you to connect to payment gateways like Stripe to automate the collection of payments without any additional transaction fees.
Factors to consider when choosing a CPQ software
Choosing the right configure price quote (CPQ) software solution is crucial for businesses that want to streamline their sales processes and provide a better customer experience.
Here are some factors to consider when choosing your CPQ software:
Integration with existing systems
Consider the systems you currently use, such as your CRM, ERP, and billing systems, and choose a CPQ solution that integrates with them.
This will eliminate the need for manual data entry and ensure that you have a single source of information for your sales team.
Product and pricing complexity
If you have varied products and/or pricing, look for a CPQ solution that offers real-time pricing and product configuration and includes guided selling features.
It will help ensure that your sales team can quickly and accurately create quotes for customers.
Mobile accessibility
If your sales team needs to access information on the go, choose a CPQ solution that includes a mobile app or is accessible from other devices.
All salespeople have their phone on them constantly; this way, your sales team can create quotes and proposals from anywhere.
Proposal and contract management
Ask yourself if you need a CPQ solution with proposals and contract management capabilities.
This will allow your sales team to quickly and accurately create these docs for your customers (and customers-to-be).
Cost
Using a CPQ solution also comes at a cost to your business, such as subscription fees, maintenance fees, and support fees.
Choose a solution that fits your budget and provides the best value for your investment.
Support and training
Consider the level of support and training offered by the vendor.
Look for a vendor that offers comprehensive coverage, support and training when you need it, and has a proven track record of providing excellent customer service.
How companies solve pain points using PandaDoc CPQ
Over 50,000 customers currently use the PandaDoc platform, with more added every day. Here is just one example of a success story using PandaDoc CPQ:
Werfen is a global diagnostic leader specializing in hemostasis, acute care diagnostics, and autoimmunity.
The sales team used Excel and PDFs to carry out business transactions prior to implementing PandaDoc.
The result was a complex sales cycle, and sending a quote to a customer often took up to an hour.
From the customer's name and other details to product lines, prices, and expiration dates, the sales team had to manually fill out up to 12 fields.
In addition, the workflow was often interrupted due to mismanagement in the document approval process.
By implementing PandaDoc within the company, Werfen significantly reduced the time spent on creating sales documents from one hour to five minutes per document.
Final words
As we've seen, CPQ software is a powerful tool for all types of businesses looking to streamline their sales processes, increase accuracy and efficiency, and improve the customer experience.
As technology evolves, more and more software is incorporating AI-based recommendations to increase the effectiveness of sales channels.
With PandaDoc CPQ, you get a complete digital solution to manage all aspects of your sales.
Our software easily integrates with your company's CRM, and you'll be able to streamline and automate numerous tasks. Start your demo today!
Disclaimer
PandDoc is not a law firm, or a substitute for an attorney or law firm. This page is not intended to and does not provide legal advice. Should you have legal questions on the validity of e-signatures or digital signatures and the enforceability thereof, please consult with an attorney or law firm. Use of PandaDocs services are governed by our Terms of Use and Privacy Policy.