Every company generates quotes, contracts, and other documents during its business process.
These documents are critical for success, but they can be a pain to manage. That's why many companies turn to automation tools for document generation and document creation.
The Conga Suite is one option designed to help users streamline and automate many of these processes — but is it the best one?
In this article, we'll discuss what Conga has to offer, along with 9 Conga alternatives that you should consider.
Ready? Let's do it.
What is Conga?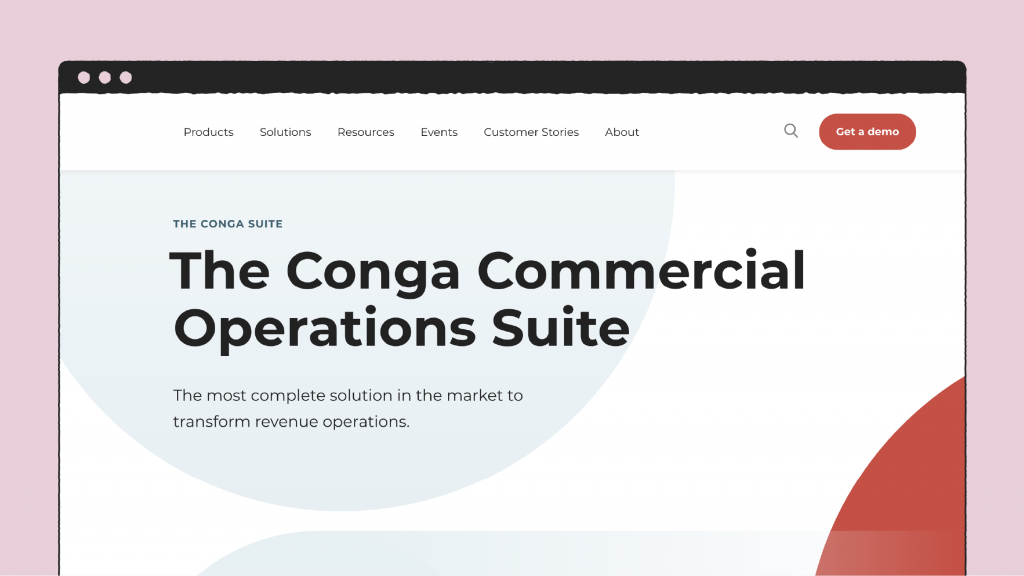 Conga is a suite of digital software tools designed to help users improve their configure price quote (CPQ) and contract lifecycle management (CLM) processes.
Using tools like Conga Composer for document generation and editing, as well as tools like Conga Sign for electronic signatures or Conga CRM to assist with contract management, the company tries to be an all-in-one solution in a wide range of scenarios.
Conga Contracts
This tool is the centerpiece of Conga's contract lifecycle management solution. The software component allows users to accelerate the contracting process, analyze agreements, and better assess risk.
Conga Composer
Conga Composer, Conga's most popular product, is heavily integrated with Salesforce. This tool allows users to pull Salesforce data into contract templates for fast and easy creation.
For sales reps who need to send proposals and focus on relationship management, Conga document generation makes contracting a one-and-done process.
Conga Grid
This salesforce management tool is built to help teams quickly gather data and insights that drive growth.
Conga Grid works to display data in a way that is easy for teams to understand and digest so that agents can stay on top of every aspect of their sales process.
Conga Sign
No document is complete without an electronic signature. Conga Sign helps agents close deals by offering a valid signing solution for every electronic document.
Using this tool, agents can get commitments and signatures from stakeholders without ever needing to email a document.
Conga Orchestrate
For maximum efficiency and execution, your team needs a workflow. With Conga Orchestrate, you can configure a workflow inside Salesforce, then automate it for consistent and repeatable results.
This allows teams to reduce errors caused by manual execution and enables each user to focus on the steps of the process that really matter.
Why switch?
Without a doubt, Conga is a robust software solution with a battery of tools to help you create and manage contracts more efficiently.
However, even though Conga contract management is the right fit for many businesses, it might not be the best solution for your particular needs. Other platforms may be better suited to your specific use case or may offer a set of tools that you can use to maximize productivity and output.
In our research, we found that the most common reasons users switch are:
Difficulty learning the software
Poor customer support
Poor product performance and implementation
Slower-than-expected onboarding process
A steep learning curve, especially for businesses without an established CLM methodology
While every platform on the market will have some foibles and hurdles to overcome, there's no better time to consider switching from Conga than right now. With so many great alternatives out there, finding the perfect solution might be easier than you think!
What about Novatus Inc.?
As a company, Conga has rapidly expanded over the years. Former CPQ and CLM business services like Novatus and Apttus have been purchased and absorbed into the Conga lineup, narrowing the market for some users.
How we sourced our data
In order to accurately select and assess all the tools on our list, we analyzed reviews, feedback, and criticism from over 20 different websites and weighted what we saw based on website views and perceived authority.
To determine authority, our data sources were grouped into five cohorts based on monthly visitors (which we took from Semrush):
>1.000.000 visitors;
500.000 – 1.000.000 visitors;
250.000 – 500.000 visitors;
50.000 – 250.000 visitors;
<50.000 visitors
The websites with the highest visitor traffic and greatest domain authority were given more weight in our calculations and analysis while lower-traffic web and less authoritative websites were scored lower. However, in-depth reviews and feedback were given considerable analysis and weighed carefully as part of our calculation.
We also closely reviewed a variety of websites, including several not listed in our final selection, in order to determine the best-fit alternatives to Conga, what features were offered, and which software tools were the closest fit to what we believe alternative shoppers are looking for.
Lastly, we also checked with our team and customers to better understand how businesses actually use sales tools, what features they were looking for, and which collaborative tools had been most beneficial to them.
What are the best Conga alternatives?
Now that you know the basics, let's take a look at a few alternatives to Conga and see what they have to offer.
It's a crowded market, and there are a lot of options to choose from. Here are our top picks to replace the Conga Suite.
01. PandaDoc
Cost: Free plan available; premium plans starting at $19/month
Ease of Use: 4.5/5
Functionality: 4.5/5
Support Options: Chat, Email Knowledge Base,
Platform Availability: Cloud/Web, Android, iPhone, iPad
Free Plan/Trial: Free plan available. 14-day trial available
Inherent bias aside, PandaDoc is easily one of the most robust competitors on our list.
Equipped with all the functionality you need to enhance your CLM and CPQ processes, PandaDoc is a user-friendly document solution that is built to scale alongside your business.
Unlike Conga Composer, which integrates with Salesforce and allows users to pull CRM data into premade templates, the PandaDoc document editor is a flexible tool that allows you to create fully editable documents from scratch — much like you would in Google Docs or Microsoft Word.
PandaDoc users can also take advantage of our Salesforce integration, but it's not required to use our platform to its maximum potential.
Coupled with other built-in tools like an onboard CRM, custom branding, approval workflows for teams, and 24/7 customer support, PandaDoc can help you collaborate with customers, build incredible documents, and close deals at lightning speed.
02. Icertis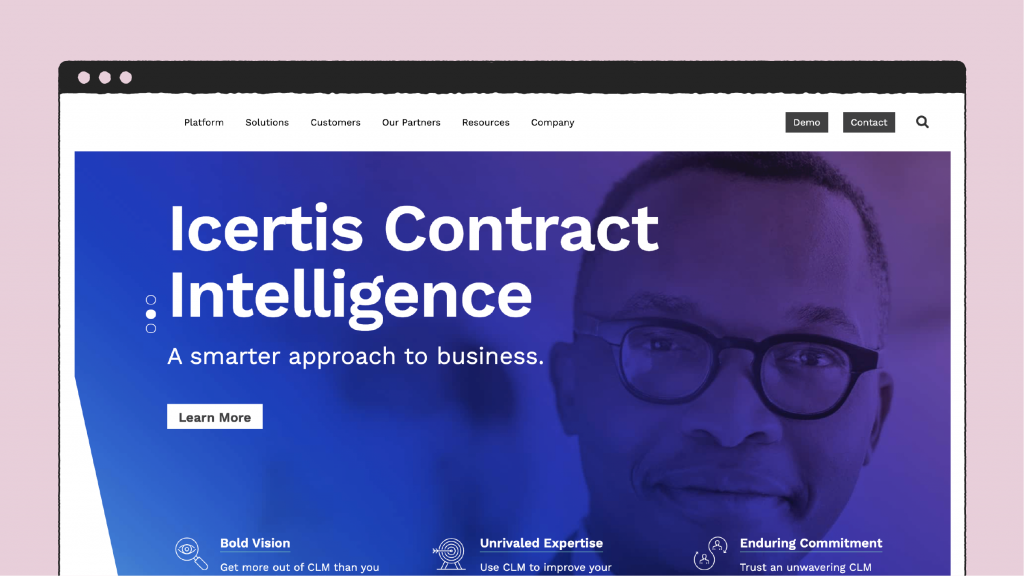 Cost: Customized by customer/use case
Ease of Use: 4.3/5
Functionality: 4/5
Support Options: Email, Chat, Phone, Knowledge Base
Platform Availability: Cloud/Web, Windows, Linux
Free Plan/Trial: None available
Like Conga, Icertis offers a program suite aimed and improving CLM processes through automation. From compliance to collaboration, Icertis has a use case and business application for every industry.
The company leverages AI to improve business operations, ensure compliance, improve intelligence around contracts, and much more. This approach has been extremely popular with major companies like 3M and Microsoft, where thousands of contracts need to be managed simultaneously.
If your company is operating at such a large scale, CLM is even more frustrating due to sheer volume. In those scenarios, the Icertis suite of AI-powered organizational tools may make it a top pick over Conga.
03. Nintex & (Nintex Drawloop)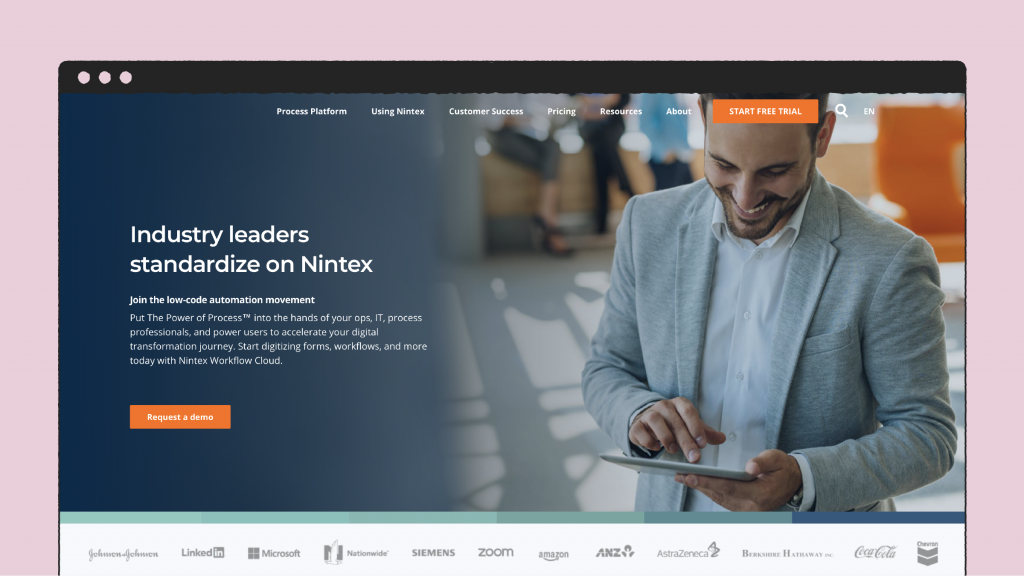 Cost: Standard plans starting at $910/month for 10 users
Ease of Use: 4.3/5
Functionality: 4/5
Support Options: Email, Chat, Phone, Knowledge Base
Platform Availability: Cloud/Web, Windows, Linux
Free Plan/Trial: None available
Document generation and e-signatures are just a few things that you'll see in this Conga alternative.
Nintex is billed as an end-to-end process management platform that helps companies automate, optimize, and manage existing processes. The Nintex document generation tool is an excellent Conga composer Alternative, allowing you to generate PDF files as part of your standard process workflow.
Because CLM and CPQ processes are part of the workflow, you'll also end up with process automation tools to improve how you operate. This includes a mobile app, an analytics platform, and even robotic process automation (RPA) tools.
Much like Conga Contracts for Salesforce, Nintex also offers Nintex Drawloop, which is a document generation tool designed to streamline document generation by importing data from Salesforce. If you're using Salesforce, Drawloop can be a powerful tool for maximizing your contracting efficiency.
04. Formstack Documents (formerly WebMerge)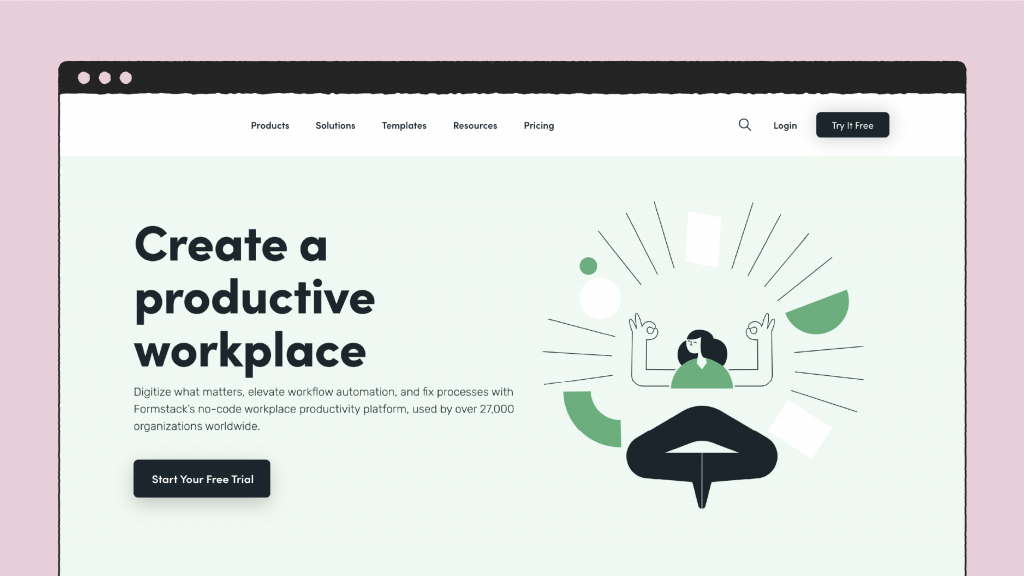 Cost: Plans starting at $110/month (monthly billing)
Ease of Use: 4.5/5
Functionality: 4.1/5
Support Options: Email, Chat, Phone Support, Knowledge Base
Platform Availability: Cloud/Web only
Free Plan/Trial: 14-day trial available
The Formstack product line has grown significantly in previous years and acquired WebMerge, a popular document management platform, along the way.
WebMerge, now Formstack Documents, helps users build forms, prepare documents, and improve productivity around document creation. This could include anything from an invoice to a proposal or contract. With Formstack, you can create HIPAA compliant documents, automate Microsoft Word document creation, and even use an API to import data from other applications.
Pricing options vary, depending on what you want to create (forms or documents), but these solutions may be excellent alternatives to Conga's contract lifecycle management tools.
05. Docomotion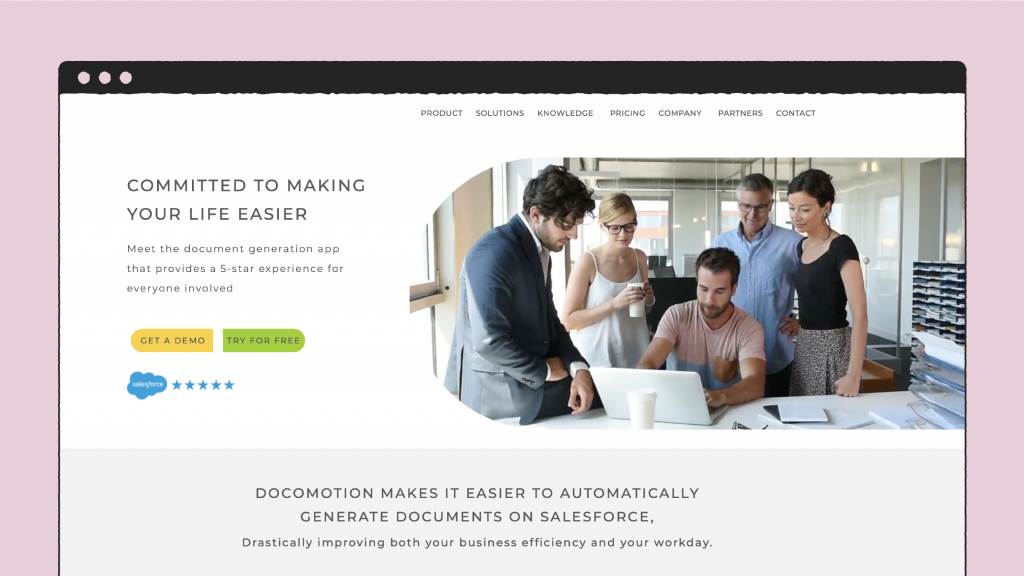 Cost: Plans starting at $14/month per user
Ease of Use: 4/5
Functionality: 4/5
Support Options: Email, Phone, Knowledge Base, Ticketing
Platform Availability: Cloud/Web only
Free Plan/Trial: 30-day free trial
Much like other Conga tools and alternatives, Docomotion integrates with Salesforce to accelerate document generation. Users can gather data from any field or object inside Salesforce, which adds a layer of complexity to the tool without overcomplicating the process.
The company's aim is to create as much streamlining as possible. Users can design templates with a visual editor, generate complex documents with a single click, and make last-minute changes on the fly.
On the whole, Docomotion isn't as robust as Conga, but for small businesses who need something simple, it's a more cost-effective saas solution.
06. DocuSignCLM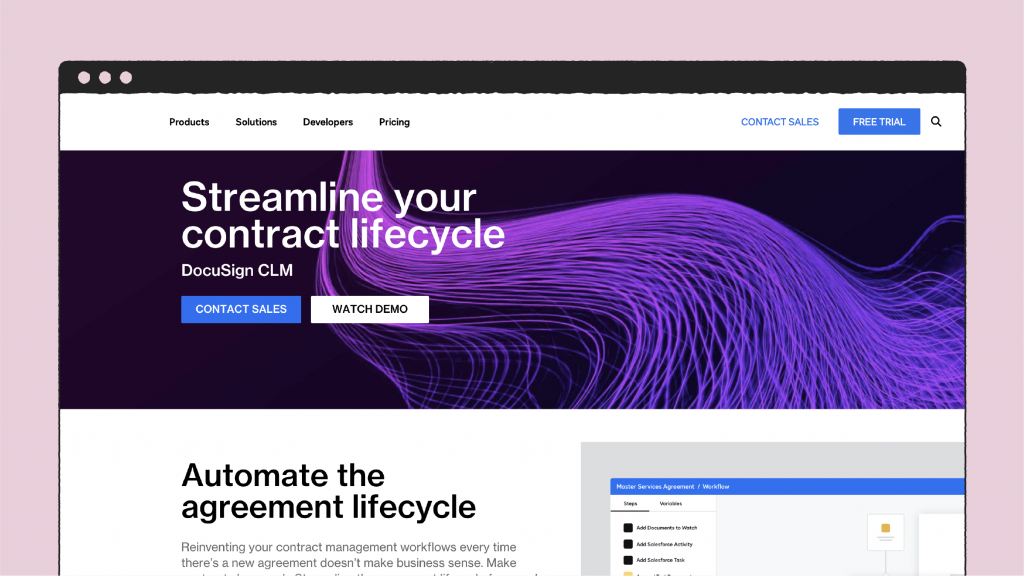 Cost: Customized by customer/use case
Ease of Use: 3.9/5
Functionality: 4/5
Support Options: Email, Knowledge Base, Phone, Chat
Platform Availability: Cloud/Web only
Free Plan/Trial: None available
As part of the DocuSign product line, DocuSign CLM integrates seamlessly with DocuSign eSignature and DocuSign Agreement cloud.
The CLM platform allows you to be more efficient when tracking your contracts. This allows you to improve the customer experience and increase compliance by gaining a bird's eye view of your contracting process.
Like many of Conga's tools, DocuSign CLM relies heavily on Salesforce and allows users to pull information from Salesforce CRM in order to build contracts at speed.
For sales reps, this means that contract generation is a plug-and-play system where they simply fill in the required contact information and send it out. Customers can then sign the document or make changes and re-upload it to the DocuSign portal. Everything is tracked on the backend using the DocuSign CLM workflow.
Much like Conga's contract management tools, DocuSign CLM tries to position itself in such a way that it can automate your send-and-sign workflow for better efficiency and ease of use by internal agents.
07. Cobblestone Software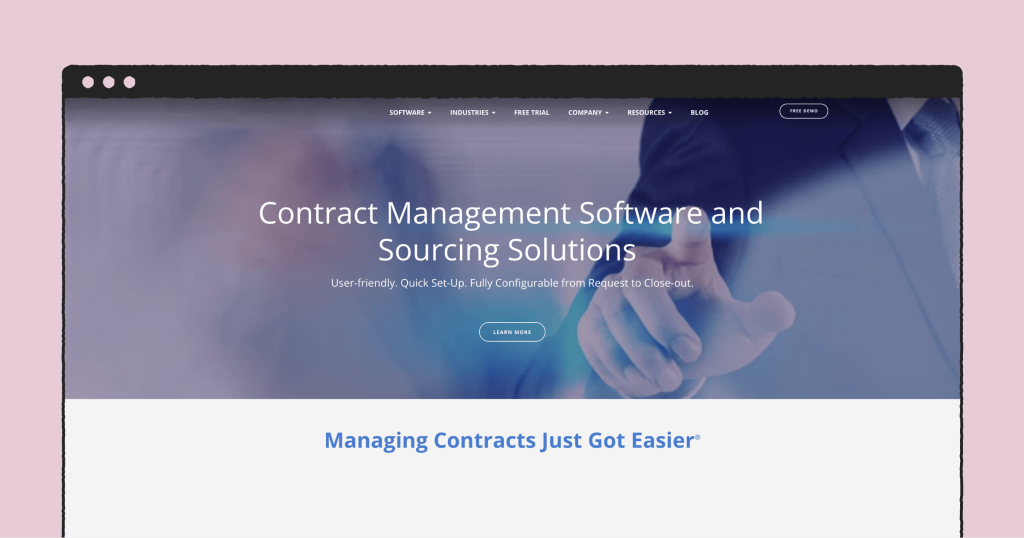 Cost: Customized by customer/use case
Ease of Use: 4.7/5
Functionality: 4.5/5
Support Options: Email, Knowledge Base, Phone, Chat
Platform Availability: Cloud/Web, Windows, Mac, Linux, Mobile
Free Plan/Trial: 30-day free trial available
In the same way that Conga offers end-to-end contract management, Cobblestone Software is a full suite of software tools designed to help you manage every aspect of CLM.
Cobblestone offers a diverse range of features, including the ability to store and search contracts, run advanced reports to optimize time allocation and monitor spend, and improve customer collaboration.
All of these automation tools make it easier for account managers and reps to close deals quickly and continue to monitor each deal after it completes — all without ever having to worry about missing a deadline overlooking a key contract detail.
Going beyond contract management, Cobblestone also offers tools to assist with procurement, vendor management, and e-signing, so you'll have the tools you need whether you're drawing up a sales contract or purchasing a product or service for your own business.
08. Agiloft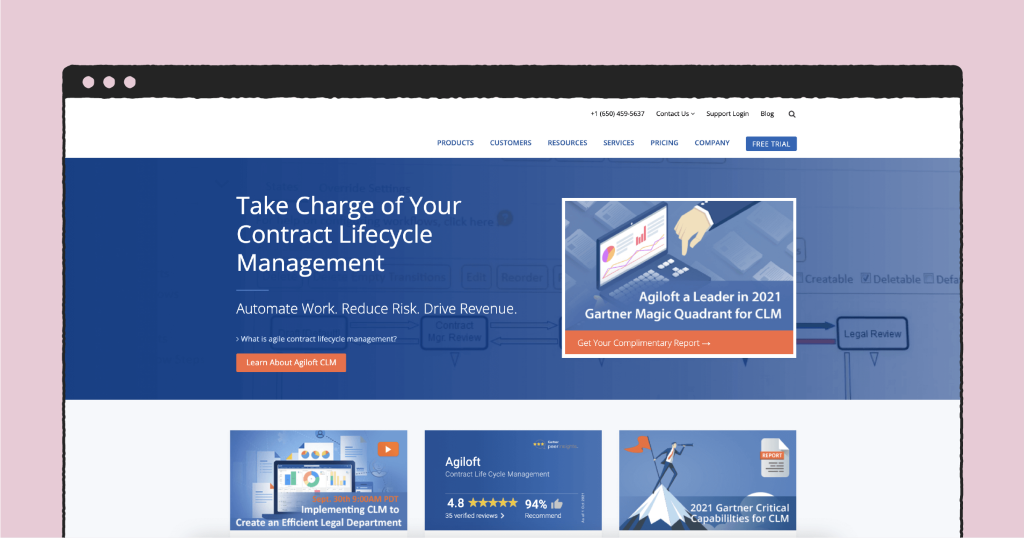 Cost: Starts at $65/month; customized to customer/use case
Ease of Use: 4.6/5
Functionality: 4/5
Support Options: Email, Knowledge Base, Phone, Chat
Platform Availability: Cloud/Web only
Free Plan/Trial: Free plan available. Free trial available
As a Conga alternative, Agiloft is definitely a choice worth considering. The company is used by major brands, from NASA to Chevron, and boasts a 99.6% success rate for implementations. It's well-known, well-respected, and — for many — the final word when it comes to contract management solutions.
Compared with Conga, Agiloft offers a variety of similar features and services designed to help reps stay on top of contracts while providing customers with the ability to quickly view, sign, and return contracts quickly.
Internally, Agiloft brings additional value to the table by allowing users to create preapproved template and clause libraries, map out contracting processes, and quickly template all processes associated with CLM over to new customer accounts without needing to create everything from scratch.
The platform makes it easier to push contracts through the pipeline and accelerate success while mitigating risk and improving team visibility at every stage of contract management.
09. Concord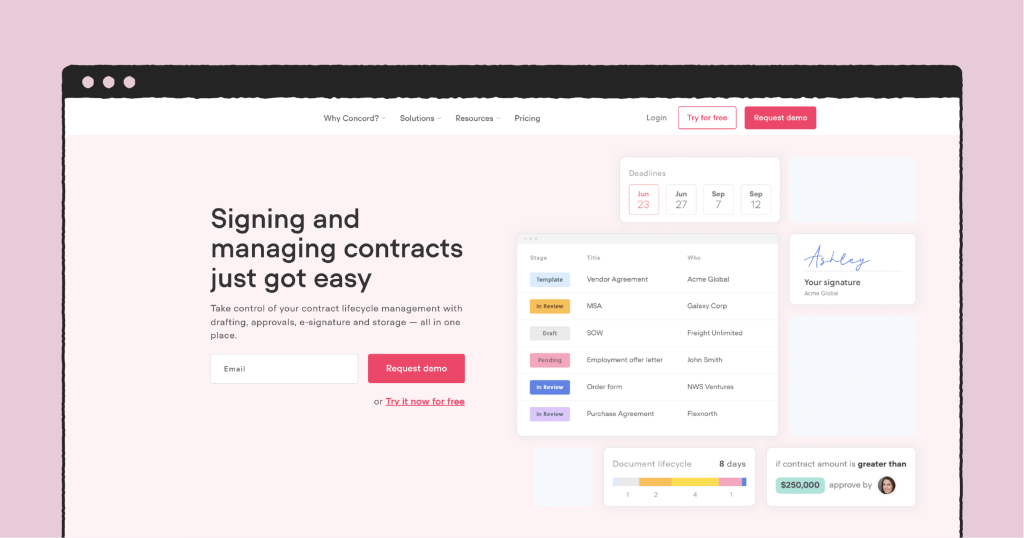 Cost: Paid plans start at $23/month per user
Ease of Use: 4.4/5
Functionality: 4.2/5
Support Options: Email, Knowledge Base, Phone, Chat
Platform Availability: Cloud/Web only
Free Plan/Trial: Free plan available. Free trial available
Similar to Conga, Concord is a CLM platform designed to work with businesses of any size and scale. The company offers a variety of plans (available at very affordable rates) and gives you everything you need to create, track, and monitor your contracts.
Concord uses formats and layouts that are simple and easy to follow.
The dashboard looks similar to an email inbox. Editing hands inside the contract creation screen with the ability to download documents for offline editing in Microsoft Word, if desired.
Versioning, audit trails, and redlining are all easy to accomplish using the Concord editor and intuitive interface.
At the team and enterprise levels, you'll also find a wide selection of tools designed to help teams work more efficiently.
Import your own documents, implement prebuilt workflows, and give your reps the tools they need to get the job done.
With over 500,000 companies using Concord, it's safe to say that it's a formidable alternative for Conga users looking to change things up.
Go beyond Conga with PandaDoc
If you're looking for a stable and consistent platform with the ability to deliver a powerful experience to both users and customers, PandaDoc can help.
PandaDoc powers over 40,000 businesses, from freelancers all the way to major corporations. We offer competitive pricing options and can scale to match your needs.
Sign up now for a free 14-day trial or get in touch with one of our PandaDoc experts for a personalized demo.
Disclaimer
Parties other than PandaDoc may provide products, services, recommendations, or views on PandaDoc's site ("Third Party Materials"). PandaDoc is not responsible for examining or evaluating such Third Party Materials, and does not provide any warranties relating to the Third Party Materials. Links to such Third Party Materials are for your convenience and does not constitute an endorsement of such Third Party Materials.