There is no shortage of e-signature solutions on the market today, and most offer a new spin on a tried-and-true, classic concept.
Conga Sign is no exception.
Created in 2018 as a new e-sign solution for the Conga family of products, Conga Sign is designed to integrate primarily with Salesforce alongside other Conga solutions.
But how does it compare to an established platform like DocuSign?
Let's take a closer look.
Key takeaways
Conga Sign is primarily designed for use with Salesforce in conjunction with other Conga products. If you're using Conga Sign, it makes sense to consider other solutions from the Conga lineup.
DocuSign is primarily designed as a standalone platform, although it offers a huge selection of integrations via its enterprise plans.
Both platforms provide a similar signing experience, but there are some major differences regarding support, document onboarding, and overall platform integration.
1. Conga Sign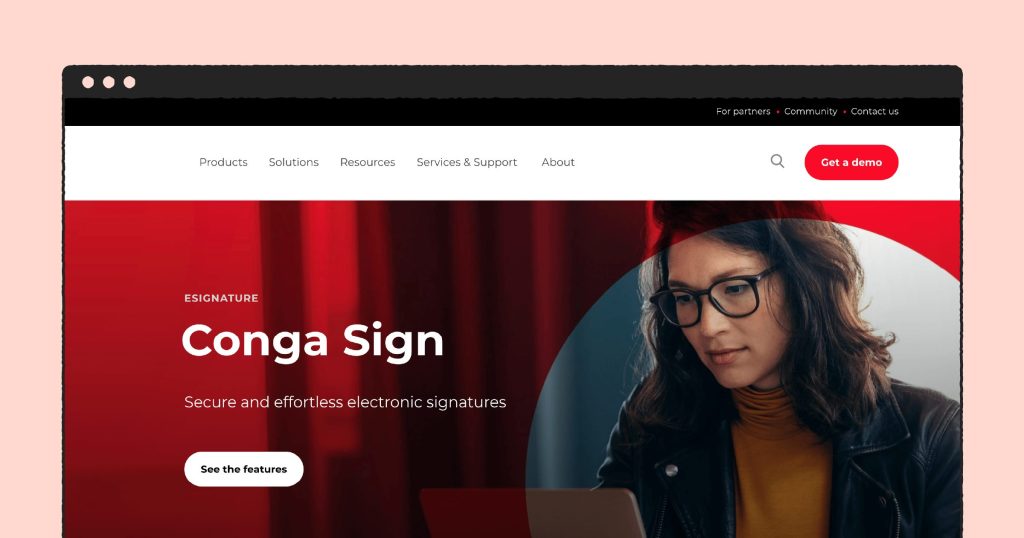 Pricing: No pricing listed. Conga claims to offer tailored pricing plans designed for both individual users and enterprise-level teams.
Ease of use: 8.3/10
Free trial: Demo available.
Support: Knowledge base; support tickets; phone.
Conga Sign is part of the Conga family of products and is primarily used to sign documents via Salesforce, API, or web application.
This e-signature solution also integrates with other Conga products, (Conga Composer, Conga Contracts, etc.) to facilitate signing for documents created through the Conga Platform.
Due to how Conga has split their product offering, Conga Sign offers no document generation of its own.
For most users, the Salesforce integration (found via AppExchange) will be the most important feature.
Using this tool, users will be able to upload docs to Salesforce and leverage the authentication provided by Conga Sign to create lasting and legally binding agreements.
2. DocuSign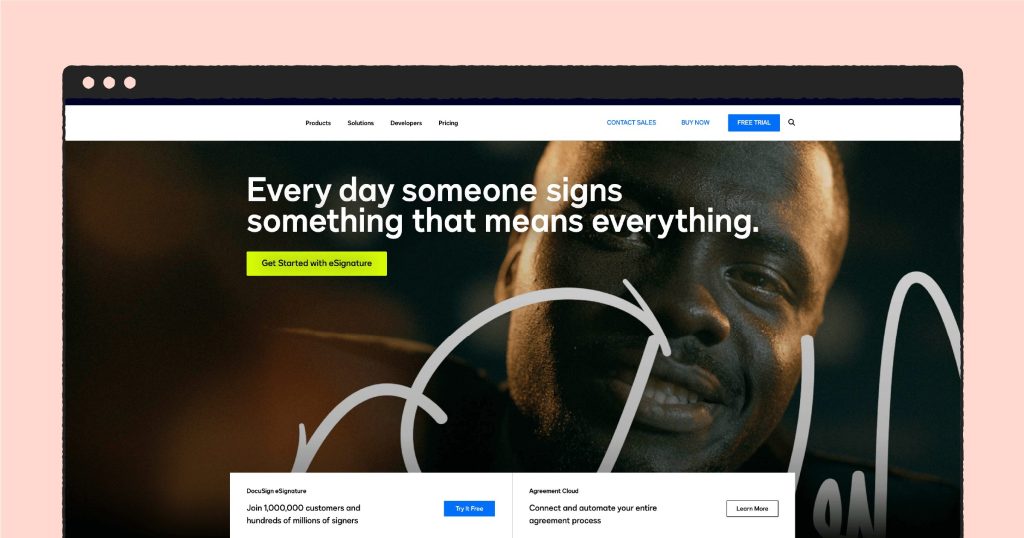 Pricing: Personal ($10); Standard ($25); Business Pro ($40). All plans per user/month. Pricing based on annual commitment. Enterprise pricing available.
Ease of use: 9.0/10
Free trial: Yes; 30 days.
Support: Knowledge base, support tickets; additional support plans sold as separate packages.
Due to its size, DocuSign seems to have it all.
A veteran e-signature platform, DocuSign brings a variety of easy-to-use tools to help users at both small businesses and large enterprises capture digital signatures in a flash.
The company is easily the largest e-signature provider on the market — despite its many competitors — and the signing workflow pioneered by the company has become largely ubiquitous across the e-signing world.
Additionally, DocuSign offers a seamless integration with Salesforce (including Salesforce CPQ and similar product variants), so you can take advantage of the signing automation for fast and easy signing within your Salesforce workspace.
Although e-signing is DocuSign's flagship product, the company has also expanded in recent years to contract lifecycle management (CLM), providing additional functionality and approval processes specifically for contracts.
Conga Sign vs DocuSign at a glance
| Plan details | DocuSign | Conga Sign |
| --- | --- | --- |
| Document Send Limit | 100 docs/year | Unknown |
| Basic Drag and Drop Fields | ✓ | ✓ |
| Mobile App | ✓ | X |
| Reusable Templates | ✓ | X |
| Signing Order | ✓ | ✓ |
| Multiple Recipients | ✓ | ✓ |
| Bulk Send | ✓ | ✓ |
| Real-Time Audit Trail | ✓ | ✓ |
| Integrations: Import & Storage | ✓ | X |
| Integrations: CRM | X | Salesforce |
| Integrations: Productivity & Other | ✓ | X |
| Language Support | ✓ | ✓ |
| Document Editor | X | X |
| Pre-built Template Library | X | X |
| Notifications | ✓ | ✓ |
| Payment Gateway | ✓ | X |
| Custom Branding Options | ✓ | ✓ |
| In-person Signatures | ✓ | ✓ |
| Commenting & Collaborative Fields | ✓ | X |
| Signer Attachments | ✓ | ✓ |
| | | |
| Support Options (At level) | | |
| Email / ticketing support | ✓ | ✓ |
| Chat support | X | ✓ |
| Knowledgebase | ✓ | ✓ |
| Phone | X | ✓ |
At a glance, you'll notice that Conga Sign and DocuSign offer a similar variety of features.
However, keep in mind that Conga Sign is primarily designed to integrate with Salesforce, and it's relying on the CRM for most of its functionality.
By comparison, DocuSign can be integrated (enterprise-level only), but is largely designed as a standalone signing platform.
With that in mind, let's take a closer look at how these two items compare.
Requirements, workflows and pricing
When comparing Conga Sign and DocuSign, you'll notice that both platforms offer a similar selection of features.
Making a clear distinction isn't easy, based on the information available.
With that in mind, here are a few extra things to consider:
Conga Sign:
Designed primarily as a Salesforce integration.
Doesn't offer clear pricing options.
Is unclear about document sends and usage limits.
DocuSign:
Designed as a standalone platform.
Offers multiple tiers of pricing options.
Offers integrations for Salesforce and other CRMs.
Caps document sends at 100 per user/year.
As an e-signing tool, Conga Sign feels significantly more limited in scope due to its primary usage as a Salesforce integration.
By comparison, DocuSign is a standalone platform that works with Salesforce and other CRMs — but only if you're willing to pay for enterprise-level pricing.
Which brings us to another major consideration: Although Conga doesn't discuss specific pricing regarding Conga Sign, we've read in multiple reviews that the overall price of Conga Sign is significantly lower than DocuSign.
While we can't speak to the authenticity of the claim, it's very common and something worth considering if you're looking for a way to reduce the cost of your digital signing solution.
Finally, while both Conga and DocuSign offer additional software tools through their platform (Conga CPQ, DocuSign CLM, etc.), none of those additions are natively included in the cost of the e-signing tool.
If you want the ability to streamline document generation, configure customizable templates, or store your documents all in one centralized repository, you'll need a platform like PandaDoc to round out your document infrastructure.
Our suggestion
Given the variety of requirements and workflows, there are several ways that you could approach these tools.
DocuSign
DocuSign is the better choice if you're looking for a standalone platform with clear pricing and minimal hassle.
Keep in mind that all integrations are locked behind enterprise-level pricing, and hard usage caps apply to every plan.
Conga Sign
Conga Sign is great if you're already using Salesforce and/or if you want to minimize the costs of your e-signing solution.
You also have the option to branch out into document creation, contract lifecycle management, and more by purchasing additional Conga products.
PandaDoc
PandaDoc is ideal if you want to unify your document creation and signing process without the need to buy separate product modules.
Our onboard editor allows for from-scratch document creation, seamless signing, document storage, and more all in one place.
Signing workflows
While both DocuSign and Conga Sign help users to get documents signed, the signing workflow offered by both platforms is slightly different.
DocuSign
Users are able to upload documents directly to the platform or via an integration.
From there, users can select recipients, set a signing order, and format the document using DocuSign's drag-and-drop signing tools.
Document preparation includes the ability to add signing fields, text and date boxes, and similar modifications.
Once the document is prepared for signature, it can be easily dispatched to recipients and stored within DocuSign's onboard interface.
The workflow changes very slightly when using an integration, since DocuSign doesn't govern the customer data directly.
It's a similar scenario to PandaDoc CRM integrations, where the data is handed off between your CRM and your signing tool and documents created are linked to those customer accounts.
Conga Sign
The path to completion is slightly different.
Because Conga Sign functions primarily as a Salesforce add-in, users will upload the document of their choice directly to a customer profile (within Salesforce) so that Salesforce data can be used to populate the appropriate fields.
Once the document is uploaded, Conga Sign users will follow a formatting and document preparation workflow that's largely similar to DocuSign.
In addition to formatting documents, Conga Sign allows users to add custom tags to documents for streamlined, informational retrieval at a later date.
With the preparation phase done, Conga Sign users can dispatch documents via email for signature capture and finalization with the intended recipients.
Contracts are then stored within Salesforce as part of the customer's standard profile.
Conga Sign also offers similar signing experiences outside of Salesforce if you're using the API to embed forms in your website or via a portal — but the primary document flow is the Salesforce process.
Our suggestion
In some ways, the best option here is determined more by your integration with Salesforce than anything else.
Without the CRM, Conga Sign might not seem like a viable option.
That's true, in many ways.
Even if you intended to integrate Conga Sign with another in-house Conga app, like Conga Composer, you'll still find that the majority of tools on the Conga Platform rely heavily on integrations with Salesforce.
DocuSign, on the other hand, can operate entirely independently from Salesforce and/or any other app.
It can integrate if you're willing to pay for enterprise-level pricing, but it's not required for the software to function properly.
DocuSign
DocuSign provides the versatility to operate in practically any environment.
The signing process is straightforward and easy for beginners, and the interface is designed for minimal hassle.
Conga Sign
Conga Sign is an obvious winner for Salesforce users, in the sense that it lends itself to a more streamlined user experience.
Managing everything in Salesforce means that workers never need to leave the CRM in order to handle related or tangential tasks.
PandaDoc
PandaDoc offers a greater selection of versatility by providing a way to control even more of the document process.
With PandaDoc, you can create documents from scratch with the signing process in mind and dispatch them to the appropriate recipients.
This can be handled as part of a standalone process or via integration with Salesforce, HubSpot, or other CRM solutions.
Branding and customization
Most organizations prefer to put their personal stamp on the documents and communications they send.
Fortunately, both DocuSign and Conga Sign allow you to do precisely that!
Each tool offers branding options that allow you to change colors, banners, logos, and buttons to your documents and correspondence.
However, this comes with a few caveats, depending on the platform.
For example: While both brands support the ability to create multiple brand styles, enabling this functionality can be a hassle.
Conga Sign users are allowed one brand identity (Business Unit) per Salesforce organizational account. Meanwhile, DocuSign supports multiple brand identities, but only on its enterprise-level plans.
While that's just one example, you may find other obstacles to complete brand control, too:
While DocuSign provides brand identity options, it's not fully white labeled. Customers will always know what platform you're using.
Conga Sign provides a white labeling experience by allowing you to change logos, customize emails, exchange signing interfaces, and more — but it can be tricky to set things up so that signing doesn't happen via the Conga web portal.
Proper branding and customization options are essential to creating a seamless customer experience.
It's why most signing platforms, including PandaDoc, allow for some level of customization with the look and feel of the correspondence and documentation.
Our suggestion
Ultimately, it will be up to you to decide how much branding and customization matters.
Especially for smaller businesses, white label options may actually be less advantageous than using the name of a widely recognized brand like DocuSign or PandaDoc.
However, if white labeling is a must, Conga Sign may be your only major choice in this comparison.
DocuSign
DocuSign is the way to go for brands looking for simple logo changes and brand color customizations.
Conga Sign
Conga Sign is great for Salesforce users who want a complete, holistic white-label experience.
Keep in mind that, while you'll have full control, some advanced setup may be required.
Other brands (PandaDoc, Adobe Sign, HelloSign, etc.) may be able to offer an on-brand experience without the need for a Salesforce account.
Support options
While support isn't always a major consideration when partnering with an e-signing platform, it's certainly worth considering.
That's particularly true since neither DocuSign nor Conga Sign offer 24/7 support without a substantial upgrade to their standard support plans.
This is a major deviation from PandaDoc, which provides 24/7 chat support for all users.
Here are a few things to consider:
Both DocuSign and Conga Sign offer self-service options like community forums and a knowledge base.
Both DocuSign and Conga Sign usually require a ticket submission via email or an online submission portal.
Conga Sign offers chat and phone support during business hours with their basic plan.
While support times vary, DocuSign aims for a <24 hour response time on the standard plan while Conga Sign aims for between 4 and 24 hours, depending on issue severity.
It's also worth pointing out that these comparisons are based on the basic plans that each platform provides with your initial subscription.
Both DocuSign and Conga Sign also offer paid support plans that you can purchase in addition to your standard plan.
These plans provide faster support response times, additional troubleshooting options, and extra resources to resolve issues even faster.
Our suggestion
While both platforms offer a wide range of support options, getting the service and support you need often comes at an additional cost.
The only way to avoid those costs is to partner with a platform like PandaDoc, which provides consistent, immediate support on both its basic and premium support plans.
DocuSign
DocuSign support is pricey, but the company's support infrastructure can scale to support massive teams.
Conga Sign
Conga Sign offers faster turnaround times (especially at lower tiers) when compared to DocuSign, and includes phone support with its basic plan.
PandaDoc
PandaDoc offers consistent, 24/7 access to support via chat, so help is always available when you need it.
Alternatives to DocuSign and Conga Sign
There are other tools on the market that can perform similarly to DocuSign and Conga Sign.
If neither of these platforms resonate with you, don't forget to consider alternative solutions like the platforms below:
Some solutions may provide a better fit for what you're trying to do.
For example, PandaDoc provides both standalone and Salesforce integration options, so you can choose to utilize the platform however you see fit.
It's HIPAA compliant (important for the healthcare sector), and you'll also find Android and iOS apps for a great mobile experience.
On the other hand, Dropbox Sign, part of the Dropbox family, provides some interesting storage options in addition to signing plans.
You'll also find a huge selection of permissions and sharing options to further control data access.
Take a look at all options available, and see which option is the best fit for your team.
How we find our data
We conduct our comparison review process in multiple phases:
Personal testing and analysis of platforms being compared.
Analysis and comparison of feature sets, pricing, and support packages.
A thorough overview of existing customer reviews.
Ongoing updates to comparison articles (after publication).
When we collect our data, we differentiate between rele
relevant websites and those that may be less than credible. The 30 different websites we used to formulate our datasets are grouped based on site visits, as it's the fastest way to determine expertise:
>500,000 visits;
250,000 – 500,000 visits;
100,000 – 250,000 visits;
<100,000 visits
The first two groups hold more significance in our research, while the last two groups are used to check our findings.
We ensured that the websites we used weren't biased or sponsored by the reviewed software company. If they were, we triple-checked their information.
Conga Sign was difficult to research.
They're private about their own products, so we had to speak to their customer service staff directly to review their product.
Here are some examples of the most relevant sources we used:
To keep the review objective, we only used Conga Sign's and DocuSign's official sites to confirm data such as features, pricing, customer support, among other things.
When reviewing our own products, we do our best to be as unbiased as possible.
We don't want you to choose us just because we say so; we want you to pick PandaDoc because we're the best solution for your needs.
The strongest contender: PandaDoc
While Conga Sign and DocuSign excel as an e-signature software, PandaDoc is also a notable contender in the space.
Trusted by thousands of businesses, PandaDoc provides from-scratch content creation and full contract lifecycle management all rolled into a single platform.
Our all-in-one document workflow has helped teams big and small streamline digital content creation, expediting contract generation and time to close for sales and contract teams around the world.
Sign up today for a free 14-day trial, or request a demo and see how PandaDoc can transform your entire document architecture.
Disclaimer
Parties other than PandaDoc may provide products, services, recommendations, or views on PandaDoc's site ("Third Party Materials"). PandaDoc is not responsible for examining or evaluating such Third Party Materials, and does not provide any warranties relating to the Third Party Materials. Links to such Third Party Materials are for your convenience and does not constitute an endorsement of such Third Party Materials.
Originally published April 1, 2022, updated December 11, 2023