Over 30% of all agreements are opened from a mobile web browser, and it would be ideal if your business had a way to appeal to that audience.
Enter eSignature software, a digital solution for both solo entrepreneurs and larger teams.
But, it isn't that simple. Finding a solution is different from finding the right solution.
Every eSignature software will preach it's the best on the web, so today, we put two contenders to the test: Conga Sign vs. DocuSign.
We also put PandaDoc's eSignature product in the ring to see how our own document management system sizes up.
PandaDoc conducts comparison reviews in a unique way
When you pick the right digital signature app, you save your company thousands, even millions of dollars, from wasted resources, research, and employee time.
Here at PandaDoc, we understand how precious your time is and how unique your workflow can be. The person reading this right now could be a solo freelancer just starting their business or a multinational enterprise owner who needs a better, more integrated eSignature software.
We want to provide all the information you need to make the best choice possible for your brand, whether a solo eSign tool or a full-on document management system.
How we find our data
We conduct our comparison review process in multiple phases:
Personal testing and analysis of platforms being compared.
Analysis and comparison of feature sets, pricing, and support packages.
A thorough overview of existing customer reviews.
Ongoing updates to comparison articles (after publication).
When we collect our data, we differentiate between relevant websites and those that may be less than credible. The 30 different websites we used to formulate our datasets are grouped based on site visits, as it's the fastest way to determine expertise:
>500,000 visits;
250,000 – 500,000 visits;
100,000 – 250,000 visits;
<100,000 visits
The first two groups hold more significance in our research, while the last two groups are used to check our findings.
We ensured that the websites we used weren't biased or sponsored by the reviewed software company. If they were, we triple-checked their information.
Conga Sign was difficult to research. They're private about their own products, so we had to speak to their customer service staff directly to review their product.
Here are some examples of the most relevant sources we used:
To keep the review objective, we only used Conga Sign's and DocuSign's official sites to confirm data such as features, pricing, customer support, among other things.
When reviewing our own products, we do our best to be as unbiased as possible. We don't want you to choose us just because we say so; we want you to pick PandaDocs because we're the best solution for your needs.
Product overview
01. Conga Sign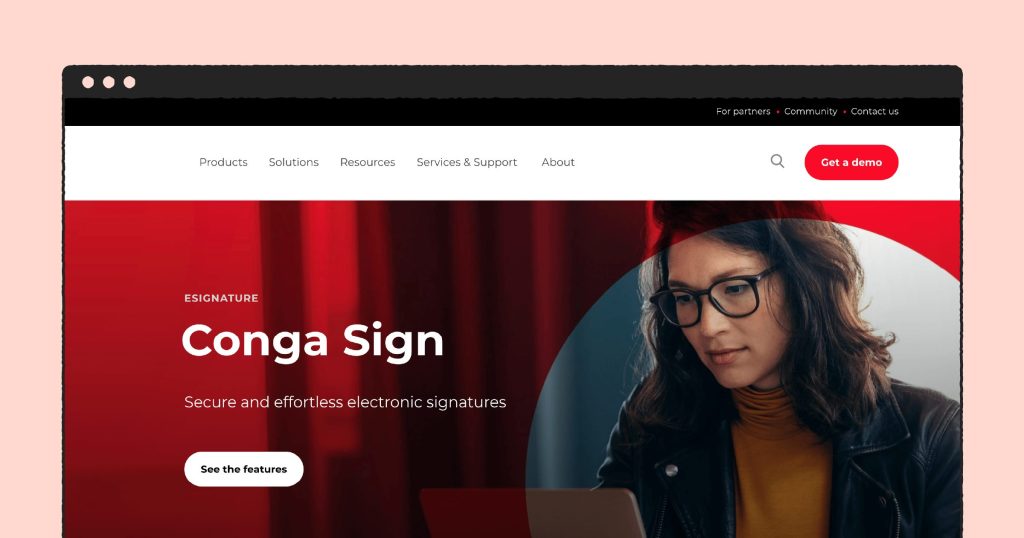 Cost: Conga has no available price tiers on its website. Conga Sign prompts you to start a free trial. After inputting your email, a customer service agent will contact you with a custom price tier that suits your needs.
G2 rating: 4.2/5
Ease of use: 4.5/5
Functionality: 3.8/5
Support options: Email/help desk, FAQs/forum, knowledge base, phone support, 24/7 (live rep), chat.
Platform availability: Windows, Mac, Linux, Android, iPhone, iPad.
Free trial: Yes. Up to 30 days.
Conga Sign is part of the Conga family of products. Since 2008, Conga has helped commercial operations evolve through their end-to-end solutions.
Conga Sign's effortless eSignature product empowers users to secure their signatures quickly and efficiently.
As a digital signature software, Conga Sign is seen as a hefty alternative because it can may be able to downloaded it for free if you already have Salesforce.
If you use Conga Sign with Conga instead, you'll receive a web-based platform and mobile app that lets you scan, sign, and send your documents from anywhere.
Conga Sign streamlines the workflow process perfectly for large enterprises by tracking your customer's signature process.
You can send personalized, custom emails and documents on their platform by following their simple-to-use process.
02. DocuSign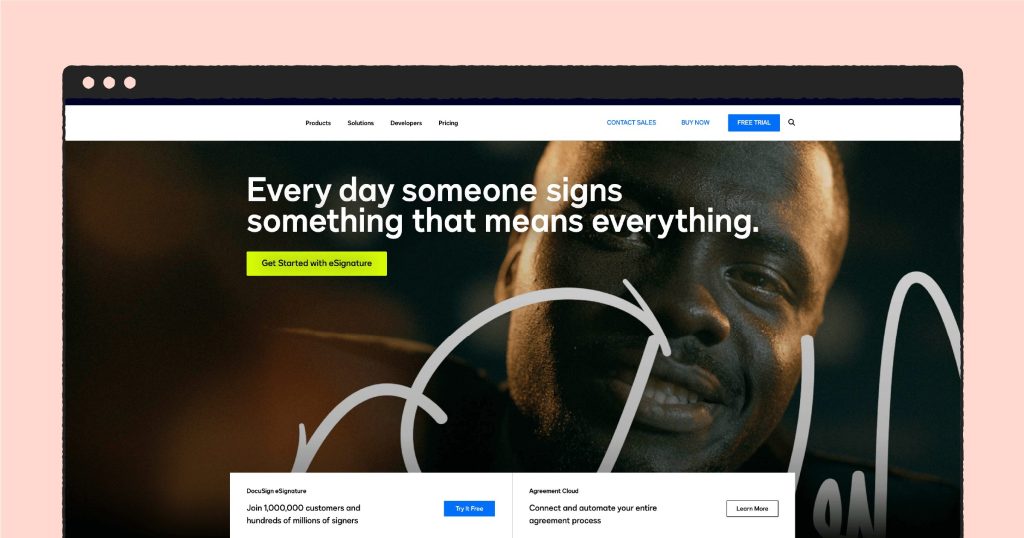 Cost: DocuSign has five plan tiers: Free, Personal, Standard, Business, and Advance:
Personal Plan: $15 per/mo or $10/mo for a year
Standard Plan: $45 per user/mo or $25/mo for a year
Business Pro: $65 per user/mo or $40/mo for a year
Advance Solution: Call for information.
G2 rating: 4.5/5
Ease of use: 4.5/5
Functionality: 4.3/5
Support options: Email/help desk, FAQs/forum, knowledge base, 24/7 (live rep), chat, training.
Platform availability: Windows, Mac, Android, iPhone, iPad.
Free trial: Yes. 30 days.
DocuSign seems to have it all. As a veteran e-signature platform, DocuSign brings a wide variety of easy-to-use tools that help signers and document managers succeed in getting anything they need to sign, signed.
In addition to a boosted customer satisfaction rate, DocuSign offers everything from template creation and workflow management all the way to real-time status reporting.
Compared to several other DocuSign alternatives, this eSignature software integrates seamlessly with over 350+ platforms.
Their endless integrations and standardized agreement process have made this product one of the most popular eSign platforms.
03. PandaDoc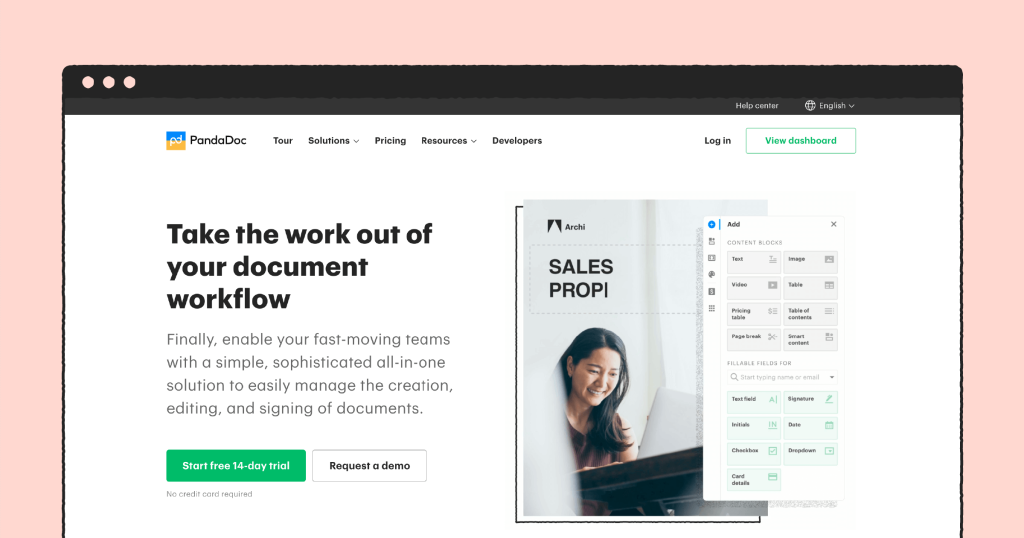 Cost: PandaDoc has four plan tiers: Free, Essential, Business, and Enterprise:
Essentials Plan: $35 per user/mo or $19/mo for a year
Business Plan: $65 per user/mo or $49/mo for a year
Enterprise: Custom pricing, let's talk!
G2 rating: 4.7/5
Ease of use: 4.5/5
Functionality: 4.5/5
Support options: Email/help desk, FAQs/forum, knowledge base, phone support, 24/7 (live rep), chat, training.
Platform availability: Windows, Mac, Linux, Android, iPhone, iPad.
Free trial: Yes. 14 days.
PandaDoc electronic signature software improves the speed and security of all your documents, including our integrated templates and forms.
Thanks to PandaDoc's drag-and-drop library, you can draft contracts, proposals, or invoices in a matter of minutes.
However, don't be fooled by our electronic signature solution exterior.
PandaDoc is a document automated workflow product first and foremost and can do everything from creating invoices to managing your contacts. PandaDoc has several use cases that help businesses lead more productive, paperless work lives.
Speifically, our legally binding eSignature software comes with all plans (even our 14-day free trial), so you can increase your close rate by 18% without opening up your wallet! You can connect to the tools you love with powerful integrations, like Salesforce, Slack, Zoom, and more.
We pay special attention to:
Accurately applying pricing with CPQ, discounts, and products to your documents.
Integrating with trusted CRM, payment, admin, storage, and productivity software.
Securing your eSignatures with your uploaded, created, templated documents.
We want to make sure your workflow works for you from beginning to end. With our brand-approved templates, API reporting, and catalog, you can create proposals, quotes, contracts, and more all in one place.
How Conga Sign, DocuSign, and PandaDoc compare
| Features | Conga Sign | DocuSign | PandaDoc |
| --- | --- | --- | --- |
| Document signing | Volume based | 5 per month(Personal)100 per year(Standard and Business) | Unlimited |
| Reminders and notifications | O | O | O |
| Sign-in process | O | O | O |
| Mobile signatures | O | O | O |
| Signature workflow | O | O | O |
| Bulk digital signatures | X | Business | Business |
| Reporting | O | O | Enterprise |
| Signature document creation | O | X (templates only) | O |
| Signature audit and history | O | O | Essentials |
| Regulatory compliance | O | O | O |
| Enterprise scalability | O | Advanced | Enterprise |
| Custom branding | O | Standard | Business |
| Template library | X | Personal | Essentials |
| Access management | O | O | O |
| Internationalization | O | O | O |
| API Integration | O | Advanced | Enterprise |
When it comes to features, Conga Sign, DocuSign, and PandaDocs have the same features (with the exception of bulk digital signatures and template library with Conga Sign).
What separates a good eSignature platform from a great one is the quality of its features, not the features themselves.
Sure, any eSign software allows you to sign and regulate your workflow, but how accurate is the reporting feature? How likely is an enterprise going to use Conga Sign?
Let's take a look at how the software's features work in real-time.
Document preparation
All three solutions encourage you to upload or create your own templates.
Conga Sign has a more complicated dashboard than the other two.
Both PandaDoc and CongaSign take you from upload to send in two screens, compared to DocuSign's four-step process.
All three software solutions offer a built-in workflow with their signing process, but if you're not paying attention to the finer details, you may miss them.
Remember: Before you can insert your signature, the software will ask you to integrate one in "Settings." From there, signing a document only requires you to click the "Signature" box.
When you log in to DocuSign, the software will prompt you to upload a document or use a template.
The instructions to sign a document are simple: select the number of signers, fill out the information you need, and hit send. DocuSign will send an email to the client.
With Conga Sign, the process is a little different. Conga Sign will ask you who's included in the document before prompting you to populate it.
While this is also true with DocuSign if you create a template, with Conga Sign, you have to make or upload your own documents. There aren't any templates available for you to use, even with Conga Contracts.
PandaDoc prompts you to either upload/create a document or form to sign or use a template from the dropdown menu.
For example, you can select "Create a document" with the integrated invoice template and then add your signature by clicking on the "Signature" content block. When done, select "Send-document." You can send via email or share via a link.
Conga Sign lets you send a document with a public link but defaults to email. When Conga Sign integrates with Salesforce, you can automate the software to send via email when you complete the document. The same can be said when using Congas's commercial suite.
Once the client receives the document, they're given instructions on how and where to sign.
Overall, the outcome is about the same. However, Conga Sign and PandaDoc guide you to a second screen, where you'll be able to use the drag-and-drop editor.
DocuSign also has a drag-and-drop editor, but the process is much more lengthy. It can take 4, sometimes 5 screens before you're able to send a document.
Winner: PandaDoc
Conga Sign is limited in how it uses its features. Without the ability to pull from a template library, you have to create your own documents from scratch.
That alone would be enough for small-medium-sized businesses to steer clear of document creation, regardless of how streamlined the process may be.
DocuSign and PandaDoc are more neck-and-neck, but we chose PandaDoc because they streamline the document creation process and offer more ready-to-use templates.
Setup, price, and integration
DocuSign, Conga Sign, and PandaDoc each have a free trial, but PandaDoc has a free plan.
All tools offer a number of key platform integrations, but DocuSign has the most.
PandaDoc has the most templates, but DocuSign offers slightly more features for less.
It's simple to set up DocuSign and PandaDoc, whether you're signing up for their free trial or navigating the platform.
Conga Sign has an easy-to-navigate platform but can take a whole day to set up. You can't just select a free trial, enter your information, and start using their platform.
A customer service agent has to call or email you to set up a custom plan for you. There are no other tiers or options available to you. That's a significant negative for the platform.
As an enterprise solution, Conga Sign shines. On the other hand, a business owner must actively look for their features, price, and integrations. It would be better if the company was more transparent with what they offered their customers.
DocuSign offers a free trial, but their features don't ramp up until their Business Plan. Even at the Business tier, you can only send 100 documents per year.
Conga Sign can offer near-unlimited signatures at its higher price tiers, but PandaDoc gives it away for nothing.
PandaDoc truly believes that the best things in life are free because you'll have unlimited legally binding eSignatures, activity tracking and notifications, payments, and a mobile app without inputting your credit card. And these features last forever.
From our research, Conga Sign does integrate with several CLM tools, including Salesforce and Microsoft Dynamics.
In fact, if you already have Salesforce, Conga Sign may be offered to you for free. Other than that, their integration features are limited.
PandaDoc includes several popular integrations, like the Google Suite, Salesforce, DropBox, PayPal, HubSpot, and Zoom, but can't compete with DocuSign's 350+ integrations.
Winner: PandaDoc
While Conga Sign is a fantastic solution for enterprises, it loses out with its complicated setup. You have to call an agent directly to start a free trial or access its price tier.
There isn't much information about the Conga suite on the web, which affects user experience.
DocuSign almost won out over PandaDoc thanks to its lengthier free trial and a wide variety of integrations.
DocuSign lost in this category because it caps the amount of documents sent at 100 per year, whereas PandaDoc offers its document solutions with eSignature products for free.
Branding and customization
All three tools let you put your branding on sent documents.
All tools allow you to change colors, banners, buttons or upload your logo.
PandaDoc and Conga Sign go that extra level by offering white labeling.
Many organizations want to put their personal stamp on the documents they send, and all three solutions do just that with custom branding.
DocuSign, PandaDoc, and Conga Sign offer branding options that allow you to change colors, banners, and buttons inside the document. The logo is always attached to the document somehow, so you won't have to keep adding individual graphics whenever you send a form.
PandaDoc and Conga Sign take this experience to a whole other level. Not only can you control the look and feel of a document, but you can also use white labeling to remove Conga Sign and PandaDoc branding from your emails.
All three solutions have a drag-and-drop interface that's wholly customizable, but Conga Sign has some of the most extensive features.
Winner: PandaDoc and DocuSign
Conga Sign would have won this category if it weren't for the lack of templates. Conga Signs drag-and-drop interface is more powerful and customizable, but unless you have a team of lawyers who can create a legally binding document for you, you may be out of luck.
PandaDoc and DocuSign tie here because their customization options are similar.
However, DocuSign offers a sophisticated custom branding tool at its Standard tier ($45), while PandaDoc only provides this feature at its second to the highest tier, Business ($59).
At the same time, PandaDoc offers more customizable templates and white labeling.
In the end, both platforms level each other out.
Support options
DocuSign isn't gernerous with its support options at its lowest tier.
Conga Sign has a messy FAQ section but excels in other areas.
PandaDoc provides a lot of support for free.
All included tools offer similar support features, including live chat, email, training, and a dedicated FAQ section.
Unfortunately, DocuSign doesn't offer much in the way of robust support at the entry-level.
Not only that, but they don't provide support over the phone. You need to pay for a separate subscription in order to take advantage of phone support.
Conga Sign and PandaDoc excel in their response time. You don't have to pay for better support. Both Conga Sign and PandaDoc are helpful, quick, and knowledgeable.
So is DocuSign, but you have to pay for that privilege.
Conga Sign has a confusing FAQ section. It's difficult to find information about their products or services.
We had to contact their staff directly to answer topics that are readily available on PandaDocs and DocuSign's official websites.
Winner: PandaDoc
All three platforms have a wide range of support options, either for free or at their highest levels.
Conga Sign is an expensive service to buy into, but Conga has one of the most responsive support staff we've ever seen.
While setting up our Conga Sign free trial, they contacted us by phone within the hour. We didn't even pay for their service yet, but they were very accommodating and helped us set up a solution that fit our needs.
PandaDoc's is just as fast as Conga Sign. PandaDoc, just like Conga Sign, provides exemplary service, regardless of whether you buy the software. Both companies do what they can to help you.
Unfortunately, Conga Signs' FAQ section is a little unorganized, so they lose this battle.
Not only that, but PandaDoc is a document solution with a signature product; it isn't just an eSignature software!
On the other end of the spectrum, DocuSign has limited support options on its lowest tiers.
The strongest contender: PandaDoc
While Conga Sign and DocuSign excel as an eSignture software in many ways, so does PandaDoc. Plus, it's an all-in-one document workflow solution for entrepreneurs and enterprises alike.
Sign up for our free electronic signature software today if you want to secure your documents with legally binding, UETA and ESIGN compliant, free signatures.