If you've done your research about e-signature software, DocuSign is a name you must've heard of before.
Currently, the company has more than 1.17 million customers, more than a billion users, a presence in over 180 countries, revenue north of $2.11 billion, partnerships with some of the largest companies operating today, and the trust of brands like United, Ducati, KORE, Refinitiv, and T-Mobile.
On paper, it's perfect.
However, it still doesn't have the highest user rating in contrast to others in the same sector (e.g., on Trustpilot, it has a rating of 1.3/5, whereas a competitor like PandaDoc has a rating of 4.3/5).
Obviously, there's some gap between the data the company presents and the reviews it has.
So, let's go ahead and explore the use cases DocuSign presents and how it fares when compared to the competition.
Review summary
Although DocuSign as a product is completely top-notch (with all the features you need in an e-signature solution), it has dimmed its shine due to its poor customer service and less-than-glowing business practices.
Our rating
Overall: 3.7/5
Pricing: 4/5
Ease of use: 4.5/5
Features: 4.5/5
Customer support: 2/5
Value for money: 3.5/5
| Pros | Cons |
| --- | --- |
| As far as e-signatures are concerned, the platform provides all the need-to-have features. | The customer support is undoubtedly terrible. |
| It's got an easy-to-navigate UI and allows your tab to be fully customized. | The company provides many roadblocks if you go to unsubscribe from their service (aka, they'll make you jump between subdomains, provide poor customer support that wouldn't be able to process your request, etc.). |
| DocuSign is also compatible with industry standards and compliances, such as HIPAA, ESIGN Act, FedRAMP, and 21 CFR Part 11. | The solution has been accused of price gouging. |
| It provides more than 400 integrations and a host of other products to support e-signature capabilities. | Many customers say that it's not suitable for small businesses as it suddenly increases prices. There are limited features for small businesses, and if you need to add additional users that might require you to bump up a plan or two. |
Review methodology
To present a research-backed review, we analyzed:
The DocuSign solution (incl. its products, solutions, plans, and pricing).
User reviews from trusted sites like TrustRaidus, Gartner, G2, Trustpilot, and others.
Editorial reviews and comparison lists from high-domain and authoritative websites.
Educational media, such as images and videos.
General overview of DocuSign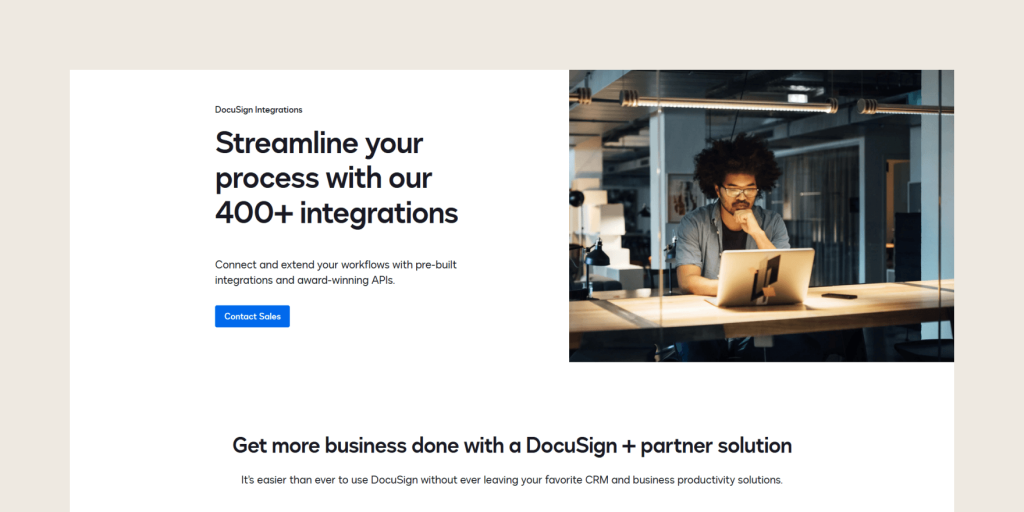 DocuSign was founded in 2003 by Tom Gonser, Court Lorenzini, and Eric Ranft.
Since its inception, the company has increased its presence in over 180 countries and has offices in more than 21 locations.
Over the years, it has consistently ranked as one of the top tech companies in the world by publications like Forbes and Fast Company.
After a while, in 2018, DocuSign filed for an IPO (initial public offering) and became public on NASDAQ the same year.
Presently, the company provides three key products: Agreement Cloud, Electronic Signatures, and Contract Lifecycle Management (CLM) — the CLM solution became a part of their offering when they acquired SpringCLM.
Folks operating in real estate, accounting, construction, communications, healthcare, insurance, manufacturing, and other such industries might particularly benefit from DocuSign's services.
Product pricing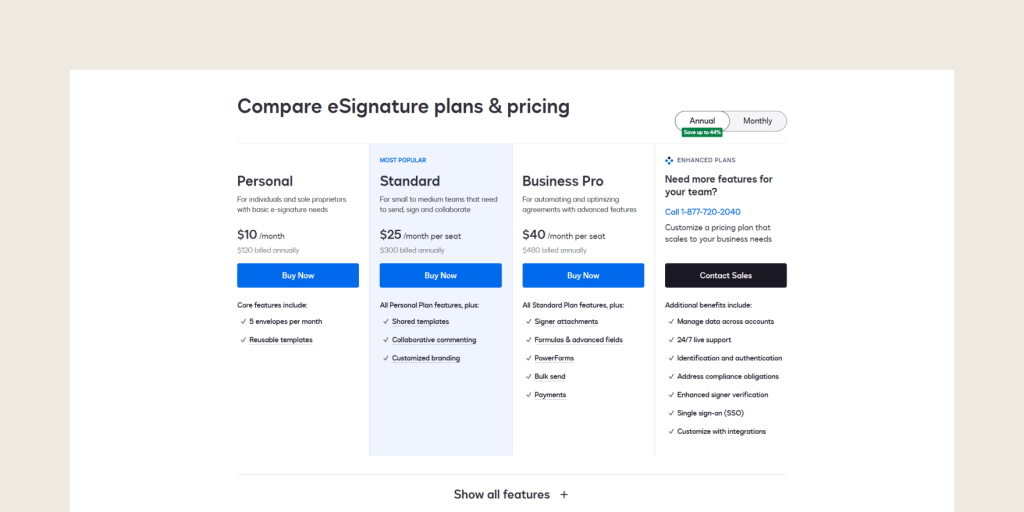 For the e-signature solution, three pricing options are available — Personal ($10/month), Standard ($25/month), and Business Pro ($40/month).
The same product, if purchased by real estate folks, has different pricing. The Starter pack, which is equivalent to the personal plan, is also priced $10 per month.
Two other packs, namely "DocuSign for Realtors" and "Real Estate" are priced $20/month and $25/month, respectively.
Pricing for CLM is not available on the website. However, external sources list the price anywhere between $15/month to $450/month.
You'll need to get in touch with the sales team to get pricing for the Agreement Cloud.
Key features
1. Multiple partners
The solution allows users to create seamless workflows with more than 400 integrations, with some of the popular integration partners being Microsoft, Zoom, Stripe, Cloud Giraffe, ActiveCampaign, and Accenture.
However, aside from just integrations, you can also use DocuSign to connect with a huge network of software vendors and services. Some of these vendors include Deloitte, Wipro, Carahsoft, Informa, and more.
These partners can then further be categorized based on type, tier, region, country, product, and industry.
For example, if you want to match your partner based on the DocuSign product you have, you can filter out the search based on these filters:
2. eSignature capabilities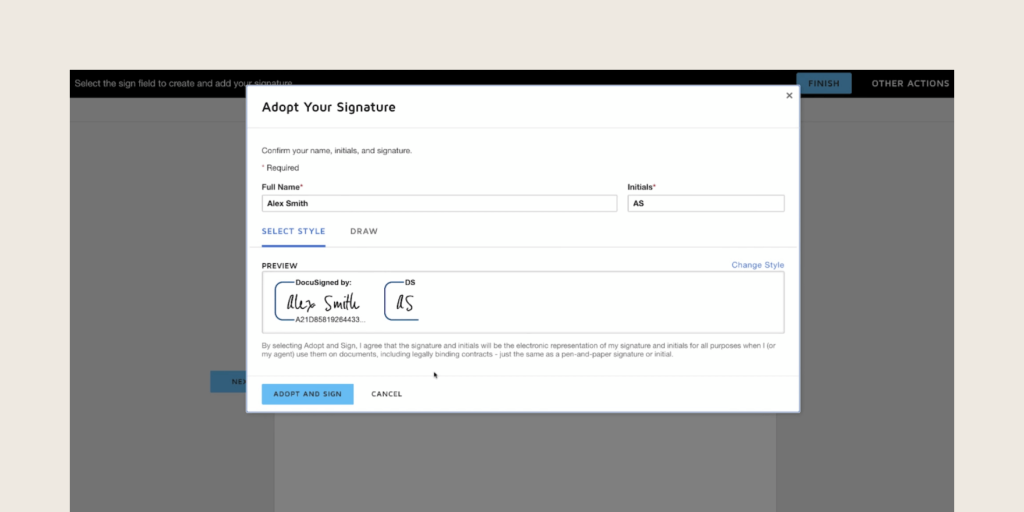 DocuSign's e-signature solution (aka its spotlight tool) has extensive capabilities, including, but not limited to:
Multi-format support (incl. PDFs, Docx, XLS, TXT, etc.)
Data validation
Cloud storage integration
Custom fields and tags
File conversion
Bulk share
Role-based access
Updates in real-time
Multi-change authentication
Custom branding
Moreover, DocuSign is one of the only players on the market (aside from PandaDoc and Adobe Sign) that can create legally valid digital signatures.
Perhaps the only limitation of this feature is that the Personal plan users can only send five e-signature requests per month.
If you've purchased DocuSign CLM, you can still access the e-signature functionality. However, CLM services are not included in the e-signature plan.
This is in contrast to competitors like PandaDoc who offer CLM, contract renewal, document tracking, e-signature, and other such solutions in one neat, affordable package.
3. Document analytics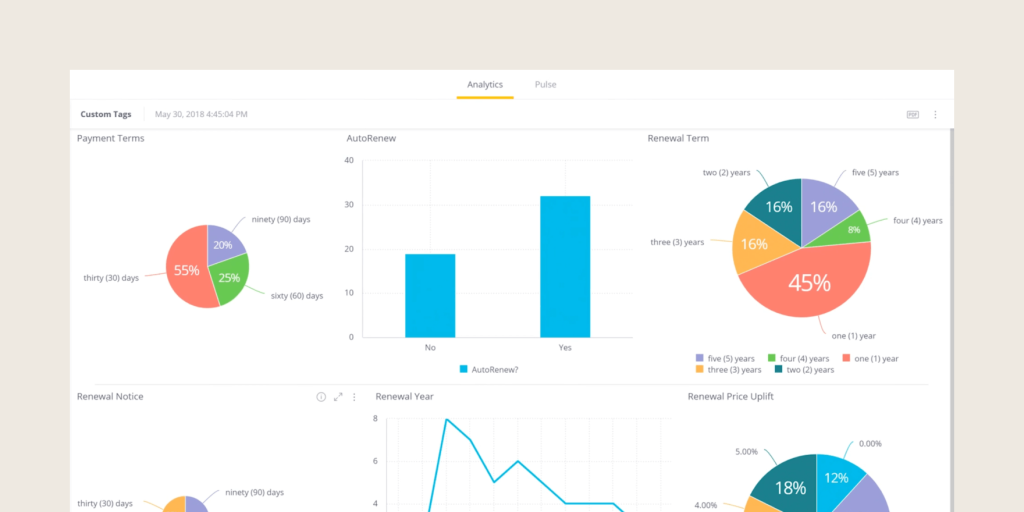 The best feature of DocuSign, and one that very few of its competitors provide, is document analytics.
With this feature, you can view how your recipients interact with the document, and it also provides you with insights into your own signing patterns.
You can even create custom reports of these insights and can further export them as a CSV file or print them.
4. Extensive product list
While DocuSign does have three products that it mainly highlights (e-signature tool, CLM, and Agreement Cloud), it also has an extensive product list that expands above and beyond these three options.
They include:
DocuSign Payments (pay with credit cards, bank transfers, or Apple Pay)
DocuSign Click (add consent for standard agreements)
DocuSign Monitor (track activities)
DocuSign Notary (notarize documents in a few minutes)
DocuSign Identify (identify signers through ID evidence)
Guided Forms (create interactive forms)
Mobile Apps (app for eSign)
DocuSign Gen (customize contracts with Salesforce)
DocuSign Insights (get AI-backed analytics on contracts)
5. Suitable for all business types
Generally speaking, the product is extremely compatible with all business sizes, regardless if they're a small business or an enterprise.
However, as we noted in the "cons" section above, some small business owners felt otherwise.
Additionally, to further assist these businesses, it even provides support in 14+ languages (incl. Italian, Spanish, Portuguese, Korean, etc.).
Last but not least, it also supports multiple devices and formats, such as web, desktop, and app (and is compatible with both Android and iOS).
6. Compliant with industry standards
The DocuSign e-signature solution conforms to the US ESIGN Act, which makes all the signatures you develop on the platform legally valid across all 50 states.
Additionally, the solution is compliant with industry-specific regulations like HIPAA, FedRAMP, and 21 CFR Part 11.
Moreover, DocuSign even allows for watermarks, audit trails, certificates of completion, document seals with PKI (Public Key Infrastructure), and digital signatures.
Support and ease of use
According to many user reviews (and our personal conclusion), the solution is extremely easy to use — it's got a clean user interface (UI), the features are easily viewable, and the e-signature tool really hits the mark with all its capabilities.
Furthermore, it runs fast, integrates seamlessly, and has a UI that's easily customizable (you can do so by creating custom tabs).
However, the support has received nothing but horrible reviews. Here are a few of their worst offenses (as per Trustpilot user reviews):
They'll make you wait around for weeks before providing a solution (if any).
The live chat feature doesn't come back with a response fast enough.
Support in certain countries, such as Germany and Australia, is nil.
They don't have a clue about the product they're supposedly providing support for.
They randomly hang up on calls.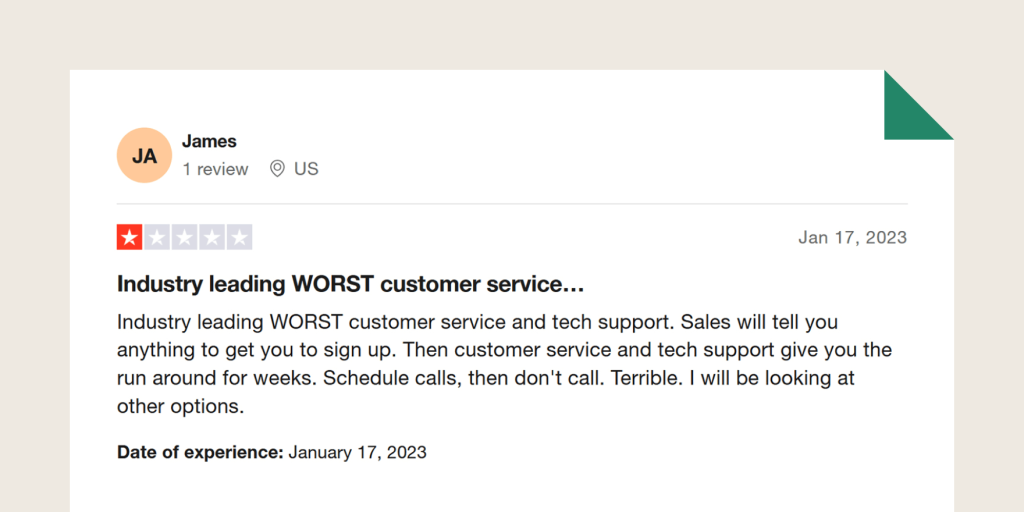 However, to their credit, certain customers said that as far as minimal issues are concerned, the support is quick to respond and very knowledgeable.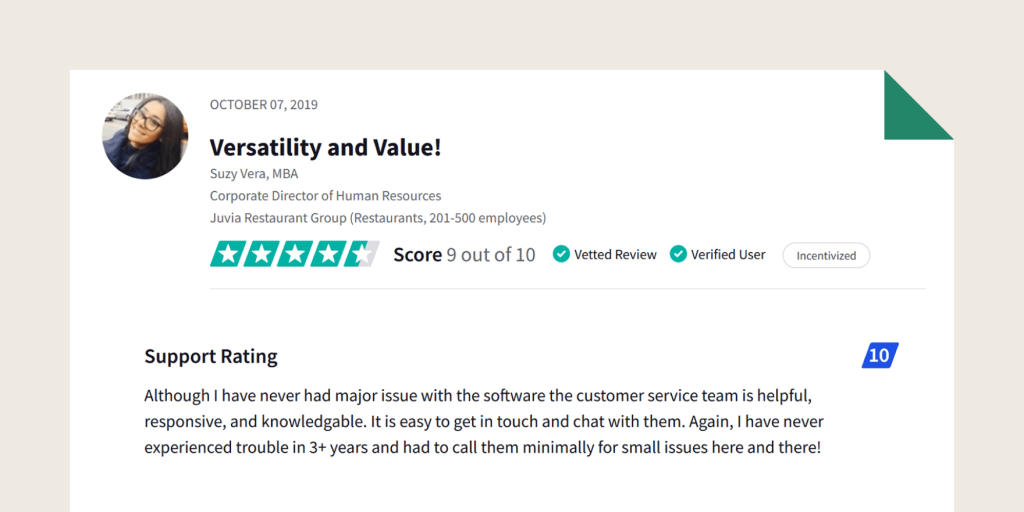 Obviously, this brings a bit of confusion as far as customer support is concerned.
However, if you look at the timestamps, almost every positive review about their customer service was written in 2019, and almost every negative review was written from 2023 onwards, so it's entirely possible the company has downgraded its support from this year.
How does PandaDoc compare?
As far as the e-signature product is concerned, PandaDoc provides similar capabilities as DocuSign.
Beyond that, we have more products than DocuSign has (i.e., we have solutions for proposals, quotes, forms, invoices, collaboration, and other document needs).
And if we compare the pros and cons list, sure, DocuSign has more integrations than us (we have 37 for reference), but our customer support team has also received glowing reviews, we're perfectly compatible with small businesses, don't price gouge (ouch!), and we don't have any roadblocks when you go to unsubscribe from our service.
If you'd like to compare the features between PandaDoc and DocuSign further, here's all that you need to know: PandaDoc vs. DocuSign
Parting words
DocuSign may be one of the largest companies in this sector.
But, the question you should ask yourself is — is it the right company for you?
Keeping all facts and user reviews in mind, it's quite possibly not the best fit if you're a small business.
So, if you wish to read up on DocuSign alternatives, we've got you covered: The 15 Best DocuSign Alternatives.
To know how PandaDoc compares against DocuSign and what bottlenecks it can remove for you, arrange a quick and free demo with PandaDoc!
Frequently asked questions
Yes, DocuSign is safe to use as it adheres to ISO 27001, SOC 1, and SOC 2 security protocols.

E-signature refers to an electronic signature that is usually used on documents to replace ink-on-paper signatures. E-signatures are different from digital signatures.
Disclaimer
Parties other than PandaDoc may provide products, services, recommendations, or views on PandaDoc's site ("Third Party Materials"). PandaDoc is not responsible for examining or evaluating such Third Party Materials, and does not provide any warranties relating to the Third Party Materials. Links to such Third Party Materials are for your convenience and does not constitute an endorsement of such Third Party Materials.