Finding the best electronic signature solution for your business isn't an easy task, especially since there are so many options to choose from.
DocHub and DocuSign have been important players in the document signing industry, with lots of users and satisfied clients in the SMB space.
Both platforms are easy to use, offer great functionality, and allow you to automate your document management process to various degrees.
So what are the differences between these two tools and which one is the better choice for your business?
Let's find out.
DocHub overview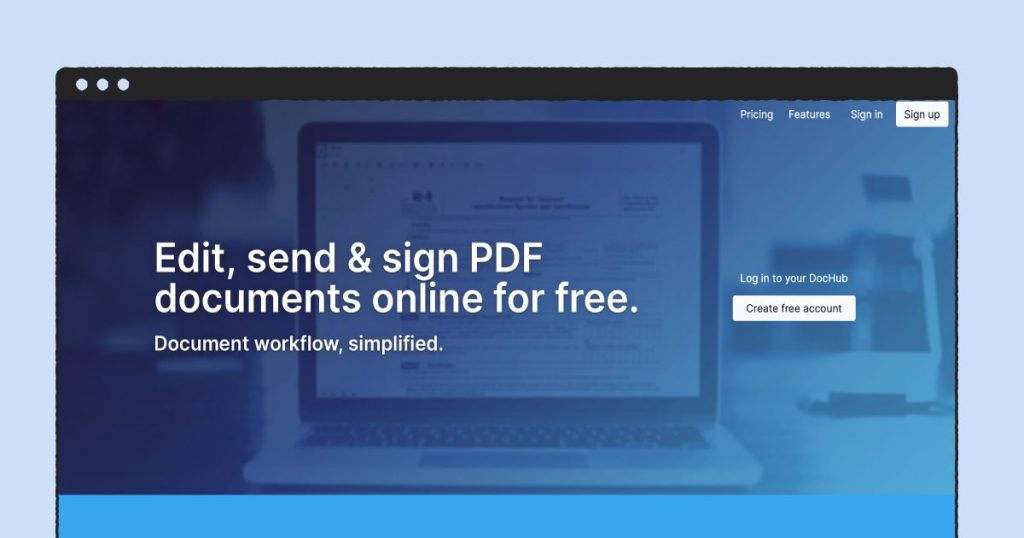 Pricing: Free or Pro ($10/month per user, billed annually).
Ease of use: 9/10
Free trial: Yes; 30 days.
Support: Knowledge base, email support.
DocHub bills itself as an online tool to edit, send, and sign PDF documents at no charge.
In reality, the editor does quite a bit more than that.
Using DocHub, you'll be able to annotate documents, append pages, add fields, merge files, and even create templates and forms.
The service also allows you to request signatures from both individual and multiple signers.
The key to DocHub's success as a DocuSign alternative is its low cost and its streamlined drag and drop interface.
Working with this tool is simple and intuitive, whether you need to modify and reorder your PDFs or just kickstart the digital signature process.
The platform also integrates with Google Drive, OneDrive, Box, and Dropbox for fast and easy importing.
It's also built to work on mobile devices directly from your web browser (no mobile app required!), so your signing solution is always available when you need it.
If you need to send a file, you can do so following a traditional process by preparing your document via the DocHub interface and sending it to signers via email.
You can also make your document public and share the URL with anyone who needs to view it — a particularly useful feature if you need to share documents quickly with multiple signers.
DocuSign overview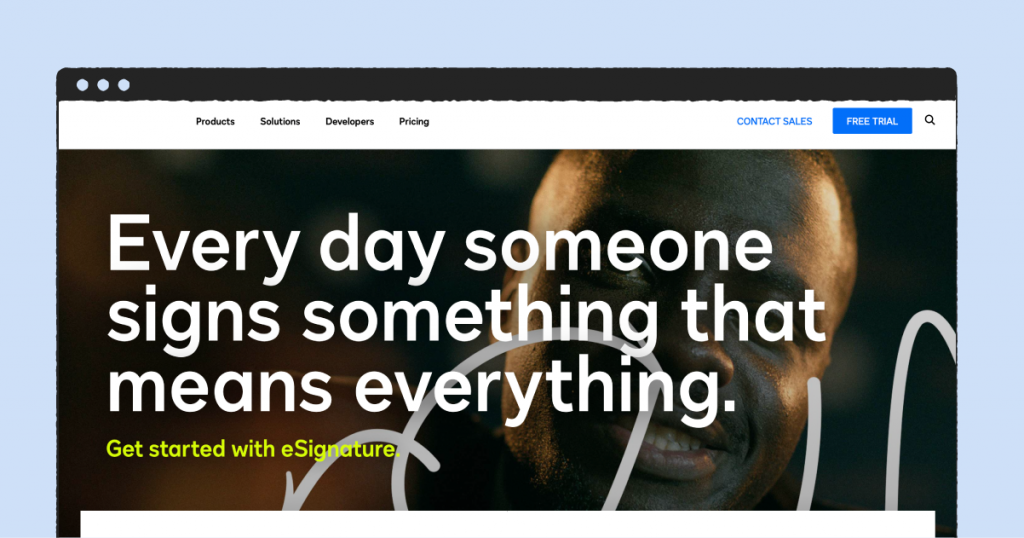 Pricing: Personal ($10); Standard ($25); Business Pro ($40). All plans per user/month. Pricing based on annual commitment. Enterprise pricing available.
Ease of use: 9.0/10
Free trial: Yes; 30 days.
Support: Knowledge base, support tickets; additional support plans sold as separate packages.
DocuSign is one of the most popular e-signature solutions on the market and, if you've ever needed to sign a document, chances are high that you've run across it before.
Businesses all over the world use DocuSign to sign legally binding contracts that are essential to daily business operations, and the user reviews you'll find online are great indications of the platform's popularity.
As you might expect, this platform excels at the e-signing process and provides useful tools to help users prepare their document for signature capture.
While DocuSign doesn't go as far as PandaDoc by offering a full-blown document editor, the intuitive drag-and-drop interface and color-coded signing tools that the platform offers make it easy to add signature fields, minor text fields, initials, and more to your PDF documents.
You can also create templates for later use, gather reporting data and analytics, collect payments, and much more.
Plus, you'll be able to sign anywhere thanks to DocuSign's mobile apps for both iPhone and Android.
DocHub vs DocuSign at a glance
Now that we've got the basics out of the way, let's see how DocHub and DocuSign compare in the most important categories.
| Plan Details | DocuSign | DocHub |
| --- | --- | --- |
| Plan Name | Personal | Pro |
| Monthly Pricing | $15 / user | $14 / month |
| Annual Pricing | $10 / user | $10 / month |
| Maximum Number of Users | 1 | 1 |
| Minimum Number of Users | 1 | 1 |
| Number of Documents Sent | Unlimited* | Unlimited |
| Basic Drag and Drop Fields | ✓ | ✓ |
| Mobile App | ✓ | X |
| Reusable Templates | ✓ | Limited |
| Signing Order | ✓ | ✓ |
| Multiple Recipients | ✓ | ✓ |
| Bulk Send | X | Limited |
| Real-Time Audit Trail | ✓ | ✓ |
| Integrations: Import & Storage | ✓ | ✓ |
| Integrations: CRM | X | X |
| Integrations: Productivity & Other | ✓ | X |
| Language Support | ✓ | ✓ |
| Document Editor | X | X |
| Pre-built Template Library | X | ✓ |
| Notifications | ✓ | ✓ |
| Payment Gateway | X | X |
| Custom Branding Options | X | ✓ |
| In-person Signatures | X | X |
| Commenting & Collaborative Fields | Limited | Limited |
| Signer Attachments | X | X |
| | | |
| Support Options (At level) | | |
| Email / ticketing support | ✓ | ✓ |
| Chat support | X | X |
| Knowledgebase | ✓ | ✓ |
| Phone | X | X |
01. Plans and basic features
We'll start with their plans and the basic features that both solutions offer.
DocHub offers two plans: Free and Pro ($10 per user/month).
The Free plan will be enticing to individuals and small companies that have the need for a standard eSignature automation tool.
However, don't be fooled by the numbers on the DocHub website. With this plan, you can edit up to 2,000 documents but you can only send a total of three signature requests per month.
That's important, because it effectively limits the use case of the free plan to a perpetual free trial (unless you only need to acquire three signatures per month).
Even if you're a small organization, you'll likely need to upgrade to the Pro plan to make DocHub work for you. Switching to Pro removes the plan limits, so you'll get unlimited documents and signatures, as well as priority customer support.
The ability to send more documents is the main highlight of the Pro plan. With the upgrade, you can send documents to a maximum of 50 signers per request.
You'll also have access to premium tools, like the ability to import documents via URL, organize documents into folders, and even fax a limited number of pages each month.
So, how does all of that compare to DocuSign?
DocuSign offers the Personal plan as their cheapest option at $10 per month.
The platform offers a free plan limited to three signatures a month but, like DocHub, it's mostly set up as a kind of perpetual free trial.
The Personal Plan is limited to a single user that can only send up to five documents per month for eSigning.
Using DocHub, you could have access to unlimited signature requests for the same cost.
However, DocuSign's pricing tier doesn't stop at a $10/month plan.
From there, you can climb into the Standard and Business Pro plans, each of which offer a greater level of functionality to users.
These higher-tier plans include features that DocHub simply doesn't offer, such as payment integration, the ability to request signer attachments, and team controls for larger organizations.
While DocuSign becomes significantly more expensive than DocHub, it brings more to the table in terms of functionality — particularly for mid-market and enterprise-level organizations who need to integrate their signing process with the rest of their tech stack.
Our suggestion
For the right user, both DocHub and DocuSign are viable options.
No matter how you look at it, DocHub is by far the more cost-effective solution, especially for small businesses.
The ability to prepare documents and send an unlimited amount of documents for signing for such a low cost is difficult to ignore.
The PandaDoc Free eSign plan is the only other plan we know of that might compete — because it's free and offers similar features and performance.
However, especially for larger businesses, DocHub doesn't offer the same level of functionality and integration as DocuSign will.
The product is (much) more expensive, by comparison, but DocHub has no real answer for the integrations and advanced controls that DocuSign brings to the table.
It's that simple.
Final verdict:
DocHub is perfect for small businesses.
DocuSign is a better fit mid-market and enterprise-level organizations.
02. Ease of use
Both DocHub and DocuSign are relatively simple and intuitive to use.
Although their user interfaces are different, working with one tool is similar to working with the other. (We tried them both!)
You won't have difficulty switching between them or picking up the different workflows.
Both platforms offer toolbars that contain all the essential customization elements, including drag-and-drop fields, text editing tools, and e-signature options.
You won't find anything as robust as the PandaDoc document editor, which allows you to create documents entirely from scratch, in either platform.
However, if you have a preformatted PDF built from Microsoft Word or Google Docs, you'll have all the tools required to prep the document for e-signing.
Overall, there are slight differences in how these platforms look and feel.
Upon using DocHub for a while, you'll notice that it looks similar to a regular PDF viewer: Everything is white, the toolbar is at the top, and you have the standard page viewer on the left. The tool is definitely simple, but it's also a little bland.
DocuSign, on the other hand, feels a little more innovative. You have the sidebar on the left and the interface feels more modern.
The design is also more pleasing to work with and the buttons make the experience more streamlined.
Despite these minor differences, the end result is largely the same.
Our suggestion
Having looked at both tools, we can safely say that the interface shouldn't be the deciding factor in which service you ultimately choose.
Both DocuSign and DocHub offer a streamlined document preparation process and a simplified, no-nonsense user interface.
It's worth noting that both tools keep the more complicated settings out of the document prep UI.
For example, both tools allow you to set up custom branding options, but you'll do that in the settings and preferences section rather than during the document prep process.
Final verdict:
Both DocuSign and DocHub offer similar interfaces and are relatively easy to use. User experience is roughly equal.
03. The e-signature process
Sending a document with both DocHub and DocuSign takes three or four steps (depending on how you set things up).
First, you'll need to upload your document.
Both apps will have an option for this as soon as you log into your account, but it's more obvious with DocuSign. (The huge drag-and-drop window with the "Start Now" button is difficult to miss).
Once you've uploaded your document, the signing process will begin.
You will need to choose the number of signers, set the signing order, add drag-and-drop fields to the editor, and prepare the document for signers.
Upload your form to begin document setup with DocuSign.
The app's toolset allows you to drag-and-drop elements from the toolbar to quickly identify where signatures or other pertinent information are needed.
When more people are required to sign documents, signers can be color-coded.
You can set checkboxes and initials to remind your recipient to sign. You can also create custom fields if the standard fields aren't sufficient.
With DocHub, editing documents might not look so impressive but it's incredibly easy and you have a lot of options at your disposal.
The Field Manager feature gives you the ability to modify existing fields or create new ones.
You can add checkboxes, text, signatures, initials, and more. You can also highlight text and whiteout the parts that need to be removed.
DocHub also allows you to edit PDFs by adding pages and merging two files.
The order of operations varies between the platforms. For example, DocuSign asks you to set your signers first.
DocHub offers this option once you're within the document editor. However, the result is largely the same.
Once all fields are arranged, you can follow the workflows to send your documents.
The system will notify recipients, who can review your documents and provide signatures without needing to sign up to use the tool.
When all recipients have signed, the process is complete!
Our suggestions
As we mentioned earlier: Though both signing processes vary, the result is largely the same.
You'll need to learn a (slightly) different process, depending on which tool you use.
That being said, DocuSign's workflow feels more streamlined here.
By requesting the document signers first, DocuSignis able to help you prep documents with better workflows.
It's easier to understand which fields are assigned to which user, and the interface makes a clear distinction between signers from the very beginning.
It's important to note: DocHub does the exact same thing!
However, because signers are added after you've reached the document editor, you need to add document signers to enable this essential functionality.
Final verdict:
Overall, DocuSign offers a more intuitive signing process, but DocHub is easy to learn, and the signing flow is roughly the same in the end.
04. Document management
Nearly all organizations need tools to track and manage their documents as they move through the e-signing process.
That's why document management is a core feature for most electronic signature platforms.
That's also true with DocuSign and DocHub.
Both tools offer ways to manage and store your documents before, during, and after the signing process is complete.
Both platforms allow for a similar style of document management, relying on a document inbox for actionable items and folders for storage and archiving.
If you're familiar with email tools like Gmail or Outlook, the document management interface for both of these platforms will look relatively similar.
DocuSign offers a larger variety of options on its left sidebar, particularly in the Quick Views section.
This submenu is designed to automatically filter documents based on where they are in the signing process, and it makes navigating to your action items simple and easy.
DocHub, on the other hand, uses the inbox as a catch-all for anything that needs your immediate attention.
Rather than having a large selection of filters, all you need to do is action the items in your inbox.
Both platforms rely on folders for storage and archiving, but (strangely) DocHub limits the number of folders that you're allowed to create to 100 on the Pro plan.
From what we can tell, DocuSign doesn't limit folder creation.
Our suggestions
We know that managing documents isn't the most exciting thing for most users, but your ability to keep track of your files is essential to long term success.
Both platforms offer similar tools to help you manage and store your files after they've been signed.
In addition to limiting the number of folders you can create, DocHub doesn't allow users to nest folders. This effectively limits organization to one layer of depth.
That's a step back from DocuSign and other platforms, including PandaDoc, which allows you to nest folders together to achieve multiple layers of organization.
Final verdict:
Both platforms offer similar toolkits (folders, inboxes, filters, etc.) for managing documents.
DocHub has greater limits surrounding document management.
05. Analytics and tracking
When sending documents to your clients, you'll probably want to know if they received, opened, and signed them.
All of this is possible through audit trails and tracking tools, and many of the best eSignature solutions will have this among their feature set.
Some platforms, like Pandadoc, offer analytics and tracking on the lowest-tier and free plans.
Others reserve tracking and reporting data for higher-end plans.
As you might expect, DocuSign includes real-time audit trails and notifications with every plan.
This allows you to see the status of any document you've sent.
With DocuSign, this level of tracking is built into the document workflow.
You can see the status from the document inbox, and the Quick Views sidebar menu that you can use to filter actionable items tied to each step of the document pipeline.
You can also audit the history of a given document to determine when actions were taken and even resend any document to a recipient with one click, if needed.
But what about DocHub?
DocHub offers similar features with their activity timeline.
Using this tool (accessible from the Sent folder in the DocHub sidebar), you can track the status of a document via its activity timeline, showing how viewed the document and what changes were made.
However, aside from this basic tracking, neither platform offers much data to work with in order to optimize your forms and signing workflows.
Our suggestions
Depending on your document process, features like audits, tracking, and analytics can matter a little or a lot.
For example, PandaDoc users need dedicated analytics to better understand how readers are interacting with documents.
Our users can see how long someone took to read a page, how long it took documents to move through their respective pipelines, and more.
Teams then use this information to optimize documents, smooth out sales and signing processes, and build better documents!
DocuSign offers something similar via the DocuSign Analyzer, but this tool is specifically designed for contracts and is entirely separate from the e-signing platform.
However, those tools might be more than you need if all you're looking for is a simple signing workflow!
In that case, both DocuSign and DocHub tracking tools will be sufficient for your needs.
Because DocuSign integrates its filters and Quick Views with the document status, this feature feels more integrated.
Final verdict:
DocuSign and DocHub offer similar tracking features for your documents as they move through the signing process.
DocuSign integrates tracking with its onboard signing workflow and Quick Views, making it feel more integrated.
Neither tool offers robust document analytics and tracking in the way that a tool like PandaDoc does.
06. Integrations
Integrations can be very important for e-signature software.
Depending on your industry and niche, you may need to find a document management and digital signature solution that integrates with the tech stack and tools you use in your daily operations.
Especially for growing organizations, speedy workflows often require e-signing tools to integrate with CRM platforms.
Combining software functionality helps streamline the entire document process and save significant time.
For example, an integration between a signing platform like PandaDoc and Salesforce helps reps add customer data to pre-built contract templates in just a few clicks.
Documents can be generated and pushed out the door quickly, all with minimal effort from agents.
There are other integrations, too, such as the ability to connect e-signing tools to off-platform storage locations like Dropbox or Google Drive.
So, how do these two tools compare?
Technically, DocuSign can integrate with more than 350 third-party apps, including CRMs, HR software, cloud storage providers (Dropbox, Box, Google Workspace, etc.) and more.
The downside is that you'll have to pay for that access.
DocuSign keeps all integration other than its cloud storage connections locked away behind its Enterprise plan.
That plan is far more expensive than anything DocHub offers, but the functionality is available if you're willing to pay the price.
At the level where DocHub competes, both platforms offer cloud storage integrations to Dropbox, Box, Google Workspace, and a few other systems.
The experience will be roughly the same.
Our suggestions
If you're looking for a robust selection of integrations, DocuSign is the clear winner.
The platform offers a suite of integrations that is only surpassed by third-party connectors like Zapier.
However, all of that connectivity comes at a price that far exceeds the low-cost price point between these two tools.
Final verdict:
DocuSign has more integrations, but at a high price point.
At the pricing tier where DocHub and DocuSign compete, you'll have roughly the same integration options.
07. Security
Digital security is always a point of concern when comparing signing solutions for a few reasons.
When issuing an important document, you'll want to make sure that the signer is authenticated in some way so that the digital signature can hold up in a legal scenario.
Further, when storing that document, you'll want to make sure that documents are secure and that critical information stays private.
DocHub says that it uses Amazon Web Services (AWS) to store all collected data, which is common throughout the industry.
The company also says that it offers encryption on data both in transit and at rest, meaning that your information is secured at all times when interacting with the platform.
Using AWS allows DocHub to provide a standardized level of physical security, and in-house software engineers regularly work to fix vulnerability and maintain compliance.
However, while these are formidable industry standards, it's fair to say that DocHub's security infrastructure isn't as robust as what DocuSign can offer.
Similar to PandaDoc, DocuSign offers up-to-date security certifications from a variety of industry standard organizations and has plans and procedures in place to stay compliant with GDPR regulations in the event of privacy breaches.
Because DocuSign is so much larger, the company is equipped to handle security at the enterprise level, and that comes with some additional perks and protections, even for lower-tiered users.
Our suggestions
When it comes to safety, both DocuSign and DocHub offer an acceptable level of security for most users. Both companies are regularly audited, and both keep data encrypted.
From the perspective of document authentication — that is, the ability to offer legally binding e-signatures for the documents that you send — each companies provides this with no issue.
No company is perfect, though.
If security is your primary concern, and you feel that authentication and document safety are key factors in your decision making process, DocuSign is the safer bet simply due to size and staffing.
Final verdict:
DocuSign offers enterprise-level security, and that infrastructure has beneficial effects for users on lower-tier plans.
DocHub offers robust security measures that are more than adequate for the majority of users.
A quick word on transaction limits
One item that isn't always clear when comparing e-signing products is how transaction limits work.
DocuSign is upfront about these limits.
The platform caps the number of "envelopes" that you can send at 100 envelopes per user/year.
But what is an envelope?
This is a little complicated, so bear with us.
For DocuSign users, an envelope is the wrapper that contains your documents.
You can put multiple documents inside an envelope (similar to mailing a physical letter).
As long as those documents are going to the same recipients at the same time, they count as one envelope.
For example, imagine that you needed to hire a new employee.
To do that, you need to send the hiring paperwork to the employee, a hiring manager, and the human resource representative at the corporate office.
In DocuSign, you could build that package, attach those recipients, and send the documents.
All of this would count as one envelope.
Afterward, assume that you needed to send an invoice to a single organization for review and signoff. You only need to send this to one individual.
This action would also count as a single envelope.
With DocuSign, you can send 100 envelopes per user/year on any plan. Users who exceed this amount will need to pay for additional envelopes, which will increase the overall price.
By comparison, DocHub sets your limit at 100 documents or transactions per user/month — offering over 10x more document sends than DocuSign at no charge.
If you're comparing the DocuSign Personal Plan to the DocHub Pro plan, this hardly matters because DocuSign Personal only allows you to send five items per month.
For any other plan, understanding the transaction limits can be the difference between finding a plan that fits and accruing unexpected overages during use.
Unfortunately, most companies cap usage at specific limits.
To our knowledge, PandaDoc is one of the only companies that offers truly unlimited usage.
Other DocHub and DocuSign alternatives
For some users, the simplicity that comes with DocHub might make the product feel too small or limiting.
Other users might not be too thrilled with DocuSign or the sending limits that it places on how its product can be used.
Even though we're comparing DocuSign and DocHub, keep in mind that there are other signing solutions out there worth considering.
Here's a quick list:
Each of these software tools brings something unique to the table.
Dropbox Sign is part of the Dropbox platform (not just an integration!) while Adobe Acrobat Sign offers native editing on PDFs in a way that few other platforms can.
Meanwhile, PandaDoc offers full-blown document creation from scratch, exceeding the services offered by both DocuSign and DocHub by a considerable margin.
Final word
Finding the right e-signature solution will always depend on your specific needs and, in our opinion, DocHub and DocuSign serve businesses with different sets of needs.
DocHub is a great solution if you're a solopreneur or small business owner looking for a simple, cost-effective eSignature tool.
You won't get advanced features like document analytics or lots of integrations.
On the other hand, you'll be able to send a greater number of documents and have access to basic integrations with Gmail and Google Drive.
With DocuSign, you get more advanced features and a more modern user interface.
If you're looking for CRM integrations, well-designed Android and iOS apps, and document tracking, you'll find DocuSign the better option.
However, keep in mind that, while those features are available, they come at a cost that will far exceed what you would spend on DocHub.
In our opinion, if you're looking for the best eSignature software for SMBs, you'll hardly find a better option than PandaDoc.
Our digital signature tool offers professionally designed reusable templates, advanced document workflows, and much more.
It's also the only solution that gives you access to unlimited documents and eSignatures even in the free plan!
Start your free trial today and see what else PandaDoc has to offer!
Disclaimer
Parties other than PandaDoc may provide products, services, recommendations, or views on PandaDoc's site ("Third Party Materials"). PandaDoc is not responsible for examining or evaluating such Third Party Materials, and does not provide any warranties relating to the Third Party Materials. Links to such Third Party Materials are for your convenience and does not constitute an endorsement of such Third Party Materials.
Originally published September 20, 2021, updated April 25, 2023