In the past, real estate professionals looking to maximize profits and streamline their signing process needed to arrange and deliver documents to clients with near-tactical precision.
Today, powerful eSignature solutions help realtors send documents electronically.
DocuSign for real estate plans play a big role in this flexibility.
Endorsed by the National Association of Realtors (NAR), DocuSign offers a Real Estate Starter plan and a more advanced plan with additional digital transaction management options.
But DocuSign's plans aren't the only way to send real estate documents.
Today, we're going to review the highlights of DocuSign's plans for NAR members and show you how PandaDoc can help realtors close deals even faster.
How to use DocuSign for real estate
When it comes to eSignature for real estate, DocuSign is one of the most popular tools. That's partly because it's so easy to set up and use.
When it comes to how to use DocuSign for realtors, all you have to do is begin a free trial.
You'll be prompted to provide your email address, and then you can start using all of DocuSign's features right away, free of charge, for 30 days. After that, you'll be asked to choose a paid plan.
DocuSign Rooms for Real Estate is particularly useful in the context of—as the name suggests—real estate.
It provides users with a secure virtual meeting space, where buyers, sellers, brokers, and agents can easily work together and process transactions.
Anyone working in the real estate sector will also be glad to find that DocuSign's built-in document tracking feature helps protect all their transactions.
Combined with the ability to send and sign documents, this saves users time and streamlines workflows.
Whether you're looking for one-time payment or monthly installments, DocuSign Payments helps real estate professionals manage all their business transactions in a secure place.
In short, DocuSign helps you complete various important real estate workflows securely.
This ensures you can connect with customers, create contracts and other documents, and collect signatures in a protected environment that brings all your needs together under one virtual roof.
How much is DocuSign for realtors? (vs. PandaDoc)
Let's take a look at the electronic signature services and transaction management solutions provided by the two main DocuSign real estate plans, plus an alternative from PandaDoс.
Each plan listed here has a great selection of options for real estate industry professionals.
Below, we'll review the key features for real estate agents, as well as the real estate electronic signature software solutions provided by both DocuSign and PandaDoc.
| DocuSign Real Estate Starter | DocuSign for Realtors | PandaDoc Business Plan |
| --- | --- | --- |
| $10/monthbilled annually | $20 per month/user billed annually | $49 per month/userbilled annually |
| 1 user | Up to 5 users | Unlimited users |
| Send 5 documents foreSignature per month | Send unlimited documentsper year (subject to reasonable use policy) | Send unlimited documentsper year |
| Basic fields | Basic fields | Basic fields |
| Mobile app | Mobile app | Mobile app |
| | Strikethrough & Comments | Commenting |
| | ZipLogix's zipForm Plus Integration | ZipLogix's zipForm Plus and otherCRM integrations via Zapier (+$10/month) |
| | Reminders & Notifications | Reminders & Notifications |
| | Collaborative fields | Collaborative fields |
| | REALTOR-logo branding | Custom branding |
| | In-person signatures | Signer workflows |
| | Signer attachments | |
| | Advanced recipient types | Advanced recipient types |
| | | Content Library |
| Reusable Templates | Reusable Templates | Reusable Templates |
| | | Document Editor |
| | | Pre-build Template Library |
| | | Chat & Email Support |
Key features
If you're a realtor on a budget, DocuSign's Real Estate Starter is a great starting point.
Especially if you're a part-time agent or are only showing a limited number of properties, the usage limits on this plan are unlikely to impact your wallet.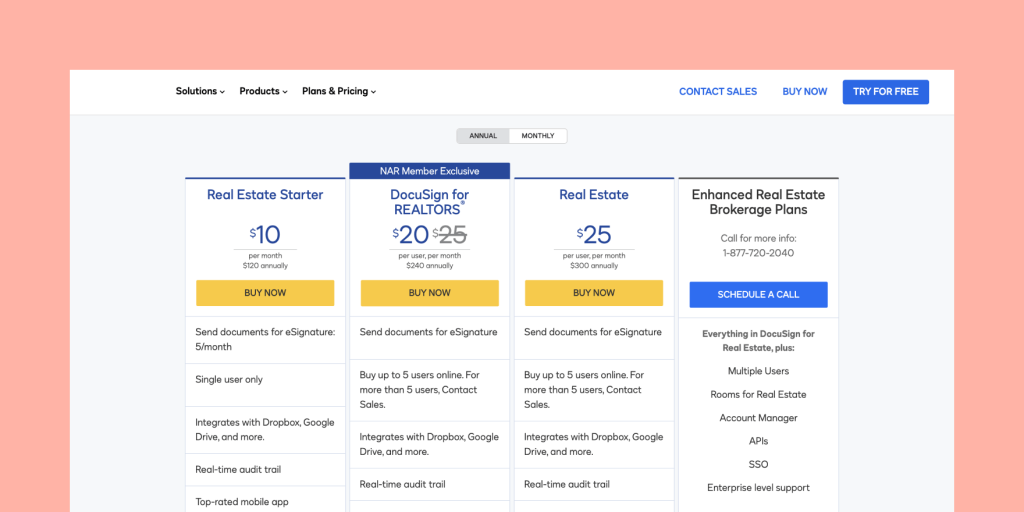 Full-time agents may consider the DocuSign for Realtors plan. This is a plan you shouldn't overlook.
Though this plan is $20/month when billed annually, it's endorsed by the National Association of Realtors.
There's no question that DocuSign helps every transaction by ensuring that you have all the tools you need to move deals through your pipeline.
For power users who want total control, the PandaDoc Business Plan provides a built-in document editor, a pre-built template library, an onboard CRM, and more.
This functionality comes at a higher cost, but it also gives maximum control over the documentation used in your real estate deals.
If you're looking for maximum flexibility and customization, PandaDoc is the way to go.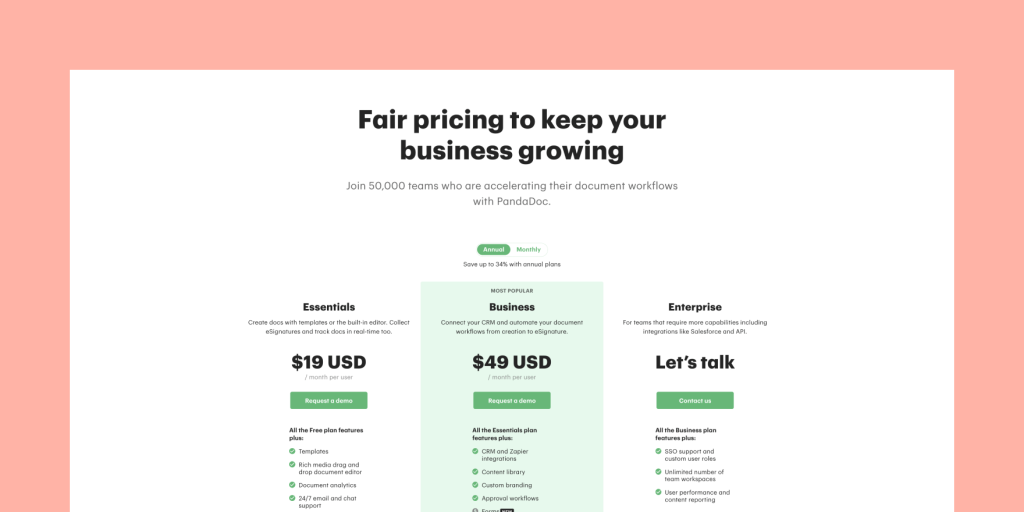 Document limitations
When you're trying to move your real estate transaction through its lifecycle, the number of forms and documents you need to send can get out of control.
When realtors use DocuSign, they can run up against transaction and document limits that prohibit sending or raise the cost of the annual subscription.
Using the DocuSign Real Estate Starter plan, DocuSign users can send up to five envelopes per user/month.
From their FAQs, DocuSign defines an envelope in the same way that you might imagine getting an envelope in the mail.
It's the "wrapper" that encloses all of the documents.
As a realtor, if you can send all of your documents inside a single envelope, you may not have to worry about envelope limits.
The problem occurs when you're forced to re-send documents or to send documents piecemeal.
If you need a client to sign a consent form or you want to send a contract separately, you're potentially sending multiple envelopes to everyone involved in the transaction — from sales teams and brokers to clients and other realtors.
It adds up fast!
With PandaDoc, you'll never have to worry about document limits — ever.
No matter how many documents you send or how you want to send them, you'll be able to send and store those documents within your PandaDoc account.
Document customization
Some of the forms that you'll need to send as a real estate agent are standard boilerplates.
Consent forms, basic contracts, fee agreements, and similar documents are all standard fare.
But what about marketing and proposal documentation for the properties you're trying to sell?
Like many other electronic signature solutions, DocuSign allows realtors to upload documents as a PDF and use basic drag-and-drop fields to add electronic signatures to them.
PandaDoc does much more than that.
With PandaDoc, you'll be able to create full-blown marketing documentation that you can use to help clients find their next home! This can be critical to your success.
Real estate listings with drone photography sell much faster than listings without it.
Imagine if you could embed those media elements into your marketing documentation and use them to boost sales!
Most importantly, all documents you create can be saved as reusable templates.
That way, if you build a sales document that you're proud to share, you can recycle that document, change any relevant details, and use it again!
Commenting and redlining
DocuSign allows you to engage with clients by applying strikethroughs to your real estate documents—but only on the DocuSign for Realtors plan.
This can be helpful in negotiations because it allows you to quickly eliminate points of contention within a contract.
But what if you could do more than simply strike things out?
In some ways, DocuSign is limited in what it can provide because all documents sent through DocuSign are PDFs.
When you use the PandaDoc document editor for your documents, you maintain maximum control and flexibility over your entire contract.
That's why PandaDoc offers commenting rather than simple strikethroughs.
While DocuSign also offers commenting, this process is different with PandaDoc because the document can be edited in real time, without the need to make changes offline and re-upload.
Using PandaDoc, you'll be able to negotiate with clients and with other agents and then make those corrections and updates within the contract in record time.
Because everything happens digitally and all users are working from the same document, the negotiation process doesn't get delayed due to long handoffs.
Once one side finishes adding their remarks, realtors can make changes, offer alternative solutions, and move deals forward.
Integrations
Modern technology and digital services rarely exist in a vacuum, and neither DocuSign nor PandaDoc is an exception to this rule.
Every realtor has a preferred set of software, whether it is a specific word processor or a document storage solution.
PandaDoc provides maximum flexibility when it comes to document integration and storage.
DocuSign offers the DocuSign Agreement Cloud to help you store and manage documents, while PandaDoc offers native integrations with key services like Dropbox, Box, Google Drive, and more.
One key point to note is that DocuSign offers native integrations with zipLogix's zipForm Plus, a CRM used by thousands of realtors across the United States.
While zipForm isn't native to PandaDoc, we do offer this integration through our Zapier connection.
PandaDoc also offers users connections to several other CRMs, so if you're not attached to zipForm Plus, you'll find a variety of alternatives at your disposal.
Closing the deal
At the end of the day, both DocuSign and PandaDoc want you to close the deal.
We know that capturing electronic signatures is critical in moving deals through your real estate sales pipeline.
The tools you use to conduct business can boost your reputation, show your experience, and build trust through transparency — the three most important factors that buyers and sellers look for when choosing an agent.
DocuSign's real estate electronic signature software and their pricing plans are designed to appeal to a broad variety of realtors and industry professionals.
They've worked hard to integrate into the NAR and are even part of the NAR's Realtor Benefits Program.
Even so, PandaDoc is the best solution for users who want maximum control over their contracts and want to push deals through at lightning speed.
This level of control can be key for self-employed agents who aren't attached to an independent brokerage or a national franchise.
As a signature solution, DocuSign and PandaDoc are evenly matched, but the level of control and customization that PandaDoc provides for your sales documents and contracts put it a cut above the other signing solutions on the market today.
FAQs about DocuSign for real estate
Unfortunately, DocuSign is not free after the initial 30-day period.

DocuSign pricing for realtors aside, the tool doesn't allow users to send more than five envelopes' worth of documents per month on the Real Estate Starter plan.

Theoretically, you can send as many documents as you'd like for free using DocuSign—provided you can send them all within the 30-day time limit of the free trial.

DocuSign's Real Estate Starter Plan limits you to five envelopes of documents per month, but each envelope can contain as many documents as you need and be to as many recipients as necessary.

The DocuSign for Realtors Plan is limited only by the company's reasonable use policy.

There is no maximum annual number of signable documents you can send with DocuSign for Realtors. That's as long as DocuSign does not deem you in breach of their reasonable use policy.

With the Real Estate Starter Plan, you can send five envelopes' worth of documents for signatures each month.

Each envelope can contain as many documents as you need, and there's no limit on the number that can get signed.
Disclaimer
Parties other than PandaDoc may provide products, services, recommendations, or views on PandaDoc's site ("Third Party Materials"). PandaDoc is not responsible for examining or evaluating such Third Party Materials, and does not provide any warranties relating to the Third Party Materials. Links to such Third Party Materials are for your convenience and does not constitute an endorsement of such Third Party Materials.
Originally published April 27, 2019, updated April 6, 2023