Electronic signature software has come a long way in the last decade. Today's market offers a variety of solutions for both small business owners and larger teams.
But finding the right solution for your business can be difficult, especially if all you're really looking for is a way to sign documents fast.
Today, we'll take a look at two key players in the electronic signature space and find out what they can do to help you close deals faster.
It's HelloSign (DropBox sign) vs. DocuSign. Let's get started!
The methodology used to collect data
To cover these two tools as objectively and factually correct as possible, we went over 30 different websites to get the relevant data needed for this comparison.
The types of websites that went into the analysis include software review websites, user-review websites, as well as the websites of the mentioned SaaS tools.
To differentiate between highly relevant websites and the ones less credible, the data sources were grouped into four cohorts based on the number of visits (which was used as an indicator of websites' relevance and expertise):
>500.000 visits;
250.000 – 500.000 visits;
100.000 – 250.000 visits;
<100.000 visits
The first and second group websites were assigned a higher relevance score and were considered primary sources. Other websites required more vetting and additional checks were run to make sure the data is accurate, objective, and not sponsored.
Some examples of the most relevant sources we used:
The websites of the covered tools were used only to confirm data such as pricing, features, customer support, and other information that needs verifying. To keep the article objective, their own perceptions and recommendations regarding their own tools were not taken into consideration.
Product overview
HelloSign (DropBox Sign)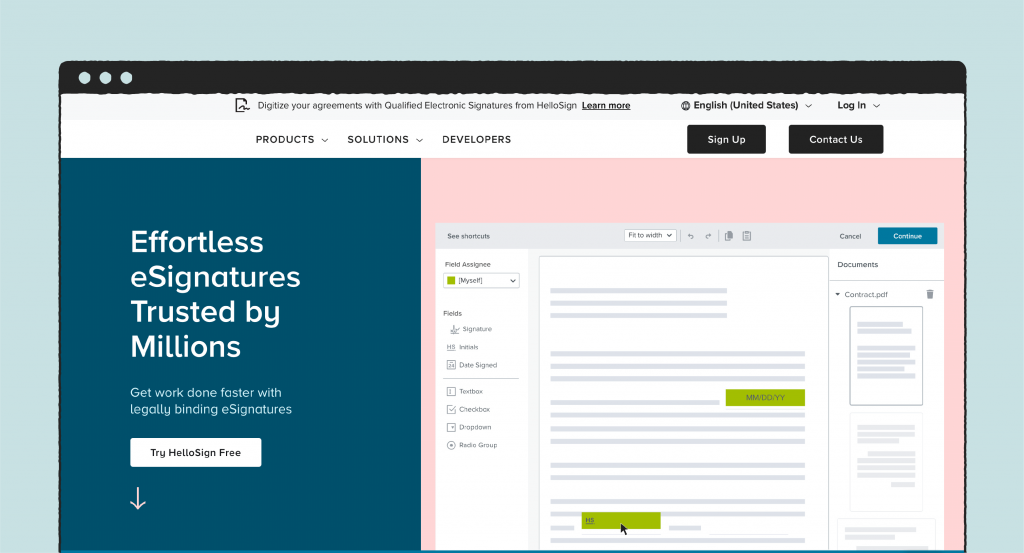 Cost: Free for the basic plan with monthly use limitations. Essentials for $15 per month, and Standard for $25 per month. Custom pricing is available for Premium.
Gartner Rating: 4.3/5
Ease of Use: 4.7/5
Functionality: 4.3/5
Support Options: Email, Help center.
Platform Availability: Online, iOS, Android.
Free Trial: Yes. 30 days.
HelloSign(DropBox Sign) is one of the more interesting electronic signature companies on the market today because it's owned by a more well-known company: Dropbox, the document management and file storage service.
Overall, HelloSign(DropBox Sign) brings a simple and efficient digital signature process to the table, offering legally binding e-signatures, solid integration and API options, custom branding, and even more at the enterprise level.
On top of that, HelloSign(DropBox Sign) offers a great free version for individuals and entrepreneurial moonlighters who might need to capture the occasional signature without committing to a paid business plan.
DocuSign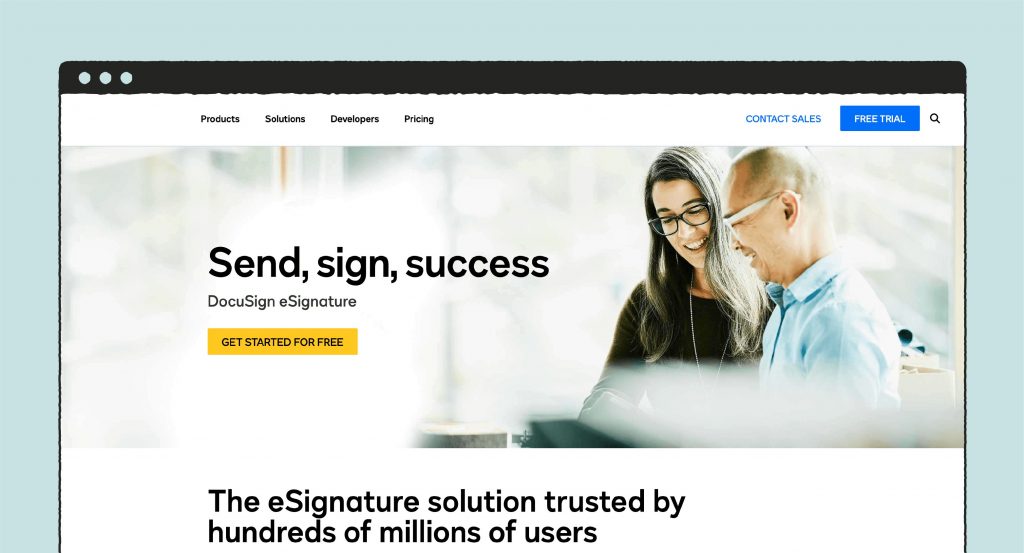 Cost: $10 for individual users. $25 per month for the Standard Plan and $40 per month for Business Pro. Custom pricing for Advanced solutions.
Gartner Rating: 4.5/5
Ease of Use: 4.7/5
Functionality: 4.4/5
Support Options: Phone, ticket, chat.
Platform Availability: Online, all devices.
Free Trial: Yes. 30 days.
A veteran in the e-signature space, DocuSign brings a ton of user-friendly tools to help signers and document managers succeed in getting documents signed.
The features that DocuSign brings to the table include everything that HelloSign(DropBox Sign) has to offer and more — but that doesn't make DocuSign a clear favorite in this race.
DocuSign is a powerful product with the backing and support of millions of users, and it has something for small businesses and enterprise customers alike, including some advanced features that make it dominant in the space.
Comparison
| | | |
| --- | --- | --- |
| | HelloSign(DropBox Sign) | DocuSign |
| Legally-binding eSignatures with Audit Trail | ✓ | ✓ |
| Templates | 5 | ✓ |
| Payments Collection | X | ✓ |
| Automated Workflows | ✓ | $ |
| Online Document Collaboration | X | X |
| CRM Integrations | 2 | $ |
| eSignature API (including Sandbox API) | ✓ | ✓ |
| Document Generation and Editing | X | X |
| Document Analytics and Insights | X | X |
| Free trial | ✓ | ✓ |
| 24/7 customer service | X | $ |
As you probably know, both HelloSign(DropBox Sign) and DocuSign are focused on providing legally binding electronic signatures.
At the end of the process, both companies provide users with a signed and validated document — complete with a traceable audit trail — that can be used to enforce a contract and verify a signer.
But product similarities can lead to some confusion when trying to determine which product is the right fit for your business.
Let's take a closer look at what each service has to offer.
The complete signing process
The signing process is similar for these two tools but here are some key takeaways:
Both solutions will prompt you to upload a document for signing
Neither feature a complicated dashboard that you have to navigate
HelloSign(DropBox Sign) takes you from upload to send in two screens, compared to DocuSign's four or five
Both DocuSign and HelloSign(DropBox Sign) offer a built-in workflow with their signing process, but it's easy to overlook if you aren't paying attention.
When you log in to DocuSign, the first screen you see prompts you to upload a document. If you need a document signed, you can follow the instructions on the screen. DocuSign will invite you to select the number of signers before sending you to an editor where you can place signature fields inside your PDF document. From there, all you'll need to do is type a quick message and click send. DocuSign will send an email to the signer and guide them through the signing process.
With HelloSign(DropBox Sign), the process is similar. When you log in, HelloSign(DropBox Sign) will ask who needs to sign a document. This is an important step because it determines whether you are involved in the signing process. If so, HelloSign(DropBox Sign) can use the signature and profile information you create to sign your portion of the document. If not, your information is kept from the document and you aren't listed as a signer.
Once you make your selection, the software will guide you to a second screen, where you'll upload your document and prepare it for signature with a drag-and-drop editor. From here, you'll determine the signing order, place signing fields in the editor, and send a signature request.
Overall, the outcome is roughly the same, but HelloSign's process gets you from document upload to send in two screens rather than the four or five that DocuSign requires. This makes the e-signing process more streamlined and easier to navigate in the long run.
Winner: HelloSign(DropBox Sign)
DocuSign has taken great lengths to make its signup process as easy as possible. While it's great for first-time users, it's also frustrating to click through so many screens in order to send a document.
At the same time, other signature solutions we've looked at, like SignNow, offer a dashboard front page that can be confusing for first-time signers even though it's better in the long run for power users.
HelloSign(DropBox Sign) lands somewhere in the middle of these two options. It's a straightforward process, but users land on a dashboard-like front page for easy navigation in the left sidebar. This middle-ground approach makes it the best layout we've seen so far in electronic signature setups.
Setup, plans, and integration
HelloSign(DropBox Sign) offers a free plan with useful features, DocuSign doesn't
Both tools offer a number of key CRM integrations but DocuSign offers more options in all plans
DocuSign has more templates and more robust features
Between DocuSign and HelloSign(DropBox Sign), business owners will have an easy time when it comes to the basic setup — but the plans and solutions that each brand offers are notably different.
HelloSign(DropBox Sign) offers a basic plan with some attractive features. Users are able to integrate with Dropbox, Google Docs, Onedrive, Box, Evernote, and other document storage solutions. They also offer the ability to create a limited number of templates. Pro plan users can create one template while Business plan users can create a total of five. For sending and signing, HelloSign also offers easy-to-configure bulk send options.
While DocuSign offers a free plan to help users get started, every paid plan offers more than what HelloSign(DropBox Sign) offers at the same level (including unlimited document upload, bulk send options, and more). DocuSign doesn't limit the number of templates you can create. This offers additional flexibility as a business grows.
Integrations are another key point. DocuSign offers a wider array of integration options at all plans. Like HelloSign(DropBox Sign), many key integrations with CRM platforms like Salesforce and Microsoft Dynamics are locked behind the custom-based pricing at the enterprise level, but a large number of additional integrations are available at the Business Pro level.
Winner: DocuSign
While both companies allow you to upload unlimited documents, the lack of templates offered by HelloSign is disappointing for users. Even for small businesses, it's easy to isolate five templates that help an organization operate more efficiently.
While HelloSign does offer a Zapier connection so that it has a wide variety of connectivity, DocuSign offers the same kind of connectedness, more native integrations, and more robust features at every price point.
Branding and white labeling
Both tools allow you to put your branding on the sent documents
DocuSign allows you to change buttons, banners, and colors, while you can also upload your logo
HelloSign offers white labeling so that you can add your company branding and completely remove any HelloSign content
Many organizations like to put their personal stamp on the documents they send, and both DocuSign and HelloSign allow companies to do just that with custom branding.
DocuSign offers branding options that allow users to change buttons, banners, and colors inside their documents. Users can also upload a logo that displays on the document and in any sent emails. The DocuSign logo is always attached to the documentation in some way, but the brand logo and set color scheme still allow for some control over the user experience.
HelloSign is the only brand out there that takes this to a completely different level. While you can't do much to control the look and feel of the document design, you're able to upload your company branding, add a company tagline, change your email signature, and add a custom URL so that signers can land on a confirmation page that you control after the signing is complete.
Most important, HelloSign offers white labeling so that brands can remove any HelloSign logo and documentation from their content. For brands who want to remove any kind of affiliation with their digital signing partner, HelloSign is the only option on the market that allows this functionality.
Winner: HelloSign
DocuSign has some great branding options for brands that don't mind if the DocuSign logo is linked with their brand name. Both companies also go out of their way to make sure that any user logos are prominently displayed and look great on iPads, iPhones, and Android mobile devices.
But, at the end of the day, HelloSign wins out here for offering white labeling. This is such a unique feature because no other signing solution on the market offers it even with enterprise plans and customizable solutions.
Support options
Neither of the two tools offers much support at the entry level
HelloSign offers email and web support, no phone
DocuSign allows you to pay extra and get faster response times
It's important to know what support options are available to you before you purchase new software, and e-signature solutions are no exception.
Unfortunately, both HelloSign and DocuSign don't offer much in the way of robust support at the entry-level.
HelloSign users can contact support through email or via a web form if anything goes wrong. There are no phone support options and no estimated timeline on when a technician might get back to you with an estimated solution.
For DocuSign users, the experience isn't much better at the basic level. DocuSign offers one advantage in that users can pay for additional support options. This is an out-of-pocket expense that allows users to purchase faster response times, live agent support, and more.
Winner: Evenly matched
If you're comfortable searching the software knowledgebase and finding solutions on your own, the basic support options offered by either company may be enough to get you by while you wait for an emailed or ticketed response.
If you're looking for more robust customer support options, DocuSign can deliver for an additional fee.
Our recommendations
HelloSign for SMB
Without a doubt, DocuSign offers a better experience for larger companies and organizations.
HelloSign is a great contender for small businesses that can operate with minimal templates and don't plan to integrations beyond Google Drive, Dropbox, and other basic consumer software.
DocuSign for Enterprise
If your business is growing or you're already looking to sign multiple users into a plan, DocuSign is likely a better solution for your business. The Business Pro plan and Advanced Solutions plan can provide access to key integrations like Salesforce, Oracle, Slack, and more.
What if you could capture electronic signatures for free?
While it's true that HelloSign offers a free plan, you can only use it to request three electronic signatures each month.
What if you could do more?
With PandaDoc, you can! We offer a Free eSign plan that you can use to upload and send unlimited documents for e-signature. You can even integrate a payment gateway to capture payment details when your documents are signed.
Want to see how other brands stack up to DocuSign? Don't miss our in-depth software reviews for Adobe Sign, SignNow, and RightSignature.
Originally published April 9, 2019, updated Sep 3, 2021
Disclaimer
Parties other than PandaDoc may provide products, services, recommendations, or views on PandaDoc's site ("Third Party Materials"). PandaDoc is not responsible for examining or evaluating such Third Party Materials, and does not provide any warranties relating to the Third Party Materials. Links to such Third Party Materials are for your convenience and does not constitute an endorsement of such Third Party Materials.