Electronic signature software has come a long way in the last decade.
Today's market offers a variety of solutions for both small business owners and larger teams to create online signatures quickly and easily.
Dropbox Sign (formerly HelloSign) and DocuSign are two such e-signature solutions.
However, finding the best fit for your business can be difficult, especially if you want a robust e-signing tool that can scale with your business needs.
Today, we'll take a look at these two players in the electronic signature space to better determine what they can do to help you close deals faster than ever.
It's Dropbox Sign vs. DocuSign!
Let's get started!
Key takeaways
DocuSign offers greater plan customization and functionality when compared to Dropbox Sign.
Dropbox Sign doesn't restrict transaction limits and sending like DocuSign does. If you need to send over 100 documents per year, Dropbox Sign is a clear winner.
Both organizations offer free trials so that you can get a feel for how they work and which one is a better fit for your needs.
DropBox Sign (formerly HelloSign)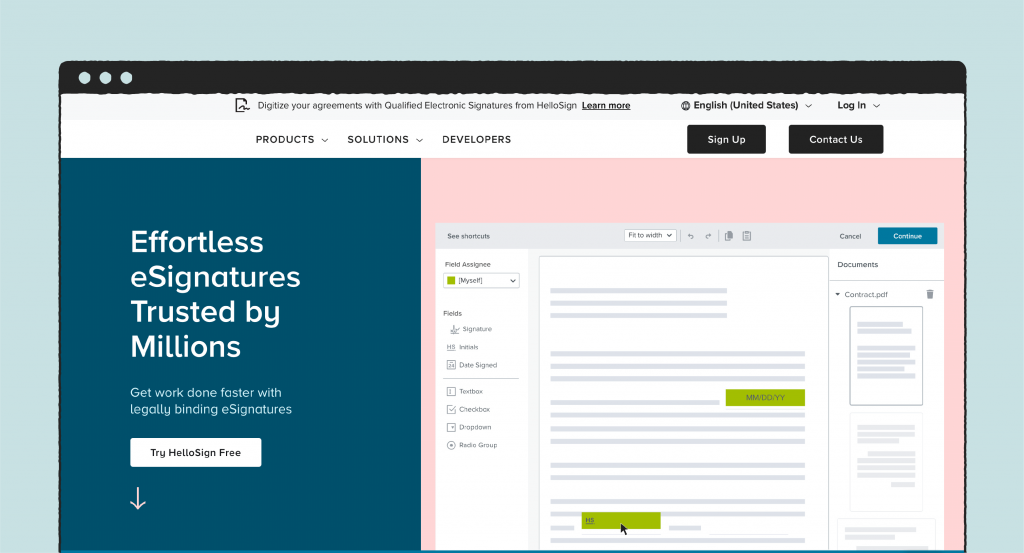 Pricing: Essentials ($15); Dropbox + eSign ($25); Standard ($25). All plans per user/month. Pricing based on annual commitment. Enterprise pricing available.
Ease of Use: 9.3/10
Free Trial: Yes; 30 days.
Support Options: Email, knowledgebase. Other paid options available at Enterprise level.
Dropbox Sign (originally HelloSign) is one of the more interesting electronic signature companies on the market today because it's owned by Dropbox, the document management and file storage service.
Aside from sharing the name, Dropbox storage and the e-signing tool are only minimally connected.
You don't need to use Dropbox storage in order to use the signing tool.
However, if you try to take advantage of the e-signing feature within Dropbox, you'll find that the feature is powered by Dropbox Sign.
On its face, Dropbox Sign offers an easy-to-use signing interface with all the standard bells and whistles that you would expect from a traditional e-signing solution.
That includes the ability to prepare documents for signature capture using drag-and-drop fields, safely and securely acquire signatures, integrate with productivity tools, and more.
DocuSign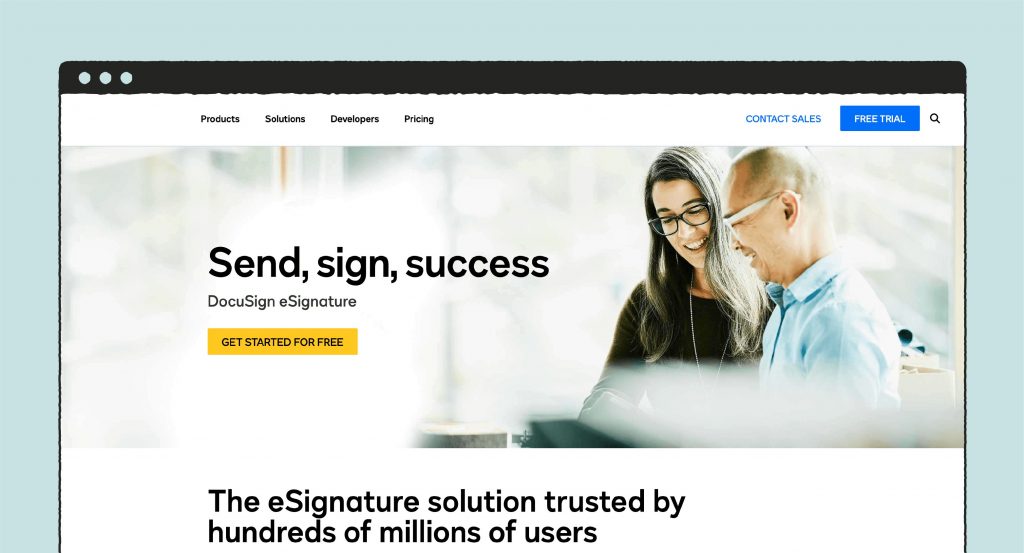 Pricing: Personal ($10); Standard ($25); Business Pro ($40). All plans per user/month. Pricing based on annual commitment. Enterprise pricing available.
Ease of use: 9.0/10
Free trial: Yes; 30 days.Support: Knowledge base, support tickets; additional support plans sold as separate packages.
One of the most popular e-signing solutions available today, DocuSign is regularly used by businesses all over the world to sign legally binding agreements.
The platform is simple to use, widely popular, and offers a variety of features that continue to make it a market leader in the e-signing sector.
In many ways, DocuSign is a great example of a company that excels at offering a very niche service and doing it well.
Unlike PandaDoc, which offers full-scope document creation — including e-signing — for your business documents, DocuSign limits itself to forms and e-signature capture through form fields.
Still, the platform has a few tricks up its sleeve.
At the Enterprise level, DocuSign's integration library is noteworthy.
You can also take advantage of payment collection, template generation, and custom branding options with the right plan or subscription in place.
| Plan Details | DocuSign | Dropbox Sign |
| --- | --- | --- |
| Plan Name | Business Pro | Standard |
| Monthly Pricing | $65 / user | $30 / user |
| Annual Pricing | $40 / user | $25 / user |
| Maximum Number of Users | 50 | 5 |
| Minimum Number of Users | 1 | 2 |
| Number of Documents Sent | 100 docs/year | Unlimited |
| Basic Drag and Drop Fields | ✓ | ✓ |
| Mobile App | ✓ | ✓ |
| Reusable Templates | ✓ | 15 Templates |
| Signing Order | ✓ | ✓ |
| Multiple Recipients | ✓ | ✓ |
| Bulk Send | ✓ | ✓ |
| Real-Time Audit Trail | ✓ | ✓ |
| Integrations: Import & Storage | ✓ | ✓ |
| Integrations: CRM | X | Limited |
| Integrations: Productivity & Other | ✓ | Limited |
| Language Support | ✓ | ✓ |
| Document Editor | X | x |
| Pre-built Template Library | X | x |
| Notifications | ✓ | ✓ |
| Payment Gateway | ✓ | X |
| Custom Branding Options | ✓ | ✓ |
| In-person Signatures | ✓ | ✓ |
| Commenting & Collaborative Fields | ✓ | X |
| Signer Attachments | ✓ | ✓ |
| | | |
| Support Options (At level) | | |
| Email / ticketing support | ✓ | ✓ |
| Chat support | X | X |
| Knowledgebase | ✓ | ✓ |
| Phone | X | X |
Keep in mind while reviewing this chart that additional features may be offered at enterprise-level plans.
Unfortunately, our ability to compare those plans at a higher level is limited due to a lack of visibility on cost and feature support.
From here, Dropbox Sign only offers its enterprise-level Premium Plan, which requires a minimum of five users and doesn't list pricing.
This gives a kitchen sink of features, including advanced signing fields, advanced reporting tools, and multi-team support.
Among their host of plan options, DocuSign offers a lower plan — called "Standard" — which runs about $25/month.
While that price point might seem to align more with the Dropbox Sign plan listed above, keep in mind that the Dropbox Sign plan requires a two-seat minimum, which balances the price.
This is covered in greater depth during the review.
Plans and basic features
At a glance, both DocuSign and Dropbox Sign offer similar plans and features, including legally binding e-signatures.
However, there are a few key differences that are worth noting even at the early stages of our comparison.
First: DocuSign.
As the de facto e-signing solution, DocuSign often serves as the proverbial measuring stick for every other digital signing solution on the market.
For signing documents, DocuSign offers nearly everything that most businesses will need in order to get documents signed.
At the Business Pro tier, this includes the ability to collect payments, sign with in-person signature, and have signers attach documents while signing.
However, the majority of DocuSign's integrations are locked behind its Enterprise plan, meaning that if you want to connect DocuSign to your CRM or integrate it with your financial management software, you won't have many options without moving to the next tier.
By contrast, Dropbox Sign can feel somewhat limited in its feature set at the standard level.
Payment collection isn't possible, and organizations are limited to 15 templates (compared to DocuSign's unlimited template options).
On the other hand, users on the Standard plan can integrate with Salesforce, Sharepoint, Oracle, and other tools — something that simply isn't possible with DocuSign unless you're on the Enterprise plan.
Setting aside the question of integrations, DocuSign offers more for a similar cost.
While both platforms have more than enough power to handle e-signature capture at this stage, DocuSign will give you greater flexibility in how you do it. But it won't talk to your CRM at the Business Pro tier.
Our suggestion
Based on costs, how important are integrations to your workflow?
Do you need to be able to sign documents via Microsoft Word, Google Docs, Gmail, etc.?
For most users, this is a wedge issue that may be a determining factor. Having an integrated tech stack is a major component to many business operations.
On its face, DocuSign offers more features — but Dropbox Sign may integrate with the tools you need to create a more cohesive workflow.
It's a tough call, and one that will vary depending on your business and what you need to do.
Keep in mind that you don't necessarily have to choose between the lesser of two evils, either.
You could always upgrade to the Enterprise tier with DocuSign to get those integrations, but those costs might be prohibitive.
Another option might be to sign up with an alternative platform like PandaDoc, which offers a huge selection of integrations on the Business Plan for roughly the same monthly cost.
Final verdict:
DocuSign offers more features than Dropbox Sign for roughly the same monthly price, but it doesn't integrate with CRMs on the Business Pro plan.
Dropbox Sign integrates with Salesforce and other CRMs at a lower cost, but the feature set is limited.
The PandaDoc Business plan is a great alternative for users who don't want to pick between limited features and integrations.
The e-signature process
Both DocuSign and Dropbox Sign offer a similar workflow with their signing process. Both are relatively fast and simple, a key benefit of utilizing an e-signing process in the first place.
Using DocuSign, the first screen you see prompts you to upload a document.
If you need a document signed, you can drag and drop a file into the window on the home dashboard in order to get started.
From there, DocuSign will invite you to select the number of signers before sending you to an editor where you can place signature fields inside your PDF document.
Once the formatting is done, all you'll need to do is type a quick message and click send. DocuSign will send an email to the signer and guide them through the signing process.
With DropBox Sign, the process is similar. You'll upload your document via the home screen dashboard. DropBox Sign will ask for information about the individuals who need to sign this document.
Afterward, the software will guide you to a second screen, where you'll prepare your document for signature with a drag-and-drop editor.
For specific users, both companies also offer unique features that might have additional appeal. In partnership with the National Association of Realtors, DocuSign offers real estate plans with specific integrations.
Meanwhile, Dropbox Sign provides an e-signing plan complete with Dropbox storage for users who a way to store larger files.
Overall, the process and outcomes are roughly the same, and the document preparation process is simple and easy to navigate using either software tool.
Our suggestion
While we wouldn't say that the e-signing workflow offered by these two apps is identical, it's close enough that users will feel comfortable using either app.
Because both apps specialize in the document signing process, using drag-and-drop fields to prepare PDF documents for signature capture is a tried-and-true practice in the industry.
This process is built into more advanced document tools like Pandadoc, but there are only so many ways to handle pre-sign document preparation, regardless of which signing solution you choose.
If you're only looking for an e-signing tool with no additional bells and whistles, both DocuSign and Dropbox Sign will do a fine job.
Final verdict:
Both Docusign and Dropbox Sign offer a very similar signing workflow. Users transitioning between tools will have no problem adapting.
Seat-minimums and user limits
While both signing solutions offer a wide variety of plans and features at a variety of price points, both Dropbox Sign and DocuSign handle seat limits a little differently.
Dropbox Sign caps all plans except the Enterprise plan at a maximum of 50 users, but they have no minimum cap.
This means that small businesses or teams who need advanced features can pay for those features while keeping costs low by allocating all signature duties to a single role or account.
In other words, a single human resources manager at a small company could easily handle all the signing needs for that company.
If you want to build a team with delegated authority for signature capture — like a team of sales reps — you could also do that using multiple accounts.
While this might not seem important, it matters because of how Dropbox Sign addresses this same issue.
With Dropbox Sign, your plan selection is more limited.
The Essentials and Dropbox + eSign Plans are aimed at individual users.
These are the lowest-tier plans and offer the fewest number of features and selections. They are also the cheapest plans available to users.
While the Standard Plan offers a greater feature selection, it requires a minimum of two users.
This means that the initial cost of the plan ($25/month/user) actually comes out to double the listed price because of the two-user minimum requirement.
For smaller organizations, this can make Dropbox Sign less appealing because teams end up paying for seats that they won't use.
This problem only gets worse at the Premium level, which requires a five-seat minimum.
Any business who just needs a single seat but wants the more advanced features offered in higher-end plans won't be able to get those features without paying for extra seats.
Our suggestion
Unfortunately, Dropbox Sign's choice to add minimum seating to an already-limited pricing setup means that small organizations who don't need more than a single user will be left out in the cold when seeking advanced features.
Signer attachments, in-person signing, custom branding, and reporting tools are all locked behind the two-seat minimum required by the Standard Plan — which equates to roughly $50/month.
At that price point, single users would be better served by the Business Pro plan from DocuSign or the PandaDoc Business plan.
Both offer a more robust feature set at roughly the same cost.
Final verdict:
Both platforms offer free plans and trials, so you have the opportunity to try things out without paying anything.
DocuSign provides greater flexibility, particularly for small businesses, since it doesn't require a user minimum.
Dropbox Sign's advanced plans are more expensive than they first appear. The Standard plan requires a minimum of two users, and the Premium plan requires five users.
Transaction limits
Usage limits are common for e-signing platforms, and these limits restrict how often you can use the platform before incurring an extra charge.
Typically, platforms that limit transactions do so by limiting the number of documents you can send for signature each month. On lower-tiered plans, these limits are built directly into the plan terms.
For example, both DocuSign and Dropbox Sign offer a free plan, but that plan limits the number of documents you can send for signature each month to three. The lowest-tier DocuSign plan (Personal) raises that limit to five envelopes per month.
Where these caps are displayed in the plan, this limitation makes sense. However, this gets confusing because e-signature tools often display their cap as "unlimited" when those limits are actually capped based on their terms of use.
To further complicate things, DocuSign limits items by "envelopes" rather than documents sent.
DocuSign considers an envelope to be a container for your documents.
In other words, if you sent a batch of multiple documents to the same group of people at the same time, doing so would cost one envelope.
However, if you sent a single document to a single individual, that would also count as one document.
Further, DocuSign places a 100/year envelope limit on your account — meaning that if you need to send more than 100 items in a year, you could easily violate the usage clause and end up paying more for the service.
Confusing, right?
We agree, which is why PandaDoc doesn't limit transactions for users on our platform.
From what we can tell, Dropbox Sign feels the same way. While their terms and conditions do mention information about usage limits, we haven't been able to find any information regarding those limits.
While it may be worth inquiring via support before purchasing Dropbox Sign, it appears that the company's position on transaction limits is more relaxed than DocuSign's restrictions.
Our suggestion
If you're a small business in need of an e-signing platform, DocuSign will probably be more than enough for annual use. Unless you have a specific use case where you need to send documents for electronic signature on a frequent basis, you may not need to worry about reaching these term limits.
It's also worth noting that the term limits imposed by DocuSign are on a per-seat basis — meaning that you can easily boost the transaction limit by purchasing another seat.
On the other hand, Dropbox Sign may offer more relaxed rules for users who need to send documents frequently.
Final verdict:
DocuSign caps transactions at 100 envelopes per user/year, meaning that you'll end up paying more than you originally intended if you go over the usage limit on a regular basis.
Dropbox Sign seems to offer more relaxed sending limits, which can be beneficial for frequent senders.
PandaDoc doesn't cap transactions at all, making it the best fit for frequent senders (sales reps, HR teams, legal departments, etc.) who need secure and compliant, no-limit document signing.
Other Dropbox Sign and DocuSign alternatives
If you're just looking for a simple signing solution, Dropbox Sign or DocuSign might be more than enough.
But that doesn't mean that your search should stop here.
There are plenty of other e-signature platforms on the market today, and each of them offer different features and different approaches to digital signing.
Here's a quick list:
You'll find some interesting features if you start to shop around!
Adobe Acrobat Sign brings native PDF editing to the table in a way that you won't see in most other apps.
GetAccept features a slew of tools specifically geared toward helping sales teams close deals at speed.
Meanwhile, PandaDoc offers an in-app document editor that allows for from-scratch document creation, vastly expanding your document creation capabilities while centralizing your workflow.
Final word
Figuring out which e-signature solution works best for your business can be tricky.
Unfortunately, the limitations imposed by DocuSign and Dropbox Sign won't make it any easier.
In our view, this decision comes down to a combination of pricing and willingness to integrate with the rest of your tech stack.
For example, if you're looking for a low-cost Salesforce integration, Dropbox Sign is a clear winner.
But if you want the ability to collect payments, DocuSign offers something that you won't see on the Dropbox Sign platform.
Of course, you don't have to choose at all!
With PandaDoc, you can enjoy the best of both worlds for roughly the same cost.
Get a great selection of features and integrations all in one great package.
Don't take our word for it, either.
Sign up for a free demo or test drive our Business plan with a 14-day free trial and see how PandaDoc can change your entire document workflow.
Originally published April 9, 2019, updated and June 9, 2023
Disclaimer
Parties other than PandaDoc may provide products, services, recommendations, or views on PandaDoc's site ("Third Party Materials"). PandaDoc is not responsible for examining or evaluating such Third Party Materials, and does not provide any warranties relating to the Third Party Materials. Links to such Third Party Materials are for your convenience and does not constitute an endorsement of such Third Party Materials.