In the space of e-signatures, HelloSign is so popular, it might as well be a household name.
The company has excellent ratings across multiple review platforms, a solid list of features, is extremely easy to navigate, and also offers competitive pricing.
When you combine all these factors, you realize it's no wonder that Dropbox purchased HelloSign and its products for $230 million, making it the largest acquisition in Dropbox history.
So, let's go ahead and uncover if the investment was well worth the purchase price. In this article, we're reviewing HelloSign (now known as Dropbox Sign) based on its key features, pricing, ratings, ease of use, customer support, pros, cons, and other factors.
Let's dive in, shall we?
Review summary
Dropbox Sign is an excellent solution that's garnered positive reviews for its ease of use, pricing, and incredible list of features.
However, there are a few improvements (such as customer support, template variety, and a "viewing" option) that customers would like to see.
Our rating
Overall: 4.4/5
Pricing: 4.5/5
Ease of use: 5/5
Features: 5/5
Customer support: 3/5
Value for money: 4.5/5
| Pros | Cons |
| --- | --- |
| Dropbox Sign is highly intuitive and easy to navigate. | The customer support hasn't received the most positive reviews. |
| It has a decent list of features (all the need-to-haves without becoming too overwhelming). | There's no option to send the documents to third parties to view them (e.g., instances where documents need to be reviewed by lawyers or agents). |
| It provides multiple options for integrations and is great for team collaboration. | The document formatting seems a little wonky. |
| Insights and audit trails are available at a moment's notice. | Users said that they'd like to see an option to save more templates. |
Review methodology
To provide an accurate representation of Dropbox Sign, we scoured the internet to find out customer sentiments and their thoughts about the product (based on different categories, such as ease of use, likelihood to recommend, customer support, features, value for money, and more).
The accuracy of independent reviews was gauged based on the authority of the site, profile verification, past history of reviewing products, how long they used Dropbox Sign, reviewer source, date of the review, and personal judgment.
General overview of HelloSign (now Dropbox Sign)
HelloSign was developed in 2011 by Joseph Walla and Neal O'Mara with the aim of simplifying work for everyone.
Over the years, the company has increased its product offerings, such as added integrations, extensions, and an API — and thus, it caught the attention of customers and investors alike, who went on to love the product.
In 2019, Dropbox inked a deal to acquire HelloSign and its products (including HelloWorks, HelloFax, and SignAPI) in exchange for cash and stocks.
Based on the feature set and pricing it offers today, HelloSign (now known as Dropbox Sign) might be an ideal solution for SMBs (small and medium-sized businesses).
Product pricing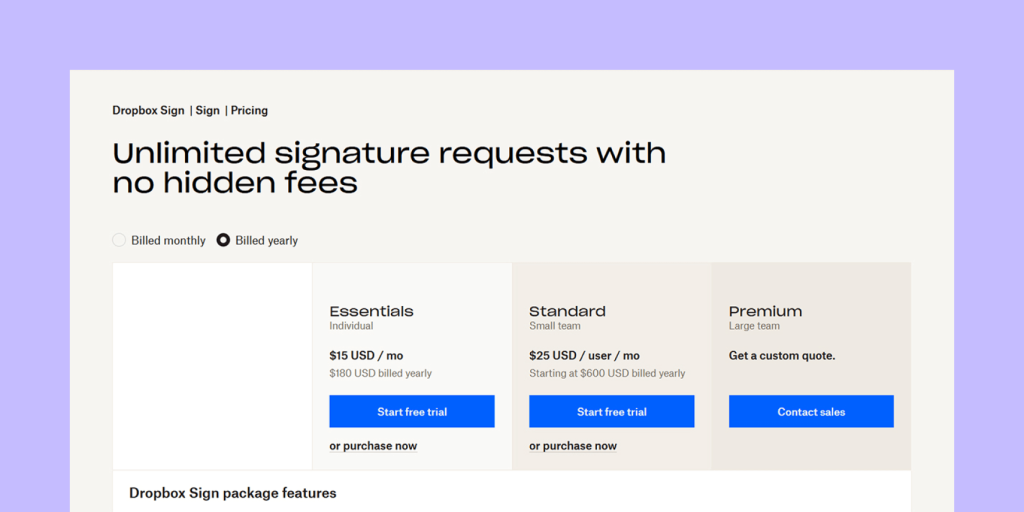 Presently, three different pricing options are available — Essentials (priced at $15/month), Standard (priced at $25/user/month), and Premium (requires a custom quote).
Each pricing plan has a different feature set attached to it.
For example, the Standard pricing plan has features such as branding, bulk send, and SMS authentication, which the Essentials package does not have.
Similarly, the Premium package has features such as a performance dashboard, advanced reporting tools, data residency, etc., which the previous two packages (Essentials and Premium) do not have.
Key features
1. Create and "templatize" documents
If you're stuck creating and recreating documents for the same purpose, you'll be happy to know Dropbox Sign allows users to create templates of documents.
With the Essentials plan, you can create five templates, and with the Standard plan, you can create 15 templates.
These templates are important for documents that serve the same purpose (think templates for NDAs, waivers, contracts, etc.).
2. Perfect for collaboration
The solution is perfect for team collaboration, and we say this for the following reasons:
It allows role-based permissions.
There are plenty of integrations you can leverage (including HubSpot, Salesforce, Outlook, and Slack).
It provides insights for reporting and audit trails.
You get real-time updates.
You can convert documents into URLs to share with team members.
You can bulk send forms to multiple colleagues.
It allows multi-team collaboration.
3. Compliant with industry standards
Dropbox Sign is compliant with industry standards in two ways — through security protocols and certifications. Here are a few standards it adheres to:
Security
Two-factor authentication
256-bit encryption
Signer access codes
Documents protected from modification
Masked fields
Set parameters on document expiry
Certifications
GDPR
ISO
SOC 2 Type 2
US ESIGN Act (which makes all e-signatures on the platform legally valid)
HIPAA
QES
eIDAS
4. Advanced features
While the current list of features is impressive as is, if users wish to go one step extra and add company branding (like logos and custom messaging), or if they want to give recipients an option to decline to sign, or track documents once they've sent them — all of this can be done with Dropbox Sign.
You can also access other features like personalized support, automatic email reminders, accessibility in more than 22 different languages, and more.
Support and ease of use
While customers seemed to love the product, one thing they didn't love was customer support.
Most of the reviewers mentioned that the customer service team's response was extremely late, didn't understand their questions, and weren't able to solve their queries as they had hoped.
On that note, you can contact their customer support team by submitting a request through the website.
The solution overall is extremely easy to use. It also has conditional logic, which is definitely a plus (and a time saver!).
The software is known to work fast, is intuitive, and is very simple to utilize.
How does PandaDoc compare?
While Dropbox Sign does present a number of benefits for its users, there are simply some places where PandaDoc excels. For example:
We allow users to create and save unlimited templates (Dropbox Sign places a limit).
We have more integrations than Dropbox Sign.
Our editor is easier to use (primarily because of the drag-and-drop feature).
We have an extensive template library you can use as a reference.
Aside from these benefits, PandaDoc is geared for more than the need for e-signatures.
Rather, we also provide users other benefits (for almost the same cost) when they purchase our product.
These benefits include:
Automating business workflows.
Managing contracts, proposals, quotes, payments, and more.
Tools for invoicing, PDF conversion, email tracking, etc.
Read this resource to compare Dropbox Sign with PandaDoc.
Dropbox Sign — A worthy addition to your tech stack?
Well, that wraps up our review!
If you're looking for a solution that is easy to use and has all e-signing capabilities, Dropbox Sign may be the one for you.
However, if you're looking for a solution that has more extensive use cases than just e-signing, you might benefit from an alternative like what we do at PandaDoc.
To get familiar with the entire product offering, we suggest you sign up for a free 15-minute demo that will help you navigate the ins and outs of the PandaDoc platform!
Frequently asked questions
HelloSign (now Dropbox Sign) and Dropbox are priced separately. However, you can purchase a Dropbox + eSign professional plan, which is priced at $31.99/month or $299.88/year.

Yes, Dropbox Sign (formerly HelloSign) has an app for both Android and iOS users. However, it's only operable in certain regions.

No, Dropbox Sign (formerly HelloSign) is not free to use. However, you can get a free 30-day trial, after which you can purchase the product.
Disclaimer
Parties other than PandaDoc may provide products, services, recommendations, or views on PandaDoc's site ("Third Party Materials"). PandaDoc is not responsible for examining or evaluating such Third Party Materials, and does not provide any warranties relating to the Third Party Materials. Links to such Third Party Materials are for your convenience and does not constitute an endorsement of such Third Party Materials.