Having a reliable electronic signature solution is a key component of modern business, and there are plenty of options to choose from.
If you've been narrowing your search, it's likely that you've already encountered Adobe Sign and HelloSign.
But, while both of these companies offer e-signature services, their feature sets vary dramatically, depending on your needs and the plan you ultimately choose.
With that in mind, let's take a closer look at these two software tools and see how they compare.
It's Adobe Sign vs HelloSign from PandaDoc.
The breakdown: Adobe Sign vs HelloSign
We'll cover the details of each plan in greater depth below, but here is a closer side-by-side comparison of the professional-level, teams-oriented plan from both Adobe and HelloSign.
Keep in mind that both companies offer lower-tier plans with fewer features than those listed here, as well as enterprise-level plans that are designed to scale with larger teams.
| Plan Details | Adobe Acrobat Sign | HelloSign |
| --- | --- | --- |
| Plan name | Acrobat Pro DC with e-sign for teams | Standard |
| Monthly pricing | N/A | $30 per month |
| Annual pricing | $16.99 month/user | $25 per month |
| Maximum number of users | 10+ | 4+ |
| Minimum number of users | 1 | 2 |
| Number of documents sent | 150 per user/year | Unlimited |
| Standard usage limits | 150 transactions per user/year | Unlimited |
| Basic drag and drop fields | ✓ | ✓ |
| Mobile app | ✓ | ✓ |
| Reusable templates | ✓ | 15 |
| Signing order | ✓ | ✓ |
| Multiple recipients | ✓ | ✓ |
| Bulk send | $ | ✓ |
| Real-time audit trail | ✓ | ✓ |
| Integrations: import and storage | ✓ | ✓ |
| Integrations: CRM | $ | $ |
| Integrations: productivity and other | $ | $ |
| Language support | ✓ | ✓ |
| Document uploads | Unlimited | Unlimited |
| Document editor | ✓ | ✗ |
| Notifications | ✓ | ✓ |
| Payment gateway | ✓ | Zapier |
| Custom branding | ✓ | ✓ |
| In-person signatures | ✗ | ✓ |
| Commenting and collaborative fields | ✓ | ✓ |
| API | $ | $ |
| Signer attachments | ✗ | ✓ |
| Email support | ✗ | ✓ |
| 24/7 chat support | ✓ | ✓ |
| Knowledgebase | ✓ | ✓ |
| Phone | ✗ | ✓ |
Adobe Sign vs HelloSign: A closer look
Being among the most powerful e-sign tools in the industry right now, both product offerings from Adobe Sign and HelloSign are very similar.
This can make it challenging for users to pick a solution that makes for the best fit for their needs.
Here's a closer look at the tools and services on offer.
Adobe Sign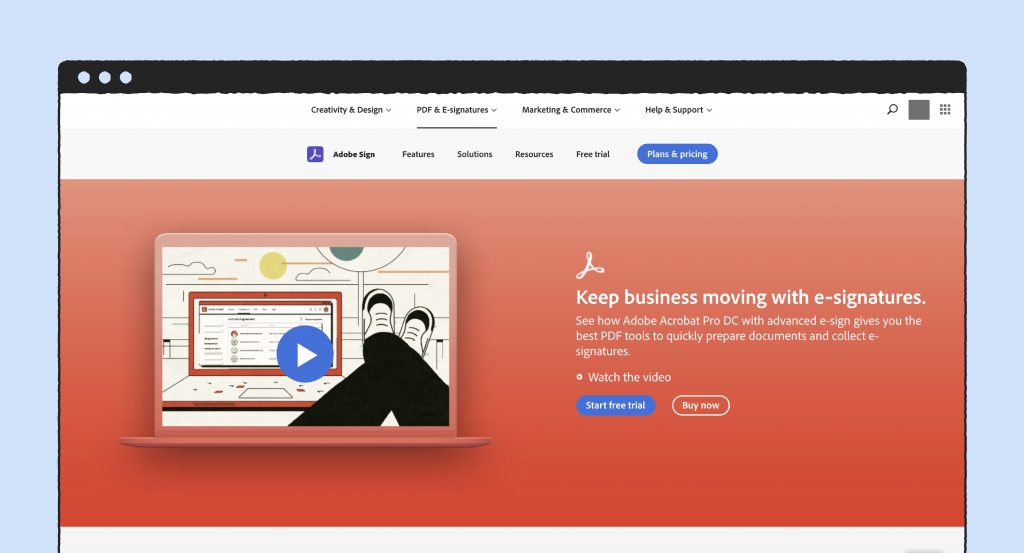 Cost: $12.99 to $16.99 for Individual and Standard plans*; Enterprise plans available
*Note: Adobe offers four plans to choose from. Two are targeted at individual users; two are aimed at teams, and the costs for both are similar.
Ease of use: 4.4/5
Functionality: 4.5/5
Platform availability: Online; mobile apps (Android, iOS)
Free trial or plan: Trial available; limited to the Acrobat Pro DC plan (individuals) and the Acrobat Sign enterprise solution
Adobe Sign (formerly EchoSign) has been around for years as the company's premier electronic signature software solution.
While that may not sound very exciting, Adobe has gone out of its way to make sure that its e-signature platform isn't just another DocuSign knockoff.
To do this, Adobe has combined its e-signature software with its PDF editor, Acrobat, to create a powerful tool that can help teams generate, edit, and finalize PDFs before sending them off for a final signature.
In large part, this is what makes Adobe Sign so unique. Adobe invented the PDF format in the late 90s and, though the format was released as an open standard around 2008, their history and expertise with the format are impossible to ignore.
Currently, Adobe is one of a (very) limited number of signing solutions available that will allow you to directly edit and customize the text of a PDF.
Most e-signature solutions will allow you to add fields (text boxes, date boxes, signature requests, etc.), changing a PDF file is usually prior to saving your document as a PDF.
With Adobe, you can make those edits directly through Acrobat and send your documents off for final signature capture.
That's a very powerful feature, whether you're a small business looking to minimize your tech stack or an enterprise-level organization aiming to optimize your workflow.
HelloSign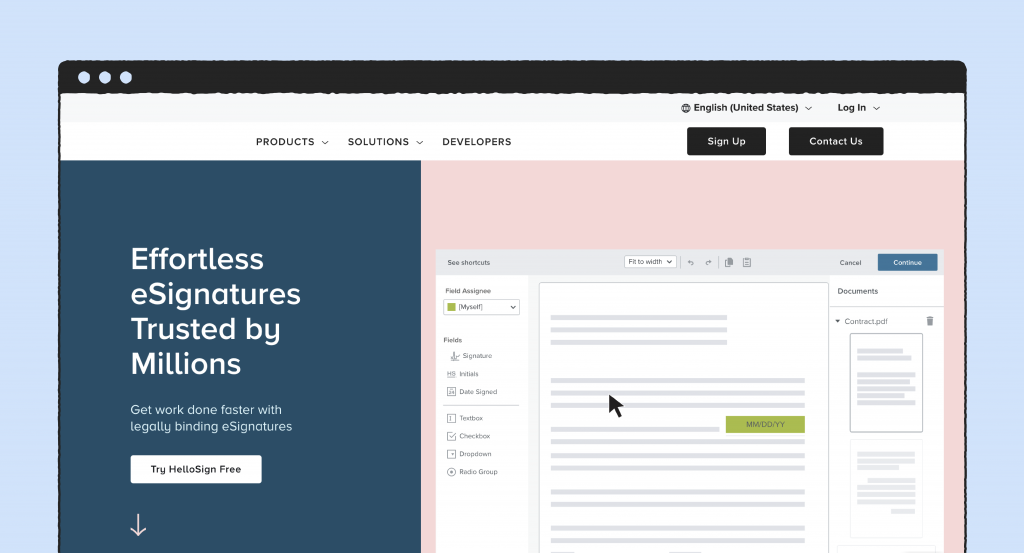 Cost: $15/month for Essentials; $25 per user/month for Standard; Enterprise plans available
Ease of use: 4.6/5
Functionality: 4.6/5
Platform availability: Online; mobile apps (Android, iOS)
Free trial or plan: Free plan available; trial available for all plans
Originally launched in 2010 and acquired by Dropbox in 2019, HelloSign has been a staple of the electronic signature space for over a decade.
The app comes with all the basic features you'll need to prepare documents for signing, as well as some advanced features and integrations that will make it appealing for users who are just looking to sign and go.
The app comes with a free plan and free trials for all its major plans, plus a healthy selection of integrations (discussed in greater detail below).
However, while you can get API access through HelloSign, it's priced out on a completely different plan. This is something that you don't really see with other e-signing platforms (RightSignature, SignNow, DocuSign, etc.) where some access may be given as part of the Standard user plan.
The other major consideration when looking at HelloSign is its acquisition by Dropbox and what that may mean for the solution as a whole.
Right now, users can pick up the Dropbox Professional + eSign plan for around $25/month.
This includes 3TB of Dropbox storage, along with all the e-signing features in the Essentials plan. If you're using online storage for document management, HelloSign provides a unique solution that combines those two needs.
Overall, it might make more sense to use the HelloSign/Dropbox solution rather than storing all your files in a third-party system like Google Drive or Microsoft OneDrive.
Comparison
HelloSign and Adobe Sign both offer a unique take on e-signatures and the signing process. But, while both companies can help you create digital signatures, their involvement in the document creation process is wholly different.
Depending on what you're looking for in a signing solution, one will probably be a better fit than the other.
Let's take a look at both platforms and see how they compare.
Transaction and sending limits
At some point in the conversation, we have to talk about sending limits. This is a tool that many electronic signature companies use to limit how often you can use their service during a specific timeframe.
DocuSign is the defacto example. The company only allows you to send 100 envelopes each year for each user on your account. So if you have 5 users, you can send 500 envelopes before you hit your limit.
Without getting too far off track, DocuSign defines an envelope as a package of documents. So if you need to send a hiring package to a prospective employee and your HR team sent it all at once, that would count as one envelope.
And while that might sound like a fair number of documents, it all comes down to how they're sent and how you use the software.
If your company hires a ton of new employees or uses e-signing tools for sales proposals and internal documentation, it's possible to hit those sending limits without much effort.
Why bring all of this up?
Because Adobe Sign does the same thing. With Adobe, a transaction occurs "each time an electronic document or collection of related electronic documents is sent to an End User through Adobe Sign." And, unless stipulated otherwise, all accounts are limited to 150 transactions per year.
On the other hand, HelloSign seems to limit usage on API calls to 500 requests per hour, but we haven't found any information stating that they limit service on their standard signing plans.
Depending on your needs and use case, these limits are definitely something to consider.
Winner: HelloSign
If you're a small business and you don't intend to send a large volume of signed documents, transaction limits may not be an issue for you.
On the other hand, running up against arbitrary usage limits and being forced to increase costs just to keep operating can be a major drawback.
At PandaDoc, we feel that removing usage restrictions empowers customers to use the platform in the way that makes the most sense for their business. That's why PandaDoc also doesn't cap usage limits.
With that in mind, we have to give this one to HelloSign.
Workflow
One of the biggest factors when comparing HelloSign and Adobe Sign comes down to intended workflow.
As we mentioned before, Adobe's Acrobat tools can provide you with an unparalleled experience when editing and finalizing PDFs.
Those are powerful features that are impossible to ignore, especially for users who want to consolidate workflows and manage documents more easily.
HelloSign comes into the document preparation process at a much later stage than Adobe Sign, because the tool is focused more on e-signature capture and less on editing documents or making final changes.
It's possible to use both tools in conjunction with a word processor like Microsoft Word or Google Docs — and both Adobe and HelloSign have integrations for each tool. While this isn't terribly uncommon (PandaDoc offers these integrations as well), it does set a level playing field.
But once the document makes it to the software itself, Adobe Sign will offer a greater amount of flexibility in that editing and finalization process.
The other consideration at this stage is what happens during redlining and negotiation.
With HelloSign, you'll need to pull your documents offline to make changes if you can't make edits using form fields. This can be a painful process because the document needs to be withdrawn, edited, re-uploaded, and prepared for signing a second time.
Adobe Sign will allow you to make edits directly to the document, including light edits to text and adding entirely new paragraphs, without ever needing to leave the platform.
While this isn't as powerful as what you'd see in the PandaDoc editor, where documents can be created entirely from scratch, Adobe Sign's advanced editing features are definitely a step up for process streamlining.
Winner: Adobe Sign
Especially if you're looking for opportunities around workflow automation and optimization, the editing tools you'll find in Acrobat are just too good to ignore.
If you have a workflow that you enjoy and/or that it would be difficult to train your team away from, using HelloSign to add signatures and finishing touches makes total sense. But it's also possible to use Adobe Sign in the same way.
Extra tools provide extra flexibility, and that makes Adobe Sign the clear winner here.
Integrations
When it comes to integrations, it's worth considering how these software tools fit into both the physical and digital aspects of your tech stack.
Let's start with the basics: Both Adobe Sign and HelloSign have mobile apps that you can download to all of your mobile devices.
Whether you want to sign on an iPad, an iPhone, or an Android device, both companies can meet you where you are and help you conduct business in a way that you see fit.
HelloSign also offers in-person signature capabilities, which can be a plus if you like to conduct business face to face.
From the digital aspect, things are different.
Adobe Sign and HelloSign offer integrations with key productivity tools and CRMs like Salesforce, Slack, and Zapier, but the level of access varies.
Using Adobe Sign, you won't be able to access these tools until you buy into the enterprise tier.
The two exceptions are integrations with Microsoft 365 and with Box (for document storage and management).
With HelloSign, most integrations are locked behind an enterprise solution as well. However, for users on the standard plan, integrations like Salesforce, Oracle, and SharePoint can be accessed for an additional fee.
The better fit will depend on your desired spend and exactly what integrations you're interested in using.
Winner: Draw
This category is a clear tossup.
On the one hand, Adobe Sign offers more integrations, but it gates most of these tools behind greater access requirements.
If you're a smaller organization and you're not interested in paying enterprise-level pricing for being forced onto plans with a minimum seat requirement, then Adobe Sign may not appeal to you.
Meanwhile, HelloSign offers fewer overall integrations, although you can find a healthy number of connectors through Zapier. If you're looking for native integrations that connect seamlessly with the tools you use, HelloSign may not even have an option that makes sense.
We suggest closely reviewing the integration opportunities that each platform offers before making your final decision.
Our recommendations
Adobe Sign for users who want to edit and send PDFs in one space
In our view, Adobe Sign is a great fit for users who want more editorial control during the document preparation process.
Adobe's workflow is superior to HelloSign simply because it offers more options for users to engage with locked PDFs and make those last-minute changes and adjustments that can hamper progress.
Given Adobe's history with PDF tools, it makes sense that this unique product offering is something that HelloSign just can't match.
At the same time, as an e-signature heavyweight, Adobe also brings more to the table when it comes to integrations and platform compatibility.
If you're looking for ways to streamline workflow and reduce document prep time, Adobe Sign is a great solution for you.
HelloSign for users who just want to send and sign
There is something to be said for keeping processes and use cases simple and straightforward.
If your team already has a workflow that you like, and if you just need a signing platform to get the job done, HelloSign is a clear winner on transaction limits alone.
While the document management opportunities provided through HelloSign as a Dropbox company are appealing, you don't really see those benefits in the plan structure.
The company does offer a Dropbox Pro plan with free storage, but if you're operating on the Standard or Enterprise plans, the included storage deal isn't even an option.
In many ways, HelloSign is similar to most other e-signature solutions out there, but it does offer a healthy variety of features, including custom branding and HIPAA compliance.
As far as straightforward signing solutions go, it's not a bad choice.
Still looking for the perfect e-signature tool? Give PandaDoc a try!
Depending on your general preferences and what you need when using tools of this type, you'll find that both HelloSign and Adobe Sign are great e-signature options for a business.
But keep in mind that there are other options out there, too.
PandaDoc offers a free e-signature plan that you can use to prepare and send an unlimited amount of documents for signature at no charge. You can also collect payments for free!
If you want to do more with your documents, the PandaDoc document editor can help you create documents from scratch (or from one of 750+ templates in our library).
Our platform also comes equipped with document analytics, real-time audit trails, and branding solutions for a more personalized look and feel.
Give PandaDoc a try by signing up for a free 14-day trial and change the way you create and send your business documents.
Originally published October 12, 2021, updated January 31, 2022
Frequently asked questions
Technology innovations can come with a pinch of uncertainty, especially if you are diving into it with no previous knowledge.

E-signatures are the smoothest way for signing documents and keeping things safe and secure.

They are known to provide faster turnarounds on administrative tasks, reduce costs, boost workflow efficiency, and save time, and authenticate documents while preserving the security of every signing process.

The primary purpose of an electronic signature is to quickly authenticate a document with a uniquely identifiable mark, without the use of pen and paper.

These signatures are now extensively used in legal dealings, business transactions, private affairs, and sometimes as part of official government documents.

A few of the most notable benefits of eSignatures are:

High level of security
Simple and intuitive
Faster turnaround
Convenient, allows for remote authentication
Lower cost

You'll find an extensive tutorial in our in-depth guide that should help you set up and make the best use of your newfound e-experience.

PandaDoc strikes something of a middle ground between these two great software tools.

While we don't offer the ability to edit PDFs like Adobe Sign, our document editor can help users create documents purely from scratch. This completely removes the need to use word processing software when creating business documentation. We also don't cap usage with transaction limits.

Like HelloSign, we also offer electronic signatures as part of our document preparation process. We offer unlimited storage and top-level document security for every document uploaded to or generated through our platform at no additional charge.

To objectively compare Adobe Sign and HelloSign, we went over 30 different websites to find the most relevant, unbiased information.

These websites include specialized SaaS websites, user-review websites, and the websites of the mentioned SaaS tools.

To ensure the websites we used as sources for our analysis are relevant, we grouped them based on visits that were used as an indicator of the websites' relevance and expertise:

>450.000 visits;
150.000 – 450.000 visits;
30.000 – 150.000 visits;
<30.000 visits

The bottom list websites went through an additional, detailed fact-checking process to ensure all information provided was accurate and objective. The websites closer to the top were prioritized and considered more relevant.

Some examples of those relevant sources include:

The official websites of these two digital signature software products were only consulted to confirm factual data such as product offers, pricing lists, and customer support details.

The qualitative descriptions of these tools weren't considered as we aimed to present unbiased information on both tools.
Disclaimer
Parties other than PandaDoc may provide products, services, recommendations, or views on PandaDoc's site ("Third Party Materials"). PandaDoc is not responsible for examining or evaluating such Third Party Materials, and does not provide any warranties relating to the Third Party Materials. Links to such Third Party Materials are for your convenience and does not constitute an endorsement of such Third Party Materials.