The pro guide for touchless business documents and eSignatures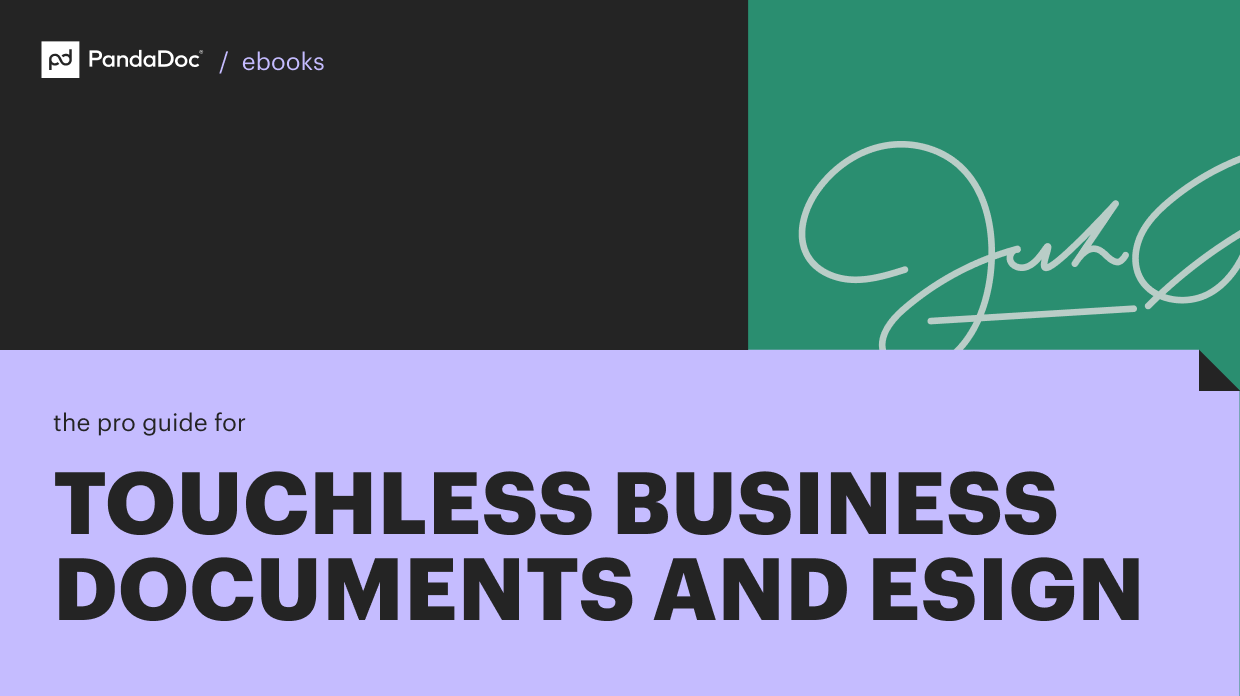 As a small business owner, you're always looking for ways to cut costs, increase efficiency, and save time and resources. 
By switching to touchless document processes, you can do just that. 
With a document automation solution, businesses like yours can increase their close rate and reduce document creation time from days to minutes. Research also indicates that small business owners could save upwards of $5,000 annually with digital document processes. 
Whether it's a sales proposal, offer letter, or training document – touchless business documents are really the only way for your business to streamline workflows and increase overall productivity. 
Overview of our touchless business document and eSignatures solution
Let's take a closer look at some of the PandaDoc solutions you can use to streamline your document processes.
One of the primary solutions offered by PandaDoc is touchless business documents. With this feature, you can create, send, and track your business documents from a secure platform. This saves you time, resources and ensures your documents are error-free and legally binding. You can also use templates and pre-approved content to speed up the document creation process even further.
PandaDoc also offers an electronic signature solution. With this feature, you can collect signatures electronically, making the process faster and more convenient. You can also track the status of your documents in real time and receive alerts when a document has been signed.
Together, these touchless solutions can help you reduce document creation time, increase your close rate, and save money on printing, labor, and other costs associated with traditional document processes. 
With PandaDoc, you can easily transition to touchless document processes and optimize your workflow for maximum efficiency.
Choose PandaDoc: Recognized by industry experts
So there you have it. A complete overview of PandaDoc's touchless solutions, including the business document and eSignatures solution. 
When choosing a touchless document automation solution for your business, it's essential to select a reliable provider that's recognized by industry experts. 
Users have praised PandaDoc for its intuitive user interface, robust integrations, advanced analytics capabilities, and commitment to sustainability. 
For example, OneTreePlanted, a global non-profit organization, has gone above and beyond in its mission to promote sustainability. By embracing paper-free, virtual work environments, it has streamlined its operations and demonstrated its commitment to protecting the environment. 
Chloe Ketteling, Operations Team Executive Assistant, said, "We are happy to work with PandaDoc to send documents virtually, saving on paper and, in turn, saving trees. Not only do they keep trees in the ground through their operations, [but] they also plant trees with us, benefiting people, nature, and biodiversity."
Download The Pro Guide and learn how your business can go touchless today.