When Dropbox released a statement about acquiring HelloSign and its products (including HelloWorks and HelloFax), it made headlines — publications like Business Insider, CNBC, and Forbes eagerly covered the news!
The company purchased HelloSign for $230 million (Dropbox's largest acquisition to date), and ever since then, businesses and analysts alike have been waiting to see if the investment was worth it to Dropbox, and what the product's capabilities might do for the company.
So, keeping the sentiments of businesses and analysts at the forefront, let's review HelloWorks (now known as Dropbox Forms) based on its features, user ratings, pricing, ease of use, support, and other factors to see if the $230 investment was worth every penny.
Review summary
Dropbox Forms provides an excellent host of features as far as forms are concerned, and is extremely easy to use too.
However, when you stack it up against direct competitors, it lacks in its capabilities, content libraries, and use cases.
Our rating
Overall: 4/5
Pricing: 4/5
Ease of Use: 4.5/5
Features: 4/5
Customer Support: 4/5
Value For Money: 3.5/5
| Pros | Cons |
| --- | --- |
| Easy to use, mobile friendly, and can be accessed from anywhere. | Does not provide any analytics or insights. |
| Helps teams from different departments collaborate with each other. | Although Dropbox is present in over 180 countries, the support is only available in English. |
| Has advanced features such as conditional logic, role-based permission, and PDF mapping. | Its template library is a bit lacking (i.e., it only has eight templates when compared to PandaDoc, which has 750+ templates overall). |
| It can be built without a code (customers can refer to the template library to build forms). | You can only send a limited number of forms to users (up to 20 forms with the free version and up to 50 forms with the standard version). |
| Manages to gather data on complex documents from thousands of customers. | |
Review methodology
To conduct this review, we tried our hand at using the solution extensively to see how it performs in comparison to its alternatives.
Alongside this, we also analyzed multiple user reviews, checked out forums, and studied editorial reviews from trusted publications like TrustRadius, G2, Capterra, Software Advice, and more.
General overview of HelloWorks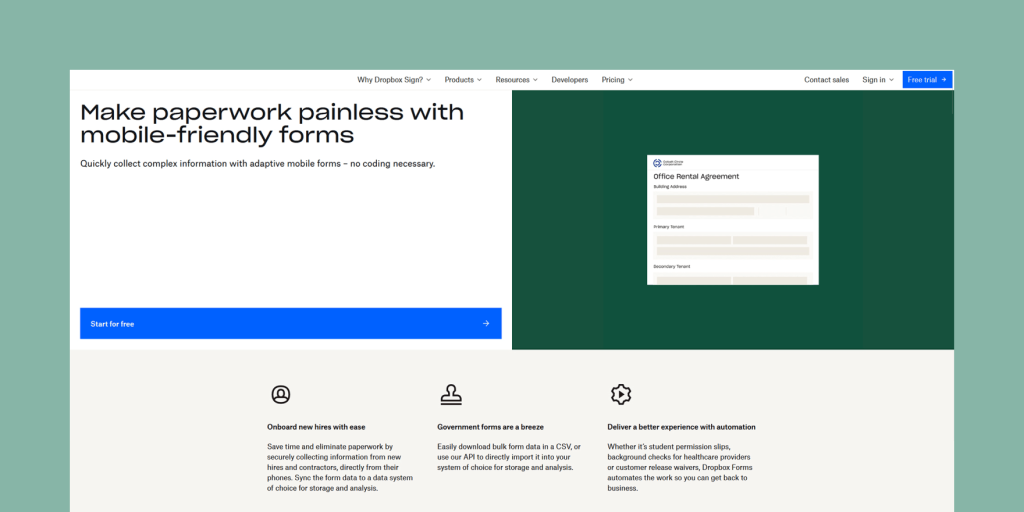 Founded by Joseph Walla and Neal O'Mara, HelloWorks was developed as a product of HelloSign to help users easily build mobile-friendly forms.
Over the years, the solution became extremely popular amongst its user base (who are generally professionals operating in the HR, real-estate, sales, business development, fintech industries) due to its seamless design and its extensive functionalities.
In 2019, the product was acquired by Dropbox, and currently, all the HelloSign and HelloWorks URLs redirect to DropboxSign.
HelloWorks (now known as Dropbox Forms) operates as one of the sub-products of HelloSign (now known as Dropbox Sign).
Product pricing
Dropbox Forms has two pricing options — Free, Standard, and Premium. The first (Free version) has limited features, whereas the feature lists for the latter two (Standard and Premium versions) are more extensive.
For example, the Free plan allows 20 transactions/month, whereas the standard and premium plans allow 50 transactions/month.
Similarly, the Standard and Premium plans also have other features, such as file attachments, conditional logic, custom branding, bulk send, data download, HIPAA certification, etc., whereas the Free plan does not.
While the Free plan is indeed free to use, the remaining two plans can only be accessed if you have a subscription to Dropbox Sign.
Price of the Standard plan is $25/user/month and the Premium plan requires a custom quote.
Dropbox Sign also has an Essential plan, but Dropbox Forms is not included in this subscription.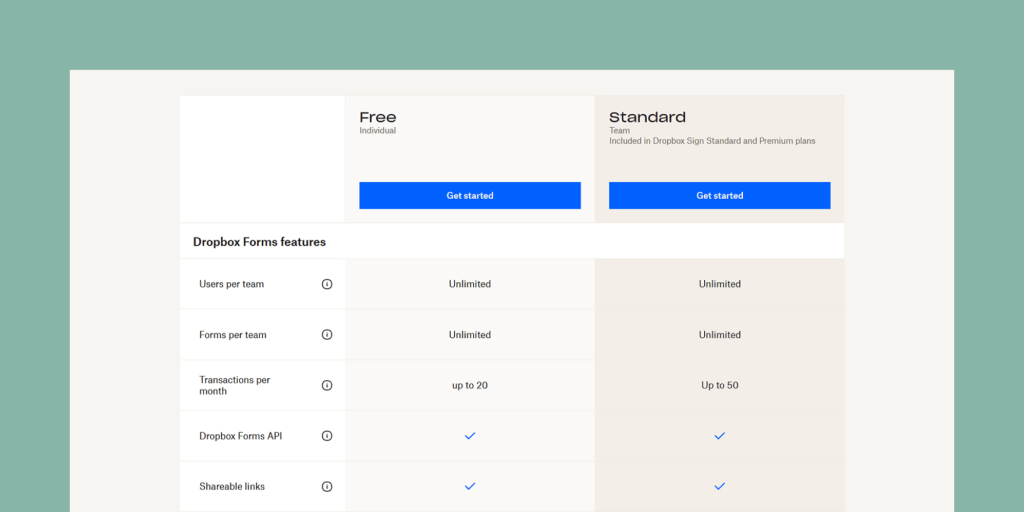 Key features
1. Perfect for collaboration
Dropbox Forms allows unlimited team members to work on an unlimited number of forms.
As a cherry on top, with Dropbox Forms, you can also:
Set up email notifications
Track responses
Use ready-made templates
Add file attachments (such as licenses) to forms
Insert company branding
Bulk send forms to a large number of recipients
Set up role-based permissions
2. Highly secure
The solution is fully compliant with:
HIPAA (you'll need a minimum contract value)
SOC Type 2
ISO 27001
2000 US E-Sign Act (which makes all e-signed Dropbox forms legally valid)
You can also access other security measures, such as SMS-based authentication and role-based permissions.
As far as your data is concerned, it ensures all information is encrypted, stored behind firewalls, and backed up by AWS (Amazon Web Services).
3. Automates processes
You can automate processes by adding multiple forms in one workflow.
Aside from this, you can also reduce snafus by automating data collection (such as student permission slips and customer release waivers).
Moreover, Dropbox Forms allows you to collect data from thousands of individuals for complex forms (like tax forms and financial documents), and automatically map it to the original PDFs and your data systems.
4. Mobile friendly
With Dropbox Forms, you can easily access the most complicated documents on mobile phones.
The receiving party can effortlessly scroll and fill in the required details, whereas the sending party can simply drag-and-drop form fields or upload read-made PDF templates and email them to recipients.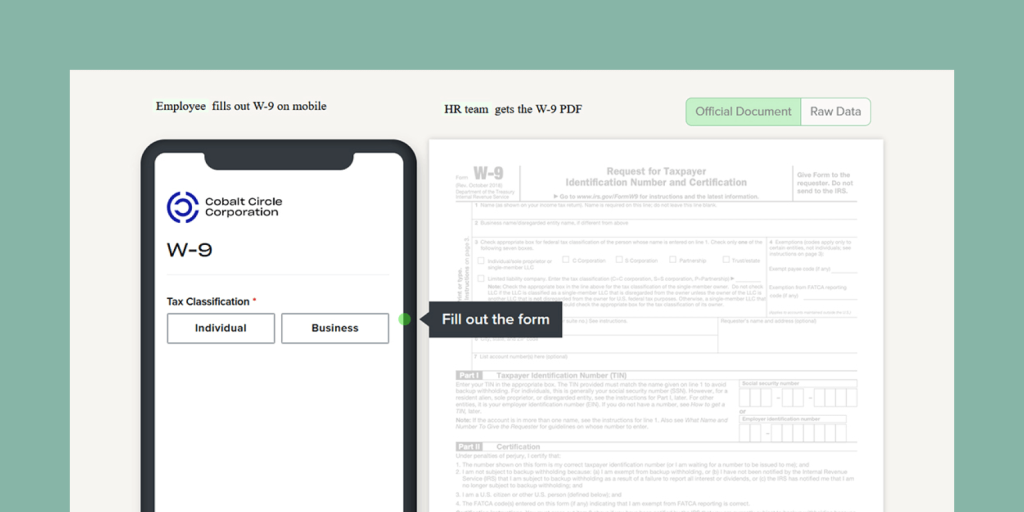 Support and ease of use
Because Dropbox Forms has conditional logic and conditional forms, it becomes very easy to fill in details based on the previous input.
Aside from that, you don't even need developer assistance to build or make your forms mobile-friendly.
Other elements like its drag-and-drop feature, merge fields, smart calculations, and PDF mapping make it extremely easy to use.
However, if any troubles arise, you can refer to their help center or learning courses, send a mail or submit a request for support.
Unfortunately, the live chat and phone support options are only available for customers who have purchased the standard or premium plan.
But, lucky for you, regardless of whichever plan you have, the customer support is easy to access, friendly, and will do its level best to solve your queries.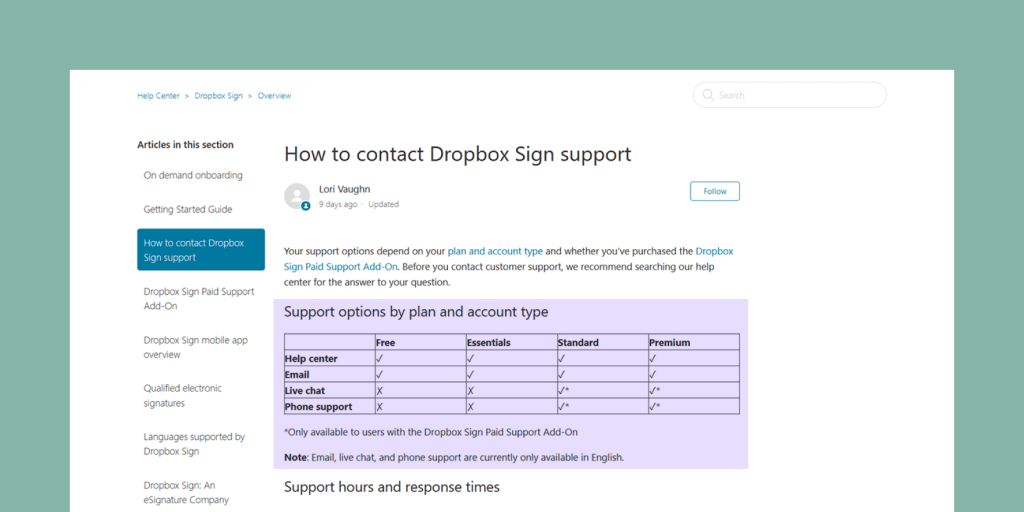 How does PandaDoc compare?
While Dropbox Forms is an excellent product, it's still lacking in certain areas, such as template libraries, analytics, extremely limited form usage, and others.
PandaDoc, on the other hand, has no restrictions as such.
On the flip side, the platform has additional features like built-in payment collection gateways, contract management, signing order specification, etc. — and that's just as far as forms go.
Our solution doesn't just cater to forms or e-signatures.
We provide solutions for other use cases, too, such as proposals, quotes, payments, contracts, document generation, invoices, marketing automation, sales automation, and much more.
Wrapping up
If you, as a business, just operate with forms, then Dropbox Forms may prove to be an excellent solution.
However, our guess is that you, more often than not, have a thousand different document types to attend to and would like to just as easily fill each and every one of them.
So, if you're seeking a solution that:
Has all the features of Dropbox Forms and more.
Will automate processes for your sales, marketing, HR, IT, etc., teams.
Provides multiple use cases for various document types.
Then PandaDoc is just what you need.
To see what we can offer you, sign up for the 14-day free trial (don't worry, no credit is required!).
Frequently asked questions
Mobile forms are forms (like tax forms, W2 forms, 1099 forms, etc.) that can be accessed on a mobile device.

To send mobile forms with Dropbox Forms, create an account > upload a PDF > attach an email ID > select "send."