Formstack Forms is a great tool for automation and basic form creation.
But while it comes with great templates and a no-code workflow, it might not be suited to your preference or use case.
So, we're going to explore ten great Formstack alternatives that you should consider for your business.
Let's jump right in.
What is Formstack?
Formstack is a popular workplace productivity platform that allows businesses to collect and process data efficiently and do more with the data they collect.
The platform's used by businesses in a wide variety of industries to collect and process data securely. This process is optimized thanks to features such as electronic forms, documents, signatures, and data sync.
The platform also offers advanced security features, meaning that although Formstack helps speed up the data collection process, there are no sacrifices in terms of security or complying with relevant regulations.
For instance, those in healthcare settings can use Formstack to collect vital patient data and be safe in the knowledge that this data will be stored and handled safely thanks to Formstack being HIPAA compliant.
What is Formstack used for?
Formstack Forms is a form builder that can be used by any organization regardless of its size or the industry it operates in.
This is thanks to the platform's smart online forms that can be customized to suit any team with any problem.
For marketing teams, which rely on data collection to drive every workflow, it makes total sense—but other departments may find it hard to figure out how all of Formstack's disparate uses come together.
The big selling point is that people can create Formstack forms without any coding experience. It also integrates with more than 1000 web apps.
This means that it can be incorporated into workflows for everything from payment processing to social media marketing.
Premium Formstack customers get access to several optimization tools.
For example, it offers conversion rate optimization tools that marketing teams can use to hone customer journeys and sales funnels. It also provides workflow automation tools for popular CRMs.
For customers in the USA, Formstack has solutions to help businesses ensure that they are HIPAA compliant.
Businesses use Formstack to:
Build form-based digital workflows
Create no-code forms
Produce legally-binding documents
Collect data
Gather secure eSignatures
Optimize conversion rates
Enable workflow automation
Ensure HIPAA compliance
Integrate with multiple apps and platforms, including popular CRMs, email marketing platforms, and document management apps.
Open-source Formstack alternatives vs. paid alternatives
If you want a good, intuitive form builder but don't feel that Formstack is right for you, there are alternatives to Formstack available instead.
A quick Google search shows that there are plenty of open-source, seemingly free form builder apps available.
These often look like a good option—and they can be if you're looking for a one-time solution with very basic features.
However, they usually have numerous limitations, including limits on the number of surveys and questions you can create, as well as limited form customization.
Not only this, but they also offer limited support—if any is provided at all—as they usually don't have the same kind of SLAs in place that people have come to expect from paid alternatives to Formstack.
So, if you regularly need to build forms for your business, it's definitely worth paying for the features and support that a paid Formstack alternative can provide.
For example, unlike most open-source solutions, PandaDoc Forms allows you to collect data and automate workflows and offers seamless integration with contracts, proposals, quotes, payment gateways, eSignatures, and much more.
PandaDoc can be used by a vast range of industries, including healthcare, education, and ecommerce, to create relevant forms to suit their needs, thanks to features such as editable templates, payment collection, and order signing.
Plus, there's no coding required.
01. 123 Form Builder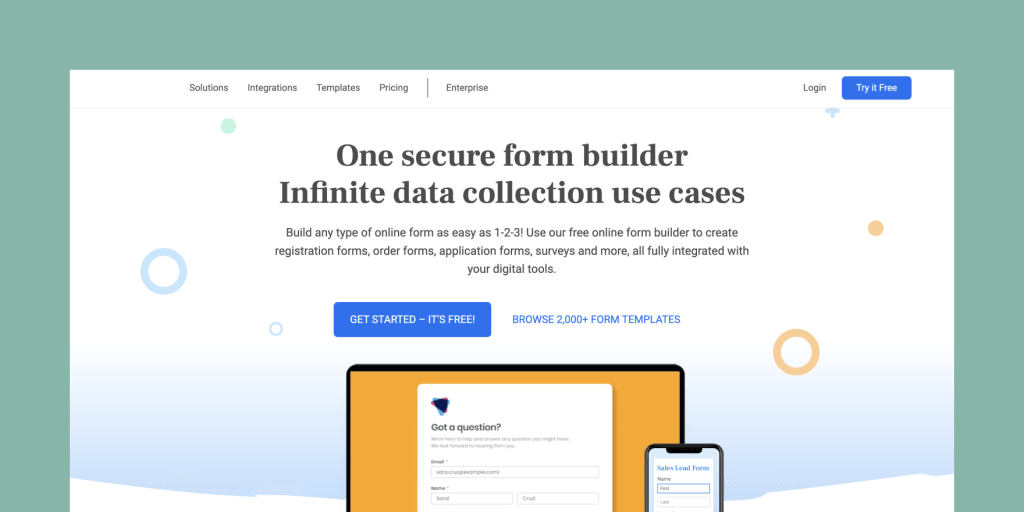 Pricing: Plans start at $19.99/month; free plan available.
Most online form builders come with varying limitations on each plan.
For example, Formstack's basic plan allows users to create up to 20 forms and gather up to 1,000 submissions for each form with 1 GB of storage available on your account.
123 Form Builder takes a different approach.
Just like with Formstack, the cheapest paid-for plan allows you to create 20 forms and have 1,000 monthly submissions, but you only get 500 MB of storage space.
To avail of more storage space, it's necessary to upgrade to one of the more expensive pricing plans, with the most expensive plan offering over 100 GB of storage.
Pros
At less than half the starting cost of Formstack Forms (even less when you purchase annually), there's a lot to love about 123 Form Builder.
The straightforward and hassle-free plan setup, as well as great features like advanced form editing and integrations with over 4,000 apps via Zapier mean that you can beat Formstack pricing and still have a powerful tool to gather critical information.
Cons
There are a few downsides to consider when using 123 Form Builder.
The 10 GB storage that's on offer with the Enterprise plan may be great for organizations with limited form use, but enterprise-level companies that plan to do a ton of data collection may find it limiting and need to upgrade to the most expensive option to get over 100 GB of storage space.
As a Formstack alternative, 123 Form Builder may also be missing important integrations for your forms, such as Microsoft Teams or Google Analytics.
And, without a Zapier connection, integration with essential business services is limited.
02. PandaDoc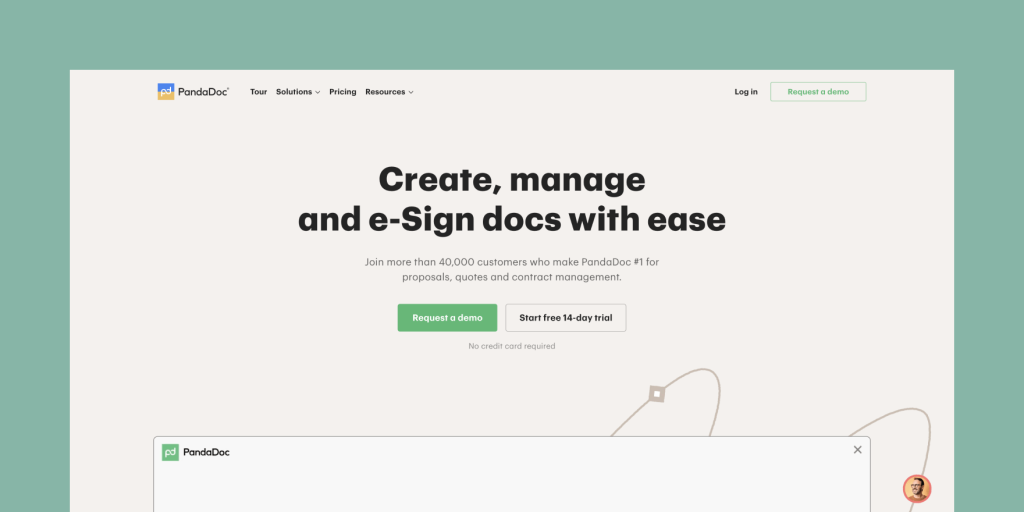 Pricing: Plans start at $19 per user/month; free trial available.
PandaDoc Forms has existed since 2021.
Users on the PandaDoc Essentials, Business, and Enterprise plans can build web forms using the same great drag-and-drop tools that they currently use to create contracts and proposals.
This is a great fit for users in the education sector, who might need to register students, collect fees and feedback, or renew contracts with teachers.
Healthcare offices can create appointment forms, client questionnaires, and store sensitive data.
Even public service organizations can upload government forms so that users can quickly complete and submit them.
Unlike other Formstack alternatives listed here, PandaDoc shines because of its versatility.
In PandaDoc 2.0, Forms is a free addition to the existing PandaDoc Business and Enterprise plans, offering 250 free forms per year while additional forms can be purchased for $2 per form.
Plus, all of our other tools are still in place. Users can continue to generate incredible sales and marketing documents quickly in addition to building contact forms, payment forms, and more.
With PandaDoc, you'll always have the right tool for the job.
Pros
The biggest advantage of PandaDoc is that it's not just a form builder.
Forms are a great add-on to all the perks you can already enjoy when you have a PandaDoc subscription.
All PandaDoc documents come with a high level of customization so that anything you build can be styled to fit your unique brand.
That includes forms, quotes, and proposals.
PandaDoc is also HIPAA compliant across the entire platform for users who have signed a Business Associate Agreement (BAA) with us.
We also offer encryption tools at every level to help you keep data secure while respecting GDPR rules and privacy laws.
Cons
While this is likely to change rapidly in the coming months, PandaDoc Forms doesn't yet offer the same functionality that you'll see in most established form builders.
Advanced form creation and complex conditional logic aren't yet available using PandaDoc.
While you can create basic forms, users looking for a high level of complexity may need a more robust solution than what we currently offer.
03. Cognito Forms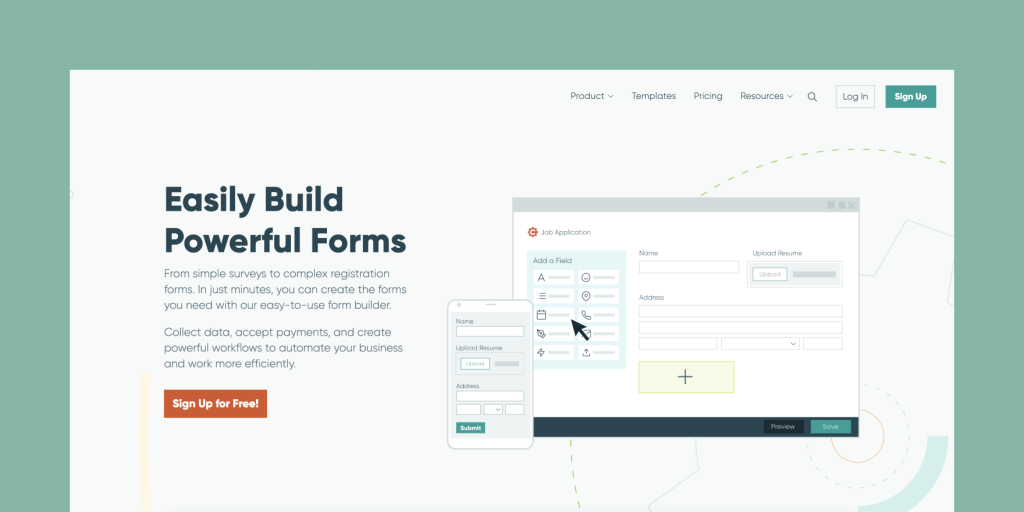 Pricing: Plans start at $15/month; free plan available.
Need an alternative to Formstack with better conditional logic, the ability to perform calculations, create tables, and more?
If so, Cognito Forms may be the perfect solution for you.
Cognito Forms is one of the best form-building solutions, which comes at a fraction of the cost of Formstack Forms.
While you'll need to move quickly into higher-tier plans if you need encryption, HIPAA compliance tools, or more payment options than Stripe, you're still likely to save money compared to Formstack.
But just because Cognito Forms offers a low price point doesn't mean they're a slouch.
The platform offers unique tools like rating scales, quantity limits, and repeating sections to make form creation fast and simple.
Pros
The price and form complexity are the two biggest selling points when it comes to Cognito Forms, but that's not all this form-building tool has to offer.
Cognito Forms also offers plenty of storage for respondent uploads and data collection, along with the ability to collect payments from Stripe, Paypal, and other payment gateways.
Cons
For users who want backend access or who are a stickler for native integrations, Cognito Forms falls short.
While you'll be able to use Zapier connections to link Cognito Forms to your standard workflow, you won't have direct API access like you would if you were using the Formstack API.
But you can use webhooks to get everything you need.
Cognito Forms also lacks native integrations.
Unlike the Formstack Salesforce integration, which connects directly to Salesforce and is maintained by Formstack, you'll be relying on other tools such as Zapier as a third-party connector to make everything work.
04. Wufoo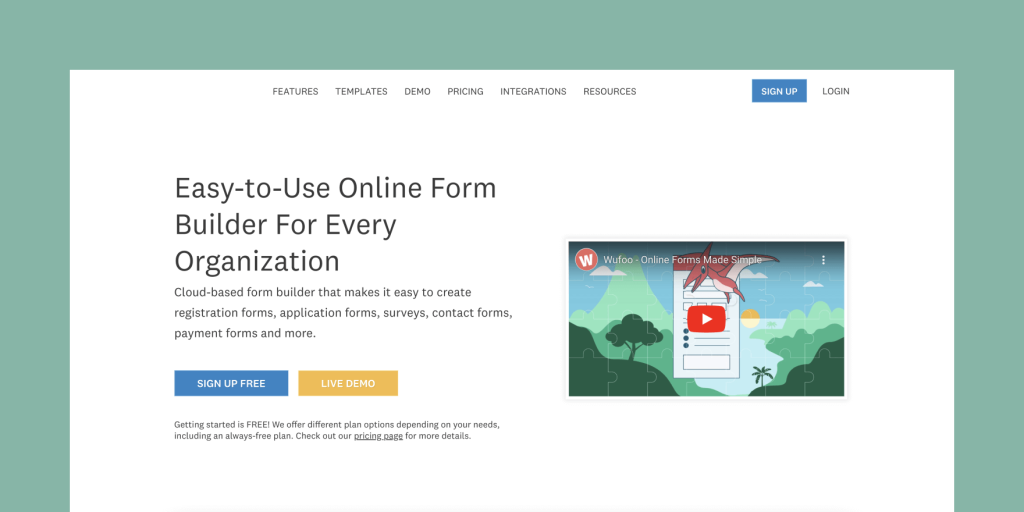 Pricing: Plans start at $19/month when billed monthly; free plan available.
Wufoo is built by SurveyMonkey and is an excellent fit for users who are more focused on data collection and organization than asking questions and capturing user responses from a particular audience.
While you can use Wufoo to create surveys using radio buttons or text lines, just as you can when using Formstack, you won't find the same level of questionnaire complexity in Wufoo as you'll find in SurveyMonkey.
That being said, Wufoo, alongside some of its alternatives, is still a powerful platform for data capture and competes well with Formstack on nearly every level.
Plus, it's only a fraction of the cost of Formstack.
Pros
The choice between Formstack and Wufoo mostly comes down to personal preference as they offer many of the same features, including customizable templates, a drag and drop feature, and third-party integrations.
Although each platform's form designer is different, both platforms are heavily focused on automation and customization.
Both tools even come equipped with over 300 form templates in their library to help you automate processes and get to work quickly.
Though the tools vary, the features shared by each platform are pretty similar.
Considering the price tag, that definitely makes Wufoo worth a look.
Cons
When compared with Formstack, Wufoo falls short as far as integrations and compliance options are concerned.
At higher-level plans, Formstack users can acquire the encryption tools needed to create a HIPAA compliant document.
Wufoo, on the other hand, never offers this.
Wufoo's native integrations are also spotty.
While the platform does offer a Salesforce integration, Formstack offers a greater variety of native CRM integrations and connectors.
05. FormAssembly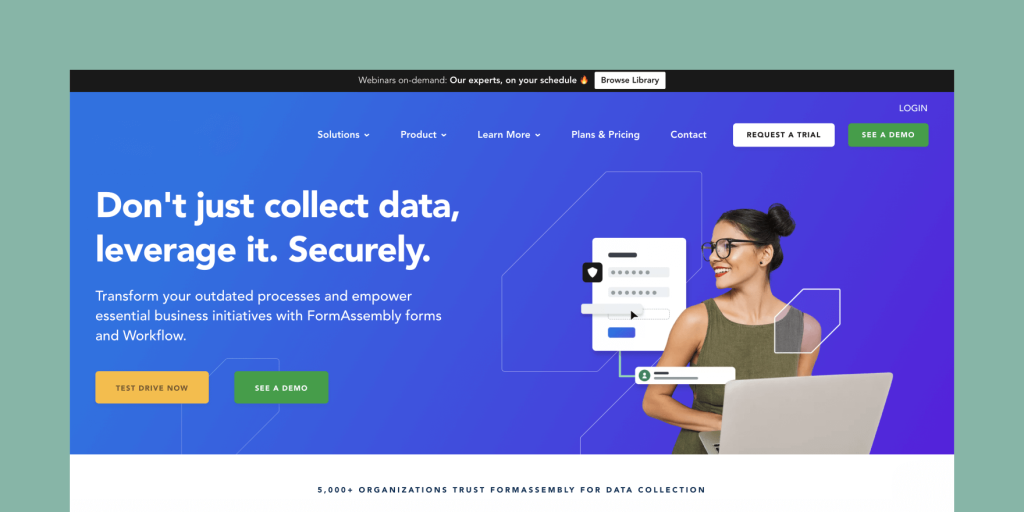 Pricing: Plans start at $99/month when billed monthly; free trial available.
Going beyond the basic WordPress order forms and email marketing survey tools that you'll see in other apps, FormAssembly is specifically designed for large-level and enterprise-level organizations.
Formstack and a few other tools on our list offer some of the tools that you'll see in the FormAssembly lineup, but this platform is designed to scale across an entire organization while allowing users to quickly capture and collate data.
Pros
Compared to Formstack, FormAssembly offers a higher level of integration and data capture tools.
Unlike Formstack security, FormAssembly encrypts data at rest, which means that the platform is immediately GDPR and FERPA compliant.
In addition to allowing users to embed forms using HTML/CSS and iFrames (which Formstack users can do), FormAssembly comes with its own mobile app for offline data collection, as well as full API access and an advanced Salesforce integration.
Cons
For most users, FormAssembly won't be the right solution simply due to its cost and size.
This tool is geared toward major corporations that are using a very specific set of tools, like Salesforce, Authorize.net, and Cybersource.
For a small business, the costs may be prohibitive, considering that the mid-tier plan skyrockets to $249/month per user, and to find out the price of higher-level plans, you have to speak to a member of the company's sales team.
Overall, FormAssembly is more capable than Formstack—especially at the enterprise level— but due to the price of that plan, it may not be suitable for many users.
06. SurveySparrow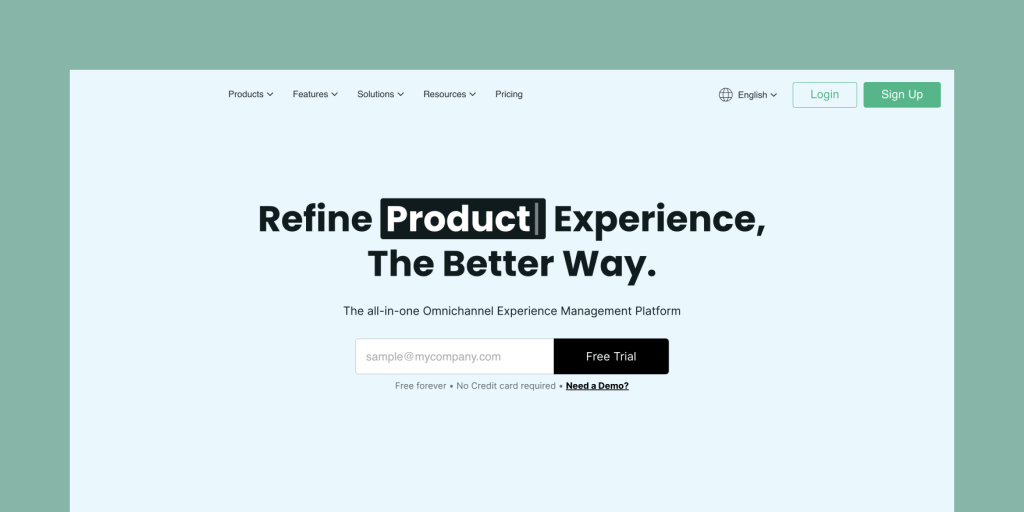 Pricing: Plans start at $99/month; free plan available.
While you can use platforms like Formstack or Wufoo to create simple surveys, if you really want to dig in and ask critical questions, a platform like SurveySparrow may be a better solution.
SurveySparrow offers three pricing plans to suit user needs, all of which include sentiment analysis, a variety of integrations, and the ability to accept payment.
Pros
SurveySparrow isn't necessarily better than Formstack in the sense that the products are competing.
It's an alternative to the platform in how it offers content.
Much like Cognito Forms, SurveySparrow offers rating tools, variable parameters, and even logic branching to help users gather accurate data.
Many of these features are passed over by Formstack simply because the tool is designed as a form builder rather than a survey tool.
If you need questions answered, and you're less concerned with collecting electronic signatures or gathering basic user information for a CRM entry, SurveySparrow is a great option.
Cons
At some level, the downsides to SurveySparrow come down to use cases.
The platform won't be a comfortable fit for someone who just wants to build out a basic payment form or create a simple onboarding form.
There are better and cheaper ways to do that.
In these cases, Formstack Forms might be a better fit. It really depends on your specific needs.
07. Google Forms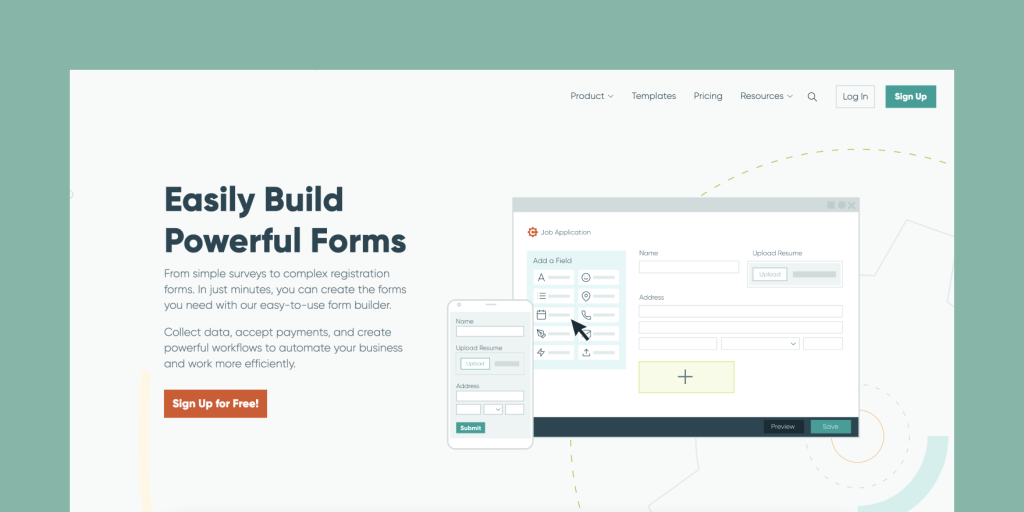 Pricing: Plans start at $12 per user/month; free plans available.
One of the best options on the list simply due to price, Google Forms is free for anyone with a Google account.
Because this option is run by Google, you can expect maximum flexibility when it comes to submissions, form creation, and data storage. All of these calculations are tied to your Google Drive account.
Users paying for Google Workspace (formerly G Suite) can enjoy unlimited storage options for minimal costs while staying competitive with most other Formstack alternatives on the list.
Pros
Google offers a flexible form builder that integrates well with most websites and applications. If you're familiar with Google's way of doing things, you'll pick up the drag-and-drop functionality with ease.
The platform also allows you to embed images, YouTube videos, implement skip logic, and more — all at no charge. Using Google productivity tools, you can review your data and accurately represent your findings with ease.
It's possible to do all of this for a minimal cost by using powerful collaboration tools that have been years in the making.
Cons
The most straightforward downside to using Google is that some users just don't like Google. If you're not a fan of the Google productivity platform, Google Forms won't be a great fit because everything in Forms is connected to Docs, Sheets, and Slides.
With Google Forms, you'll also need to have some technical savvy to display your data correctly. While Google will push your data into Google Sheets, you'll need to know how to use Sheets in order to render charts and graphics that will accurately display your findings. Formstack Forms, like many alternatives on our list, can help you do that with greater precision.
08. SurveyMonkey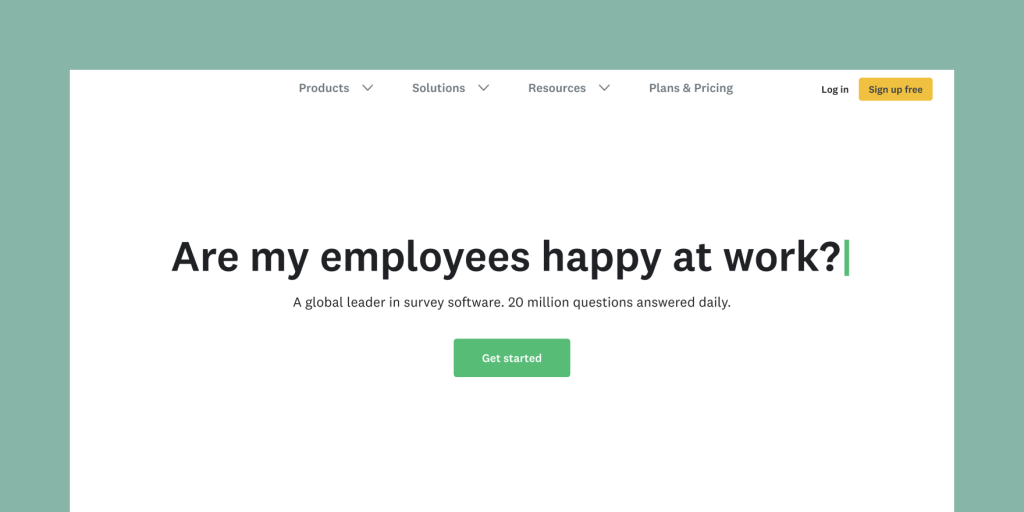 Pricing: Individual plans start at $25/month, rising to $89 per user/month for the Team Premier account.
Like Formstack, SurveyMonkey is primarily an online forms solution, designed to capture information in one-off surveys.
For example, it's often used to gather crowdsourced data for things like academic studies.
However, SurveyMonkey does have an enterprise platform aimed at businesses.
This enables organizations to put together sophisticated data-collection forms designed to gain insights from a wide audience, including customers and employees.
In addition to form-building, SurveyMonkey offers features such as data analysis, bias elimination tools, and data representation tools.
Pros
Both MonkeySurvey and Formstack have apps that allow users to collect and manage responses to surveys without an internet connection.
That's a big plus for teams who need to collect data while on the go in areas without a reliable mobile internet connection.
But where SurveyMonkey comes out on top is in the survey design aspect of the platform, providing a question bank of hundreds of the best questions (as found by their survey scientists) to help you design surveys that provide you with optimal insights.
Cons
SurveyMonkey also has its downsides.
For example, it's geared more toward small businesses surveying fewer customers than it is to organizations with a larger customer base.
So, depending on the size of your business and your particular needs, it may not be a suitable option for you.
09. Typeform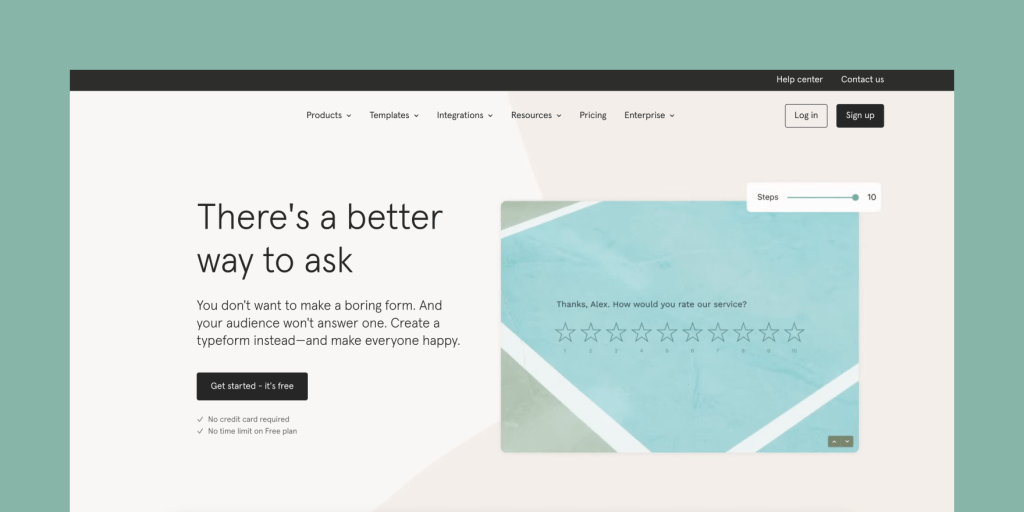 Pricing: The Basic plan starts at $29/month, rising to $59/month for the Plus package. There's a free option for solo users, but no free trial.
Like Formstack, Typeform offers online form-building and survey software. Its USP is the quality of its user experience and its sophisticated visuals.
Typeform offers logic-mapping, which makes the experience of completing a survey easier for the respondent.
For example, if the question is "Do you cook with onions?," the "Yes" answer would take you one way, and the "No" answer would take you another.
This makes surveys faster, more logical, and easier for the respondent to complete.
Pros
Unlike Formstack, which only offers a custom number of surveys at its highest pricing tier, one of the biggest advantages of Typeform has got to be that it allows you to create unlimited surveys and forms, even when you're just using its free plan.
This means that you'll be able to collect significantly more data at no cost at all, to garner vital and reliable insights that help you supercharge your organization.
Cons
Where Typeform falls down is in the depth of the data that it can collect.
While it provides a unique design experience, it doesn't offer the same level of complexity that you can get from a survey created through Formstack Forms.
The latter offers advanced features to help add more power to your data collection process.
10. Zoho Forms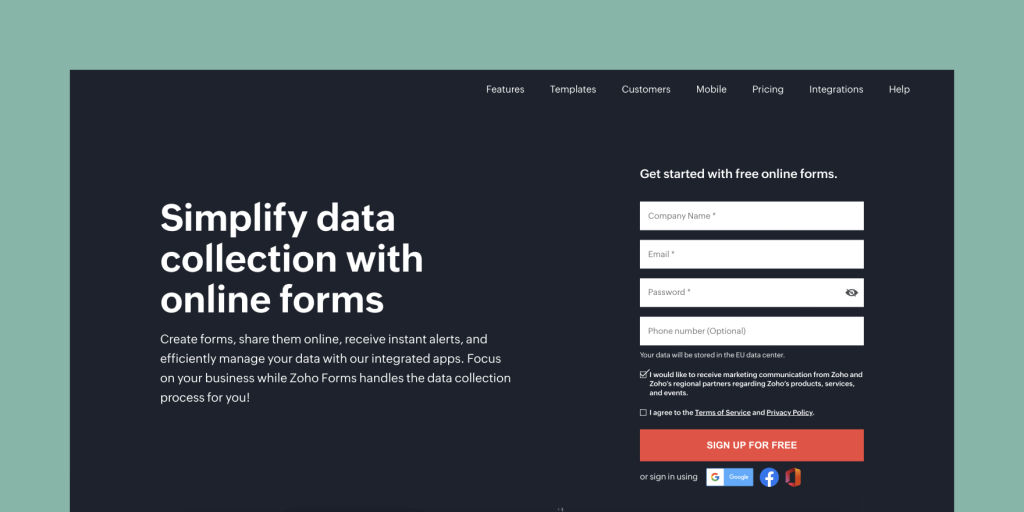 Pricing: Free package. Paid-for options range from $10/month to $100/month.
Zoho Forms focuses on building forms that are optimized for mobile.
It includes a mobile-responsive drag-and-drop form builder, and you can even collect data in real time without an internet connection via the powerful offline forms.
Forms built using Zoho can be shared with users via links, which can be emailed or shared via messaging platforms.
Zoho has strong analytics, including intelligent response tracking and the ability to track campaign traffic.
Pros
When compared with Formstack, Zoho Forms offers a lot for a low price.
At just $100 for its top tier package, it gives an intuitive drag-and-drop interface, a sophisticated app, mobile-ready forms, and an impressive range of analytics features, not to mention integrations with hundreds of other apps.
More people can use Zoho Forms at a cheaper price compared to Formstack, with ten people being able to use Zoho Forms for just $25 per month, while only three Formstack users can use Formstack for $225 per month.
Cons
While Zoho Forms is certainly much cheaper than Formstack Forms, it does come with its downsides, too.
If you work in the healthcare sector and need to collect sensitive patient data, it's unlikely that Zoho Forms is a good option for you as, unlike Formstack, the platform isn't HIPAA compliant.
Instead, the company's website simply states that it doesn't collect, use, store, or maintain health information for its own purposes.
However, they can provide certain features that help people use their forms in a HIPAA compliant way. So, healthcare workers beware: Formstack may be a better option for you.
Go beyond forms with PandaDoc
And there you have it: Ten great alternatives to Formstack to consider using for your business.
If you're looking to build incredible forms, and you want to take a break from the Formstack platform, other competitors may be able to offer an experience that's better suited to your needs and preferences.
If you need to go beyond forms, PandaDoc can help you create quotes, proposals, contracts, and other essential sales documents at lightning speed.
To learn more about everything we offer—including forms—sign up for a 14-day free trial of our Business plan.
Originally published March 15, 2021, updated March 6, 2023
Disclaimer
Parties other than PandaDoc may provide products, services, recommendations, or views on PandaDoc's site ("Third Party Materials"). PandaDoc is not responsible for examining or evaluating such Third Party Materials, and does not provide any warranties relating to the Third Party Materials. Links to such Third Party Materials are for your convenience and does not constitute an endorsement of such Third Party Materials.