Of the many online form builders on the market today, Wufoo is one of the most straightforward options for data collection and organization.
The software has everything you need to jumpstart form creation, including 400+ templates to choose from, as well as analytics and reporting tools to help keep performance on track.
But it's not the only option out there. In this article, we'll look at seven great Wufoo alternatives that you should consider in 2021.
How we found and selected our top Wufoo alternatives
Wufoo certain has no shortage of competitors if you're shopping around for form-building software.
In order to accurately select and assess all the form options on the market, we analyzed reviews, feedback, and criticism from over two dozen different websites and weighted what we saw based on website views and perceived authority.
To determine authority, our data sources were grouped into five cohorts based on monthly visitors (which we took from Semrush):
>1.000.000 visitors;
500.000 – 1.000.000 visitors;
250.000 – 500.000 visitors;
50.000 – 250.000 visitors;
<50.000 visitors
The websites with the highest visitor traffic and greatest domain authority were given more weight in our calculations and analysis while lower-traffic web and less authoritative websites were scored lower.
However, in-depth reviews and feedback were given considerable analysis and weighed carefully as part of our calculation.
On top of all that, our company recently launched PandaDoc Forms, a competitive form builder that is a perfect fit for users looking for all-in-one form creation.
As you can imagine, our team conducted extensive market research in order to create a product that felt right at home among competitors!
We closely reviewed a variety of websites — including several not listed in our final selection — in order to determine the best form-builder solutions according to what features were offered, and which software tools were the closest fit to what we believe users interested in switching might look for.
Lastly, we also checked with our team and customers to better understand how businesses actually use sales tools, what features they were interested in, and which collaborative tools are the most beneficial from their point of view.
01. Formstack Forms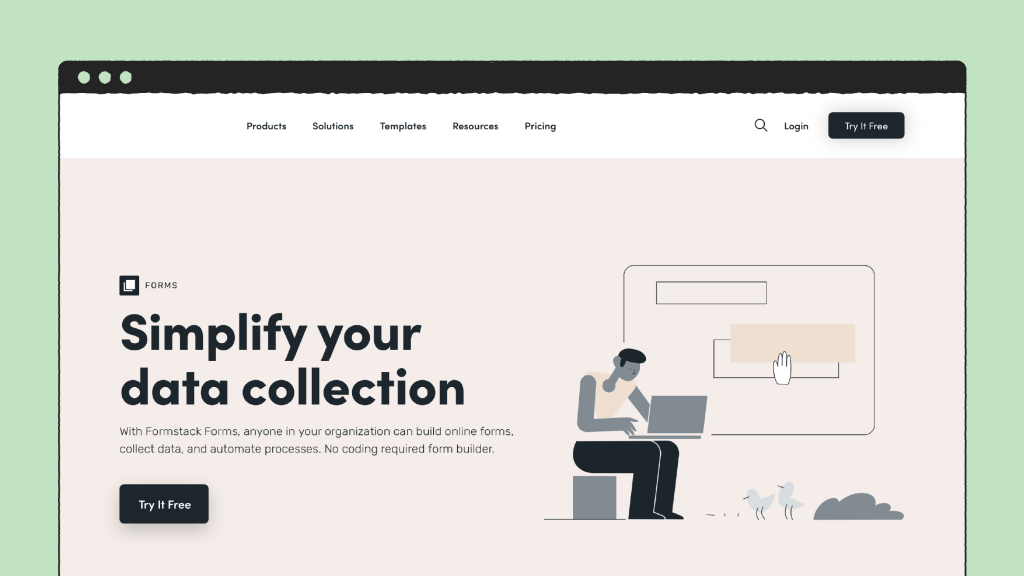 Pricing: Plans start at $59/month; free trial available.
One of the most formidable Wufoo alternatives on our list, Formstack Forms (formerly WebMerge) is part of the Formstack family of apps.
Overall, it offers very similar features to Formstack, including a robust template library and many of the same tools, albeit at a more expensive price point.
The power behind Formstack Forms comes from using the entire Formstack platform, which includes solutions for document generation, electronic signatures, and more.
Without that complete solution, Formstack may lack some of Wufoo's appeal simply due to cost.
Pros
As part of a complete document solution, Formstack makes more sense. If you want Formstack to handle form and document preparation, folding everything into a single platform might be ideal.
On the surface, Formstack looks like it offers more robust features than Wufoo. In some cases, this is true. Formstack has more native integration options than Wufoo, but both tools connect to Zapier, so you'll see similar overlaps there.
One of the key integrations to note is Formstack's WordPress integration. Like Wufoo for WordPress, Formstack allows you to embed forms into your website through a simple plugin. No HTML/CSS coding required.
Cons
Compared to Wufoo pricing, Formstack is much more expensive, even when compared to its alternatives.
Even to access features like HIPAA compliance, which would be a key differentiator between these two platforms, you'd need to pay enterprise-level pricing, which is more expensive than the $249/month Platinum plan.
While Formstack can help you create great forms and workflows, it might also take a hefty bite out of your budget.
02. PandaDoc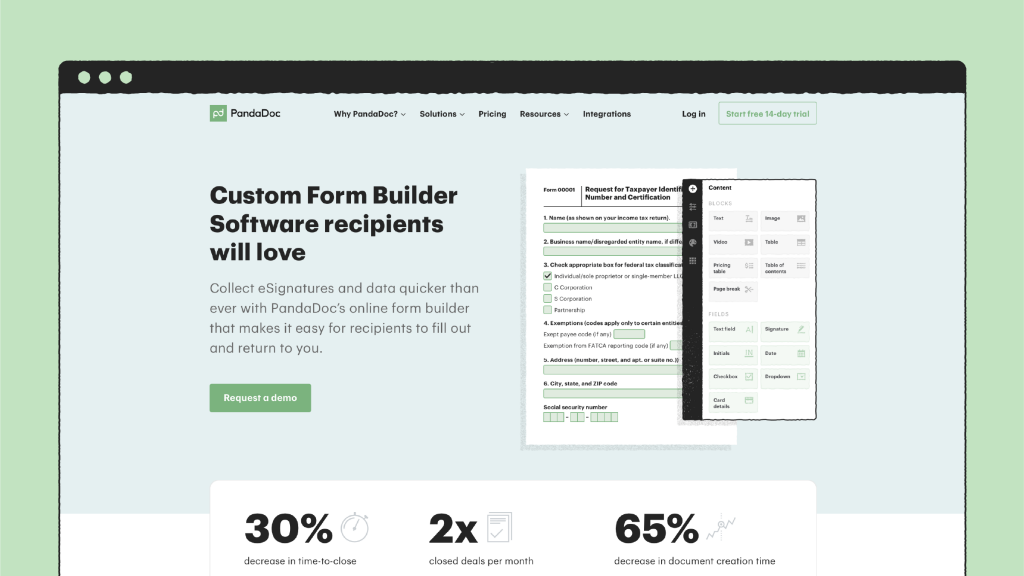 Pricing: Plans start at $59/month; free trial available.
The newest Wufoo alternative on the market, PandaDoc Forms is a powerful way to create incredible forms.
Available on our Business and Enterprise plans, PandaDoc Forms allows you to create basic forms, embed them on your website, capture credit card payments and electronic signatures with form submissions, and more.
On top of form creation (covered in our detailed comparison article, PandaDoc vs Wufoo) you'll still be able to use all of the same great features and tools that come with your PandaDoc plan, including the ability to create powerful quotes, proposals, and contracts.
Pros
All bias aside, PandaDoc is the best alternative to Wufoo for a few reasons. For PandaDoc users, forms are a no-cost addition to the other great document creation options that we have on offer.
This means that, when using PandaDoc, you'll always have the right tool for the job.
The downside to using Wufoo or any of the other competitors on our list is that they'll only help you create forms. PandaDoc users can create any type of business document and send it to partners for review.
One major area where PandaDoc excels is in security and compliance. Wufoo doesn't offer any kind of HIPAA compliance, and data security and encryption tools are only available on higher-tier plans.
PandaDoc is serious about security, and all data on our platform adheres to HIPAA laws, GDPR regulations, and SOC Type 2 standards — all at no extra charge.
Cons
The downside to using PandaDoc Forms is that it's a newer software option.
Compared to other Wufoo alternatives, PandaDoc Forms currently lacks some of the functionality that you'd need to create robust and complex multi-page forms.
If you're looking for the ability to use conditional logic, skip logic, or perform advanced calculations in your forms,
PandaDoc might not be the right fit — although this is likely to change in the near future as our teams continue to add additional features and functionality to the platform.
03. Jotform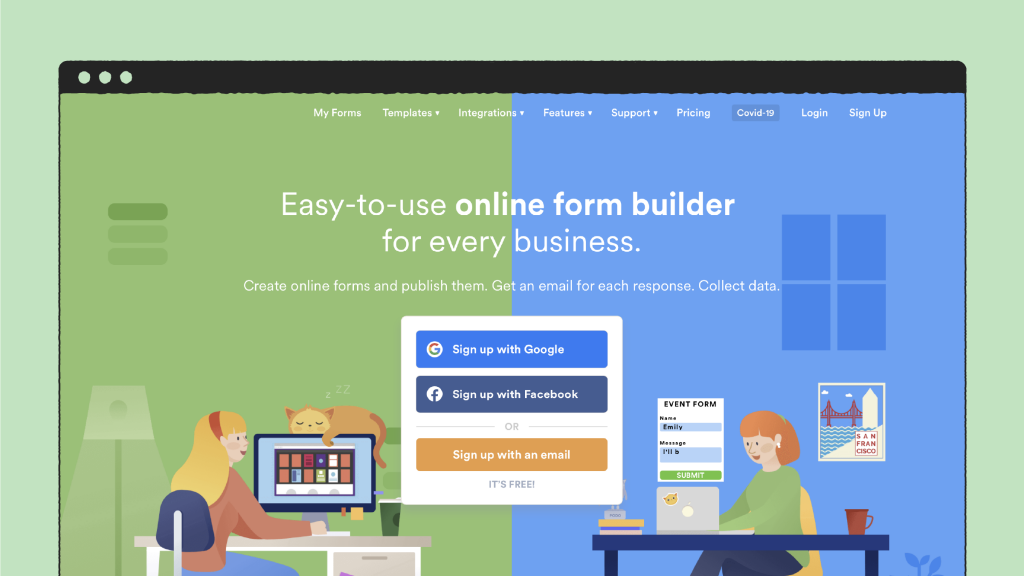 Pricing: Plans start at $29/month; free plan available.
Trusted by over nine million users, Jotform is one of the most popular Wufoo alternatives. Using the template library and simple drag-and-drop tools, you can create everything from contact forms to online surveys in minutes.
Jotform's pricing structure is competitive with Wufoo at lower levels and actually offers better options at higher tiers, where file uploads and user forms may play a key role in scaling out your marketing automation toolkit.
Pros
Jotform gives you everything you need to create conversational forms that work for your business.
Like Wufoo, the platform comes with conditional logic and is loaded for bear with templates and quick-build solutions so that you can build forms with ease.
On the most expensive plan, you'll receive 1 TB of upload space, which is 50x what you'll receive with Wufoo, along with unlimited submission storage so that you never have to worry about responses being deleted from your workspace.
The best part? You can get most of this for half the price of Wufoo's most expensive plan.
Cons
There are some downsides to Jotform, particularly in lower pricing tiers.
Below the Silver plan, Jotform limits the number of monthly form views, meaning that if you plan to place the form on your website, you'll have to factor for an estimated view count — even if those viewers don't complete the form.
So far, Jotform is the only Wufoo alternative we've seen that counts views, so it's something to keep in mind.
On the higher-tier plans, Wufoo allows double the monthly submissions (100,000 vs. 200,000) when compared to Jotform, but Wufoo comes with a larger price tag.
04. Cognito Forms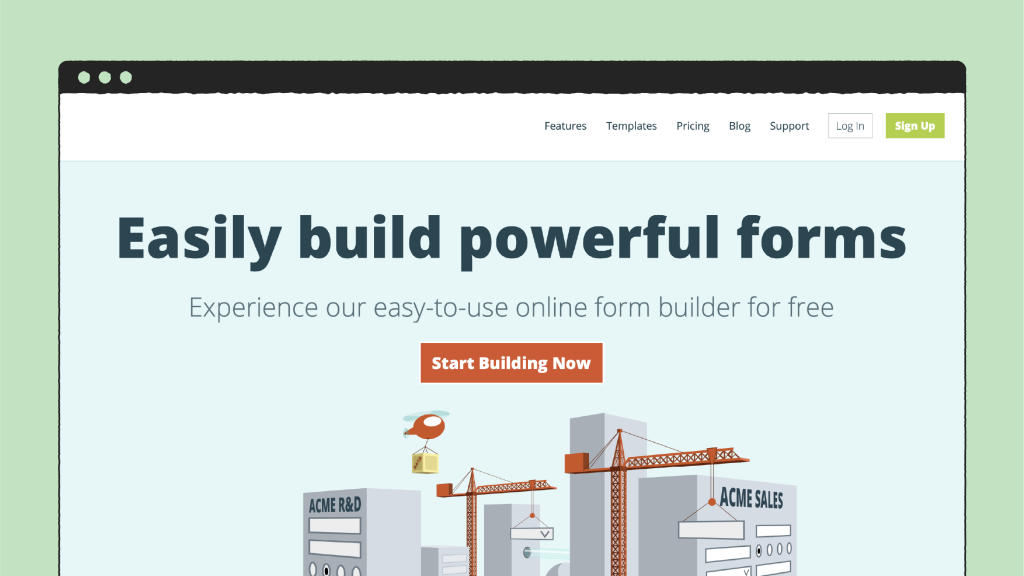 Pricing: Plans start at $15/month; free plan available.
If you're looking for forms that go beyond conditional logic and basic form fields, Cognito Forms might be for you.
Compared to Wufoo and most competitors, Cognito Forms goes out of its way to offer powerful form logic and field alternatives that you don't often see in its competitors.
From rating scales to repeating sections and lookup fields, Cognito Forms will give you everything you need and more to build forms that align with your ideal workflow.
This software is one of the best Wufoo alternatives for users who want to dig in and create forms that, while complex, could streamline the user experience.
Pros
From electronic signatures to Stripe and Paypal payment gateways, Cognito Forms has everything you need to build great forms.
The free plan allows you to create unlimited forms and capture 500 entries per month, which makes it one of the best free Wufoo alternatives, and the pricing is even better than Wufoo at scale.
At the highest tier, Cognito Forms offers unlimited monthly entries and form creation and five times the amount of storage that you'll get through Wufoo.
Cons
Wufoo is spotty when it comes to native integrations.
It has a few, like a native Salesforce integration, but relies on Zapier to capture CRM tools and payment gateways.
Cognito Forms follows the same logic, but the platform relies entirely on Zapier to connect to the outside world.
You won't even be able to access the API for direct calls, but you can use webhooks to embed forms in websites or use tools like the WordPress plugin for a no-code website solution.
05. 123 Form Builder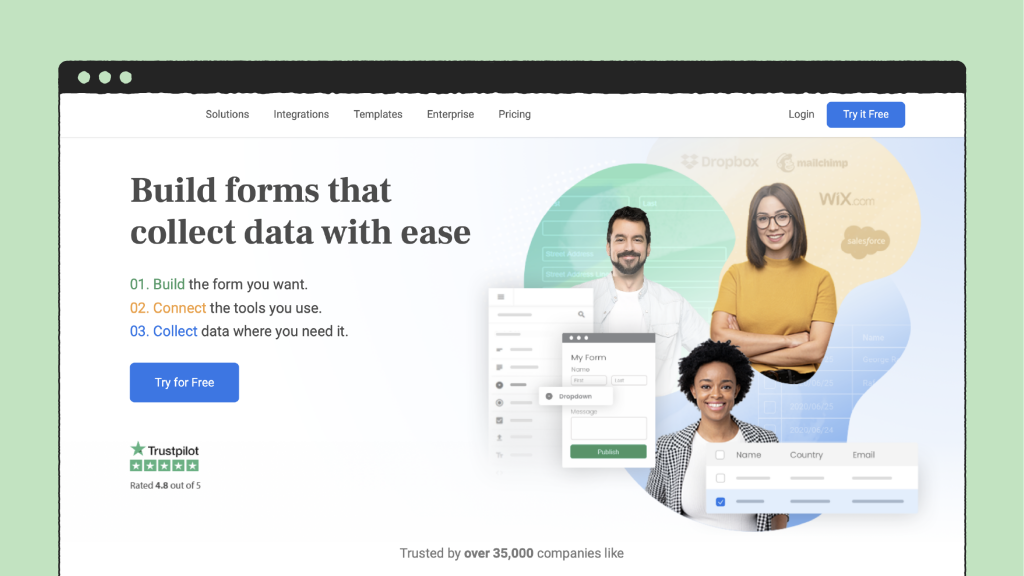 Pricing: Plans start at $25/month; free plan available.
One of the things we like most about 123 Form Builder is its drive for simplification.
With Wufoo and other competitors, you'll always be checking to see how much storage space you have, which integrations you can access, and how many responses are available to you.
123 Form Builder does away with all of that. All plans (except the free plan!) have access to unlimited submissions, 10GB of space for respondent uploads, and full access to all tools and integrations.
Pros
In addition to the simplicity of the pricing structure, it's easy to build forms using 123 Form Builder.
Like Wufoo, some nice-to-have features like custom branding and encryption are only available on higher-tier plans, but you'll never have to worry about submission limits.
Cons
The problem with the blanket "one-size-fits-all" solution that 123 Form Builder uses to keep things simple is that business needs are never that simple.
If you're a large- or enterprise-level organization, 10GB of storage might not be enough to meet your requirements. With 123 Form Builder, you won't have many options to remedy this solution, and that could be a problem.
You might also find yourself limited by the number of forms that you can create. With Wufoo, you can generate an unlimited number of forms once you reach their $40/month plan.
With 123 Form Builder, the maximum number of forms available to you on their most expensive plan is 50. If you need to create a large number of forms across your organization, 123 Form Builder might fall flat based on that limitation alone.
06. Google Forms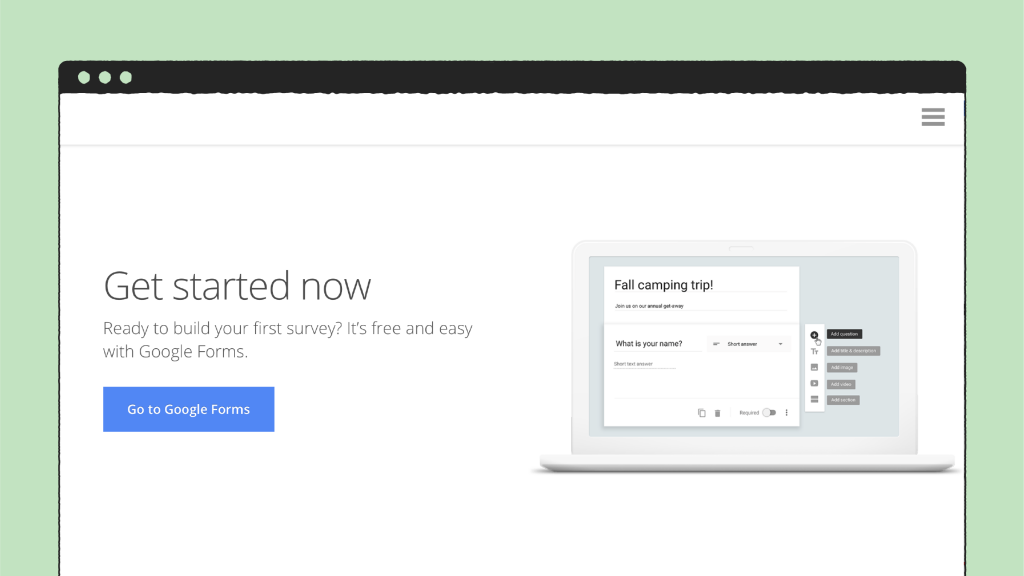 Pricing: Plans start at $6/month; free plans available.
Looking for a huge amount of customization and flexibility for little to no cost? If you have a Google account, Google Forms might be the best option for you.
This free tool can help you capture responses quickly, easily, and at no charge.
As an added bonus, Google Forms is networked with a ton of other Google productivity tools like Sheets, Docs, and Slides, so you'll always have the software you need to make sense of your data.
Pros
The Google toolset is extremely powerful in the right hands. Google Forms can function as a survey software and a form builder, allowing you to create user response layouts that make sense for your business.
While Google does offer paid plans, this is really for Google Workspace (formerly G Suite) subscribers who want to go beyond Google Drive's basic storage limits and/or gain access to additional Google tools.
The basic functionality for Google Forms, including linking Forms to Google Analytics and other tools, won't change.
Cons
The downside to using Google is that some of the convenience elements have been removed when compared to Wufoo and other competitors.
For example, while Google Forms has a user-generated template library, it may not have the customization options that you'd see in Wufoo themes, which can drastically affect the look and feel of your form.
At the same time, Google doesn't integrate natively with third-party tools. While you can use Zapier to connect to tools like Mailchimp or even Salesforce, the integration may not work as well as a more closely integrated platform.
07. SurveyMonkey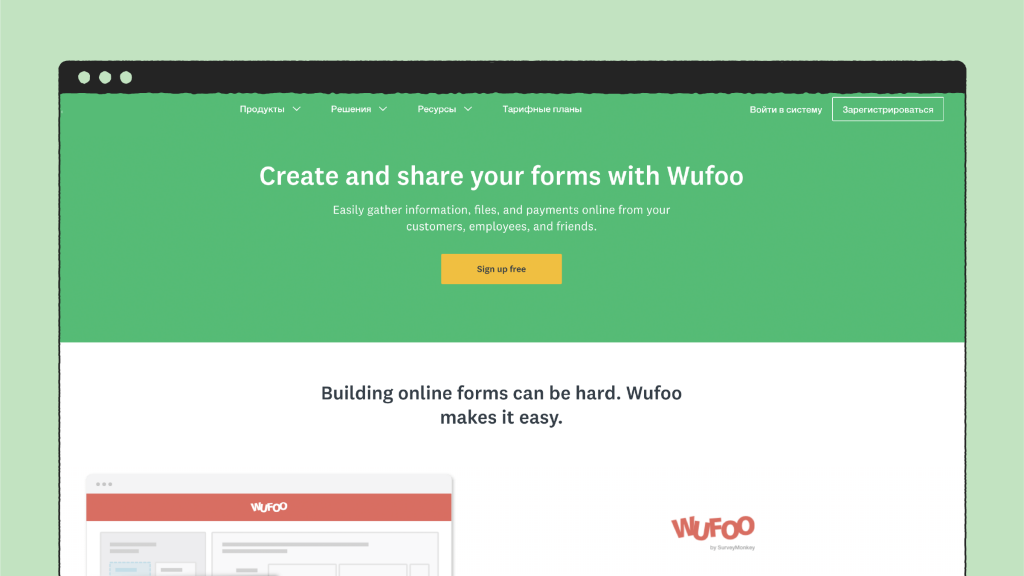 Pricing: Plans start at $32/month when paid annually or $99/month-to-month.
If you didn't know, SurveyMonkey also owns Wufoo. While we're listing it as a top Wufoo alternative, it's important to point out the dual ownership because of how SurveyMonkey and Wufoo operate in relationship to one another.
SurveyMonkey is designed for question-based surveys and user response capture while Wufoo is designed for data intake through forms and fields.
There is certainly some overlap.
You could use Wufoo to create basic surveys using text fields and radio buttons, but SurveyMonkey offers a greater selection of tools for organizing, storing, and accessing your data.
Pros
SurveyMonkey offers a greater selection of tools for survey completion.
This includes features like sentiment analysis, randomization options, benchmarking tools, and more.
You can also pay for access to your target market and let SurveyMonkey handle the rest.
The platform also comes with great survey templates and offers the HIPAA compliance options that are lacking in Wufoo. At some level, these small gaps in the product are by design, as you'll want to use the right tool for the job.
Cons
On the whole, SurveyMonkey is more expensive than Wufoo and is designed with a completely different purpose in mind.
If you're just looking for ways to onboard clients or fill out basic forms and capture information in the process, SurveyMonkey won't be a great fit for you.
On the other hand, if you want to reach out to customers and employees, gather performance data, and analyze it to find the best solution, SurveyMonkey offers a use case that is far more valuable than using a form builder to solicit a user response.
Frequently asked questions
No, and this is one of the biggest reasons that customers seem to leave Wufoo behind.

SurveyMonkey, Wufoo's parent company, offers HIPAA compliance through the SurveyMonkey platform.  However, the Wufoo platform isn't HIPAA compliant at this time.

If you're looking for proven HIPAA compliance, PandaDoc is proud to offer this feature for all documents — including forms.  A Business Associate's Agreement (BAA) is required, and the submittal process is fast and easy.

Yes, Wufoo is a well-established brand with a long history of creating forms and surveys of all types.  The company was founded in 2006 and is currently owned by Momentive Inc., which also owns the SurveyMonkey platform.

Though Wufoo doesn't offer HIPAA compliance for its forms, the platform is generally considered safe to use for capturing and storing any non-critical or protected information.

It's a great fit for small businesses, sales teams, and any user who just needs to capture basic information about clients or potential prospects.

While Wufoo is mostly focused on form creation, SurveyMonkey offers a set of tools centered around longer and more robust surveys.

In addition to offering a free survey platform for smaller businesses, SurveyMonkey is equipped with a battery of tools to help users collect responses and validate user feedback.

While it's easy to imagine that SurveyMonkey is just a scaled-up version of Wufoo, the reality is more complicated. SurveyMonkey is great when you're trying to deploy survey solutions at scale, while Wufoo is more focused on data and payment collection through simplified online forms.

There are plenty! SurveyMonkey is a great option if you want to stay in the Wufoo/SurveyMonkey family. Other great platforms out there that you can explore at no charge include:

 Google Forms
Cognito Forms
Jotform
123 Form Builder
Zoho Forms

Some of these platforms are already on our list while others are ripe for self-discovery and exploration. Keep in mind that some of the free plans may be limited while other free platforms (like Google Forms) lack all of the tools necessary to get the job done.

In our opinion, PandaDoc Forms is the way to go simply because it's an all-in-one document tool on the PandaDoc platform.  

Rather than having multiple document creation tools for contracts, invoices, etc., PandaDoc users can generate all documents using one tool and drastically streamline the document creation workflow.

If you're just looking for forms and don't feel like the other document creation option that we offer would be helpful to you, the best alternative really comes down to user preference.  Cognito Forms is probably the most technically capable, but a lot of users like the simplicity that you'll see with 123 Form Builder.
Build better documents with PandaDoc
With seven strong Wufoo alternatives to choose from in 2021, you should have no problem building incredible forms for your business.
And don't get us wrong: as Wufoo reviews are quick to point out, it's an amazing software tool for the right user. If you need to go beyond form creation, PandaDoc may be a better fit.
Our platform can help you create every kind of sales document, from proposals to contracts at lightning speed. Learn more about forms and other document creation options by signing up for a free 14-day trial on our Business plan.
Disclaimer
Parties other than PandaDoc may provide products, services, recommendations, or views on PandaDoc's site ("Third Party Materials"). PandaDoc is not responsible for examining or evaluating such Third Party Materials, and does not provide any warranties relating to the Third Party Materials. Links to such Third Party Materials are for your convenience and does not constitute an endorsement of such Third Party Materials.