Effective lead capture strategies vary drastically by company.
Some organizations require sign-ups for a product demo. Others give away free content but gate it behind a signup form.
Whatever your strategy, it's critical to collect information from prospects so that you can transform each visit into a quality lead—and that's where the best lead capture apps come in.
While ways to acquire an effective lead may vary, you'll always need an effective acquisition tool in order to be successful.
In this article, we'll run down some of the best lead capture software options available on the market today.
Let's get started!
What are lead capture apps?
Lead capture apps help you to find new leads and coax them through your sales funnel to conversion.
They're essential if you want to reach higher quality leads and boost your conversion rate.
Every business is likely to have a different lead capture strategy. Some may pursue prospects who autonomously visit their website.
Others will have more of an outreach strategy; bringing in leads through things like advertising campaigns and scheduling appointments with prospects.
Whatever your strategy, lead capture is a complicated business.
It generates a huge amount of data and admin which takes time and resources to sort through.
This is where lead capture apps come in.
Every lead capture app works in a slightly different way, but all of them decrease the burden of lead capture admin and help you to contact leads faster and more efficiently.
By capturing, sorting, and storing lead data at speed, lead capture apps save you from having to manually sort through generated leads.
They also give you the ability to identify qualified leads at speed, and to act fast when a hot lead comes in.
All in all, lead capture apps are a great way to capitalize on lead opportunities at speed.
They decrease the admin burden, and increase the speed at which you can contact exciting new prospects.
Top benefits of lead capture software
Faster data collection
A big part of lead capturing is using data to transform prospects into high quality leads.
Good lead capture apps are able to collect the relevant data fast, allowing you to capitalize on new leads while they're still warm.
Without digital help, capturing leads can be a time-consuming process. Sometimes, the lead goes cold while you're still collecting their data.
However, with lead capture apps you can collect data fast, and act on opportunities while the lead is still interested.
More qualified leads
A qualified lead is a lead which fits the criteria needed in order to be a potential customer.
Qualified leads are usually high quality leads which are likely to convert.
Lead capture apps allow you to pinpoint qualified leads and quickly start the work of converting them.
With a good lead capture app, you can gather more qualified leads and reach out to them more effectively.
Capture leads anytime
Lead capture apps work in the background, all day, every day. This allows you to capture leads at any time.
This is particularly important if you work with an international customer base.
In this case, it's likely that your sales and marketing teams will be asleep while prospects in different time zones are exploring your website or clicking on your apps.
With lead capture apps, you can gather vital data on customers no matter what time they're engaging with your content.
Easier follow-up
Follow-up is vital if you're to turn your leads into loyal, returning customers.
By making lead data easily accessible to you, lead capture apps make follow-up much simpler.
The right apps put lead data at your fingertips, allowing you to follow up on the best leads at the optimum time.
Some apps even let you schedule automated follow-ups at times that suit the customer, even if those times don't suit your human team.
More accurate data
The more accurate your data, the better able you will be to appeal to your leads.
Lead capture apps work hard to get the best, most accurate data possible.
For example, a good app can tell you everything from a lead's demographic data to the products they seemed most interested in and the time of day they were engaging with your brand.
Your marketing team can then use this data to produce targeted, intensively personalized lead capture campaigns.
So, now you know what lead capture apps are and the benefits they can deliver, let's get down to which are the best lead capture apps you can choose from.
1. PandaDoc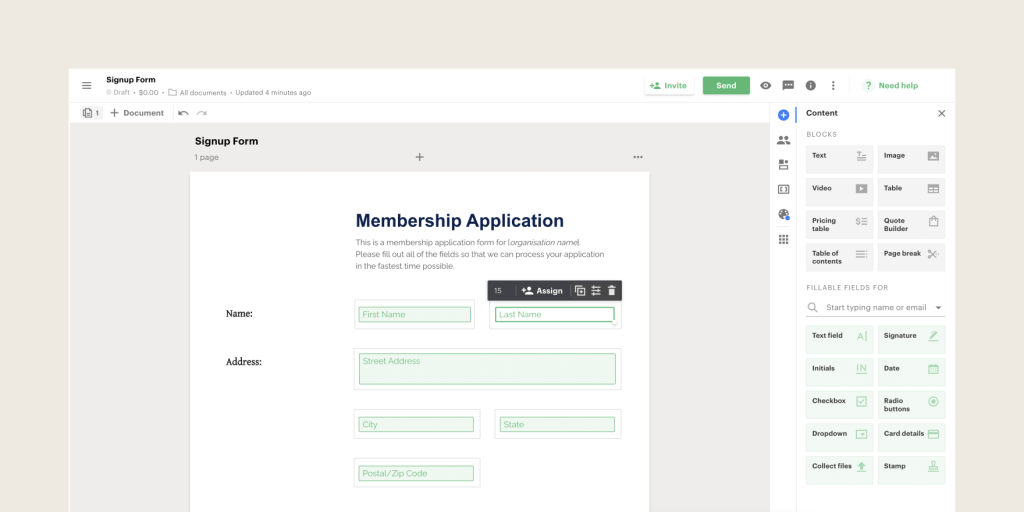 If you want to know how to capture more leads with appointment scheduling, the answer is PandaDoc Forms.
While largely known as a document workflow solution with built-in eSigning solution, PandaDoc also offers a highly efficient lead generation tool in the shape of PandaDoc Forms.
Forms allow you to streamline the way your team creates, sends, and collects lead information so you can close deals more quickly.
You can send your forms to prospects, integrate them with an existing registration workflow, or even embed them on your website.
Like other documents built using PandaDoc, Forms are created using the onboard editor. Using the intuitive drag and drop toolkit, you'll be able to create a new form and get it up and running in record time.
Include customer branding and specific campaign details to create a lead capture form that feels like a natural extension of your outreach initiative.
And don't forget, while you can always begin from scratch when building with PandaDoc, you can also kickstart your creative process by choosing one of the hundreds of editable form templates from the PandaDoc content library.
What you get when using PandaDoc Forms:
Drag-and-drop functionality in the form builder streamlines visual editing and makes publishing easier for everyone — no coding or design experience necessary.
Embedding and sharing features allow you to add forms to your website's source code. You can then modify your form without having to alter the underlying code. Not a coder? No problem. You can always simply generate a direct link to your form and avoid HTML altogether.
Customizable form fields let your business incorporate additional instructions based on a particular response. In the case of lead capture, this enables you to specify the kind of data that's most useful for the purpose of researching and converting leads.
Real-time email notifications instantly alert you of form completion so you can quickly follow up with a new lead.
Access to unlimited forms and bulk send functionality helps your business to scale its lead capture efforts.
User-friendly templates make it easy to create an intuitive and professional-looking form in moments, even if you have no design experience.
Compliance with security standards helps your business earn the trust of potential leads and makes them feel comfortable sharing their contact information.
Pros:
65% faster document creation
30% decrease in time-to-close
Up to 2x as many closed deals per month
Create unlimited forms at no charge; only pay for forms that are filled out and submitted by your customers
250 forms per year are included in each account (Additional forms cost $2/document)
Broad applicability across functions and departments, from expense reports to customer onboarding
Multiple response types including checkbox, dropdown, and open response
Included eSignature functionality
Cons:
Bulk sending may cost extra
2. FormAssembly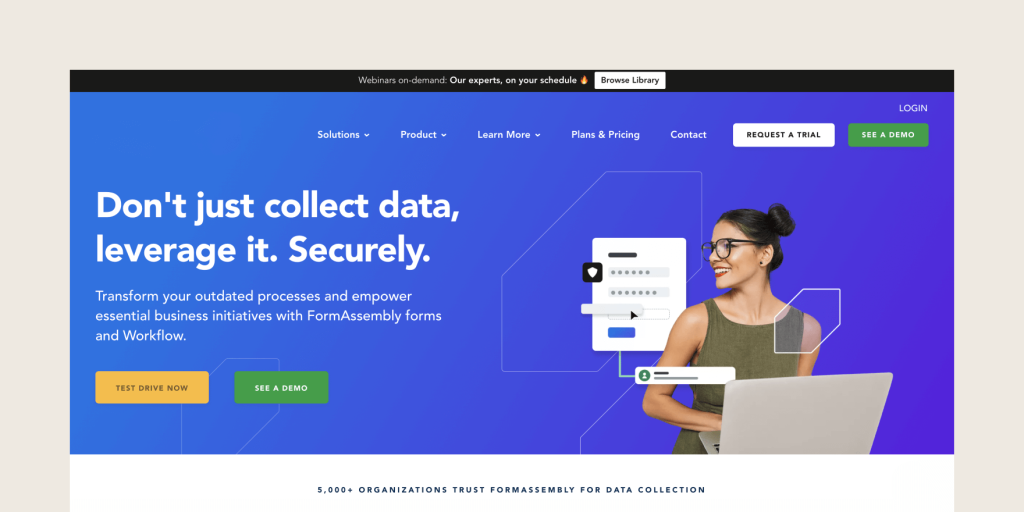 ‌FormAssembly is a web form builder that lets you collect and import lead data.
FormAssembly's plug-and-play solution allows you to build forms and import data directly to Salesforce and your other favored platforms, using an intuitive visual editor and publisher.
‌Your team can add advanced processes like conditional logic and calculated fields with a personalized experience that helps connect to prospects, often before you've had a one-on-one conversation.
One of the best form builders, FormAssembly was designed specifically for Salesforce users and will send all of your captured information back to that platform.
Easily organize your lead data with this "web-to-anything" lead capture system so that your team has more time to focus on follow-up.
What you get when using FormAssembly:
Drag-and-drop editing simplifies form creation for all members of your team.
Mobile responsive design helps your business create a seamless experience for leads — no matter where they are or what device they're using to get work done.
Custom themes align your lead capture forms with company branding for a more professional lead capture experience.
Field prefilling makes completing forms easier and faster, allowing your leads to save time while providing your team with more relevant information.
Email notification sends your business a customized email every time a form is completed by a lead so you follow up faster and minimize the number of leads lost.
File attachments allow respondents to attach files to their submissions, providing your team with more lead information to use for follow-up messaging.
App-based data collection lets you gather lead information on the go, with online or offline forms that will automatically sync to your account once access is available.
Pros:
Creates and updates records in Salesforce easily
Simplifies lead capture from any source, including web forms and live prospect encounters
Optimized for Lightning and compatible with Salesforce features like Chatter
20% discount available for qualifying nonprofits
Cons:
Zapier integrations not available
More limited applications for non-Salesforce users
3. Pipedrive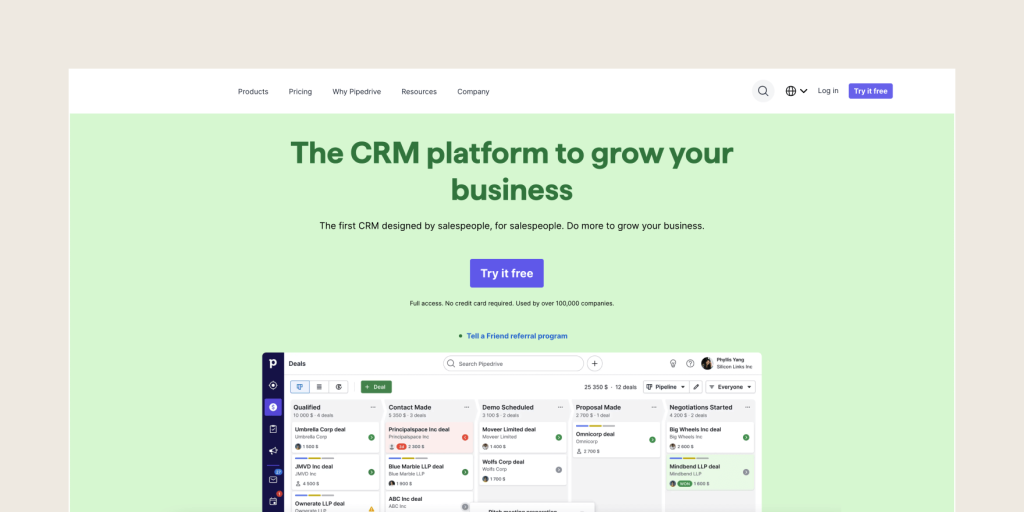 Pipedrive is a sales pipeline management and CRM app focused on tracking activity.
While the baseline version of this tool is focused on managing deals that are already in your sales pipeline, it can also double as a lead capture solution.
To do this, you'll need to invest in the LeadBooster add-on.
LeadBooster helps your business connect with upper-funnel leads and collect their contact information with specialized tools like chatbots, live chat functionality, and web forms.
When a lead connects with your team, this information is added to Pipedrive so that your team can quickly follow up.
Pipedrive will then help you track and manage each lead's progress through detailed insights into your team's activity, including call and email tracking and advanced sales analytics.
What you get when using Pipedrive:
Visual sales pipeline clearly shows the steps to closing the sale by directly importing new leads into your system.
Communication tracking tells you exactly when and how your team has communicated with leads.
Google integrations sync your leads with Google Contacts and your activities with Google Calendar.
Mobile app allows your team to record lead information and activity from anywhere on their iOS or Android mobile device.
Chatbot and live chat organically collect lead information for you from website visitors and import their data directly into the Pipedrive platform.
Prospector is an outbound lead generation tool that lets you specifically target leads based on industry, job title, location, and more.
Web forms help you gather information from website visitors with customizable and easy-to-build forms.
Advanced reporting offers insights into how each lead is progressing, including the deals your business has won and lost.
Automations take over simple administrative tasks so your team can focus on selling.
Pros:
LeadBooster feeds each lead directly into your pipelines even when your team is away from the office, so that they can initiate a quick response when they're back at their desk
28% average close rate increase after the first year
Powers customer support response in 60 seconds or less
Goes beyond lead capture to offer broad functionality for sales teams
Focuses on sales activity and progress so that teams see the whole picture, all the way to closing
Analyzes the progress of each lead
Lead capture features are diverse and robust, meeting your leads wherever they are
Cons:
Lead capture features are only available through the LeadBooster add-on, which costs an extra $39 per month for monthly subscribers or $32.50 per month for annual subscribers
Base Pipedrive functionality may not be necessary for teams looking only for lead capture, but the base functionality is required to use the LeadBooster add-on.
4. Bitrix24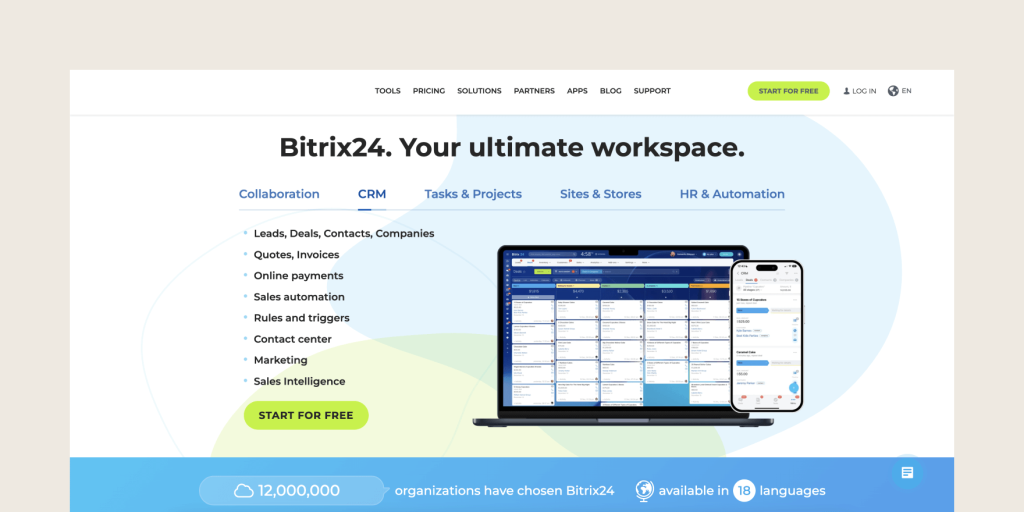 Bitrix24 is a multifunctional system that powers project management and communications as well as lead and customer relationship management.
‌Bitrix24's CRM provides simplified lead management for your company with a complete digital sales system that generates, stores, and organizes prospect information.
You can create customized lead capture forms that you can then add to your website, email, social media, and more.
Bitrix24 CRM allows your team to prioritize follow-up with easily customizable forms and an advanced "customer match" feature that automatically populates fields with what you already know about a prospect or customer. Using these tools, customers won't have to enter their information multiple times.
The CRM collects all submitted lead information, organizes it automatically, and then evaluates each lead for you.
What you get when using Bitrix24:
Simple lead qualification helps you effectively prioritize follow-up by telling you which leads are the most promising.
360-degree client view allows your team to make better and more informed connections by centralizing what you know about a lead and their communication history with your team.
Multiple automated sales funnels keep all your deals organized by moving clients and leads between different funnels.
Client segmentation allows your team to target each person with the right message based on lead and client interest gauged through information collected.
Appointment scheduling and an embedded calendar help your team streamline the follow-up process with attention to every strong lead.
Customizable web forms connect directly to your CRM, streamlining lead information collection.
Free mobile and desktop apps let your team update information from anywhere with centralized lead capture and retrieval.
Pros:
Multiple features and functionalities beyond lead capture and sales
Integrates lead capture and communication into a single ecosystem for a streamlined sales experience
CRM-linked web forms available at all pricing tiers
Wide variety of integrations available with most popular software tools, including Microsoft Office, Google Workspace, and others
Pricing plans are accessible for both small businesses and enterprise teams
Free plan is available
Top ratings in lead capture software reviews from PCMag, TechRadar, and Google Play
Cons:
Bitrix24 may be too much for many users; the software offers everything from a website builder and hosting to communications and support modules
The complex feature set can be difficult for new users to learn and adapt to their current workflow
5. Lusha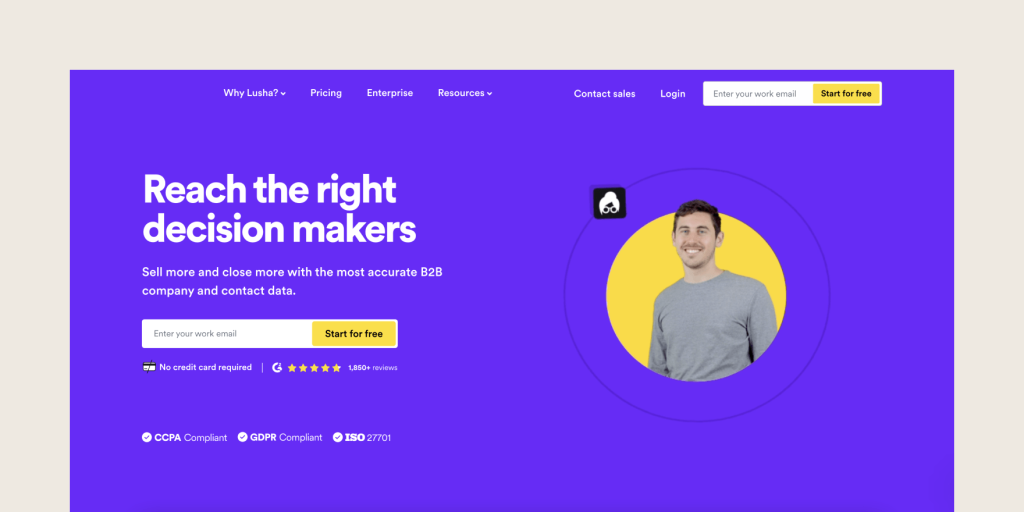 ‌Lusha is a prospecting platform designed to help your sales reps get the information they need to contact new prospects.
While the platform works in much the same way as other credit-based information platforms like Hunter, Leadfeeder, and ZoomInfo, Lusha was built specifically to help sales teams and recruiters locate and extract prospects' contact information.
Lusha presents you with the most accurate customer profile possible by using a proprietary algorithm to collect and integrate data drawn from multiple sources.
The platform also allows your business to work with the forms you already have through two primary features: A user-friendly browser extension and an API that enriches the data in your existing systems.
When someone opens your lead capture form, Lusha can populate their contact details so they can more easily connect with you.
Since the data it uses is relevant and reliable, you can earn trust from leads at the start of your first interaction.
What you get when using Lusha:
Easy-to-use browser extension allows you to source business emails and phone numbers quickly and easily.
"API" fills in emails, phone numbers, and other details like a prospect's name and company.
"Company API" populates key attributes of companies including an overview, location, social media accounts, and more.
Privacy compliance gains your lead confidence via GDPR and CCPA alignment.
Pros:
Accurate business profiles and contact data for 100 million prospects, 36 million C-level executives, and 15 million companies
Goes beyond phone number and email to provide business details, letting you make more relevant pitches
Dedicated extensions for sales professionals and recruiters
Five free contact details per month
Cons:
Lacks web form and contact management functionality
Not customizable; you'll only receive information that is included in the Lusha database
CRM integrations only available for Premium and Enterprise plans
6. Octopus CRM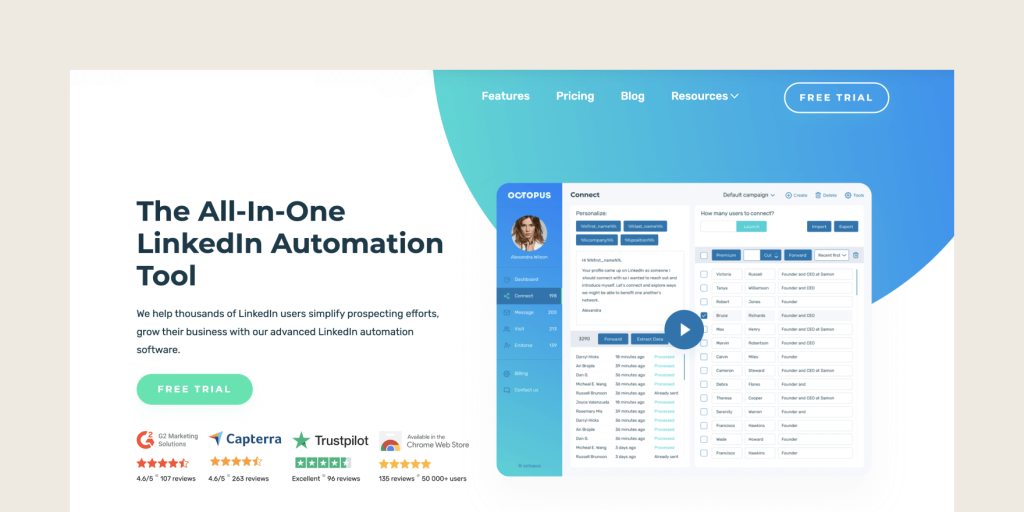 Octopus CRM is an automation tool geared toward helping you cultivate business relationships and can also help you use those relationships to better convert leads.
Unlike many other prospecting tools, Octopus is focused on one social platform — LinkedIn — and combines prospecting with personalized messaging and marketing automation.
As marketing software, Octopus is designed to connect with your LinkedIn account and generate ongoing leads in an automated way.
Once you set your parameters, this marketing tool reaches out to potential customers with connection requests and follow-ups to try to start a conversation.
The tool can automatically send and follows up on connection requests.
It can even send thank you messages after someone accepts your request and can also be customized to follow up if there hasn't been a response.
Octopus CRM helps you monitor the entire connection process via a detailed and easy-to-read stats page, which features important metrics such as message response rate, connection acceptance rate, and endorsement numbers.
What you get when using Octopus CRM:
Automized connection requests send personalized invitations to second and third-level LinkedIn connections.
Bulk messaging contacts hundreds of first-level connections simultaneously.
Auto-endorsement will endorse up to seven skills on LinkedIn contacts' profiles.
Campaign linking easily sets up an entire campaign for you, from connection request to follow-up.
Analytics provides key statistics such as connection acceptance rate, replies received, and endorsements made.
Zapier and HubSspot integrations transmit data to apps you already use, increasing the usability of your LinkedIn connections.
Import/export functionality uploads LinkedIn profiles to Octopus or export data from Octopus to a CSV file.
Pros:
Automation streamlines your LinkedIn activity, saving you time and helping you reach more prospects
Designed exclusively for LinkedIn
Alerts you if your account is about to exceed LinkedIn's activity limits
Covers all the essential steps for capturing leads on LinkedIn — connecting, thank -you messages, and follow up
Works with all types of LinkedIn accounts, including Basic
Cons:
Lacks most of the functionality of a true CRM, including interaction tracking and pipeline management
Works solely on LinkedIn and doesn't help you with lead capture via any other platform or channel
7. Hushly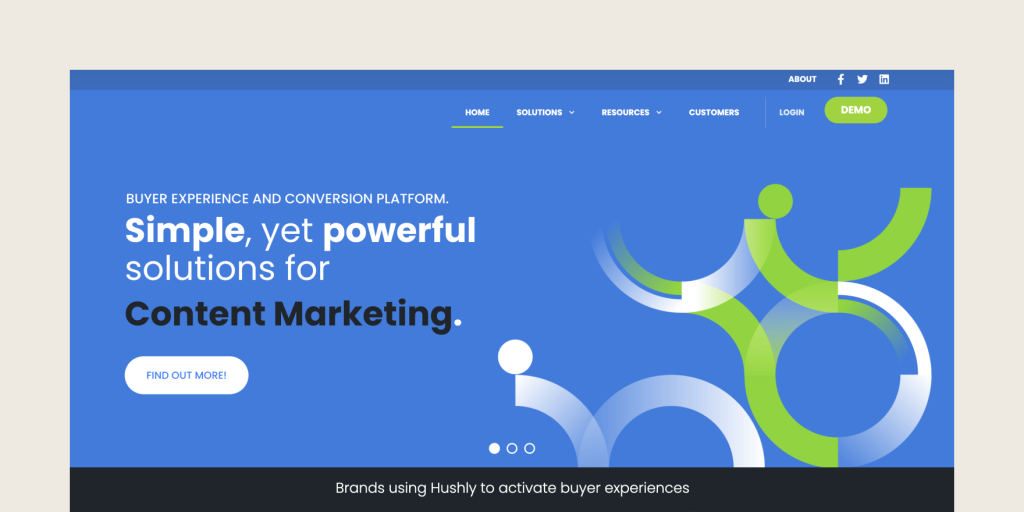 Hushly markets itself as "the leading conversion optimization software," focusing on strengthening engagement with your content.
In a nutshell, Hushly tries to help your business reduce abandonment and improve your account-based marketing strategies by ensuring that the right content is placed in front of the right reader when they visit your website.
The platform aims to function as an all-in-one solution by offering a battery of AI-powered tools that give you everything you need to easily convert views to leads.
What you get when using Hushly:
Personalized content hubs and streams deliver unique content to audiences through Hushly's enriched B2B business profiles.
Abandonment safety net helps you keep traffic on your page, with an added landing page tag that also improves the user experience.
Landing page builder creates landing pages personalized to the visitor, including relevant content that audiences can preview.
Smart Microform is a lead form builder that verifies submissions and blocks spammers, competitors, impersonators, and more.
Auto-enriched profiles add more data to each prospect's profile, thanks to Hushly's native database.
Conversion optimization analytics report audience behavior and responses to your content marketing.
Pros:
Guaranteed conversion increases with the abandonment safety net
Average lead quality increase of 59%
Flexible pricing options, including cost-per-lead and account-based marketing
Compatible with existing website and landing page systems
Cons:
Hushly needs content to function, and it's geared primarily toward companies with a robust content strategy
May have limited aesthetic customization options
Gain more potential leads with PandaDoc
Lead capture is critical for any business.
Get it right and you'll have ample opportunities to move prospects down your sales funnel and make those vital conversions. Get it wrong and you'll feel it in your bottom line.
Fortunately, there are a range of lead capture apps to choose from to help you.
PandaDoc Forms is just one of them.
It enables you to gather all the data you need to reach out to prospects and turn them into leads that convert.
With PandaDoc, you can create a lead capture form that gets you all the data you need quickly and easily.
Our simple drag-and-drop interface lets you build the perfect, bespoke form with minimal effort, and our secure system keeps lead data totally safe.
Want to find out what PandaDoc Forms can do for you? Get in touch today for a demo. You can even test out our software with a free trial!
Frequently asked questions about the best lead capture apps
There is no completely free lead capture software on the market today.

If you want to try out an app to collect contact information, though, consider options like PandaDoc that offer free trials and refund policies.

PandaDoc's free trial stands out from the competition due to its data security, regulatory compliance including HIPAA, and extended functionality, including eSignature.

Lead capture apps are relevant to any sales team or individual professional who wants to expand their database and reach more prospects.

Popular with digital marketers, they also help exhibitors to make the most of a trade show setting and return home with more information than they could obtain from business cards alone.

The best lead capture apps give you access to more detailed data — and data on more leads — than you could otherwise obtain.

With lead capture apps, you can collect email addresses and phone numbers from prospects you've never spoken to one-on-one, while also gathering information that can enrich your sales pitches.