There's no denying it: the world is undergoing a massive digital transformation.
Things that used to be primarily executed offline can now be done online with ease, be it sales, marketing, advertising, or — particularly useful — signing electronically for all types of B2B transactions (hello, us!)
Since the needs of customers are constantly changing, brands are also persistently looking to keep up with those demands.
As such, the new digital world is an endless loop of growing and evolving needs and trends (which is always good).
Every day there's a new craze, every week there's a new opportunity, and every year there's a new shift. Some of these changes stick, and some of them don't.
So let's check out the top B2B marketing trends that are positioned to shape the digital world.
1. Content (marketing) is king
Every marketing team has a content marketing strategy.
And no matter how many angles or approaches have been tried and tested, the one common denominator that all audiences love is clear, well-written content that answers their questions.
A content marketing strategy is like an all-inclusive buffet.
That is to say, it consists of all the marketing channels that you can think of: blogs, videos, case studies, whitepapers, ebooks, social media posts, interviews, and lots more. And all of these channels collectively promote the product, without actually promoting the product.
But aside from just promotion, a content marketing strategy still has many uses.
For example, it can help in building brand reputation, it can attract quality leads, you become a trendsetter in the industry, and most importantly, it can help build valuable relationships with customers.
However, having a content marketing strategy and having a successful content marketing strategy are two very distinct things.
And the only way to achieve the latter is to have a well-defined understanding of your audience and know of topics that pique their interest.
HubSpot and Zapier have a stellar content marketing strategy in place. (These brands play the long game, and address all kinds of client doubts and questions.
They're not necessarily"creative," but they have a huge amount of helpful resources on their website, which gives them credibility.)
Canva and Wordle, on the other hand, are brands that have a "creative" content marketing strategy — Canva's Design Challenge campaign helped amass 36,000 UGC, and Wordle, by allowing its users to share winning streaks, has gotten over 170k+ backlinks for the NY Times.
2. Talk to people on a personal level
Personalization is the key to your digital marketing strategy. Think about it: you, too, receive hundreds of emails daily. Out of those emails, which are the ones that you're likely to click? The ones that you can relate with, correct?
Or, at the very least, the ones that address you by your name and have a personalized subject line, correct? The studies backup your answer.
According to SupperOffice's research, emails that have the recipient's name in the subject lines see an increase in open rates by 20%.

However, that's just one example of personalization. There are many ways through which you can connect with your customer on a personal level.
Here are a few ideas that might help.
Choose the kind of personalization you want to dive into
Is it based on location, purchase behavior, where your customer is in the funnel, or a mix of everything?
At this stage, also focus on how deep you want to go with personalization — you want to provide a great customer experience without looking like a stalker.
Focus on their pain points, not your selling point
Don't use vague statements — do a deep dive on their pain points to understand the problems they face.
Have a dialogue with your customers — they know their pain points and can tell you what kind of solutions they will pay for. Forbes has a list of questions you can ask that will result in thought-provoking answers.
Find ways to engage with your audience 1:1. Although not entirely B2B, a great example of 1:1 personalization is how Coca-Cola and Nutella allow customers to write their names on brand packaging.
Here's what Anatolii Ulitovskyi, a digital marketer with over 10+ years of experience has to say about the importance of personalization in digital marketing:
"One of the current popular modern marketing trends is adding personalisation to marketing materials. One way to promote customer engagement is through web design that considers users' intent. Personalisation leads to better customer engagement, retention, and conversion rates!"

Anatolii Ulitovskyi
3. Marketing automation saves time
Let's be real: Who in their right mind would spend time on repetitive tasks that can otherwise be done by software?
Certainly not anyone looking to stay cutting edge when it comes to task execution. This is why marketing automation exists, and its existence takes away the hassle of doing mind-numbing tasks.
And as great as that is, that is not the sole task that can be done when you employ the help of marketing automation in your business.
With it, you can also set workflows, determine your target audience, deploy digital strategies, and more.
Here are a few reasons why you need to add marketing automation to your business ASAP:
You get to react to customer actions in real-time.
You acquire more spare time that allows you to focus on other important parts of your business.
There are fewer chances for human error.
Overall efficiency improves with marketing automation.
You get to optimize your marketing strategy.
The above reasons are just the tip of the iceberg. You can learn more about the importance of marketing automation and what it can do for you on this podcast by Growth Marketing Toolbox.
4. Optimize everything
Yes, optimizing everything sounds like an exaggerated cliché.
We get it. But think of your customer roadmap — it doesn't start when customers are introduced to you; rather, it begins when they're introduced to your product.
Logically, any business person will check websites, social pages, reviews, product capabilities, etc., to get a better sense of the service offering.
If your website load times are slow, and your social media presence is nil, you're effectively handing over your business to your competitors.
However, when we speak of optimization, we don't only mean optimizing your site speed and your social media presence; rather, we're also talking about how to best optimize marketing channels as a whole.
This means regularly A/B testing for every campaign, keep revisiting your buyer persona and see if they still fit the definition, use heat maps to your advantage, try and test different landing pages to see what works best for you, track analytics, and everything else in between.
So, basically, the TL;DR version is don't ever stop visiting, revisiting, testing, and retesting your strategies. What worked yesterday may not work today, and what works today may not work tomorrow.
5. Podcasts are the future
If you ask a few marketers, they may agree that podcasts take a considerable amount of time, money, and resources.
But if you ask us, this investment is well worth it because 54% of consumers are more likely to buy your product if they hear a mention of it on a podcast, according to an Edison Research report.
The same report also said that the amount of podcast listeners has more than doubled in the past few years (and the number is continuously increasing).
Searches for "Spotify Podcast" are also up by 423%. The numbers don't lie, and in this case, they're proving that podcasting is one trend you need to hop on.
If you're yet not sold on the idea, here are a few benefits that podcasting provides (which other channels might not):
People happily consume more content on a podcast. On the flip side, it becomes much more difficult to capture audience attention for such a long timespan with any other marketing material.
Podcasts don't have a massive amount of competition when compared to other digital channels. For context, there are around 2.8 million active podcasts, and over 600 million active blogs. It's (relatively) easier to become a name in the podcasting world than it is to become renowned in the blogging world.
Podcasts can help you tell inspiring and powerful stories (using the power of emotions, tones, contexts, etc.). The same may not be true if you try to translate your thoughts on paper, as the user does not know what kind of emotions went behind your thoughts.
It is easy to connect with influencers on podcasts (and they can help provide a human touch/element to your product).
Alternatively, if podcasts sound like an idea that's right up your alley, then here's an extensive guide that covers all the ABCs of podcasting and can help you get started today: How to Start a Podcast: 5 No-Sweat Stages (that don't take ages!)
6. Account-based marketing (ABM) is on the rise
What's "account-based marketing," you ask?
Well, think of it this way; if you had a highly-valued customer, someone that you didn't want to lose, wouldn't you spend more time giving them personal attention and quickly answering all their questions? That marketing strategy is called account-based marketing (ABM).
According to an ITSMA report, 87% of B2B marketers say that account-based marketing has outperformed many other initiatives.
Furthermore, Sirius Decisions' State of Marketing Report concluded that 91% of companies saw better ROIs when ABM was implemented.
Here's are a few factors you'll need to address if you wish to create a successful account-based marketing strategy:
Personalizing account experience (use account-specific landing pages, add visitor names for landing page visits, retarget customers using their search intent).
Use social intelligence, analytics, and heat maps to your advantage.
Make the customers feel involved during the process (here, you can employ the use of confirmation texts, thank you emails, survey requests, etc.).
For larger accounts, think of creating one-on-one campaigns for C-level executives.
You can also use this HubSpot guide to understand the benefits of ABM and learn how to get started with ABM for your business.
7. Invest in AI and machine learning
Digital marketing, as we know it, has always worked via technology, algorithms, and, obviously, data (yes, we know you get that from the word "digital" itself).
Here's the point of highlighting this: doesn't it make sense to deploy the very latest advances in tech to optimize your marketing campaigns too?
AI can always find out more about your customers (and do so faster), so employing AI/ML for your use can give you a better understanding of B2B trends and B2B customers.
Here's what these technologies can do for your eCommerce business:
Allow you to make smarter decisions.
Help distinguish between potential buyers and visitors.
Allow optimization of marketing spends.
Identify B2B buyer trends and choices.
Increase efficiency of your B2B business.
And help create better overall revenue streams.

Let's look at a few brands that are leveraging the power of artificial intelligence to get better results.
Vanguard
Everyone has heard of Vanguard. It is, after all, one of the largest investment firms in the world.
However, when Vanguard wanted to promote its institutional business, it faced a problem.
Due to the heavy regulations in the industry, it could not stand out from the clutter because every financial institute was using the same messaging and language.
Sensing a problem, Vanguard employed the help of Persado, an AI language platform that helped Vanguard find out the exact phrases and words which resonated with customers, figured out opportunities to incorporate insights during brand messaging, helped them understand when to use certain words, emotions, CTAs, and emojis, and assisted in delivering content that clients wanted to read.
The end result? Conversion rates went up by 15% with the help of Persado.
Adobe
Adobe happens to be a pioneer in the world of computer softwares. However, all was not looking well for the brand when it realized that customers were less than fully engaged when visiting the Adobe website.
To address this issue, the brand brought in Drift, a conversational AI. Drift's software was able to work as a chatbot on the Adobe platform, guiding users to the right place whenever they had a question.
At the same time, the software was intuitive enough to hand over the conversations to humans whenever necessary.
With Drift's help, Adobe acquired an additional $10.8M in revenue. Alongside this, Drift also influenced or helped drive $47.2M into the pipeline and closed 5000+ meetings.
This is what Brian Garnett, Director of Marketing at Adobe, had to say about Drift, "Drift is not just a banner on a page. It's a solution that allows us to more effectively intercept customers where they are and drive them into the right experience."
American Marketing Association
The American Marketing Association (AMA) has been a long-standing professional community that has helped marketers for many decades. And due to its reputation, it brings in subscribers from many varied industries.
AMA wanted to be at the forefront of marketing excellence and sought to give subscribers hyper-relevant content that would be specific to their industry and niche. How did the association accomplish that? By bringing in rasa.io, an AI platform made specifically for email marketing.
With rasa.io's help, AMA came up with smart newsletters that were extremely personalized to the audiences it reached.
Because of this, the American Marketing Association was able to see better click-through rates and reader engagement.
Rasa's influence also helped AMA bring insights to its sponsors and allowed their promotional material to reach maximum visibility.
8. Cash in on the success of (micro) influencers
In today's day and age, influencers have the power to… well, influence.
That's a very simplified way of putting it, so we'll share a few statistics that can help describe the importance of influencer marketing for your B2B business.
96% of marketers who used influencer marketing to their advantage said that it helped them greatly, and 79% of them believe influencer marketing will grow in the next 12 months, according to a report from TopRank Marketing.
However, to attain better success than these marketers, what you need to focus on is the niche of the influencer and decide if they truly align with your brand.
Our personal suggestion would be to get the help of micro-influencers, as they have a stronger hold over their followers and see better engagement results.
Make note of these few factors to improve your influencer marketing strategy:
Engagement rates and reach efficiency
Engagement rates and reach efficiency rates are the two most important elements of influencer marketing. Here's how to calculate them.


Influencer marketing
Influencer marketing is still in its infancy, so what worked for others might not work for you.
To find out if an influencer marketing strategy meets your brand needs, evaluate what stage of projected progression your brand is at currently, and why you are deploying an influencer marketing strategy.
Types of influencers
There are many kinds of influencers: nano influencers (1k-10k followers), micro-influencers (10k-15k followers), mid-tier influencers (50k-500k followers), macro-influencers (500k-1M followers), and mega-influencers (1M+ followers).
Each of them comes in at a different stage of marketing. For example, if you want to test-launch a product, you need nano-influencers. But if you want to promote a product, you need a macro or mega influencers.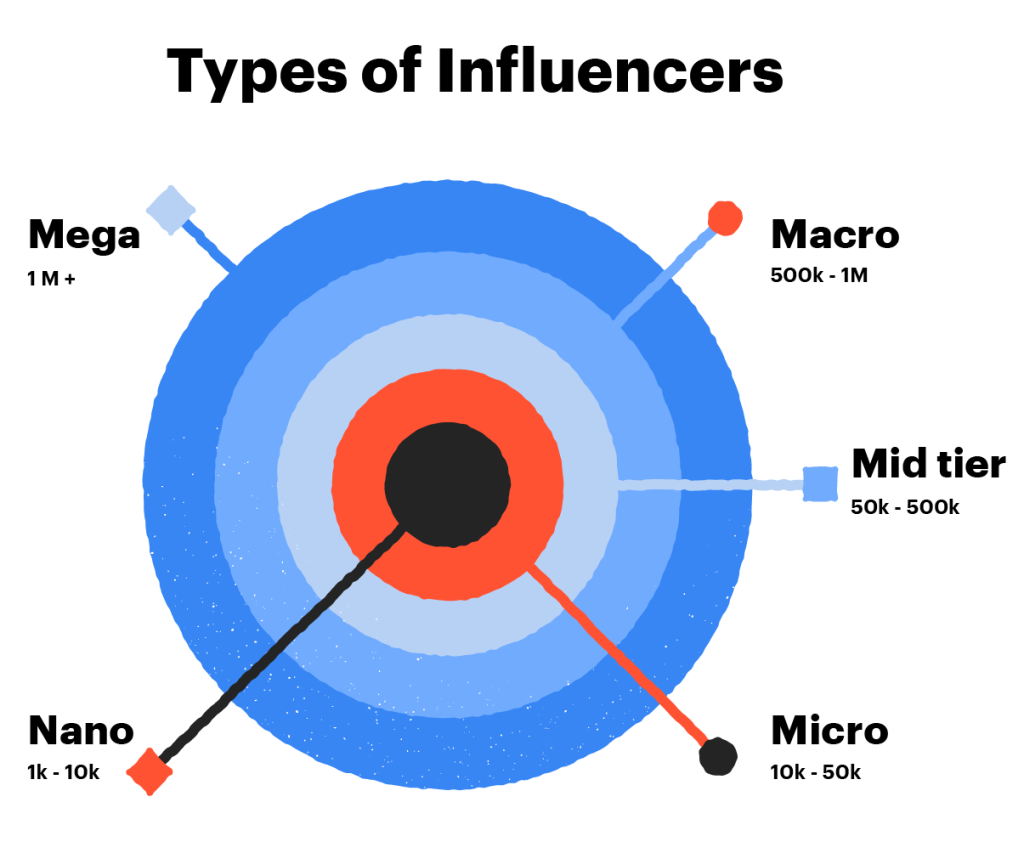 If influencer marketing seems like something you want to get behind, then here's a helpful resource on pricing that will shed light on how much influencers charge: Influencer rates: How much do influencers really cost in 2022?
9. Film real-time video content
News flash (not really) — your audience is consuming video content.
Now, you may not necessarily need a B2B video strategy for your business, but having one definitely can help the audience better on their customer journey (for example, if they need help learning about something specific, or want to see how your product operates, etc).
To have a better customer experience (since that's the first reason why you're actually making these videos), we suggest you self-host video content on your website, rather than having it on a third-party platform where your customer will get stuck with ads (which quite possibly will show your direct competitors), or might face having a compressed (and off-putting) video experience.
The benefits of video content are many, but in today's landscape, real-time video content is the emerging star. Audiences would much rather watch everything in real-time than have to wait for it.
Here are a few brands that do real-time video content really well.
Medium
For those who are unaware of Medium as a platform, it is one of the biggest self-publishing websites where writers upload their content.
To get personal with their audience and to answer their questions in real-time, Medium used live video where their User Happiness team answered doubts that came on Twitter with the hashtag #AskMedium.
This initiative was also profiled by Wistia.
General electric
General Electric has always tried to use real-time videos to its advantage. However, this famous incident stands out from the rest.
When Periscope partnered with General Electric for #Droneweek, they invited Bill Nye (scientist) and Neil deGrasse Tyson (astrophysicist) on a behind-the-scenes tour hosted by General Electric creator, Sally Le Page.
The reason for this was to build hype for a live-video campaign where the GE-engineered drones would fly from coast to coast.
These are not the only brands with terrific examples. Names like Buzzfeed, Target, Home Depot, Royal Caribbean, and Kohl's, have also been known to use this strategy on many occasions.
Despite us singing the importance of real-time video content, when creating a real-time marketing strategy, don't limit yourself to only videos. Use all marketing channels to your advantage.
Here are a few more instances of brands that had memorable real-time marketing moments: Real-time marketing examples.
10. Tell a story
Many people are of the opinion that storytelling is an art that should only be deployed when you're in the B2C niche.
Sorry, but they could not be more wrong (no offense). See, without a story, you're just another brand, but with a story, you're someone with a journey to share.
And if you effectively describe that journey — engage people in a way that they wish to become part of it — you create a better customer experience.
Stories are important for B2B and e-commerce businesses because they allow for more personal connections and bring out human emotions.
And at the end of the day, no matter what niche you're in, you're still selling to people, not computers, and people like to hear stories.
Some B2B companies understand this philosophy really well and have proved this with their storytelling campaigns time and again. Here are some of our favorite B2B storytelling examples.
Microsoft
Microsoft has always believed in the power of storytelling. So much so that it created an entire handbook on how to do so effectively.
But the storytelling campaign that it did for its own brand — focusing on employee stories — struck the hearts of millions.
The campaign is hosted on Microsoft Story Labs and highlights employee journey and stories.
People from all departments, including research, development, and art, have been invited to be a part of this campaign.
IBM
This one is not a recent example (it's a few decades old actually), but it just goes to prove that IBM has been obsessed with storytelling from the beginning.
With the help of advertising agency Wells Rich Greene, IBM paid for a one-minute TV spot, where it highlighted the importance of education in making a better world for future generations.
It also mentioned how IBM, by donating computers, is contributing to the education system.
Salesforce
Salesforce implemented a storytelling campaign that was quite similar to Microsoft's. However, instead of focusing on employee stories, it focused on customer stories.
The brand presently has a dedicated customer stories page, where it showcases real-life examples and case studies of how Salesforce assisted with growth.
Wrapping up
Devising a marketing strategy is never easy. It takes you through constant hoops of trial-error-trail-error-trial-success and multiple rounds of A/B tests to finally decide on something that works well for your brand.
And just when you've achieved it, arriving at the promised land, the trends may very well shift.
The only constant about B2B marketing is that there is no constant. But that can be viewed as half the fun of it all, to be regularly challenged and rising to the occasion.
On the flip side, though, there is one thing that will always remain constant in your life (but also forever-updating to keep up with consumer demands), and that's us, PandaDoc, the brand that helps with marketing automation.