What is one of the biggest challenges Customer Success teams face? The ability to demonstrate value to their customers.
If you're part of a Customer Success team, you are no stranger to this struggle. Maybe you're giving a quarterly business review to a client.
You're sharing a series of metrics that show your product's impact and the success your client is having. And what do they say? "I don't buy it."
Client perception of success can fall into several buckets. Just ask Jennifer Griffin, VP of Customer Success at TrustRadius.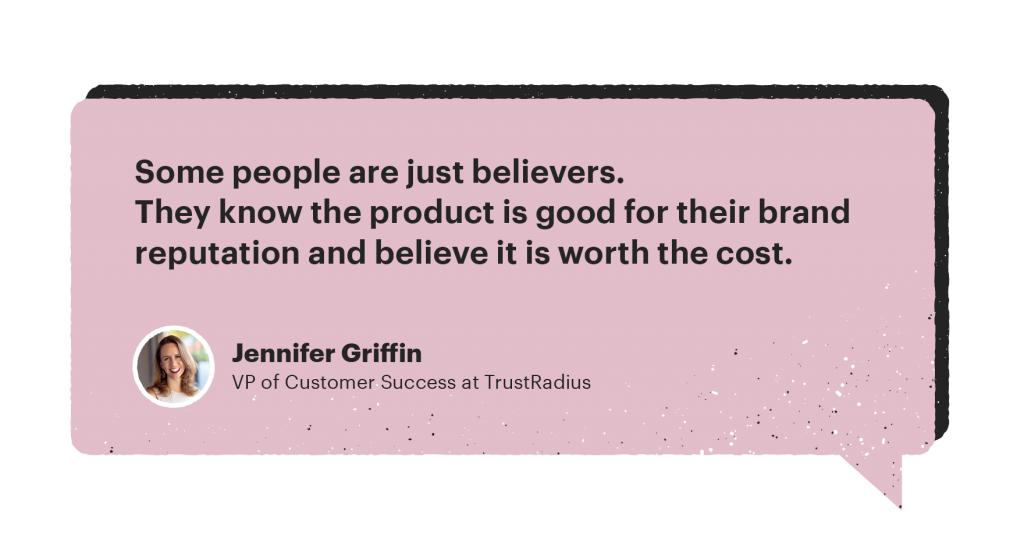 Others are much more skeptical.
"They'll ask if the fact that they got 50 reviews on our platform is worth the $20,000 they are spending. Some won't even talk to you if you can't give them 500 leads per month."
Then there are more custom situations, where a client's perception of value changes based on their unique circumstances.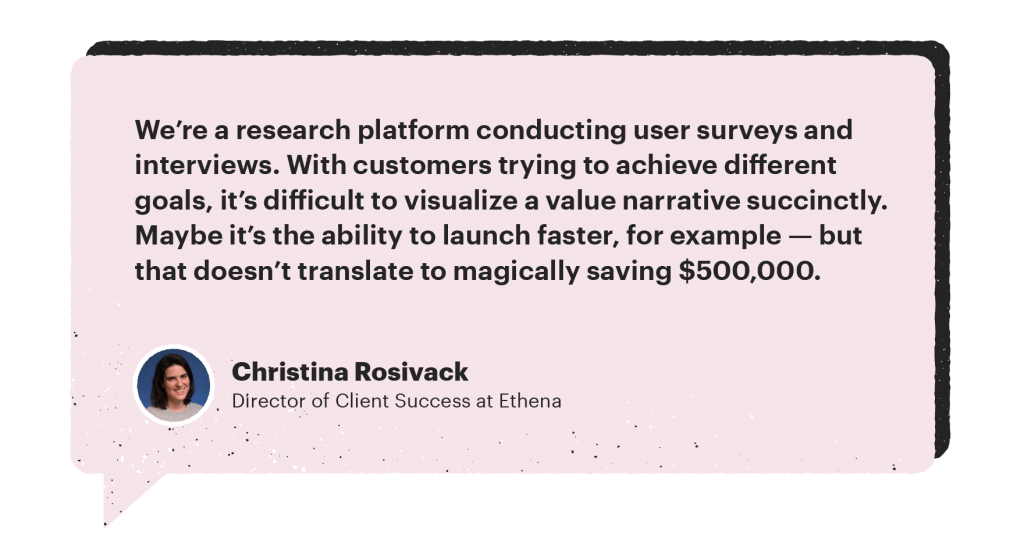 At PandaDoc, we understand that this is a universal challenge. We've thought a lot about how customers might find value in our app.
It was so important to us to know the answer that we decided to ask our customers: How do you find value in PandaDoc?
Sounds pretty straightforward, right? Ask customers how they find value, ingest the answers, and develop a way to demonstrate that value to them.
Well, that's the general idea, but it was definitely a labor of love. Shawn Herring, VP of Marketing and PandaDoc, started the process from a seedling idea to execution.
"We were at an executive offsite in April of 2019, and we asked the question: do we know what value we actually provide to customers? If so, can we demonstrate that value?"

— Shawn Herring, VP Marketing at PandaDoc
The answer was no.
Previously, PandaDoc success metrics for customers were based on the number of seats purchased and the usage of those seats.
"It was a very selfish view of what PandaDoc wanted customers to do," he said.
If a customer signed up for ten seats and only used 6, PandaDoc wanted to get them using those other four seats. And there's the critical problem.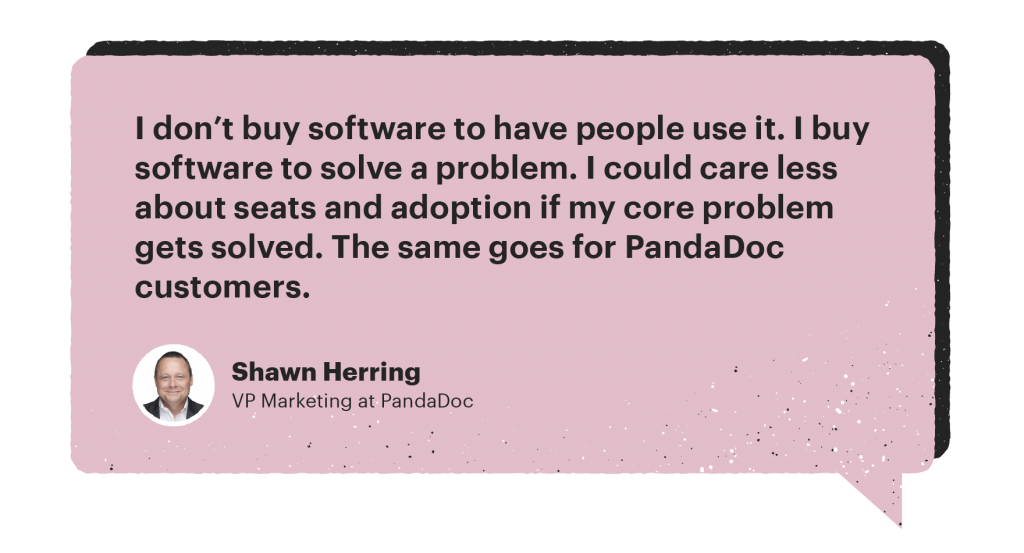 So what did Shawn do to learn what value PandaDoc provides to customers?
A whole lot of research. Together with Mila Kurbatskaya, Product Marketing Manager at PandaDoc, he performed customer interviews, listened in on sales calls, analyzed customer reviews on sites like G2 and TrustRadius, and talked to the PandaDoc sales team and executive team.
It was a good six months of conversations to flesh out true customer value.
Through all this research, Shawn and Mila came up with four main areas where PandaDoc customers find value – conveniently dubbed the WISE framework.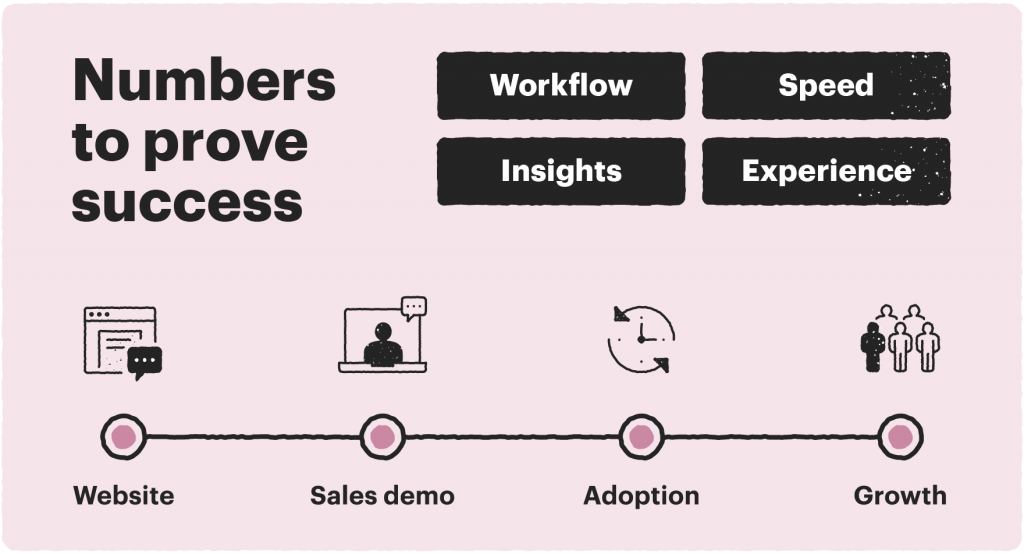 Each value category linked to tangible benefits for customers, like:
How does using PandaDoc improve a customer's workflow?
How does PandaDoc increase visibility and insight?
How does PandaDoc speed up customer work?
How does PandaDoc improve the user experience?
With these questions in hand, Mila worked with PandaDoc's data science team to understand what measurable metrics could support these benefits. Here are just a few examples.
Workflow
How does PandaDoc make customer workflows faster and easier? By using PandaDoc Templates, customers can create a document once and replicate it quickly with little effort.
Each user's workflow improves as they spend less time creating new documents and more time focusing on what's important.
Insights
How does PandaDoc increase customer visibility? By demonstrating how recipients work with documents.
For example, the CRO of a SaaS company will see value in looking at proposals for each rep and whether or not they have been sent, opened, forwarded around, and commented on. This insight lets the CRO know if the team's sales forecast is accurate.
Speed
How does PandaDoc speed things up for customers? By reducing the work required to move the process forward.
An individual sales rep will see value in having a call with a prospect, understanding their requirements, and sending a proposal based on that call. It's in the prospect's inbox immediately.
Experience
How does PandaDoc improve the user experience? If the platform does an excellent job of presenting the document and making it easy to review, more users will send it back signed.
Customers will have a better close rate based on the improved experience, and they may start to notice larger deal values.
"We can see specific things happening in the product. We wanted to pull those out and look at them over time. Can we see when someone opens a document and starts working on it, starting the proposal to send it? Based on that, we determined the set of metrics for each value pillar."

– Mila Kurbatskaya, Product Marketing Manager at PandaDoc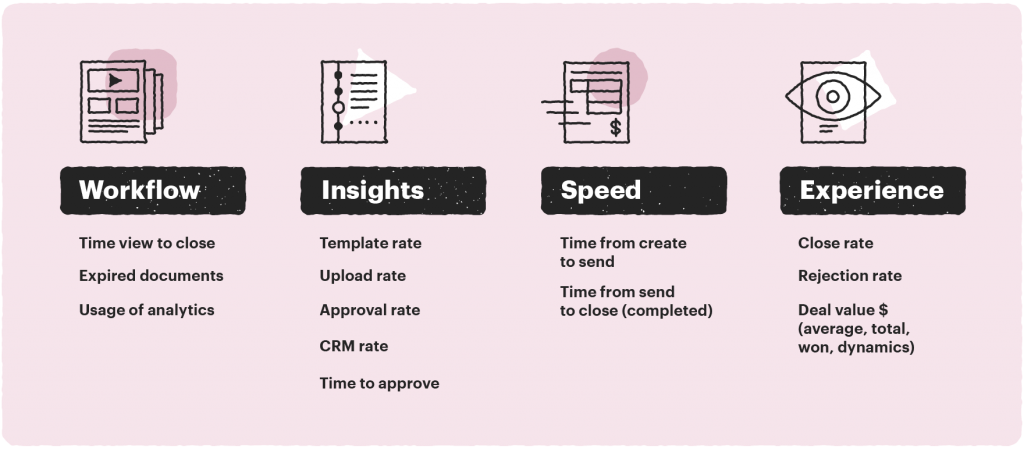 After determining the metrics available and pulling them from internal systems, Shawn and Mila offered them to PandaDoc's Customer Success team to try them out.
The WISE framework metrics immediately had an impact on customer conversations.
"CSMs were already having these conversations, but they weren't structured," said Shawn. "What we did was provide the structure."
As soon as we provided it, they were saying, hey, we need more of this," said Shawn. "They offered suggestions on different metrics to try and other ways to show the data."

— Shawn Herring, VP Marketing at PandaDoc
Today, the WISE framework of success metrics is live across the Customer Success team at PandaDoc. Each customer receives a post-call survey that asks a series of questions about the usefulness of the metrics.
So far, the results are positive.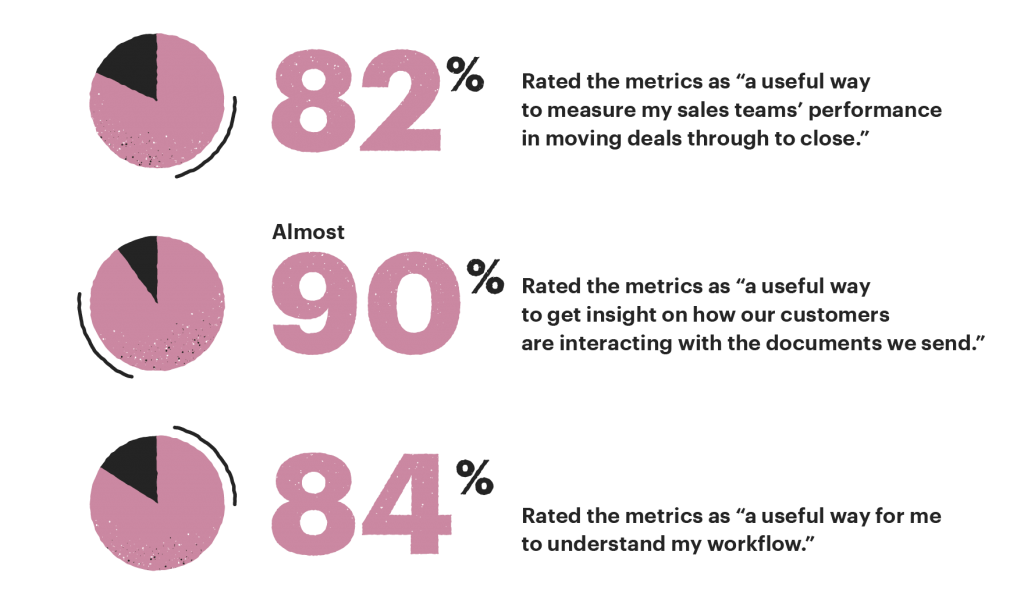 And it isn't just customers: CSMs appreciate that the metrics have really changed the nature of their conversations with customers.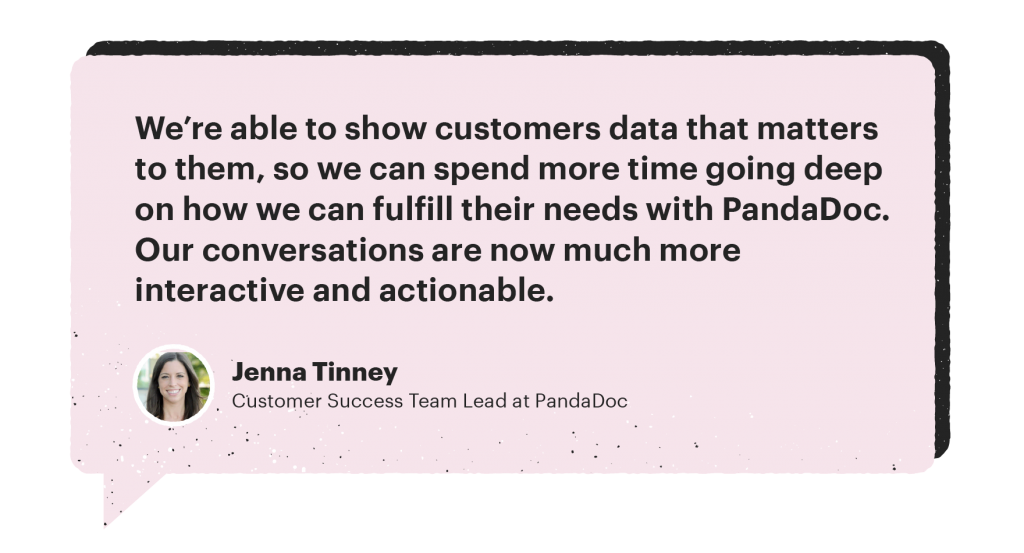 If you want to research customer value for your company, where do you start?
This process of learning what customers find valuable is accessible to anyone. If you've got customers, start asking them. Listen in on sales calls.
Execute surveys. Talk to your team. And find out what customers are saying about you in various channels like user feedback or NPS scores.
Beyond that, Shawn has some advice for how to proceed.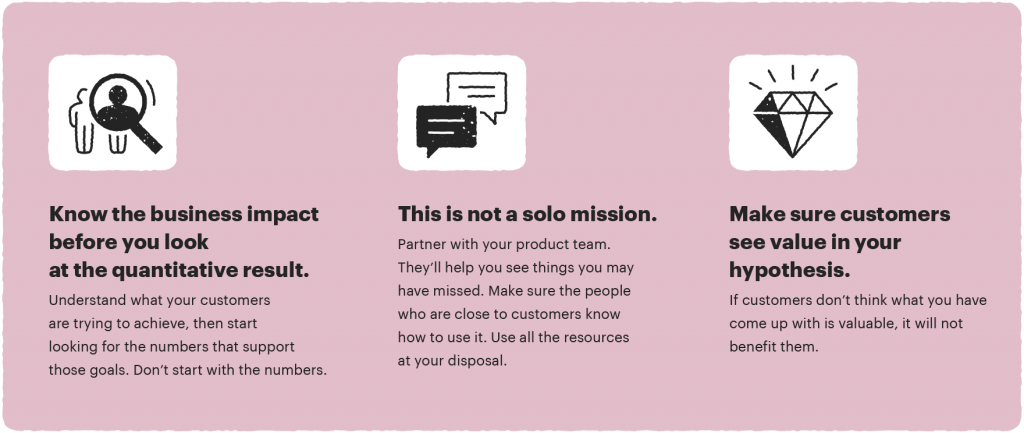 For more recipes for success, check out our template library to help you save time and grow your retention and expansion pipeline.