Love it or hate it, marketing is one such industry that has no hard stop when it comes to evolving.
We've said this before, and we'll say it again: in marketing, every day there's a new craze, every week there's a new opportunity, and every year there's a new shift.
This also means that if you want to be at the top of your marketing game, you'll need to understand and implement marketing trends before the majority of your competition.
For this article, we spoke to industry experts and did a deep dive of our own to present you with the topmost marketing trends you should watch out for in the future.
1. Experiential marketing with the metaverse
We've all witnessed the epic campaigns experiential marketing has brought. For those of you who miss these events, there's good news.
Many experts predict that experiential marketing is about to make a comeback over the next few years — in fact, the only reason it has been missing in action in the last year or so was because of pandemic restrictions.
According to HubSpot, 58% of marketers agree that experiential marketing has been an effective strategy for their business.
Out of this, 48% of marketers say they have plans to increase investment in this space.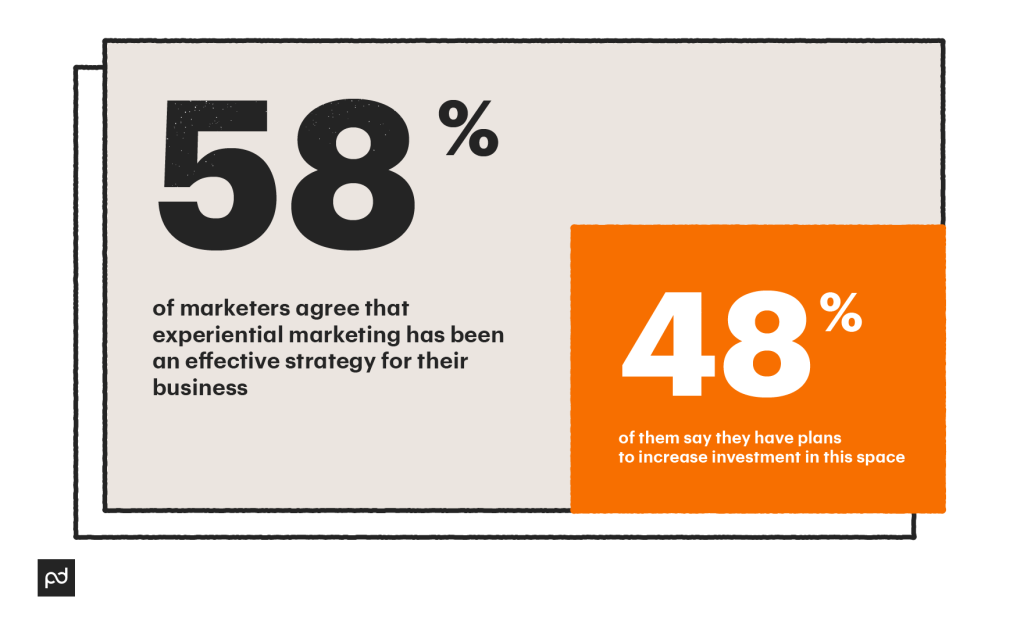 We predict that although experiential marketing will see a rise in the next few years, a lot of it won't happen offline.
With the popularity of Web3, the metaverse has quickly become a leader in the space of experiential marketing, and that's where we think most marketing campaigns will take place.
Almost everyone has heard of the metaverse before, but only a few seem to grasp its potential — and those who do are jumping on the bandwagon quickly.
An example of a brand jumping on the bandwagon is Jimmy John's.
To learn more about people's favorite sandwiches, Jimmy John's launched itself into the metaverse, where people could come join a fun competition and make a "metasandwich" (they could use secret ingredients like cookies, chips, ranch, etc. if they'd like).
The winning sandwich idea would then be delivered to the first 100 people, and would also be available in selected stores. The virtual world of JJ also offered promo codes for store merchandise.
Through this marketing campaign, they effectively killed three birds with one stone: access to new sandwich ideas, customer insights on what people like in their sandwiches, and a drive in sales for store merchandise.
Now, more than ever, brands are engaging with their audience in the metaverse to drive sales in the real world.
On a similar note, did you know that there's now a virtual presence of both Miller Bacardi and Estee Lauder in Decentraland?
It was created as part of their marketing strategy to boost sales of their products.
You can learn more about how the campaign activation took place here: Decentraland and the future of renting land in the metaverse.
These examples are just the tip of the iceberg. To build opportunities for more profit, brands will also produce digital assets and accessories for your digital avatar to wear.
Names like Gucci and Louis Vuitton have already started creating limited-edition accessories for the virtual world.
Incorporation of augmented reality/virtual reality, online games, virtual land, virtual concerts, and billboards should all be expected to multiply in the future — and the way we perceive marketing and sales will effectively change too (if people continue accepting the metaverse, that is).
But aside from just marketing, the virtual world will present itself as useful in building customer loyalty.
Take NFTs, for example: although the use of NFTs is far and wide in the meta world, brands are now using non-fungible tokens to build communities.
Experts predict that brands will soon use NFTs to give limited access and VIP treatment to loyal customers (sort of like a pass or a coupon).
If you're interested in understanding the potential metaverse has in terms of marketing, then we suggest you tune into AdWeeks Metaverse Marketing podcast.
How to hop on this trend
To begin marketing in the metaverse, you need to first understand if it's the right fit for you (think about questions like Do my customers know about the metaverse?; How willing/reluctant would they be to join it?; Do I know what I want to do in the meta world? etc.).
If meta-marketing is indeed the right step for you, then the very next step is to understand if you want to market in the centralized world (like Meta, AKA Facebook) or the decentralized world (like Decentraland or Sandbox).
In the centralized world, you'll have access to individual customer data, and in the decentralized world, you'll have insights into how the overall campaign went.
Once you've arrived at a decision, begin by renting (or buying) real estate parcels (you can do this by yourself or by partnering with a brand).
Finally, think of marketing campaigns that would work best for you — in the metaverse, the sky's the limit.
You can create new avatars, video games, properties, hangout places, billboards, concerts, immersive events, and lots more. Here are a few strategies to drum up inspiration: 6 metaverse marketing strategies with examples.
2. Influencer marketing will partner with social commerce
Soon, as far as social media is concerned, there will be a rise in two trends: influencer marketing and social commerce.
As fate would have it, these two trends are intricately tied to one another, and using them together can help brands boost profits.
Let's focus on trend number no.1: influencer marketing. The value of influencer marketing has skyrocketed in the past few years, and it's about to see another spurt of growth yet again.
The reason for this growth is because marketers have realized its return on investment (according to MediaKix, 90% of all marketers find the ROI of influencer marketing to be the same or better than any other marketing channel).

Soon, almost every brand will partner with an influencer to promote its product/service.
However, experts predict that these partnerships would be long-term as opposed to the short-term partnerships we're seeing today (effectively making influencers brand ambassadors of the product/service).
Some experts say that influencer marketing channels (like Instagram, Twitter, and TikTok) will also become paid — in other words, beyond paying influencers themselves to promote content (and feeding us ads to pay for it), they'll also include subscription-based tiers for consumers, just like cable providers or streaming services do currently.
Here's what Timothy Armoo, co-founder of Fanbytes (an influencer marketing agency), has to say about the future course of influencer marketing: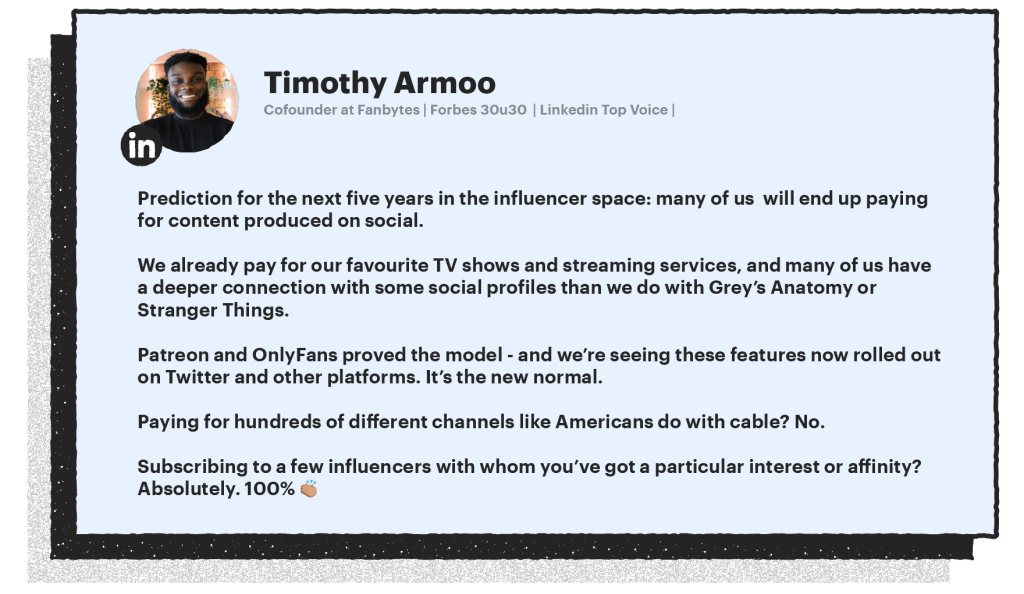 Speaking of trend no.2, social commerce is another phenomenon that has shown vast growth potential, and brands have started using its growth to expand their product offerings.
For example, Facebook, Instagram, and Pinterest all have options to shop on their apps (Facebook Shop, Instagram Shopping, and Product Pins).
Now, these trends are very fruitful individually. However, once you combine them that's where the magic happens.
And this works for a few reasons:
Brands trust influencers, so if you sell your product through them, it looks authentic and not sales-y.
You might convert more customers by combining both these strategies.
You build brand awareness and get a sale at the same time. (Why engage customers once with influencers and another time with your products on social sites to get a sale?)
Customers who are already convinced about the value of your product can shop it instantly — and it's a more straightforward process for them as well.
You also boost the visibility of your social channels because of the influencer's popularity.
How to hop on this trend
Begin by understanding what type of influencers work best for your brand.
For context, there are different kinds of influencers (like micro-influencers, nano influencers, mega influencers, mid-tier influencers, etc), and they all operate in different kinds of niches.
From there, target influencers who suit your brand values and ethos and whose content matches what you're selling.
Our suggestion would be to partner with micro-influencers, as they usually have good reach efficiency and engagement rates with their audience and hence deliver better ROI. (Plus, their services are also available at a lower cost).
If you're interested in finding out how your shortlisted influencers compare on these metrics, here's how to calculate these rates:
Engagement rate = Total engagement on a post/Total followers x 100
Reach efficiency rate = Average reach/Total followers x 100
Once you have your influencers on board, you can tie their activities to your social commerce campaigns.
For example, you can make influencers your official brand ambassadors, create a collaborative environment through which they can sell your product on their social pages, or they can simply educate your audience about your product (and leave relevant links to your social channels).
3. The focus will shift from product to consumers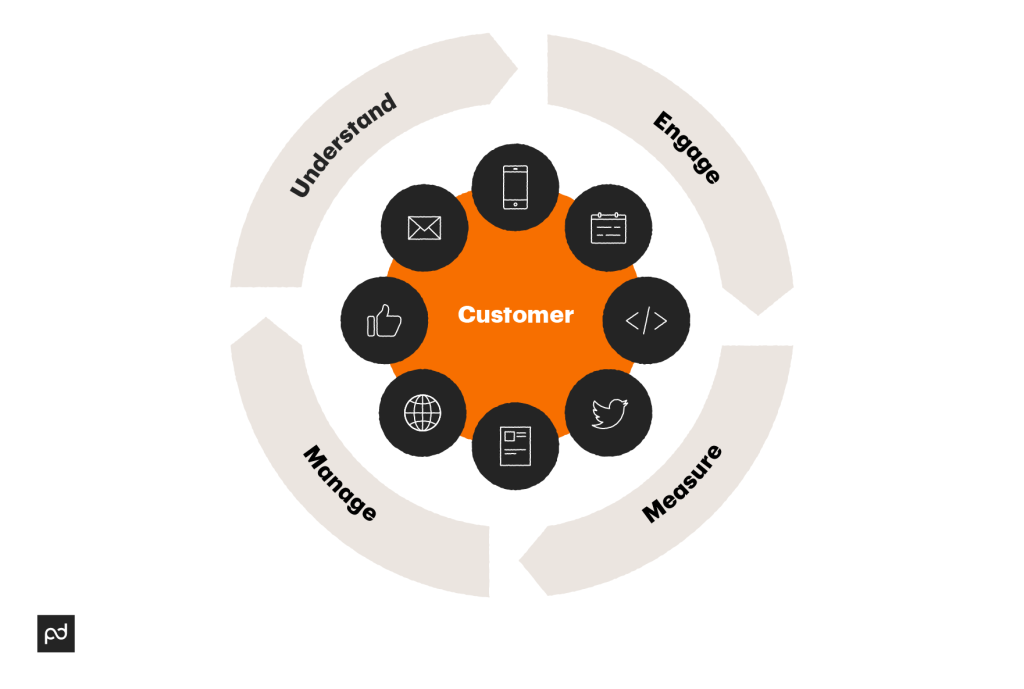 We agree that brands have a soft spot for their customers regarding sales. But the same sentiment rarely translates to marketing.
For example, in sales, there's a popular saying that "the customer is always right." Still, very few marketing campaigns produce effective strategies to build on those customer relationships.
Experts predict that soon, brands will strategize to provide better customer experiences — it won't necessarily mean focusing on one thing but rather an overall combination of everything at once.
Soon, brands will prioritize things like optimization of web design for mobile phones, focusing on social responsibilities (in areas that align with customers' morals), investing in building communities, building relationships at every touchpoint of the customer journey, and improving strategies for brand loyalty.
Their focus will be to make a customer's purchasing journey as frictionless as possible. They'll also strive to delight consumers at every other touchpoint so that those consumers turn into loyal customers.
How to hop on this trend
To successfully jump on this trend, start by identifying those areas in which you are lacking (and where you can improve customer experience).
From there, you need to strategize to create campaigns that will delight customers.
This process can look different for every business.
For example, some businesses would benefit by focusing on email marketing, others might require improving their after-sales service, and some will need to allocate investments in different areas — it all depends on the uniqueness of the problem.
However, we have found that having marketing automation software in your business always helps. Take PandaDoc, for example.
With our automation software, you can control your document workflow, create processes that suit your liking, attract customers through readymade templates, and get a bird's eye view of all analytics.
4. Omnichannel marketing will be on the rise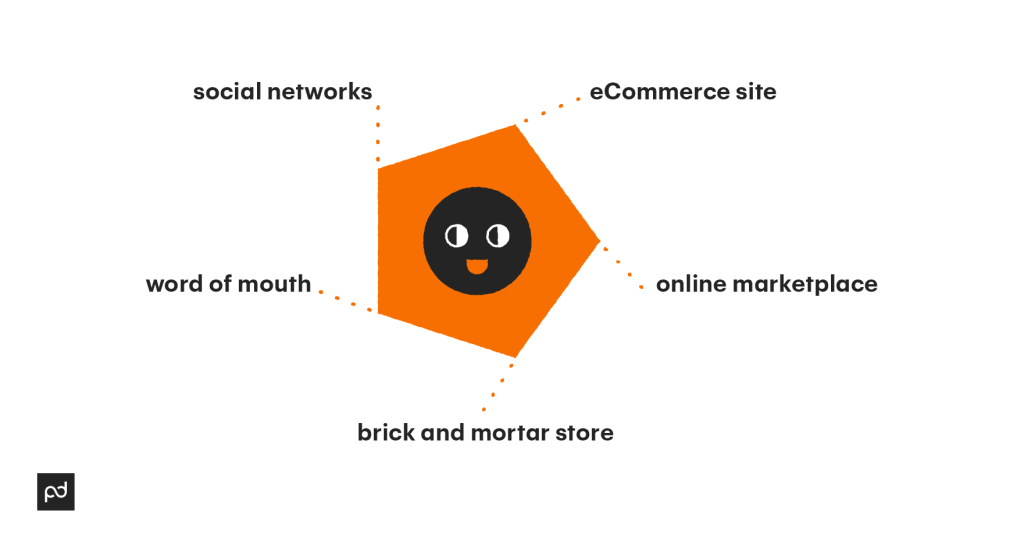 Omnichannel marketing is a process that is designed to make your shopping experience as seamless and frictionless as possible. In itself, omnichannel marketing promises to provide customers with an idealistic experience, and this is what brands want to aim for.
Here are some of the benefits that you can attain through this marketing strategy:
With the help of consumer data, you can personalize the entire user experience such that it feels like one-on-one marketing.
Your messaging, tone, and offers remain the same across all marketing channels — hence creating a synchronized experience for all prospects.
You get to engage and delight customers across all touchpoints.
You build relationships, instead of transactions, with customers.
The entire process makes it much easier for your customer to buy a product.
Although omnichannel is not a new kind of marketing strategy, it has always been shadowed by multichannel marketing, and the scales will most likely tilt in favor of omnichannel marketing shortly.
Some big names like Sephora, Big Blanket Co., Target, Singapore Airlines, etc., have already tried omnichannel strategy for their marketing campaigns and have reaped impressive results.
How to hop on this trend
Any omnichannel marketing campaign begins by deep diving into your data — try to know everything about your customer so that you can hyper-personalize your customer experience accordingly.
Next, create strategies for brand recognition and recall (this can be done by using the same marketing speak across all offline and online channels).
Most importantly, and irrespective of whatever else you do, make sure that you keep your customer at the center of focus.
To produce truly effective results, you need to keep all departments in your organization on the same page.
For example, marketing teams, along with department heads from PR, sales, product development, etc., would need to work together to create a frictionless experience for your user.
Visual and voice search will take over
Brands are looking for ways to make their products, services, and content more accessible than ever. The one definitive thing that will help them?
Visual and voice search. With the rise of this trend, expect to see a change in how we view content, too — for example, since voice search will be heavy on words, how do you present optimized results on the search engine?
Similarly — because visual search doesn't rely on the text at all — it'll require more bandwidth. These two types of searches are in the semi-new territory, and brands have to work with them — because, with the rise of smartphones, these search options are preferable to users.
Products like Amazon Alexa (for voice search) and Pinterest and Bing (for visual search) have already started making customers more acquainted with these technologies, so it'll come as no surprise if more and more of your customer base want to switch from text search to visual and voice search.
Because this trend is still in its infancy (with massive potential for growth), you can jump on it to make sure that when it's peaked in popularity, you have a leg up over your competitors.
How to hop on this trend
At this stage, the aim should be to make your content more accessible (which means optimizing it).
For example, creating a web design that's mobile-accessible can do wonders for optimizing your content. Having a suitable CMS by your side also helps with content optimization.
Speaking of content, you should begin writing the way you speak — so if you're thinking about shifting from content that's written by humans to AI-generated material, then you need to adjust editing and oversight accordingly, or you won't be doing yourself any favors in the long run.
When it comes to visual search, you should focus on using high-quality images and visuals across all your marketing channels.
If you're interested in learning more about how you can prepare for this trend, then this guide might be useful: Beyond text searching: a marketer's guide to voice and visual search optimization.
Final thoughts
For those who work in marketing, we understand and sympathize with your struggle. To perfect a marketing strategy across all platforms is no small task.
Add to that the numerous marketing channels, metrics, prospects, ideas, and tasks you have to keep track of — together, it adds up to far too many things to keep a handle on all at once.
Trust us, there's a better way to manage all these tasks. And the answer to your problems is marketing automation software.
Every team needs (and more importantly, deserves) software that can help them reduce time, increase efficiency, and improve performance.
For us, that marketing automation software is PandaDoc.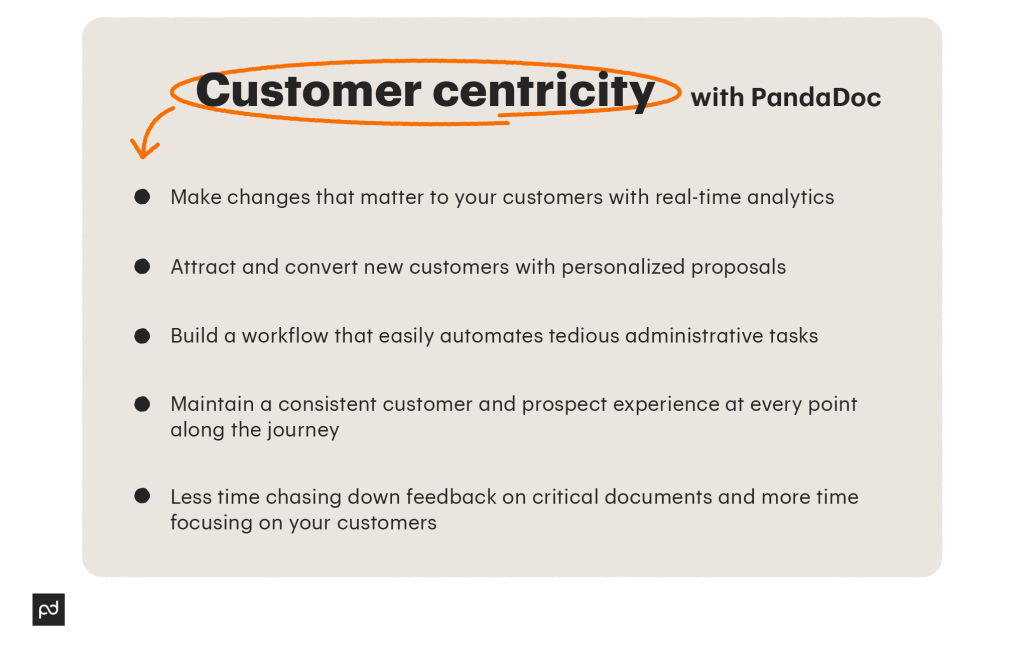 Our product can help you increase close rates by 36% in less than 50% of the time — it also gives you analytics, improves performance, and gives a detailed view of all your tasks.
Besides, if you're spending so much on perfecting your marketing campaigns, you need to allocate some funds to streamline your process (plus, our plans begin at only $19/month).
Interested to see what we have to offer? Take us for a spin!
Originally published Dec 17, 2017, updated Jul 14, 2022
Disclaimer
PandDoc is not a law firm, or a substitute for an attorney or law firm. This page is not intended to and does not provide legal advice. Should you have legal questions on the validity of e-signatures or digital signatures and the enforceability thereof, please consult with an attorney or law firm. Use of PandaDocs services are governed by our Terms of Use and Privacy Policy.