The eCommerce sector is booming and shows no signs of slowing down. You see, it's currently predicted that the sales generated by eCommerce will experience a 265% growth rate from 2014 to 2021. To add to this, businesses have taken advantage of modern, internet-related technology to improve customer service and workflows.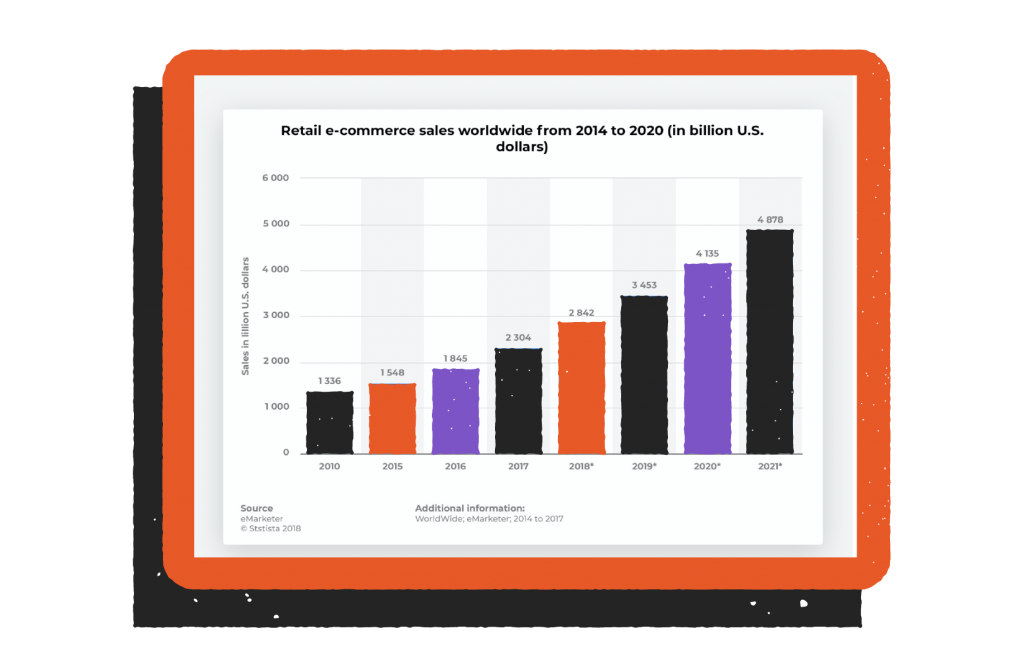 Indeed, handy applications and services like a VoIP phone system and easy-to-use mobile applications, and the Internet of Things are just some of these incredible changes. But when looking at this growing sector, one thing is clear: you need to stand out from the competition.
1. Content marketing
The internet thrives on content. Think about the things you love to do online – reading articles, watching viral cat videos, or taking silly personality tests.
The kind of content you produce can generally be split into two categories:
2. SEO content
SEO content is generally based on articles or videos. The content is keyword-focused and produced to rank for specific search terms.
3. Social content
The idea is to engage visitors through your site or social media, but not necessarily rank for anything. This type of content can include infographics, personality tests, memes, articles, and a whole lot more.
Ideally, your social content marketing strategy and SEO content marketing strategy should support each other. However, it's not essential.
So, you'll need to find innovative ways to increase traffic to your website. In this blog, we'll help you do just that. We've come up with six marketing tricks to boost online sales for your business.
How to develop your eCommerce strategy to boost online sales
Your SEO content marketing strategy will be based on specific keywords that are relevant to your business. The starting point for a good content marketing strategy is the creation of a customer persona. This will help you identify the kind of content and topics that will be of interest to your audience.
You can then use this information to come up with relevant keyword ideas that align with the customer journey. Tools like Keywords Everywhere are useful for identifying keywords search volume as you can see below.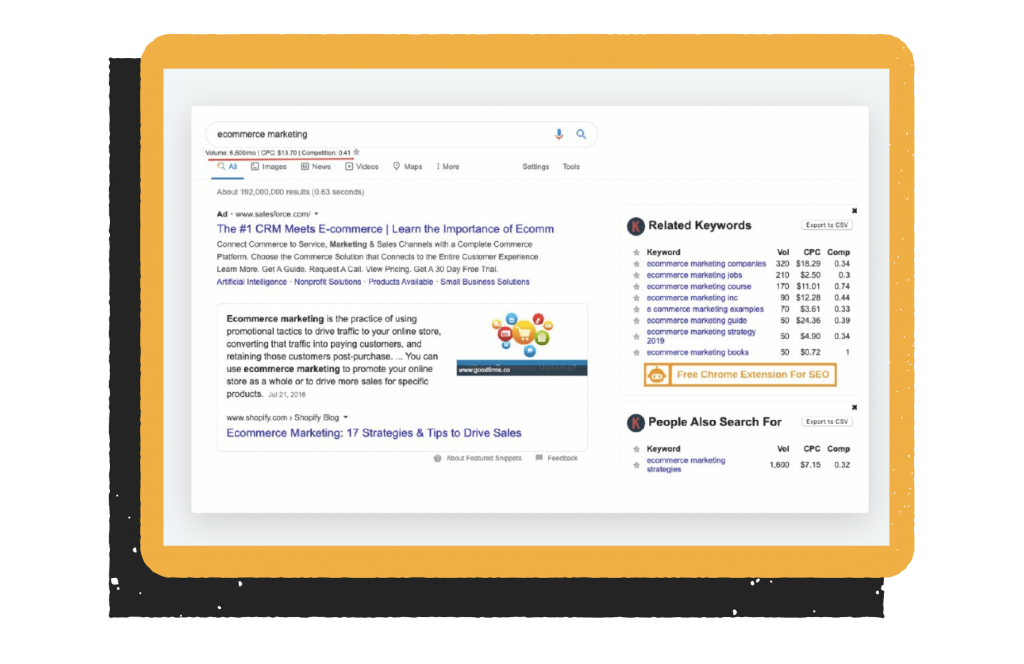 The tool provides keyword search volumes for both Google and YouTube.
The end goal of your SEO-focused content marketing strategy is to create high-quality keyword-focused content for your site. You'll need to undertake a link-building campaign to make your content rank. While an SEO content marketing strategy involves a lot of work, the payoff, in terms of free organic traffic to your site, can be huge.
1. Create engaging social content
The aim of a social content marketing strategy is slightly different from an SEO content marketing campaign. You want to create content your ideal customer will find engaging.
A great example of a company that produces highly engaging online content is Buzzfeed. You'll have probably seen their personality quizzes and content pop up in your Facebook feed. The ability to consistently create engaging content has made Buzzfeed one of the most popular websites in the English-speaking world.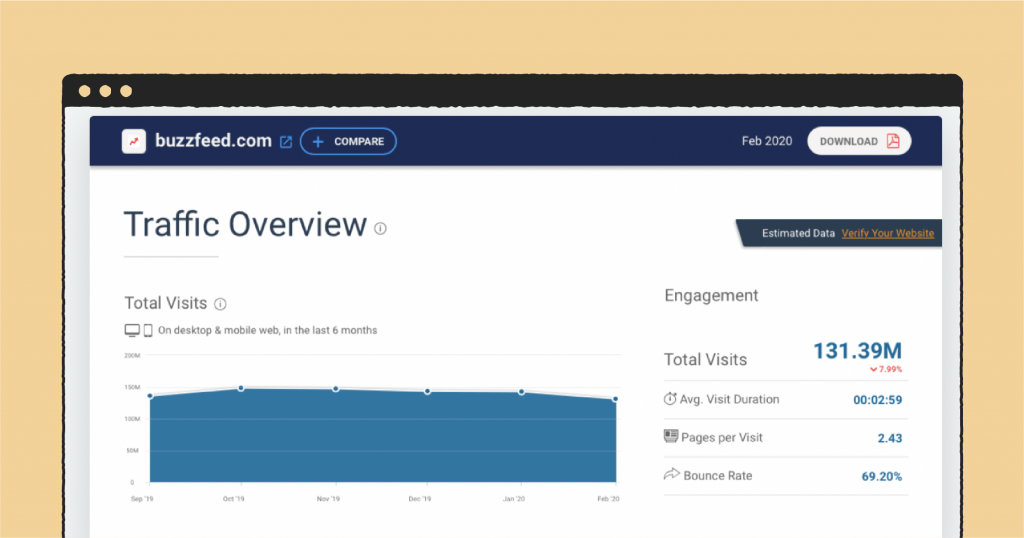 Many companies apply this approach to content marketing. For instance, Hershey's did a great job with their Meethe Bahane marketing campaign. The campaign was a web series aimed at parents that showcase recipes you could use to entice your kids to eat everyday food.
Even brands like Coca-Cola have started to shift their budget to content creation over traditional ads. So once you've focused on the voice of your campaign, find ways to amplify it through catchy content.
2. Run Pay-Per-Click (PPC) campaigns
Advertising is a must for any business. Indeed, we see it all the time when we walk down the street. So it only makes sense that it's visible online, too. Online Pay Per Click (PPC) advertising should play a big part in your growth strategy.
There are three types of PPC campaigns you can run online:
Intent-based advertising: the most common intent-based advertising channel is Google Adwords. This is where you advertise for a specific search term;
Interest-based advertising: you'll generally create a target audience, and then advertise to this group. Display advertising, Facebook ads, and more fit in this category;
Retargeting: You run a PPC campaign that targets an audience of people who have visited your site. You can run these campaigns on Facebook, Google Adwords, and more.
The easiest type of paid advertising campaign is intent-based advertising. Here you are primarily targeting buying keywords. There are three levers that will determine the success of your campaign. They are; keyword, ad, and the target URL.
Google will review the performance of your ad, and assign it a Quality Score based on these factors. This will determine the cost-per-click to your page, and in a roundabout way is linked to your cost-per-lead.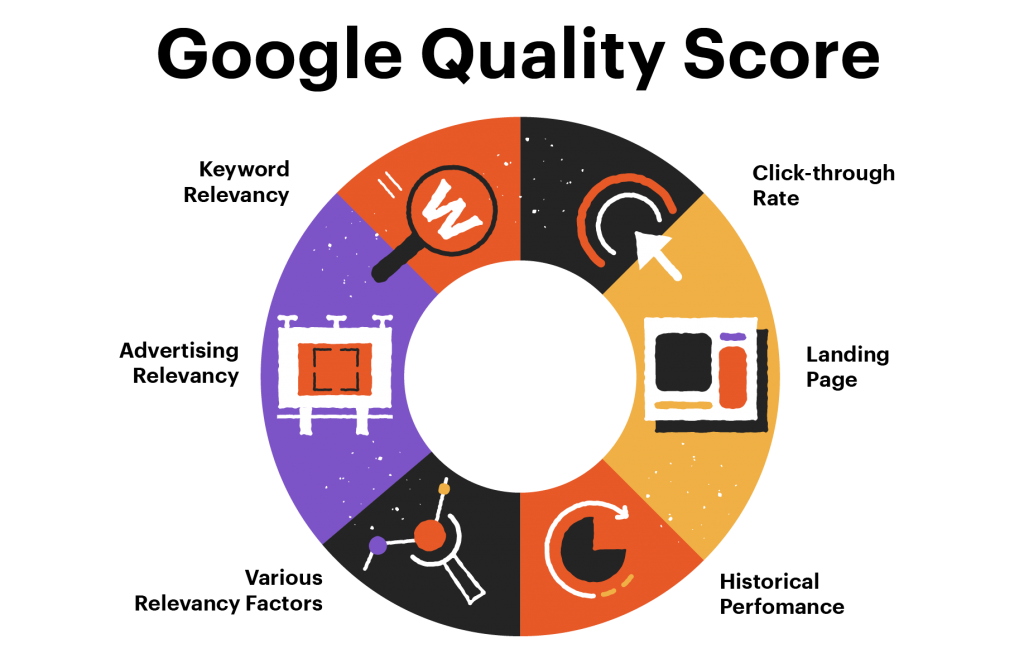 Retargeting and intent-based advertising PPC campaigns are a bit more difficult to run because you don't know if the person is a hot lead, or just interested in the topic. The best advice is to get these customers onto your email list and then try to sell to them, rather than selling directly.
PPC should be part of your marketing repertoire. If you can create an ROI from your adverts, it's possible to grow your eCommerce store rapidly.
3. Grow your email list using exit-intent opt-in forms
You probably have thousands of people who visit your site every month. Most of those people will come to your site and never return. To avoid this situation, you should try and get them on your email list. After all, email marketing has the highest ROI, at 73%, of any marketing channel.
One of the most effective ways of getting people to sign up onto your email list is through a lightbox or screen takeover. Despite the love/hate relationship most people have with screen takeovers, they are undoubtedly effective.
"An exit-intent lightbox can help capture 2-4% of visitors about to leave your site into subscribers."

According to OptinMonster
Your lightbox doesn't have to be particularly complex.
Here's a simple but effective example.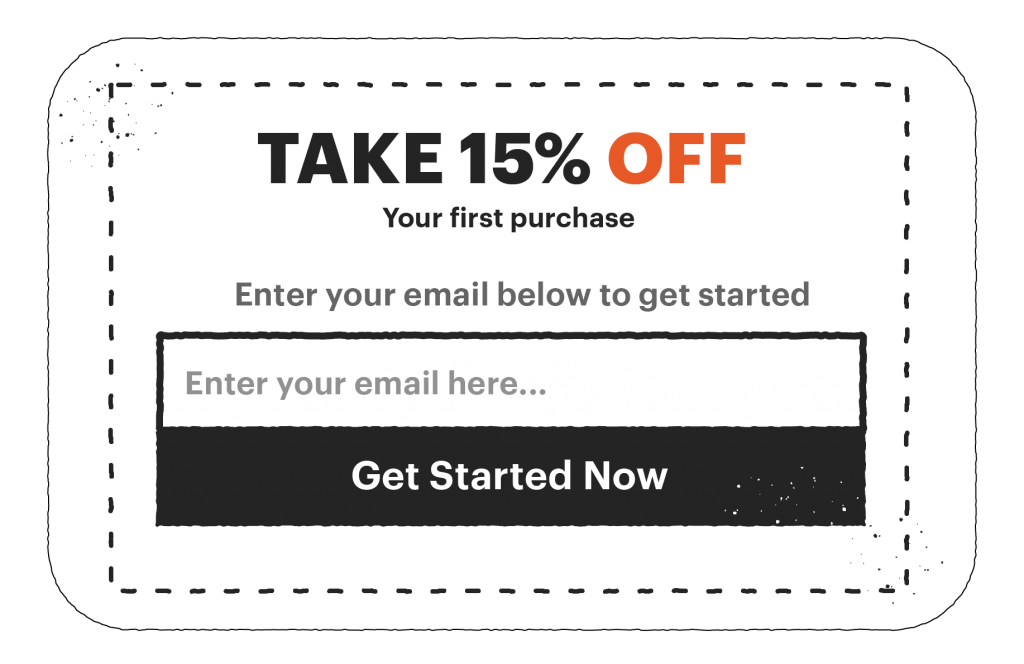 You can easily improve that conversion rate by creating a range of content upgrades for your site. For example, if the person was visiting an article about RingCentral's VoIP phone system, you might have a white paper on the topic. You'd offer a different guide to a person interested in eCommerce.
Another way you could improve your conversion rate is by using a two-step opt-in. Two-step opt-ins can bolster conversion rates in two ways:
Foot in the door (FITD) phenomenon
This is a strategy that appeals to people's needs to comply with a small request before taking on something bigger. Users are more inclined to sign-up for service if their interest is piqued. This can be done with straight-to-the-point incentives that when accessed mean they're already considering a sign-up.
Users can be turned off by sudden forms. Once they've clicked the call to action link, they've already decided they want to sign-up which eases any original stress about having to fill in a data form.
Think of engaging incentives, such as discounts or trial runs, that get people to sign up. Using easy-to-read and catchy language makes it more fun and self-motivating for users.
Once they've signed up to your email list, you can send them to a landing page. This is a custom-designed page where you can deliver the content upgrade, and perhaps try and sell a product.
4. Engage and sell to your email list
As mentioned earlier, emails offer the highest ROI of any marketing channel. That's because most people use email on a daily basis. You probably check your email first thing when you wake up in the morning and the last thing at night before you go to sleep.
A lot of email marketing is based on sequences.
For example, you have the:
You introduce the recipient to your brand and share a bit of information about the company. This is generally a sequence of three emails.
A series of between 1-3 emails was sent to someone who put things in their shopping cart but never made a purchase.
Send a series of 1-3 emails to people who stopped opening the messages you are sending.
The sequences listed above can run on autopilot. Once you have set them up on your email marketing provider, they will engage and sell to customers without you needing to do anything.
Outside of these sequences, you have your regular newsletters. These newsletters are how you keep your customers in the loop about your business. Then you have the sales and special offers where you actively try to get your subscribers to purchase your products.
E-mails are still among the most widely used channels for marketers. So focus on what makes customers tick and deliver it straight to their inbox.
5. Make use of Instagram shopping
Social media plays a big role in the world of eCommerce. For example, on Instagram, 90% of people on the social platform follow at least one business account. 65% of users found the brand's website via the app. That's a lot of potential business. Moreover, the platform is continually changing, providing new opportunities for sales and marketing.
The creation of business and storefront profiles is one such example. These profiles allow users to purchase products in-app directly.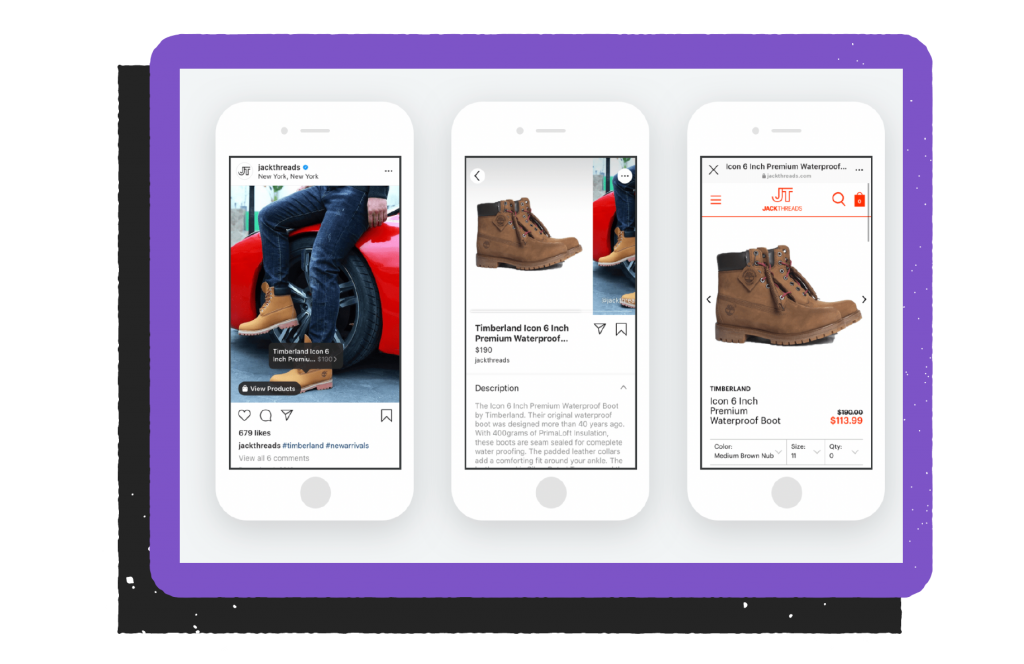 Product tagging or shoppable tags can be added on both Instagram stories and on posts that show up on a user's feed. Approximately 130 million users click on the shoppable tags every month.
Adding the "Swipe Up" button to these ads encourages customer engagement with said products. It can also be used to bring customers straight to the product page, making it easier for them to find relevant products. However, this can only be done with verified accounts or accounts with over 10K+ followers.
Instagram's evolution as a shopping destination is ongoing. The introduction of in-app check-outs seems to be one that businesses and users won't be able to ignore.
6. Focus on customer satisfaction
The best marketing practices always go back to one thing – customer satisfaction. Customers are likely to buy again following a positive experience. This is especially true for eCommerce since customers aren't always able to walk into your store to test your products.
Referral marketing is creating different incentives to encourage new customers to recommend your products to their friends, family, and social media followers. It's basically the return to grassroots marketing and focusing on the people who will make your business work – your customers.
In fact, 74% of online customers are more likely to trust a product if they see other people enjoying it. Yes, they stated that word of mouth was key to their purchase. So take advantage of their fear of missing out and encourage the discussion.
The great thing about referral marketing is that it doesn't have to cost much in order to implement. All you really have to do is encourage your customers to keep sharing their positive experiences. This can be through social media posts or posting customer reviews.
As an eCommerce store owner or manager, there are plenty of things you can do to improve customer satisfaction. For example, you could add a live chatbot to your site to help answer common questions and deal with customer support inquiries. Equally, keeping customers updated regarding the status of their purchases helps reduce customer service inquiries and complaints.
Success is just a click away
If you're running an eCommerce store, you want to utilize proven marketing channels to scale fast. And in today's digital world, a seamless customer experience needs to be the focus of any online store. Content has become a driving force in today's online world, so use it to drive customers to your storefronts. Take advantage of all the communication and advertising tools like pop-ups and good old email newsletters to keep customers engaged. And when they're ready to shop, make sure your storefront is accessible on social media.
The success of any eCommerce business lies in strategic and creative digital marketing campaigns. The internet makes it easier than ever to share your eCommerce business with the whole world. So take advantage of the IoT, reach across multiple platforms with engaging content, and make those sales numbers rocket.