Whether you're looking to clearly display pricing information or want to accelerate your quoting process, PandaDoc has a solution for you.
We understand that the exact details of your documents can vary from client to client and based on the nature of your business.
That's why we offer two solutions: PandaDoc CPQ and Pricing Tables to help you easily build quotes and proposals.
In this blog post, we'll examine the key differences between PandaDoc PandaDoc CPQ and Pricing Tables to help you make the right choice for your business.
What are Pricing Tables?
We'll start with what you're most familiar with, our Pricing Tables.
Pricing Tables help your clients understand the value of your products and services, compare options, and make an informed decision.
This is a crucial step in the quote process, so you want to use a simple structure to display your product details.
With PandaDoc, you can easily drag and drop a pricing table block into a template and add relevant product information like name, price, description, and images by importing data directly from a CRM or adding products from your catalog. Plus, you can customize the look and feel of your quotes to match your brand (i.e., fonts, colors, cell style, border style, etc.).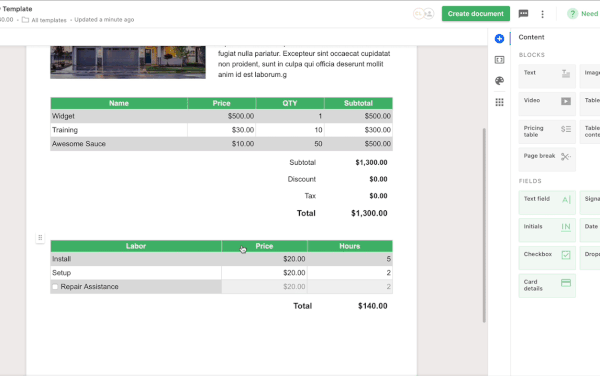 Once sent, your clients can select optional items or change the quantity of a product or service right from the pricing table. As selections are made, the quote will adjust to the correct price, so your clients can sign and make payment according to the pricing table's total amount without you having to revise the quote manually.
What's PandaDoc CPQ?
Now let's talk about the new kid on the block, PandaDoc CPQ.
Errors, delays, and failure to address a prospect's pain points during the quoting process could create challenges when it comes time to close or, worse, cost you new business.
With PandaDoc CPQ, you can eliminate inconsistencies and inaccuracies in the quote-building process with a step-by-step guided workflow for your sellers. This workflow gives sales leaders more control over the quoting process by pre-configuring the exact products and services reps will need to take to market. When reps begin to customize a quote for their client, they'll only see pre-approved content—as a result, speeding up the quote creation and approval process.
Unlike our standard pricing tables, you can add custom products from the quote builder without using the product catalog and create product bundles, making it easier for your team to upsell and cross-sell products that make sense for their prospects. And new quote layout designs, such as the example below, allow you to create a more engaging experience that resembles online shopping.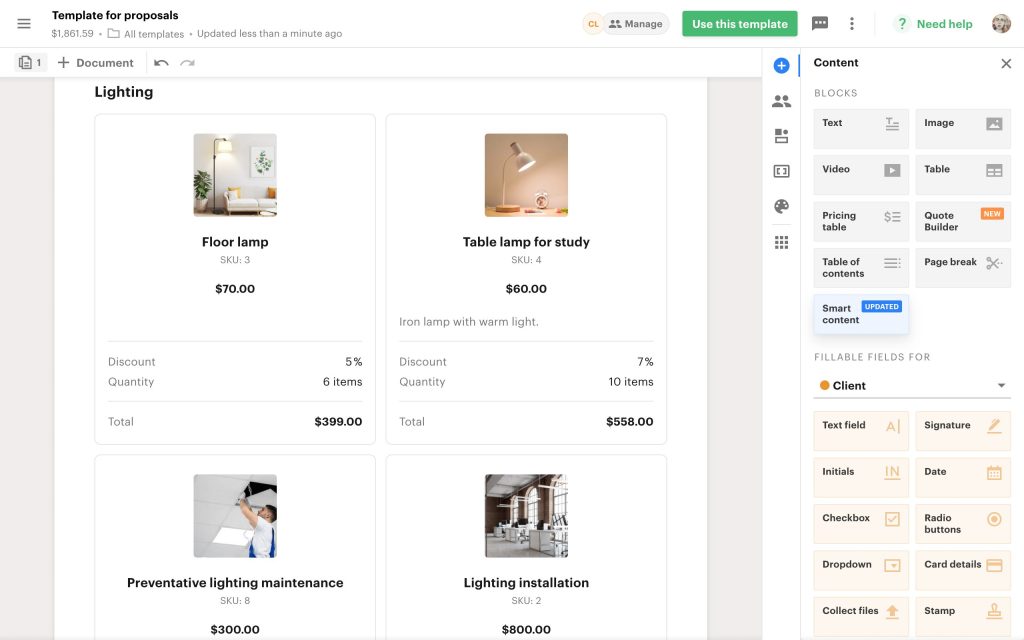 In addition, you now have the option to set up volume-based pricing and recurring pricing (via Stripe) for any products or services in your product catalog. When it's time to complete the transaction, like pricing tables, your clients can make their selections and pay right at signing. PandaDoc CPQ has a more granular cost breakdown, so clients can now see the one-time and recurring subtotals and the grand total.
Which is right for your business?
When deciding which quote option to use, think about the number of products and services you offer, your business model, and other variables, such as discounting and taxes, that you use to calculate the quote total. And, of course, how you get your quotes paid.
Our pricing table solution is ideal for teams with a simple business model, like a fee-for-service model, or businesses with a small set of products and services. In comparison, PandaDoc CPQ is ideal for growing sales teams that need to pre-configure quotes for a more extensive variety of services and products and tailor them to customer needs, all while putting automation at the forefront of their business operations.
Here's a complete comparison of Pricing Tables and PandaDoc CPQ:
| FEATURES | PRICING TABLES | PANDADOC CPQ |
| --- | --- | --- |
| Add products from catalog | ✓ | ✓ |
| Reorder of products | ✓ | ✓ |
| Multiple choice | ✓ | ✓ |
| Reuse data as variables | ✓ | ✓ |
| Images | ✓ | ✓ |
| Import product data from CRM | ✓ | ✓ |
| Cost and Profit Margin calculation | ✓ | Coming Soon |
| Auto setup | ✓ | Coming Soon |
| Payment – % of total | ✓ | Coming Soon |
| Advanced design layouts | X | ✓ |
| Granular editing permissions | X | ✓ |
| Add custom products directly in the quote builder | X | ✓ |
| Product bundles | X | ✓ |
| Discounts/taxes/fees in the section headline | X | ✓ |
| Recurring pricing | X | ✓ |
| Volume discounts | Limited | ✓ |
| Separate subtotals for one-time and recurring products | X | ✓ |
| Collecting payments for subscriptions via Stripe | X | ✓ |
Boost your bottom line with PandaDoc!
Regardless of which solution you choose, PandaDoc can help streamline your sales process and improve the speed and accuracy of your quotes. You can show individual services or products in a bundle to allow your customers to pick whichever option suits them best. To learn more about PandaDoc CPQ and Pricing Tables, visit our Learning Academy for a guided walkthrough and best practices led by PandaDoc Experts.