Contract management software is a must-have for modern businesses.
Using these tools, companies can easily create, store, edit, and track their contracts with ease — eliminating the need for manual paperwork and manual data entry.
On top of that, contract management software allows companies to collaborate better with staff members in different locations, helping them stay organized while managing contracts quickly and efficiently.
However, finding the right software tool for your organization isn't easy. While most contract management tools are easy to use, they often require some additional setup to integrate with current workflows.
Let's take a closer look at some of the best contract management software available in 2023.
What is contract management software?
Contract management software is a tool that unifies all parties, contracts, and versions participating in contract negotiation and contract creation.
A contract management solution is a trusted medium that allows all parties to see changes and track contract timelines from inception to signing.
The best contract lifecycle management system mirrors providing detailed reporting and analytics, a wealth of ongoing management and workflow automation features, and intelligent notifications.
Many software solutions included in this review roundup offer all or some of these characteristics.
Contract management software options range in complexity, depending on organizational needs.
While some platforms can be completely customized and can feature broader applicability, others are based on simplicity, servicing a small number of selected contract management use cases and business verticals.
At its core, contract management software centers on four essential functions:
Contract creation: The ability to create and personalized contracts quickly typically through the use of templates or automation tools.
Contract collaboration: Tools to help negotiators quickly parse the provisions of a contract, negotiate details, and reach resolutions quickly.
Contract management: An intuitive system that allows contracts to be managed based upon specific criteria, such as upcoming expirations (for renewals), signers, or business partners.
Contract storage: The ability to securely store contracts within the system for a set or unlimited) amount of time.
These core functionalities and different contract management solution alternatives are usually what separates contract management systems from one another.
What is the best way to manage contracts?
Contract management is an essential component to any successful business operation. Well-managed contracts can help protect all involved parties, reduce risks, and ensure legal compliance.
To manage your contracts successfully, you'll need a comprehensive strategy in place. This should include each of the following steps and procedures:
Centralize and standardize agreements
Make sure that your contracts are located in one place and that your agreements follow a standardized flow.
Use templates to expedite document creation, and tailor them to fit the specific needs of the client or negotiation.
Set sensible key performance indicators
Determine which of your contracts perform best by setting KPIs around their use. Do some contract formats take longer to sign than others?
Do some agreements spark confusion or additional questions? If contracts are underperforming, it may be time to update or rewrite them.
Track all necessary obligations
Every contract sets forth obligations for both parties.
As part of managing contracts, you'll need to track the obligations of the contract to ensure they are appropriately fulfilled.
Incorporate team collaboration and visibility
Improve the velocity of your contract negotiations by bringing in teams and subject matter experts.
Post-signature allows multiple teams to maintain contract visibility and ensure that obligations are met.
Automate communications
Set up notifications and alerts so that questions, concerns, and comments can be addressed quickly and the deal can continue to move forward.
Add clear and simple signing options
A fast signature process ensures that deals close quickly and work can begin.
Finalizing contracts with a simple signature should be fast and easy for all parties involved.
Doing this for a handful of contracts isn't a major setback, but managing hundreds or thousands of contracts in this way can quickly become a headache.
1. PandaDoc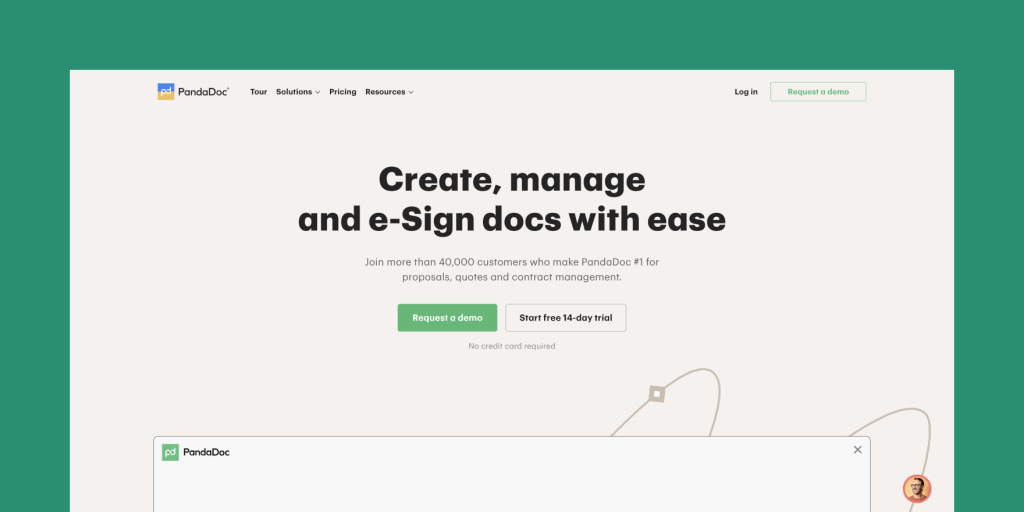 Price range: Monthly costs range from $19 for essential up to $49 for business plans. Enterprise pricing is also available.
Why choose PandaDoc: PandaDoc is an all-in-one solution for secure collaboration, management, and contract tracking. It's a complete contract lifecycle management solution that makes it easy to handle contract creation at scale and for internal teams to manage contracts from contract automation, contract drafting, and contract approval (before they're delivered to clients) to signature and payment. Its contract management platform flexibility means that it can support almost any business process that requires document management and electronic signatures.
Main advantage on G2: The ability to upload nearly any type of contract documents, from Word to PDF. Users also appreciate that it's user-friendly for both internal and external parties and acts as a contract repository for teams.
Main complaint on G2: Users suggest a mild learning curve due to the full range of features that PandaDoc provides.
Number of integrations: Countless, including 15+ CRMs, accounting programs, and payment services.
Support: 24/7/365 support via email and online chat.
PandaDoc is a complete digital document and contract management solution designed to automate your contract management process.
PandaDoc allows you to customize, negotiate, and eSign complex contracts.
The software includes built-in eSignatures and plenty of integrations, such as contract templates, in-document commenting, redlining, and a content library that prevents costly errors and client disappointment.
PandaDoc is a multi-function contract lifecycle management software that offers a variety of options that are essential for smooth contracting work.
In addition to contract creation, PandaDoc offers contract renewals as well.
This is thanks to its built-in renewal notification emails designed to alert you when it's time to revisit and renew the original contract.
PandaDoc will help with document management, too. In cases where a contract needs revision before both parties sign, PandaDoc makes it easy for users to leave comments throughout the contract and utilize the general chat feature.
This automation facilitates seamless collaboration between teams and helps to organize and track the changes in real time.
The software also comes with customizable user role management and approval processes.
Different employees require different levels of user access, so PandaDoc allows you to modify these accordingly.
PandaDoc seems designed to alleviate pressure and improve time management and workflow by offering preapproved clauses and the option to customize new contracts.
In addition, PandaDoc includes a template library as well. Sales teams that utilize PandaDoc's software typically see a 65% decrease in the amount of time spent on document creation.
The PandaDoc eSignature integration lets you request legally binding electronic signatures within minutes.
And, immediately after all signatures have been collected, the software lets you collect payments.
With PandaDoc automation in place, you'll obtain detailed insights about all your contracts, expenditures, and revenue over time.
In addition, you'll receive upcoming activities and alerts. With the CRM integration allowing you to easily pull customer data from your CRM into a new contract, you'll have no manual data entry required.
Want to know more? Don't just take our word for it. Get a product demo from one of our experts and get all of your questions answered!
2. ContractWorks CLM Software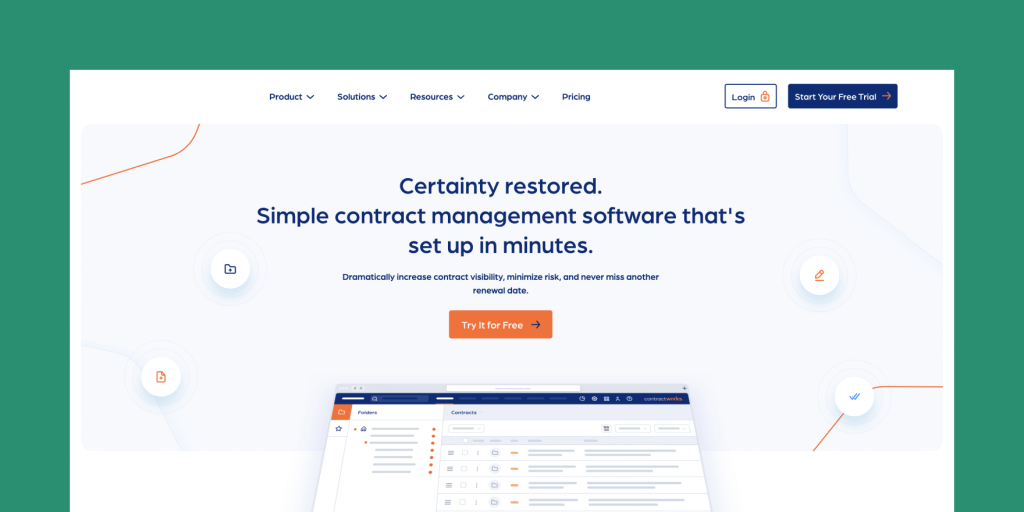 Price range: $700 to $2,000 a month for unlimited enterprise users.
Why choose ContractWorks: Provides smooth data migration and a transparent pricing model.
Main advantage on G2Crowd: Users find that this software makes it easy to run reports.
Main complaint on G2Crowd: Larger organizations with multiple reviewers face problems because revisions aren't possible. Instead, they need to restart the entire process.
Number of integrations: Although ContractWorks doesn't mention integrations, you can connect with Salesforce for a one-time fee of $500.
Support: Customer support is available during business hours.
ContractWorks offers industry-leading security, transparent pricing, and custom reporting automation.
With ContractWorks document tagging, including their artificial intelligence (AI) Smart Document Tagging feature, it's easy to locate contracts and track action. This software prioritizes security and offers several backup options.
ContractWorks restores contract visibility, encouraging you to stay organized, reduce costs, and minimize risk.
You can store all your documents in one central location with multi-user access that eliminates bottlenecks and confusion.
Thanks to its impeccable automation, the software will automatically identify and tag each document using a set of predetermined criteria.
ContractWorks enables quick access to key contract details using intuitive reminders that have enviable functionality and help you stay ahead of your obligations and never miss another renewal, upcoming milestone, or deadline.
In addition, ContractWorks gives you the power to create detailed reports and take control of your contracts.
With its intuitive base, you can drag and drop files to store them in one searchable, scalable, secure contract repository with controlled access and permission-based user roles.
Whether on a new contract or a renewal, the software allows users to highlight specific sections of a contract for emphasis or so that everyone is on the same page.
The software uses 256-bit encryption technology to store and share documents safely. Easy image and PDF conversion into searchable text data are enabled, too.
3. Ironclad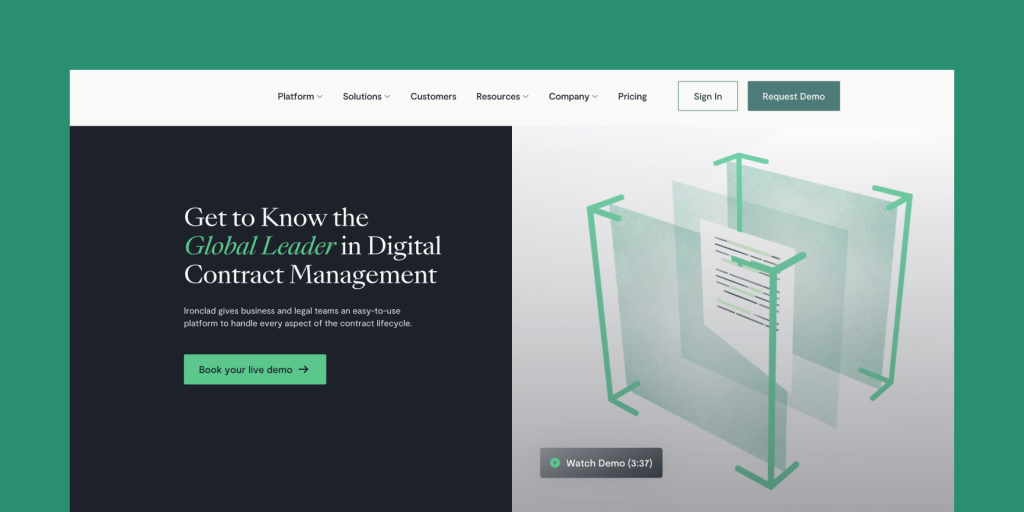 Price range: No pricing information on their website.
Why choose Ironclad: Companies choose Ironclad to automate repetitive, manual, black-box contracts with the only CLM software built for in-house legal teams.
Main advantage on G2: Primary advantage of using Ironclad is that it balances speed and compliance by allowing business users to launch contracts on their own, within guardrails. It is also streamlined and effective, requiring less time for contract language reviews usually done by lawyers.
Main complaint on G2: Those without a legal background, such as a human resources team, may face issues understanding workflow functions.
Number of integrations: Although Ironclad provides a public API, it only offers one CRM integration.
Support: 24-hour support via a live representative.
Ironclad is a contract management software solution that helps legal departments automate workflows, generate reports, and process contracts efficiently.
Its drag-and-drop user interface makes it easy for all stakeholders to use even without technical knowledge.
With its public API and seamless integrations, Ironclad is the only CLM that tackles the complexity of clause-level collaboration and negotiation, allowing its users to minimize risk while fast-tracking approvals.
Ironclad offers various approval workflows, including signature and approval conditionality, regardless of the agreement types.
You can store all your contracts in a central location with an intuitive search capability, including a structured and full-text search of the entire contract database.
The software lets you automate the contract creation process with no coding required; it comes with built-in editing, redlining, and auditing capabilities that make your workflow seamless and enjoyable.
Thanks to its built-in document editor, users can tag colleagues and accept or reject contract modifications and preview and edit documents without leaving the platform.
Ironclad promises not to disrupt your ongoing processes; instead, it only builds on them with added automation and function.
With this contract management system, you can rest assured that your contracts will be stored in the folders and databases you're already using.
Ironclad guarantees your data will be safely stored, processed, and transferred, thanks to its SOC 2, Type II policies.
And the software comes with powerful API integrations, including Salesforce, Google Drive, Dropbox, and eSignature providers like PandaDoc.
4. DealHub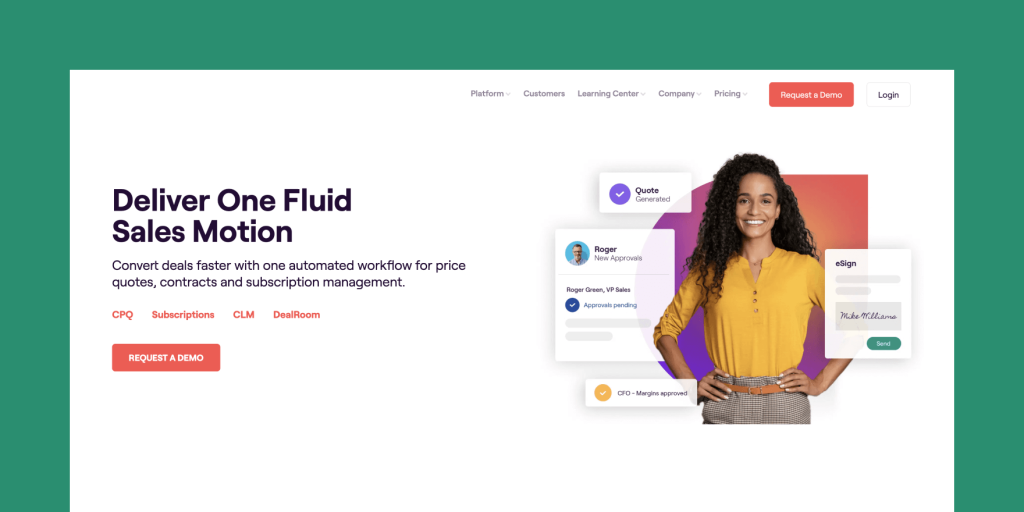 Price range: No pricing information on their website.
Why choose DealHub.io: Automate proposal and contract process without leaving Salesforce.
Main advantage on G2: Users appreciate the content library and document analytics.
Main complaint on G2: Some users have reported having trouble when configuring and using the deal room.
Number of integrations: This software only features three integrations on their website: Salesforce, Microsoft Dynamics, and Freshworks.
Support: Email and phone support is available with response times typically within 24 hours.
Featuring native integration with Salesforce, DealHub.io helps organizations create and send contracts quickly and effortlessly.
Its easy-to-use interface works for staff with various levels of tech training, ensuring that everyone on your team feels comfortable using the software.
Also, administrators can preapproved templates to ensure accuracy.
Deal Hub.io makes contract creation a breeze, allowing users to generate new contracts, quotes, and other business documents from directly within the DealHub.io platform.
Moreover, the software supports collaboration among team members with easy document-sharing features.
You can use Deal Hub.io software to configure criteria for faster approval workflows; by using the CLM software, you have the option to collaborate with your customers over a contract to streamline the entire revision process.
The software automatically integrates with your CRM to transfer existing data onto contracts while capturing all views and edits of a contract.
In addition, it lets you know who the document has been shared with.
Once you're finished with a contract, you can easily store it in a central storage location for easy access and retrieval.
Everyone can add electronic signatures to the document, and the information is automatically stored in your CRM.
5. Concord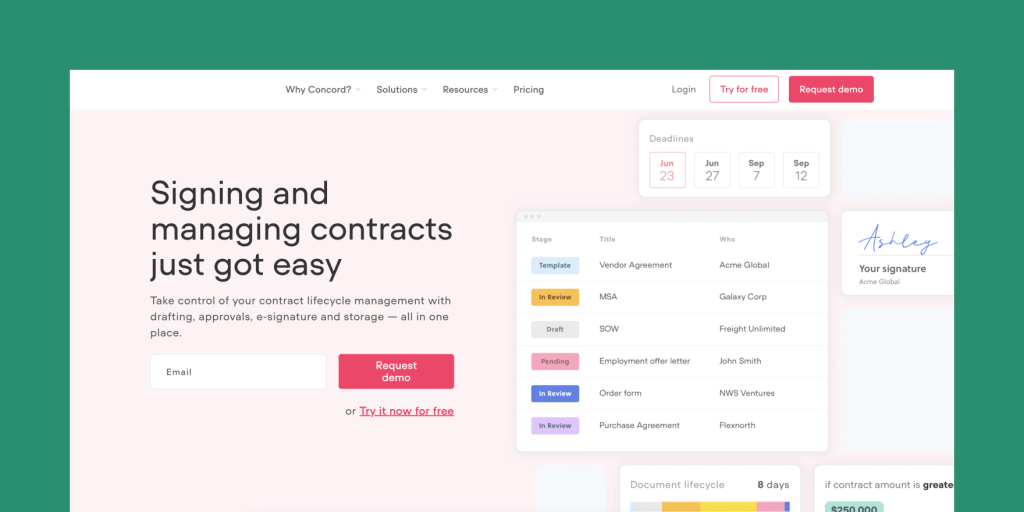 Price range: Monthly prices range from $17 to $49 per month. Enterprise pricing is available.
Why choose Concord: Users who need to create an audit trail might want to choose Concord.
Main advantage on G2: Current users appreciate how the tagging system automatically gives departments access to specific documents.
Main complaint on G2: The app appears to be more suited to professionals working in legal or operations. It may not be ideal for those in sales and marketing.
Number of integrations: Concord only offers one CRM integration compared to which provides 15 integrations.
Support: Online, during business hours.
Concord is a software solution that makes compliance and negotiation simple with its contract management software.
Concord comes with preapproved templates for faster contract creation, with the version-control feature ensuring that all users receive up-to-date versions of the document.
It offers the ability to track changes and hold discussions with stakeholders and other reviewers inside the platform. In addition, users can see the status of all contracts to speed up the buying cycle.
The automated approval feature guarantees less time spent waiting by relying on automated contracts sending through the proper approval channels.
The online negotiations and redlining feature allow for commenting, redlining, and editing directly within the document, significantly speeding up the sales cycle.
The customers have the option to edit, review, and electronically sign the contract at no additional cost. Concord supports a Salesforce integration and automates the post-signatures execution in your CRM.
Moreover, you can use Concord to build real-time custom reports and data drawn from existing contracts. This allows you to identify opportunities to upsell your current customers.
The software comes with a built-in eSignature solution to minimize the duration of the end-to-end CLM process and eliminate the need for on-premise agreement signing.
6. Icertis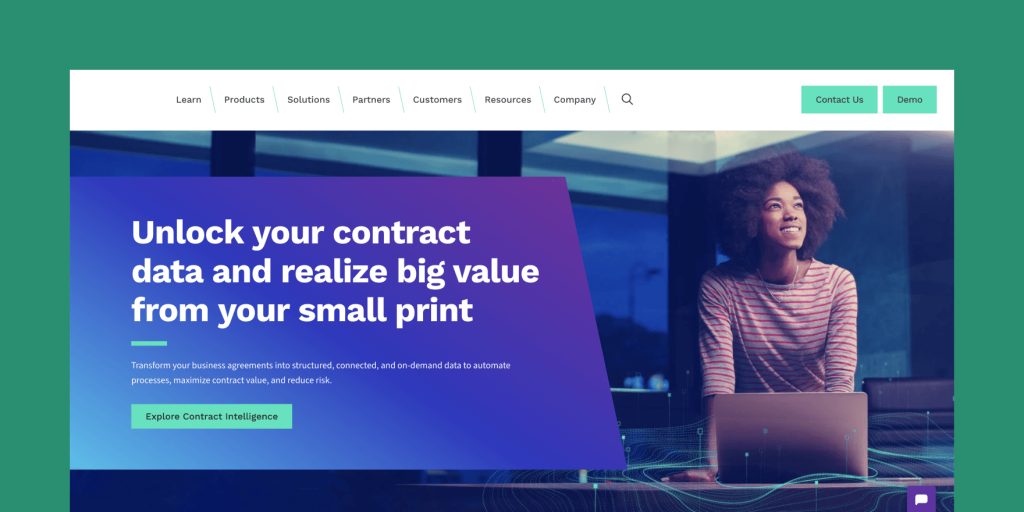 Price range: No pricing information on their website.
Why choose Icertis: Even complicated integrations are accessible with the open Icertis API platform.
Main advantage on G2: Customers appreciate being able to access and manage all their contracts in one place.
Main complaint on G2: Administrators find it challenging to learn how to use the system to their advantage.
Number of integrations: While exact numbers of integrations aren't given, the API framework allows tech teams to connect with any number of programs.
Support: Icertis can only be contacted online during business hours.
Icertis Contract Management provides contract templates and clause libraries to users, helping speed up the processes of contract application using its cloud computing and storage system and an unmatched technology and category-defining innovation.
Icertis pushes the boundaries of what's possible with contract lifecycle management (CLM).
The software also helps global companies ensure compliance with regulations like Europe's GDPR. This highly functional tool for enterprises delivers a remarkable amount of information while preserving your contracts.
Icertis has built-in capabilities to model any contractual relationship; the software offers an intuitive and role-based experience for all users.
Featuring enterprise-grade administration standards, Icertis guarantees your most highly sensitive contract will remain safe.
The flexible rule-based contract generating Icertis features make it easy to create, collaborate on, and execute a new contract.
The solution also provides commercial risk, governance, and compliance tools.
Icertis provides detailed reports and insights, driven by three main AI-based applications: VisualizeAI, DiscoverAI, and NegotiateAI.
It runs natively on Microsoft Azure, making it integration-friendly and highly scalable to different kinds of SaaS cloud architecture.
By configuring and connecting the critical contract information that specifies how an organization runs, the analyst-validated Icertis Contract Intelligence (ICI) platform turns contracts from static documents into a strategic advantage.
7. Conga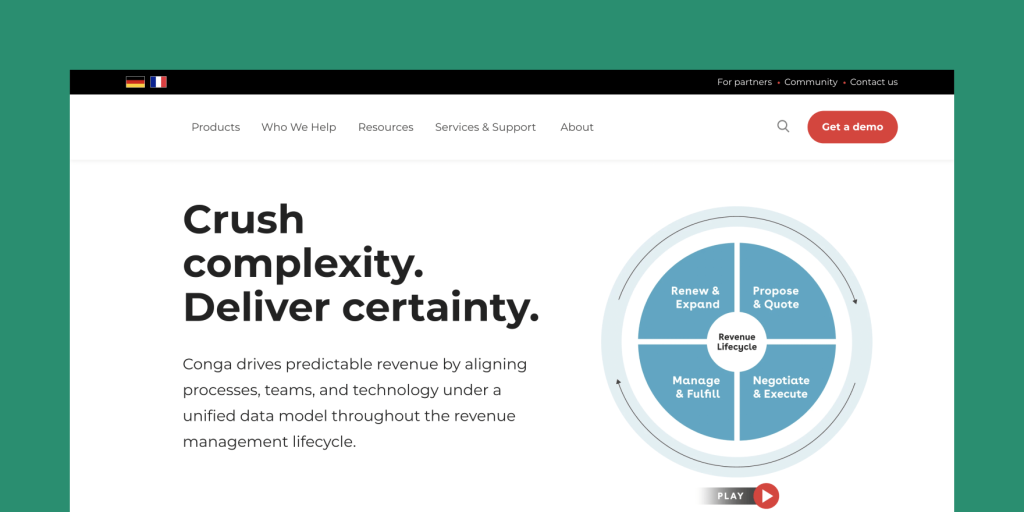 Price range: The price range for Conga products varies based on which modules you need. For example, Conga Composer (document generation) is seen as a different product from Conga Sign (eSigning).
Why choose Conga Contract Management: AI insights and simple step-by-step wizards make this software easy to use.
Main advantage on G2: Users like having all their contracts in one convenient location.
Main complaint on G2: Switching to this software can pose some technical problems and is time-consuming.
Number of integrations: Conga doesn't list its integrations, but the do mention:
"Conga's technical services experts have a 100% proven track record of integrating with any application."
Support: Their online system offers a live rep 24-hours a day, although Conga Composer doesn't provide email support.
Conga Contracts (formerly Apttus) is a hybrid contract lifecycle management (CLM) solution helping organizations generate, track, maintain and report on different business contracts – all in one spot.
Conga offers pay-as-you-grow or end-to-end enterprise options.
The solution can be hosted in the cloud or deployed on-premise. It offers various tools for contract management, including Conga Collaborate, Conga Sign, Conga Composer, and Conga CPQ.
When you sign up for Conga, the software allows you to create a clause library filled with preapproved clause bundles and snippets, which gives contract creation a plug-and-play feel.
Star with a standard contract, add clauses and snippets where necessary to modify the contract, and send the complete document to clients for review.
This software procurement makes it easy to create strong, legally binding contracts quickly.
In addition, you can collaborate with your team to quickly streamline, edit and review contracts with no additional training required.
All users can redline and comment on a document, thanks to the interactive online interface.
Moreover, Conga allows users to automate every approval process and speed up the contract lifecycle.
With automatic updates of this contract management tool, you'll be able to stay on top of all deadlines and contract renewals.
The software's audio track allows you to follow all views and edits made to the document to ensure the contract retains its integrity at all times.
Conga provides enterprise-grade controls to speed up processes, eliminate risk, and minimize your costs.
The software supports multiple third-party integrations, including CRMs, supply chain management systems, and cloud storage solutions.
8. ContractSafe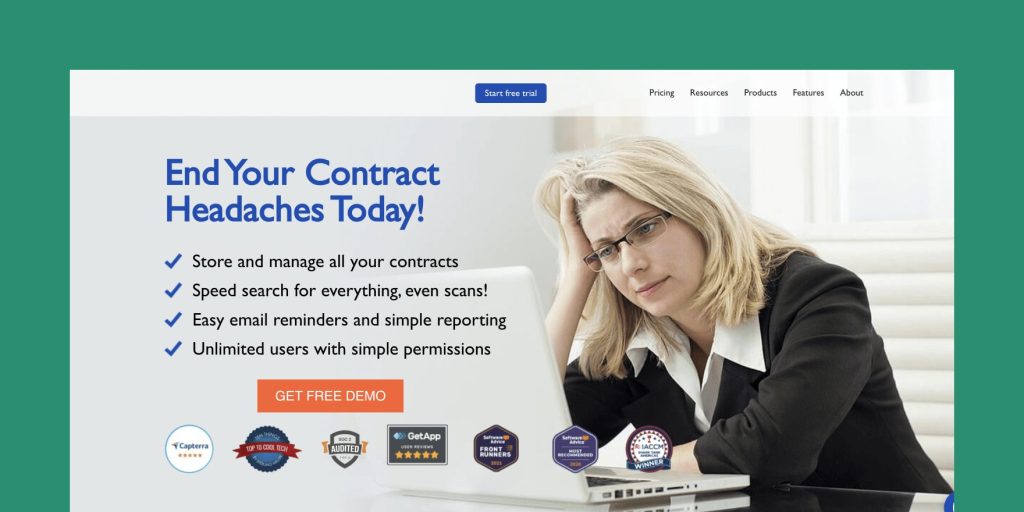 Price range: The Basic plan pricing starts from $299/mo. for 500 active users, to $899/mo. for 5,000 contracts on the Enterprise plan.
Why choose ContractSafe: The software comes with a Speed Search feature that works with scanned documents as well.
Main advantage on G2: Many users like the contract database, which allows documents to be stored in a cloud repository alongside the built-in advanced search capabilities.
Main complaint on G2: The existing dashboard is more of a spreadsheet that doesn't offer much functionality aside from listing the existing contracts.
Number of integrations: Some of the integrations that ContractSafe provides include SalesForce, DocuSign, Active Directory, and Okta/SAML 2.0.
Support: Live Chat support is available during business hours.
ContractSafe is designed as an all-in-one contract management solution.
It supports an unlimited number of users, relieving users of the typically complex user permissions synonymous with other apps.
The platform offers a swift and intuitive keyword searching feature to locate contracts, reports, and other business documents quickly.
You can use both general and highly specific keywords.
When you're done with a document, you can store it in one centralized, secure location. An easy track-and-search option for all stored documents is available, too.
ContractSafe provides data encryption on all stored and transferred documents.
The software also comes with malware, virus, and intrusion-detection capabilities.
Every time you have an upcoming deadline, termination, or contract renewal, ContractSafe will send out an alert to remind you.
The software supports an unlimited number of users, making it easy to assign roles to each team member.
That includes no-delete and read-only users.
Similar to PandaDoc, ContractSafe software integrates with many third-party apps, including applications for cloud storage, eSignature, CRM, and other industry-acclaimed contract managers.
The company offers free implementation, in-product help, and customized training sessions.
9. DocuSign CLM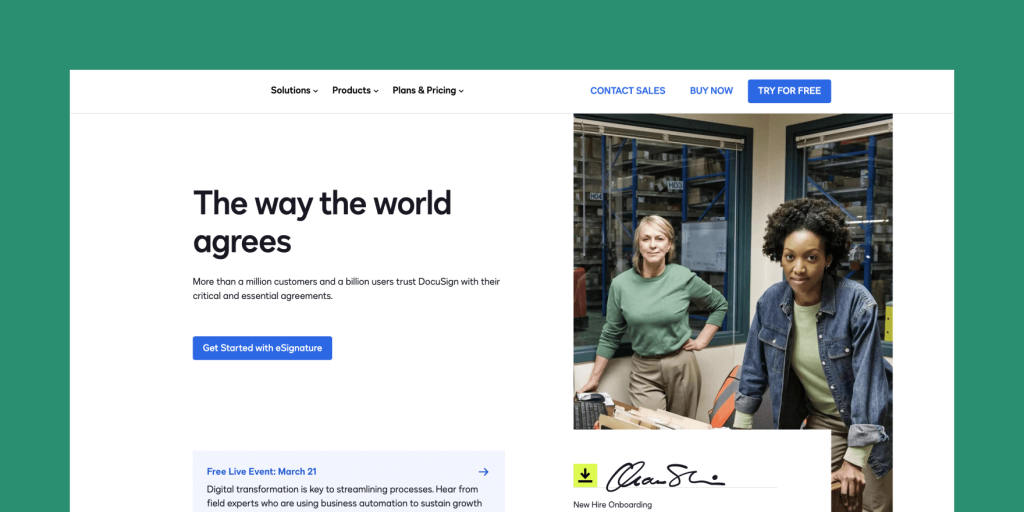 Price range: Pricing requires a quote from the sales team.
Why choose DocuSign CLM: DocuSign is a market leader for many e-signature and contracting solutions.
Main advantage on G2: Customers like the high volume of documents they can process and the level of customization available in the signing process.
Main complaint on G2: Several users point out that you can't edit or modify your documents in a substantial way. All of that needs to happen offline, which creates a headache with versioning.
Number of integrations: DocuSign offers dozens (hundreds?) of integrations, many of which are very niche or work with very select software.
Support: Varies by plan. It's also possible to purchase additional support packages independent of your plan.
DocuSign CLM, once SpringCM, is an aspect of the DocuSign signing platform that centers around contract management.
The platform is designed to help users with every aspect of contract lifecycle management and can be used to manage any time of contract or document workflow.
DocuSign CLM places a heavy emphasis on accessibility for non-technical stakeholders by standardizing the entire CLM system, meaning that anyone can use it to manage any type of contract.
Unlike PandaDoc, which offers intuitive document generation through its built-in document editor, DocuSign CLM relies on document generation from templates.
You'll need to upload your completed contract (written in Word or Google Docs and exported as a .docx file) to DocuSign CLM.
From there, you can enter in the relevant contract details, and the platform will produce a contract based on your template with the unique information automatically placed in the document.
Because DocuSign CLM is built for working with non-standard users, the system has guard rails in place.
For example, if a sales rep adds values to the contract that are outside the regular scope of a standard contract, the system will alert them that the contract will acquire additional approvals, triggering a process similar to the PandaDoc approval workflow.
The platform is equipped with an onboard AI to help with managing third-party contracts and native integration with Office 365 to help you edit contracts on the fly.
Both tools are designed to help teams minimize risk and maintain standardized practices both in negotiation and the formulation of and workflows regarding these critical documents.
10. Nintex for Salesforce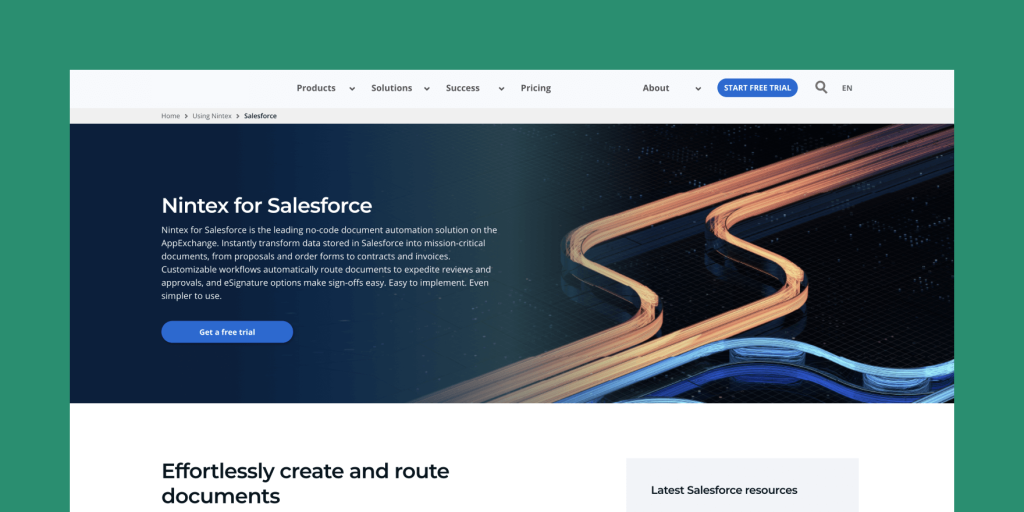 Price range: Starts under $25,000/year to $50,000/year. Custom/enterprise pricing is available.
Why choose Nintex: Generate contracts from Salesforce or Microsoft Office 360.
Main advantage on G2: Customers choose Nintex because it provides a fast way to build process apps at a reasonable cost with the highest overall satisfaction.
Main complaint on G2: Users suggest that the architecture feels clunky and is difficult to troubleshoot.
Number of integrations: By design, this company only integrates with one CRM (Salesforce).
Support: Online or by phone during business hours. You'll also have access to an account manager.
Nintex is primarily a process management system with contract management being its secondary function.
This software is designed to help users develop and automate complex workflows within an organization.
With easy-to-use tools for quickly automating, visually managing, and continuously optimizing business processes and workflows – Nintex improves the way you work.
Nintex makes it easy to quickly generate new contracts, invoices, and other important business documents within Salesforce or Office 365.
The company doesn't offer built-in document creation like you see with PandaDoc. Instead, it offers document generation where data from multiple sources is compiled into a single document.
You can streamline complex workflows and core business operations with the drag-and-drop visual editor. In addition, Nintex makes importing high-resolution images into documents easy and quick.
All users can electronically sign (for an additional cost) important business documents with automated workflows. The software provides alerts and reminders so everyone stays on track.
The built-in visual tools make it easy for users to capture real-time feedback from relevant stakeholders.
Nintex tracks various workflows performance to provide data-driven metrics for improvement.
The drag-and-drop connector allows users to integrate with third-party applications for cloud storage, CRM, and more.
11. SAP Ariba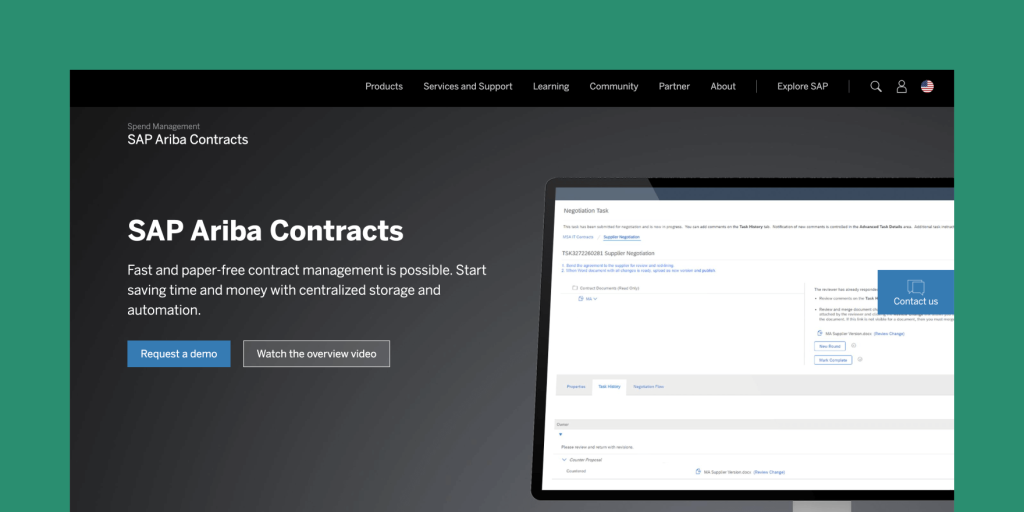 Price range: No pricing information provided.
Why choose SAP Ariba: Provides unrivaled transparency allowing users to stay informed during every phase of the contract lifecycle.
Main advantage on G2: Easy synchronization and integration with other ERPs.
Main complaint on G2: The APIs it comes with are limited and challenging to integrate.
Number of integrations: Limited number of integrations with other cloud-based applications supported.
Support: Email support is available via service requests on the Contact Us page.
SAP Ariba streamlines every aspect of the contract lifecycle: from creation and collaboration to execution and compliance in one easy-to-use central repository.
It offers users a lower total cost of ownership with little to no demands on an organization's IT team.
SAP Ariba provides a central repository with advanced search tools and secure storage. This allows you to access all your most important business documents easily.
You can quickly generate legally binding contracts with a library of preapproved legal clauses and templates.
The software supports SAP Ariba solutions, ERPs, CRMs, and other third-party integrations for higher compliance levels.
Users can monitor all changes made to the preapproved document formats.
This ensures that all agreements remain standard, allowing users to input important milestones for contracts, e.g., renewal and termination dates effortlessly.
The software supports third-party eSignature management through DocuSign and Adobe Sign. (See how Docusign/Adobe Sign compare to one another right here).
The software's document tracking features will keep all stakeholders informed of changes made to the contract, ensuring all your contracts remain compliant.
SAP Ariba's version control feature guarantees that up-to-date versions of the contract are always available.
12. Trackado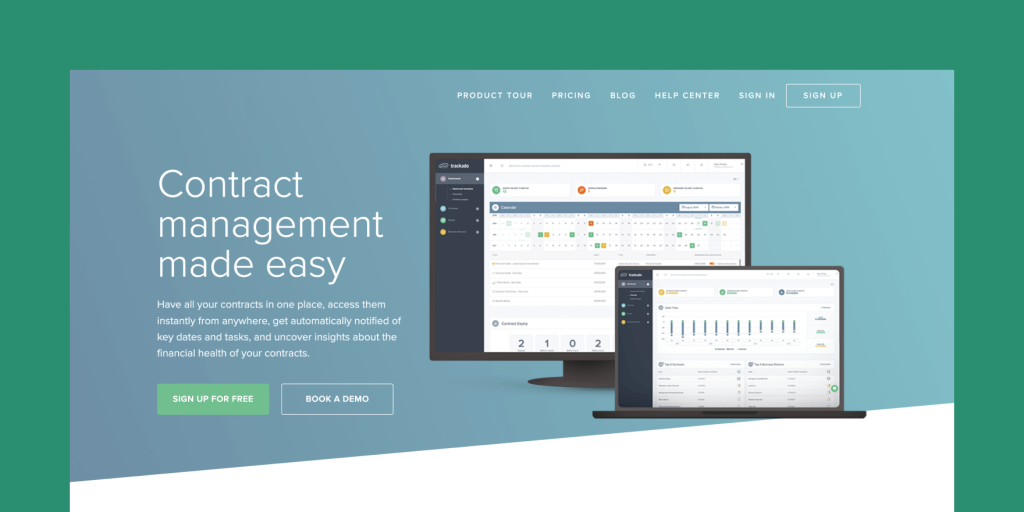 Price range: Pricing starts from $0/mo. for the Free plan, which supports only one user, to $299/mo. for the Enterprise plan that supports up to 25 users.
Why choose Trackado: Provides accurate and up-to-date billing information to help users stay on top of their financials.
Main advantage on Capterra: Easy-to-use and easy-to-navigate due to its intuitive layout and functional display.
Main complaint on Capterra: Some users found the notification alerts and renewal options slightly confusing.
Number of integrations: Aside from cloud storage integrations like OneDrive, Google Drive, and Dropbox, Trackado does not appear to support any other integrations.
Support: Live Chat support is available during business hours.
Trackado is a simple, fast, and easy-to-use tool that allows users to store and access their contracts remotely from a central document repository.
It also comes with built-in reminders on critical contract milestones.
With Trackado, you'll get access to a central database for storing, searching, and retrieving all available documents.
Customers can search the database by category, department, or any other customer property.
Using Trackado allows you to access your contracts instantly from anywhere.
The automated events and reminders feature makes it easier for users to keep track of upcoming contract renewals and terminations.
You can quickly generate new workflows from predefined templates or create new workflows from scratch.
The software logs all activities as they are routed through the required approval channels.
The business partner module feature displays contact details and other important information related to an ongoing business relationship.
The software allows you to uncover insights about the financial health of your contracts, as well.
Trackado integrates with several third-party applications like Google Drive, OneDrive, and Dropbox.
Software's document tracking feature allows you to monitor any important changes to a contract.
13. GetAccept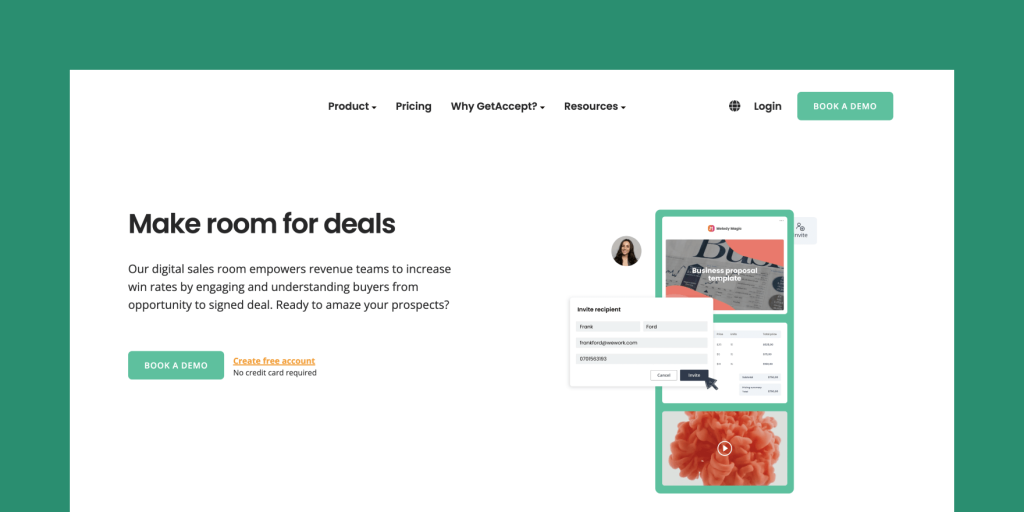 Price range: Pricing between $15 and $50 per month. Free plan available. Enterprise pricing available.
Why choose GetAccept: Platform is designed as an all-in-one sales room for deals, support, and contract negotiation.
Main advantage on G2: Users enjoy the simplicity of the platform and how easy it is to get up and running.
Main complaint on G2: There are odd bugs that occasionally appear (search function not working, chat history disappearing, etc.), which is frustrating even though the support team works quickly to fix them.
Number of integrations: Limited to HubSpot and Pipedrive at lower levels. Salesforce, Zapier, payment integrations, and API access available at Professional and Enterprise tiers.
Support: Live Chat support is available during business hours. Success managers and service packs (prioritize tickets, phone support, etc.) are available as add-ons.
GetAccept positions itself as a digital sales room for sales and revenue teams rather than a true contract management software.
However, managing documentation is at the core of what the platform actually does because every deal is based around a contract.
The platform comes equipped with everything a sales team needs to work with leads and expedite deals. This includes, pipelines and tracking, integration with key sales tools, video and chat functionality, and more.
Specifically for documents and content, users will have access to an in-app editor (not quite as robust as the PandaDoc editor, but still usable) to assist with negotiation and collaboration.
The platform is also equipped with a content library to manage and store sales content, along with customizable, reusable templates.
On top of document functionality, GetAccept comes with document tracking and analytics (Professional and Enterprise plans only), combined with a sales dashboard, so every member of your team will be able to track contract performance through its lifecycle.
Teams can use these insights to improve their contract language and overall workflows with ease.
If you'd rather work with tools where you're more familiar, the Professional and Enterprise plans offer integration with Salesforce, Microsoft, Zapier, and similar tools, so it's easier than ever to leverage your entire tech stack when trying to close a deal.
14. LinkSquares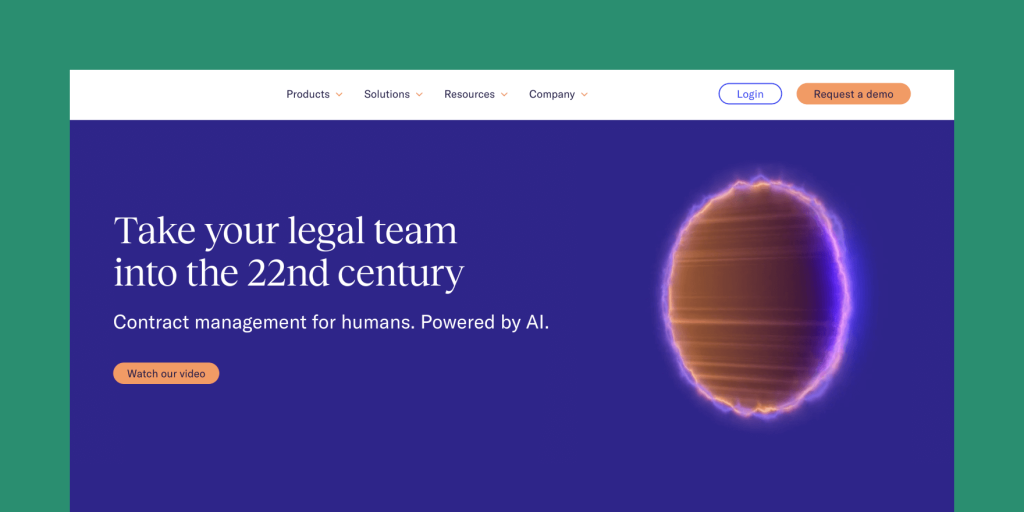 Price range: Pricing only available via a custom quote.
Why choose LinkSquares: Leverage AI and automation tools to accelerate your contracting process, reduce errors, and save time.
Main advantage on G2: Super-accurate AI is definitely a big time-saver when it comes to searching for contracts and analyzing key clauses for legal risk.
Main complaint on G2: The Finalize module (contract creation and sending) can be difficult to work with and is often considered unintuitive.
Number of integrations: 13 (including API). Linksquares integrates with bigger players in the space, including Adobe, Dropbox, MIcrosoft, Salesforce, DocuSign and others.
Support: Phone and email support available from 8 am to 6 pm Eastern time, Monday to Friday.
LinkSquares wants you to take your legal team all the way to the 22nd century with automated AI tools and a comprehensive platform to help you write better contracts even faster.
As you might guess, LinkSquares offers a full suite of AI tools designed to do most of the heavy lifting for you.
The onboard system relies on industry-leading optical character recognition to parse your contracts during upload.
Once this is done, your contracts become searchable at a granular level, allowing you to find key clauses and information almost instantaneously.
The platform also offers tools to assist with contract creation, including the ability to quickly create draft agreements and automate the first pass of a contract review.
In this scenario, AI aims to expedite your process using a centralized clause library to supplement a standard contract template.
When reviewing third-party contracts, AI will provide insights and identify important areas of focus so that you can get down to negotiate quickly.
Combined with collaboration and consolidation tools for all your contracts, LinkSquares can act as a force multiplier for your teams and a central hub where contracts are stored, maintained, signed, and sent.
15. Spotdraft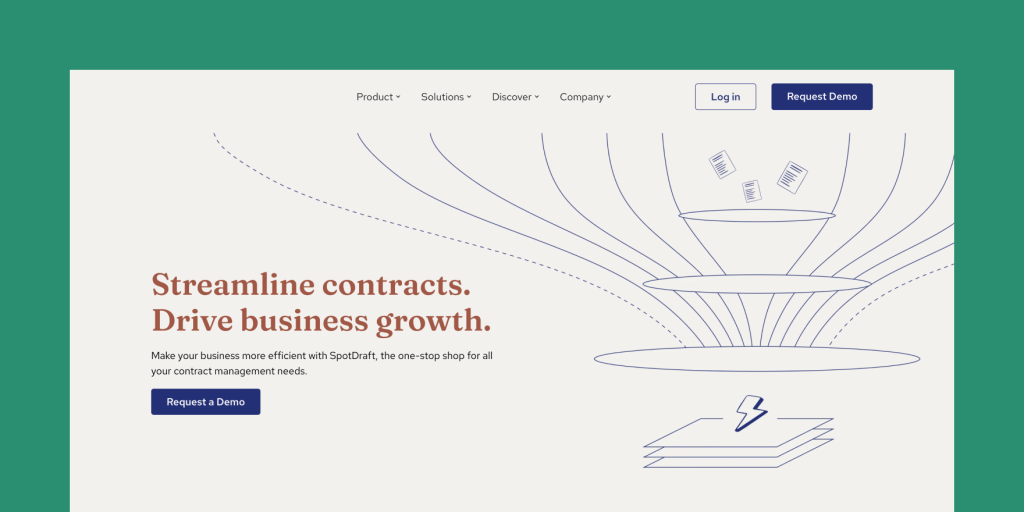 Price range: Pricing only available via a custom quote.
Why choose Spotdraft: Provides accurate and up-to-date billing information to help users stay on top of their financials.
Main advantage on G2: Great for shipping a large volume of standardized contracts. Allows stakeholders to bypass legal review if adhering to standard procedures and templates.
Main complaint on G2: The system lacks some organization tools (like folders and sub-folders), and the interface laces some key features when creating and managing contracts.
Number of integrations: Multiple sales, legal, and financial integrations so that it's easy to consolidate essential data into your contracts.
Support: Ticket submission available via website.
Aimed at growing companies, SpotDraft is an AI-powered contract management software designed to help teams save time and close deals faster.
The platform is equipped with a variety of contracting tools and acts as a repository for all your legal documentation.
But Spotdraft doesn't stop there.
You'll have the ability to set up custom approval workflows, create and edit templates, and even automatically insert clauses based on predetermined conditions.
Plus, it's easy to manage risk by setting up guardrails that allow project stakeholders to use the tool without oversight from the legal team.
Predetermined workflows (similar to what you can do with PandaDoc) allow you to set up a process that everyone can follow when building documents, and you can you the insights from the data and analytics to improve contracts and reduce bottlenecks.
Because Spotdraft is aimed at smaller organizations, it's built to handle all types of contracts seamlessly. Legal, finance, procurement, sales, and HR can all use the platform in a unique way.
That flexibility allows SpotDraft to stay at the core of your business operations in a way that makes sense for all departments.
How we got our data
When compiling our content, our team looks at a huge collection of information, including:
Business websites.
Independent publications.
Customer reviews and feedback.
In addition to the data we find in our research, we also strongly consider the source of that data based on key factors like reputability, reliability, and topical relevance.
Our goal is to provide accurate and trustworthy information to readers so that you can make accurate and informed decisions.
Some examples of the sources we considered relevant include:
When websites for software are mentioned, they are most often consulted to confirm factual data about the tools in question.
This includes data like pricing plans, additional features, free trial details, etc. Their own impressions and claims of these tools weren't represented in the analysis.
Other sources include statistics and tech articles that cover contract management in a broader sense.
Bottom line
Whatever platform or toolset you choose to manage your contracts, make sure to start with a thorough analysis of your team's requirements for features, integrations, and user experience.
From there, it'll be much easier to find the perfect contract management tool since you'll be able to evaluate each one objectively.
Don't hesitate to try multiple tools' demos and compare one against another before you say "yes" to the right one.
Frequently asked questions
Before you start searching for contract management software, be sure to determine the needs of your organization so that you can identify which features best align with your requirements.

When evaluating software, be sure to consider important factors like ease of use, cost, and scalability.

Consider how easy the software will be to set up and use. The easier the software is to understand, the more likely it is that all users will utilize it effectively. Additionally, choose a system with a user-friendly search function so that contracts can be easily located as needed.

Evaluate the cost of initial setup and any ongoing fees associated with the platform. Additionally, consider whether the solution can easily scale to accommodate changes in business requirements or growth in user numbers.

Finally, examine the security features offered by each potential platform. Look for encryption capabilities that protect data and ensure compliance with applicable laws and regulations. If the software stores data in a central repository, it should also have built-in safeguards to protect against unauthorized access or manipulation of sensitive information.

Some software tools, like PandaDoc, do all this and more. Other tools may be lacking in one or more essential areas, so be sure to double-check while exploring your options.

PandaDoc is, without a doubt, the industry leader when it comes to dynamic and robust end-to-end contract management solutions. 

When sourcing for CLM software, the key things you need to look out for are the top built-in features, its ease-of-use, and the overall number of integrations supported. The more capabilities it has, the easier and more convenient it will be to use.

PandaDoc embodies everything you would want in the best contract management software. From contract creation, its collaborative quality, and approval, to eSigning, CRM integration, and payment processing – PandaDoc does it all. That's why it's a top choice for professionals across the world!

The goal of any CLM app is to automate the entire contract lifecycle from creation to payment in a single unified workspace. The idea is to speed up the closing of deals so that you can get down to business and focus on what matters – increasing your bottom line.

Contract management software helps businesses keep track of key milestone dates, eliminates redundancy, provides critical performance metrics, supports real-time collaboration, and tracks all versions of a document.

As a result, it improves workflows and streamlines turnaround times so that your business can operate more effectively while managing critical aspects of your documentation and paperwork.

While the prices may vary widely depending on the features it has and the number of integrations supported, most software providers offer a monthly or annual subscription plan.

The specific cost depends on the number of users and the specific plan you pick, with most providers offering a significant discount on annual plans.

As you've seen from the prices included in our list, costs for contract management software can easily range from $0 to thousands of dollars (or more) per month.

Yes. The Salesforce CLM software is built on the company's already-existing CRM solution. It is designed to manage the entire contract lifecycle while pulling relevant customer data from the CRM.

However, the built-in CRM system may not provide the full array of capabilities you get with other contract management systems. Fortunately, tools like PandaDoc for Salesforce integration solves those issues by helping Salesforce teams create and manage contracts quickly with CRM data.
Originally published January 5, 2020. Updated March 3, 2023.
Disclaimer
Parties other than PandaDoc may provide products, services, recommendations, or views on PandaDoc's site ("Third Party Materials"). PandaDoc is not responsible for examining or evaluating such Third Party Materials, and does not provide any warranties relating to the Third Party Materials. Links to such Third Party Materials are for your convenience and does not constitute an endorsement of such Third Party Materials.