Finding the right electronic signature solution for your brand can be hard, especially when there are so many options to choose from.
If you've checked out the market at all (a basic Google search will do), you've probably encountered the Adobe Sign vs DocuSign debate.
Both e-signature brands offer features that will help you expedite your document workflow and close deals faster. But how do they compare to one another in terms of offering and value?
Today we're going to take a look at a few of the key features each software solution has to offer. Let's get started.
How we sourced the data
To objectively compare these tools using the best available data, we went over 20 different websites to find the most relevant, unbiased information.
These websites include user-review websites, specialized SaaS websites, as well as the websites of the mentioned SaaS tools.
To further make sure that the websites we used in our analysis are relevant, we grouped them into four cohorts based on visits (which were used as an indicator of websites' relevance and expertise):
>400.000 visits;
100.000 – 400.000 visits;
25.000 – 100.000 visits;
<25.000 visits
The websites at the bottom of the list were required to go through a detailed fact-checking process to make sure the information provided was accurate and objective.
The websites closer to the top of the list were prioritized and considered more relevant.
Some examples of those relevant sources include:
As for the websites of the mentioned tools, they were only consulted to confirm factual data about the tools, including pricing lists and customer support details.
Since the main goal of this article is to maintain objectivity and present only unbiased information, their qualitative descriptions of these tools weren't taken into consideration.
Product overview
Before we get into the key features, here's a brief overview of the two products, including Adobe Sign vs DocuSign pricing and online review ratings.
Adobe Sign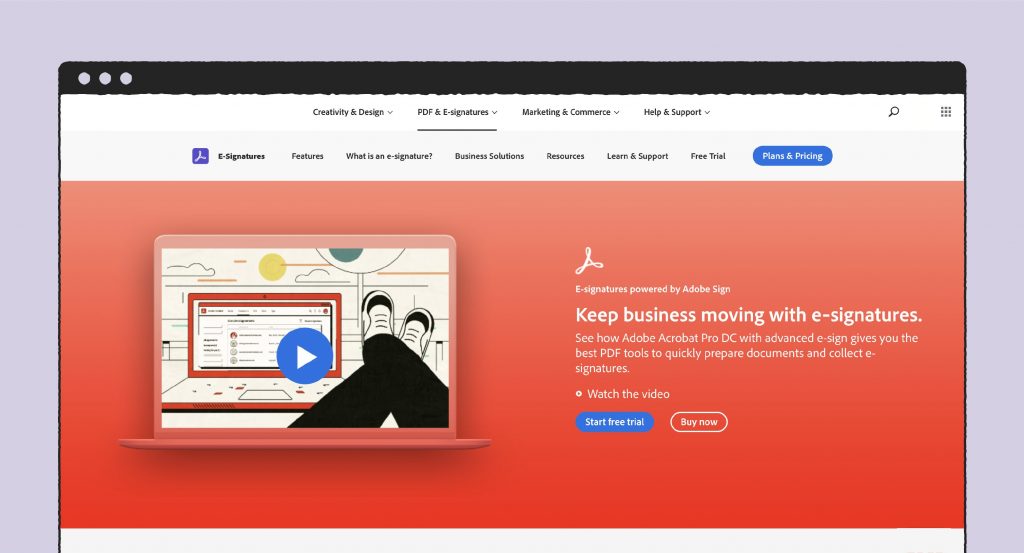 How much is Adobe Sign? For individual users, it's $12.99 per month for Adobe Standard DC or $14.99 for Acrobat Pro DC. The signature tools are the same in both, the difference being that the PDF tools are more extensive in Pro.
Team plans start at $14.99 /month/license for Acrobat Standard DC, $16.99 for Acrobat Pro DC, and custom pricing for Adobe Sign Solutions.
Gartner rating: 4.5/5
Ease of use: 4.5/5
Functionality: 4.5/5
Support options: Email, phone, ticket, chat.
Platform availability: Online, all devices. Standard DC is for Windows only.
Free trial: Yes. 14 days.
Adobe Sign (formerly EchoSign) is part of the Adobe Document Cloud and the Adobe family of apps.
As you'd expect, it works well with most other business-related apps and uses a cloud-based system for signatures and document management.
As a digital signature software, Adobe Sign offers a web-based platform along with mobile apps so that you can scan, sign, and send your documents from anywhere.
Especially for businesses and large enterprises, Adobe Sign integrates with Microsoft, Salesforce, and other software solutions.
The company also offers a variety of signature workflows and advanced support options on higher plans.
DocuSign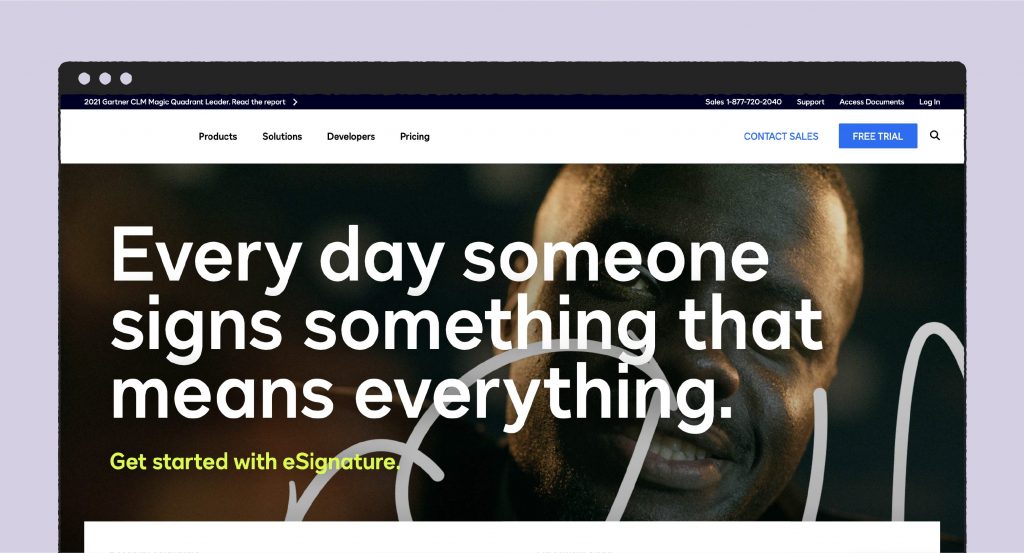 Cost: Free plan for document signing only. Plans start at $10 for Personal (individual users), $25 per month for the Standard Plan, and $40 per month for Business Pro. You can also request a quote for a customized plan.
Gartner rating: 4.4/5
Ease of use: 4.7/5
Functionality: 4.4/5
Support options: Phone, ticket, chat.
Platform availability: Online, all devices.
Free trial: Yes. 30 days.
At first glance, DocuSign has it all.
In addition to a huge user base and thousands of positive user reviews, compared to some of its alternatives, the company offers everything from workflow and template creation all the way to geolocation capture and real-time status reporting.
As e-signature software, DocuSign integrates seamlessly with Microsoft, Salesforce, Google Drive, Dropbox, and other major partners.
You can also access DocuSign through your desktop web browser and on all mobile devices.
DocuSign offers electronic signature services and a seamless signing process for individuals and business customers alike.
Comparison
As you might have guessed, the product offerings from Adobe Sign and DocuSign are very similar. This can make it difficult for users who are trying to figure out which solution is the best fit for their needs.
While DocuSign is still the industry standard for many signers, Adobe Sign has become a formidable competitor in digital signatures and document management.
Let's take a closer look at the services on offer.
Digital signatures
Adobe Sign and DocuSign are pretty evenly matched when it comes to basic functionalities:
Both solutions allow you to eSign documents on all platforms – Mac, Windows, mobile
Neither tool allows for document creation
With both tools, the signer receives an email link to sign the document
Part of the core offering for both Adobe Sign and DocuSign, each company offers the ability for users to automate the process of eSigning documents and capturing legally binding digital signatures.
Both companies emphasize the ability to sign from anywhere, including through mobile devices and online desktop platforms.
Each service also supports offline document signatures except in cases where network connectivity may be required to complete the signature (such as a mandatory payment which must be deposited at the time of signing).
Because this is the core product offering for each company, both Adobe Sign and DocuSign have taken steps to make the customer experience as seamless as possible.
While document generation isn't a feature provided by either software, users can take advantage of simple drag-and-drop tools to place form fields on PDFs or within documents created through integrated software (namely Salesforce for DocuSign, and Acrobat for Adobe Sign).
When sending a document to signers, both Adobe Sign and DocuSign follow a similar process: Signers receive an email link to the document and follow the link to sign.
Meanwhile, the system tracks the status of the document, who has already signed it, and which signatures are still outstanding.
All of this information is available for review through the audit trails within either software.
Winner: Evenly matched
Customization
Here are some key differences when it comes to customization and branding options:
Both tools allow you to change logos, colors, and buttons but neither offers white labeling
Adobe's options and menu design are easier to understand for new users
Adobe Sign offers downloadable templates for headers, footers, and logos, giving you a head start
Both Adobe Sign and DocuSign come equipped with branding options to help you customize the customer experience.
This includes adding logos, taglines, and custom messages (including email) throughout the signing process.
In each software, users can change logos, document colors, and button colors after creating a brand profile using the admin panel inside their account.
You'll also find advanced options for setting up custom headers, footers, and URLs. It's even possible to edit the XML and HTML files for maximum customization, but this feature is only available in DocuSign at the enterprise level.
As soon as the image uploads and changes are complete, the changes are reflected in any document assigned to that brand identity.
From there, any users can apply the brand identity to any generated document and send it using any predefined brand content.
It's worth pointing out that while both companies offer a custom branding solution, neither DocuSign nor Adobe Sign offer white labeling.
This means that the DocuSign and Adobe Sign brands will be attached to whichever service you use. (If you're interested in white labeling, you should check out HelloSign.com)
Winner: Adobe Sign
Even though both brands offer essentially the same features and capabilities, Adobe's menu options and setup processes are clearer for new users to understand.
Adobe Sign also offers better branding functionality at a lower price point and provides users with downloadable templates for logos, headers, and footers, making it easier to jumpstart the branding process.
Integrations
Integrations are of great importance when choosing an eSignature solution so here is how these two solutions fare in that department:
Adobe Sign integrates with a lot of Microsoft's Business package
DocuSign matches Adobe Sign with native integrations, both when it comes to Microsoft and almost all other tools
Adobe Sign offers some of its most valuable integrations at higher pricing tiers
Both digital signature solutions support integrations, and both Adobe Sign and DocuSign have something of value to offer when choosing your integration solution.
In 2017, Microsoft named Adobe Sign as its preferred e-signature solution, which led to system integrations between Adobe Sign, Microsoft 365, and Microsoft Flow (including Sharepoint, Dynamics, and OneDrive).
Adobe also integrates with dozens of software partners to offer native signature solutions to many popular CRMs, HR and productivity software, and contract lifecycle management (CLM) tools.
On the other hand, DocuSign offers hundreds of native integrations with service partners around the web. This includes Microsoft products and virtually every other partner that Adobe Sign supports.
In both cases the integrations are native, meaning that they aren't relying on a third-party plugin like Zapier to act as a middleman between these software solutions.
Winner: DocuSign
While Adobe Sign offers integration options that most businesses will need, you can only access some of the more valuable integrations at the enterprise level.
For most of the prebuilt integrations, you'll need an enterprise plan.
By contrast, DocuSign offers all the integrations that Adobe Sign offers and more at a lower pricing tier.
Simply on sheer volume, you're more likely to find a native integration solution that works for you by scanning through DocuSign's extensive integration library.
Support options
Adobe Sign offers 24/7 support over live chat but phone and email require more expensive plans
DocuSign also offers 24/7 chat support and tickets that have slower response times
With DocuSign, you can upgrade your support for faster response times at a lower cost compared to AdobeSign
While both companies offer a wide array of support options, the level of support you need will vary by the plan you have.
For example, Adobe Sign offers 24×7 live chat support, but getting phone and email support on higher-level topics like deployment, licensing, and IT requires a Pro or Enterprise Plan.
DocuSign support is broader, but it is also slower. Including the self-service resources you can find through the DocuSign support hub, the company offers 24×7 chat support for senders and signers, as well as the ability to submit tickets with an aim to respond within 24 hours.
However, DocuSign takes this one step further by offering upgraded support options that are separate from the standard subscription options.
With DocuSign, you can choose to stick with the standard support plan or upgrade to a plan which provides faster response times and more escalation options.
Winner: DocuSign
With its variety of options, DocuSign wins here.
With Adobe Sign, it's easy to imagine a scenario where SMBs with an entry-level user base end up paying for the higher-level tiers when what they're really looking for is advanced support rather than advanced features.
While the price difference between tiers may not sound like much, it could add up if multiple employees join the higher-tiered plans without finding value there — especially since the DocuSign equivalent is significantly cheaper each month.
With DocuSign, there is a tipping point where it makes more sense to have a number of employees on the Standard Plan with an upgraded support option rather than on Adobe Sign with a Business or Enterprise Plan.
Which is more secure — DocuSign vs Adobe Sign?
Adobe Sign and DocuSign both excel in the implementation of e-signature solutions, offering simple and secure automation tools that will benefit a wide number of customers.
But which offers the most reassurance when it comes to security and compliance?
Let's start with Adobe Sign, which offers an authentication service to ensure your important documents are clear and have basic legal compliance.
It's compliant with ISO 27001:2013 and SOC Type 2, as well as FedRAMP Tailored, and GLBA- and FERPA-ready.
You can protect PDF files with passwords to prevent copying and editing, and redact to permanently remove sensitive information (Pro tier only).
However, you have to arrange a custom plan if you want single sign-on (SSO), advanced authentications such as knowledge-based or ID-based, or industry-specific compliance such as HIPAA.
DocuSign is also certified for ISO 27001:2013, plus SOC 1 and SOC 2. It's a member of the CSA STAR Program and meets the PCI Data Security Standard (DSS) to ensure the safe and secure handling of credit card holder information.
There are specific offerings for government, healthcare, and financial services, available through direct sales only.
DocuSign encrypts all documents with AES 256-bit encryption and provides multi-factor authentication and role-based authorization.
SSO is only available in enhanced plans, alongside a suite of products for identity verification and authentication.
You can upgrade to SMS authentication from the Business Pro plan, for an extra charge.
Which is better — Adobe Sign or DocuSign?
So, we've done the comparison, but which of these electronic signature platforms takes the gold medal?
Adobe Sign and DocuSign are pretty similar for digital signature capability, which is the main thing you're looking for.
Both platforms automate the process of signing documents and enable you to collect signatures from anywhere.
Both allow you to upload docs in various formats, and help you track a document's status with real-time notifications.
DocuSign wins out on integrations (Adobe may have a higher number, but most of the native ones aren't available in the lower-priced tier).
And DocuSign also performs a little better on customer support, purely because you can upgrade to a more advanced package at a lower cost than you can with Adobe Sign.
However, Adobe Sign is better for customization, with advanced custom branding options such as HTML control, custom headers, and splash visuals.
They're both hot on security, although DocuSign has more in the way of certifications.
In the end, it really depends on what you're looking for—which feature is most important to you?
The size of your business is also a factor, as we'll explain in the next section.
Adobe Sign for SMBs
If you're just looking for a simple e-signature solution for your business, Adobe Sign is a little more expensive than DocuSign at the mid-range but gives you everything you need to sign and send business documents.
Between the intuitive drag-and-drop interface and Adobe's reputation for design and presentation, it's hard to go wrong when you're trying to present branded content to a potential client in a fast and easy way.
As a bonus, you can even attach a payment gateway on the Small Business Plan (something you can't do until you reach the Pro tier in DocuSign) to collect funds when requesting digital signatures.
DocuSign for enterprise
It's hard to beat DocuSign when it comes to enterprise signing solutions.
If your company size dictates that you'll need a large number of users to send PDFs or integrate with multiple pieces of software, DocuSign can scale your business with a full battery of features and support options.
While both Adobe Sign and DocuSign offer advanced enterprise options like advanced API integrations and customization options, DocuSign's flexibility outstrips Adobe Sign when it comes down to integration and flexibility.
Go beyond electronic signatures
We should be clear that Adobe Sign and DocuSign are two fantastic solutions for capturing legally-binding electronic signatures.
However, there are plenty of DocuSign and Adobe Sign competitors out there, so do your own research — and don't forget to take a look at PandaDoc.
Rather than relying on integrations with Microsoft, Google, or Dropbox for document generation and storage, PandaDoc is an all-in-one solution that provides the tools you need to do everything in one place.
We also have native apps for iOS (iPad and iPhone) and Android devices, plus desktop access through your web browser.
Originally published March 16, 2020, updated Aug 3, 2022
Disclaimer
PandDoc is not a law firm, or a substitute for an attorney or law firm. This page is not intended to and does not provide legal advice. Should you have legal questions on the validity of e-signatures or digital signatures and the enforceability thereof, please consult with an attorney or law firm. Use of PandaDocs services are governed by our Terms of Use and Privacy Policy.