Sales teams are constantly under pressure to drive quality sales for their brand in the fastest possible way.
However, there are several roadblocks that kill sales opportunities even before the sales team gets a chance to converse and convert.
The ultimate target for any B2B sales team is to convert a lead into a quality sales lead. It is not new that a B2B sales cycle is a lot longer than that of a B2C, but once converted, these are high-value selling opportunities.
To hit the bull's eye, it is imperative to have a smooth B2B marketing automation workflow to increase efficiency and improve customer-buyer relationships.
This article will go over various B2B marketing automation workflows that can enable a brand to drive more selling opportunities; i.e. convert leads into sales-ready leads.
How B2B marketing automation can help in creating more selling opportunities?
According to MarketingSherpa, generating quality B2B selling opportunities is one of the biggest challenges that sales teams face.
This is because present-day buyers are more informed than ever. They do their own research and validation before they make a purchase.
In fact, reports show that only a handful of 29% of buyers show interest in talking to a salesperson to learn about the product. However, 57% of buyers make purchase decisions all by themselves.
For instance, this is how the modern buyer's cycle looks like: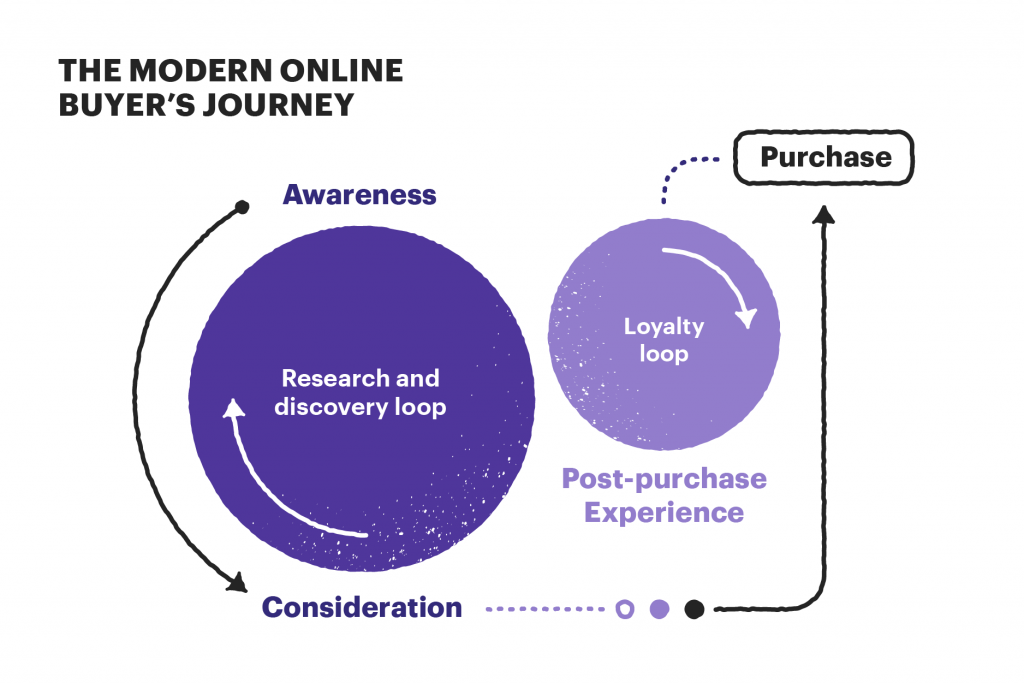 This indicates that the intervention of a salesperson happens a lot later in the B2B funnel. At times, it doesn't even happen.
Consequently, it also means that B2B brands have to create a frictionless buying experience, spread across multiple digital touchpoints, and design it according to target customers' buying intents.
And this is possible only through B2B marketing automation workflows.
Filling up the sales funnel is directly proportional to automating the entire marketing and sales process so that buyers have all the requisite information they need to make a purchase.
How modern marketing and sales have evolved?
Since buyers are informed, they detest talking to a sales rep because in most cases they feel a sales rep might "push sale".
Your customers prefer an organic transition, and for that, they search for information and validation for the same.
This is exactly why when a lead shows indications of sales, series of automated campaigns are put into place that is highly personalized.
Thanks to B2B marketing automation workflows, you can understand each lead's buying path, their buying intent, what they are looking for, and when.
It is easy for a sales rep to nurture these leads step by step using email automation, pipeline management, and streamlining the entire buying process.
Be it sales or marketing, it is all about understanding your buyers better and personalizing the entire experience. For more insights, take a look at this visual by Vendasta that represents the entire journey of a modern-day customer.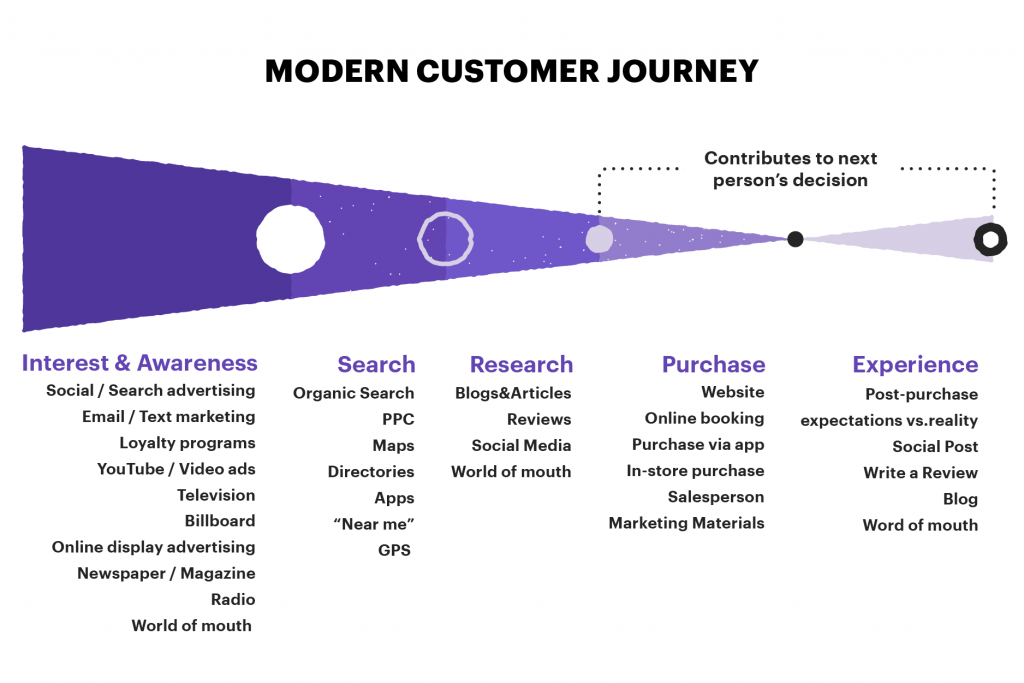 While email automation, social selling, hosting webinars, and demos are activities that sales teams do hand-in-hand with marketing teams, there are certain automations that need to be in place internally.
Let's look at various automation workflows that can help a B2B brand in generating selling opportunities.
1. Sales outreach
One of the most repetitive and time-taking tasks for any sales team is prospecting and sales outreach. Doing it all manually only makes things worse.
From sending out a series of emails to scheduling demos, aligning follow-ups, and running sales ads – there are multiple activities that need to happen simultaneously. This is where automation comes in.
You can use various prospecting tools like Voila Norbert or SalesHandy to get started.
You can also use advanced CRMs that let you integrate email, landing pages, social platforms, cloud calling, and more to streamline this entire process.
Most CRMs come with lead profiling, lead management, and pipeline management features that help in automating the prospecting and nurturing part.
2. Pipeline management
A sales pipeline has five major sections:
Awareness
Interest
Consideration
Decision
Purchase
In a B2B sales pipeline, these stages help visualize the journey of each prospect and determine if the prospect is moving towards a purchase.
From the time a lead makes the first contact with the company to turning into a paid customer, a sales team needs to streamline and automate the entire process.
You will need to automate responses to leads that express interests. Try integrating your choice of marketing automation tool with your CRM to get this workflow in place.
A marketing automation tool helps in identifying valuable leads through lead scoring.
Once you see a lead expressing sales interest, you automatically get this updated in your CRM along with instant personalized messages, notes to follow-up, and more.
In fact this kind of automation can also be set up between your customer support tool and your CRM.
For instance, if you are using Intercom for customer queries and Salesforce as your CRM, integrate both the apps to automatically update leads into your CRM and streamline the follow-up sequences.
3. Transaction automation
When you are working on improving your prospects' buying experience, ensuring a safe, reliable, and secured payment process plays a pivotal role.
When a prospect faces hurdles in payment, they will rethink their decision and consequently move on to another business.
You can set up payment processes in various ways: through your website, landing pages, or social platforms.
Suppose you are using social media platforms like Facebook or Twitter to generate sales and close deals and want to use PayPal for all domestic and international transactions.
In that case, you can create an automated workflow between Twitter and PayPal and automatically post a tweet tagging the user and updating him/her on a refund request.
You can also do the same with any CRM or holistic marketing automation tool that you are using to onboard new customers.
The goal here is to create a smooth payment process so that onboarding your customers is nothing but a cake-walk.
4. Ticketing and query resolving automation
As mentioned several times, buyers today prefer to do their own research. If they have a query, they will want to use email or live chat.
Either way, when a query is raised, you need to resolve it as soon as possible and also start nurturing the lead.
The best way to do this promptly is to automate the entire process. In any B2B marketing automation funnel, this is where a visitor converts into a lead.
When a new query comes in, you must have automated replies ready for the first touch-up. Brands use various live chat tools like LiveAgent or Intercom to do this efficiently.
You can create an automated workflow wherein a new query automatically raises a ticket in your support tool along with all the lead details.
Use no-code platforms to integrate two or more tools to streamline the entire process. To give an instance, you can integrate Intercom with Zendesk to automate support and query resolving as well as onboarding new leads.
5. Multi-channel automation campaigns
Whoever said sales is all about tracking customer behavior is right in a way. Knowing your customers is crucial to close a sales deal.
And a sales deal can happen from anywhere – Google search, social media, website, social ads, landing pages, or through word of mouth.
This means your customers can go through various digital touchpoints before finally making a purchase.
Setting up automated workflows across all the channels is essential to track, monitor, and convert leads into paying customers. This includes personalized email campaigns, retargeting ads, Google ads, webinars, social selling, and so on.
Wrapping up
Automating your entire marketing and sales pipeline can help you in identifying your target buyers, build a personalized relationship with them and create more selling opportunities.
When you streamline your B2B marketing automation process to know your buyers and connect with them across their choice of platforms with the information they are looking for, you automatically boost your B2B brand's sales.
Are you automating your sales strategy to pull in better selling opportunities? What automations are you using? Let us know in the comments.