In order to develop an efficient sales process, every company must develop a sales prospecting strategy as a priority.
In other words, it is about identifying potential customers and communicating systematically with them.
The goal is to move from the status of a potential buyer to that of a customer by using different communication channels.
Thus, successful commercial prospecting will allow your company to increase sales, revenue, and customer lifetime value.
Now that we've defined the importance of sales prospecting, let's take a look at the most effective sales channels and prospecting techniques available to reach your prospects.
1. Leverage social media platforms to connect with your target audience
One of the most used channels to reach and engage prospects is social media.
In short, by commenting, sharing, and liking your prospects' content, you create a bond and thus convert them into customers.
Finding prospects through social networks has become essential for salespeople.
According to LinkedIn, the most successful sales reps (those who do 51% more business than their counterparts) consider the use of social media as a key factor in their success.
Having said that, here are the most effective social networking platforms for reaching prospects.
LinkedIn
With 875 million active members and 58 million companies on the platform, LinkedIn remains the preferred social network for professionals, allowing brands to reach both consumers and B2B prospects.
Professionals use the platform to network and connect with others, so it's a great place to find and reach out to potential customers.
Consider it this way: A well-written message on LinkedIn is more natural and engaging than a cold call, which is unexpected.
LinkedIn prospecting is way easier and more efficient than you think.
By clicking on a prospect's profile, you have access to useful information such as their work history, connections, and positions in the company (very useful for finding and contacting sales professionals you want to work with, for example).
In addition, LinkedIn offers a platform-specific prospecting tool called LinkedIn Sales Navigator.
This tool offers enhanced search capabilities, quality lead recommendations, advanced filtering, and greater network visibility.
In addition, you will be able to create different sales leads and company prospect lists, and better organize your prospecting and outreach activities.
Facebook
With roughly 2.96 billion monthly active users, Facebook is the most used online social network worldwide.
With so many users, Facebook can also be used for lead generation by marketers.
According to Hubspot, 75% of sales reps use Facebook to find new leads.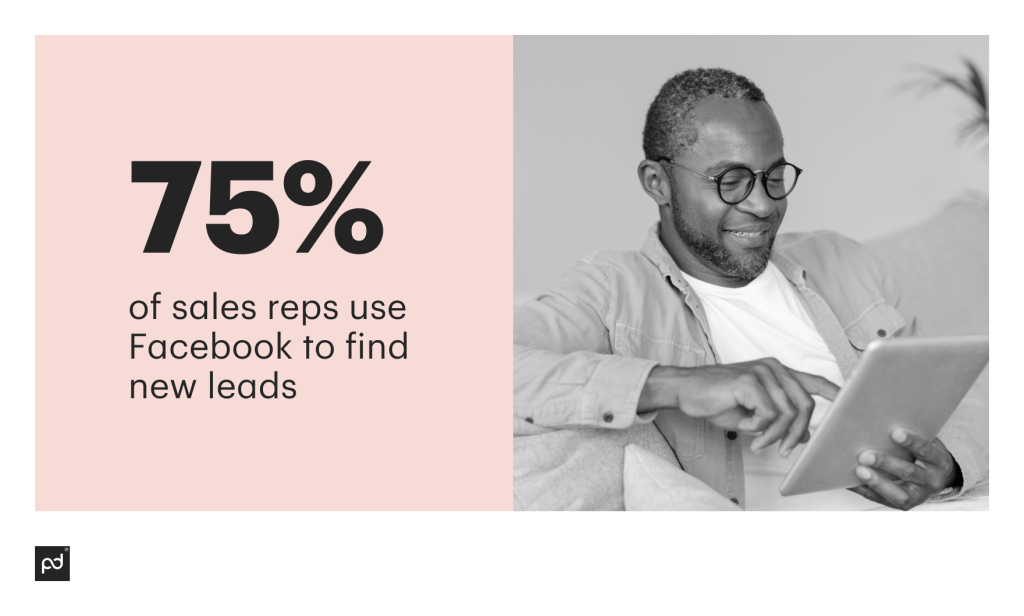 The social media platform allows you to create Facebook Business Pages.
There are two benefits here: This enables your business to display contact and activity information (such as company name or company size), allowing clients or other businesses to get in touch with you — or use the service to find contacts who are most likely to work with you.
Facebook ads are also an option to consider, as they allow you to target audiences that meet your qualified lead criteria.
Thus, your marketing team can target the right prospects based on specific criteria (user demographics, location, user interests, etc.).
Instagram
Additionally, Instagram has a lot of potential for helping sellers reach their intended audience.
In fact, the platform gives users a lot of tools to interact with brands and find new products.
For instance, you can use hashtags to your advantage when you are prospecting on the platform.
Start by filtering posts by location or searching for relevant hashtags.
After that, make a short list of ideal prospects by looking at the most recent or top posts.
In addition, using an Instagram business page can assist you in obtaining useful analytics and insights regarding your audience.
Your sales pitch can be influenced by the types of posts that attract the most attention from your followers.
2. Use email marketing strategies to engage with prospects
Cold email remains one of the most common ways to reach prospects.
According to a study published at Statista, 82 percent of marketers reported using email as a digital channel for their marketing strategy.
Create personalized email
Email personalization is unquestionably an excellent strategy that has been shown to have tremendous advantages for your email campaigns.
In contrast to non-personalized mailings, personalized promotional mailings have 41% higher unique click rates and 29% higher unique open rates, according to Invesp.
Personalization indicates that you have spent some time thinking about and understanding who the recipient is, how they see the world, what interests them, and what they want.
This demonstrates your effort to comprehend them.
Keep your subject lines short
In order to increase your chances of getting prospects, the subject line of an email is critical.
In fact, personalized emails have a 22% higher opening rate and are opened by 47% of recipients based solely on the subject line.
This demonstrates how crucial subject lines are to the success of your email marketing campaign.
Additionally, if the subject line is kept brief (typically between 6 and 10 words), it will have a better chance of being opened.
Finally, the same study found that sales emails with subject lines that convey urgency or exclusivity had a 22% higher open rate.
Use a mobile friendly format
91% of the world's population owns a cell phone.
As a result, when you are developing your marketing strategy, there is a good chance that your audience will come across your message via their mobile device.
So you need to make sure your email format works on both desktop and mobile.
Indeed, there is nothing worse than an email that does not display the image correctly or whose message is not visible, which can seriously affect the success of your campaign.
4. Calls to boost conversions
Cold calling is not a simple exercise when you know that the success rate is around 2%. However, there are ways you can significantly improve upon that number.
Call prospects who already know you
The first tip is to call prospects with whom you have already communicated, such as via email or social media private messages.
Rain Groups study found that 51% of sales teams polled believe that calling prospects on the spot is significantly more effective.
Indeed, in order to convert cold prospects into warm ones, you must first establish who you are and what you offer.
You can accomplish this by creating that initial spark by interacting with them on social media or asking for a referral from a relationship you share.
After that, it is up to you to follow up with your prospects and turn them into clients.
Pay close attention to your prospect's needs
When you call a prospect, don't spend all your time extolling the virtues of your product or service.
Instead, ask open-ended questions that will encourage conversation with your prospect.
By using this strategy, you will be able to both obtain accurate information about your prospect's expectations and tailor a solution to their needs.
End the call with the next steps
Another thing to consider when calling a client is to discuss the next steps before hanging up.
For example, you can end the call with "when should we get back together to discuss ___?" and then send an invitation for a follow-up call.
The point is to make sure your prospect doesn't forget you.
If you make it a habit to end your call with this question and immediately send a calendar invitation, you'll avoid the tedious and possibly awkward nature of following up to figure out when your next meeting actually is.
5. Take advantage of paid ads for maximum exposure
Another way to reach ideal prospects is to use paid advertising.
This has the advantage of boosting your visibility and making it easier for you to get known and seen by your potential prospects.
Here is a list of the types of paid advertising you can use.
Paid search marketing
The most common type of pay-per-click (PPC) advertising is search engine marketing (SEM).
This allows your ads to appear at the top of the search engine results.
Your ads are more likely to drive users to your site by being located at the top.
To use search engine marketing effectively, you need to be able to identify your ideal customer profile to create targeted ad groups.
To make sure your campaigns are successful, you can use A/B testing with multiple ads to compare and choose the best one.
Social media advertising
Even if organic (unpaid) posts are useful for making brands known to the public on social networks, they are not enough to generate the commercial results that companies need.
That's why it becomes necessary to use paid advertising to reach a wider audience by carefully crafting social media advertising campaigns aimed at your target audience.
You buy ads on the social media platform where your customers hang out — for example, on Facebook, Instagram, LinkedIn, or Youtube.
Retargeting ads
Retargeting ads enjoy a leg up over regular display ads.
You can set retargeting ads to appear automatically to buyers who clicked on an ad, expressed interest in your business, or visited your sales page without buying, even cart abandoners.
Additionally, use retargeting ads to boost conversion rates. In fact, retargeting ads have a click-through rate (CTR) ten times higher than traditional ads.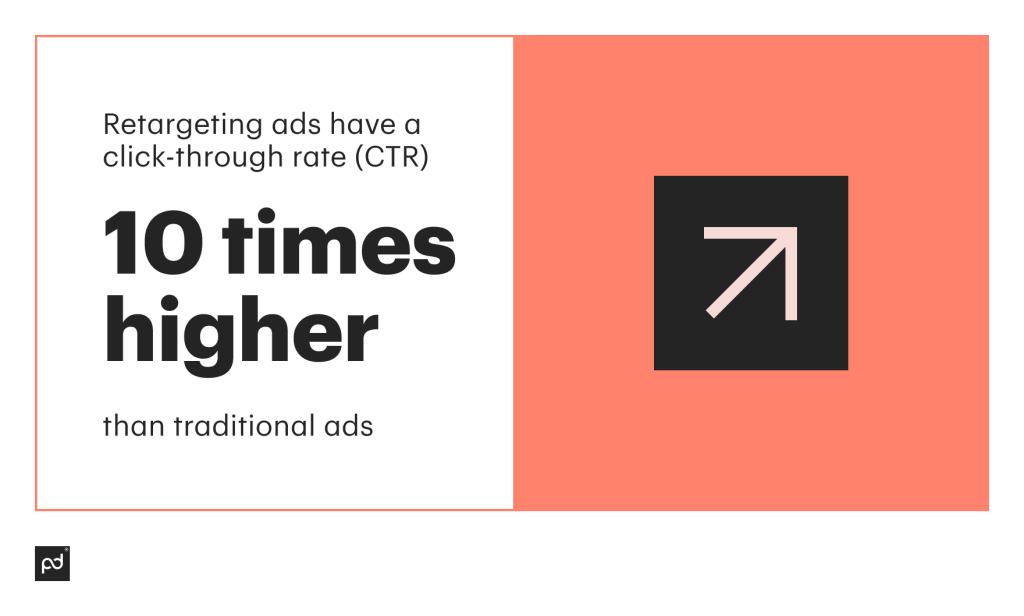 6. Leverage referral programs and partnerships for long-term growth
One of the best ways to get more customers through the sales funnel is to have a referral program.
According to referralcandy.com, 86% of customers trust referrals, making it the most trusted form of marketing.
Identify customers
When planning a referral program, it is helpful to identify consumers or businesses who are pleased with your product or service.
For example, you have the option of making your program available to anyone who has made a purchase from you.
You can also use your sales records to find repeat customers, especially those who buy the same product or service regularly.
Build an offer to drive referrals
In order to facilitate referrals and attract new prospects, you can, for instance, create offers for customers who have been satisfied with your product or service.
For example, you can offer your current customers a 10% discount or the opportunity to test a new product before the rest of the public.
If one of your customers has a large follower community, this will make your product or service known to even more people and increase your chances of getting future customers.
Use a referral template
When implementing your referral program, it is helpful to create a template to use each time you send an invitation.
When seeking referrals, you can reach out to your customers in a variety of ways.
This can include sending an email or text message, posting a message on social media, or asking for a referral in person.
For example, you can use PandaDoc's referral templates to communicate your referral program.
PandaDoc's templates are customizable and allow you to effectively communicate your affiliate program to your customers.
7. Initiate direct contact via webinars or forums
Another way for companies to reach prospects is through direct communication, and holding webinars is one of the best ways to achieve this.
Indeed, 89% of marketers consider that webinars outperformed other channels when it came to the creation of qualified leads.
Choose a relevant topic
A webinar requires careful planning, and it is important to develop a strategy before scheduling your event.
Suppose you are organizing a B2B webinar; you should then focus first on your customers' expectations.
What do they expect from your product or service?
What are the most frequent questions you receive? This will help you define a relevant topic for your presentation.
Interact with your audience
A webinar is a live event where you present your product or service in real-time.
As a result, it's critical to go beyond a straightforward presentation and have a real conversation with your audience.
Don't wait for them to ask you questions; instead, ask about their problems.
Doing so will make your audience more invested in your speech and increase their likelihood of becoming real customers.
Use forums
Forums like Reddit, for example, are another way to have a direct conversation with potential customers.
First, you can easily determine your audience's interests by searching for popular topics.
Then, a forum's purpose is to share, like, and comment on other people's posts.
By writing posts on forums, you will find out more detail regarding what people think about your business and get valuable information for your marketing strategy.
Final thoughts
As you can see, each channel has its advantages, and it is important to integrate all of them when developing your marketing strategy.
Social networks, such as LinkedIn or Facebook, are widely used to reach prospects, and you can use paid advertising services for better targeting.
Email is also very effective in making your company known and will also help you organize calls with potential leads.
You should also develop affiliate programs by offering benefits to your most loyal customers to make them aware of special deals and/or your other products or services.
You can also engage in direct conversation with your prospects using webinars or forums.
You can manage all your communication channels by using PandaDoc's sales automation software with your CRM.
Doing so will save time and allow your salespeople to focus on prospecting and closing deals!
Disclaimer
PandDoc is not a law firm, or a substitute for an attorney or law firm. This page is not intended to and does not provide legal advice. Should you have legal questions on the validity of e-signatures or digital signatures and the enforceability thereof, please consult with an attorney or law firm. Use of PandaDocs services are governed by our Terms of Use and Privacy Policy.