Capture planning is a strategy that some businesses use to find and seize new sales opportunities.
It involves analysis, strategizing, planning, and execution, and is usually carried out for big contracts or important deals.
For companies that offer high-end services (i.e. consultancy) or very niche and expensive products, winning or losing a deal might be the difference between meeting their sales targets for the quarter.
In such instances, capture planning is an excellent way to be more efficient at closing deals.
In practice, it's usually the responsibility of the sales or business development team to create an efficient capture plan and make sure it's executed correctly.
Some companies might, however, hire a dedicated capture manager as well.
At PandaDoc, we're on a mission to help teams make the most of every business opportunity, including those crucial steps at the pre-proposal stage.
In this article, we'll look at the details of capture planning, review its benefits, and guide you through a step-by-step process to create a winning capture plan and sign more deals in 2023.
What is capture planning?
Capture planning is the process through which you gain information, insight, connections, and business intelligence, with the intent of enabling you to win a bid in the future.
It's a process that is individual for each bid, amassed before the prospect sends you a request for proposal (also referred to as RFP) and gives you a better chance of winning the deal.
Through capture planning, you get to know each prospect and forge a relationship with them even before they make a purchase.
This is also related to the concept of relationship selling, in which a salesperson fosters a strong relationship with a potential customer through collaboration and aims to evaluate whether there's a solid planning, execution, and resources fit between the company and the customer.
A well-structured capture plan enables you and your team to gain a competitive advantage and show a strong understanding of the customer's pain points while demonstrating the benefits of the solution you business offers.
Capture planning is particularly important for big projects, such as B2G (business-to-government) agreements or deals with large organizations.
To execute the process well, you also need to have all the right tools and systems in place, such as a CRM and a contract management platform.
What are the benefits of capture planning?
A well-designed capture planning strategy has multiple benefits, such as:
Better lead qualification: Capture planning is a research-based approach to sales, which means the whole process becomes more accurate in sourcing the right opportunities.
Faster proposal process: If you have a detailed strategy on how to win bids, the proposal management process will also be faster and more efficient.
Stronger proposals: If you want to win bigger projects, you need to be ready to dedicate resources to each bid. Capture planning is the perfect framework for researching opportunities and writing better proposals.
Shorter sales cycle: If you're able to produce stronger proposals, and do so faster, you'll also be able to win over customers more quickly and shorten your sales cycle.
All in all, capture planning is a powerful strategy, enabling you to win a bigger percentage of your most important prospective deals.
What is a capture plan?
If capture planning is the process and the strategy, a capture plan is its execution.
A capture plan is essentially a carefully laid out plan to capture leads and is most commonly used for large contracts.
It might be a team effort from multiple sales representatives or a team lead and a few team members, or it might also be managed by a single person, a capture manager.
A capture plan usually features the following elements:
Opportunity identification
An analysis of the cost and your potential for success
Customer pain points identification and analysis
An action plan for effective product or solution selling
Once an action plan leads to a request for a proposal, the negotiation process begins.
During that time, your team needs to show an expert understanding of the customer's pain points and the ways your product or service addresses those needs.
How can you create a winning capture plan?
Now that we have discussed the what and the why of capture planning, let's see the how.
In this section, you'll find a detailed, step-by-step guide to creating a winning capture plan that'll help you capture leads and sign more deals, faster.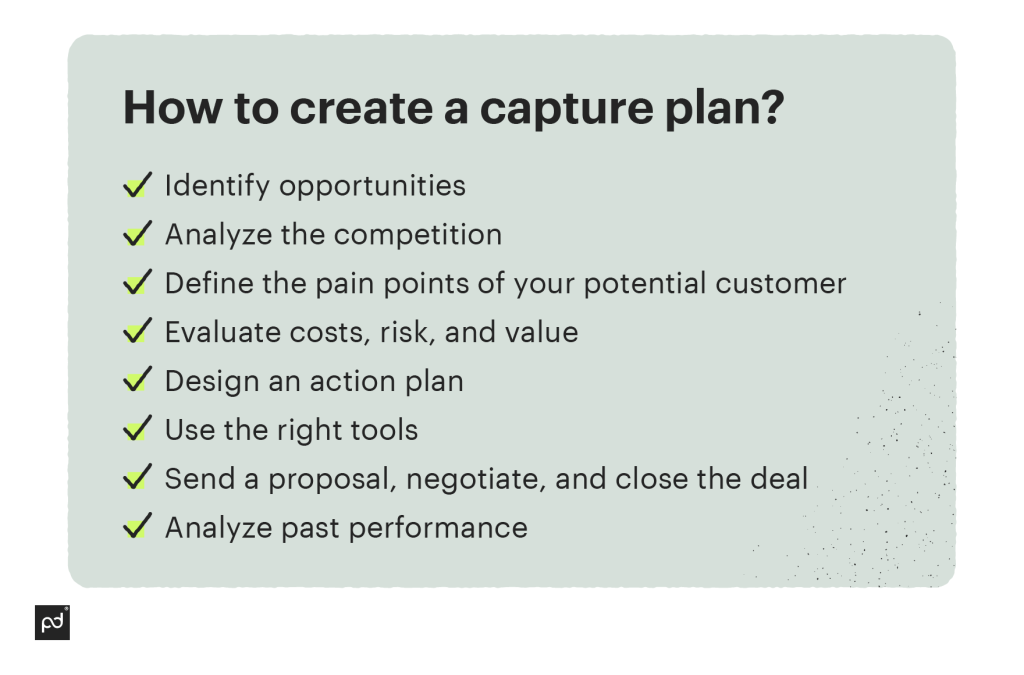 1. Identify opportunities
The first step in capturing high-quality leads with whom you might sign an important contract is to identify these opportunities.
This needs to happen before a prospect approaches you with a request for proposal.
Essentially, if you employ a capture management strategy, this means that you'll already have built a relationship with a potential customer before they ask you to make an offer, or, at the very least, you'll have studied their needs and the ways you can meet those needs with the services you offer, even if you have no direct relationship with them.
Identifying important opportunities in advance increases the likelihood to succeed in negotiating a deal with them and gives you the flexibility to adapt to their needs before they start actively considering you as an option.
2. Analyze the competition
Next comes competitor analysis, because, as McKinsey & Company puts it, to develop a successful strategy, you need to know who you're fighting.
This means analyzing your competitors' product and business strategy, predicting their potential reactions and behavior when they're directly competing with you, assessing risks, threats, and opportunities, and being willing to act decisively when the time is right.
You can use PandaDoc's free competitor analysis template to get started ASAP and not waste time trying to figure out what data points to collect, how to structure your analysis, and how to present it.
3. Define the pain points of your potential customer
Next, you need to define the pain points of your potential customer. Here, you can ask questions like:
What do they currently struggle with and have no appropriate solution for?
What do they need? Have they already identified their needs?
What matters most to them at the present moment? What is likely to matter most in the future?
Do we have the capacity and the solutions to address each of these pain points?
At what stage of the buyer's journey are they most likely to contact us directly?
The key here is to think from your customer's perspective, map out their journey, and see what matters to them at each step of their journey — and think of ways you can address these needs proactively.
4. Evaluate costs, risk, and value
Look at the costs of pursuing this bid, the risks associated with it, your likelihood of success, and its value for your business.
Here are some important considerations to make.
Regarding costs and value
If the cost to get this particular deal far exceeds your typical customer acquisition costs, this doesn't necessarily mean you should give up.
Instead, look at its potential value for your business, both in the short and long term. At what point will you break even?
Is this a deal that could be renewed for many years to come, or is it a strictly one-off business opportunity?
Regarding risks
Will pursuing this opportunity mean your capacity to negotiate other deals will then be reduced?
Will it expose you in some other way to an increased risk for your business?
Likelihood of success
How likely are you to win the deal? What does your success depend on?
What could you do now to improve your chances of success?
5. Design an action plan
Next, you need to design an action plan that would help you get a request for proposal and that would already position your organization as one of the best providers out there to choose from — if not the best one and the most obvious choice.
Your action plan should include:
A strategy on getting the attention of your prospective client — at this stage, your marketing, business development, and sales teams should work together
A dedicated person to be in charge of building a relationship with your prospect
A way to position yourself as the best solution available
A well-structured business proposal template that you're ready to deploy as soon as needed (pro tip: you can use PandaDoc's templates for free)
A comprehensive plan to present your pricing to your prospect in the right way
6. Use the right tools
To be successful in your capture management strategy, you need to use the right tools, such as:
All tools you're using need to be well integrated and in sync to enable you to move fast.
If you need more ideas on the tools that will enable you to be more successful, check out our article on the best sales pipeline software tools out there.
7. Send a proposal, negotiate, and close the deal
This last step is not strictly a part of the capture planning process, which ends in receiving a request for a proposal.
Still, we wanted to include it to give you an idea of what comes next — and present capture planning with enough context to help you deploy it in the most efficient way for your business.
So, after you've built a successful capture planning strategy, its logical conclusion is to receive a request for a proposal (RFP).
Creating a well-structured proposal is a necessary step for all businesses that rely on an individualized approach to sales, in which a sales representative (or a sales team) builds a proposal based on a prospect's exact requirements and needs.
For larger deals and important contracts (which are also the ideal use case scenario for capture planning), professionally executed proposals are a must.
The negotiation process can be greatly simplified if you're using a contract management platform like PandaDoc.
With our suite of tools, you can:
Create offers, proposals, and contracts in a matter of minutes rather than hours or days
Use a streamlined negotiation and approval process, in which all team members from your side and your customer's side can collaborate in real time
Store and manage all sales documents in a single location
Present pricing in a way that's convenient for your prospective customers, enabling them to compare proposals efficiently
In all that, however, there's always the possibility of losing the deal.
For this reason, it's also important to be well-prepared to hear a "no".
8. Analyze past performance
Regardless of your exact strategy to capture leads, you always need to assess past performance and see:
What worked well and why
What didn't work and might be not worth repeating in the future
Which areas of improvement you're able to identify
What are the improvements you can execute quickly in order to start seeing results
Only by analyzing what helped you succeed (or what led to a failure to win a deal) will you be able to improve your capture management and become more efficient in the future.
When should you use capture planning?
Capture planning is a lengthy and potentially costly process — obviously, not every deal needs a capture plan and not all businesses need to use capture planning as a sales strategy.
For the best results and the highest ROI, you should deploy a capture plan only to pursue large deals that offer a high value and could turn into long-term opportunities.
For this reason, capture planning is most often used by companies who work with government agencies or with large-scale enterprises in fields like infrastructure, banking, construction, consultancy (for large projects), and others.
This doesn't mean that capture planning is irrelevant for other deals that have a lower potential value.
You can still extract key elements from it, such as competitor analysis and opportunity assessment, and use it to win even smaller deals.
In fact, capture planning is quite similar to other B2B sales processes that rely on fostering strong relationships with your prospects and customers.
Capture planning is planning to win
As you can see, capture planning is a lengthy and resource-intensive process that requires careful planning, so it's definitely not a must for all businesses.
To win large, impactful projects, however, you need to be well-equipped to capture the interest of prospective customers, position yourself as the right solution, and be top of mind for them when they reach the RFP (request for proposal) stage.
Having a well-designed capture plan for such opportunities will greatly increase your chances of negotiating a deal successfully and winning it — and also up the likelihood of renewing contracts in the future.
And if you integrate the right tools into your capture planning strategy, including a contract management solution like PandaDoc, you can speed up the process of creating an offer and negotiating it with your prospective client successfully.
Or, simply put, increase your chances of winning a deal once the opportunity presents itself!
Disclaimer
PandDoc is not a law firm, or a substitute for an attorney or law firm. This page is not intended to and does not provide legal advice. Should you have legal questions on the validity of e-signatures or digital signatures and the enforceability thereof, please consult with an attorney or law firm. Use of PandaDocs services are governed by our Terms of Use and Privacy Policy.
Frequently asked questions
A capture strategy, or a capture planning strategy, is a pre-sales strategy that involves collecting and analyzing information, evaluating risks and costs, and creating an action plan to win a bid in the future.

Businesses can design a capture framework, but they need to tailor their strategy to each client and bid, which makes it resource-intensive and likely necessary only for large-scale projects.

Depending on the potential deal you're aiming to win and its complexity, writing a strong capture plan might take between a few days and a few weeks — or even months, if you need to do a lot of research.

A capture plan might be a team effort or be carried out by a capture manager, which will also affect the time it takes to complete it.

You can start with a simple document or template in which you outline the framework and main sections of the capture plan (research, a cost/benefit analysis, and an action plan) and which you adapt to each specific capture plan as you write it.

A capture process is a process in which you research a prospective client's pain points, needs, and potential requirements before they contact you to request a quote.

The objective is to position yourself as a top of mind solution for them.

This enables you to gain a competitive advantage and be better prepared when you begin the actual proposal and negotiation process — and have a better chance of winning the deal.