Effective sales proposals are data-driven and essential for closing deals faster.
Prospects only make purchase decisions after evaluating a sales proposal document; hence, the proposal should be crafted according to the customer's requirements in order to provide complete solutions.
It has to be the perfect blend of customer data, pain points, and solutions—presented in a simple yet visually compelling manner.
What is a sales proposal and why is it important?
A sales proposal is a digital or physical document which contains information about the solutions your product/service can offer to your new or existing customer.
A sales proposal document is the last step before a prospect decides to purchase your product/service or not.
It should be centered around solutions to the prospect's pain points and offer relevant data presented in a clear, concise, and visually pleasing manner.
PandaDoc helps your sales teams create sales proposal documents in little to no time!
As you read on, learn more about the sales process in Zoho CRM and the importance of using a built-in sales proposal document like PandaDoc to close those deals faster!
The Zoho CRM sales process
Let's go over a typical Zoho CRM sales process, how data enters the CRM in various stages, and how you can plug that data in to create the perfect sales proposal.
Step 1: Prospecting and identifying leads
Data enters your CRM at this stage.
Run targeted marketing campaigns from within the platform and import the lead data directly into Zoho CRM.
Capture and identify sales-ready leads generated from various sources and assign them to the sales team.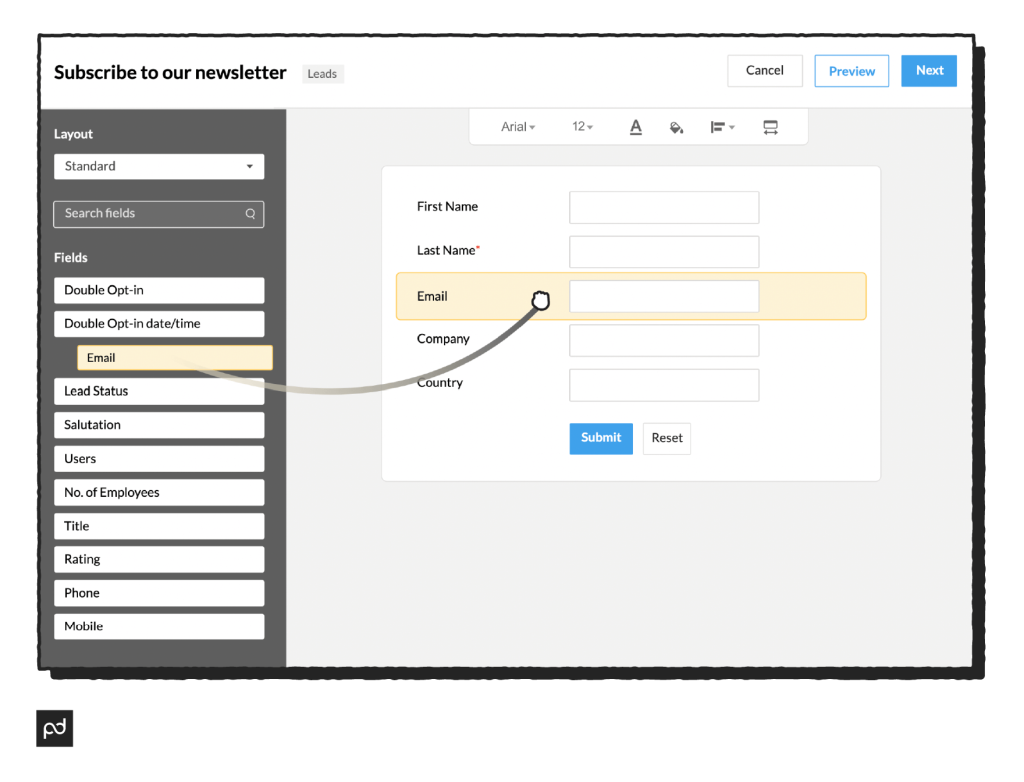 Track your leads, analyze their behavior and status, and engage with them.
Step 2: Prepare to contact leads
Let's say, for instance, that leads have been captured by the marketing team through social media, webinars, forums, Google ads, ebooks, podcasts, etc.
To hold the interest of freshly captured leads, your teams can send out scheduled emails from templates made specifically for the campaign, including event reminders.
Prospects can fall into two categories: those who have expressed interest in the product or service, and those who have simply stumbled upon the product — perhaps via social media.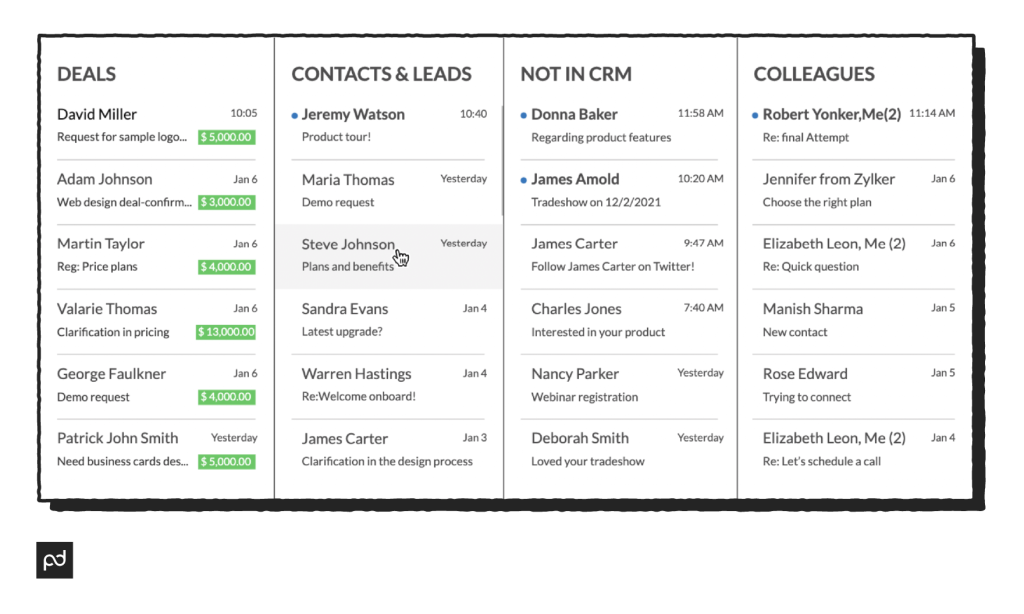 Lead scoring helps you separate sales-ready leads from less-engaging leads based upon interaction touchpoints and determine whether they fit into your target audience.
Marketing teams need to determine a variety of factors to qualify leads.
What solutions do the leads want from your product?
Can they benefit from the solutions your product offers? Do they have buying power? Will this sale add value to your business?
This step is often overlooked as an important part of a sales cycle.
If the leads have interacted with your brand via likes, comments, or messages on social media, they're very likely to be sales-ready.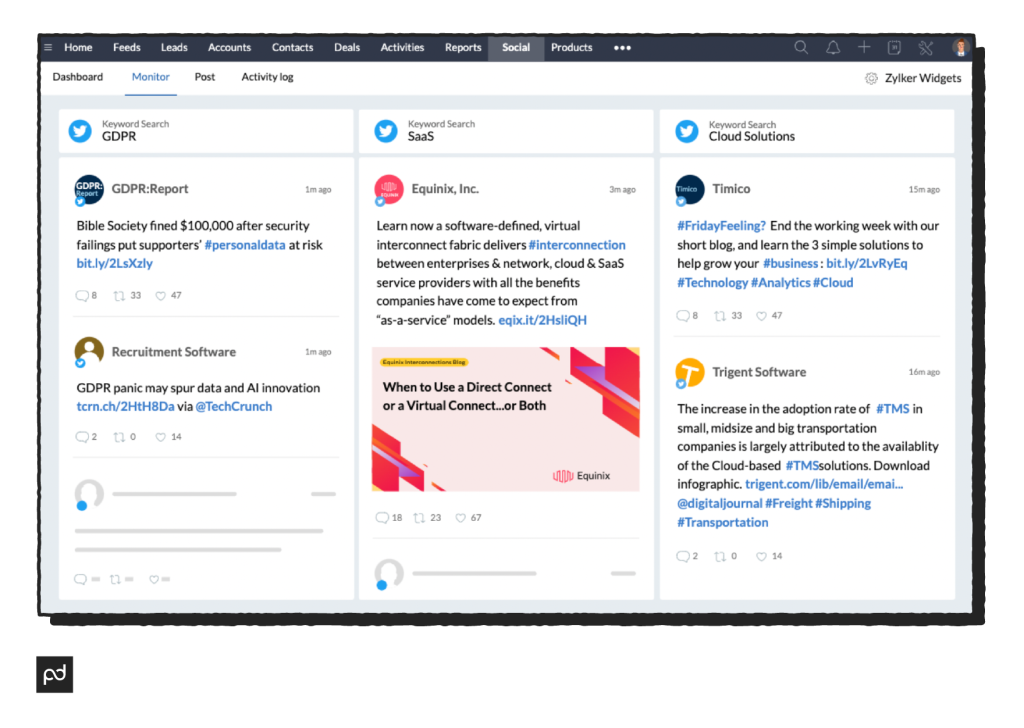 Now that you have all your marketing and sales data in one place, you can save time and increase productivity.
Zia, Zoho's AI-powered sales assistant for your business, forecasts and predicts sales and nudges your sales teams to focus on leads that are likely to close based on patterns behind wins and losses.
Your sales teams can then take action on the leads most likely to be won and save a lot of time.
This AI-powered sales assistant can detect any anomalies in real-time and notify you well in advance so that your sales teams can course correct.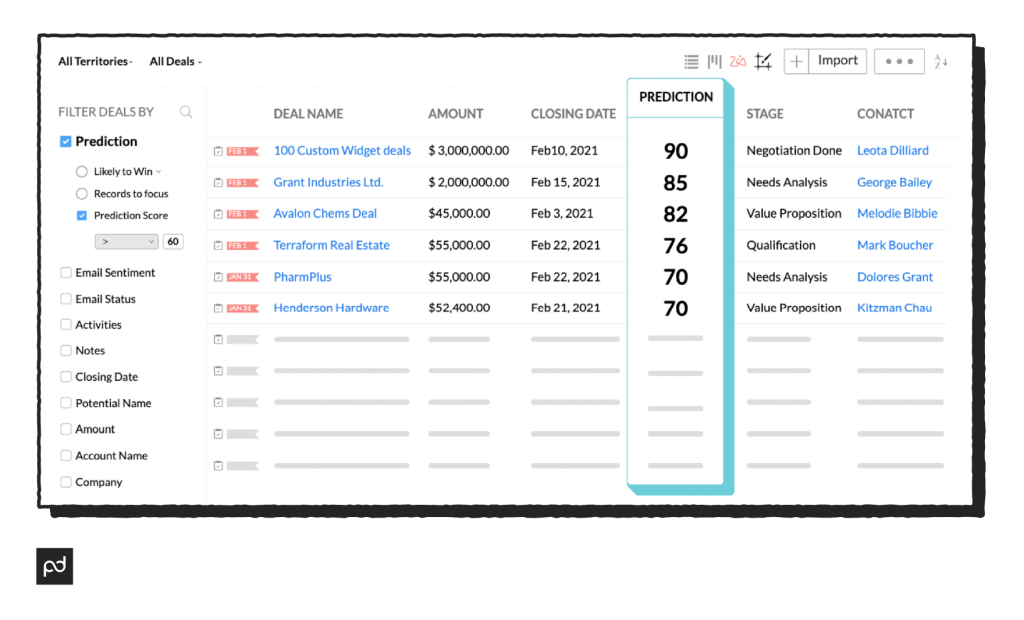 After the scoring/prediction process, leads move further down the sales pipeline, where sales operations begin.
Step 3: Approaching leads with relevant information
Your leads have now been assessed and scored, and are ready for engagement through multiple channels.
Timing is crucial.
As a sales manager, you can encourage your sales reps to utilize Zia, who can tell them the best time to send an email and make calls to prospects — and even send reminders for these activities.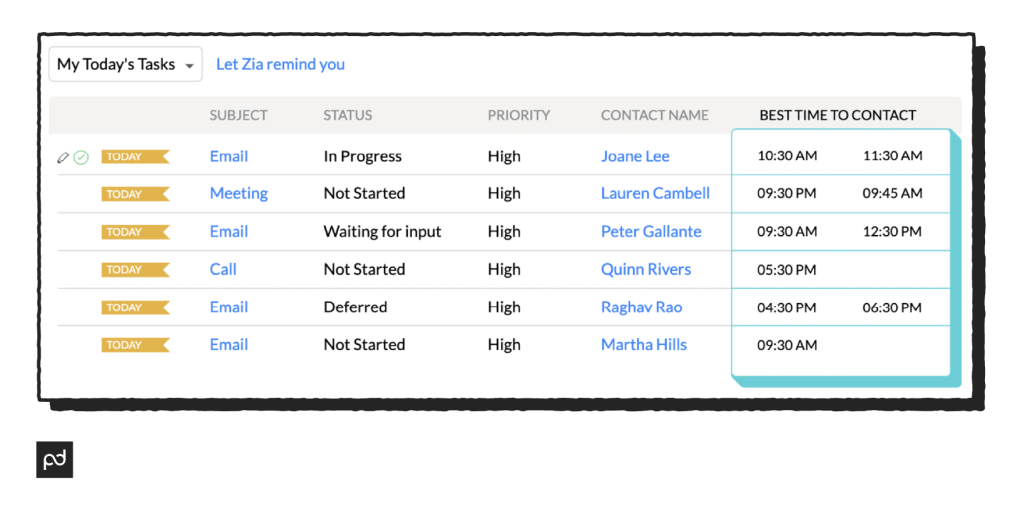 Now it's time to take action.
In order to draft personalized sales proposals for each customer, it's crucial to understand their pain points.
Before immediately pitching the product, sales reps should learn prospects' needs to gauge if the product can provide tailored solutions to fit their industry and business needs.
Sales teams can add notes in Zoho CRM to provide more context for each sale.
Attach multiple notes to the same record — thoughts and key takeaways from each call, as well as action items.
The more data you collect, the better!
Step 4: Presentations
Successful sales and customer retention depend completely upon offering solutions rather than simply making a sale.
The tone of a sales pitch or presentation should reflect precisely that. Keeping solutions tailored to the customer's pain points can go a long way.
In today's business environment, customers have access to all the information they need and the solutions that other brands can provide.
Your sales proposal should have just the right amount of information.
Don't bother focusing on product models and features in your presentation; keep it focused on the pain points your customer is dealing with.
Also, keep in mind that the most important element in a sales proposal is to keep it as visually pleasing as possible. And this means simplicity is key.
Let's see how to send data in Zoho CRM using PandaDoc.
To generate a sales proposal in this case, pick the new lead/prospect you want to reach out to from the Leads or Contacts module, or pick an existing customer from the Contacts, Accounts, or Deals modules.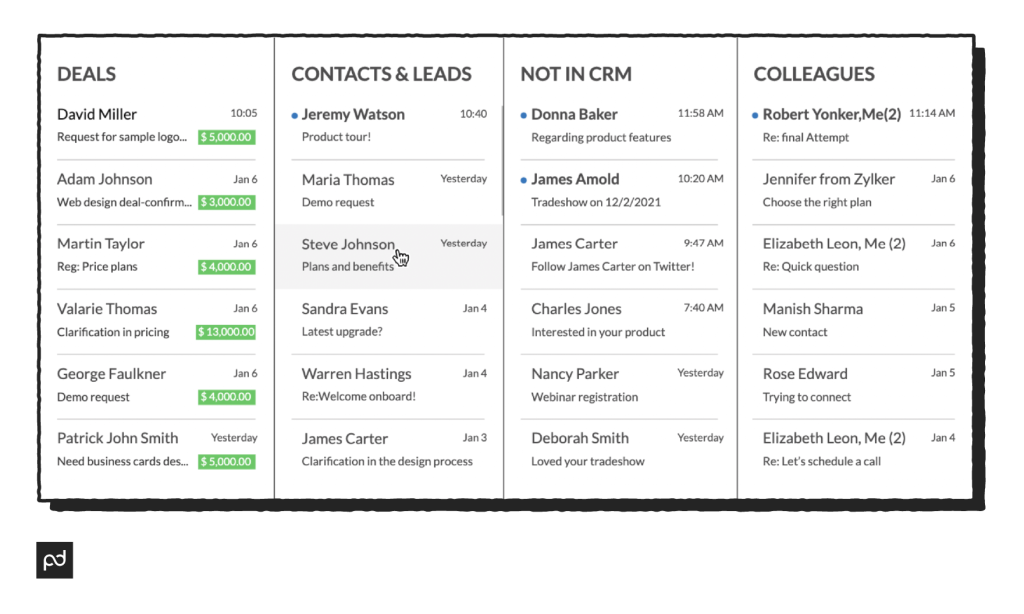 Choose your sales proposal template from the PandaDoc document template library and map the data from Zoho CRM.
Your sales proposal should have the following data:
A brief introduction about your company
What solution(s) your product offers
Strong and relevant use cases, contrasted with what your competition provides
Deliverables and pricing
Testimonials
Terms
E-signature form
You can drag and drop pricing tables, headings, videos, images, and attachments wherever necessary in any sales proposal document you create with PandaDoc from within Zoho CRM.
Make sure to end your presentation by highlighting the value of your product and offering a strong call to action, but don't demand that the prospect purchase your solution.
For instance, if a customer needs time to evaluate the information you've provided with their team and give it due consideration, you can add that as an action item in the record's notes.
Your sales proposal template created with PandaDoc will appear in the attachments tab of the prospect's record.
Step 5: Closing the deal
Let's say your prospect is impressed with your proposal after further review and negotiations, and is now ready to close.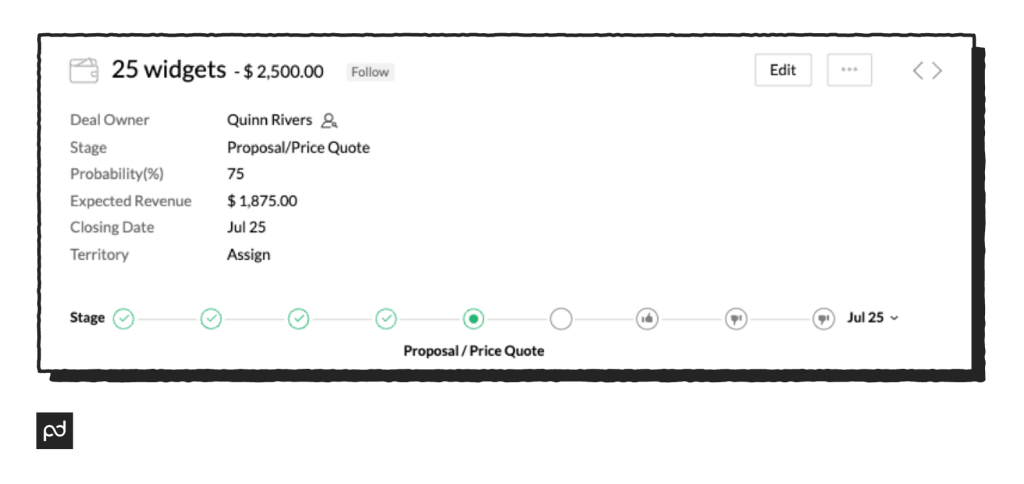 All you have to do is encourage them to fill out the signature section you've provided with a simple drag-and-drop at the end of the sales proposal you created via PandaDoc.
Additionally, you can track the document and view its status.
The sale you just closed will enter the Accounts module in Zoho CRM, where you can keep track of all account activity and data.
You can also find the sales quotes, sales contracts, sales documents, and e-signature documents that you created with PandaDoc under the record's attachments section.
You'll be notified in real-time when a customer has engaged and sent you a signed proposal or requested further information.
Step 6: Following up
Your work isn't over just because the contract has been signed; it's crucial to obtain feedback in order to provide further assistance with onboarding.
You can quickly build a feedback form with PandaDoc right from your Accounts module within Zoho CRM.
The form should cover points that ensure customer satisfaction, such as the following:
Whether the solutions were provided per the customer's expectations
Feedback on conversations
Any possible pending objections that may need further attention
The need for compelling proposals
Drafting a sales proposal suited to individual customers based on their requirements is an arduous and often time-consuming process.
PandaDoc offers a wide range of industry-specific sales document templates that you can choose from in order to enhance this process.
Here are some important elements that your sales proposal should contain:
Information about your company in a brief summary
Customer challenge
Solutions your business provides
A comparison with current market conditions
Pricing and plans
Testimonials
Terms and conditions
E-signature documents
Additional information on services/onboarding
PandaDoc's integration with Zoho CRM makes closing deals an effortless process.
With built-in proposal templates, your sales teams simply cut down on time spent drafting heavy proposals and have more time to focus on building customer relationships.
Let's say you're a SaaS provider and have a prospect you need to contact with a sales proposal.
You have all the data you need within Zoho CRM — notes, call histories, contact information, and more.
Simply plug in PandaDoc, select from a list of SaaS sales proposal templates and map all the important data from Zoho CRM into PandaDoc tokens.
Tokens are editable identifiers or fields that can help merge data from Zoho CRM into PandaDoc's document templates.
Additionally, you can also manually add and remove fields you may or may not require.
Add e-signature and payments to the sales proposal, if necessary, and send the document from within the Zoho CRM record.
Ideally, the prospect will notice the following aspects of your sales proposal:
It's visually pleasing.
The data is presented in an easy-to-read manner.
The proposal offers solutions to the customer's stated challenges.
It includes pricing plans.
It includes testimonials from businesses with similar pain points.
It's therefore paramount to articulate the proposal clearly so that it's easy to read and understand.
Present your data in the simplest way possible to close that deal faster!
Get those sales up and going.
Save more time on documentation and focus on building customer relationships.
Sign up for a free trial with Zoho CRM.
Disclaimer
PandDoc is not a law firm, or a substitute for an attorney or law firm. This page is not intended to and does not provide legal advice. Should you have legal questions on the validity of e-signatures or digital signatures and the enforceability thereof, please consult with an attorney or law firm. Use of PandaDocs services are governed by our Terms of Use and Privacy Policy.