Planning is one of the cornerstones of successful strategy execution — and the same holds true for all aspects of your business, including marketing.
If you want to be successful with promoting your brand and guiding the sailboat that is your marketing team to its target destination, you need to begin by writing a solid marketing plan — one that you'll actually use throughout the journey.
It'll serve as both a map and a compass, helping you navigate in calm waters and rough seas alike, and enhance the way you reach, acquire, and keep more customers. In other words, support your sales goals.
At PandaDoc, we run on marketing solutions (and caffeine!). In this article, we'll explain how to write a marketing plan in 7 easy steps, and also put a few signposts along the way to help guide you by explaining what a marketing plan is (and what it isn't).
And we'll describe whether marketing plans are the same as marketing strategies or proposals.
Let's dive in.
Before we get started: What's a marketing plan?
A marketing plan is a document that maps out the steps you'll take to achieve your marketing goals, such as generating more leads, reaching a specific target market, and helping support sales.
It outlines key tactics and approaches you'll implement to reach these goals, including information on the timeline, KPIs, each team member's responsibilities, and the tools you'll use.
It's based on your mission, vision, and values, which inform each marketing initiative at your company and also features detailed market analysis and competitor research.
That being said, a marketing plan could either be prepared and executed in-house or assembled and defined by a third-party provider, such as a marketing agency, to support the goals of a company.
A marketing plan doesn't need to be a rigid document, and you don't need to follow a framework that's set in stone — after all, it's not a contract, but rather a document that will evolve with your marketing team.
Think of it more like a roadmap. To write a marketing plan that you'll actually use, you need to build it in line with the company:
Specific objectives and long-term goals
Needs and capacity
Target market and industry type
Culture and structure
On the basis of your marketing plan, you can then create specific design and marketing documents that will support your efforts and map out the journey of your team in more detail.
If you're operating a marketing agency and creating marketing plans for other companies, you'll then need to develop specific strategies and also write marketing proposals.
If that's your case, PandaDoc has dozens of templates of marketing and design proposals that you can use straight away, for free.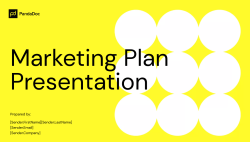 Marketing Plan
Present your marketing goals and strategies with this free marketing plan presentation template.
Use this template
Marketing plan vs. marketing strategy: Is it the same thing?
So, isn't a marketing plan the same thing as a marketing strategy?
In short, no — although there are similarities, and the line between the two can get blurry.
A marketing strategy outlines the specific details of how a company will achieve its marketing objectives and is typically more nuanced than a marketing plan.
In other words, the plan sets the direction, goals, and milestones, while the strategy deals with the minutiae of the how-to, and features information on specific types of content, social media networks, and apps a team will use.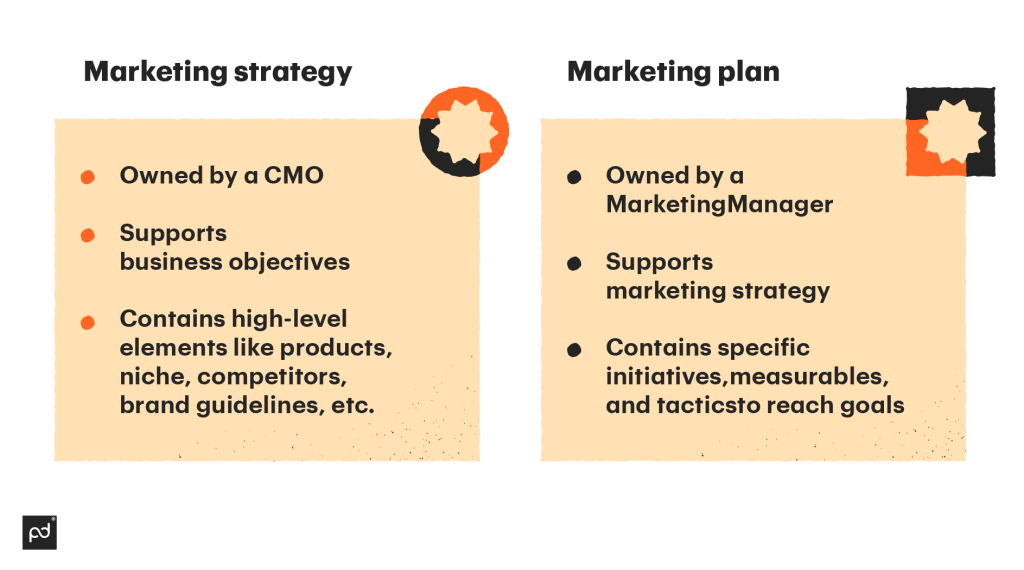 A marketing plan is more like a framework and should come before a specific marketing strategy is defined.
A single marketing plan could contain more than one marketing strategy in itself and include information on how each of them is connected to the rest.
Marketing plan vs. marketing proposal: What are the differences?
A marketing proposal outlines the unique details of a proposed deal between a marketing agency and a business that wishes to use its services.
It's prepared by the marketing agency and will usually be based on an existing marketing plan — although it might feature the marketing plan as one of its elements.
Marketing proposals will typically include information on different pain points and strategies on how to address each one, along with specifics on how the work will be executed.
If you don't know where to start, using PandaDoc's marketing proposal template can be a great way to get going — and you can even use one for a more specific aspect of marketing, such as a digital marketing proposal template or a social media marketing proposal template.
What are the different types of marketing plans?
There are a few different types of marketing plans based on your goals, objectives, and timeframes:
Growth marketing plans serve as a roadmap toward growth
Annual or quarterly marketing plans, which outline objectives and strategies for a specific timeframe
Content marketing plans, which outline the way you'll use content to promote your brand
Social media marketing plans, which define the way you'll use social media to support your marketing goals
Product launch marketing plans help you set the steps you'll undertake to promote a product launch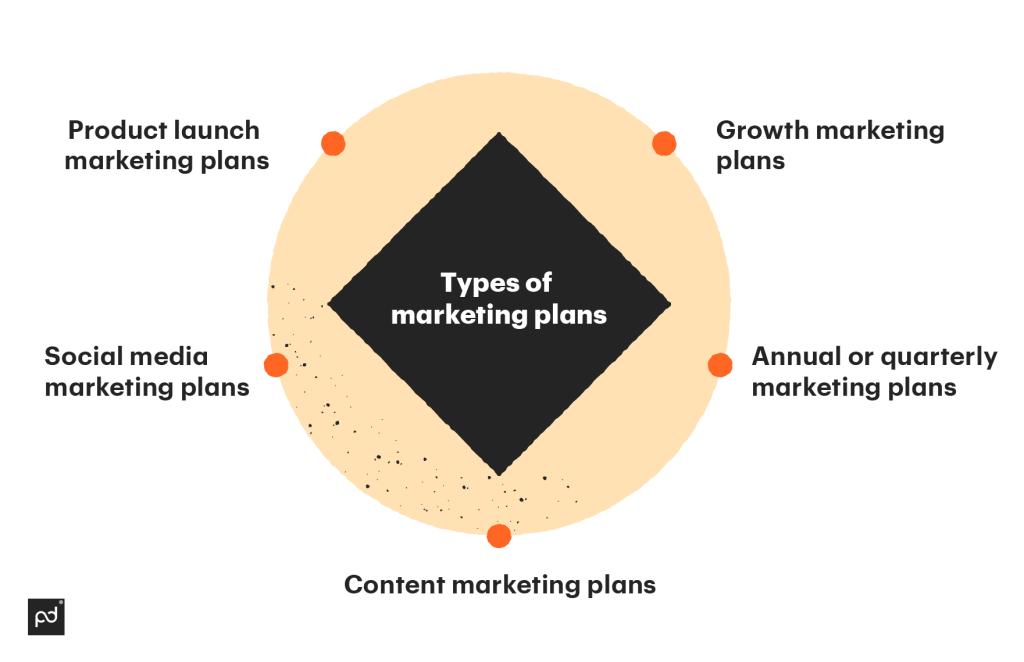 How to write a marketing plan in 7 easy steps
Now that we have definitions out of the way, let's proceed to specific steps you need to take to write a marketing plan that will help you achieve your goals and objectives.
1. Start with the basics: Your mission, vision, and values
You probably have already defined your company's mission, vision, and values — but if you haven't, now is the time.
Here's a quick recap of each:
Mission: The mission describes your organization's purpose or its reason for existing
Vision: The vision outlines your long-term goals, i.e. what you hope to become in the future
Values: Your values are the core principles that you believe in and that guide your work
While these three elements are not strictly a part of your marketing plan, they will set its tone and foundation, informing each aspect of the marketing strategy you develop.
So before you set out to write the specifics of your plan, you need to have them clearly defined.
In addition to that, we recommend that you keep a brief description of your product(s) or service(s) handy at all times, along with your unique selling proposition, so that you never stray too far from them.
Again, this is not strictly necessary but helps keep you focused on what you're trying to sell and why — and circle back whenever appropriate.
2. Analyze your market: Define your target audience and buyer personas
The next step is analyzing your target market, i.e. defining your audience and buyer personas. A target market analysis is a useful tool to help you understand:
What your audience looks like, by analyzing its demographics
Who your ideal buyers are, by identifying specific buyer personas
How to reach your audience, by understanding target customers, their habits, and the channels they use
How to speak to leads, by defining the specific pain points they have — and the benefits that would be of most interest to them
It also helps you define which markets to go after by enabling you to identify gaps, opportunities, and oversaturated markets.
A SWOT analysis (of the Strengths, Weaknesses, Opportunities, and Threats of your brand) might also be useful. Although it's not a necessity for a marketing plan, it can help you gain further clarity on your target market and how your company can best serve it.
If you're doing a SWOT analysis, Harvard Business Review recommends first concentrating on the external factors, i.e. the opportunities and threats, and then moving on to the internal factors, i.e. the strengths and weaknesses that define your organization.
This approach enables you to then define specific marketing recommendations in the following format:
Given [the external factor] and our [strength/weakness], we recommend using [this specific marketing strategy].
3. Look at the bigger picture: Analyze your competitors
Competitor analysis is essential when defining which approach to use with your own marketing.
Not because you should simply look at what competitors are doing and copy it — this will only lead to dull, uninteresting, and uninspiring marketing campaigns — but because it'll enable you to identify opportunities that your competitors aren't exploiting, and also help you set yourself apart.
Here, we don't mean analyzing your competitors' products or services; that's a useful exercise, but its scope is way too large to fit inside a marketing plan.
Instead, we mean looking at their marketing strategies, tactics, and campaigns.
To do this, you can ask questions like:
Do we have the same audience as [competitor company]?
If not, how is our audience different? Who are we targeting that they aren't?
How are our competitors communicating with their audience?
What specific strategies are they using?
What do their marketing campaigns look like in terms of channels, tone of voice, and engagement? Do they have a blog, podcast, or YouTube channel? Are they using gated content for lead generation? Are they using case studies?
What are the latest marketing trends in our sector? Will we use them to support our marketing efforts? Why/why not?
These questions will help you put your marketing in context; regardless of whether this is your first or your tenth marketing plan, we recommend analyzing how your competitors market themselves, as it's always useful to help you spot trends and opportunities.
4. Think strategically: Set clear objectives, KPIs, and a timeline
For any plan to be successful, you need to be clear on what you want to achieve. For this, you need to define:
Objectives: What success looks like
KPIs: How you'll measure it
A timeline: When you plan to achieve it
These elements work together to guide you throughout the execution of your marketing plan.
Making them specific and measurable means that at any point you can stop, look at what you've achieved so far, and be able to instantly tell if you're on the right track.
KPIs will definitely help with that: make sure you define which ones you'll use and how often you'll check them.
Examples of marketing KPIs include:
General metrics, such as customer acquisition cost (CAC), lifetime value of a customer (LTV), return on investment (ROI)
Organic traffic metrics, such as number of impressions, unique visitors, click-through-rates (CTR), average ranking position
Social media campaign metrics, such as engagement and follower growth
Advertising campaign metrics, such as return on ad spend (ROAS), conversion rates
Note: It can be extremely useful to define the objectives you won't be focusing on in this plan: this helps you set the limits of what you're aiming to achieve and know what's irrelevant at this point.
5. Get specific: Define the marketing tactics that will help you meet objectives
Next, you need to break down your high-level objectives into smaller monthly and weekly goals to create a unique plan and define the specific tasks, tools, and tactics.
Describe the specific strategies and tactics you'll be using, such as:
The content you'll produce: Blog posts, videos, social media content, PDF guides, case studies, and more
Channels you'll use: Your website, Google Ads, social media platforms, mailing lists
Partnerships that will help achieve your goals: Strategic partners in your field, influencers (paid/unpaid), listings you want to get into
Campaigns you'll launch: Product launch campaigns, promotional campaigns, user generated campaigns
6. Assign responsibilities: Decide who does what
To achieve your goals, you need to assign responsibilities and be very clear on which team member executes which task(s).
This may look obvious: your content manager is in charge of your content, your PPC expert is in charge of your paid campaigns, and your marketing analyst looks at the data to extract useful insights, and so on.
However, marketing roles are often not as clearly defined as we would like (a quick scan of The Balance Careers' list of marketing roles made our heads spin), and this leaves the door open for misunderstandings and misinterpretation — especially in smaller marketing departments where each person is wearing a few different hats.
To help avoid anyone stepping on anyone else's toes, or having a few people actively avoid a specific task that's somewhat mundane, define exactly who's responsible for which aspect of your marketing plan, and how success will be measured.
This will help everyone stay on track and know exactly what to do to get started, how to finish each task, and, importantly, who to talk to if seemingly insurmountable mountains arise on the horizon and they get stuck.
7. Assemble your toolbox: Define the tools and resources you'll need — including budget
Now, you need to assemble your arsenal, or set a war chest and define the weapons you'll be using to achieve your goals.
Here are a few examples of tools you can use to execute your marketing plan:
PandaDoc to help manage the documents you can use to support both your marketing and sales efforts — and impress and convert customers
A CRM tool like HubSpot, Salesforce, or monday.com to create, implement, and measure campaigns and manage your customer base
A project management tool like ClickUp or Asana to help your team stay on track and have a clear roadmap toward success
A social media management tool like Hootsuite or Sprout Social to help you manage your social media posts and campaigns
A productivity app like Slack, Zoom, or Microsoft Teams for the communication needs of your marketing team
We've intentionally left the budget for the end. The strategies, tactics, and tools you'll use, as well as the specific deliverables you'll need to execute your plan, will define the budget that you need to set.
While you'll be able to make use of a number of free tools — your social media, Google Search Console, or Canva, for example — there will be those that have subscription fees you need to account for.
Other costs to plan for include:
Ad spend for Google Ads, Bing Ads, social media ads
Contractors' fees for graphic design, content, and more
Sponsorships for listings, influencer campaigns, awards
Recruitment costs for new hires
Of course, when defining the budget, you need to be mindful of any budget constraints and look for ways to leverage existing resources and free tools to make the most of what you already have.
But you definitely should set a budget — and measure spending continuously.
You have a marketing plan, now what? Let's talk next steps
Congratulations, your marketing plan is now finished! Way to go! What's next? you might wonder.
To make the most of it, you need to:
Start implementing your plan: With the right marketing plan, implementation will be a breeze, as you'll already have all the specifics mapped out. Now is the time to get to work!
Analyze results: To make sure you're on the right track, you need to continuously look at your KPIs and identify what's working — and also get rid of what isn't.
Update your plan continuously: A marketing plan is not a set-it-and-forget-it type of document. Instead, you need to update it continuously, based on results and on any new objectives you define.
Armed with a solid understanding of what a marketing plan is and how to write one, as well as a clear idea of what to do next, nothing can defeat you now — so what's left is to pull up your sleeves and start writing!
And remember, with the right document management platform to support your marketing efforts, you'll be able to impress your prospects, keep tabs on your leads, drive engagement, and, most importantly, close more deals.
Originally published October 19, 2017, updated August 10, 2022
Disclaimer
PandaDoc is not a law firm, or a substitute for an attorney or law firm. This page is not intended to and does not provide legal advice. Should you have legal questions on the validity of e-signatures or digital signatures and the enforceability thereof, please consult with an attorney or law firm. Use of PandaDocs services are governed by our Terms of Use and Privacy Policy.