Behind almost every successful business is a successful sales team.
Whether you've got a small team of inside sales reps, a large outdoor sales team, or a wholesale department working on distribution partners for your next product, sales is the lifeblood of any business.
Unfortunately, the art of hiring great sales reps is often overlooked. Many businesses think that improved AI and data forecasting can optimize sales performance by transforming it from an art form into a science.
But, while it's true that data can improve sales, it's no excuse for failing to hire the right sales experience for your team.
In this article, we'll talk about how to hire the right sales reps and — most importantly — how to keep them once they're with you.
Let's get to it.
Before you start: Sales reps by the numbers
There are millions of account executives, SDRs, and other sales-related jobs in the US, all of which are backed by a healthy supply of skilled sales professionals who can fulfill the role.
While that's great when you're trying to find the best salesperson, it can also be a drawback if you aren't making a competitive offer during (and after) the interview process.
We'll cover this in greater detail below, but here are some things to consider before you start your hiring process: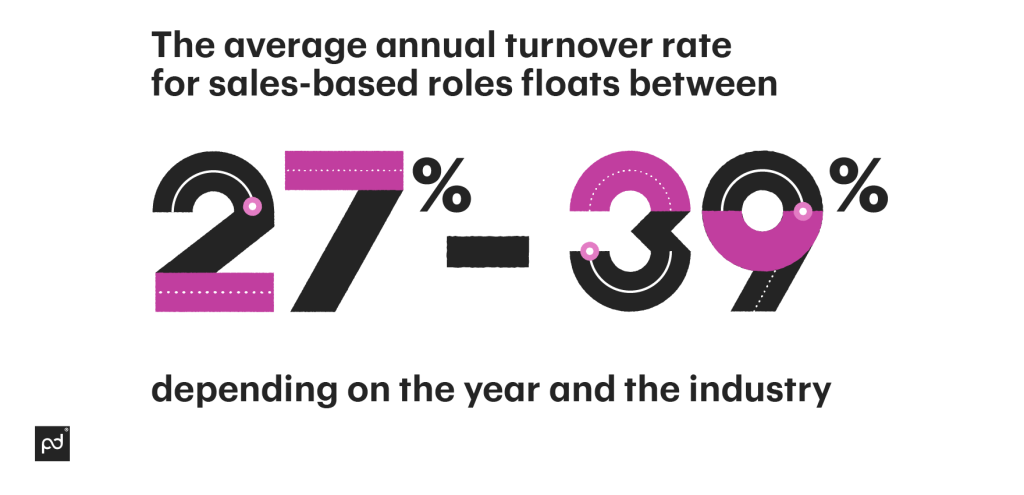 Roughly 67% of sales reps will leave the company before the end of their second year of employment.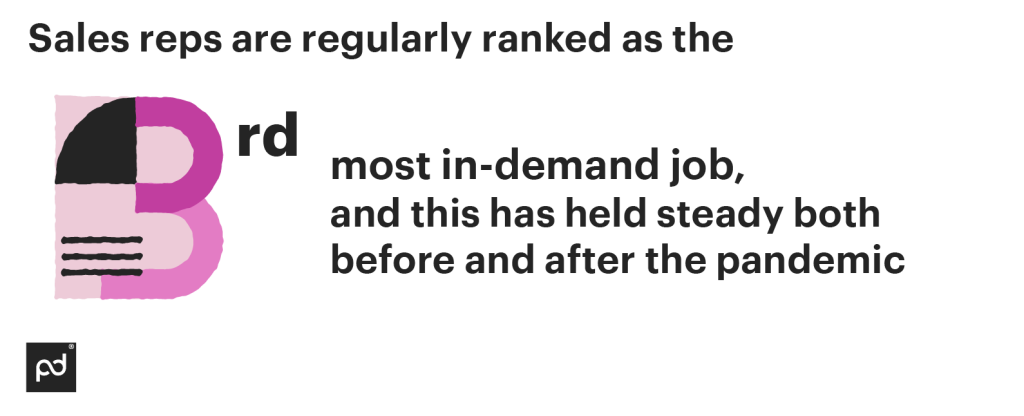 In 2021, the fill rate for jobs was around 71% while the number of new job openings (post-pandemic) increased by 39%, resulting in greater hiring demand while the number of qualified reps stayed mostly the same.
So, what does this mean for you?
In short: While great talent exists, sales is a hyper-competitive job market with a relatively high turnover rate.
If you're willing to make a competitive offer, you can likely find sales talent with your preferred competencies and fill your sales positions quickly.
However, you should also be prepared to address the churn that comes with the profession and take steps in order to boost retention.
When you find the right candidate and you're prepared to invest in their personal development, it makes sense to keep them on your team as long as possible.
That's especially true since it's estimated that the cost of directly replacing an employee can be as high as 50% to 60% of an employee's annual salary.
Hiring salespeople is tough, but keeping them is harder. Don't let your hard work during the recruiting process go to waste.
How to hire sales reps
Speaking broadly, hiring sales reps can be something of an art form.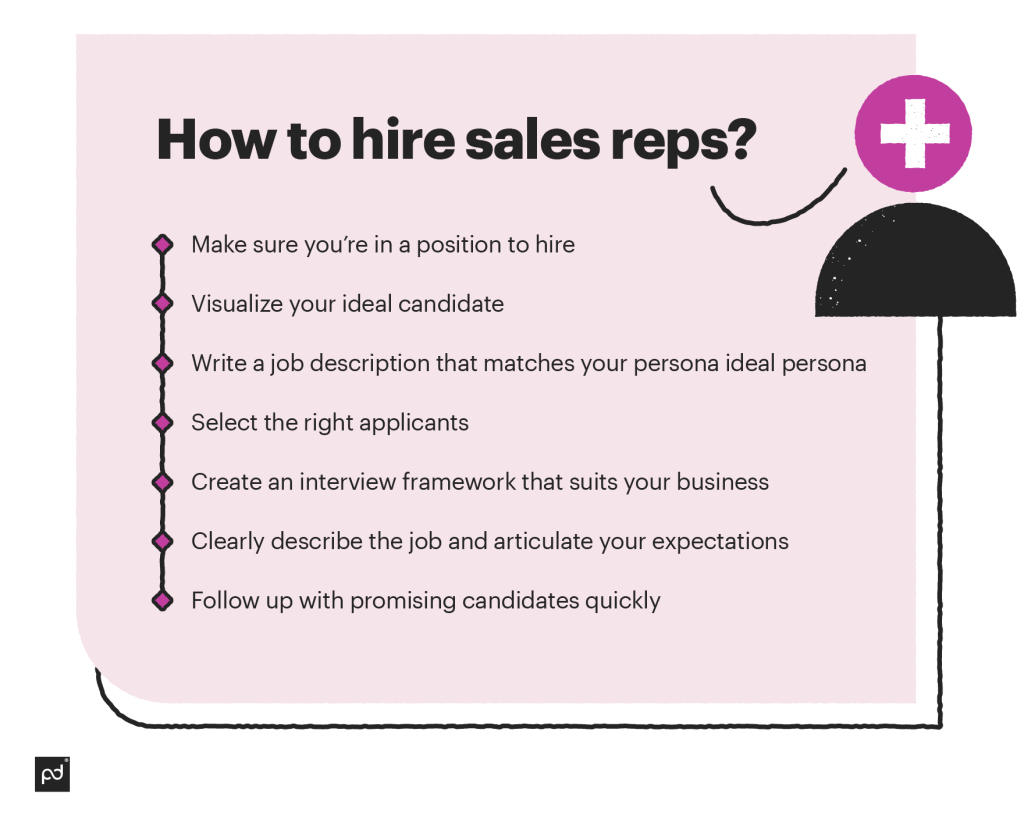 While you need experienced talent to fulfill a sales role, you'll also need to make some key decisions around team cohesion, competitiveness, and reliability if you want to get the most out of every hire.
In the steps below, we outline what actions you should take to acquire the right team members, but keep in mind that your mileage may vary based on your company sales process and the vision you have for your new hires.
Make sure you're in a position to hire
Before you jump onto your favorite hiring website and kickstart the recruiting process, make sure it's the right time to hire. Once you find a great candidate, your work has only begun.
The best sales professionals in the world can't make a positive contribution to your company if you don't have the capacity to onboard and train them.
Building out the correct infrastructure is just as important as ensuring that it's the right time to make a new hire.
Before you begin sifting resumes, take a good look at your current sales flows. Is it time for a change? Should you optimize further with powerful proposal tools or new CRMs?
Could you get more out of your team with additional streamlining or further development?
These are all factors to consider before you even start hiring.
Keep in mind that strong sales departments focus on creating a repeatable, scalable process.
Hiring more sales reps before you're ready will only distract your team and waste money.
Visualize your ideal candidate
Before you post on job boards or start fielding interviews, take a minute to visualize your ideal candidate.
Based on your current team, what kind of individual would make the most sense for your team?
Here are a few things to consider:
Does your team have a knowledge gap that you need to fill?
What (realistic) level of experience does this job require?
How much time / what resources do you have to train a new hire?
Do you need a team player or someone who prefers to work alone?
Which traits would a new hire need to fit your company culture?
These and other questions around qualifications and work experience are a great place to start when trying to craft your ideal candidate.
Keep in mind that, while this is a great exercise to help you imagine your next key player, great salespeople come in all shapes and sizes.
Just because someone doesn't fit your predefined criteria doesn't mean they won't be a great fit for your business.
Write a job description that matches your persona ideal persona
A detailed job description explains how to perform the job and the responsibilities involved. It includes the following information:
Specific job-related tasks.
The product or service your company offers.
The types of customers your reps will work with.
The person they will report to.
What their earning potential will be.
How they'll interact with other people on their team.
The best way to create this description is by interviewing and observing your top-performing sales reps. Focus closely on their tasks and daily activities.
From there, you'll be able to figure out what the job truly entails.
Make sure to include a thorough employment contract to protect both yourself and your prospect when explaining expectations during the sales hiring process.
Select the right applicants
Once you have a basic understanding of who you're looking for, it's time to post your job and review sales candidates.
But it can be hard to find the right candidates if you don't know what you're looking for.
This is another thing you can learn by looking at your best sales reps and by asking the right questions during interviews.
Sales experience matters, but there are other qualities to look for in a sales candidate:
Grit
Coachability
Composure
Efficiency
Persistence
Emotional Intelligence
Self-Awareness
You can probably find a handful of applicants that fit your ideal persona, but you'll want to strongly consider candidates who exhibit many of the traits listed above.
The bottom line is that sales jobs can get tough. Many of the best candidates thrive under pressure or have a strong competitive spirit.
The ability to keep pushing, whether it's to hit a personal quota or get more out of every interaction, can be a great addition to any team.
Create an interview framework that suits your business
After you've selected your interview candidates, take a moment to determine what kind of interview framework makes the most sense for your organization.
If you work in an office environment where working on a team is essential, a group interview might make the most sense. However, one-on-one interviews are the standard and should be heavily considered.
If you're a startup with no current sales team, try hiring in pairs based on the qualities we've mentioned so far.
This not only helps foster a healthy level of competition but there's also a better chance of avoiding a talent gap.
Keep in mind that the framework you create isn't limited to the type of interview you create or a list of hypothetical scenarios that you might want to roleplay with potential interviewers.
The individuals who conduct the interview are also a factor.
It might make sense to involve sales managers from your existing team or bring in sales leaders and top performers to ask interview questions.
If you choose to do this, it's important to listen to any concerns from your sales team, even if they go against your own opinion.
They may have valuable insights into why a candidate is or isn't a good fit for the company.
Clearly describe the job and articulate your expectations
As part of the interview process, be sure to cover the details clearly.
Your job posting might be enough to get potential hires in the door, but you'll still need to cover the basics around expectations, environment, salary, and incentives.
If you have specific requirements, like skills with Salesforce or daily expectations for performing cold calls, be sure to mention those details.
You can also mention the perks. If you have exciting document generation software and a robust template library or other tools that might be seen as a tool to help new sales reps improve performance, don't hesitate to talk about them.
As you move through this phase, remember that some of your best candidates are likely to be interviewing you as well.
With such a high value placed on sales skills, reps with a strong resume and a background in selling are in high demand.
Clearly defining roles and responsibilities will save time and ensure that your new salesperson is the right fit for the job.
Follow up with promising candidates quickly
When you've finished up your interview rounds, don't hesitate to coordinate with hiring managers and start the onboarding process.
Strong candidates may have lined up multiple interviews and, by hesitating, you risk losing out on top choices for your sales roles.
Once you know that you intend to hire someone, delaying only elongates the process. Reach out and get the ball rolling.
It's also possible to use this step as a way to build up a bench of potential hires.
If you've closely cataloged your interviews and you like more candidates than you can hire (always a good thing!), sending a personalized email to let them know where they stand is a good idea.
Most companies send generic rejection letters when a candidate won't be hired.
When treated with a bit more foresight, you can part amicably with promising candidates who fall into your rejection pile and leave the door open for future opportunities.
Considering the long view, taking these steps makes total sense.
Given the average lifespan of a sales rep (67% of reps depart an organization by the second year of employment), you're likely to find yourself hiring either from growth or attrition in relatively short order.
How to keep sales reps
Current research shows the average attrition rate for sales reps is somewhere between 27% and 39%, depending on the year and the industry.
That means, if you have 100 sales reps in your department, odds are that you're going to lose roughly a third of them this year.
This is a frustrating obstacle to deal with considering the time and money you spent on finding them. Plus, it's tough when any of those who leave are among your best people, and you're stuck with a talent gap.
So, what can you do to avoid turnover?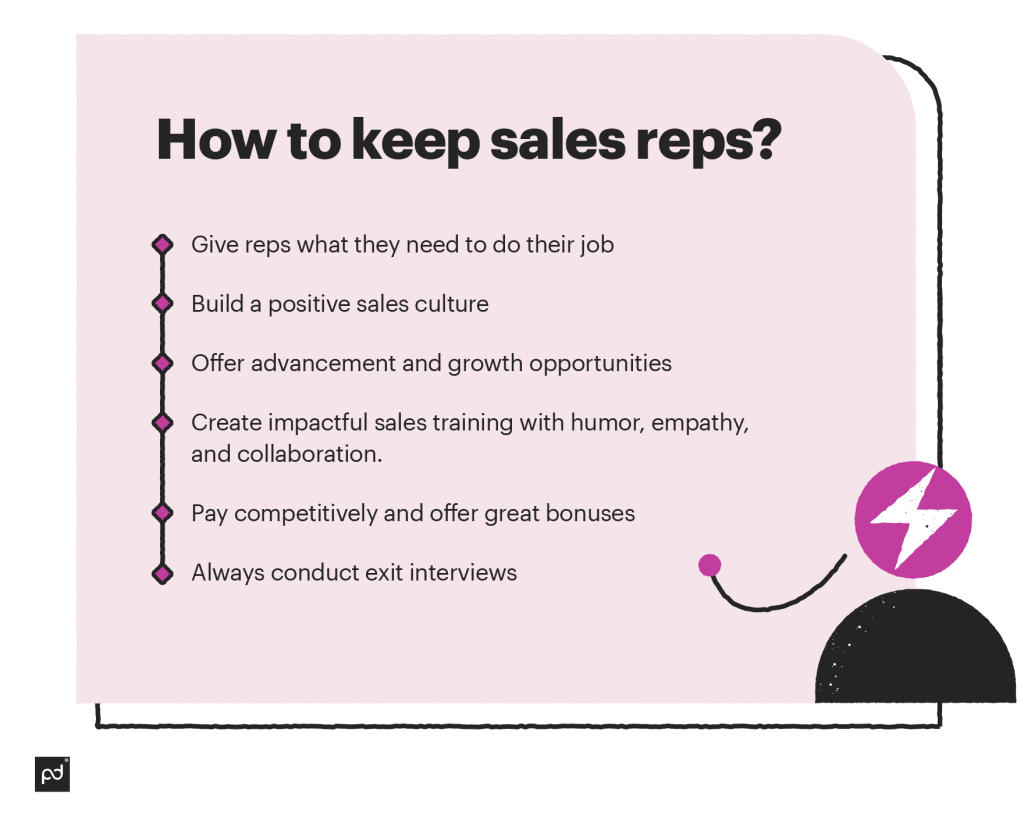 Give reps what they need to do their job
Without proper planning, it's easy for companies to starve sales reps out of the tools to help them do their jobs well.
Startups are always cash-conscious, but it's critical to rethink your budget when it comes to training and career development.
Do your part as an effective sales manager or manager of sales enablement to help your team nurture relationships with clients at scale.
Realize that achieving this goal requires a balance of automation and personalization.
Use an all-in-one software platform like PandaDoc for streamlining workflows to empower your sales team with on-brand messaging and rich media across all of your collateral.
This will free up reps to focus more on selling and less on dealing with proposals, quotes, and contract management.
Software like PandaDoc is important not only for large enterprises but also for B2B startups and small-to-medium-sized enterprises, as training employees to a specific playbook allows you to scale processes effectively.
Give your sales reps the training they need to combine their skills with this software, and you'll build a confident, competent sales team that is equipped to close deals at lightning speed.
Build a positive sales culture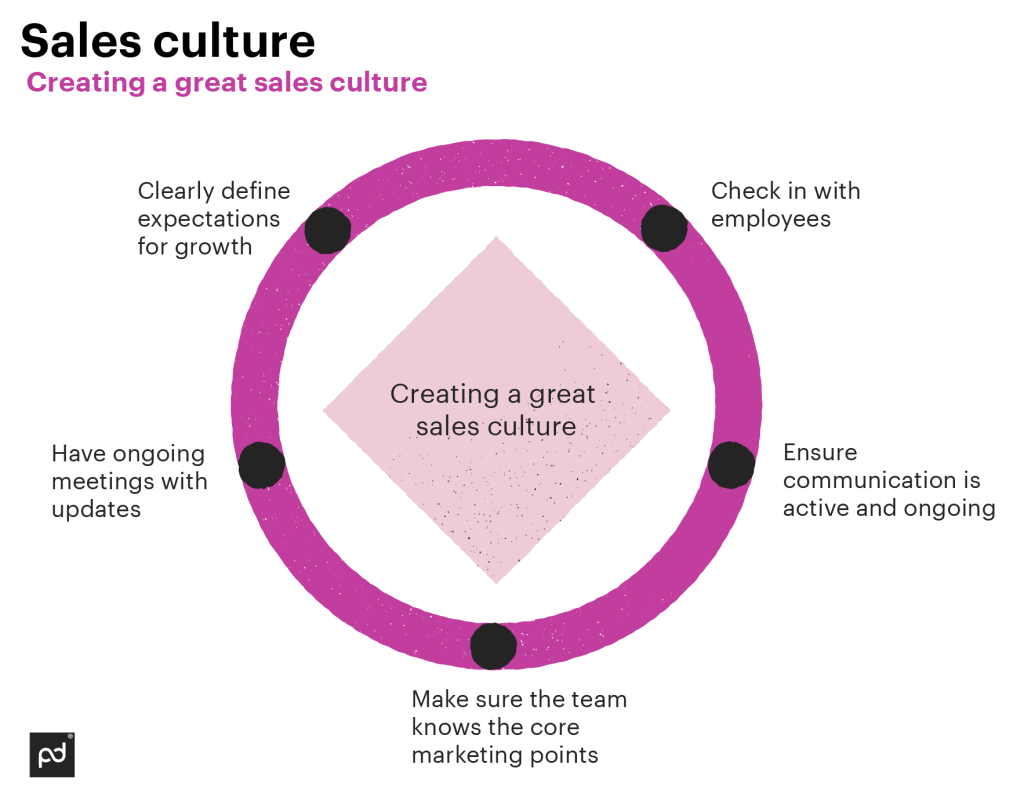 It's not easy being a commission-only sales rep, and sales positions can feel stressful and thankless. Once your reps meet their goals, they start over at zero the next month.
So, one of the best ways to retain your sales leaders is by creating a positive sales culture with values that align with your vision. Here is what this might look like:
Encourage camaraderie among sales reps by uniting them behind a common "why" which connects their actions to the bigger picture.
Foster a healthy level of competition by setting a clear bar of excellence, attainable quotas, and a sales rep commission structure with commission rates that fit your business.
Reward not positive sales performance and positive employee attitudes with both recognition-based and monetary incentives.
Open dialogue between sales reps and management and encourage transparency.
Be accessible to your team and stand with them in the trenches.
One of the best ways to create a positive sales culture is by publicly recognizing your team. Focus on activity, rather than just results.
Sales reps can't force sales on leads, but they can focus on increasing their efficiency and productivity.
And, post-pandemic, keep in mind that strong sales culture can be built in an online-only environment. According to recent research, 87% of employees would prefer to stay remote.
84% of searches on LinkedIn are for remote jobs, and those receive 4x the number of applicants that onsite jobs do.
Positive sales culture can be built outside of the office — and you can likely build a stronger sales team by playing to those preferences.
Offer advancement and growth opportunities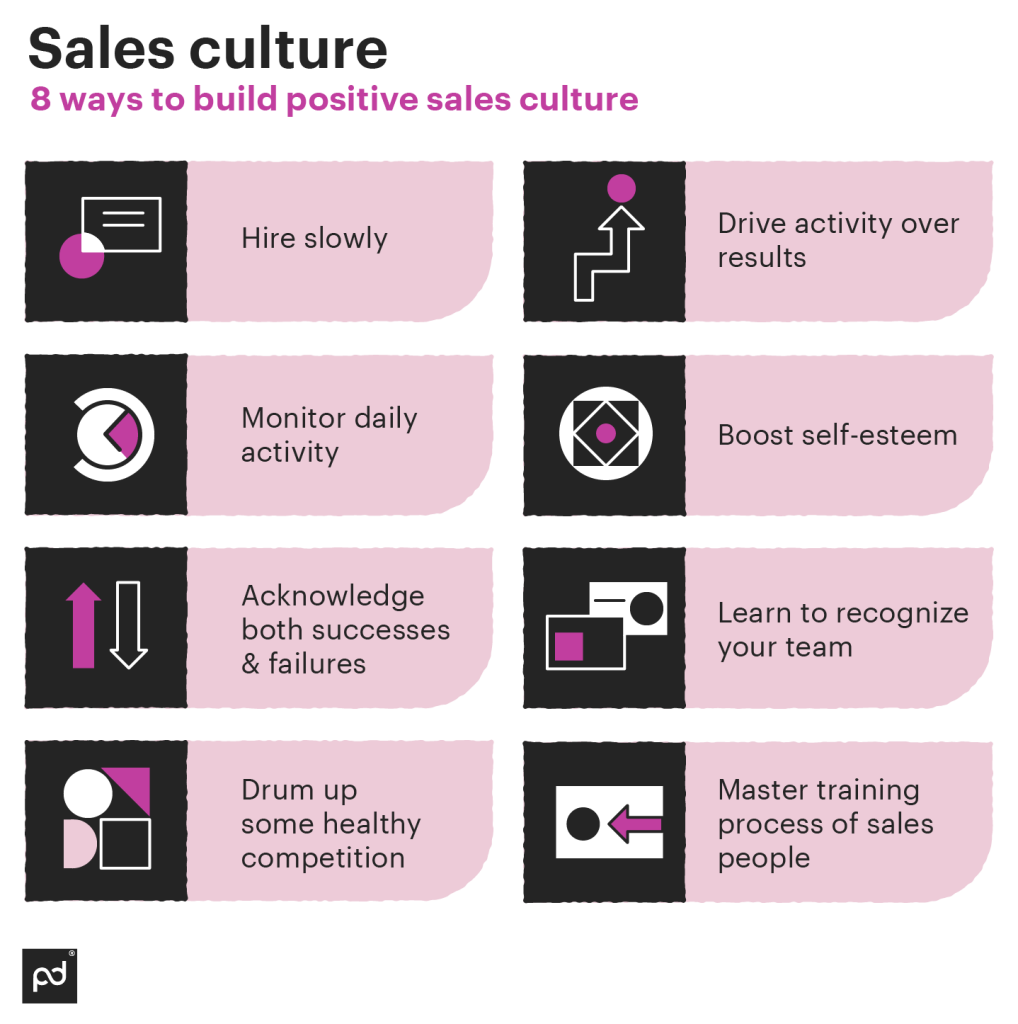 Many leaders assume sales reps leave because they're looking for more money, but this isn't always the case.
As Gallup points out, 52% of voluntarily exiting employees say that their manager or organization could have done something to prevent them from leaving their job.
An SHRM survey backs this up, pointing out that 65% of respondents said that professional and career development benefits were very or extremely important, up from 37% in 2020/2021.
Sales can feel like a dead-end career without strong opportunities to grow.
Most reps want to feel like they're seeing professional growth and increasing their skill set in a way that will lead to a more beneficial outcome.
If they reach a point where they feel they've maxed out their potential with your company, they're going to move on.
To keep them around, you'll need to find ways to keep them engaged.
Give them opportunities for business development.
Sales reps have the unique role of intimately understanding how the business acquires new money. As a result, motivated reps with the right skills make phenomenal leaders on the revenue team.
Allow high performers to transition into more strategic roles in management, and you'll have leaders capable of informing your marketing team on buyer personas and effectively communicating your value proposition.
Develop realistic but challenging goals, and provide them with the tools they need to hit those goals.
Lastly, make sure you create an open dialogue with your sales reps. Share their progress, and recommend ways to perform at a higher level.
Top performers appreciate this type of sincere feedback, and it will strengthen your relationship with your team.
Pay competitively and offer great bonuses
While we aren't saying that money is everything, a great paycheck can be great motivation to come in and do a good job.
Underpaying employees — especially in-demand sales reps — is also a great way to lose them in a hurry. Even great systems and perks won't offset poor pay.
At the end of the day, your employees have bills and they work for a paycheck. If your rates aren't competitive, you'll lose high performers to competitors who are willing to pay more for their services.
And keep in mind that the current job market is very competitive.
As ADP points out, employers are struggling to fill roles right now because there simply aren't enough workers.
Despite the fact that roughly 4.4 million people quit their jobs each month, the number of job openings has increased from about 4.6% to about 7%, according to BLS.
A great (and achievable) bonus program, combined with a competitive salary and other perks will help you retain the talent you need to fight attrition and keep your sales team in top shape.
Always conduct exit interviews
If you want to increase employee retention, you'll need to understand why your employees are leaving in the first place. Every time a sales rep leaves your company, conduct an exit interview to find out why.
This matters for a few reasons.
If you don't know why you're losing your best people, you're going to continue to make the same mistakes.
As a study from Work Institute points out, 69% of individuals who leave say that turnover was for more preventable reasons.
Often, employees left because their current job didn't provide them with opportunities for promotion and advancement or couldn't create a schedule that provided a better work-life balance.
Here are a few things to keep in mind as you're conducting exit interviews:
Assure the applicant the interview is confidential. Conduct the meeting one-on-one in private so the individual feels comfortable speaking candidly. Let them know you won't be sharing their answers with anyone they worked with.
Choose someone from HR to conduct the exit interview. Whatever you do, don't have the employee's supervisor conduct the interview. No one wants to tell their former boss the reasons they quit.
Ask thoughtful interview questions. What did they like or dislike about working for your company? What did they think about the culture of the sales department? How did they feel about their supervisor or other managers? What changes might they suggest?
Listen carefully to the answers. You might even want to take notes, and don't interrupt or respond in a disapproving way.
As you continue to conduct these interviews, you'll see common themes begin to emerge. By addressing these issues, you'll help prevent future employee turnover.
Optimize your business workflow with PandaDoc
While hiring great salespeople is an effective way to do more business, it's a regularly reported statistic that reps usually spend less than 40% of their time selling.
The rest of the time is spent on administrative duties like managing CRMs, building proposals, handling spreadsheets, and more.
One of the most important things that you can do for your sales team is to invest in technology that optimizes the sales workflow and minimizes the time spent away from prospects.
That's why PandaDoc is such a critical tool for over 40,000 businesses.
Our platform connects directly to your document workflow so that document creation and management are fast, simple, and easy.
Give your team the tools they need to close deals in record time.
Sign up for a free 14-day trial with PandaDoc to see how our document tools can be a game-changer in every sales interaction.
Originally published Nov 21, 2018, updated Jul 11, 2022
Disclaimer
PandaDoc is not a law firm, or a substitute for an attorney or law firm. This page is not intended to and does not provide legal advice. Should you have legal questions on the validity of e-signatures or digital signatures and the enforceability thereof, please consult with an attorney or law firm. Use of PandaDocs services are governed by our Terms of Use and Privacy Policy.