Sales enablement tools are so hot right now.
It's easy to get caught up in a rush to have the coolest new sales tools. But even though some of them are quite useful, there are only a few that your team really needs to be successful.
Here's a closer look at tools that can help SDRs develop qualified leads and move deals farther down your sales pipeline.
Why sales development reps love sales development toolkits
If you are committed to growing your business through sales development, then enablement tools are a no-brainer.
Even if you hire top-performing sales development representatives, they'll still need a flexible toolkit in order to perform effectively in their roles.
With the right tools and clear guidelines on how to fit them into your operation, salespeople can move quickly to chase leads, secure deals, and earn revenue.
Without an organized system, sales teams can quickly fall apart. Top-performing teams have a toolkit that fits effectively into the sales process.
Reps understand what you want them to do, and they have the tools necessary to make it happen.
A strong sales toolkit also comes with some major benefits for your team:
Business development
Quality leads can have long-term benefits. Tools that connect your reps to potential prospects and establish good working relationships with them also do some of the customer service and retention work that you need.
Internally, the right tools can also improve morale by reducing workloads and eliminating tedious or redundant processes.
Time management
Sales professionals are always busy, so most sales tools are focused on saving time. Some help reps create automated workflows and follow-ups.
Others do that by automatic schedule or fast template creation. All of these tools are designed to help SDRs reclaim their time by boosting productivity and placing the more tedious aspects of lead generation on autopilot.
Improved communication
The right tools help reps send more emails, make more calls, and set up meetings faster. This saves time, boosts productivity, and ultimately leads to more sales.
Externally, helping team members effectively communicate customer issues during handoffs also raises the opinion of the business for prospective buyers.
Overall, these benefits also improve the outside perception of the company. Since SDRs and customer service agents are two of the most common points of contact for customers, creating an effective toolkit can go a long way in allowing reps to maintain a strong customer-centric focus.
Sales development vs. sales management tools
While these two items sound similar, they're actually quite different.
Sales development tools
Sales development tools (the focus of this article) are intended for the early stage of the sales pipeline. They help with prospect acquisition and follow-up as well as lead qualification and data capture.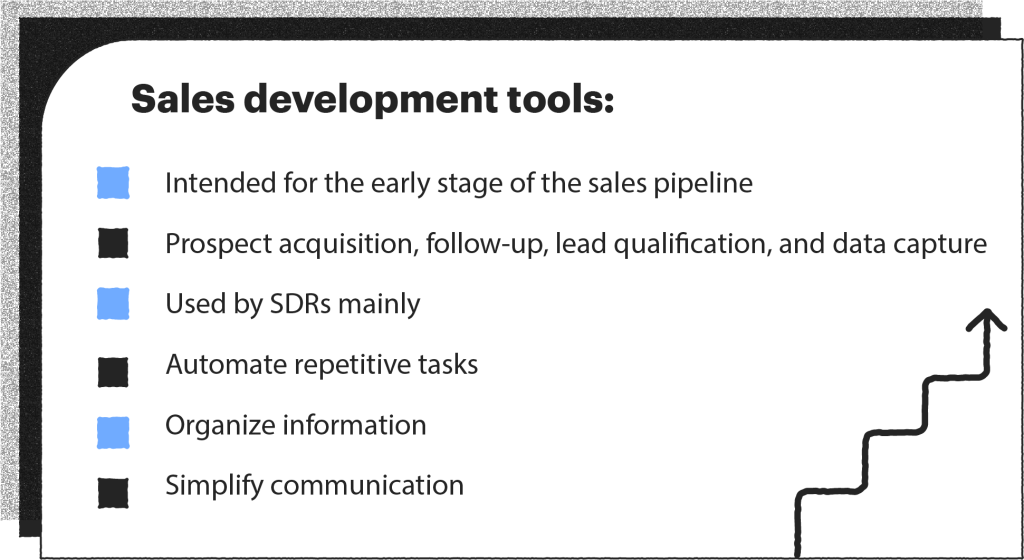 The software used by SDRs may also share some attributes with other sales tools, as they automate repetitive tasks, organize information, and simplify communication.
Sales management tools
Sales management tools are typically for later stages of the sales journey. These tools are designed to track real-time performance and other metrics, contracts, shipping and payment, customer satisfaction, and training modules for sales professionals.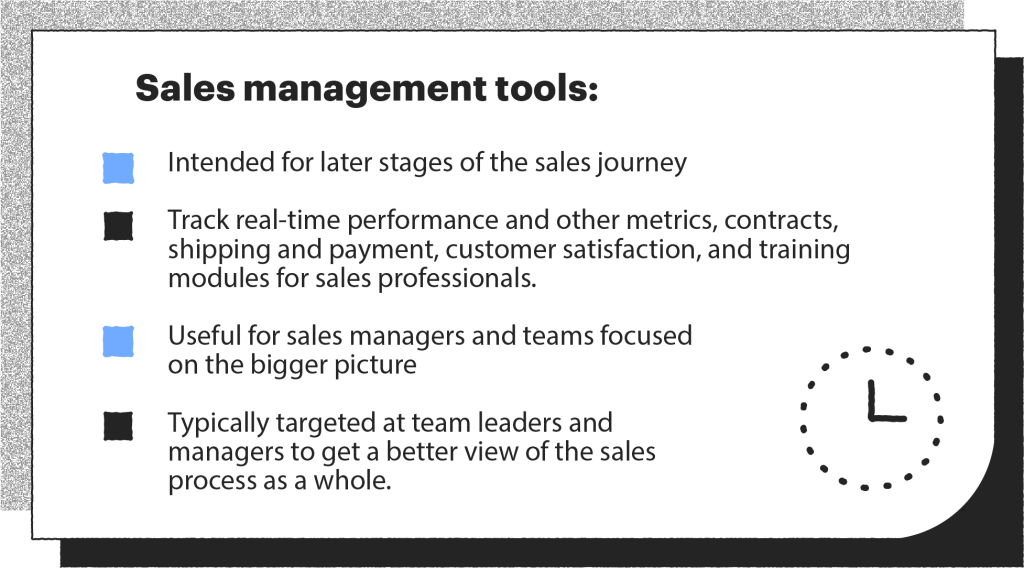 This kind of software is useful for sales managers and teams focused on the bigger picture, but they're typically targeted at team leaders and managers who are trying to track SDR progress or get a better view of the sales process as a whole.
Best sales tools for SDRs
If you're trying to stay competitive in your field, having a proper tech stack is a must.
That's true, even at PandaDoc. Our team has tools in place to try and maintain maximum productivity and effectiveness.
However, it's not a one-size-fits-all approach. Instead, we've identified a handful of tools that address the specific challenges that our SDRs face.
But, while the software tools might be different, the needs are almost always the same.
With that in mind, we've broken our tools and recommendations into categories based on what you're most likely to need to create a successful sales toolkit.
1. CRMs
If your business is large enough to merit a sales development team, you need a CRM.
Think of a CRM as the collective digital memory for your sales organization. You can't expect each individual rep to remember how they've interacted with every prospect, but it's important to store that information for future reference.
Even for small sales teams, manual data management can dramatically hamper productivity. This is where CRMs are valuable because they allow your team to break away from spreadsheets and unorganized notes as they qualify leads.
A properly set up CRM can provide deep insights into the effectiveness of your sales team and the health of your company. Simply put, you cannot create a data-driven sales team without implementing and maintaining a CRM.
At PandaDoc, we use Salesforce. We chose this route because we have LOTS of data and multiple sales channels, and we needed a single place to store all customer information. It is our "source of truth" for all things sales.
There are other great tools out there as well. Here are a few CRMs that you might want to consider.
As a small plug, it's also worth pointing out that PandaDoc offers great integrations with all of the CRMs we recommend above for sales development purposes and many other tools as well.
If you're looking for a way to connect the data in your CRM to the sales documents and collateral your team needs to create, these integrations are powerful ways to put your data to work for you.
2. Meetings and scheduling
At PandaDoc, we're pretty busy, and that makes scheduling meetings with other busy people difficult.
Nowhere is this more of a problem than in B2B sales. Trading emails with a C-level executive to set up a meeting can take days. It's inefficient and, more importantly, it elongates the sales cycle in unnecessary ways.
After initial introductions, it's best to cut to the chase and find the best time to talk.
The best tools for the job are those that display your availability and give your prospect the ability to pick a time best suited to their own availability.
For that, you'll need a calendar automation tool like those we've listed below:
Both of these scheduling apps are similar and allow inbound leads to set up a chat by providing a phone number or an email address.
You can even integrate your scheduling tool with your CRM or with a video conferencing tool for automated data capture and meeting link generation.
3. Outreach automation
While setting up meetings is fundamental to sales development, it's only a small part of the work.
Making contact with prospects often happens multiple times over several different platforms.
Instead of manually reaching out and then planning and tracking follow-up calls, outreach automation can handle the repetitive and time-consuming part of the task.
Here are the best prospecting tools to incorporate:
Auto-dialers. These tools improve call uptime by helping your team get on the phone faster and reduce delays between calls. You can even connect them to your CRM so that phone calls are generated based on numbers within your database.
Email templates. Often customizable, templates for your emails allow your team to quickly generate and send outreach emails to new leads and prospects. These are great for everything from thank you emails to post-call recaps, which makes them great candidates for sales prospecting.
Analytics. This toolkit can help you measure success and determine the best approaches for various aspects of your business. You can use analytics tracking to see which reps are most productive, who has the highest close rates, and even how customers respond to the sales documents sent from your team.
Task lists. Useful for elements where someone needs to step in and administer manual controls. Even with a slew of powerful automation tools at your disposal, some things will still need a personal touch.
The tools you need to build automation into your sales pipeline will depend on your company size and exactly what needs to be automated.
Some great tools, like Salesloft or Salesforce Customer 360, might be too big for a small business, especially if you're just looking for solutions to handle outbound prospecting rather than full-scope customer management.
Fortunately, there are a ton of smaller tools out there that can be easily added to your automation playbook.
Let's take a look at email automation as an example.
Quickmail.io is a powerful and affordable email automation tool that has an absolutely flawless user interface. It's one of the best-built software tools we've ever seen.
On the other hand, tools like Outreach.io, will automatically email prospects on your behalf and generate a running list of tasks that remind you which steps in your prospecting cadence need to be completed manually.
And, naturally, both of these tools come equipped with analytics so that you get deep insights into the success of your prospecting campaigns, A/B test different approaches, and determine which members of your team are achieving the best results!
4. Lead sourcing
Gone are the days when "dialing for dollars" was an efficient way to generate new business.
Modern sales organizations need more than a phone book and a few cold calls to gain traction. You need high-quality prospect data to set yourself apart from the competition.
Unfortunately, the overwhelming majority are pedaling low-quality data that is scraped from websites. These lists come from traditional "static" databases.
Most of the data is months (even years) old, which is an eternity in B2B sales.
For market intelligence and sales data to be useful, it needs to be up-to-date, industry-specific and enriched with accurate details that make it actionable.
While it's possible to find some of this data manually using tools like LinkedIn Sales Navigator, teams looking to scale need to compile leads more quickly.
Here are a few tools you might consider:
At PandaDoc, we use ZoomInfo. It's an excellent source of high-quality prospect data. The accuracy is high, and the cost is quite reasonable when you factor in labor and opportunity costs.
But if you're looking for a ZoomInfo alternative with great coverage in the US and the best European data, check out Cognism. It lets you buy email lists and provides manually-verified cell phone numbers for your highest-value leads.
Remember: In order to close deals, SDRs need to spend time talking to people, not searching for a phone number.
If you need unique data that isn't available through normal channels, look into LeadGenius.
The company employs a virtual workforce of over 500 trained researchers whose only job is to scour the web for prospect data and enrich it with whatever other data points are important to you.
They deliver customized prospect data at scale.
How to pick the right sales tools
There are hundreds (thousands?) of sales tools available on the market today.
A quick search will yield dozens of top-performing task management tools, auto-dialing systems, and prospecting tools to help you with everything from cold calling to closing deals and onboarding.
But how do you know which tool is right for you?
It's possible to overburden your sales team with too many tools or with tools that offer too many similar features.
That can lead to disaster as each SDR develops workflows and processes that don't fit with the rest of your sales pipeline.
Before you purchase a new library of tools for your team, ask yourself the following questions:
1. Does this tool integrate with my current tech stack?
If your new tool requires access to or data from other sources, such as your CRM, communication systems, or calendar, then doing some research on whether the software can work together is necessary.
It'll save you a lot of problems or from having to switch programs at a later date due to incompatibility.
2. Do we require training?
You and your team will be using this software every day.
While training requirements aren't necessarily a deal-breaker, it's essential to know how much time, commitment, and extra costs are required before you'll see the benefits of using the tool.
Keep in mind that specialized training (often from the company that sold you the product) can quickly become expensive.
If you're paying hundreds or thousands for enterprise-level software, don't be surprised if a few hours of hands-on training courses cost almost as much as your annual subscription.
3. What are the limitations?
Every tool has its weak points and limitations.
While you might intend to save time, setting up and maintaining task management or automation software requires input. Be realistic about what you give and what you get in return.
Overall, you need to be comfortable with the compromises you make. It could be a lack of integration, fewer functions, more training, or higher subscription fees.
Draw those lines and then make your choice to avoid disappointment.
4. Will it work for us?
Your company size, collaboration methods, and specific industry will all impact your sales tools decisions.
While most sales development cycles have similar processes, what your team experiences will be unique. This can and should impact the solutions that work for you.
Keep in mind that the tools you use will also help to define how your business interfaces with its customers.
You don't have to use the exact same tools that your competitors use. In fact, you may be able to create stronger relationships and more effective processes by investing in tools that will grant you a competitive edge.
At the same time, you may also want to ensure that your tools allow you to track key SDR metrics to monitor performance.
Before buying, make sure that the software tool you choose offers the information you need to be successful.
5. How do we measure success, and can we change course?
Metrics are an important way to determine whether a tool is serving the intended purpose.
If you identified your pain points before purchasing, then you'll know what to look for when evaluating monthly performance.
For sales development, that's usually better quality leads, more time spent on progressing and less on repetitive tasks, and more effective communication that speeds up the sales cycle.
After evaluation, if a tool isn't providing the benefits you expected, you'll need a plan. This will depend on several factors, including how much you've invested in terms of time and money in this tool.
If the subscription is easy to cancel and changing will be relatively painless, then opt for a new tool. Otherwise, adjusting processes and training might be the answer. The bottom line is to always do your due diligence before you begin.
PandaDoc is THE tool for all your document needs
When you're building your perfect sales pipeline, it's worth remembering that documents and paperwork are a big part of it.
We're talking about proposals, quotes, contracts, invoices, and much more! These are documents that your sales team will need in order to sell products, close deals, and collect payments.
While it's possible to create some of these documents using word processing tools or to capture payment information over the phone, PandaDoc makes it easy to do everything all in one place.
Our document builder allows you to create a library of sales documents and templates for fast and easy deployment. This can dramatically accelerate your sales process while keeping all of your documents on brand.
Sign up for a free 14-day trial and see for yourself why PandaDoc is the best tool to generate your sales docs.