The toolkit every sales development rep needs
Sales enablement tools are so hot right now.
It's easy to get caught up in the rush to have the coolest new sales tools. Though some of them are quite useful, there are only a few that your team needs to be successful. Here are the must-have tools with which I equip all of PandaDoc SDRs.
CRMs
Salesforce
Close.com
HubSpot
Pipedrive
Base
Zoho
I am constantly surprised by the number of prospecting teams that are, "still deciding on a CRM." In the meantime, they manually store prospect data and track the status of each prospect using spreadsheets. The thought of it makes me nauseous.
If your business is large enough to merit a sales development team, then you need a CRM. Think of it as your reps' digital memory. You can't expect them to remember how they've interacted with every prospect, but it's important to have that information stored somewhere.
At PandaDoc, we use Salesforce. We chose this route because we have LOTS of data, multiple sales channels, and we needed a single place to store all customer information. It is our "source of truth" for all things sales.
Salesforce is large and complex, but it can be a powerful business tool in the right hands. If you're new to CRMs and want to use Salesforce, consider hiring an experienced admin to help you set everything up correctly. An improperly configured Salesforce account can be a costly problem as you scale.
A properly set up CRM can provide deep insights into the effectiveness of your sales team and the health of your company. Simply put, you cannot create a data-driven sales team without implementing and maintaining a CRM.
As a small plug, I'll mention here that PandaDoc offers great integrations with all of the CRMs we recommend above for sales development purposes, and many other tools as well.
Meeting time suggestion apps
Assistant.to
We're pretty busy, which makes scheduling meetings with other busy people difficult. Nowhere is this more of a problem than in B2B sales. Trading emails with a C-level exec to set up a meeting can take days. This is inefficient. More importantly, it extends your sales cycle unnecessarily.
I use Assistant.to, a free app that allows you to suggest meeting times in an email. Before sending an email, you choose available times which appear as links in the body of the message. When the recipient clicks a time, both you both instantly receive calendar invites.
Whenever I request a meeting, I suggest times. If the prospect is interested, they simply choose a time to confirm.
Self-scheduling apps for prospects
Calendly
Assistant.to is a powerful tool, but it has two major limitations: 1) a sender can only suggest meeting times with one recipient at a time and 2) the sender is limited to three days of suggested meeting times.
Sometimes you need to schedule meetings with groups of people. A perfect example of this is when you send a prospecting email to group of potential customers (see #4 below). You may also want to allow recipients more flexibility than a three-day window.
There are a few apps that solve this problem, but my favorite is Calendly. It has an intuitive interface, is easy to set up, and only costs $10 per month.
Instead of suggesting meeting times, simply add a Calendly link to your email. When a recipient clicks the link, they are directed to a website that shows all of your available times. Recipients can schedule time on your calendar with a few clicks.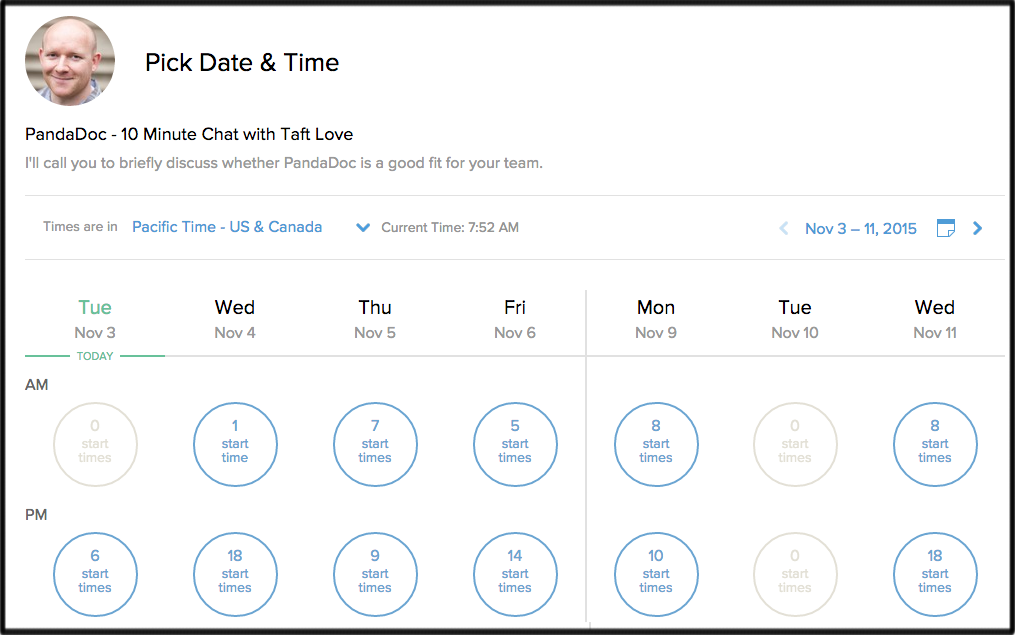 With Calendly, you control what times are available by creating rules. Ours are set up so that we never get two meetings back-to-back without time between and always get a lunch break.
Outreach automation software
Quickmail.io (no Salesforce integration)
Incorporating email into your multi-touch sales development campaigns is difficult. Many sales development teams use CRM tasks, calendar invites, or even sticky notes to remind themselves when to call or email each prospect. This is inefficient and time-consuming.
Sending hundreds (or thousands) of emails every month and diligently following up by phone can take up a huge portion of your time, unless you have an automated tool to handle the grunt work for you.
There are several popular tools, but two in particular are my favorites. Quickmail.io is powerful, affordable, and has an absolutely flawless user interface. It's one of the best built software tools I've ever seen.
The only drawback to QuickMail is that it does not integrate with Salesforce. This forced us to switch to a similar tool called Outreach.io. Outreach allows you to create complex prospecting cadences — ours include emails, calls, LinkedIn messages, and sending PandaDoc.
Outreach automatically emails prospects on your behalf and generates a running list of tasks that remind you to complete the manual steps in your prospecting cadence. It helps you keep track of every prospect's status (approaching, responded, cold, etc).
My favorite feature of both Outreach and QuickMail is the analytics. You can get deep insights into the success of your prospecting campaigns, A/B test different approaches, and determine which members of your team are achieving the best results.
Here's a screenshot of an example Outreach report: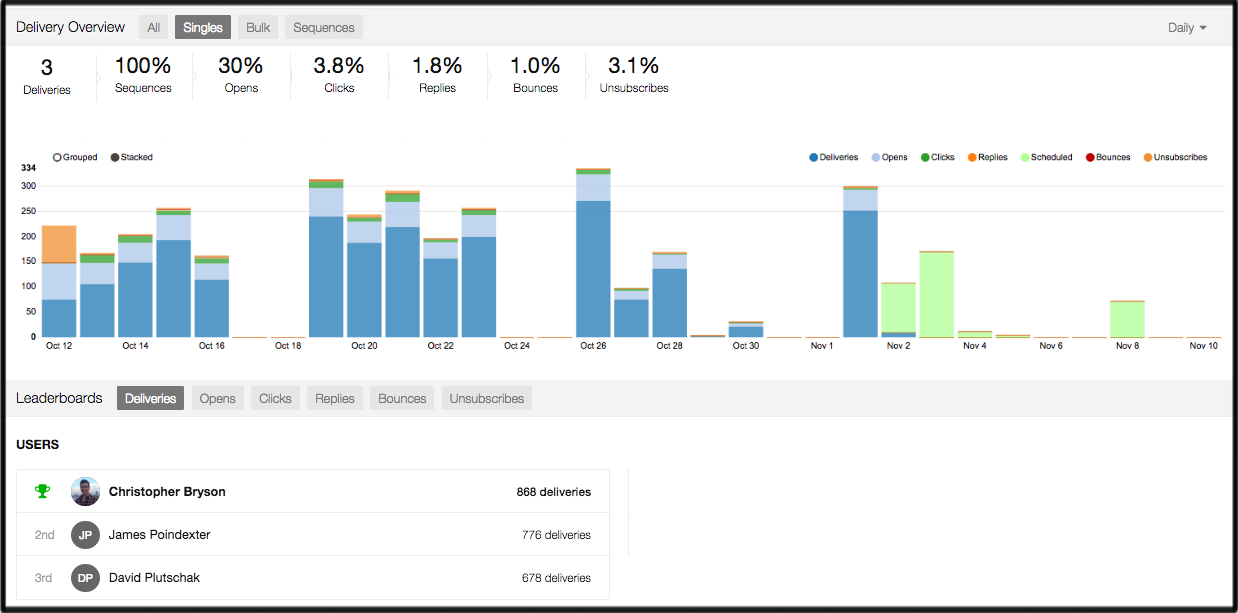 High-quality lead sources
Zoominfo
LeadGenius
Gone are the days when "dialing for dollars" was an efficient way to generate new business. Modern sales organizations need more than a phone book and a few telephone grinders to gain traction. You need high quality prospect data to set yourself apart from the competition.
There are thousands of companies that sell prospecting lists, but the overwhelming majority are pedaling low quality data that is scraped from websites. These lists come from traditional "static" databases. Most of the data is months (even years) old, which is an eternity in B2B sales.
In my experience, traditional prospecting lists have an accuracy rate around 60%. Sales leaders often think that they're saving money by buying cheap lists. However, inaccurate data comes with two costs you may not have considered:
1) Cost of labor: If 1/4 of your data is out of date (that's being generous), then your salespeople spend over 25% of their time calling dead leads and updating bad information.
2) Opportunity cost: Even if your sales team is 100% commission, cheap lead lists can cost you a lot. How much money could you make if your team spent 25% more time selling?
At PandaDoc, we use ZoomInfo. They are an excellent source of high quality prospect data. The accuracy is high and the cost is quite reasonable when you factor in the two costs above.
If you need unique data that isn't available through normal channels, I suggest looking into LeadGenius. They employ a virtual workforce of over 500 trained researchers whose only job is to scour the web for prospect data and enrich it with whatever other data points are important to you. They deliver customized prospect data at scale.
Additional Resources
Some recommended reading, if you want more information that can help you with your SDR team and selling in general:
Books
QBS is my favorite tactical training book for all SDRs. It is part of our training regimen and something we constantly reference during training sessions.
This is my go-to book for getting pumped up about sales. Gitomer's primary message is that sales is all about helping others. It's a great introduction to sales for new reps. It's a short, easy read.
This suggestion is specifically for managers, but it can be helpful to anyone in the organization. Grant combines empirical data with anecdotes to demonstrate that the most successful businesspeople are the ones who give to others.
Blogs
Heather Morgan is a talented copywriter turned consultant who helps sales teams craft amazing outbound email campaigns. Her blog is an excellent resource for anyone who plans to use email for outreach.
ToutApp is a fast-growing player in tech sales development. Even if you don't use their product, I suggest reading what they have to say as much of the content is written by seasoned salespeople.
Podcasts
I've listened to the hosts, Bill Caskey and Bryan Neale for a few years now. Like Jeffrey Gitomer (Little Red Book of Selling), their focus is on teaching salespeople to help others. It is a great training aid for both managers and reps.
Host Brian Burns teaches sales reps and managers of all levels how to perfect their craft. Like The Advanced Selling Podcast, this is an excellent training aid for managers and reps.