Social media is part of almost everyone's daily routine. So much so, in fact, the amount of time most people spend on sites like Facebook, Twitter, and Instagram may surprise you.
On average, Internet users aged 16 to 64 spend 2.25 hours a day on social media websites. As more and more countries gain access to the World Wide Web, we'll almost certainly see that number rise.
It should be no surprise that businesses want to get in on that action and make sure that you see their goods and services as you browse your timelines each day. Business owners have seen so much success from social media marketing that 97% of marketers say they use social media to engage with their audiences.
Social media marketing is the new normal. This means that social media management professionals are in high demand. But if you work in social media management, how can you stand out from the competition?
Besides showing proof that you know a metric from an analytic, potential clients really want to see an exciting and strategic social media proposal. If they can understand how your proposal will change their business for the better, you'll be that much more effective at selling your services and landing clients.
But putting a proposal together can be tough. Your plan needs to concisely detail all steps of the social media funnel.
Don't worry. Once you're done reading this article, your social media proposals will leave no stone unturned.
→DOWNLOAD NOW: FREE SOCIAL MEDIA PROPOSAL TEMPLATE
What is a social media proposal?
Think of a social media proposal as a blueprint you present to prospective clients.
Instead of an architect showing a builder how to construct a home, a social media proposal outlines the deliverables, scope of work, milestones, strategies, timeline, and type of content needed to accomplish the business's social media marketing goals.
In other words, a social media proposal showcases your value to potential clients. You're showing them exactly what you bring to the table and that you understand their needs.
It's okay to show off a little! New clients want to know they're in good hands.
Social media proposal definition
A social media proposal outlines the specifics of the work you'll do for the client.
While a social media proposal can double as a contract, it's typically an official document that outlines what work you'll do for the client if they wish to hire you. A business contract usually comes into play after the client accepts your proposal and agrees to your terms.
The social media workflow
Social media proposals are just one part of the sales process.
However, determining where a proposal fits within the sales process can be confusing. Do I send a social media management proposal before or after signing a contract? What about grant proposals or executive summaries? Where do they fit?
Generally, proposals are sent before both parties sign a contract.
Although a sales workflow is determined by the organization, usually, your social media proposal workflow will include 4 steps: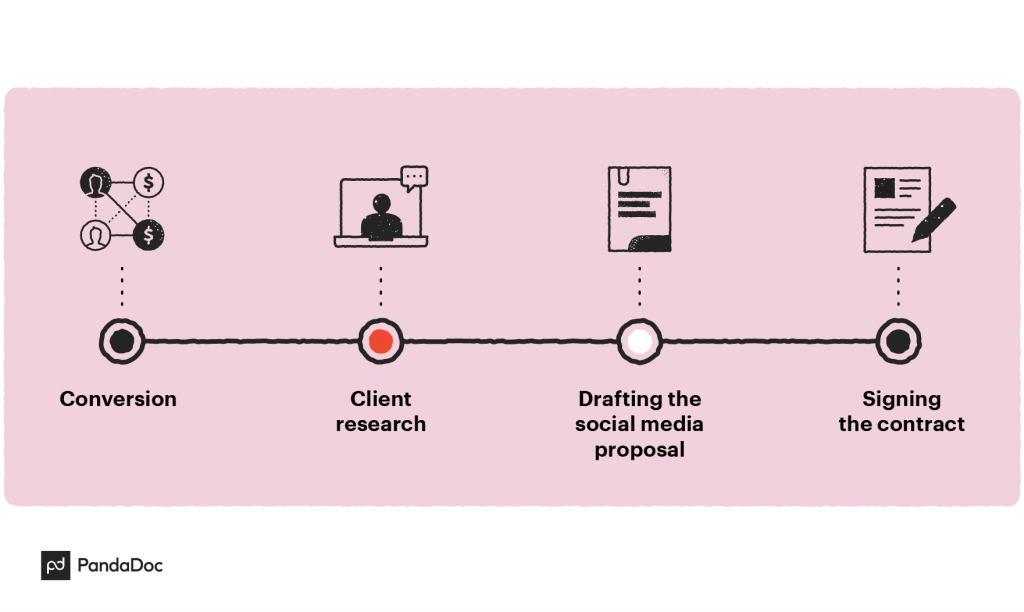 After your client signs the contract, they start to become loyal customers to advocate for your services.
When to send a social media proposal
A typical sales funnel has 5 stages:
Awareness > Consideration > Conversion > Loyalty >Advocacy
As a rule, you write your proposal when you've already caught the fish, not before.
What to include in your social media proposal
A proposal has a lot of different purposes, but there is a right way and a wrong way to write one.
Before you start drafting your social media proposal, you need to speak to your clients about their needs, expectations, and their definition of success in a one-on-one discovery session.
That's because the perfect social media strategy isn't "one-size-fits-all."
You could have two clients in the same niche who both have different business goals. In the end, a discovery session is always necessary!
A discovery session benefits marketers as well. In under 10 minutes, you can decide whether or not you can help a new client within their budget or time constraints. They may even think you provide a service you don't, and clearing that misunderstanding up can save you a lot of time.
Here are some important questions to ask during your discovery session:
What are your current business or marketing goals for social media?
What is your target audience? What does your "ideal customer" demographic look like?
Who are your business competitors? What content do they make?
How much time and money can you invest in this project?
Are you new to social media, or do you have an established social media presence?
Now that you have answers to these questions, you can learn how to draft a social media proposal.
The template we're using covers social media project proposals, but we can help you learn how to write a general business proposal or a sales proposal, as well.
You can download this social media proposal example, 40+ other social media templates, and hundreds of business proposal templates on our website.
Below are the essential 9 elements of a social media proposal you'll need to earn clients.
01. Introduction
In business, an introduction sets expectations for the rest of the meeting.
Your goal here is to make a great first impression, attract attention, and hook the client.
At the end of your first meeting, you should know what they want from you. Now it's your turn to prove you were listening by showing you understand their needs.
Here is an example of a stand-out introduction:
Dear [Client.FirstName]
Thank you for considering [Sender.Company] for your social media marketing needs. I'm glad we had the opportunity to connect so that my team and I could get a clear understanding of your social marketing expectations.
By using social media strategies and implementing procedures based on the results of extensive analysis, the study of social media trends, and the application of specifics unique to [Client.Company], we are confident that we will deliver effective results within your social media channels.
You can use our free social media proposal template to get the job done!
In our social media marketing proposal sample, we used the second-person pronoun "you" because it pulls the reader into the action. It also helps you come off as more personal.
→DOWNLOAD NOW: FREE SOCIAL MEDIA PROPOSAL TEMPLATE
02. Business and marketing goals
Any good marketing strategy needs a goal to reach.
Otherwise, how will you know if you've hit your key performance indicators (KPIs) or search engine optimization (SEO) targets?
Most of the time, your client's social media goal is to make more money. There are plenty of ways to do this, so you need to narrow down what pain points to hit to achieve that goal.
One of the best ways to give structure to your client's needs is by using SMART goals:
Specific: Are my goals sensible, simple, and significant?
Measurable: When and how will I know it's accomplished?
Achievable: How can I achieve my goal?
Relevant: Does this goal match my needs?
Time-bound: Can I accomplish my goals on time?
Let's use an example. Let's say your client wants to make more money from social media but they have no social media presence. You decide that the fastest way to do this is by increasing followers or customers. This is the business goal.
Now that we know what the business goal is, we can determine a marketing goal.
At this step, you just need to connect the business goal to a social media metric. For example, follower count can relate to the audience growth rate metric and the Number of Customers KPI.
Let's put all of that together into a SMART goal:
Increase follower count by 10% by the end of next year.
You can put this goal into your introduction portion or directly after. Some of your clients will want to know which metrics contribute to that goal, so you're both on the same page.
To get to this goal, you would need to add digital marketing and content creation strategies that promote growth for your specific client. This will be covered in the next section.
03. Scope of work
Go into specifics and leave no stone unturned. Explain exactly what you're proposing for each item and break each section down into subsections to remove any doubt.
Marketing agencies are hired to solve problems, and so are freelancers. Your social media services need to explain what the issue is and how your scope of work will fix those issues.
Social media proposals often include the following (though you don't need to offer all of these services):
Social media platforms: Explain why you chose a social media platform, like Linkedin.
Social media accounts: A client may need more than 1 account on the same platform.
Social media audits: State how frequent audits can help improve their social presence.
Content creation and curation: Outline what creative services you offer and why they're important. Include a content calendar, image creation, video, among others.
Posting schedule: Explain that a frequent posting schedule leads to faster growth.
Brand monitoring: Declare which keywords you'll monitor and how you'll monitor them.
Community engagement: State how often you'll interact with the client's community.
Analytic reporting: Explain the metrics you're following, why, and how often you'll report.
Marketing plans: State how marketing can increase their reach. If you're thinking of adding influencer marketing to your proposal, this influencer proposal template can help.
Check-ins: Suggest weekly meetings to make sure the client's needs are met.
Next to each service, provide a price estimate based on the client's budget.
Social media consultants, marketers, and campaigners may need a more curated template for this section. You can find a social media consultant proposal, and a digital marketing proposal, in our template library.
04. Competitors
All businesses have competitors, even if they have a product or service that's entirely new. We all share the same social media space, so everyone is a competitor for a user's attention.
However, it's more likely that your client has a product or service already on the market. Whether your client wants to sell clothing or promote their services as a social media marketer, they need to have that special "It" factor that separates them from the rest.
At the same time, they also need to mimic their competitors without ripping them off.
With your expertise, you should be able to find that balance as you work with your clients.
To find your clients' competitors, start a competitive research analysis to find:
Who their competitors are
What products they offer
Their sales tactics and results
Their shipping costs, pricing, and perks
How they market their product
Their content strategy and the technology they use
Their social media platforms and presence
Your client can offer a goldmine of information on the topic. They probably already know who they're competing with, so ask them what brands they look up to or want to imitate.
In your social media proposal, explain what their competitors are getting right and which social media analytics you can improve to make up for what their competitors lack.
You'll also provide insight into your client's flaws. This feedback can help your clients understand customer expectations, leading to more sales and more money!
05. Target audience
Researching your target audience is kind of like snooping on your competitors, except it involves a lot more trial and error.
There are 3 reasons why you want to define your target audience::
Ensure you're creating the right content for the right people.
Create a better understanding of how to make the best content.
Increase conversion rates.
In your discovery session, ask your client if they know what their current customer looks like.
If they don't know or they don't have a social media presence, ask what problem their product or service solves. Then, you can figure out what the target audience cares about or what they like.
At the end of your research, you should have an audience persona that covers who they are, what they like, when they browse social media, where they browse, and why they browse.
06. Project milestones and deadlines
In the "Business and marketing goals" section, we discussed how to find and make goals for your client that matter specifically to them.
In this section, we are explaining to the client how we measure success and why these milestones and deadlines work for their industry, product, or services.
We also want to state what we'll do once we reach those goals or how to pivot if we fall short.
You can put this section right after "Business and marketing goals" or "Scope of work."
07. Proof of work
Many clients like to shop around before locking in on a proposal, and who can blame them? They want to find the best candidate for the job!
You can prove that you're the top option by showing proof of your work. If you have experience in a prospecting client niche or have a wealth of testimonials from high-profile clients, you'll stand out big time!
The best way to show your value is by providing case studies, reviews, references from past team members, and past social media content examples from past clients.
Just make sure you match your portfolio examples with the work your client is offering.
Otherwise, your new client will have no idea how you can help them.
09. Terms of agreement
In this section, you need to clarify your contract terms. Your social media proposal can come before the contract or act like one.
Here's what you should always add in your terms of agreement section:
Fees: Includes payment frequency: per project, hourly, or retainer.
Payment: Covers the method of payment, invoices, and payment terms.
How you work: Discuss your work hours and how the client can reach you.
Where you work: Do you work remotely, for a company, or in the client's office?
Who you work with: State if you have employees working under you or if you hire freelancers. If you work with a team, you may need additional documentation, like a social media partnership agreement.
Termination: Advise how to end the project early.
It's a good idea to add a fee to your termination clause. This small edition can protect your bottom line.
At the same time, you should also give yourself the option to leave the project.
Sometimes the scope of a project is too complicated, or you may just dislike the client. Either way, it's empowering to know that you have a way out if you need it.
10. Next steps for the client
In the final section of your proposal, write down what options are available to your client.
State clearly what they can and can't do to improve the chances of signing a contract with you.
Here are a few examples of what the client can do:
Sign immediately
Sit on the proposal until the expiration date
Request changes to the proposal
Request changes to the contract
Submit a partial payment
Final Thoughts
While writing your social media proposal, make sure you focus on your client's needs.
When you emphasize how you'll help the client, you'll have a better chance of turning them into loyal customers who sing your praises and come back for more!
And, don't forget to use our social media marketing proposal template if you need help creating the ultimate proposal!
Disclaimer
Parties other than PandaDoc may provide products, services, recommendations, or views on PandaDoc's site ("Third Party Materials"). PandaDoc is not responsible for examining or evaluating such Third Party Materials, and does not provide any warranties relating to the Third Party Materials. Links to such Third Party Materials are for your convenience and does not constitute an endorsement of such Third Party Materials.