Every marketer can tell you the main principle for building a successful brand presence and credibility: show, don't tell.
And what can be a better way of showcasing your competence than letting your clients speak for you?
Client reviews have become an indispensable source of proof that your business is good at what it does.
At the same time, it's a clear signal to other prospects looking to conduct business with you: 49% of clients use online reviews as a basis for decision-making, while 60% also deem them trustworthy.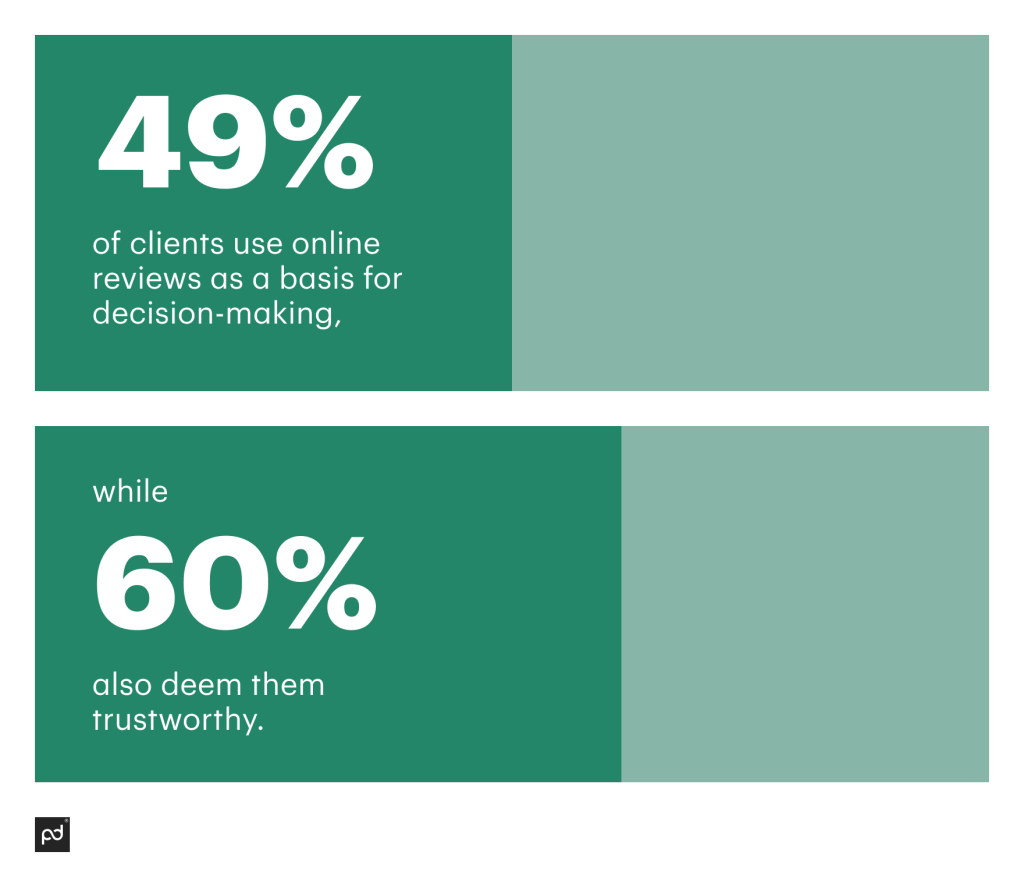 That being said, asking clients for a review can easily become an awkward prospect to pursue.
So how should you go about doing something like that? Read on, because we've got you covered!
How to ask a client for a review
1. Ask in person
There is nothing like talking to your clients in person — your body language, eye contact, and voice intonations can make a lot of difference compared to online meetings.
Of course, in our world today, your clients can easily be a thousand miles away.
So it never hurts to use every occasion to meet up with a client if you happen to be nearby.
Even something as small as checking on your existing clients can tell a lot about how much you care — including traveling a long distance and showing up.
And who knows when a new business opportunity can present itself?
Unfortunately, many business owners have developed a habit of selling online exclusively due to various travel restrictions, considering physical meetings a bit of a hassle.
That can't be further from the truth, though.
2. Make reviewing easy
Asking for a review is asking for a favor, and someone providing you with one is committing to dedicating a certain amount of time to do it.
Thus, the very least you can do is set the process to allow your clients to easily review your business.
Start with where you want to place your reviews — is it your website, Google, or somewhere else?
Third-party review platforms like G2 or Clutch have gained popularity for the impartial process of collecting and verifying business reviews.
They will do all the heavy lifting for you — for instance, Clutch contacts your clients on your behalf and sets up a convenient time for the interview.
And if you want your clients to focus on something specific, be sure to let them know in advance!
If you want to take matters into your own hands and trust no one else to collect client reviews on your behalf — that's always an option.
You can customize survey forms from PandaDoc that have an intuitive flow and will guide your clients through the questions.
3. Check on your client
A need for reviews can appear completely out of the blue; thus, waiting until the very last moment is probably not the best way to move forward.
For example, imagine reaching out to a client you've barely been in contact with and asking for a review — what are your chances for success?
It's likely your client will turn down your request.
And that might be the best-case scenario — what if there are any issues (that you're unaware of since you haven't checked on your client) that will be outlined in a negative review?
Now you can see how this can totally backfire.
Make sure to check on your clients regularly — your reviews testify to a successful relationship forged over the years!
4. Follow-up
You've asked your client to provide a review and haven't heard back since. That's ok, and this is not a reason to get desperate.
Chances are your request has simply gone missing or dropped off their radar!
Follow up later and kindly remind that client, highlighting the difference it can make to your business.
You can get creative about it in many ways — for example, engage in a meaningful conversation on social media.
If, despite all your previous attempts, your client is still unwilling to get back to you, perhaps it's time to stop and consider trying your luck with someone else.
At the end of the day, losing your client over a review is hardly worth it.
5. Exchange reviews
Nothing strengthens your successful business relationships like the ability to help each other out.
In the B2B segment, returning the favor by providing a review to your client will help both your businesses grow and thrive.
Be sure to provide reviews in response if you're willing to do so: your reputation as an honest and unbiased reviewer matters!
Some reviewing platforms have a policy against trading off reviews, so check that before promising anything.
If you can't give a review for one reason or another, consider offering something else in exchange.
So what can this "something else" be? The answer is #6 on our list.
6. Incentivize
People like free stuff — who doesn't, right?
It can be as simple as a gift card, but if you really want to make it special, consider offering a discount or a free trial.
What can be better than providing a discounted or a free version of a product you love and adore?
In case some of your clients are already enjoying such benefits, there are other ways through which you can incentivize them.
For instance, you can offer exclusive access to new features or upgrade their subscriptions at no additional cost.
And if you're inclined to give something truly unique and special, consider providing free life-long access to all future products.
7. Use postcards
In case you haven't been sending postcards to your clients yet, it might be time you start giving this a try.
It's a great opportunity to reconnect and show that you care — and to ask for a favor (such as reviewing your business) as well.
As previously mentioned, you want to make a process as easy as possible.
So how do you apply that to a postcard?
One of the best ways to do so is to attach a QR code to a postcard that would lead straight to a review website — saving you a lot of time that otherwise would have been spent on doing so manually.
8. Exercise good timing and good judgment
Not all your clients can provide an expert opinion on your business.
The reason for that is straightforward: some clients have not been using your business long enough to be able to evaluate their experience.
And if you operate in the B2B segment, it's crucial to keep track of what's going on with your client business.
Let's put it this way: imagine your client is going through a bankruptcy restructuring procedure — it would be a little insensitive to ask for a review at a time like that.
9. Automate
In a consumer sector, desperately chasing thousands of clients can be next to impossible.
That's why you need to automate your review collection strategy.
If you are an e-commerce store, you can add a link on the Thank You page leading to the review submission — it's as simple as that.
PandaDoc is a great option if your goal is to collect reviews directly on a website — you can use over 100 pre-built templates as your ultimate data collection tool.
This way, you can make changes with a handy drag-and-drop interface without contacting your IT guys.
10. Reply to your reviewers
Not all reviews will turn out exactly the way you want them to; in other words, some clients will definitely have something negative to say about your business.
It's important to remember that other people might decide whether to contact your business based on what they read, so it's within your right to respond to such criticism.
There is no need to get all defensive and respond to criticism with criticism.
On the contrary, be respectful and apologize in case your business is indeed responsible for any bad experience.
Reach out and offer assistance in working out any issues.
What to do if you get a bad review
Reviews can be a great source of valuable information, indicating potential areas where you as a business can improve.
As such, the first thing you want to do after receiving a bad review is to investigate whether there is a systemic issue in place.
Respond to a client that left a negative review and outline ways in which you addressed a problem.
If you're confident the problem has been fixed, kindly ask your clients to reevaluate their experience — they can mention any noticeable improvements in their reviews.
Of course, a little incentive can also help here (please see above for what makes for a good incentive).
OK, I know how to collect reviews now. Any additional advice on growing my business?
Automate your review collection process and explore other ways which PandaDoc can help grow your business.
Save time and power up your document approval process, be it proposals, payments, quotes, contracts — you name it!
Disclaimer
PandDoc is not a law firm, or a substitute for an attorney or law firm. This page is not intended to and does not provide legal advice. Should you have legal questions on the validity of e-signatures or digital signatures and the enforceability thereof, please consult with an attorney or law firm. Use of PandaDocs services are governed by our Terms of Use and Privacy Policy.
Originally published April 3, 2019, updated April 18, 2023