Even if you hire the best sales reps, this doesn't guarantee success.
You need to train them and equip them with the right strategies and tools to succeed, such as the right CRM system, and a sales playbook. In this article, we'll be concentrating on the latter: the sales playbook and its role in the sales cycle.
In this article, we'll give you a step-by-step blueprint for creating and maintaining a winning sales playbook for your team.
We're passionate about enabling sales teams to be more efficient and sell more — and we know a thing or two about sales playbooks, too.
What is a sales playbook?
A sales playbook is a comprehensive collection of all your sales strategies, tactics, tools, and best practices for your salespeople to use and follow.
It serves as an actionable guide that maps out your entire sales process and enables everyone from your sales team to make the most of each sales opportunity — and, ultimately, sell more.
Your sales playbook isn't something you write out, snap shut and forget about, however. It's not supposed to sit in a dusty cupboard, from which you pull it once or twice per year to train new salespeople.
Instead, it should be a living, breathing document that is an organic part of your sales strategy; one that you consistently revise and update, and most importantly, that is in constant use.
And for this, it needs to be relentlessly helpful.
What is the purpose of a sales playbook?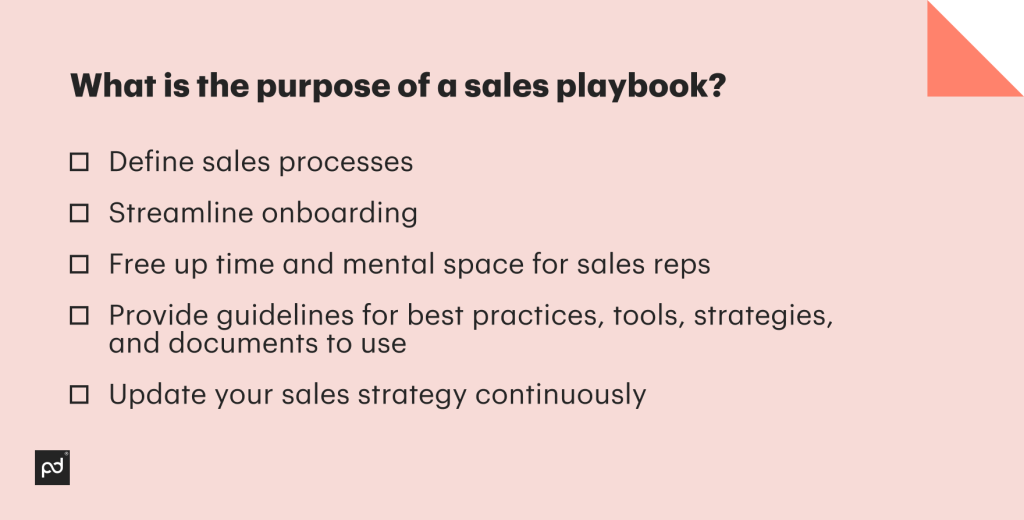 In other words, how can a sales playbook help you win your leads over and sell more?
A playbook is essentially a manual that defines the way you get things done.
Sales playbooks are like maps for sales teams: They enable them to spend less time trying to find their way around and more time moving towards their (and your) goals. A win-win, right?
A sales playbook can improve the performance of sales teams, as it helps you:
Define sales processes
A sales playbook contains all the information your salespeople need for their day-to-day work, including specific procedures, resources, pricing information, product details, and more.
This way, you and the team have a bird's-eye view of your existing sales processes and can zoom into the specifics whenever necessary.
Streamline onboarding
A well-written sales playbook is a crucial onboarding tool, because it helps new team members become familiar with your sales procedures, tactics, and tools to get them up to speed faster.
This way, new sales reps are able to concentrate on their clients instead of on memorizing scripts or detailed technical information, which helps them be better listeners and connect with customers more efficiently.
The result? They can start making their first sales faster, and do so with more confidence.
Free up time and mental space for sales reps
Let your salespeople do what they do best: sell!
A sales playbook frees up both time and mental energy, because sales reps know that they can always use it as a point of reference, containing all the information they need.
And according to research by McKinsey & Company, knowledge workers spend nearly ⅕ of their working hours looking for information, so optimizing that is a huge productivity win.

Provide guidelines for best practices, tools, strategies, and documents to use
Every company has its own sales strategies, procedures, and tools, which serve as the guideposts and ropes for its sales team.
Putting everything down in writing gives everyone clarity and peace of mind: Essentially, a sales playbook enables you to take the guesswork out of sales.
In it, you can also add information about all the proposals, quotes, and contracts your salespeople should use.
Update your sales strategy continuously
Having all your sales guidelines in a playbook helps you reflect on them and improve them in real time, all the time.
In fast-paced, dynamic markets, such as tech or enterprise software industries, traditional approaches to sales and marketing are quickly becoming obsolete, so the ability to reflect on your processes and improve them regularly is key for success.
What do you need in a sales playbook?
A sales playbook isn't meant to be just a bunch of call scripts and strategies on how to handle standard objections.
If it's limited to this, not only will it be insanely boring, but will quickly lose its relevance, especially for your more skilled sales representatives who don't need rigid scripts to be successful.
So, what should you put in a sales playbook to make sure it's helpful? Let's look at the details.
What elements should your sales playbook include?
Here are the key things to include in a winning sales playbook:
A high-level overview of your sales funnel
Up-to-date buyer personas
Guidelines on the tone of voice and messaging
Details about your product or service, including its benefits, features, and technical characteristics
Pricing options, payment plans, and discounts that sales reps can offer
Guidelines (plays) for each step of the sales process

Information on how to qualify leads (lead qualification play)
Call scripts (call play)
Objection handling and negotiation strategies (negotiation play)
Demo scripts and flows (demo play)
Closing strategies (closing play)
Guidelines on how to follow up with leads or check in with paying customers (follow-up play)

Key performance indicators (KPIs) and targets
Sales templates
Information about software tools and details on how to use them
Regarding the last point, if you're using a unified document management system like PandaDoc, the task will be much easier: Your team will be able to instantly create all sales-related documents from the app.
Alternatives include DocuSign, Proposify, and Qwilr, and here you can read about how PandaDoc compares to each one.
Do you need to include all of this in your sales playbook?
The above list might look intimidatingly long, and you're probably wondering if you need to include all this, especially if your sales team is on the smaller side.
The answer is that you're free to include (or omit) the elements that make sense to you and your people — you don't need to include everything for it to still be useful to your team.
The end goal is to design a document that serves you well, one that is easy to scan through to find key information.
If you only have one pricing option, let's say, a subscription that costs $30/month, and aren't offering any discounts or yearly rates, you obviously don't have to include detailed pricing information in your sales playbook; the key information can be contained in a single sentence.
If this is your first time writing a sales playbook, you should also be realistic in terms of what you could get done in the next few weeks: After all, if your plan is overly ambitious, you risk simply not following through and shelving the whole project altogether to concentrate on more urgent tasks.
So, stay nimble and create an imperfect first version that you can improve upon, instead of planning to write a 200-page document that you never make any progress on — and that nobody will read, even if you do.
How do you write a good sales playbook? A step-by-step guide
In this section, we'll guide you through the process of creating your first sales playbook.
You can also use it to update an existing one by assessing what's missing and completing it.
1. Define the goals of the sales playbook
Before you start walking, you need to be clear on where you're going — or else, you risk getting somewhere else entirely, as the saying goes.
Define the goals you'd like to achieve with your sales playbook. For this, you need to ask yourself questions like:
Who needs this sales playbook?
How will they use it and how will it improve or facilitate their work?
What are the key elements we need to include?
What are the parts of the current sales process that most need to be improved? How can the sales playbook help with this?
How often will we update the sales playbook?
Another key element to consider is the context in which your sales playbook will exist. The fact that your sales team will use it is pretty self-explanatory; however, for it to be efficient, it also needs to be aligned with your marketing goals, too.
As G2 puts it, sales and marketing are "the ultimate power couple" and simply cannot exist without one another; your sales playbook is an excellent opportunity to align marketing and sales goals and make sure they're in harmony with one another.
2. Decide who to involve in the creation of your sales playbook
Next, you need to start building the team that will be working on your sales playbook.
Think in terms of the strategic value of the contributions each person brings to the table, and also of the uniqueness of their perspective.
Here's a list of the teams and people you could involve.
Obviously, you don't need to involve each one of them, but we advise having at least one person from each team participate:
Management: Sales managers, directors, VPs
Business development: Business development managers, lead generation specialists
Sales: Sales representatives, account executives, account managers, sales experts
Marketing: Marketing specialists, content managers
Tech/development: Subject-matter experts on your product or service, such as product owners, project managers, solution architects, or developers
Once you have your team, make sure you assign specific tasks and responsibilities to each person; otherwise, you risk creation morphing into confusion, and that's never a good thing.
Should the Chief Sales Officer (CSO) be involved, you might wonder?
While they certainly don't need to participate daily, it's a good idea to get their input throughout the process, and make sure the sales playbook is in line with their goals, vision, and expectations.
3. Review your buyer personas
To be truly customer-centric and use the right strategy for each prospective customer, you need to make sure you know your buyer personas in detail, including their preferences for specific communication channels (according to McKinsey & Company, B2B decision makers are now using up to 10 communication channels to negotiate with suppliers).
You probably have already done the work of researching and describing your buyer personas, in tandem with your marketing team.
Are they up to date, though? Are they sufficiently detailed, allowing for a true personalization of the sales process?
Do you know what their communication preferences are?
To make sure your sales playbook is truly useful to your sales team, you need to take a close look at your buyer personas and update them with information that is as detailed as possible.
4. Review your existing sales process
Now it's time to review your current sales processes to see what's working and put it in writing.
Your sales process is the entire sequence of repeatable steps your sales reps take to move a lead through your sales funnel and close a deal.
You need to review it frequently, and if you have a sales playbook at hand, this will become much easier: You'll simply need to define the cadence at which you'd like to reassess it.
For the purposes of your sales playbook, you can divide your process into plays.
5. Include the relevant sales plays
You can describe your sales process by dividing it into plays, in which you include guidelines for each step.
Some of the most common ones are:
1. Lead qualification play
Here, explain how sales representatives should qualify leads and put them in different categories.
2. Call play
In this play, you should include call scripts for your reps to follow and include information on the main messages they should communicate.
At this stage (or shortly after), they might send a quote or a proposal; here are two of PandaDoc's free templates you could include in your sales playbook: a sales quote template and a sales proposal template.
3. Negotiation play
Negotiating with leads, answering questions, and overcoming objections are key parts of sales.
Explain the best practices of the negotiation process and give actionable advice and examples on how to handle objections.
4. Demo play
Not all companies engage in one-on-one demos with leads, but if you do, you need to make sure your salespeople know how to successfully demonstrate the capabilities, features, and benefits of your product.
5. Closing play
In this play, explain how to close a deal with prospects who are ready to buy.
Typically, this is also when sales reps need to send a contract agreement; you can use our agreement template library to find an agreement that fits your use case.
6. Follow-up and check-in play
Following up is key to maintaining a high level of customer satisfaction. Do your new customers know how to use the product?
Do they need another demo to be able to make the most of it? Sales reps should make sure they use this play to reduce churn rates.
There are certainly more plays you can include in your sales playbook — the above list is by no means exhaustive, and feel free to add as many plays as your sales process calls for.
6. Include relevant product info to educate sales reps
Ah, the technical details!
Yes, sales is not development or customer support, but your salespeople still need to know your product really, really well.
Otherwise, how would they be able to propose the best solution to your leads' problems?
What arguments would they use, if they're not able to understand the more technical questions your potential customers ask?
Include detailed information about your product's:
Technical characteristics
Features and functionalities
Benefits
The last part is crucial: whenever you describe features, make sure you also link them to specific benefits for customers, so that sales reps can actually use them as arguments, rather than as dry facts.
To write this part, you'll likely need the input of someone from the tech side of things, who's a subject-matter expert.
This is the best approach to ensure that your information is up to date and sufficiently detailed.
7. Describe your sales methodology, tactics, and tools
Include detailed information about your methodology and tactics your sales reps should use, as well as the software tools that will enable them to be more efficient.
Here are some examples of sales methodologies:
DIY selling, where prospective customers simply make a purchase with minimal contact with the sales team
Transactional selling, where leads come with well-defined requirements and are shopping for the best price; sales reps can offer deals and negotiate on price
Solution selling, where potential clients have a fairly good understanding of their problem and are looking for the right solution; sales reps need to understand the client's problem and find the best solution for it
Consultative selling, where sales representatives have the role (and opportunity) to educate prospective clients on potential solutions and build trust
Relationship selling, where salespeople build personalized relationships with customers and frequently check in with them during and after the sales process
As for the tactics, here are a few your sales team is probably already using:
Use active listening to understand customers' pain points and needs
Follow up regularly with warm and hot leads
Follow through on promises and engagements
Know your competitors and be able to explain how your product compares
Know your product inside-out
Regarding sales tools, these might be:
8. Add your sales materials
Next, you need to include all relevant sales materials (or explain where they're located), such as:
Brochures and presentation materials
Specs sheets
Catalogs
Case studies
Videos
Blog content, how-to guides, eBooks
Email templates
Industry research
These are the materials that your sales team is using daily, so you need to make sure everything is up to date — and that you don't have countless versions of each in different locations.
9. Implement your sales playbook
Now comes the time to present your sales playbook to the world! Or at least to your sales team.
Explain how and when they should use it, and encourage them to give their feedback and suggestions on how to improve it.
After all, it's an instrument that's meant to enable your sales team to move faster, not to hinder them — so you need to make sure the implementation is successful for all sides.
Sales managers and VPs should also be kept in the loop, as well as the marketing team, to make sure that goals are aligned.
10. Assess results and iterate
Make a point to assess results, and do it regularly. Did your sales playbook help you achieve the goals you had initially set?
Is it making a difference? How do your sales reps feel about it? How do your sales managers feel about it? What could be improved?
Your sales playbook isn't set in stone — on the contrary, you should update it regularly and create new versions of it whenever you see that it loses its relevance or usefulness.
Write a winning sales playbook to make sure everyone from your sales team is on the same page
If you want your sales representatives to be successful, you need to make sure they know your product, processes, tools, and tactics inside out, and are able to make the most out of every sales opportunity.
How do you achieve that? By creating a sales playbook that will serve as your team's roadmap to success.
Your sales playbook is one of these critical sales tools that help sales representatives excel and meet their targets or even exceed them — and we believe that every sales team needs one.
So start writing yours today!
Originally was published on June 20, 2018, and has been updated for comprehensiveness on April 3, 2023