How highly would you rate the importance of follow-up in sales?
For many organizations, it's a crucial part of their strategy. We're going to take a look at what it is, why it matters, and how to get it right.
What is a sales follow-up and why is it important?
Sales professionals know there's more to successful sales than waiting for new customers to walk through the door or existing customers to come back spontaneously.
When you're trying to convert either prospective customers or existing ones, having an effective follow-up strategy is key.
You can divide your sales follow-up targets into three broad categories.
First, the prospects. In other words, any potential customers whose customer needs align with your product.
Using cold calls to approach potential customers like this is a well-known outbound prospecting strategy, but it rarely gets results first time.
Second, there are your leads. These are potential customers who are engaging with you but haven't yet made a purchase.
Finally, it's vital not to forget your existing customers. Anyone who's made a purchase from you before is worth a sales follow-up.
This type of sales follow-up can be done in a number of ways. Traditionally, this might mean phone calls to customers to try to whip up interest in new sales.
In the modern business world, some decision makers filter their calls using voicemail, so you might not actually get an opportunity to speak with them directly if you haven't paved the way first.
It's often a good idea to use alternative options as well, to build trust in the relationship.
Follow-up emails or even text messages can be just as effective as follow-up calls if executed well.
You could also connect with prospective customers on social media. A well-placed private message on LinkedIn can sometimes give your sales process a real boost.
Of course, you don't want to be so zealous about follow-up that you start irritating the customer. That would be counterproductive.
But the truth is that most salespeople give up way too soon.
The importance of follow-up in sales can't be overestimated.
According to Xant's Sales Development Survey 2021 report, 81% of sales professionals make five or fewer follow-up attempts in response to inbound sales leads.
Most should have persevered, because the data shows that making seven or more contact attempts results in 15% more connections.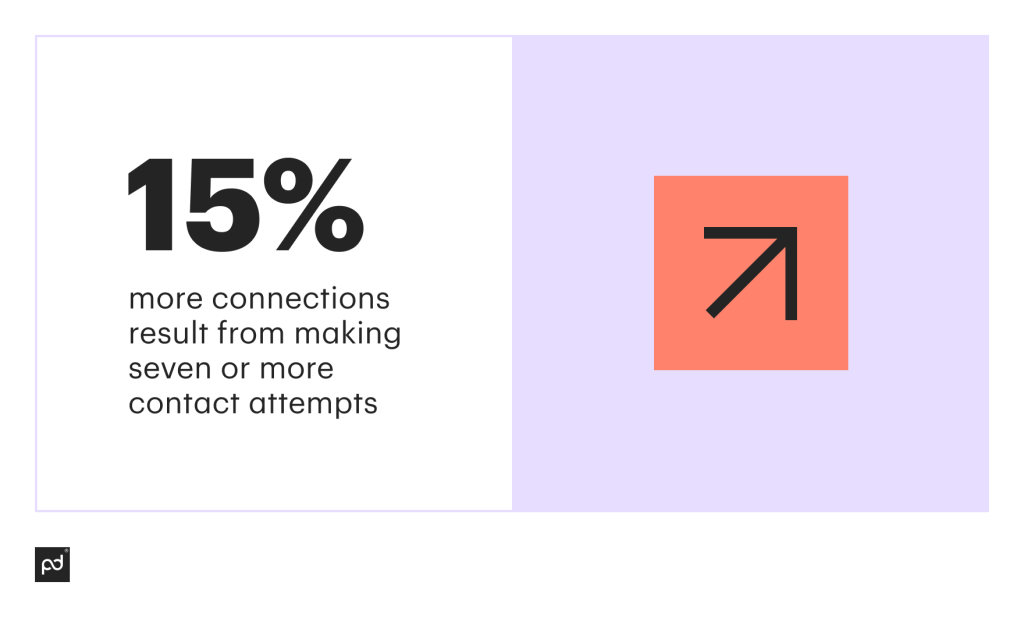 So, let's take a closer look at the benefits to be gained from implementing a sales follow-up process in your sales and marketing strategy.
Advantages of sales follow-ups
Effective follow-ups can light a fire under the sales process and really get it going.
You'll find the three main advantages it offers are enhanced customer relationships, an improved conversion rate, and increased customer retention.
1. Enhanced customer relationships
Forging a bond with your customers is a critical part of successful sales. In the end, people buy from people, not from corporate entities.
If you can develop a good understanding of your customer's needs and pain points, you're halfway there.
Following up in sales helps build trust.
It shows your potential customers that you're willing to put time into understanding their concerns.
You're proving you value their custom and are putting effort into developing a relationship with them.
In a competitive market, this will make you stand out. That's how you inspire the kind of brand loyalty that stays the course.
2. Increased chance of closing a sale
Whether you're reaching out to outline your sales proposal via follow-up calls, follow-up emails, text messages, or social media isn't important: It's the fact you're following up at all.
The crucial point is the connection. Not all potential customers are ready to buy at the time you first get in contact with them.
That's okay. Because once they are in the market to buy a new product like yours, the fact you've been in touch regularly will matter.
Your name will be front and center in their minds, and they're more likely to reach out to you than your competitors.
So, if you give up after just a couple of sales calls, you're potentially missing out on a large number of successful sales leads.
3. Retained customers
Sometimes, sales reps perceive retaining customers as less of a priority than attracting new ones.
Granted, new business is always welcome, but standard sales training doesn't always emphasize the fact that customer retention is much cheaper for businesses than customer acquisition.
Customer retention is something you have to work at, though.
More often than not, unhappy customers will switch to a competitor rather than complain directly to you.
If this happens a lot, it will affect your bottom line.
Even worse, if you don't follow up with existing customers, you'll never find out why it's happening, so you won't be able to solve the problem.
If your sales team regularly contacts existing customers as part of your follow-up strategy, those customers will be more likely to tell you why they're dissatisfied.
That means you'll be able to address the problem and hopefully keep them on-side.
Factors that prevent a sales team from closing deals
Nobody ever said the sales process is easy.
Converting leads is about more than simply dialing a phone number or firing off a quick email.
Although there's no magic formula that will guarantee success every time, there are a few common mistakes it's important to avoid:

Unqualified leads
Most sales professionals can tell you horror stories about their more difficult work experiences.
Possibly the most demotivating experience of all for sales reps is when they're expected to do mass cold calling of unqualified leads.
If this is the position your sales team is in, you need to rethink.
If sales leads haven't been properly screened and qualified beforehand, cold calling won't work, no matter which sales tool you use or process you follow.
This scattergun approach is an incredibly inefficient use of resources.
If your new product isn't a good match for a potential customer's needs, they'll simply refuse to engage. So, make sure the leads your sales team receives are of good quality.
Not building trust
This is of critical importance. If your prospective customers don't trust your sales staff, why would they buy from them?
Often, this happens because the rep comes across as too pushy too fast. It's understandable, particularly if those quarterly targets are looming.
The best approach is for the salesperson to avoid doing a hard sell at the beginning of their conversation.
Instead, they should encourage their prospect to talk about their needs and genuinely listen to them.
This way, it will be easier to make a case for how your product or service will solve your potential customer's problem.
Lack of training
It takes a while for salespeople to learn the best techniques via trial and error.
That's why sales training is vital. If your staff aren't properly trained, they're probably losing sales they could be winning.
If you run a small business, time spent on training can sometimes seem too difficult to schedule, but it's worth the investment.
Over time, you'll find prioritizing training for your sales staff will pay dividends as your conversion rate soars.
Lack of product or service familiarity
Product-specific sales training should be ongoing throughout the sales cycle. It's vital for sales professionals to keep on top of new products and services.
That's because if they don't know enough about what they're selling, it can lead to a frustrating customer experience.
Make sure everyone on your sales team is completely up to date with every detail of your offering. They should know it inside-out.
This way, they'll be ready to answer any questions potential customers can throw at them. This will project an impression of professional expertise and make it easier to close the sale.
Is it necessary to follow up after a successful sale?
Following up isn't just about making those initial conversions; it's an integral part of customer relationship management (CRM), too.
Customers will feel more valued when you follow up with them.
Obviously, that's good for your developing relationship, but there are a number of other practical advantages, too.
Firstly, it gives you an opportunity for feedback. Your existing customers will be able to tell you if there are any problems with your product or service or even just give you ideas about how you might improve it.
You'll also have the chance to explore whether you can do anything else for them. Do they have other unmet needs you may have a solution for?
If they're happy with the service you've provided, they could be open to further business. Always remember customer success is your success.
Active listening is key. Rather than jumping straight into a new pitch, salespeople should encourage a conversation.
All being well, following up with your existing customers can help build a long-term partnership and even result in extra business from referrals.
How to follow up on a sales lead: Best practices
So, how do you go about sales follow-up in practice? Here are seven tips to help you nail the process every time:
1. Organize your leads
As with any other part of the sales process, good follow-up begins with excellent organization.
Your leads should be categorized into sub-lists according to the similarities between various prospects.
How you do this will depend on the nature of your business.
You may decide to categorize by the size of the customer (individual, small business, large corporation), for example, or you may prefer to use similarity in feedback responses.
Experiment to find what works best.
There are many excellent CRM tools available to help with this. You can use the automation these solutions provide to support your workflow efficiency.
2. Consistency is key
A piecemeal approach to sales follow-up is doomed to failure. You have to be consistent.
Regardless of how often you decide to follow up, make it a habit to do so.
Little by little, consistency helps build those valuable connections you're working on establishing.
Over time, customers will begin to see you as a reliable face in the crowd. Be persistent to set yourself apart from the competition.
3. Know when to follow up
This is a big one. Getting your timing right is everything.
There's a fine line between being professionally persistent and being downright annoying. You'll never close a sale if you annoy the customer.
So, don't call every day. For most kinds of business, about once a week is the sweet spot.
That way, you're contacting the prospect often enough for them to remember you but not so much that you become an irksome interruption to their day.
Pay attention to special circumstances, though.
If your customer says they won't have any news for you until the big procurement meeting happens on Thursday, don't call them back on Wednesday.
Better still, what if you could get some help in knowing when it's just right to follow-up?
That's where tracking and document analytics from PandaDoc comes in.
You can see when documents are opened, read, and completed.
So, you know when to strike while the follow-up iron is hot, and reach back out to a prospect when your initial contact or proposal is top of their mind.
4. Select the right channels
When you present pricing to client teams, you don't use an SMS message to do it.
In most cases, it would be inappropriate. If the medium is the message, selecting the right one is critical to success.
The same applies to sales follow-up.
Spending half an hour trying to craft the most effective subject line for an email won't do you any good if your prospect never looks at their inbox. Similarly, some people prefer not to do business over the phone.
If potential customers express a preference for how they're contacted, capitalize on this. If they haven't, or you don't know their preference, try a number of different channels to see what sticks.
5. Provide value
Depending on the channels you're using, you'll have a variety of options for adding value.
If you're sending follow-up emails, why not include useful resources or an infographic the customer might find interesting?
If you're calling them, try to remember a couple of facts about them and their business so you can show interest the next time you talk.
How did that conference go? How was the product launch? This is the essence of relationship building and is always worth doing.
Value doesn't have to be about money; it can mean going the extra mile to be useful.
6. Cut to the chase and keep it short
We're all busy.
While it's a good idea to start with a few pleasantries, most potential customers will appreciate you getting to the point as soon as possible.
Stick to no more than 10 minutes for each phone call. You shouldn't need longer than that anyway if you're managing the conversation properly.
If you're sending an email, don't let it drift further than about six or seven lines. Make it brief and make it punchy. It's the best way to go about the follow-up process.
After all, you're busy too.
7. Know when to stop
Sometimes, you'll try to connect multiple times with a prospect and get zero response. In fact, it's a fairly common occurrence. So, how do you know when to give up?
While we did say earlier that making seven or more attempts can be worth doing, there's a judgment call to be made here. It depends on the situation.
The reason most salespeople stop at five or fewer is that that's the trade-off they've found works best for them.
If you decide to make one final attempt at following up with a lead, send the break-up email. Tell the customer that if you don't hear back from them this time, you'll not contact them again.
Anyone who was planning to get in touch with you but hadn't gotten around to it yet will probably do so ASAP.
Ace your follow-up in sales with PandaDoc
The importance of follow-up in sales is critical to your business's success.
PandaDoc's extensive library of resources includes handy business proposal templates that you can use to make the right impression.
No matter what line of business you're in, PandaDoc's all-in-one document workflow solution can help keep your leads organized so you create maximum impact with your prospects.
That's just one of the many ways PandaDoc can help your sales team, too.
To learn more, schedule a 15-minute demo now!
Disclaimer
PandDoc is not a law firm, or a substitute for an attorney or law firm. This page is not intended to and does not provide legal advice. Should you have legal questions on the validity of e-signatures or digital signatures and the enforceability thereof, please consult with an attorney or law firm. Use of PandaDocs services are governed by our Terms of Use and Privacy Policy.