Customer support is an essential aspect of any customer experience, and research bares this out:
68% of customers will pay more for products and services from companies with a strong record of good customer service. (Hubspot)
61% of customers say they would defect to a competitor after just one bad experience. After two bad experiences, 76% of customers are gone. (Zendesk)
78% of customers will forgive a company for a mistake if they receive excellent service. (Salesforce)
In other words, great customer service matters.
But providing great service is easier said than done.
Customer service agents need the right tools in order to create outstanding customer interactions.
That includes automation tools, ticketing systems, strong workflows, CRM software, live chat software, and so much more.
Let's take a look at some of the best customer service software for support teams in 2023.
Types of customer service software
Customer service software enables businesses to provide efficient and personalized support for their customers.
There are several types of support tools available, and each is designed with specific features and capabilities that can help to maximize customer satisfaction and drive sales.
Most support software relies on a ticketing system, which allows customers to open and track tickets online or via email.
This helps businesses manage customer inquiries quickly and efficiently while providing better visibility into the status of any requests.
Most of the time, this type of core system is rolled into an all-in-one helpdesk software that can provide ticketing support, real-time messaging and phone support, and similar tools to fulfill customer requests.
However, many teams choose to supplement their core solution with additional, third-party software tools in an effort to build a more holistic omnichannel experience.
In the sections below, we've covered a variety of software solutions (both all-in-one and piecemeal) that teams might use to expand their communication channels and improve customer relationships.
Helpdesk software
For many support teams, dedicated helpdesk software provides all the essential infrastructure required to tackle customer issues and provide great support.
These software platforms have tools to process requests through a variety of channels (phone calls, email, live chat, etc.) while allowing agents to update support tickets and effectively handle all related customer data.
On top of that, most of these platforms are equipped with analytics and tracking tools that allow organizations to gain valuable insights into customer behavior and use that information to streamline future support operations or better client onboarding.
1. Zendesk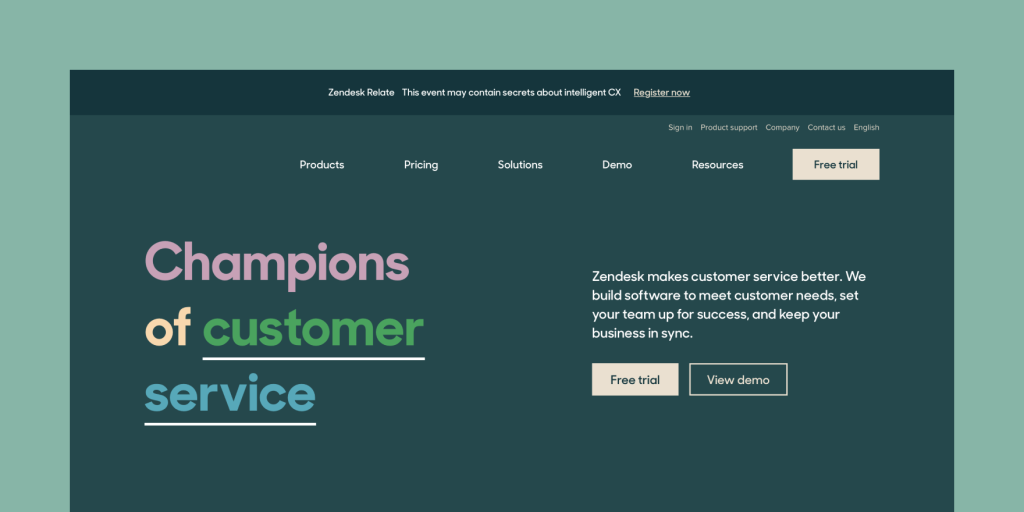 What is it: An all-in-one customer service and support platform.
Cost: From $49/month to $99/month per user. Enterprise pricing available.
Ease of use: 8.5/10
Ease of setup: 7.9/10
Zendesk is a customer service platform that helps businesses to manage their customer relationships.
The platform provides a wide array of support features, including ticketing, live chat, and call center software tools.
The service also offers customer analytics and powerful reporting capabilities to help businesses better understand their customers.
Using these tools, businesses can easily track customer trends and gain insights into how they can improve the customer experience.
Note: If you're using Zendesk Sell, be sure to check out the PandaDoc x Zendesk Sell integration for even faster document creation.
Additionally, Zendesk's customizable interface allows users to tailor the platform around specific needs so they can provide fast and efficient customer service.
This can include canned scripts and email templates for fast response, as well as standard workflows for better productivity.
By using a unified platform for all of your customer service needs, you will be able to more effectively handle all aspects of customer relationship management.
Designed as a turnkey solution, Zendesk is ready to go with minimal setup, and its wide selection of features can be used to build a strong infrastructure for support teams big and small.
2. Freshdesk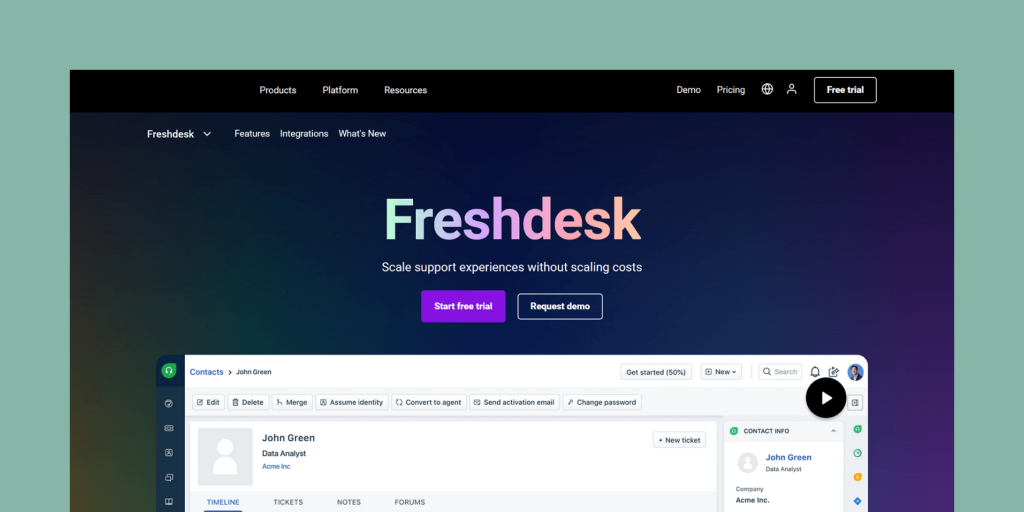 What is it: Customer support software focused on streamlined, omnichannel support.
Cost: Free to $129+/month per user. Pricing varies. Sold in multiple modules.
Ease of use:8.8/10
Ease of setup: 8.5/10
Freshdesk is a leading customer service software provider with an established track record of delivering high-quality solutions that exceed expectations.
The platform offers powerful features and intuitive usability, aimed at helping companies provide excellent customer service and omnichannel support.
Freshdesk comes equipped with tools to manage customer inquiries, automate support tasks, and build strong relationships with customers as they move through your post-sale and support process.
Freshdesk also adds guardrails to help agents do their best work without tripping over one another.
Features like Collision Detection prevent multiple users from replying to the same support ticket while features like the customer journey tool can allow agents to see what support articles that users were reviewing before they contacted support.
Overall, Freshdesk brings a lot to the table to help support teams prioritize the customer experience while giving them the tools they need to succeed.
3. Help Scout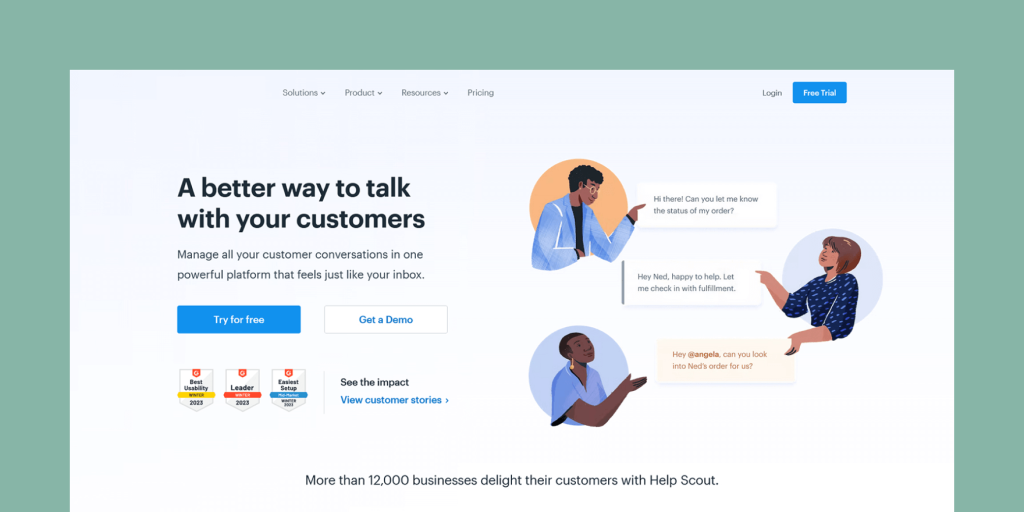 What is it: A helpdesk platform focused on providing intuitive support tools that share information across teams.
Cost: From $25/month to $65/month per user.
Ease of use: 9.2/10
Ease of setup: 9.2/10
Help Scout makes it easy to manage your support teams by allowing everyone to work together with tools like shared inboxes, live chats, and in-app messages.
The platform's goal is to automate menial and complex tasks so that agents can spend more time helping users and less time dealing with paperwork and reports.
In many cases, the tools provided can even help teams go paperless to save even more time and money.
You can also build out messages and target specific audiences through app-based messages and flows, adding a proactive dimension to the support process.
Overall, the suite of tools that the app brings to the table is versatile enough to allow for use across multiple industries (both for e-commerce/retail and service / SaaS solutions) and can be customized to fit multiple service flows.
Chatbot software
While many enterprise-level helpdesk tools are equipped with some form of chatbot software, there are a few standalone options worth considering.
Often, these independent tools can be integrated as interactable website widgets, floating in the bottom right-hand corner of the user's screen.
These tools offer a greater level of customization, which can be useful if you're relying on AI and automation to handle a multitude of requests (sales, support, customer success, etc.).
Though these chatbot tools are self-contained products, most will integrate with helpdesk software via native integration or API support, so it's often possible to connect them to your primary platform with no issues.
4. Intercom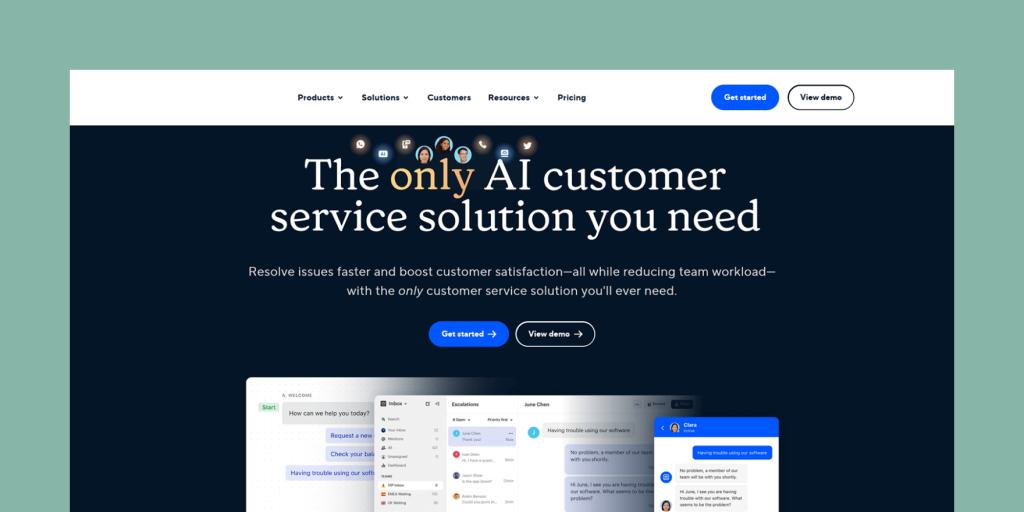 What is it: A chatbot aimed at providing customer support at exactly the right moment.
Cost: From $74/month (starter plan). All key plan pricing requires a demo.
Ease of use: 8.9/10
Ease of setup: 8.4/10
A versatile chatbot designed to support customers across your website, Intercom can easily become the first line of contact in your customer service solution.
Like most chatbots, Intercom allows users to link FAQs and relevant support documents to customers, set up pre-contact support flows, and help to prepare customers before live chat support arrives.
Unlike many competitors and most helpdesk chatbots, Intercom can also integrate across all platforms to create a complete customer experience.
Add Intercom to your mobile app, have it respond via email, SMS, or WhatsApp.
And, if you find Intercom effective for customer support, leverage the same tools for marketing, sales, and other key roles.
5. Drift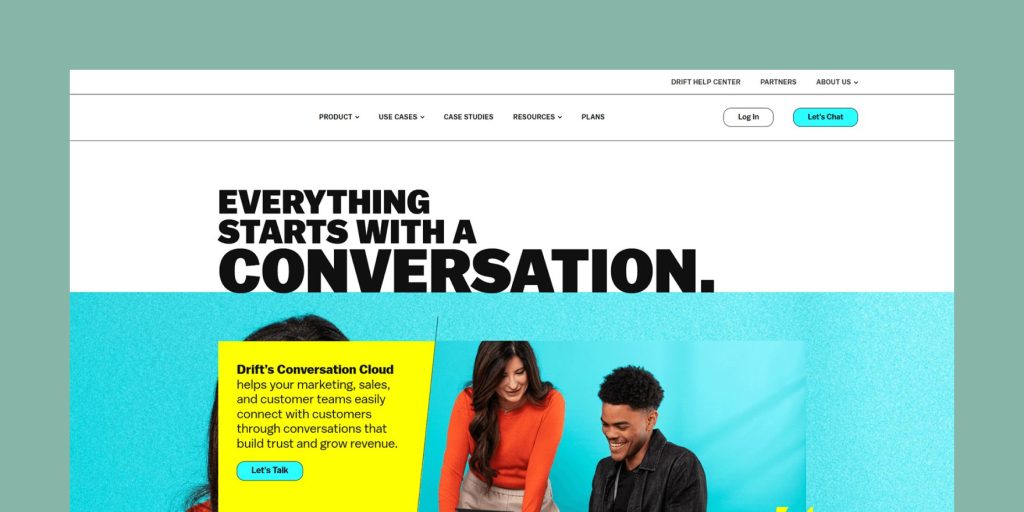 What is it: A customizable chatbot designed to work with businesses of any size and industry.
Cost: From $2500/month.
Ease of use: 8.7/10
Ease of setup: 8.4/10
Drift specializes in infinitely customizable bots and flows for marketing, sales, and support.
Particularly when paired with a robust knowledge base, Drift can improve CSAT scores simply by pointing users to the resources and information they need to self-assess and troubleshoot.
With more complex setups, Drift can also act as a routing agent to get users in front of the right team member for sales or support.
This allows the bot to be a gateway to anything a customer needs at their first point of contact.
You'll also be able to review metrics and see how your flows perform.
Use this information to update your templates and responses and transform this chatbot into one of your most powerful customer service tools.
Knowledge base software
Any pro-level customer support system will offer a self-service solution.
This is an excellent service option for customers who want to review written documentation and find answers for themselves.
It also frees up support team members to lower response times for more complicated issues.
Often, the downside to the built-in knowledge base tool is that it may have limited use as a customer-facing platform.
Standalone platforms like those listed below can often be used in multiple ways, providing added flexibility and advanced features for startups and small businesses.
6. Helpjuice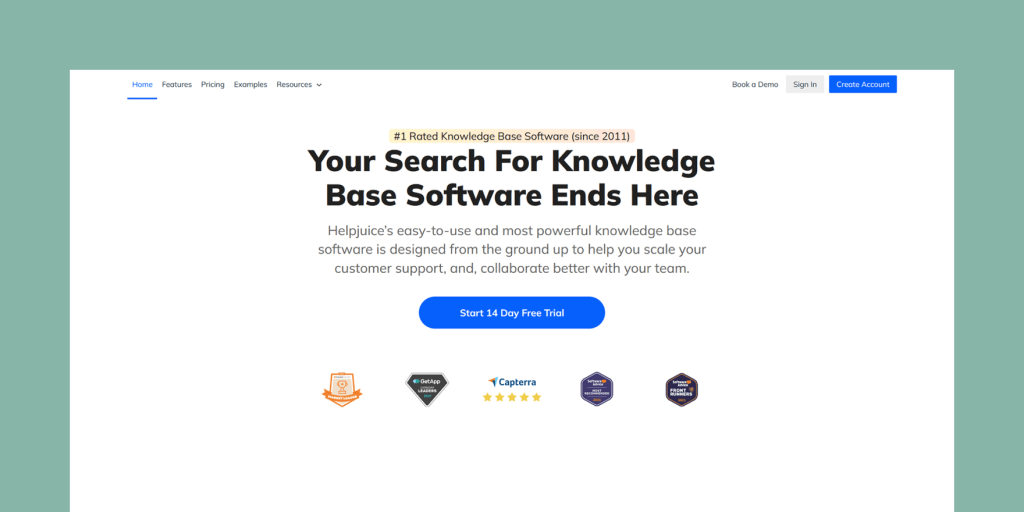 What is it: A standalone knowledge base software designed specifically for customer support.
Cost: Starting from $120/month for up to four users.
Ease of use: 8.8/10
Ease of setup: N/A
Designed as a true standalone knowledge base software, Helpjuice brings a lot to the table for both customers and support teams.
The platform contains easy ways to write, format, and publish your content.
That, combined with its visibility and access control tools can make it something of a game changer for businesses aiming to provide self-service customer support.
Internally, editors will have access to analytics.
This includes how many people viewed a piece of content, how much of it they read, and whether or not they found it useful (based on customer feedback).
From there, it's easy to further expand or revise articles, split complicated concepts into newer, smaller articles, or upgrade your support documentation to better suit customer needs.
7. Notion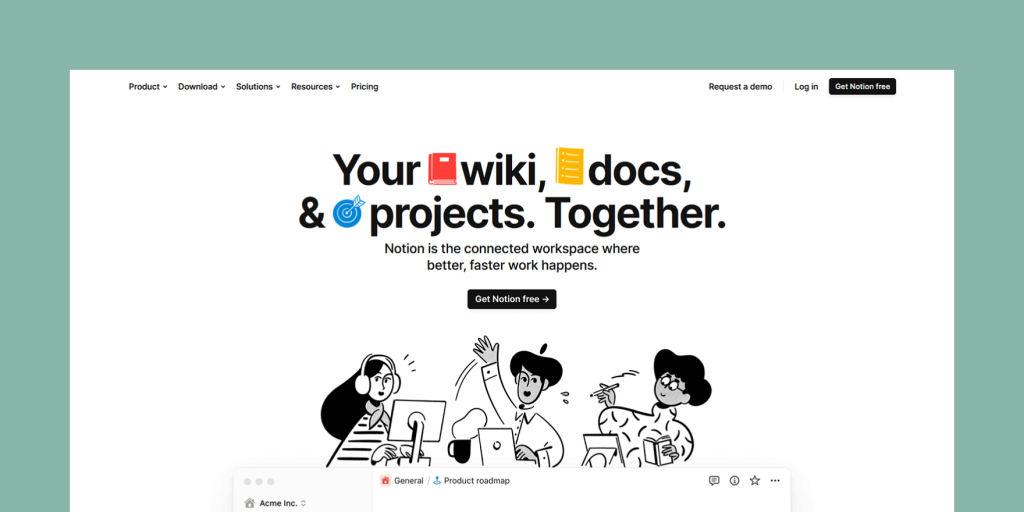 What is it: A collaborative workspace for business teams.
Cost: Free to $15/month per user. Enterprise pricing available.
Ease of use: 8.5/10
Ease of setup: 8.4/10
Notion acts as a kind of open-ended catch-all for team documents, projects, and more.
The platform is equipped with a huge selection of tools to help teams manage initiatives and drive for results.
While not as straightforward as the knowledge base software you'll find on a standard helpdesk platform, it's a great tool that can be used for both in-house communications and customer-facing documentation.
This means that the same tools your team uses to manage internal projects can also be used to relay information to customers.
Because Notion can be used to set up a Wikipedia-esque support structure, it's possible (with work) to create an advanced knowledge resource that provides next-level support.
8. Confluence
What is it: A shared workspace for documentation and collaboration.
Cost: Free to $11/month per user. Enterprise pricing available.
Ease of use: 7.9/10
Ease of setup: 7.8/10
When customer service management is the goal, support teams need their own library of reference and resource material.
This is where Confluence excels. (Don't believe us? Check out this incredible story of a Confluence x PandaDoc API integration to see how two platforms working together can create an amazing experience.)
The platform is great at creating documentation that can help support teams help themselves.
If you have processes for how reps should operate, or if the products and services that teams are supporting come with their own manuals and support, Confluence is a great way to provide that information to frontline workers.
It's also possible to publish customer-facing pages and documentation if you need to share your information with customers (like a guide, a how-to page, or some technical documentation), but the real strength of the platform is as an internal knowledge base software.
Team communication software
While you might want to centralize your support requests and customer conversations into a single platform, internal communication is essential when finding great support solutions for your customer base.
With most helpdesk platforms, it's possible to keep communication tied to a ticket by allowing users to comment and give feedback.
But support agents, like other workers, may need more direct routes to departmental experts and resources.
While seeking answers, they may also need to communicate with team members who aren't registered in the support software.
In these scenarios, team communication acts as a cross-department collaboration tool and fulfills a core business need at the same time.
9. Slack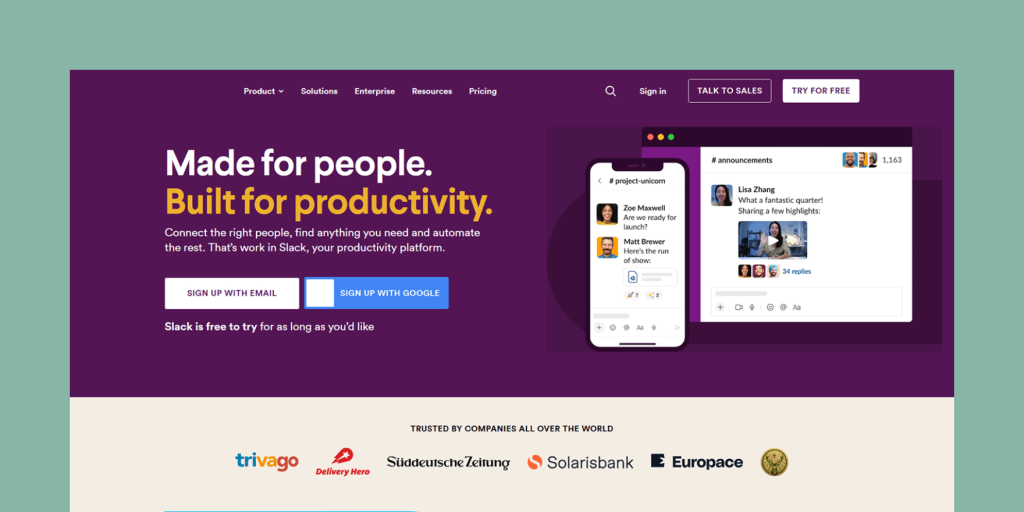 What is it: A unified messaging platform for all teams.
Cost: From $7.25/month to $12.50/month per user. Enterprise pricing available.
Ease of use: 9.1/10
Ease of setup: 8.9/10
Most major helpdesk tools offer some form of messaging or internal-only reply mechanism, but those tools can often feel slow and clunky.
Slack is a communication platform designed to help teams stay connected and organized.
The app offers multiple tools for collaboration and communication, including messaging, file sharing, video conferencing and more.
Plus, Slack integrates with almost everything — including PandaDoc.
Within Slack, you can easily create channels for different topics or cross-functional projects, allowing your team to collaborate effectively in one place.
Additionally, you can use private messages to communicate with an individual or small group of people without needing to switch between apps.
The user-friendly design allows workers to quickly navigate through chats, files, and documents shared on Slack.
It is also highly customizable – users can customize their workspace with custom emojis, GIFs, and other features tailored specifically for them.
Because Slack is such a ubiquitous workspace tool, it also offers an extensive library of third-party integrations.
For support teams, this can become a useful feature, since it allows members to share ticket and customer information directly with other team members in order to quickly resolve urgent issues.
10. Microsoft Teams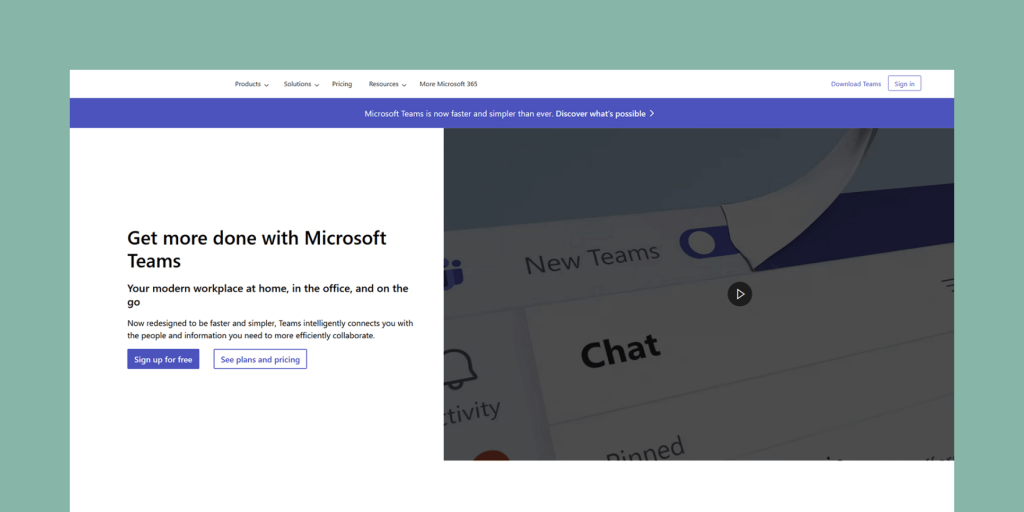 What is it: A communication platform designed by Microsoft. Part of the Microsoft 365 family of products.
Cost: From $4/month to $12.50/month per user.
Ease of use: 8.7/10
Ease of setup: 8.6/10
If your business is heavily integrated with Microsoft products, working with Microsoft Teams can be a natural extension of your workspace.
This digital platform is created by Microsoft and enables teams to easily collaborate and communicate in one place.
The app provides an online workspace where team members can create, share, and store important documents.
It also offers real-time messaging, video conferencing, integrated apps, file sharing and more.
Note: PandaDoc also integrates seamlessly with Microsoft Word, One Drive, and Dynamics.
Teams makes it easy to keep everyone on the same page with personalized notifications for all changes made to any items within the workspace.
This ensures transparency and accountability across teams so projects stay on track.
Support teams can benefit from these tools by adding a sense of immediacy to their collaboration efforts.
11. Loom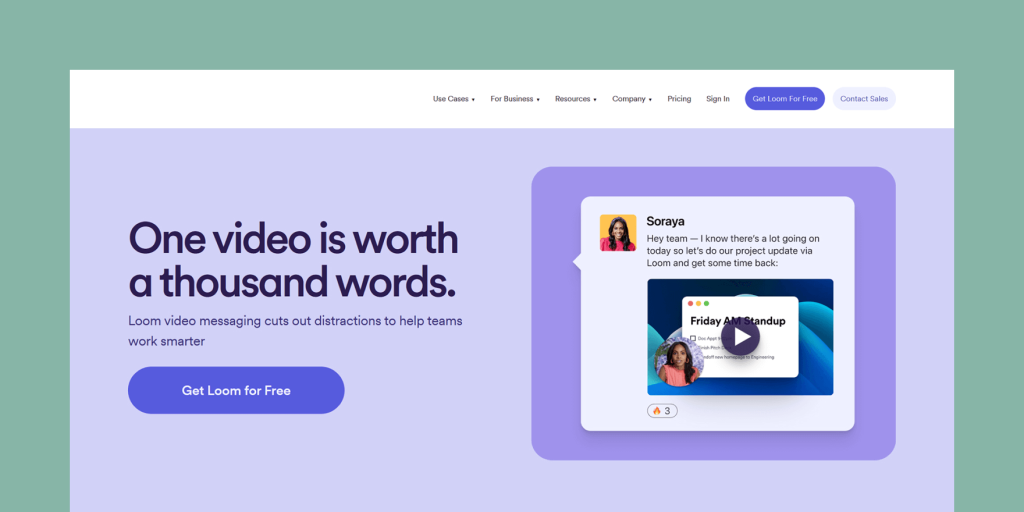 What is it: A video messaging and recording software.
Cost: Free to $8/month per user. Enterprise pricing available.
Ease of use: 9.4/10
Ease of setup: 9.5/10
Sometimes, showing is easier than telling — and that's where Loom comes in.
Loom is an easy-to-use video communication platform designed to help businesses and individuals stay connected.
It allows users to quickly record, share, and collaborate with colleagues, customers, and other stakeholders in a secure environment.
The platform enables teams to record themselves and their screens to further explain key points and issues.
It also features a suite of communication tools, including real-time annotations, transcriptions, live captions & subtitles, editing tools, and more.
Plus, this tool integrates with popular productivity platforms like Slack, Salesforce, Gmail, and others.
For support teams, this tool can be a key method to expedite communication while avoiding unnecessary meetings.
(We use Loom all the time at PandaDoc to share reports and quick updates.)
Loom can also be used in conjunction with a knowledge base to walk customers through complicated processes, product demos, and more in a way that is archivable and reusable.
Time tracking software
While it's essential to keep track of employee hours for payroll purposes, that's not what time-tracking software is used for when it comes to service and support.
Whether you're running a call center or service hub, time-tracking apps can be integrated into your support infrastructure to help you better understand how reps are handling service interactions.
At the very least, this serves as another data point to help your team improve the service experience.
This information can also provide insights that are essential to ticket management since you'll have a better idea of how long it takes for customer queries to be fully resolved.
While most helpdesk software won't offer this feature automatically, many dedicated tools allow for fast and seamless integration.
12. Clockify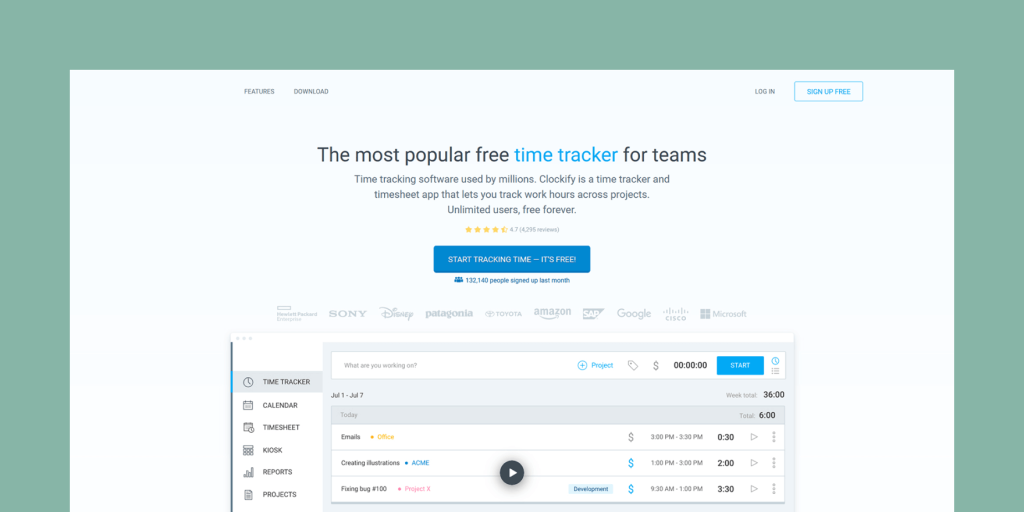 What is it: A simple time tracking tool that allows you to track work hours across projects.
Cost: From $4/month to $12/month per user.
Ease of use: 9.2/10
Ease of setup: 8.7/10
Clockify is a comprehensive time tracking solution that can be used by businesses of all sizes.
It tracks the time spent on tasks, projects, and activities to provide an accurate reflection of how much time is being invested in each area.
Specifically for support teams, Clockify integrates readily with several productivity tools and can be connected to more apps through a custom integration via API, Zapier, or custom code.
If you're unfamiliar with APIs, they're a machine-to-machine interface that allows you to combine the functionality of different tools.
For example, you could connect Clockify to a Point of Sale system via API so that users clock in and out at once location while that time is tracked in the background by Clockify.
APIs are tremendously powerful in the right hands, and most companies (including PandaDoc) have an API for developer use.
Attaching Clockify to your knowledge base and support infrastructure can help you better understand where and how support agents are spending their time.
Use this information to bolster your support team or provide additional resources to smooth out rough processes.
13. Toggl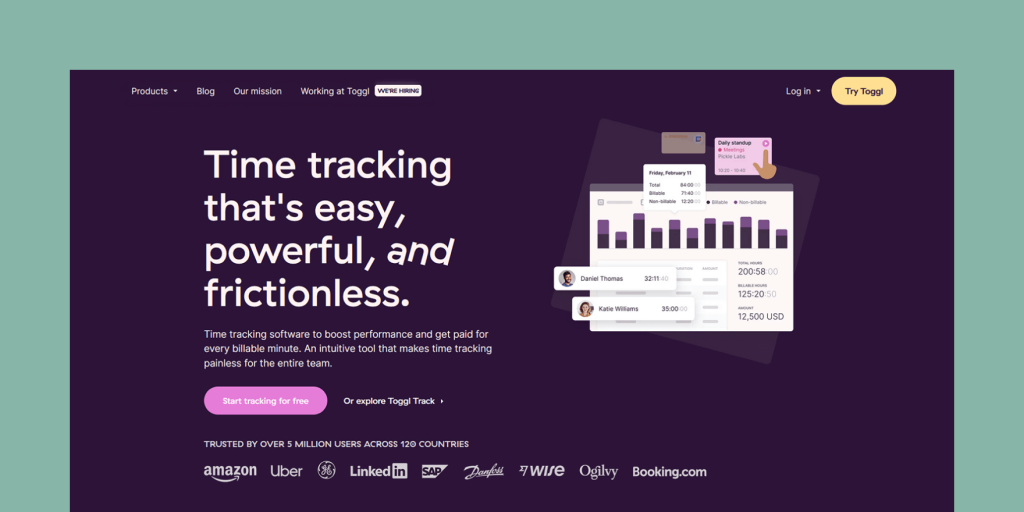 What is it: A dedicated time tracking tool designed to minimize painful billing processes.
Cost: Free to $20/month per user. Enterprise pricing available.
Ease of use: 9.2/10
Ease of setup: 9.1/10
Toggl is an easy to use time-tracking and project management tool.
It helps you track your work hours, manage projects, see team performance, and measure productivity all in one place.
From the perspective of customer support, Toggl can help you generate useful reports that provide insights into how productive your team is and how well they are working together.
With these reports, managers can make informed decisions about team processes and evaluate the effectiveness of the support assets on hand.
These tools can be useful when you're trying to understand team performance or track specific metrics.
Many helpdesk softwares will track response time, resolution rate, and team efficiency, but Toggl can help you better understand internal team workflows as it integrates across your product suite.
E-signing software
It's easy to think of e-signing solutions as a tool more for sales teams than for customer service reps, but that isn't always the case.
If your service team handles service-level agreements (SLAs), handles product repairs or issues service replacements, they may need customers to sign legal documentation verifying that service has been rendered or parts have been received.
In those cases, electronic signature software becomes an essential part of your support infrastructure.
14. PandaDoc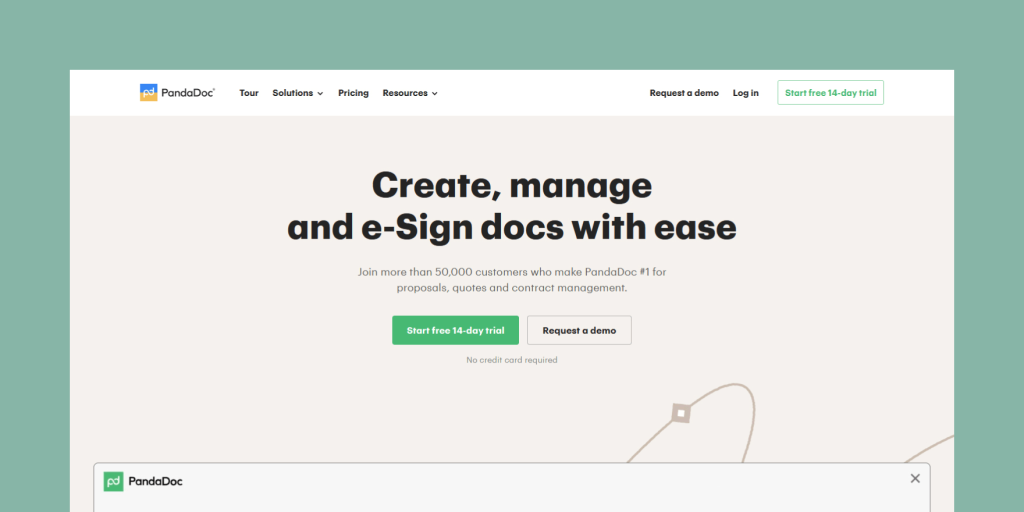 What is it: An all-in-one document creation, management, and e-signing solution.
Cost: From $19/month to $49/month per user. Enterprise pricing available.
Ease of use: 9.1/10
Ease of setup: 9.0/10
PandaDoc is an all-in-one document automation platform that helps businesses streamline their operations.
It enables users to easily create, send, sign, approve and automate documents in one place — no matter how complex the document.
Sales and support teams needing to issue and sign contracts — especially for service and support documentation — will find the platform's documentation tools to be particularly helpful.
PandaDoc allows users to take full control over their documents with features such as customizable templates and automated reminders and notifications.
Plus, its built-in eSignature feature eliminates time-consuming paperwork processes and makes it easier for users to get contracts signed quickly.
See how PandaDoc can boost your support processes by signing up for a product demo or a free 14-day trial.
15. DocuSign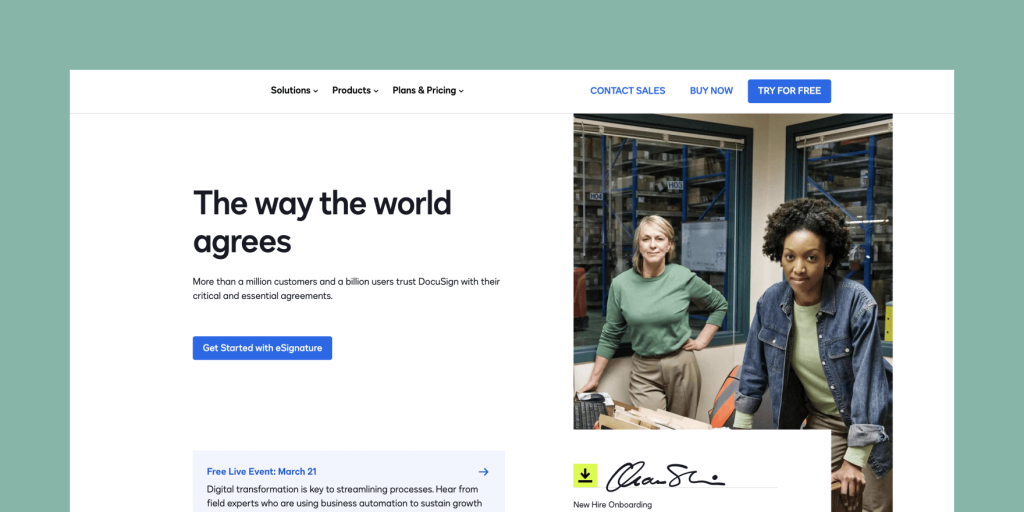 What is it: A document prep and e-signing platform.
Cost: From $15/month to $65/month per user. Enterprising pricing available.
Ease of use: 9.0/10
Ease of setup: 8.3/10
DocuSign allows users to quickly and securely sign, send, and manage documents.
To use the platform, users upload their documents (usually as a PDF), and then use DocuSign tools to format the document with signing fields and e-signing boxes assigned to specific users.
Quick note: Unlike PandaDoc, DocuSign doesn't allow for much in the way of document editing, and the platform caps the number of documents that you can send each year.
For support teams, DocuSign can be an effective method to get essential documentation signed.
While it lacks the ability to make any significant changes to an uploaded document, the platform offers a versatile suite of integrations alongside simple and effective signing tools that work well for standardized documents.
Use better tools to take your customer support team to the next level
Having a reliable customer support team is essential for the success of any business.
It's important to provide customers with prompt and accurate service in order to maintain their satisfaction and loyalty.
Without the proper support tools in place, it's far too easy for customer loyalty to decline or for poor service to negatively impact brand reputation — especially on review websites and social media channels.
At the end of the day, it's ultimately up to you to decide what support solutions are best for your team.
Most modern solutions are cloud-based platforms that can be used and discarded relatively quickly, so it's easy to test things out and see what works best for your team.
There are a ton of software solutions out there, depending on your brand, but it may take some time to find the perfect fit.
Disclaimer
PandDoc is not a law firm, or a substitute for an attorney or law firm. This page is not intended to and does not provide legal advice. Should you have legal questions on the validity of e-signatures or digital signatures and the enforceability thereof, please consult with an attorney or law firm. Use of PandaDocs services are governed by our Terms of Use and Privacy Policy.
Originally published September 4, 2019, updated May 8, 2023