One of the most important factors in business is building long-term relationships with your customers.
When you have loyal customers, you're likely to have lower customer acquisition costs (CACs), better sales figures, and higher customer lifetime values (CLVs).
To help you establish those long-term relationships, one of the most important tools you can use is CRM (Customer Relationship Management) software.
Let's look at how CRM tools can help your sales process, as well as what the best sales CRM systems available on the market in 2023 are.
How does CRM software help sales?
A CRM offers a suite of integrated applications, usually cloud-based, that covers everything from sales to marketing to customer service applications.
It collects and stores customer information and data so that your teams can personalize experiences
Put simply, the best CRM for sales tracks all activity that happens between your organization and its customers.
That means every single interaction, from phone calls, to emails, to purchases, to follow-up interactions on social media.
Using CRM software means your customers enjoy a better, more targeted customer experience (CX) and that your teams can instantly see a customer's previous purchasing history as well as other important demographic information such as age, gender, and geographical location.
When used properly, your sales reps can spend more time with customers who are likely to make a purchase, and personalize their interaction.
When they spend more time with them, sales figures and revenue can both improve. Plus, you're likely to also see an increase in retention rates.
All that's a pretty compelling answer to the question of why CRM is important for sales!
How we source our data to find the best list of sales CRM
With so many sales CRM tools on the market, it can be tricky to narrow it down to the "best of the best".
We've looked at the main things a business needs and what it will take into account when choosing a new CRM system for their organization.
These can include:
1. Costs
This is particularly important for new or small businesses.
We've factored in the fact that the most expensive system may not be best for everyone, but equally, that the cheapest may be too simple for many.
2. Features
What features are provided by the CRM system and are any locked away behind higher price tiers?
We made sure our top few contained all the essentials plus a few nice-to-haves as well.
3. Integrations
Even the best standalone CRM system won't contain everything you need.
We looked for solutions that had great integration options, meaning they can easily fit into your existing suite of programs.
4. Reputation
It's not all about the technology, a provider should be reliable, and for that reason, we've checked out what people think and made sure they're all well-regarded names in the field.
5. Compatibility
It's important software works with a variety of different operating systems (OS) and devices.
There's little point in buying an expensive CRM solution then having to replace many of your devices!
We've made sure our top seven are compatible with multiple devices.
6. Customer reviews
A salesperson is always going to tell you that their product is best and extol the virtues without mentioning any drawbacks.
To avoid that, we checked out reviews from various independent sites in order to provide an idea of real-life experiences with any product.
What is the best sales CRM software in 2023?
So, you know what your budget is for new CRM software and you know what you want it to do for your business.
What are some of the best CRM systems and best sales pipeline software options you should be looking at?
Pro
vider
Commu
nication
Mobile access
Ana
lytics
Fore
casting
Auto
mation
Integra
tions
Salesforce
Yes
No
Yes
Yes
Yes
Yes
HubSpot
Yes
No
Yes
No
No
Yes
Zendesk
Yes
No
Yes
Yes
Yes
Yes
Freshsales
Yes
Yes
Yes
Yes
No
Yes
Keap Pro
Limited
Limited
Yes
Yes
Yes
Yes
Zoho
Yes
Yes
Yes
Yes
Yes
Yes
Pipedrive
Yes
Yes
Yes
Yes
n/a
Yes

*Note; this shows the essential features which may only be available in different versions.
1. Salesforce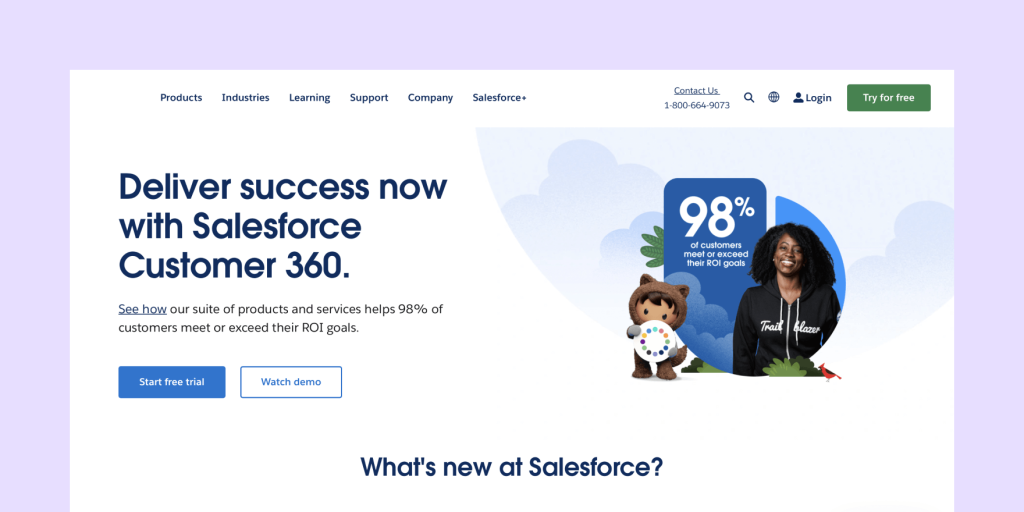 Salesforce is possibly the best-known name on the CRM market.
It offers organizations all the features you could ever need. As with any system, the range of features can depend on the package you choose.
Best features
1. Essentials package:
This is a good entry package that you can later choose to upgrade or add additional features to if needed.
It allows you to manage your existing accounts, leads that are already in your sales funnel, as well as new leads and opportunities.
It easily integrates with email apps such as Gmail or Microsoft Outlook. The essentials package also allows you to automate several workflow and approval processes.
2. Professional package
If you instead choose Salesforce's professional package, you get all the features included in their essentials package with a little extra.
The main two extra features included at this level are pipeline management and forecast management.
3. Enterprise package
Moving up a level is the enterprise plan. As you would expect, this package includes all the features that the professional package has, plus a few more.
Our favorites are workflow automation which can improve productivity and efficiency, along with automation of the approvals process.
4. Unlimited package
The top package from Salesforce contains all the features previously mentioned.
However, it adds some features that can be very useful, especially to larger businesses.
These include management of the sales engagement process, insights into your sales patterns, a 24/7 support team, and services to help with configuring your system.
Drawbacks
While the best known system around, there are some drawbacks to Salesforce that may make you think twice about choosing it:
The different packages can be quite expensive compared to many Salesforce alternatives.
If you want to get the best out of Salesforce, then you need to buy add-ons.
Initial setup and configuration can be quite complex and may take time to get right.
The interface is rather complex and even simple tasks aren't always intuitive.
The software has what often seems to be a never-ending learning curve.
Their customer support is not the best.
Pricing
Essentials package: $25 per user per month (paid annually)
Professional package: $75 per user per month (paid annually)
Enterprise package: $150 per user per month (paid annually)
Unlimited package: $300 per user per month (paid annually)
2. HubSpot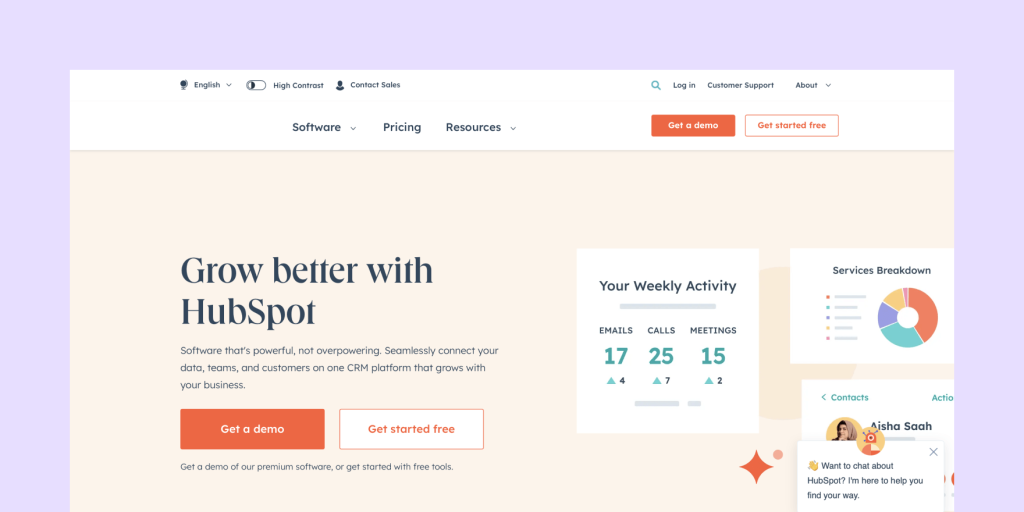 If you're a startup, then HubSpot CRM may be a good choice due to its scalability — your CRM system can grow as you do.
Best features
1. Free version
One major benefit of HubSpot is that it offers a basic free version, making it ideal for startups or small businesses on a tight budget.
Surprisingly, it offers a lot of features for a free package, though, of course, these may be fairly limited.
The features you get with the free version include:
Contact management
Deals pipeline
Limited basic bots for your system
Email scheduling
Live chat (HubSpot branded)
Schedule meetings
Free shared inbox
Integration with Facebook Messenger
Customizable quote options
Maximum of three dashboards (with capability of 10 reports per dashboard).
2. Starter version
The next version up from HubSpot is the starter version.
This contains all those features you find in the free version with some extras and upgrades.
With the starter version, you can provide customizable quotes that include payment and Stripe integration.
You can also have up to 1,000 personal and team meeting links.
The starter version also provides you with unlimited email open and click notifications, and the number of dashboards increases to a maximum of 10 (again with 10 reports per dashboard).
3. Professional version
You can probably see a pattern emerging here; every CRM provider includes all the features in lower packages in the next one up and adds extra features or upgrades.
HubSpot's professional version follows that pattern.
It upgrades your customizable quotes feature to include a product library feature as well as eSignature options.
It also offers a max of 100 shared inboxes, ideal for different team members who are collaborating.
Your number of dashboards increases to 25 and you now have 30 reports per dashboard.
You can also include 15 deal pipelines per account, making multiple sales far easier.
4. Enterprise version
With their top level CRM package, HubSpot adds unlimited email open and click notifications.
Your dashboard "allowance" now increases to a total of 50, but with the same 30 reports per dashboard as with the professional version.
Drawbacks:
Can be expensive as you scale up to better versions.
Lacks effectiveness unless used as an all-in-one system.
Only offers annual contracts with no opportunity for early termination.
Tech support comes at a cost and their mandatory onboarding process is expensive.
Cheaper plans do not offer A/B testing.
Pricing:
Free version: Guess what, it's free!
Starter version: $45 per 2 users per month (paid annually).
Professional version: $450 per 5 users per month (paid annually).
Enterprise version: $1400 per 10 users per month (paid annually).
3. Zendesk Sell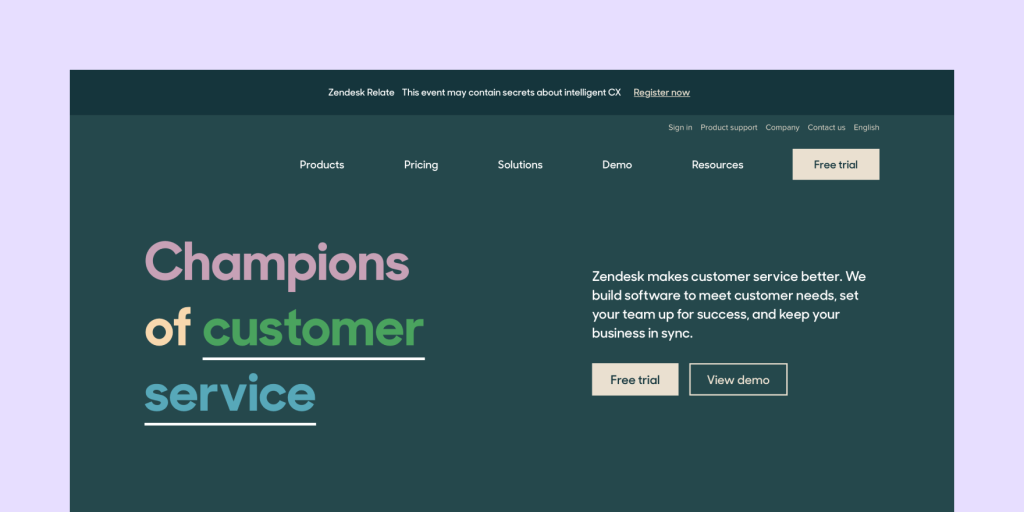 Zendesk offers both customer service and sales CRM systems, meaning you can pick the one that suits you best.
As we're focusing on the benefits for sales, we'll look at that system here.
Best features
1. Team version
Zendesk's basic package is the team version.
It offers two customizable pipelines that you can adapt to your own particular needs.
You can integrate calendars so that you will never miss an important appointment or call back.
If you do a lot of email marketing, it also integrates with email programs such as Mailchimp and offers tracking options.
For each user, you have up to 2Gb of document storage as well as mobile access even when offline. Zendesk provides good onboarding and adoption resources if you need assistance.
The system lets you set tasks and appointments (separate from your calendar integration), as well as providing ready-to-use dashboards and the ability to track and record all calls and text messages.
2. Growth version
The growth version offers all previous features but 10 customizable sales pipelines instead of two, as well as email integration that allows tracking and bulk emailing and unlimited templates.
Document storage increases to 5GB per user and Zendesk also offers good onboarding resources as well as robust APIs at both core and premium levels.
You can personalize your dashboards to include custom sales reports as well as having the ability to forecast sales figures and track any goals you set.
You can also program the system to generate highly advanced activity reports.
3. Professional version:
Moving up to the professional version offers all the previously-mentioned features as well as an increase to 20 customizable pipelines.
Document storage capacity increases to 20Gb per user and you get 3500 enrichment credits per user, per month.
The professional version also offers a high degree of automation ability so you can shift away from repetitive tasks.
To help your sales reps, there is insightful lead and deal scoring as well as the inclusion of a product and pricing book.
Drawbacks
Customer support is not always responsive.
Some users report issues with the quality of calls.
No international numbers offered.
Pricing
Team version: $19 per month per user (annual basis).
Growth version: $49 per month per user (annual basis).
Professional version: $99 per month per user (annual basis).
4. Freshsales CRM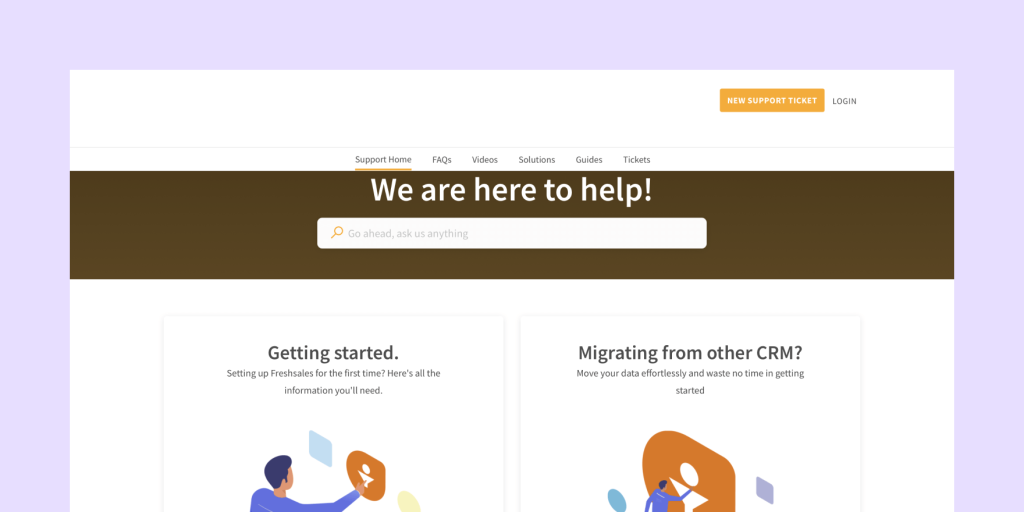 This system has won many awards, including Gartner's Magic Quadrant 2021 for Sales Force Automation, so it's no surprise it's on the shortlist.
Best features
1. Free CRM
Another company that offers a free version. Some of the features you get include email, live chat, and phone.
There's also a mobile app available, making life easier for any sales reps on the road.
Freshsales also provides 24/5 customer and tech support.
The free version has easy management tools for contacts and accounts and trackable contact lifecycle stages.
2. Growth version
The next level up adds some interesting features.
You can visualize your sales pipeline, meaning you can see the status of various deals, alongside an easy-to-follow sales cycle.
You can also access AI-powered contact scoring so you can focus on high-value leads.
The growth version also includes WhatsApp business to make communication more efficient and a maximum 2,000 bot sessions per month.
3. Professional version
With the next tier, you get all the features offered in the growth version as well as deal insights powered by AI plus next best action suggestions.
Your bot sessions increase to a maximum of 3,000 sessions per month and you can develop multiple sales pipelines.
You can also manage different sales teams or territories so you get better oversight of sales activity.
There are also time-based workflows and AI-powered deal insights & next best-action suggestions.
4. Enterprise version
Yes, you get all the features offered in the professional version, as well as customizable modules and AI-powered forecasting insights to make more informed strategy decisions.
Bot sessions increase to 5,000 per month and Freshsales will also provide you with a dedicated account manager.
Drawbacks
Needs more options that allow users to export information.
Also needs improvements for collaborators to have access.
Difficult to access error logs.
Poor reporting system.
Pricing
Free plan: Free!
Growth version: $15 per user per month if billed annually. $18 per user per month if billed monthly.
Professional version: $39 per user per month if billed annually. $47 per user per month if billed monthly.
Enterprise version: $69 per user per month if billed annually. $83 per user per month if billed monthly.
5. Keap Pro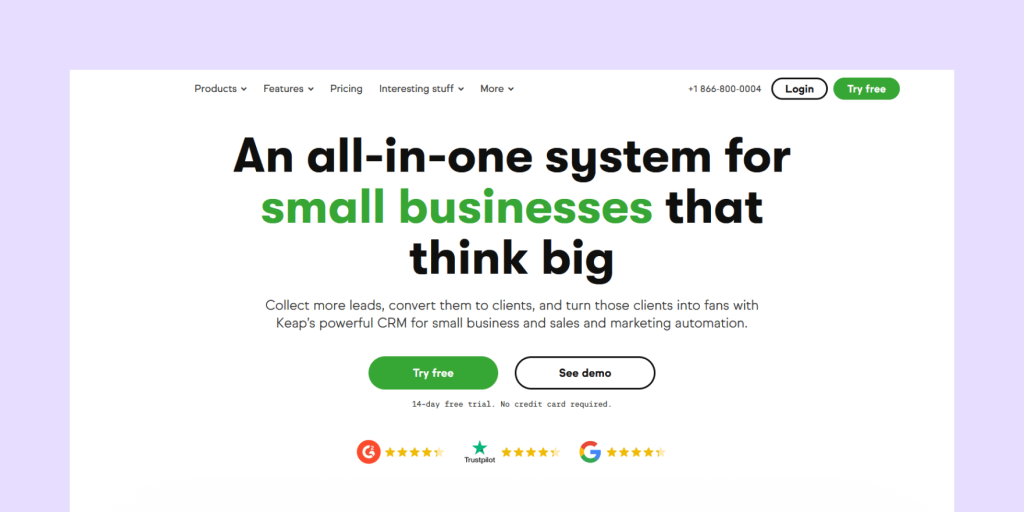 Keap is a powerful sales and marketing solution that offers businesses some powerful features that can aid growth.
Best features
1. Pro version
The pro version offers a wide range of features though some are restricted by location.
For example, the dedicated phone line feature is only available to organizations in the US and Canada.
Some of the other features in the pro version include the ability to automate sales and marketing campaigns as well as automated lead capture and follow-up.
You can easily manage leads and existing clients, make and track appointments, and create and analyze sales pipelines.
The system will generate any quotes, invoices, and payments you need as well as allowing for landing pages and online sales. You can also do text marketing whenever needed.
2. Max version
The max version has all the features mentioned with the pro version as well as allowing you to create promo codes or for your agents to upsell.
This version also gives high-level marketing analytics and insights.
Drawbacks
Lacks some eCommerce functionality.
Text messaging is only available in the US.
Appointment-making features are a little clunky.
Difficult to manage B2B relationships.
Pricing:
Pro version: $129 per month if billed annually. $169 per month if billed monthly. Both options allow for two users and 1500 contacts. Additional users are $29 each per month.
Max version: $199 per month if billed annually. $249 per month if billed monthly. Both options allow for three users and 2500 contacts. Additional users are $29 each per month.
6. Zoho CRM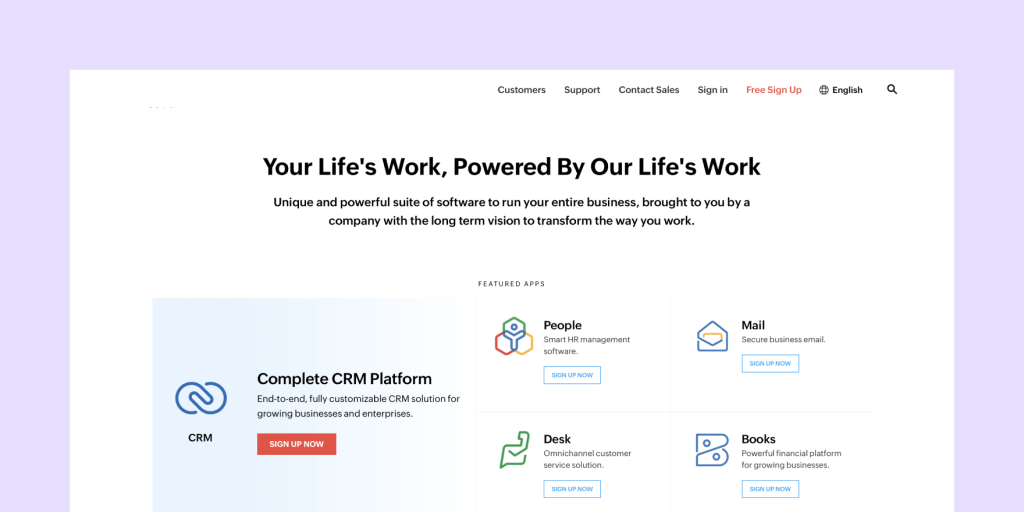 Zoho is a multichannel online CRM solution that collects customer data from multiple sources and offers deep insights and analytics.
Best features
1. Standard version
Zoho's standard version offers a range of useful features.
Scoring rules mean you can prioritize higher-value leads and the system's workflows make it easy to have an overview of what's currently happening.
You can also easily create multiple pipelines and can mass email with no problems.
The standard version also offers custom dashboards so you can configure them to specific needs and this version comes with one view of Canvas per organization.
2. Professional version
Once again, all features of the standard version with some additions.
Your views of Canvas increase to three per organization and the pro version also offers sales signals and blueprints features.
If you need web-to-case forms, then they're also included, alongside validation rules.
For organizations that handle a lot of stock, Zoho's pro version also offers you inventory management capabilities.
3. Enterprise version:
As well as all previous features, the enterprise version comes with Zia AI.
Views of Canvas increase to five and you also have a command center feature that gives a 360 degree overview.
You can have multi-user portals which can help with larger teams.
The enterprise version provides you with advanced customization capabilities as well as a mobile SDK (software development kit) and MDM (mobile device management).
4. Ultimate version
The ultimate version adds to the extensive features of other versions with some interesting additions.
These include advanced BI (business intelligence) with Zoho analytics.
All features have enhanced feature limits and you now have 25 Canvas views per organization.
You can also get a free 30-day trial to see if this is a good fit with your business.
Drawbacks
Some add-ons and other services can be expensive.
Tutorials could be better.
Integration can be problematic and inconsistent.
Call scheduling can be cumbersome.
Pricing:
Standard version: $14 per user (billed annually).
Professional version: $23 per user (billed annually).
Enterprise version: $40 per user (billed annually).
Ultimate version: $52 per user (billed annually).
7. Pipedrive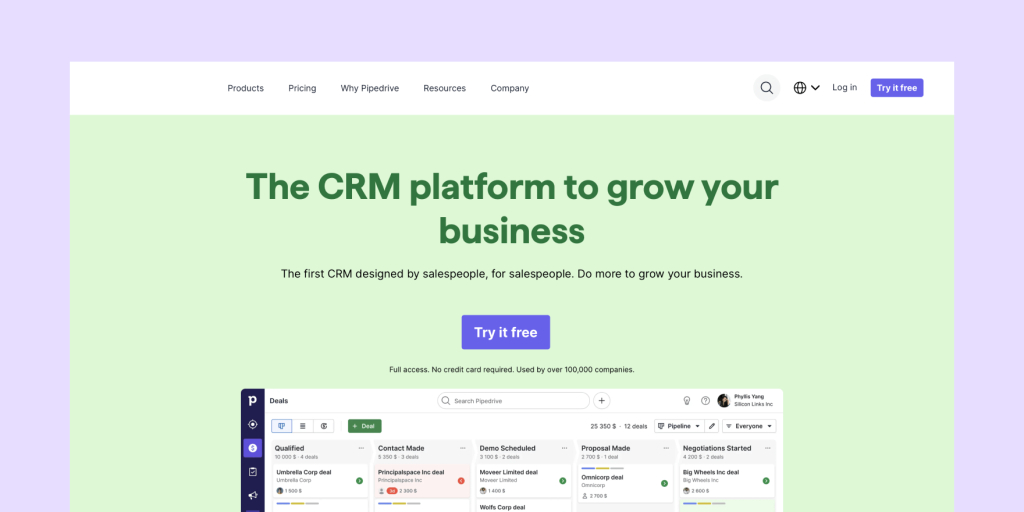 Pipedrive is a sales-oriented CRM solution that can provide SMBs (small and medium sized businesses) with maximum output in return for minimum input.
Best features
1. Essential version
Pipedrive's basic version offers you some useful features.
This level offers lead, deal, calendar, and pipeline management as well as making it easy to customize and also offers more than 300 integrations.
2. Advanced version:
The next level up offers all the features of the essential version with some additions.
You get full email syncing as well as templates and scheduling ability.
You also get group emailing capabilities and can track open and click data. The final add-on is a workflow builder with triggered automation.
3. Professional
Taking it to the next version, you keep all the functions in the advanced version as well as being able to create, manage, and eSign any contracts and documents.
The system also allows for forecasting, revenue projections, and customized reporting.
4. Enterprise level
The enterprise version gives you all the features of the professional version along with unlimited user permission and visibility settings.
You also get higher security preferences, an implementation program and phone support and no feature usage limits.
Drawbacks
No shared inbox option.
Difficult to track email responses.
Pricing
Essential: $9.90 per user per month (annual basis).
Advanced: $19.90 per user per month (annual basis).
Professional: $39.90 per user per month (annual basis).
Enterprise: $59.90 per user per month (annual basis).
Sales CRM features to consider
One of those choices might be perfect for you — or you might want to look further afield.
The best way to decide is to work out what your priorities are.
No tool on our shortlist may be a perfect fit for your organization.
What features do you want in the best CRM software? What ones could make a real difference to your sales pipelines and, ultimately, your sales figures and revenue? Is ease of use important?
It's also worth taking some time and reading how to use CRM, the full guide.
Here are some of the most important features to think about, to help you get started:
Lead generation
A good CRM sales solution is nothing without good lead generation and management capabilities. Combined with the best contract management software, you'll soon be unstoppable!
But how to get started? Your sales team may have plenty of leads being generated, but how many of them are of sufficient quality?
Your salespeople need to be able to prioritize leads and identify which ones are most likely to mean a successful sale.
A good CRM should use both demographic and psychographic data to generate new leads and determine which of your existing leads are high quality.
This can help focus your sales teams and allow them to concentrate on the best lead. It can help vastly improve the efficiency and productivity of your sales teams.
Communication features
Having good communications features, both internal and external, are essential in any good CRM software.
After all, communication is the basis of all relationships, including business ones.
Your CRM should include an efficient contact management system so that you can track and manage customer interactions, as well as interactions with suppliers and colleagues.
Of course, it's not just about communication, it's also about collaboration.
You'll want it to fit right in with the complete list of sales collaboration tools you use, and work alongside, not against them.
In many cases, your sales team wants to work together with other departments such as marketing or even logistics to ensure a smooth and painless workflow.
It is often the case that your marketing teams are generating the leads you hope your sales teams can convert.
Mobile access
There are two things to consider here.
Firstly, there are now more than six billion smartphone subscribers in the world.
Secondly, and perhaps most importantly, even in this digital era, salespeople may still spend a significant time away from the office, whether cold-calling, attending meetings, or visiting trade conferences.
That means they need to be able to access different sets of data wherever they are and usually from some form of mobile device, whether Android or iOS.
Being able to have a constant link to communications and information means that your sales teams can do their jobs better.
Having a native mobile app — or one that easily integrates — means you can exchange information, send alerts or updates, and improve customer experience.
CRM analytics
You already know the importance of data and as your business grows, so does that importance.
That means you need to choose a CRM solution that offers highly-efficient analytics in real-time.
It should provide deep insights into every aspect of your interactions with customers and what results from those interactions.
The more data you have, the easier it is to identify patterns and to make informed decisions that can drive your business forward. It's not just customer data, either.
A good CRM can help you analyze the actions your teams have taken (including your marketing teams) and the impact they had.
It also means that as time goes on, you can build more accurate customer profiles and segmentation for better targeting and personalization.
Sales forecasting
No-one has a crystal ball that can accurately predict the future, 100%. However, a good sales forecasting feature within CRM software can come pretty close.
Good forecasting can help your sales team predict future opportunities and thus tweak their sales strategies to meet those predictions.
Having an accurate picture of projected sales can also help you make decisions on inventory management.
It can help you focus on those high-value deals that have the best potential of being closed.
Using sales management software in conjunction with accurate forecasting is a great way to streamline your business processes.
Marketing automation
There are many tasks in the sales and marketing process that are repetitive and time-consuming, such as data entry.
They can take up time that would be better spent on more important tasks such as dealing directly with customers and closing deals.
Now, it may be that the CRM solution you are considering either has no or low-level marketing automation capabilities.
If that's the case, consider prioritizing integrations with a good marketing automation tool or even one that you're already using.
Marketing automation can allow your teams to automate key tasks and streamline your workflows to increase team productivity.
It can cover a wide range of tasks, from email templates and marketing to segmentation, customer retention, lead generation, lead management, and relationship marketing.
Making sure your CRM either has automation capabilities, or can integrate with another tool can free up your staff to focus on using the best quoting software tools and making those all-important sales.
Integrations
Even with a fairly new business, there's a good chance that you're already using one or more business-related tools, such as one of the best lead capture apps.
So, when it comes to choosing a CRM solution for your organization, you need to be sure that it offers a high degree of integration capability, both with any existing apps and also with apps you have identified as essential in the future.
Your ideal CRM software may not have everything you want, but it needs to be able to integrate with apps that can help support your business and your sales and marketing teams.
Using a tool such as Zapier can help with integrating many of the most common applications.
It's also not just about being able to integrate an app, it's about how well that integration works.
Spend some time looking at the different options and, if still unsure, contact the providers and ask any pertinent questions.
As you can see from our list of CRM solutions, this is not a cheap path to take, so you want to be sure that your chosen provider offers all the integrations you'll ever need.
Best practices in choosing sales CRM for small businesses
So, you now have some idea of what the leading CRM providers offer (and cost), and what the most essential features of any CRM software are.
Let's assume that you're at the beginning of the decision making process; how should you go about making a shortlist and then a final choice?
1. Set clear goals and priorities
What are your business goals and priorities?
Of course, every single organization wants to achieve growth and good sales figures and revenue. But have you set a timeframe for your goals?
Do you have a clear idea of where you want your business to be in a year? In two years? Five years?
Setting goals that tie in with timeframes can help you develop a "map" of how you will reach those goals.
Having both goals and timeframes set out can help you when looking at the many CRM solutions currently available.
This stage of planning should be done in conjunction with other members of your team so there's consensus and so that you are all following the same plan.
2. Determine the needs of your team
As mentioned in the previous section, considering a CRM solution is not something that should be done in isolation by a manager or business owner.
Spend some time having planning meetings with your relevant teams to work out what they'd find most helpful. For example, your sales team may see a sales development toolkit as high priority.
There's little point in planning CRM implementation if the system you choose does not meet the needs of your various teams and of your business as a whole.
Of course, a single CRM system may not meet every need, which is why you should also look carefully at integration capabilities and what third-party integration, such as sales automation software, may fulfill the needs that a standalone system does not.
3. Identify the CRM features you can't do without
As you move through the planning and consideration process, you'll likely make a list of the CRM features you want.
What you also need to do here is to take that list and identify what the most important features are, the ones you and your teams really can't do without.
This is going to be an integral part of your final decision.
For example, let's say that your business relies heavily on email campaigns which can be a repetitive and time-consuming task.
You would therefore be looking at a CRM system that allows you to automate these processes, even if it might have less of the "bonus" features other systems have.
4. Customize your CRM system
Okay, there is probably no such thing as the perfect CRM system, at least not perfect for every company.
Different businesses have different needs and will even use different features more than others.
The best way around this is to find CRM software that is customizable to your needs.
Customization goes beyond the ability to integrate third-party apps into your system.
It can mean customizing any part so that it better meets the needs of your teams.
That can cover how the system produces different reports, how it performs analytics (so that you can prioritize the metrics that matter most to you), customizing your webforms and how your chatbots operate, and so on.
Knowing how customizable a CRM system is to specific needs is going to be another crucial factor when making a decision.
5. Set your budget
Of course, budget is always important, especially to small or new businesses.
However, this is an area where you need to step back for a minute and look at the bigger picture.
As you can see from our earlier list of CRM solutions, paid plans can be costly, especially if you plan on having multiple users.
But remember, this is usually a long-term investment that should help improve your sales and revenue figures.
You need to be wary of choosing a cheap option that may not produce the results you want over time.
When setting a budget, look at what the system might achieve for you in terms of increased revenue over longer timeframes.
You also need to consider what additional apps you may need to purchase to bring the system up to the level you need.
6. List and compare your CRM platform options
So, you now have an idea of the various factors that are important to you, from cost to integrations to how customizable any software is.
As you would do with anything you purchase, it's now time to start whittling down your list to a smaller and smaller number.
The probable ideal final shortlist will comprise of three or four different CRM solutions.
From this point, it's time to reach out for demonstrations and trials.
Put together a small team of individuals from different departments, and ask them to try each CRM on your shortlist.
With their feedback in mind, it should be easy to identify which CRM solutions are best suited to your business.
7. Make a fully informed decision
Don't just rely on your own insights.
Check the various independent review sites to see what's been said about the solution.
This can be a great source of information about the user experience, the long-term.
It's worth doing for all companies, including both the best enterprise software companies and the smaller, less-known ones.
The emphasis should be on that final decision being fully informed.
Make sure you've discussed it with representatives from every team that will be using it, and try to reach out to other companies for their experiences, if possible.
Once everyone is happy with a particular solution, and you know that it's user-friendly, then you can make that informed decision and sign the contract.
Drive business growth with the best sales CRM
As you can see from the different features available, a good CRM system will drive your business growth and can help improve efficiency, productivity, the customer experience and, of course, sales and revenue.
A major factor in being an effective business is the exchange of any relevant documents, and in the modern digital era, most of these will need to be electronically signed.
Luckily, electronic signatures have come a long way and are now legally-binding in every US state and are just as valid as a handwritten signature.
That means that not only do you need to consider the various features and factors already discussed but you also have to be able to include digital documents, electronic signatures, and templates in your plans for CRM implementation.
That's why PandaDoc is the ideal choice for a document workflow solution.
PandaDoc integrates easily with most leading CRM solutions , and offers a wide range of templates that suit almost any situation, from sales agreements to MOAs (memorandums of agreement) to legally-binding contracts.
Disclaimer
PandDoc is not a law firm, or a substitute for an attorney or law firm. This page is not intended to and does not provide legal advice. Should you have legal questions on the validity of e-signatures or digital signatures and the enforceability thereof, please consult with an attorney or law firm. Use of PandaDocs services are governed by our Terms of Use and Privacy Policy.