As a business consulting firm that specializes in business coaching, sales enablement, and RevOps, HubDo understands the importance of seamless workflows.
Each day, the HubDo team works hard to ensure that clients are making informed decisions and part of that responsibility lies in how well they communicate with their clients through documentation.
For six years, HubDo has been an active user of the HubSpot CRM. However, it wasn't until the PandaDoc integration with HubSpot was first released that HubDo's use of the platform was taken to new heights.
According to Pete Nicholls, founder of HubDo, the PandaDoc integration arrived at precisely the right time.
"Before the integration, we were challenged with how to streamline the production of proposals for our own means," explains Nicholls. "Ultimately, we decided that PandaDoc was the best feature-rich integration with HubSpot."

Pete Nicholls, Founder, HubDo
Saving time (+ headaches) with document management
The flexibility of the PandaDoc integration with HubSpot allows for a variety of uses. Internally, HubDo uses the integration to add value to each of their customer-facing departments.
"We use PandaDoc in the marketing, sales, and service elements of our business," says Nicholls. "It saves us time all around."

Pete Nicholls, Founder, HubDo
One of the primary benefits of the integration is just how much of a time saver it can be for high-functioning organizations that rely heavily on the creation, sharing, editing, and signing of electronic documents. For a team like HubDo, one that generally sends out proposals daily, the benefits of using an automation tool like PandaDoc can be felt immediately.
"The biggest saving for us was reducing time and complexity," says Nicholls.

Pete Nicholls, Founder, HubDo
"With PandaDoc we can put together a proposal in minutes that would have previously taken us at least an hour or two. PandaDoc saves us over 90% of time, easily."

Pete Nicholls, Founder, HubDo
For HubDo, this level of efficiency is primarily about streamlining the customer experience.
To scale excellent customer experience, they needed automation.

The PandaDoc content library allows users to create and reuse blocks of content. Since HubDo is constantly using this feature, they've equipped their library with a customized set of blocks of content.
By adding HubSpot's customer data into the equation, they've built an automated system in which, by dragging and dropping blocks of content, they can generate personalized support at scale.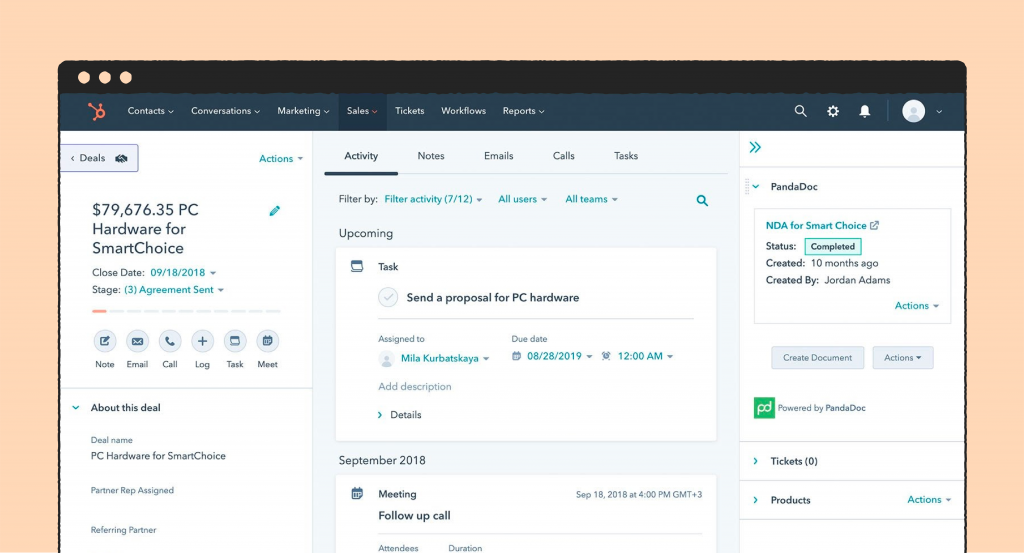 Automating manual business processes and improving customer experience
One way HubDo used the PandaDoc integration was to assist in a software migration program. They created a document that was then customized in the HubSpot CRM for each client.
The document was embedded with the training information needed for the migration and also used to collect feedback from clients on the process. At the end of the process, HubDo then sent a second PandaDoc to receive a signoff on the migration.
According to Nicholls, this project would still be in progress if it weren't for the PandaDoc integration with HubSpot.
"We have done this process with over 150 clients. There's no way we could have done it this year if we hadn't streamlined it with the PandaDoc integration," says Nicholls.

Pete Nicholls, Founder, HubDo
"HubSpot had all of the information about what the customer software was made up of and PandaDoc used that information to give the customer a great experience while saving us from having to do it manually."

Pete Nicholls, Founder, HubDo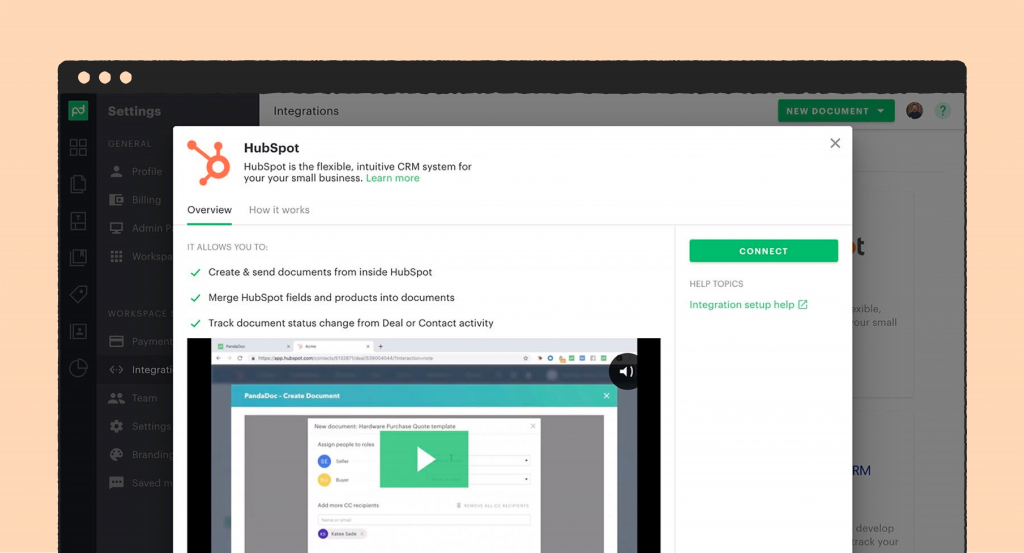 How HubDo boosts ROI with the PandaDoc integration with HubSpot
As far as HubDo is concerned, one of the best factors of the PandaDoc integration with HubSpot is the ability to help companies sell value.
Previously — in a world before the integration — the HubDo team was only able to offer their clients a single price option for their services.
Customers could then either accept or refuse this price, with no room for flexibility. Enter: the PandaDoc integration with HubSpot as a no-code solution to HubDo's problems.
With the use of the integration, HubDo was able to pivot to a more flexible pricing model. Crucially, a model that gave the power of choice back to the clients themselves.
"Something we can do in PandaDoc today that we couldn't do in HubSpot alone is our ability to sell value," Nicholls says. "Previously, customers were only given one price option. Through PandaDoc and HubSpot we can offer three price options for customers, offering them the ability to choose the best plan for their needs."

Pete Nicholls, Founder, HubDo
By offering a top, middle, and bottom pricing tier for clients, HubDo has managed to increase its average sale value by 30%. According to Nicholls, this change alone has been enough to boost ROI for the company.
"The ROI is significant because the cost is basically nothing," Nicholls says.

Pete Nicholls, Founder, HubDo
How rich integrations make for rich organizations
When HubSpot and PandaDoc released the Editor 2.0 version of their integration a year and a half ago, they were doing so to increase the support provided by an already hyper-supportive platform.
And it worked. According to Nicholls, this update has provided users with a heightened degree of design flexibility and resulted in a much richer integration than before.
As far as he's concerned, there's no going back to a world before the integration.
"There's no other combination of a proposal platform software that integrates with HubSpot that can really touch what PandaDoc and HubSpot do today," Nicholls adds.

Pete Nicholls, Founder, HubDo