The contract and proposal software fields are so competitive that we see new tools developed almost every year.
In fact, there are more than 91 PandaDoc competitors active at the moment of writing, and they're all constantly learning, improving their products, adding new features, and getting better each day.
In our PandaDoc alternatives section, you'll find our critical analysis of these workflow automation tools, carefully curated by our team.
Throughout the years, we've consulted market research specialists and gone deep into each of these solutions, analyzing their features and comparing pricing plans.
And just so you don't think we're being partial, here at PandaDoc, we also take a sincere approach when evaluating our competitors.
We're the first ones to acknowledge our own shortcomings and recognize that a certain tool has us beat in certain areas: it's how we identify growth opportunities and keep improving our product!
So, in this article, we'll take a deeper look into some PandaDoc competitors, their signature solutions, standout features, and more.
Why choose PandaDoc?
Recently, PandaDoc was a part of the WebSummit, it was an amazing experience. We've noticed that a lot of people compared our tool with similar options like DocuSign and Conga.
While we do share a lot of similarities, what makes us stand out is that we're the only company offering an all-in-one document workflow and management solution that will improve your workflow process with ease. Our competitors only offer a portion of features, like e-signatures or contract management.
PandaDoc, compared to competitors, encompasses all that, but also many other options for document management like templates, quotes, proposals, forms, and payments, among others.
You can use our tool regardless of your industry or business size. We also offer tailored solutions for each industry, ensuring that you don't have to rummage through templates and galleries to find the exact form that you need. We've already done that for you.
Get a product tour on our website or watch the video below for more information.
Now, let's get back to analyzing our competitors.
Where we got our data
We sourced the data used in this article from more than 25 different websites. The key goal in this data analysis was to identify the most relevant, objective publications whose opinions are unaffected by the market.
To make this assessment, we split the sources into four cohorts, based on the number of visits they generate.
The number of visits was viewed as an indicator of relevance and mainstream presence (as opposed to paid content or sponsorship).
The cohorts were as follows:
>300.000 visits;
150.000 – 300.000 visits;
50.000 – 150.000 visits;
<50.000 visits
The second step was to assign each publication a relevance score based on the group they occupy. The publications falling into the first category were considered reliable and objective more so than the last category.
The publications in the last group were required to go through a fact-checking process to make sure only the most objective and accurate data is included into the analysis.
Here are some examples of relevant sources:
The websites of the mentioned tools were used only to confirm information pertaining to the apps themselves – their promotional claims or impressions weren't taken into consideration.
How we evaluated these tools
First, let's take a moment to go over what we were looking at when evaluating the software on this list.
Key product features: every contract management and e-signature solution needs to have certain features like a template library, payment processing, CRM integrations, etc. We looked at these features and compared the tools based on how they perform.
Team collaboration: when creating documents, marketing and sales teams will often need to work together in real-time and make joint decisions. As you're about to see, not all the tools on this list have this feature built-in.
Analytics: how many times did the prospect open your proposal? Did they click on the links or download the document? All these, and many other important metrics, can be invaluable when using proposal management software.
Pricing: finding that perfect balance between affordability and functionality can be hard, which is why we included pricing details and compared what you get in each plan.
Support: If something goes wrong or you simply have a question for tech support, you'll want to know that the tool you're using has plenty of options for you to contact them. Preferably, 24/7 support is what you should go for but not every entry on this list provides that at the moment.
Now, let's get to our analysis!
1. DocuSign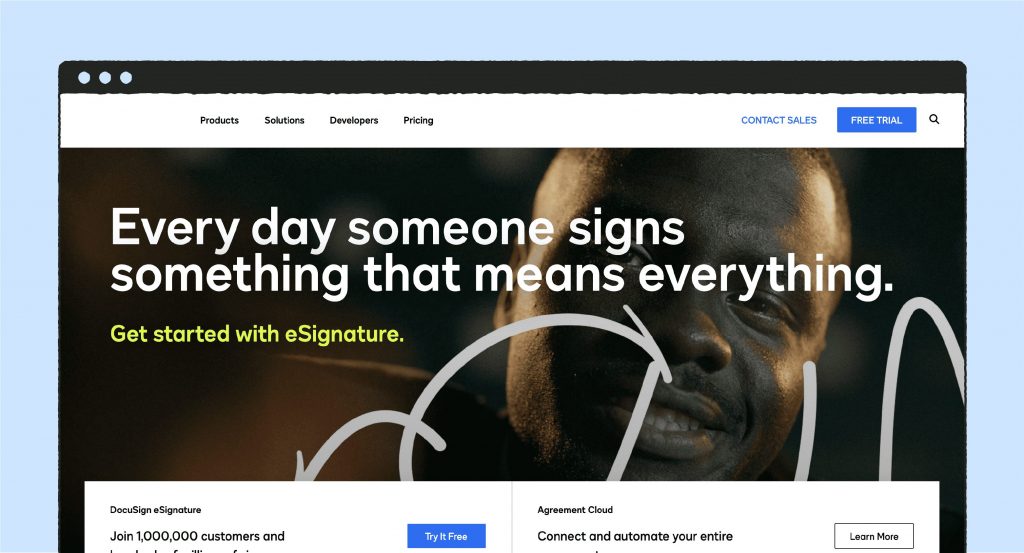 Our rating: 4.7/5
G2 rating: 4.5/5
Pricing: Personal ($10 user/month), Standard ($25/user/month), Business Pro ($40/user/month), Advanced Solutions (custom price)
Who is this tool for: Judging by its elaborate features, the absence of a free plan, and its existing clientele, it's safe to say that DocuSign is a solution for larger enterprises and established companies. It is, however, super easy to use and scalable.
Summary:
Founded in 2003, DocuSign is one of the major players in the eSignature and document management industry.
It's used by tech giants like Salesforce, Apple, Uber, and Samsung — in fact, Business Insider estimated that, in 2012, around 90% of Fortune 500 companies had signed up for DocuSign's services.
DocuSign allows you to:
Send, sign and track all your agreements effortlessly
Automate the process and reduce manual work
Eliminate human error and improve the accuracy of your documents
Integrate with the tools you're already using.
Document creation and editing is at the heart of every eSignature software, and DocuSign handles this process very well. Editing the document is made easy with an intuitive drag-and-drop interface and color-coded signers.
You can mark the documents you use repeatedly as templates and reuse them later on.
Another neat feature is password protection: you can protect your document so that only the people with an access code can view it. Send the code to the recipient and you're guaranteeing safety.
You can also view the status of sent documents through document analytics and resend them from this screen with one click of a button.
On the other hand, DocuSign falls short in certain aspects, especially when it comes to feature availability. When compared to PandaDoc, DocuSign makes you pay extra for CRM integrations, 24/7 support, automated workflows, and custom branding on documents.
DocuSign also doesn't have a free plan, making it a tough sell for small businesses or solo entrepreneurs looking to save money.
Also make sure to check out our article on DocuSign alternatives.
2. DocSend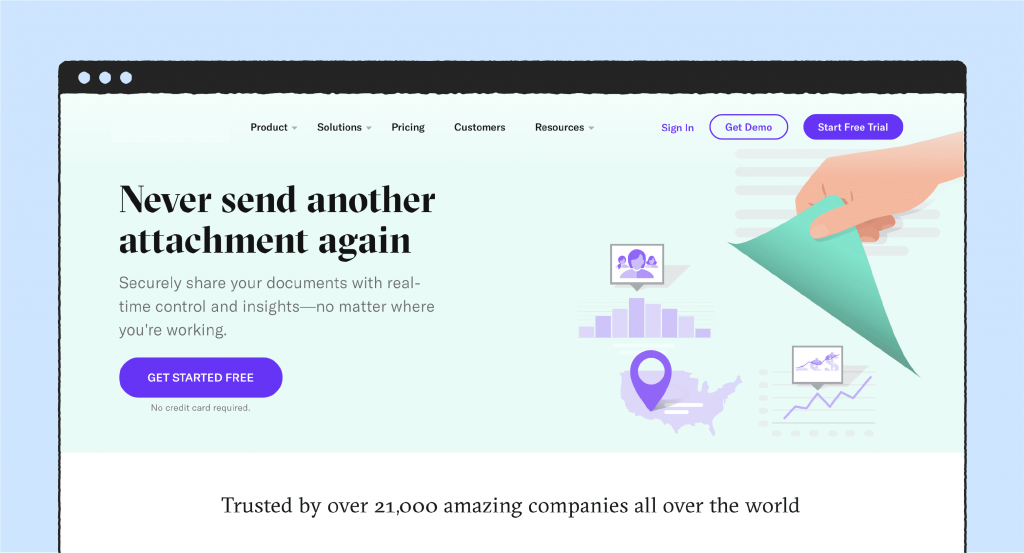 Our rating: 4.6/5
G2 rating: 4.7/5
Pricing: Personal ($10/user/month), Standard ($45/user/month), Advanced ($150/user/month), Enterprise (custom price)
Who is this tool for: Like DocuSign, DocSend doesn't offer a free plan and its Standard plan (marked as "most popular") features a hefty price tag for a small company. Small businesses might find it too hard to fit into their budget, especially if they want to enjoy some of the premium features found in the more expensive plans.
Summary:
DocSend is fairly easy to configure and use — it takes little time for you to get things up to speed and start using the tool. It also features most of the things you'll find in standard electronic signature software: templates, document analytics, integrations, etc.
One of the most significant features of this tool is the Spaces option. Space is a VDR (Virtual Data Room) that allows you to share multiple documents through a single link.
It's perfect for when you need your client to review and sign a whole set of files. You can also set user permissions for each individual file within a Space to make sure that the right people have access to the right documents.
For a little extra security, you can protect your Space with passwords.
Another useful feature is the one-click NDA that transforms the NDA signing process into a single step.
All you need to do is check the "Require NDA to view" button and your partners will need to agree to the NDA quickly and easily before opening the document.
On the other hand, DocSend could use some work in the creative section.
It doesn't have a content library found in some other entries on this list and it doesn't have elaborate online collaboration options.
3. Proposify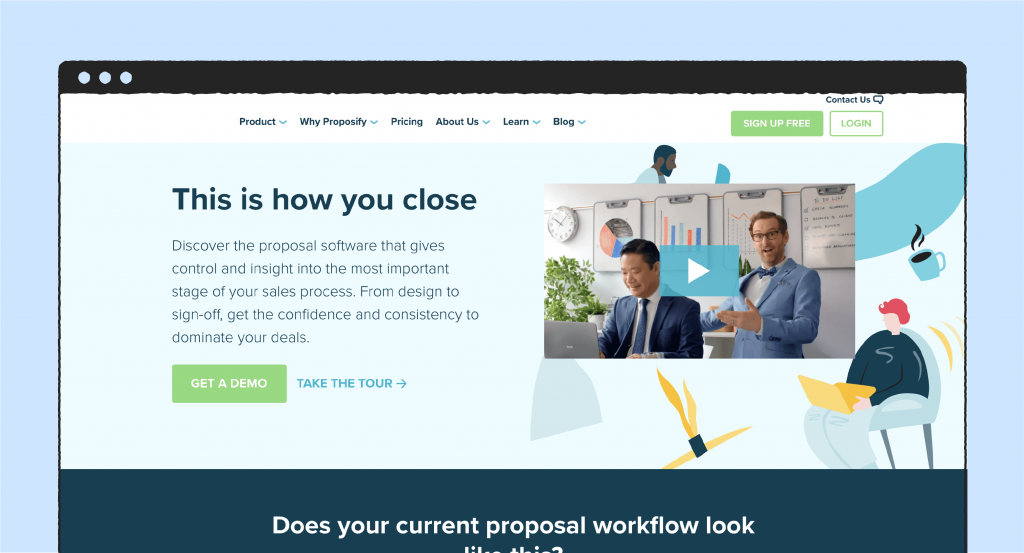 Our rating: 4.4/5
G2 rating: 4.7/5
Pricing: Free (one user), Team ($49/user/month), and Business (starts at $590/month)
Who is this tool for: Proposify is scalable and useful in almost every scenario. However, the strong focus on accountability and the limitations of the free plan make it better suited to mid-to-large sales and marketing teams.
Summary:
Proposify is an eSign and proposal management solution founded in Canada back in 2013.
Since then, the app has evolved into one of the major digital signature solutions on the market, allowing its users to make use of custom templates, analytics, payment collection, and various CRM integrations.
One thing you'll instantly notice with Proposify is its focus on the organizational side of things.
For example, Proposify allows you to set up something called Roles — they allow you to keep your sales team accountable and make sure each team member has access to only what they need. You can also track the entire process and see how your sales rep is managing it.
Proposify also uses industry-leading encryption standards, making sure your data is secure and never disclosed to third parties.
As mentioned, Proposify allows for payment collection although, at the moment, it's only possible through Stripe.
PandaDoc, on the other hand, allows you to use PayPal, Square, Stripe, and other payment processing software.
Proposify also doesn't have built-in CPQ functionalities which can be a big minus, particularly for larger sales teams.
And, while the option of a free plan might seem enticing, Proposify limits this plan to a single user and only five active proposals at a time.
This almost disqualifies the free plan when we're talking about larger teams and leaves them paying for the (slightly pricey) Team plan ($46/user/month).
If you aren't a big fan of this tool, you can always check out Proposify alternatives.
4. RFPIO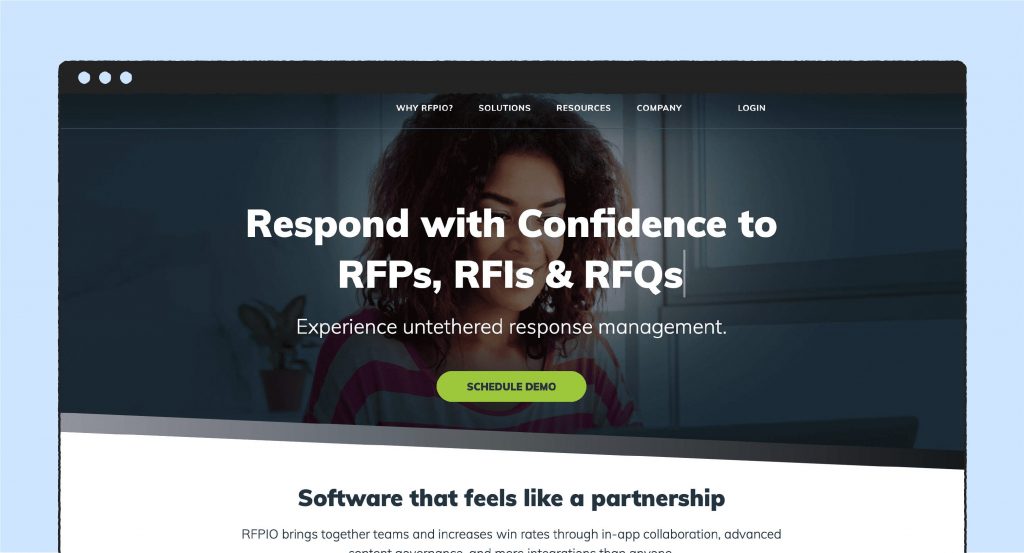 Our rating: 4.4/5
G2 rating: 4.7/5
Pricing: No pricing information on their website
Who is this tool for: RFPIO can be used by small and large businesses alike. It's a standard, user-friendly RFP response platform that's also scalable and supports team collaboration. They do, however, mention small-to-medium enterprises on their website so it's safe to say that this is their target group.
Summary:
RFPIO markets itself as the first AI-powered proposal solution on the market. However, the AI part of their tool isn't that prominent and you can easily use the software without relying on the AI.
The tool works by enabling you to import any document (Word, PDF, Excel), build it using their editor, and export the content back.
Like some other tools on this list (PandaDoc included), RFPIO gives you the opportunity to collaborate with your team by leaving comments and mentioning people. In fact, the RFPIO website mentions that 93% of their survey responders claim they need multiple people to complete a single project.
The AI part of the story refers to RFPIO's recommendation engine — an adaptive mechanism that auto-suggests answers and helps you use its library of responses.
According to the developers, the more you use this mechanism, the more accurate its recommendations will be going forward.
Whether or not you'll be making the most of this AI engine, RFPIO is still a pretty good proposal solution.
One area, however, where it could use some improvement is document editing. Compared to some more advanced options on this list, RFPIO definitely falls short.
5. QuoteWerks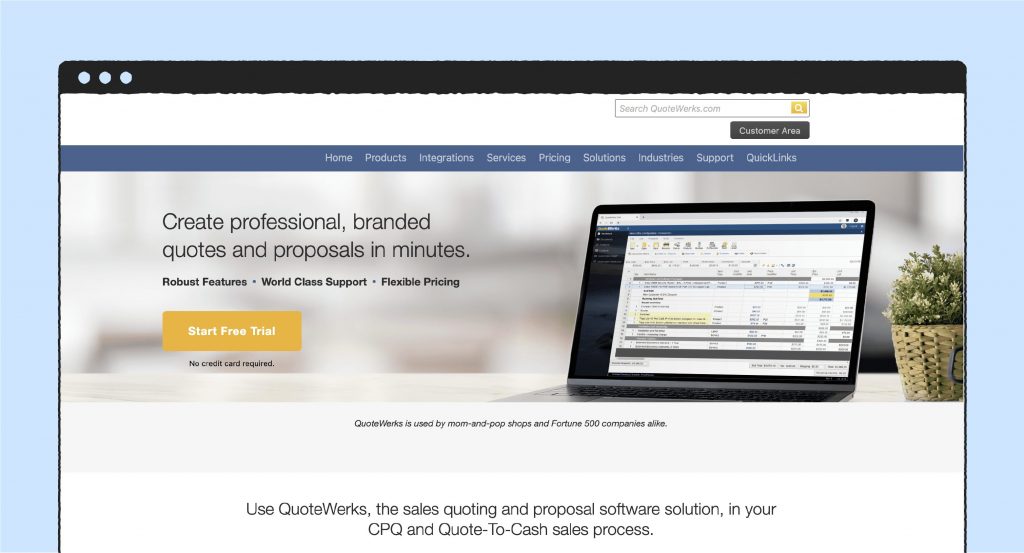 Our rating: 4.3/5
G2 rating: 4.3/5
Pricing: Standard ($15/user/month), Professional ($20/user/month), Corporate ($29/user/month)
Who is this tool for: Teams of any size looking for a simple and effective solution. It might be great for more traditional enterprises that aren't looking for design and flash but rather for functionality and familiarity.
Summary:
With QuoteWerks, it's all about simplicity. This tool looks to streamline the process of proposal creation through an easy interface and a simple, albeit, slightly outdated design.
Take one look at QuoteWerks and you'll see what we mean. It works as a desktop app and looks almost like a cross between Windows Control Panel and Microsoft Excel.
In fact, adding pricing, services, and recipients is quite reminiscent of these tools — a lot of tables and content, not enough buttons and content management options.
Compared to QuoteWerks, with PandaDoc, you get:
A smart content library with tons of templates to choose from
Document collaboration features that let you work on documents as a team
Elaborate document analytics upon sending documents to clients
A highly intuitive interface that takes little time to master
24/7 customer service
To some, this will be just what they're looking for. A lot of salespeople are used to the Excel interface and they'll feel comfortable using a tool like QuoteWerks for their entire sales process.
At PandaDoc, however, we're firm believers in user interface and smart design so this type of minimalistic, 2000-style design simply doesn't work for us.
Another big downside for QuoteWerks is the fact that you can't edit the design of your documents, let alone create custom templates or use a content library. If you want to send better proposals than your competition, you need to go the extra mile and work on their appearance!
Since we've also mentioned Proposify on this list, it might be useful to check out the difference between QuoteWerks and Proposify.
6. SignNow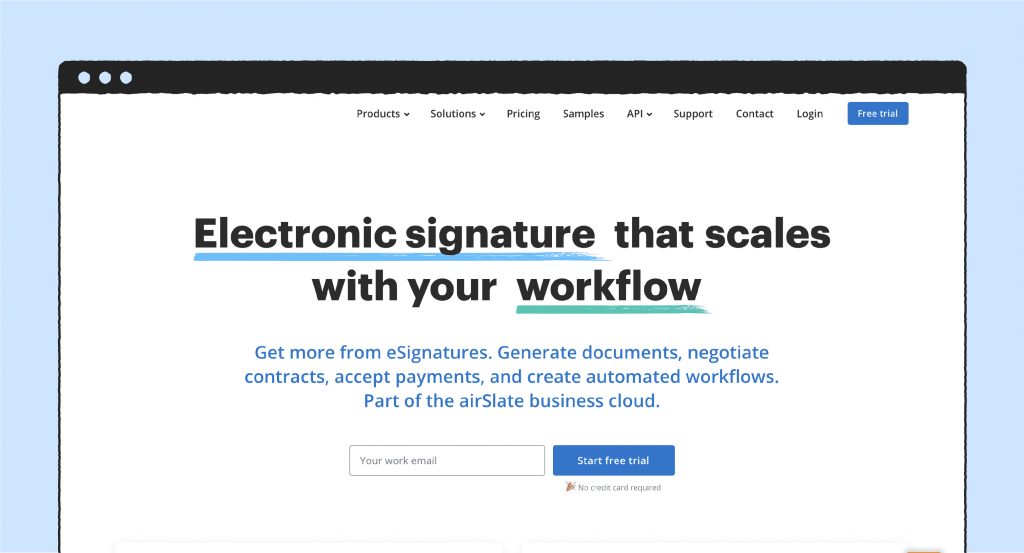 Our rating: 4.3/5
G2 rating: 4.6/5
Pricing: Business ($8/user/month), Business Premium ($15/user/month), Enterprise ($30/user/month), Business Cloud by airSlate ($50/user/month)
Who is this tool for: SignNow is great for small-to-mid-sized teams that are looking for basic functionalities and eSignature capabilities. Premium features found in the Business Cloud by airSlate while impressive may be reserved only for the companies that have the budget to spare.
Summary:
SignNow is an eSignature solution that allows its users to send documents and receive legally binding signatures with the help of automation workflows.
With SignNow, you can quickly add an eSignature field to any of your documents: PDFs, .docx, contracts, invoices, etc. Simply drag and drop the eSign field to the document, assign roles to signers, and collect the signature.
Since the app can be purchased as a part of airSlate's Business Cloud, you can use their no-code bots to integrate with a plethora of tools ranging from CRMs to local databases and cloud apps.
In fact, a lot of SignNow's capabilities become apparent when you purchase the entire Business Cloud by airSlate. One of those capabilities, for example, is the no-code web forms that enable you to generate leads and import them into your CRM or other tools.
Even document generation is promoted as an airSlate feature on their website. The same goes for payment automation — when you click on "payment automation" on SignNow's website it actually redirects you to airSlate.com.
In short, SignNow is a solid, simple solution for getting eSignatures. It doesn't offer document analytics, embedded video, a custom library, or many other advanced options.
To get some of these, you'll likely need to explore the wider airSlate Business Cloud that comes with much more than SignNow.
7. Qwilr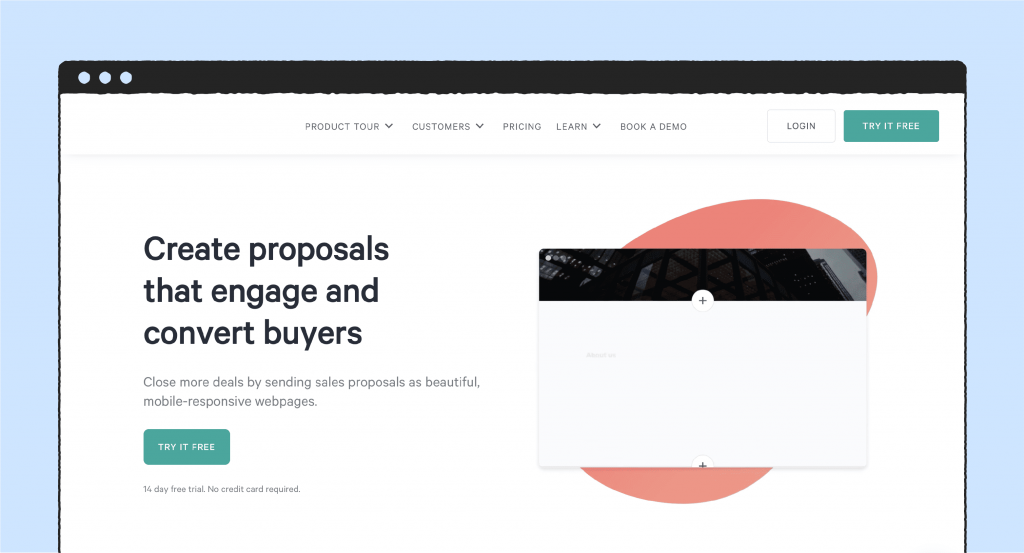 Our rating: 4.2/5
G2 rating: 4.5/5
Pricing: Business ($75/month for up to 3 users) and Enterprise($490/month for up to 10 users)
Who is this tool for: Qwilr is a solution intended for small and medium teams looking to impress. But, while Qwilr's approach to sending proposals and quotes is an innovative one, it's hard to imagine that large sales teams will be using this software to manage customer lifecycles and deal with their workload.
Summary:
Unlike most of the entries on this list, Qwilr doesn't primarily work with documents. Once you're done with designing your proposal, the tool produces a mini web page that's completely interactive.
The pages are mobile responsive and they can include almost all embedded content you can think of, including video and Google Maps.
You can start with a blank page or one of their proposal templates. The page is made up of blocks that are the width of your screen so you can add them to your page and build the perfect proposal.
Templates are well-designed and the scrolling experience from the client side is pretty smooth. You can even add a navigation bar so that they can navigate simply by clicking.
Given the fact that your clients are browsing through something that's essentially your web property, the analytics provided by Qwilr are pretty extensive. You can see the total number of views, as well as time spent on an individual block, clicks, etc.
The tool also integrates with tools like CrazyEgg and Hotjar that can give you an even better overview.
A major knock against Qwilr is the fact that a lot of clients will still prefer a typical PDF proposal.
While Qwilr does allow you to download your created page as a PDF, there can be some issues with text and formatting during the process.
The tool also doesn't allow you to upload and import Google Docs or Word documents, unlike PandaDoc.
8. GetAccept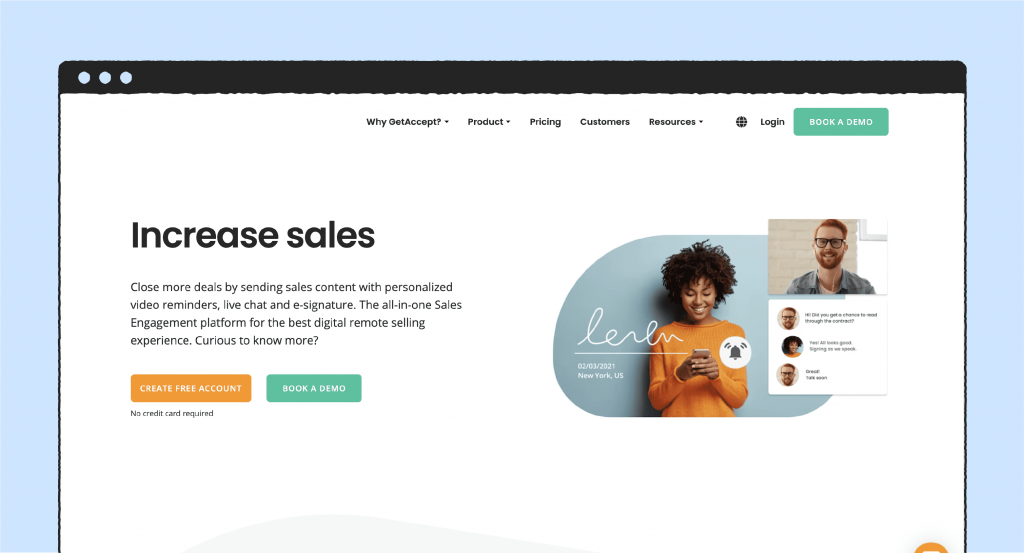 Our rating: 4.2/5
G2 rating: 4.5/5
Pricing: Free, Essential ($15/month/user), Professional ($49/month/user), Enterprise Plus (custom price)
Who is this tool for: GetAccept is easily scalable and its Free plan is pretty decent — it supports unlimited users with some solid features. The tool is mostly focused on serving the sales industry, allowing salespeople to wow their prospects with innovative formats.
Summary:
GetAccept is all about presentation: with this tool, you can create engaging company presentations, case studies, video demos, and other materials you typically send to prospects.
A lot of the tool's functionalities are focused on enabling you to contact your prospects in different, innovative ways.
For example, GetAccept allows you to send SMS, selfie videos, and communicate with the prospect via live chat—no more boring email follow-ups.
The tool also gives you a pretty good analytics dashboard, not just to analyze your proposals and their open rates but your sales team as well.
You can view your reps' profiles, analyze their hit rate, average deal time, and money earned. You can also track the progress of all your active sales, from start to finish, and identify those that are closer to being signed.
While an interesting solution, GetAccept isn't as deeply specialized in proposal creation as some other tools on the list. You don't get interactive pricing tables and approval workflows, for starters.
9. HelloSign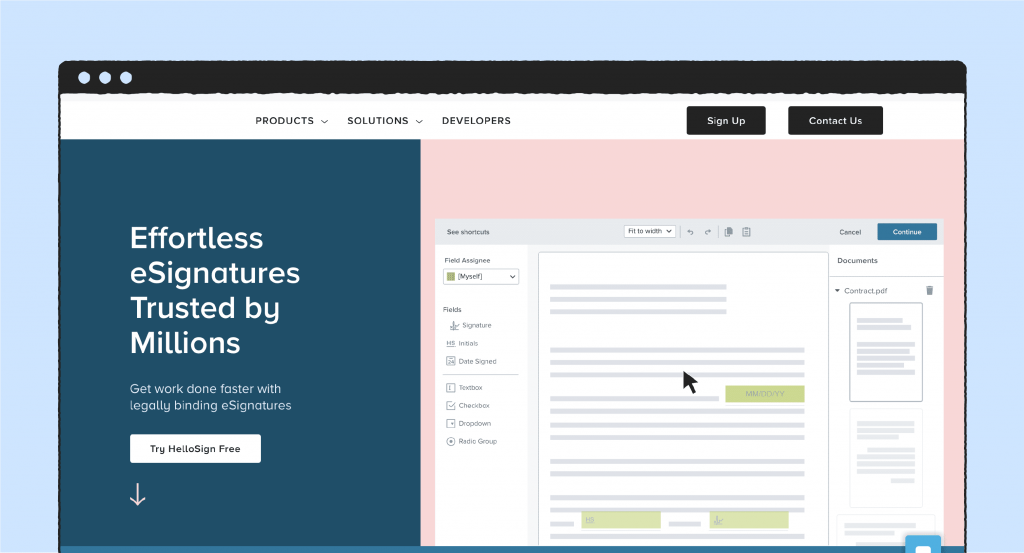 Our rating: 4.1/5
G2 rating: 4.7/5
Pricing: Free, Essentials ($15/user/month), Standard ($25/user/month), Premium (custom price)
Who is this tool for: HelloSign is a simple enough solution that most businesses, regardless of their size and purpose will find it useful for eSignatures. If you take a closer look at the contents of their website, they seem to target SMBs so we can say that it's more suitable for smaller companies. The Essentials plan is also limited to a single user, making this tool useful for solopreneurs as well.
Summary:
HelloSign is a streamlined software solution owned by Dropbox, dedicated to making eSignatures easy and quick.
To use this tool, all you need to do is:
Upload the document you want to be signed;
Using the drag-and-drop function, add the fields you want to be signed;
Enter the prospect's email and send the file. They will receive an email with a link;
As soon as the file is signed, it will be available in your account;
Track the progress of your requests and send reminders to prospects who haven't signed yet.
As you can see, there aren't many things you can do with HelloSign but the ones you can are pretty simple and easy to figure out. The app also integrates with a lot of tools you might already be using.
You can integrate with Gmail and sign documents without ever leaving your Gmail tab. The same goes for Microsoft Word, Google Drive, Evernote, and many others.
And, if that's not enough, you can connect with Zapier and integrate with hundreds of other services: Slack, Typeform, and Google Sheets, to name a few. Surprisingly, the app only integrates with 2 CRM solutions. PandaDoc, for example, integrates with 15.
Other features that are obviously lacking from HelloSign include document building, a content library, and CPQ options that many sales and marketing teams find irreplaceable.
10. HotDocs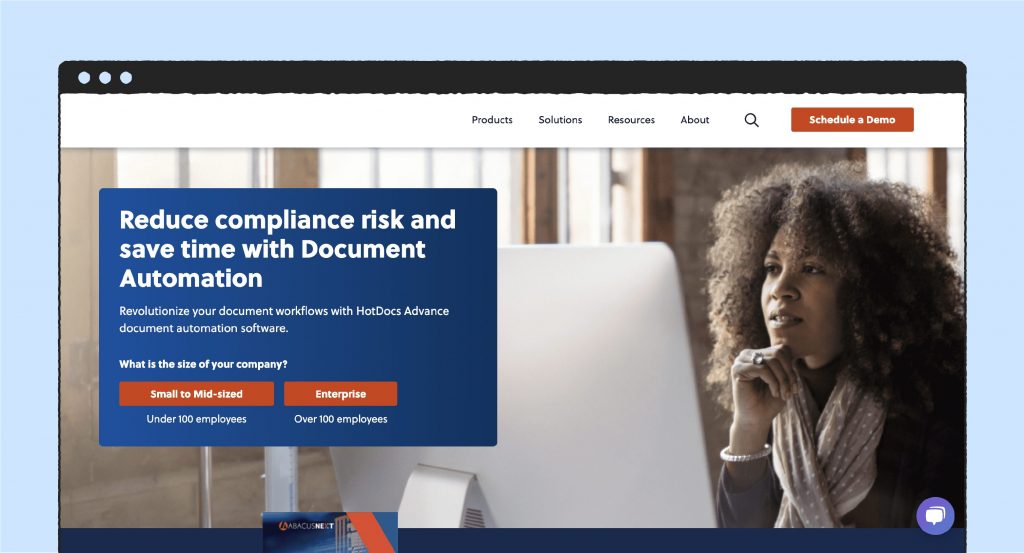 Our rating: 4.0/5
G2 rating: 4.3/5
Pricing: No pricing information on their website
Who is this tool for: HotDocs has two product options, one for small businesses, one for large enterprises. The tool is, therefore, suitable for businesses of all sizes although it's traditionally used in law and insurance industries.
Summary:
HotDocs is a little different from all other entries on this list because it works essentially as a Word extension. You take any document you have, convert it into a dynamic template, enter data, and get a finished document.
So, it doesn't have an elaborate document editor that allows you to use drag-and-drop functionalities or an interesting design to make the process easier.
What HotDocs does instead is guide you through document creation step by step, in the form of an interview. You go through different screens and sections like customer details, invoicing, product choice, etc.
Once you're done, you simply click "Finish", then "Download", and you get a Word document in your downloads.
What you end up with is a pretty basic document in terms of its design and visual identity.
On the other hand, many organizations (law firms, government agencies, etc.) need exactly that — a simple contract with all legal requirements, without too much flash. If you're looking for something to help you express your creativity, HotDocs is hardly it.
11. Qvidian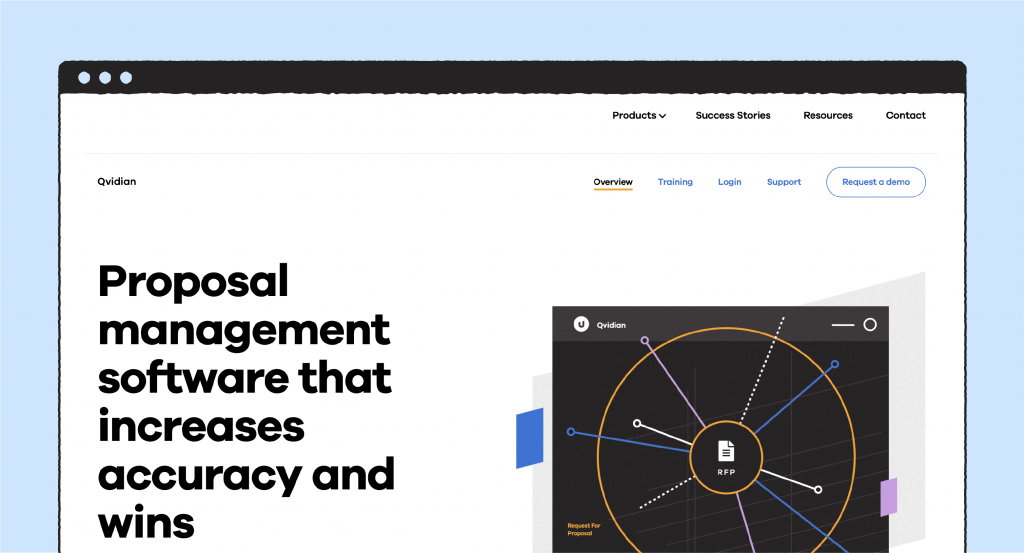 Our rating: 3.9/5
G2 rating: 4.1/5
Pricing: Upland has not made the pricing information public
Who is this tool for: Due to its wide range of features and a slightly cumbersome interface, Qvidian is more suited for larger companies, preferably those that are IT-oriented. A more traditional, smaller enterprise will likely find Qvidian overly confusing and needlessly complicated.
Summary:
Qvidian is an RFP response software owned by Upland, a software company that specializes in enterprise software from expense management to mobile messaging.
Qvidian's highlight feature is probably its database. If you use the tool for a while or even browse through some reviews online, you'll find that a lot of proposal writers and managers find that it significantly cuts down on the time they spend looking for previous RFPs.
You can simply store your approved proposal content and best RFP responses in a single library that's easily accessible to all team members.
You can use Qvidian to collaborate with your team on documents through message threads. The tool is also compatible with Word and Excel questionnaires — another thing that many users love.
On the other hand, the proposal creation in Qvidian isn't as fun or intuitive as in some other entries on this list. The tool is often criticized for being time-consuming and unintuitive because of its robust features.
12. DealHub.io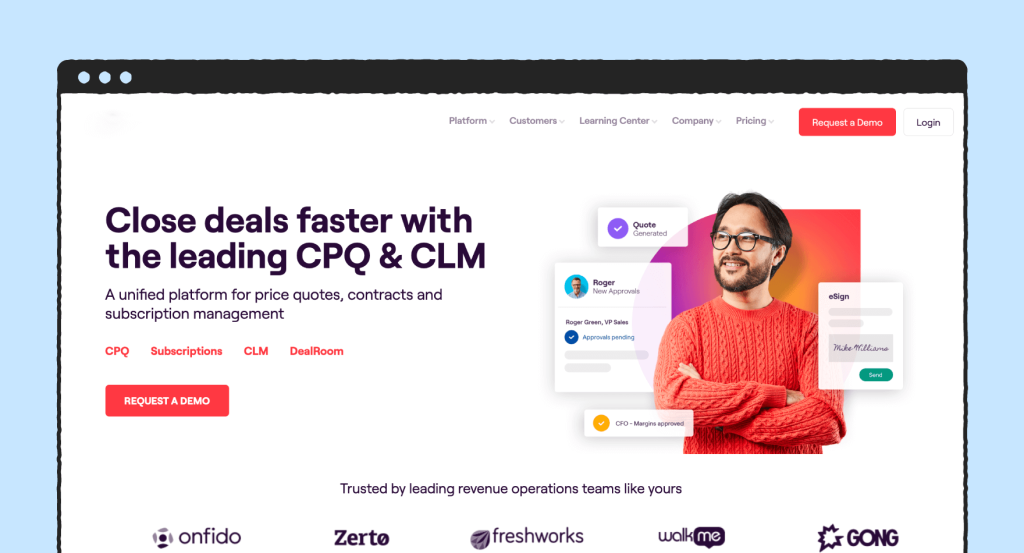 Overall rating: 3.8/5
G2 rating: 4.8/5
Pricing: DealRoom ($N/A); DealHub CPQ ($N/A)
Who is this tool for: DealHub is a proposal and quoting tool for mid-sized businesses and enterprises. It's often used by executives, sales operations teams, revenue operations, and marketing departments.
Summary:
DealHub.io is a great PandaDoc alternative if you're looking for a multi-purpose tool to optimize your business operations. While it does not boast as many document workflow tools as PandaDoc, it's still a decent contender in the contract management field.
It's mostly used by mid-sized businesses and enterprises and supports collaboration among team members thanks to document sharing and editing options.
It offers integrations with many CRM tools, allowing you to transfer the needed information between different software solutions for easier navigation. You can also work together with your clients on contracts, to minimize the time spent on revisions.
DealHub.io also displays all changes that had been made to the contract, as well as who viewed it and how they interacted with it.
13. Conga Document Generation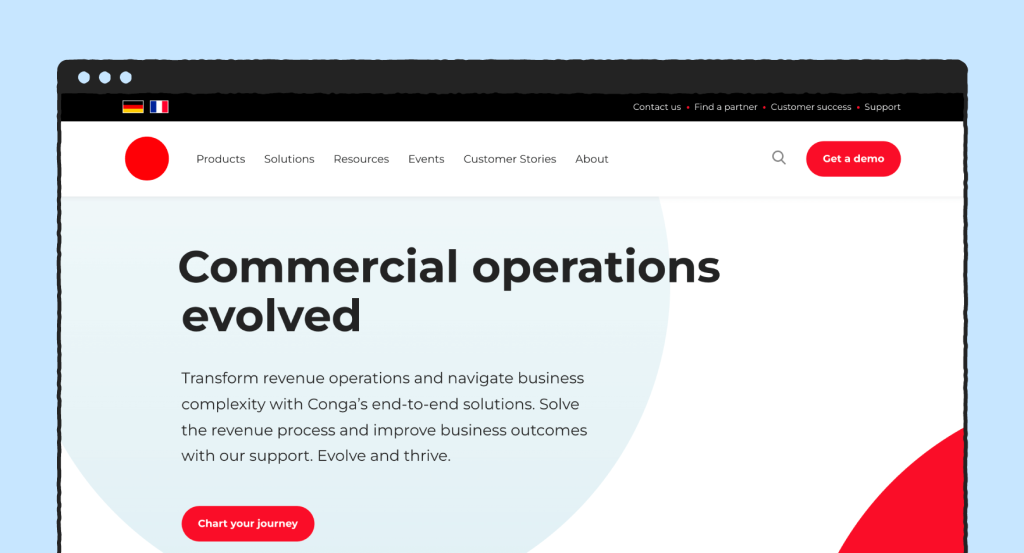 Overall rating: 3.7/5
G2 rating: 4.4/5
Pricing: N/A
Who is this tool for: For businesses that want to simplify and automate document generation processes. It's suitable for businesses of all sizes.
Summary:
Conga is a contract management tool that helps your business create, edit and automate different types of contracts. You can choose between two options — to use the cloud version or deploy it locally.
This hybrid tool is comprised of different sub-tools that are a part of the solution, such as Conga Collaborate, Conga Composer, Conga CPQ and Conga Sign.
Thanks to its strong collaboration feature, your employees and clients and work on contracts together, make edits and highlight important clauses. It also keeps track of who interacted with the document and in what way.
What's great about Conga is that it frequently updates its features, ensuring that all your documents are always legally-binding and up-to-date.
14. EverSign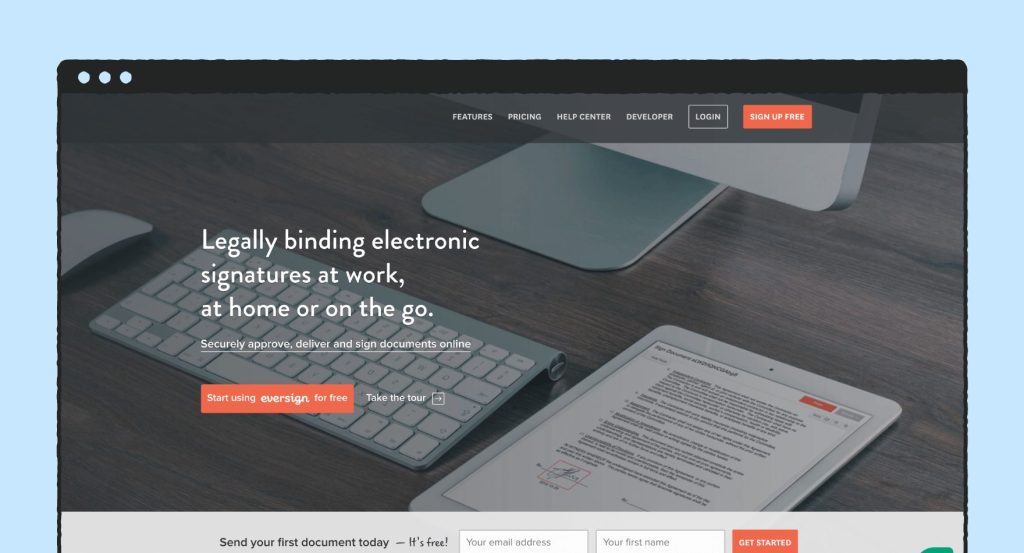 Overall rating: 3.6/5
G2 rating: 4.8/5
Pricing: Free; Basic ($9.99 / month); Professional ($39.99 / month); Professional Plus ($79.99 / month); Enterprise (custom pricing);
Who is this tool for: This tool is most commonly used by the financial department, legal department, sales department and HR. It's suitable for businesses of all sizes.
Summary:
EverSign is a specialized tool for creating legally-binding electronic signatures. Its features list isn't that impressive, especially compared to other tools on this list.
However, if you're looking for something simple and easy, then this could be a good fit.
This tool is one of the cheapest on the market, which is why it's very popular among users. You can send an unlimited number of documents without extra fees with the cheapest package.
It includes all basic features such as contract management, e-signatures and audit trail. It also lets you add custom branding elements to personalize your documents and make them coherent without business.
However, it offers a very limited list of integrations and templates, whereas PandaDoc, for example, boasts an impressive gallery of over 700 templates.
The final word: PandaDoc compared to competitors
All of these tools have their use cases and, depending on your business needs, you'll likely find that some of them have exactly the one feature or perk you're looking for.
However, we believe that this article goes to show that PandaDoc is still the only true all-in-one solution that packs a wide variety of features at an affordable price.
Even in the Free and Essentials pricing plans, you'll find:
A rich media drag and drop document editor
Unlimited eSignatures
Payment processing
A mobile app
Pricing tables
Document analytics
24/7 email and chat support
And more
Combine that with our elaborate template and content libraries and you get a powerful, cost-effective solution.
Start your free trial today and see what makes PandaDoc so unique in the proposal and eSignature software landscape!
Originally published November 20, 2018, updated July 26, 2021