Electronic signatures are the cornerstone of any strong document workflow, but finding an excellent tool that provides exactly what you need can be difficult.
That's because today's eSigning market is saturated with options, and each one of them offers a slightly different set of features for potential customers.
Today, we're going to check out two eSignature software solutions that you might have heard about.
Let's dive into DocuSign vs GetAccept and see what these two eSigning giants have to offer!
| Feature | GetAccept | DocuSign |
| --- | --- | --- |
| Electronic Signatures | ✓ | ✓ |
| Standard Usage Limits | ✓ | ✓ |
| Basic Drag and Drop Fields | ✓ | ✓ |
| Mobile App | ✓ | ✓ |
| Reusesable Templates | ✓ | ✓ |
| Signing Order | ✓ | ✓ |
| Multiple Recipients | ✓ | ✓ |
| Bulk Send | ✓ | ✓ |
| Real-Time Audit Trail | ✓ | ✓ |
| Integrations: Import & Storage | Limited | ✓ |
| Integrations: CRM | Limited | ✓ |
| Integrations: Productivity & Other | Limited | ✓ |
| Language Support | ✓ | ✓ |
| Document Uploads | ✓ | ✓ |
| Notifications | ✓ | ✓ |
| Payment Gateway | ✓ | ✓ |
| Custom Branding | ✓ | ✓ |
| In-person Signatures | ✓ | ✓ |
| Commenting & Collaborative Fields | ✓ | ✓ |
| Signer Attachments | ✓ | ✓ |
| Video Recording | ✓ | |
| Unlimited Storage | ✓ | |
| Content Library | ✓ | |
| Document Editor | ✓ | |
| Pre-built Template Library | ✓ | |
What is GetAccept: A product overview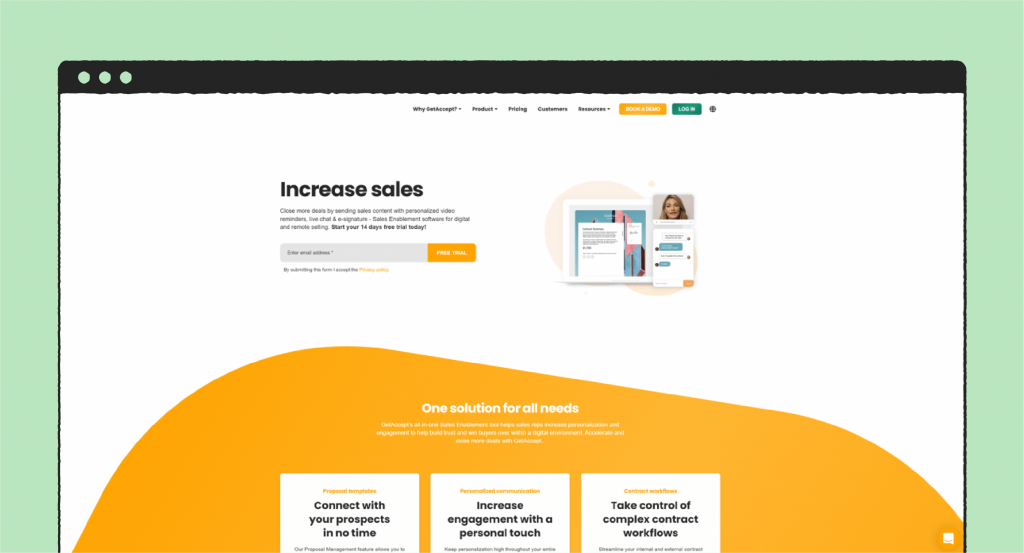 Cost: $15 per user/month for Essential; $49 per user/month for Professional;
Enterprise plans also available
Ease of Use: 4.3/5
Functionality: 4.5/5
Support Options: Knowledge base; Chat (paid only)
Platform Availability: Online; mobile apps (Android, iOS)
Free Trial or Plan: Both available
Electronic signatures are just one of the tools at your disposal when working with GetAccept.
As a sales enablement platform, GetAccept is focused on helping you manage your entire contract workflow, from first draft to final signature.
Much like PandaDoc, the GetAccept platform is designed for all-in-one content creation, and it's equipped to handle document creation, tracking, analytics, and more.
You'll even find native integrations for HubSpot and Pipedrive available on the free plan, although integrations to Salesforce, Lime, and other tools are only accessible on the Enterprise or Professional plan.
We'll get into more details later, but for now let's just say that GetAccept can be much more than a signing platform for a very low cost!
GetAccept key features
GetAccept allows users to create signing workflows to streamline both their external and internal contract processes.
One of GetAccept's key features is powerful CRM integration with platforms such as HubSpot and an open API and Zapier connections to make life even easier.
The template library ensures that organizing all your active documents is as simple as possible, and the intuitive dashboard displays all the current documents you have out for signature at any time.
Here's a list of the current key features for this B2B sales platform:
Sales enablement
Presentation videos
Contract management
Electronic signatures
Proposal templates with editing capabilities
Reminders, video introductions, and analytics.
With GetAccept, it's easy to track all document activities—such as when it was opened, viewed, and time spent on the proposal document.
You can then send reminders if there's no action on the documents you've sent to clients.
This makes it easier to close deals and monitor your business's processes.
Suitable for both expert and intermediate users, you'll get behavioral tracking insights right up until the end of your sales process.
What is DocuSign: A product overview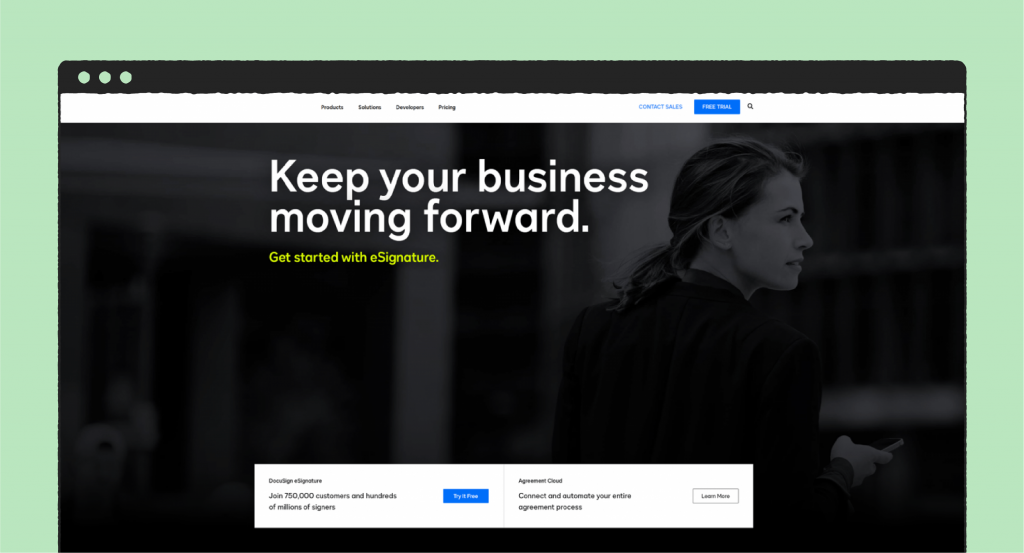 Cost: $10 for Personal (single user only); $25 per user/month for Standard; and $40
per user/month for Business Pro; Enterprise plans also available
Ease of Use: 4.5/5
Functionality: 4.2/5
Support Options: Knowledge base; Tickets; Phone (paid only)
Platform Availability: Online; mobile apps (Android, iOS)
Free Trial or Plan: Both available
For many businesses, DocuSign is the be-all and end-all when it comes to electronic signing.
The company is a leader in eSigning, with a huge user base and thousands of positive user reviews under its belt.
While the company does offer features like document management and custom branding, it's most widely known for its document signing and preparation process.
DocuSign isn't built to be a complete document solution in the same way that DocuSign alternatives like GetAccept or PandaDoc try to be.
They're focused on helping users do one thing well: Connect with signers while building strong security around their existing documents.
Beyond eSignature solutions, DocuSign offers integration options with popular CRMs like HubSpot and Salesforce, as well as payment gateways that make it easy for customers to sign and pay all in one easy process.
DocuSign key features
Services like DocuSign are designed for both companies and individuals who are looking to move on from paper documents to online versions.
Predominantly, DocuSign is for tasks such as signing agreements and completing documents.
Some of the key features of DocuSign include:
Drag and drop editor system
DocuSign signature workflow
Supports .doc, .docx, .pdf, .xls, .xlsx, .txt, and more
Securely sending documents
Assign different roles and access permissions
Multiple levels of authentication for security purposes
Document retrieval from cloud storage services
Collecting electronic signatures
Software integrations
Reminders and notifications.
The Standard DocuSign plan provides personalized branding and document comments.
If you upgrade to the Business Pro plan, you'll receive additional premium features such as the ability to collect payments, include signer attachments, bulk document sending, and advanced document fields.
Users of DocuSign comment that you can save a substantial amount of time from not having to create and manage paper documents.
DocuSign allows you to track documents that require actions such as a signature, and see how many canceled and completed documents you have.
If you have first-time DocuSign clients, they can customize their electronic signature.
Does this make DocuSign the best electronic signature software? You decide.
Comparison
Even though DocuSign and GetAccept both offer similar features to help you capture digital signatures and collect payments, they take a different approach to help you arrive at the same endpoint.
Depending on your company size and needs, one solution may be a better fit than the other.
Let's take a look at the services on offer and see how they compare:
Price and transaction limits
The most obvious difference between DocuSign and GetAccept is the level of functionality that GetAccept offers for the price.
DocuSign's Standard plan costs $25/month for each user, and it will provide everything you need to get your PDFs formatted and signed.
This includes basic fields (name, date, text box, etc.) and even some commenting and notification tools.
But GetAccept offers all of that and more for free.
With GetAccept, the Free and Essentials plan ($15/month) are essentially the same.
The only major difference comes down to the number of documents (sendouts) that you can send at a time and how many documents you can store inside your GetAccept account.
Aside from features, this is where you'll see the greatest difference between these two companies.
The DocuSign Standard plan doesn't place any restrictions on document storage or the number of documents that you might send for signature.
GetAccept lifts these restrictions on the higher-tiered Professional plan ($49/month), but it's something to consider if you're planning to stay in the lower tier.
DocuSign also offers custom branding on the Standard Plan, which GetAccept withholds until you're at that Professional level.
However, despite these initial send/storage limits, GetAccept doesn't restrict the number of transactions that you can complete using their platform.
With DocuSign, your ability to send documents can be hampered by envelope limits that curb usage to five envelopes per user/Month on the Personal plan.
GetAccept offers no such restriction on its platform.
As you move into the upper-level plans, GetAccept continues to improve.
You'll see access to real-time document analytics, API access (additional fees may apply), better integrations, and much more.
While DocuSign does add some interesting features, like PowerForms and some advanced collaborative fields, they fail to justify the $40 user/month price tag.
This is especially true when you consider that you could pick up a GetAccept subscription for roughly the same price and do so much more with your contracts and sales documents.
Winner: GetAccept
Transaction limits have always been a dealbreaker for us. Like GetAccept, PandaDoc doesn't have transaction limits that can bottleneck your usage.
Even though DocuSign is a great fit for the right type of business (more on that below), when it comes to pricing and usage, GetAccept is an obvious winner, especially considering the equivalence in cost.
If you're looking for a more robust signing solution—both in features and amount of documents sent—GetAccept is the way to go.
Workflow
As eSignature software solutions, both GetAccept and DocuSign can help your customers sign documents faster — but their scope of involvement in preparing and sending your document greatly varies.
DocuSign, like many of its other competitors (SignNow, Adobe Sign, HelloSign, SignRequest, etc.), is focused on the final stage of the contracting process: signature creation.
The platform isn't designed to help you create documents, but the editor will allow you to add signature and text fields to your document as part of the preparation phase.
This approach comes with some serious downsides.
If a contract that you sent for eSignature requires adjustments, you'll need to fix that contract offline in an editor like Microsoft Word, then re-upload and send it again.
DocuSign comment features can help you with this, somewhat, because it gives the signing party the ability to highlight where changes need to be made.
But even so, it's a tedious and manual process.
It also might be difficult to do if you're away from your main workstation and need to make changes using an iPad or Android tablet.
On the other hand, GetAccept covers a much wider scope of your process.
You can upload a file, use the built-in document editor (similar to the PandaDoc editor), import from Google Drive, and more.
If you use the document editor you can build your document completely from scratch, which will provide additional customization options compared to when you upload a locked file like a PDF.
Afterward, you'll go through the document preparation process, where you'll designate recipients, assign signers to specific signature fields, and input email addresses for fast and easy sending.
This process is similar for both DocuSign and GetAccept, but GetAccept offers a little more in terms of personalization by allowing you to attach videos and multimedia content — especially if you're using the document editor.
Both companies also offer document analytics, online access, and even mobile apps for iOS and Android.
These tools allow users to eSign from anywhere, whether they're on an iPhone, a Mac, or a PC.
Winner: GetAccept (in most circumstances)
For the price and the product offering, we'd have to give this one to GetAccept.
However, it's important to note that this really comes down to how much business you want to give to either signing solution.
If you're just looking for a signing solution and you don't want your software to do anything else, DocuSign might be the better option (although we'd also recommend checking out the PandaDoc Free eSign Plan first).
By default, GetAccept is asking for a larger share of your document workflow (and, potentially, your budget) by asking you to bring your workflow onto the platform at a much earlier stage of production.
However, GetAccept may be a better fit if you want to put most of your contract management tools in one place.
Integrations
Are you looking to connect your business to other software platforms and solutions that you use on a regular basis?
If so, GetAccept and DocuSign are both armed with a wide variety of integration tools to help you do exactly that.
With GetAccept, you'll have options to connect to most major tools that many small businesses and enterprise solutions use.
Some of these tools, like HubSpot and Pipedrive, are free with every plan.
For most of the major integrations on offer (Salesforce, Zapier, etc.), you'll need a Professional subscription.
On the other hand, DocuSign only offers basic connections to cloud-based storage services like Dropbox and Google Drive at anything below the Enterprise level, saving the bulk of its integration capabilities for users who pay for their Advanced Solutions plan.
DocuSign's restrictions might seem like a downside, but it all comes back to how involved you feel that either software should be in your contracting process.
If your signing tools are independent from the rest of your document workflow (and you're fine with that), this may not matter at all.
If you're trying to consolidate your tech stack and create streamlined workflows for your team, having more integrations is definitely better.
Winner: Depends on your plan
For individuals and small teams, GetAccept is the clear winner here because they actually offer access to integrations without requiring an enterprise-level subscription.
The second you're interested in upgrading to enterprise pricing, DocuSign takes the prize because of the sheer number of connections available.
DocuSign can connect to almost any software tool, from big CRMs like Salesforce to obscure automotive contracting software that you've probably never heard of.
If you're using mainstream technology tools, GetAccept probably has you covered through Zapier if they lack a native integration.
If not, DocuSign may be a better option.
GetAccept vs DocuSign: What's the catch?
Turning first to GetAccept and the downsides—the initial one being that users can only send up to three documents for eSignatures (although you can sign unlimited documents).
The document storage options have limited expiration times, and upgrading different versions of the software is a time-consuming process.
Because GetAccept withholds custom branding options until you're at Professional level, this is something to bear in mind if sending documents including your business's logo or name is a priority for you.
Moving on to DocuSign, one of the catches with DocuSign is the inability to create proposals.
Which is fine if you don't want the solution to handle that for you!
Some users report that the user interface on DocuSign is tricky to navigate, and the platform doesn't allow you to collect payments.
It's worth checking before signing up with DocuSign that you are able to send confidential or sensitive documents through the platform.
Another DocuSign catch is that their APIs aren't quite as straightforward as they may appear, to integrate with other software.
This can often result in the requirement to upgrade to a costlier plan for additional features.
Because DocuSign is a subscription-based service, this cost can be on the pricier side for some businesses, especially if they need the add-on functionalities.
Our recommendations
DocuSign for users with rigid document workflows
It's impossible to understate just how many extra tools GetAccept provides when compared to DocuSign.
For most users, we feel that when additional features are offered for a similar cost, the user wins. However, that won't always be the case.
If you have a rigid document workflow and no intention of changing it, DocuSign might be a better fit.
Their signing process is fast and easy, with no extra bells or whistles and no assistance for document creation.
Teams who have all other bases covered and don't find GetAccept's workflow tools to be particularly useful to their process will be right at home with DocuSign.
GetAccept for everyone else
Whether you're worried about transaction limits or you just want an eSignature software solution that handles more of your contract process, GetAccept makes sense for businesses that want more control over document creation.
Some of the features that GetAccept offers, including the native editor and the ability to incorporate the Google Docs editor into your document creation process, can help you streamline workflows and create dynamic contracts.
Between the automation tools, the focus on security and authentication, and the ability to create templates and robust, flexible documents, GetAccept is a great choice when you're looking to step up your contracting game.
Want an even better option? Try PandaDoc!
PandaDoc strikes a great middle-ground between DocuSign and GetAccept.
We offer a free eSignature plan that allows you to prepare and send an unlimited number of documents for signature at no charge and with no transaction limits.
If you're leaning toward GetAccept and want to centralize your document workflow, don't forget that PandaDoc offers a built-in document editor, complete with document analytics, audit trails, and branding.
Click here to create an account and give PandaDoc a try for 14 -days.
No credit card is required. After 14 days, your account simply reverts to a free plan and stays that way forever.
Frequently asked questions
Originally published April 6, 2021, updated January 26, 2022
Disclaimer
PandDoc is not a law firm, or a substitute for an attorney or law firm. This page is not intended to and does not provide legal advice. Should you have legal questions on the validity of e-signatures or digital signatures and the enforceability thereof, please consult with an attorney or law firm. Use of PandaDocs services are governed by our Terms of Use and Privacy Policy.