Staying on top of your configure, price, quote (CPQ) process isn't easy. Without an efficient workflow, your sales team can spend far too much time on proposal management and not enough time on the sales process.
That's where quoting software tools like QuoteWerks and Proposify (and PandaDoc!) come into play.
These tools bring automation and real-time control to your proposal workflow, making it easier than ever for sales reps to build quotes, collaborate with customers, and close deals.
Every software functions a little differently, and co-opting these into your existing systems can be tricky. Today, we'll cover how two software tools can help your team thrive.
It's Proposify vs QuoteWerks from PandaDoc!
Product Overview
Proposify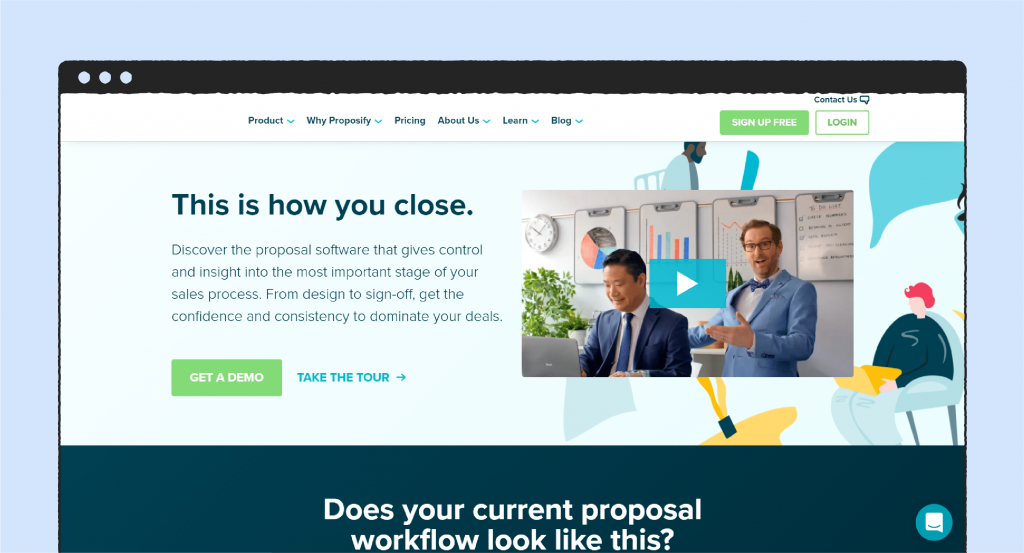 Cost: $19 per user/month for Tall, $49 per user/month for Grande, Custom Pricing for Venti
Ease of Use: 4.3/5
Functionality: 4.5/5
Support Options: Email, knowledge base
Platform Availability: Online, iPad & Android
Free Trial: Yes
Proposify is a proposal builder and CPQ tool that helps you design and build quotes in a fast and efficient way.
In addition to offering a content library for your multimedia and electronic signature support for documents, you can also create templates and collect payments.
Just like PandaDoc, Proposify is an excellent tool for many companies and an absolute game changer for small businesses.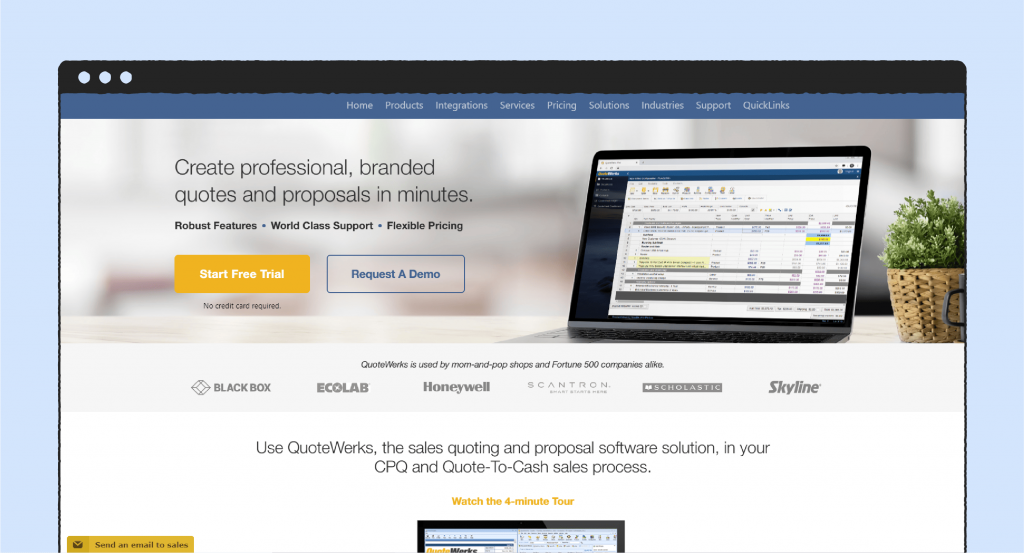 Cost: $15 per user/month to $99 per user/month, depending on package options
Ease of Use: 4.3/5
Functionality: 4.4/5
Support Options: Phone, ticket, email, knowledge base
Platform Availability: Desktop (PC), online
Free Trial: Yes.
QuoteWerks is a quote builder and product database designed to help businesses quickly compile quote PDFs. This software can also be used to fill in the gaps between your CRM tools and your accounting software.
In addition to robust reporting tools, QuoteWerks also offers a unique set of integrations, integrations, such as QuickBook Desktop and Peachtree.
This software tool brings an entire backend system to any business proposal, so that it's easier than ever to respond to RFPs, send quotes, and more.
Comparison
While both Proposify and QuoteWerks are powerful quoting tools, they work in very different ways. Let's take a closer look at how these two platforms help their customers succeed.
Implementation
Bringing a new quoting tool into your daily operation can be a major challenge for any business.
Of these software tools, Proposify is easier to implement but may ultimately lack the robust features and functionality that QuoteWerks can offer.
Proposify is a SaaS solution with three basic options: Tall, Grande, and Venti. Based on their pricing table and list of options, you can choose which plan works best for you, select the right fit, and get started.
On the other hand, QuoteWerks pricing can be difficult to understand. Depending on which options you choose, pricing ranges anywhere from $15 to $99 per user. The pricing is modular, so you'll need to spend time consulting the optional add-ons to see which plan is best for you.
The other downside to working with QuoteWerks is the desktop implementation. Unlike Proposify, which is entirely cloud-based, QuoteWerks defaults to desktop and runs in its own window.
This is fine for Microsoft Windows users, but Mac users can't even use downloadable software without a virtual desktop solution. Otherwise, you'll need to use QuoteWerks Web (minimum $49/month) to get what you need. Even then, you'll still lack the functionality you could've gotten with Prosposify for half the cost!
Winner: Proposify
Proposify's onboarding process is easier and simpler to understand. While this has to do, in part, with the modular pricing structure that QuoteWerks uses, it's also true because Proposify doesn't offer as much functionality as its competitor.
Workflow
Part of the reason that the QuoteWerks pricing and onboarding is so complicated is because the software takes a "kitchen sink" approach to functionality. This is a major selling point if you're looking for a software solution that can handle every single aspect of your CPQ process.
Here's what we mean: with Proposify, you'll be able to design and build quotes completely from scratch. You can create templates, pull in customer data with a CRM integration, and collect payments all in one place.
On the other hand, you can do all of that and more with QuoteWerks. The software allows you to create a complete product database and uses that, along with a modular quoting tool, to help you build branded proposals and contracts. From there, you can tie the software in with UPS or FedEx to handle all of your procurement and shipping quotes through the platform as well.
The flexibility that comes along with QuoteWerks isn't to be underestimated, despite the steep learning curve. That may be the only downside to the QuoteWerks workflow. It takes time to learn how everything works, and that burden will only increase as you need QuoteWerks to handle more of your business.
Winner: QuoteWerks
If you're comparing based on features and functionality, QuoteWerks is a clear winner — but be prepared to put in the time it takes to learn the ins and outs of your quoting tool.
QuoteWerks offers paid training to help you learn the ropes which, while helpful, is another testament to how difficult (and robust) this software truly is.
Integrations
Both QuoteWerks and Proposify have a fair number of integrations to help you tie in with the rest of your workflow.
While both companies will integrate easily with Salesforce, QuoteWerks favors CRMs like Zoho CRM and ConnectWise where Proposify integrates with options like Insightly and HubSpot. However, there are a variety of integration options available for either software.
Outside of CRMs, both companies offer integration options for accounting, invoicing, document management, and more. Proposify also integrates with Zapier, so thousands of additional options are available via third-party connectors.
In the end, though, QuoteWerks offers a more complete integration opportunity for your sales pipeline, especially if you're trying to handle CPQ, shipping, and procurement all in one place.
Both companies limit the number of integrations you can access by pricing tier. With QuoteWerks, you'll need the Professional Edition to gain access to standard integrations like Salesforce, Google Contacts, Peachtree, and others. The corporate edition gives access to everything on offer.
With Proposify, you can get standard integrations like QuickBooks on the Grande Plan, but that doesn't include Salesforce. You'll need to purchase enterprise-level packaging for that opportunity.
Because every business has different integration needs, it can be tricky for a software developer to align their platform with business requirements. Overall, platforms offer a wide variety of integration options, but your mileage may vary based on your existing setup.
Winner: it depends
Because of the fundamental difference in how these software tools are designed to perform, their integration options fluctuate.
If you aren't planning to run your entire sales pipeline through your CPQ tool, Proposify may be a better fit. On the other hand, if you don't need everything QuoteWerks can offer, or if you want to connect with a more robust, online environment, Proposify may pull ahead in this category.
Our recommendations
Proposify for small and digital brands
For the majority of businesses, Proposify will probably be a better fit.
The QuoteWerks interface can come off as a bit archaic, and the onboarding process may be too big of an ask for businesses who want a turnkey solution to rapidly evolving problems. While the company does offer customer support and paid training to help, that may be more of an upfront commitment in time and finances than a smaller business can justify.
Proposify takes this in stride by offering integrations and a no-nonsense proposal tool that is streamlined and feels good to use.
Coupled with the ability to e-sign documents, review online metrics and analytics, and much more without an additional charge, Proposify brings a lot of value to the table for a relatively small price.
QuoteWerks for a "kitchen sink" approach
For businesses who need it all, QuoteWerks is everything you'll ever need and more from your CPQ tool.
Though the platform isn't strictly targeted toward enterprise-level corporations, it has a look and feel that will be familiar to anyone using made-for-work software. The glitz and glamor that accompanies fancy graphics has been stripped away from the functionality that accompanies spreadsheets and databases.
In the right hands, this tool is capable of incredible optimization across your entire sales team. This requires a solid foundation, some investment in training, and an ongoing familiarity with the software.
If all those conditions are met, QuoteWerks is likely the only CPQ tool that you'll ever really need.
Streamline proposals, quotes, and sales with PandaDoc
PandaDoc aligns closely with Proposify in terms of features and functionality, but we also bring in some of the best tools from QuoteWerks to round out our document editor.
With PandaDoc you can create pricing tables and build product databases that make it easy to build proposals in minutes. You'll also have full design flexibility over your proposal because our document editor gives you total control over the look and presentation of your quotes, proposals, and contracts.
If you're looking for the best of both worlds between Proposify and QuoteWerks, PandaDoc offers all that and more.