Sales reps face a variety of challenges in their day-to-day work, from managing customer expectations and navigating complex pricing structures to juggling multiple deals at once.
Doing so requires internal consultation, meaning your customers have to wait, which then brings frustration and losing trust from their side.
But that would not happen if you effectively use a configure price quote (CPQ) solution.
With the right CPQ tool, you can simplify the entire process, from product configuration to pricing and quoting.
You can quickly respond to individual customer requests and deliver a modern customer experience that ensures customer satisfaction while maintaining an overview of your variations.
CPQ allows you to create compelling offers that lead to a fast and reliable conclusion of a contract.
You optimize your processes, working more efficiently and thus more profitably.
To better understand how CPQ impacts your sales cycle, read on to learn more about its strategies in detail.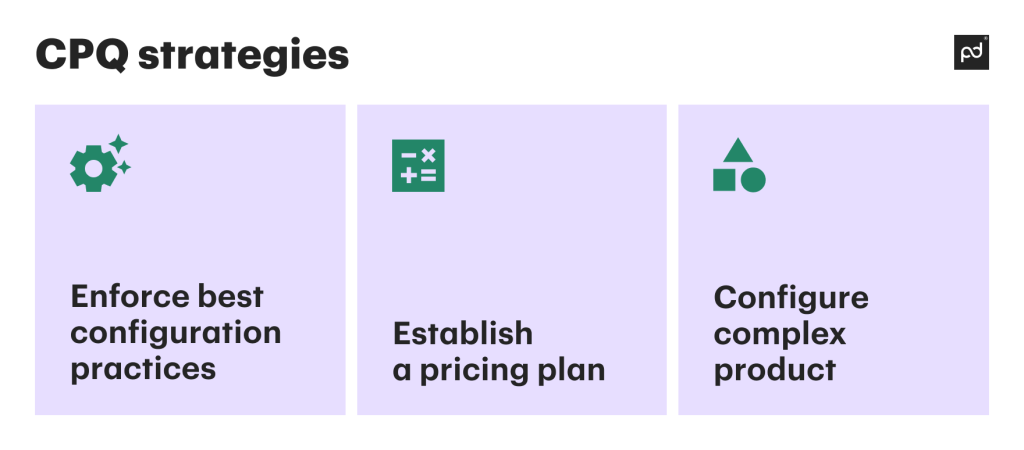 1. Enforce best configuration practices
Too often, sales personnel are confined by the limitations of coordinating email and spreadsheets when moving through stages of the sales cycle.
This leads to countless hours spent determining current product availability, up-to-date product pricing, or waiting for contract approval — and sometimes all three — when that time would be better spent fine-tuning their proposals and landing more deals.
Implementing a CPQ solution can effectively address these issues.
However, it is important to follow certain best practices to optimize efficiency. Here are some of the most important ones.
Identify bottlenecks in your sales cycles
First, define the scope of your CPQ project.
You need to analyze your processes and identify the sales pain points in your sales cycle.
This will enable you to define a clear roadmap that will help you to choose the best CPQ solution for your needs.
How CPQ helps
CPQ software increases the efficiency of your sales team by reducing the time spent on each step of the sales process in several ways:
CPQ software such as Salesforce or Oracle has AI that provides product and price recommendations.
Up-selling and cross-selling — most CPQ software allows you to easily tailor sales offers to your customers with a few clicks.
Automates the seller's buying processes. CPQ tools like PandaDoc offer advanced configuration options to automatically generate quotes to control and manage your sales more easily.
Determine the roles and responsibilities of users
You need to protect sensitive data; therefore, you must ensure that user permissions are clearly defined and your sales team has access to the necessary tool features.
Also, keep in mind to review and update user permissions on a regular basis to maintain data security and compliance with applicable regulations and standards.
How CPQ helps
CPQ software allows you to simplify the approval process between your sales team and your customers in a secure way.
Accelerates the conversion of quotes into purchase orders. Once the quote is accepted, CPQ software allows the customer to access payment options.
Increase the efficiency of the approval process. Most CPQ tools send notifications to sales teams to track the progress of each deal.
Manage people for each quote. CPQ software like PandaDoc makes it easy to collaborate with all the stakeholders of your quote.
2. Establish a pricing plan
After selecting what type of CPQ you are going to choose, you need to determine a clear pricing strategy to both avoid mistakes in pricing configuration and to offer customers products that address their various requirements.
Perform an audit of pricing errors
For an effective pricing strategy, you need to conduct a comprehensive review of the pricing data and configuration rules used in your sales cycle.
The goal of this audit is to detect any inconsistencies or errors that could lead to inaccurate pricing or quoting of products or services, such as issues with discount structures, tax calculations, and other relevant factors.
How CPQ helps
CPQ software allows you to reduce the risk of errors that can occur when creating complex quotes for your customers.
Connection to multiple sources. Most CPQ tools integrate with your company's tech tools like CRM or ERP and will import all the important data for the configuration of your products.
Consistently applies the latest pricing updates. Whether it's your business manager or your sales team, all changes are recorded in real-time on a single platform.
Adjusts pricing based on specific criteria
Sales representatives can sometimes find it challenging to meet their customers' needs, particularly with more complex offers.
They may struggle to determine the appropriate pricing rules that satisfy the customer while also maintaining profit margins.
How CPQ helps
With CPQ tools, you can implement customized pricing rules for your customers with a minimum of effort.
Adjusts pricing based on specific criteria. You can manage the price of your products by region or customer profile.
CPQs provide value-based pricing. This means charging a price based on what the customer is willing to pay for a product or service.
Pricing rules also allow you to define different types of discounting for your regular customers, such as volume discounts or global discounts.
3. Configure complex products
As your customer base expands, your products may become more intricate to match their evolving demands.
However, if you don't act, this could result in a slower sales process.
That's why it's crucial to integrate a CPQ solution that can help categorize your products and monitor their performance.
This way, you can streamline your sales process and stay ahead of the competition.
Develop a comprehensive product catalog
Customers nowadays are no longer interested in purchasing one-size-fits-all solutions as they face more product options than ever.
Instead, they are inclined toward personalization and seek products and services that cater to their specific needs.
The more specific the product is, the better it suits the buyer's preferences.
How CPQ helps
Whether you are in e-commerce, manufacturing, finance, or legal, CPQ software offers a variety of ways to promote your brand and improve customer satisfaction.
Quote generation. CPQ software such as Salesforce, Conga, or PandaDoc allows you to generate fully customized quotes with your company logo.
Product bundles. You can easily create bundles to suit customer needs. By doing so, you will increase your chances of closing the deal and satisfying your customer.
With PandaDoc, you can create product lists and price lists to have a clear overview of everything you offer to your customers.
Track your product performance
With a well-organized product catalog, your sales teams can quickly identify the top-performing products based on performance indicators.
When you know which products are generating the most revenue, your sales team can concentrate on promoting and selling them to boost sales and enhance profitability.
How CPQ helps
CPQ platforms, in addition to managing the quoting process, also allow you to track the performance of your sales cycle in real time.
Analyze which products are performing best. CPQ applications offer different metrics, such as churn rate or average quote value, to measure the performance of your sales process.
Use the data from your CPQ system to improve the user experience and drive revenue growth.
Empower your CPQ strategy with PandaDoc
As you can see, CPQ tools offer different strategies to streamline sales processes, reduce errors and quote turnaround times, and improve the overall customer experience.
Most importantly, more and more apps offer sales tools based on artificial intelligence recommendations, allowing salespeople to focus more and more on selling.
You can start by choosing PandaDoc to generate quotes and control your business processes and product lifecycle.
Contact our representatives now to start your demo.
Disclaimer
PandDoc is not a law firm, or a substitute for an attorney or law firm. This page is not intended to and does not provide legal advice. Should you have legal questions on the validity of e-signatures or digital signatures and the enforceability thereof, please consult with an attorney or law firm. Use of PandaDocs services are governed by our Terms of Use and Privacy Policy.