Why PandaDoc is a great alternative to Salesforce CPQ
When you trade Salesforce CPQ with PandaDoc you will enjoy better document creation, easier deployment, configuration, and built-in electronic signatures.


| | Salesforce CPQ | PandaDoc |
| --- | --- | --- |
| User minimum | 10 | 1 |
| Salesforce CRM integration | | |
| Template library | | |
| Product catalog | | |
| Custom pricing | | |
| Workflow management | | |
| Online collaboration | | |
| Approvals management | | |
| Content library | | |
| Drag and drop document builder | | |
| Document engagement analytics | | |
Better document creation
You can use the PandaDoc drag and drop document builder to create accurate, detailed documents right inside Salesforce. A single click populates any template with contact or opportunity data, and our intuitive interface makes it easy to add personal touches, media, and other relevant content.
Built-in electronic signature
Electronic signatures eliminate the frustration of printing, signing, and scanning documents but aren't included with Salesforce CPQ. Our built-in electronic signatures mean you'll only need one tool to create, send, and sign your quotes, saving you time and money. PandaDoc is a great alternative to your current needs.
Easier deployment and configuration
You'll be able to deploy PandaDoc inside Salesforce within minutes. Creating your own templates, content library, teams, and workflows is so simple there's no need for a hired consultant. No need for complicated HTML programming to set up new documents for your team. Simply use our drag and drop document builder to build your own custom templates.
Better pricing
When you switch to PandaDoc, you'll enjoy lower per-user fees, cheaper premium support options, and lower deployment costs than Salesforce CPQ. If you're using DocuSign for electronic signatures, you'll be able to consolidate your document processes to a single platform with PandaDoc, saving you even more money.
What you get when you switch to PandaDoc
Custom template and content libraries
Use the PandaDoc document builder to create new templates (no programming required!) or upload the documents you're using today. Save images, videos, customer testimonials, and marketing content to a central library to easily add what you need to any document.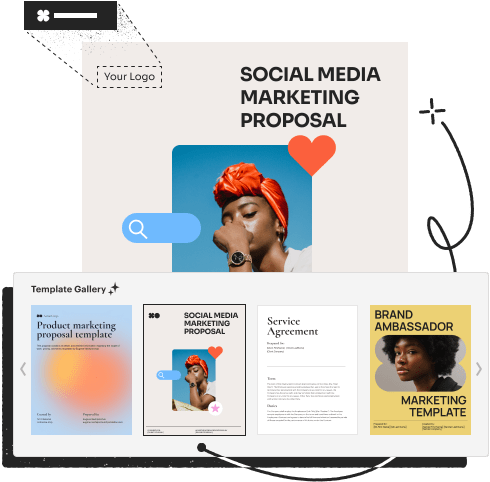 Fast, custom document creation
Create a new proposal, quote, or contract from templates in seconds right inside Salesforce and watch as crucial contact and opportunity data is automatically populated. Take things a step further by using the drag and drop document builder to add finishing touches like customer testimonials, custom content, or interactive pricing tables.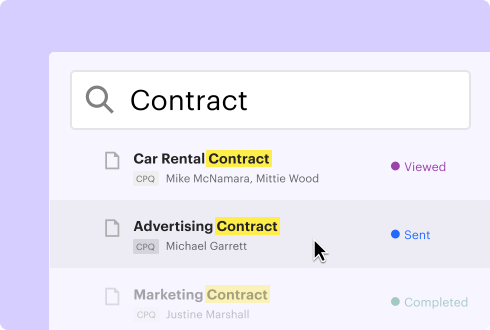 Detailed engagement analytics
PandaDoc analytics help managers and reps get more out of their documents. Sales managers will use the PandaDoc dashboard to learn where every proposal and contract is in the pipeline, while sales reps will be able to see when and how long prospects and customers interacted with each page of the documents they sent.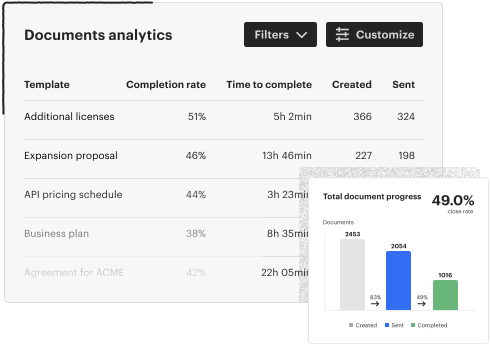 Responsive, accessible support
Our support are always ready to help. Every customer has access to our knowledge base and support team when they need them and we offer affordable custom support upgrades to companies with unique needs.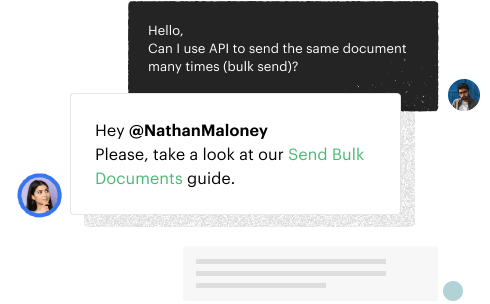 Integrations beyond Salesforce
Connect your document workflows throughout your business with a PandaDoc integration. We offer out-of-the-box integrations with more than 15 top sales, marketing, and accounting tools, including DropBox, Box, Stripe, and Xero.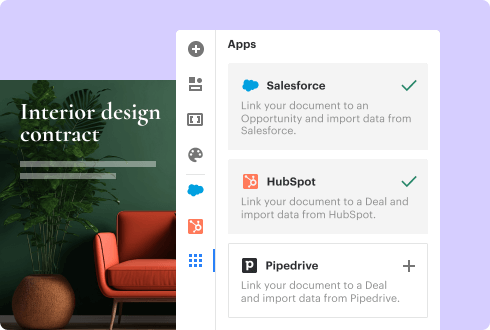 Powerful CPQ functionality
You won't have to give up your CPQ features when you switch to PandaDoc. Products and pricing automatically sync from your CRM, and pricing tables can be customized to offer optional items, editable quantities, discounts, taxes, and more.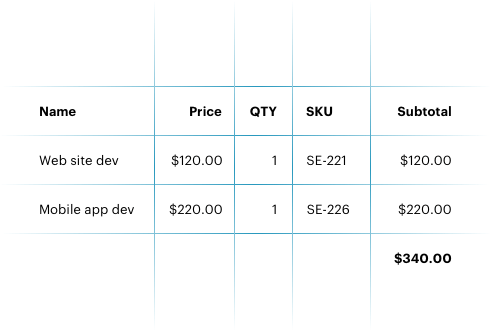 Find the perfect PandaDoc solution for your business