For any business, delivering an outstanding customer experience is the best way to increase loyalty and client satisfaction, increase revenue, and differentiate yourself from the competition.
Over 60% of B2B buyers in the tech space today are millennials who want to find information about a product or service online easily, place an order, and get a quick response.
That's a real challenge for your sales team, who must also create personalized offers to meet customer needs.
That's where configure price quote software (CPQ) not only comes in handy — it's actually essential to improve the customer experience and make your company a reliable partner for your clients.
With a CPQ system, salespeople can quickly review and manage quotes, enabling them to better focus on the customers.
In today's article, we're going to cover the considerable value of integrating CPQ for a top buyer experience.
How CPQ helps grow your B2B e-commerce
If you're uncertain about the benefits of integrating a CPQ into your sales cycle, here are three advantages for your B2B online business to consider.
Configure personalized deals
A successful business-to-business e-commerce solution must adapt to different customers, departments, and industries.
That's where CPQ technology comes in.
By providing customizable product catalogs, templates, and pricing strategies, CPQ allows customers and vendors to leverage specific functionality, creating a personalized user experience that meets their unique needs.
Find the right price
As a business owner, satisfying customers through cross-selling and discounts is important, but not at the expense of profitability.
This is where CPQ for e-commerce platforms are particularly useful, with pricing management options that can calculate various forms of pricing, from value-based to cost-based.
Your sales team can create enticing product bundles with accurate price estimates that keep customers equal parts satisfied and hungry for more (exactly what you want!).
Automate your quote
Making quotes is often time-consuming for sales teams, from creation to validation to sending to customers.
CPQ solutions have automation options that make it quick and easy to send accurate quotes to customers.
With the right CPQ tool, customers can easily check out specs and quickly get responses to any questions or negotiations, ensuring a seamless and efficient purchasing process.
How to make a seamless buying experience with CPQ in 4 steps
89% of businesses compete on the basis of customer experience ahead of everything else.
That means you want software that will let your B2B buyers purchase items as easily and as quickly as possible.
That all starts with a CPQ system that allows you to deliver the best online selling experience available, full stop.
Now, let's find out in four easy steps how to make a seamless buyer experience happen by harnessing the power of a comprehensive CPQ.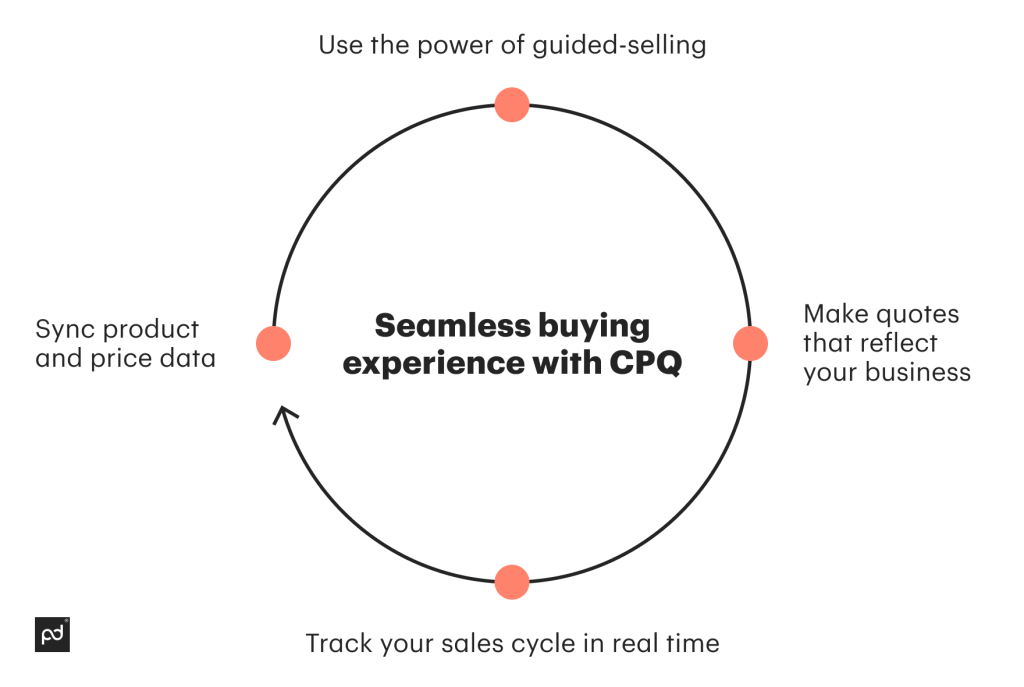 1. Sync product and price data
The first thing to create a great customer experience is to connect your configure price quote software to the different tools you use in your company.
In other words, choose a CPQ software that integrates with the different tech stacks in your business, like ERP or CRM.
If, like many companies, you use Salesforce to manage your customer relationships, keep in mind that there are other options as well besides Salesforce CPQ that work with your CRM.
For example, PandaDoc is also fully integrated with the Salesforce environment and allows you to add products available on Salesforce right onto your PandaDoc quote.
2. Use the power of guided-selling
These days, customers are more and more demanding, and have a precise idea of the product they are looking for.
Rather than spending time creating offers that have a higher probability of failure, give your customers the freedom to make more successful choices through tailored information that gets them to that point.
That's exactly what you can do with CPQ guided selling options.
Simply put, guided selling allows sales reps to define a series of predefined questions and guide the user through the catalog with product recommendations.
3. Make quotes that reflect your business
In today's fast-paced business environment, your sales teams also need to create accurate and professional-looking quotes quickly and efficiently.
At the same time, you don't want to compromise on the quality of your quotes or lose the opportunity to reinforce your brand.
With CPQ software like PandaDoc, you can create personalized templates that reflect your business's unique branding and messaging.
You can ensure that every quote your team creates reinforces your company's image and values.
Whether it's adding your logo or using specific fonts, your templates can make your quotes stand out and help your business make a lasting impression on potential customers.
4. Track your sales cycle in real time
Our last tip for a great customer experience is to monitor your sales processes via your CPQ solution.
You can easily track every step of the sales process in real time (from the initial request for a quote to the final purchase order) and know the status of each deal.
Plus, with your CPQ software integrated with your enterprise CRM, you can easily analyze trends and make informed decisions about your sales strategy.
Most CPQ software like PandaDoc or Salesforce have options to track the status of quotes or sales orders in real time.
Whenever there is a change, all stakeholders are informed either by email or mobile alert.
Therefore, sales reps can respond quickly to different customer requests and renegotiate agreements if necessary.
Use PandaDoc to supercharge your customer journey
Now that you know more about the benefits of CPQ software, you can give PandaDoc CPQ a try to enhance the buyer experience.
With its user-friendly interface, customizable templates, and real-time tracking capabilities, PandaDoc CPQ streamlines the sales process and provides a seamless buying experience for customers.
From faster quote creation to more accurate pricing, PandaDoc CPQ provides the tools you need to satisfy all your customers.
So don't wait any longer and contact our representatives to start your demo right away!
Disclaimer
PandDoc is not a law firm, or a substitute for an attorney or law firm. This page is not intended to and does not provide legal advice. Should you have legal questions on the validity of e-signatures or digital signatures and the enforceability thereof, please consult with an attorney or law firm. Use of PandaDocs services are governed by our Terms of Use and Privacy Policy.