While selling is essential to many businesses, sales processes can be long and complex.
Salespeople spend a lot of their time on non-sales tasks such as generating quotes, getting approvals, or creating proposals.
While essential, these tasks are nonetheless time-consuming and sometimes error-prone, which can impact sales and customer satisfaction.
Fortunately, sales teams can mitigate these difficulties by adopting configure price quote (CPQ) software.
In this article, we will explore the main challenges faced by sales teams and how CPQ software can help companies optimize their sales processes and drive revenue growth.
What are the main pain points for sales teams?
When creating quotes or proposals for customers, these are the most common pain points that sales reps face.
Inaccurate quotations
When your business contains certain products that change based on other products or services contained in the quote, the need for pricing parameters increases.
This makes it difficult for sales representatives to price accurately based on market factors such as supply and demand, payment terms, buyer history, etc.
Inconsistencies in pricing can occur when businesses do not have a standardized pricing structure or when different sales teams offer different prices to customers.
This can result in lost deals and revenue and decrease customer satisfaction.
Lengthy manual configuration of product pricing
Another common problem for sales teams is that they spend too much time on product configuration.
A study shows that 84% of sales professionals use Excel spreadsheets to manage their pricing.
This manual configuration introduces a risk of error and considerably slows down the process.
Finally, it means that salespeople must pull product configuration data from one system, then customer information from their CRM while consulting another spreadsheet containing a price list.
As a result, salespeople spend time manually collecting data as they move from one system to another.
That's less time they can spend researching new prospects, up-selling, and cross-selling to existing customers.
Price discounts are too high
While sales reps must close deals quickly and maintain a good sales pipeline performance, it is essential not to over-discount your final proposal.
Indeed, the process of approving company discounts is often a lengthy one, from the initial approval of quotes by the sales manager to final approval by the finance team.
You have to consider the primary pricing list and different types of volume discounts, all of which must be approved by upper management.
With a longer sales cycle, the deal's closing is delayed, which sometimes leads sales representatives to offer a more significant discount than necessary.
Thus, the deal was not sold at its fair value, which reduces margins because of wasted sales resources or too low a price.
Use CPQ systems to improve your business process
If you and your team face any of these problems when creating your quotes, you should consider using a CPQ tool to streamline your sales channels.
What is configure price quote software?
Configure price quote (CPQ) software is a type of sales tool that helps sales teams configure products or services, determine the correct price, and generate quotes for customers.
CPQ software automates much of the sales process, saving time, reducing the risk of errors, and providing greater flexibility to sales teams.
What are the benefits of configure price quote software?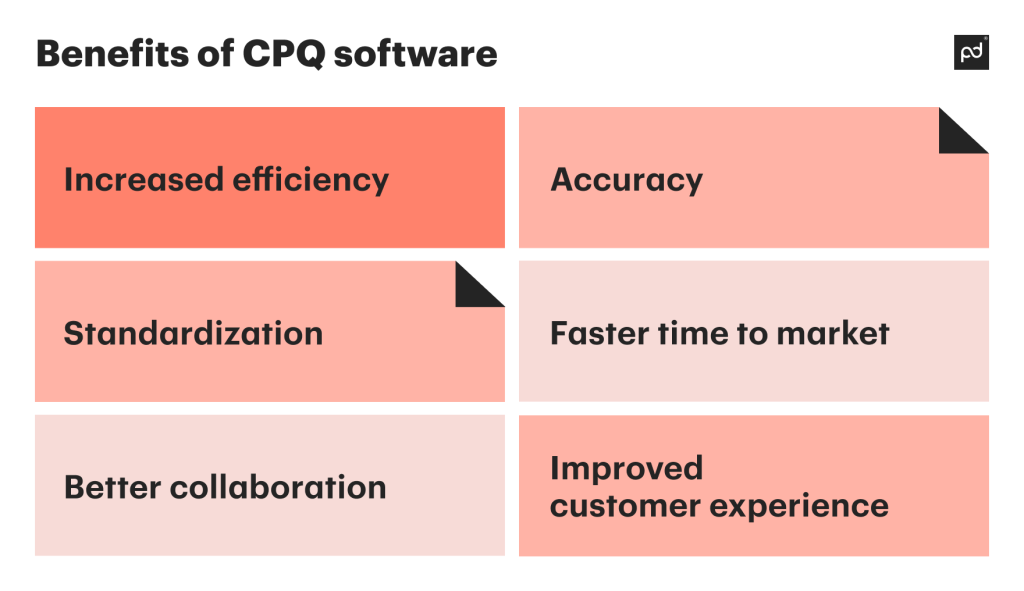 CPQ software provides many benefits for businesses, including increased efficiency, accuracy, standardization, faster time to market, better collaboration, and improved customer experience.
Increased efficiency
CPQ software automates much of the quotation management process, reducing the time and effort required for quote generation.
Sales teams can quickly configure products and services, determine prices, and create professional-looking quotes.
Improved accuracy
Another benefit of CPQ tools is the reduced risk of errors and inconsistencies in quotes, resulting in fewer customer disputes and increased customer satisfaction.
Sales teams can rely on the software to provide accurate pricing and configuration information, reducing the risk of manual errors.
Standardized pricing
You should also consider CPQ software because it helps your business to develop a standardized pricing structure and pricing strategy, ensuring consistency across sales teams.
This results in a more professional and transparent sales process, which can improve customer trust and satisfaction.
Faster time to market
CPQ software can speed up the sales process, reducing the time it takes to generate quotes and get them to customers.
This results in faster time to market for new products and services, improving revenue growth.
Better collaboration
Another point is that CPQ software enables sales teams to collaborate more effectively, sharing information and best practices to improve the sales process.
Sales managers can also use the software to track sales teams' performance, identify areas for improvement, and provide coaching and training.
Improved customer experience
When businesses employ CPQ software to get a streamlined and consistent sales process, it results in an overall better customer experience.
Customers receive accurate and professional-looking quotes quickly, which can improve their confidence in the business and reduce the risk of lost deals.
Use PandaDoc CPQ software to boost your productivity
You can start now with PandaDoc CPQ software to increase productivity, improve customer experience, and save time by creating a fast and simple workflow.
With PandaDoc CPQ, your company will increase its close rate by up to 36% with robust document solutions.
Here are a few examples of the features you will find with this application:
Set up, build, and close new deals
With PandaDoc CPQ, you can quickly preconfigure the exact products and services your team will need to launch into the market.
PandaDoc also has more than 750 ready-to-use templates for quotes, proposals, agreements, and any document you need to close commercial offers.
Lastly, make the negotiations easier by incorporating all significant comments directly into the document and modifying them simultaneously with your team.
Reduce manual input
PandaDoc can generate accurate quotes in minutes by automatically importing data from your company's CRM, like Salesforce.
Thus, your sales team does not have to waste time manually entering data.
The recipients can choose the package and optional products and services that best suit them right away, thanks to interactive pricing tables.
Additionally, you can offer them a quantity discount without manually calculating a total or searching through a pricing spreadsheet when they order more than one item.
Collaborate with all stakeholders
PandaDoc's features also allow you to collaborate easily and in real time with your internal and external partners.
Indeed, you can work collaboratively on your documents by editing them simultaneously or gathering feedback directly in the document.
Lastly, PandaDoc's electronic signature solution makes it simple for coworkers, clients, and prospects to sign important documents on any device anywhere.
Now that you know the importance of CPQ software in the resolution of sales pain points and the value CPQ tools bring to accelerating the sales pipeline, all you have to do is use the functionality of PandaDoc to automate the creation of your quotes and save time.
Contact our representatives and start your free demo!
Disclaimer
PandDoc is not a law firm, or a substitute for an attorney or law firm. This page is not intended to and does not provide legal advice. Should you have legal questions on the validity of e-signatures or digital signatures and the enforceability thereof, please consult with an attorney or law firm. Use of PandaDocs services are governed by our Terms of Use and Privacy Policy.