As a business, you may at some point decide to outsource work.
That means you'll invite external businesses or individuals to tender for that work, which in turn means you'll need to know how to compare proposals.
One way to streamline this process is to use proposal software, but you still need to know what to look out for when deciding which proposal to go with.
Let's take a look at the key things you need to consider and what to pay attention to: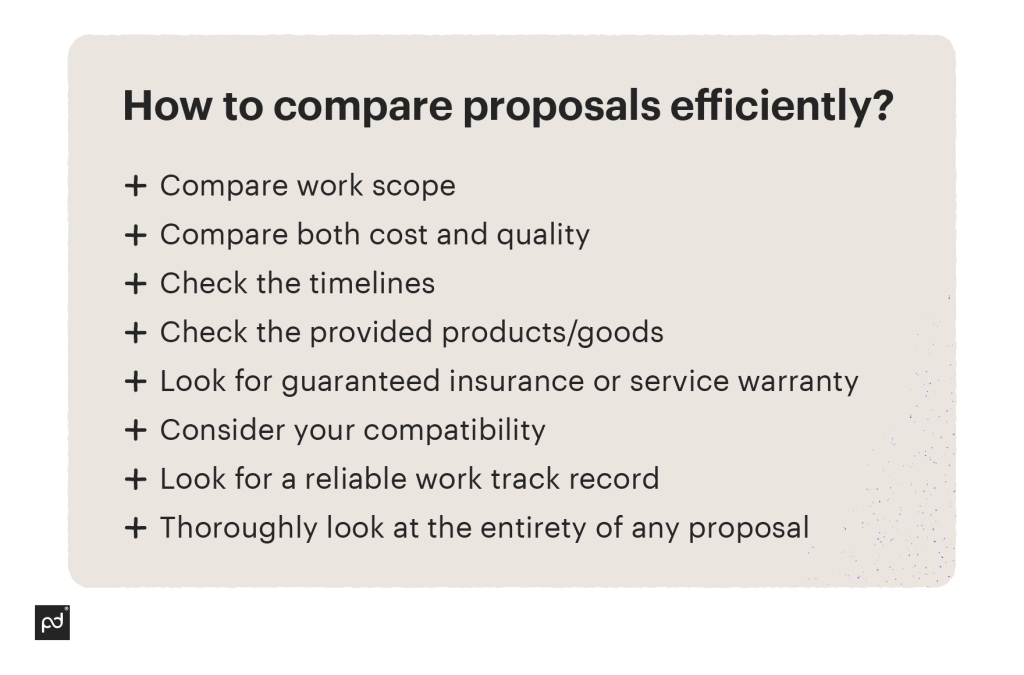 1. Compare work scope
When you're looking at different proposals, one of the first things you'll want to consider is how much of the work each company can do for you — the scope of work they can complete.
First, look at how much each company is offering, and whether you will need to compromise on aspects of your project.
Is there a company whose proposal is the best, but lacking in one particular feature?
Decide whether you'd prefer to hire them and an additional contractor, or if you'd rather find someone who can offer everything, but not quite at the same level.
It can often be better to go with a single company that provides everything you want, rather than having to split a project up between multiple contractors.
Not only is it likely to be more efficient, but you can also save on things like delivery costs.
However, you might decide the more complex option is better to get exactly what you need.
2. Compare both cost and quality
While it's natural to want a lower cost wherever possible, it's important to ensure you're getting both good quality and value for the money you spend, not just the cheapest possible deal.
It's important to shop around for the best proposals out there, so try to figure out why some deals might be more affordable than others. Is the company younger?
Are they trying to offload some excess stock?
If it's the latter, it might be a win-win situation. However, you should make sure that you're not just getting something that's of poor quality.
The saying that there's no such thing as a free lunch might be relevant — if you get a very cheap deal in the short term, you might find yourself paying for it in the long run.
But that's not to say that there aren't good deals available.
3. Check the timelines
Another really important factor to consider when comparing different proposals is the timeline offered for the work to be carried out.
Some providers may be a little vague about their proposed timelines, but the more specific they can be, the better it is for you.
You'll want to consider start dates and also the proposed length of work.
You should check whether unexpected extra hours will mean having to pay more as well.
You can ask for a "guaranteed maximum price" that the job will cost you, regardless of the extra hours incurred.
If you're using one of the best proposal software solutions available, they should easily be able to add this information in when requested.
If one bid is significantly lower than others you've received, it's possible that the contractor hasn't fully calculated what your project will truly cost and how much time it will take them.
You can protect yourself by entering into a fixed-price agreement — just ensure the agreement includes everything you need.
4. Check the provided products/goods
An important consideration when choosing a proposal is to look at the actual goods and products that will be used.
For example, if you're hiring someone to add insulation to your loft, you'll need to look at the insulation they choose.
Is it fire retardant? Is it thick enough to meet legal and practical requirements?
Choosing a low-cost and low-quality product can be one way for a contractor to try and increase their profit margin, so take the time to do your own research and check you're getting products of high quality.
5. Look for guaranteed insurance or service warranties
Sometimes you need to pay a little more for better insurance cover.
Look for proposals that offer guaranteed insurance because it is likely to pay off in the long run.
You should also look out for the provision for workmanship. This is a guarantee that the work they'll complete for you will be carried out to a certain standard.
Some companies will offer an express warranty in the contract which guarantees a specific standard of construction quality.
Both of these show that the company is confident in what they're delivering, which is a great source of quality assurance.
Beyond this, make sure that the company is insured in case of an accident.
If they aren't insured and an accident happens on your property, you may find yourself liable for their medical bills as well as other expenses.
You can also check to see if coverage for damages that are a result of their error is included.
For example, a plumber may cover the cost of repairing a leaky pipe, but not the damage to your insulation as a result of the leak.
In the case of a proposal for less tangible work — say, in the area of software development, for instance — the equivalent is a service warranty.
In any proposal, you'll want to look for a warranty clause that protects your business by ensuring the software you're paying for will deliver for you over time.
For example, a warranty in a proposal may promise that the software will deliver the requested functionality (when used correctly) for a period of at least 12 months.
Crucially, it should also state that if the software falls short of that promise, the developer will rectify any problems.
By making sure all of this is included in the proposal, you can ensure that if something does go wrong, you won't get left hung out to dry.
6. Consider your compatibility
Compatibility is something to take into consideration on multiple levels.
First of all, are you compatible as people?
It's important to meet the faces behind a company and see if you vibe well with each other. Is their project management style one that you like?
What does their decision-making process look like?
While this might sound a bit vague, talking over the phone or via video chat with someone — or better yet in person — can allow you to assess whether you're a good fit and whether you feel you can trust the people who will be carrying out the work for you.
Next, you should look at whether you're compatible in terms of values and ethos as well as functionality.
If your brand is highly ethical and values environmental protection, then you would want to make sure that any company you work with or outsource to is the same.
They should source their materials ethically and make sustainable choices.
You also want to make sure that their work matches the image that you project to your own customers as a business.
Perhaps they have an aesthetic that doesn't quite match yours, or their priorities are different.
Make sure you choose the proposal that aligns best with your business.
7. Look for a reliable work track record
It's always a good idea to check companies' reviews online by searching for the company name. See what other people have said about them on LinkedIn and elsewhere.
This can often be a really good way to spot any serious red flags and avoid working with someone who is unreliable.
If there are no reviews available that you can see, that should perhaps ring some alarm bells.
It's worth asking your friends and colleagues if they have any experience with a particular business.
In a lot of cases, word of mouth is the best way to find out if someone is reliable.
8. Thoroughly look at the entirety of any proposal
Before using electronic signature software to sign on the dotted line, you should look at the entire proposal very carefully and check that there aren't any parts you disagree with.
Any fine print that would scupper any of your plans or make your life hard, for instance.
Get a colleague — and potentially, someone from your legal team — to look over the proposals with you and highlight any parts you need further clarification on.
Remember, a proposal is just that, a proposal. It's not a final agreement, so now is the time to make changes.
Select the right proposals for your business
Selecting the right proposals for your business is about more than just choosing the lowest price.
You want to make sure that you pick the proposal that best suits your company's style, timeline, budget, and quality requirements.
You also want to go with a reputable company that you can trust, so getting to know the people behind the proposals is a must for a healthy and happy working relationship.
Having the right software in place can make this process much easier, as document workflow software like PandaDoc lets you collaborate within the proposal itself.
That way, any changes you need to make or questions you have can be dealt with right away.
You can also send out a template along with your request for proposals, making it easier to directly compare them.
Disclaimer
PandDoc is not a law firm, or a substitute for an attorney or law firm. This page is not intended to and does not provide legal advice. Should you have legal questions on the validity of e-signatures or digital signatures and the enforceability thereof, please consult with an attorney or law firm. Use of PandaDocs services are governed by our Terms of Use and Privacy Policy.
Frequently asked questions
For websites and web design, you should compare price, customizability, ease of use, loading speed, plug-ins, and any other aspect that's important to your particular business.

Some websites are better than others at displaying photos or functioning as an online shop, for example. Make sure to look at previous websites the company has made.

To compare bids, you need to look at more than just pricing.

Make sure to look at other metrics, such as the providers' reputation, product functionality, timeframe, product quality, and ethos.

That way, you're not just picking the cheapest, you're picking the best one for you.