Proposals and contracts sometimes travel across blurred lines.
Although these two terminologies are constantly used in business settings, more often than not, they're used interchangeably.
If you're in the middle of discussing project details with a prospective client and are second-guessing if you need a proposal or a contract to finalize business dealings, then fear not — you've come to the right place!
In this article, we'll help you mark a clear distinction between proposals and contracts, help you identify the qualities that define and separate them, and show how you can create a binding contract and business proposal.
What's a proposal?
A proposal, widely known as a business proposal, is a formal document that you present to a potential client to be considered for a project.
These can be created when making a cold pitch to a client, or when the client sends an RFP (request for proposal) — the only catch is, they need to be customized based on the client's needs and requirements.
More often than not, a proposal will include details such as the scope of work, the time frame of project deliverables and milestones, the number of revisions, timelines, etc.
When you submit a business proposal, you often compete with multiple companies and freelancers for the same project, so make sure you do your bit to stand out from the rest.
If you're interested to know how to make a riveting business proposal that captures a potential client's attention, then we have just the resource for you: How to write a business proposal (the modern way).
What's a contract?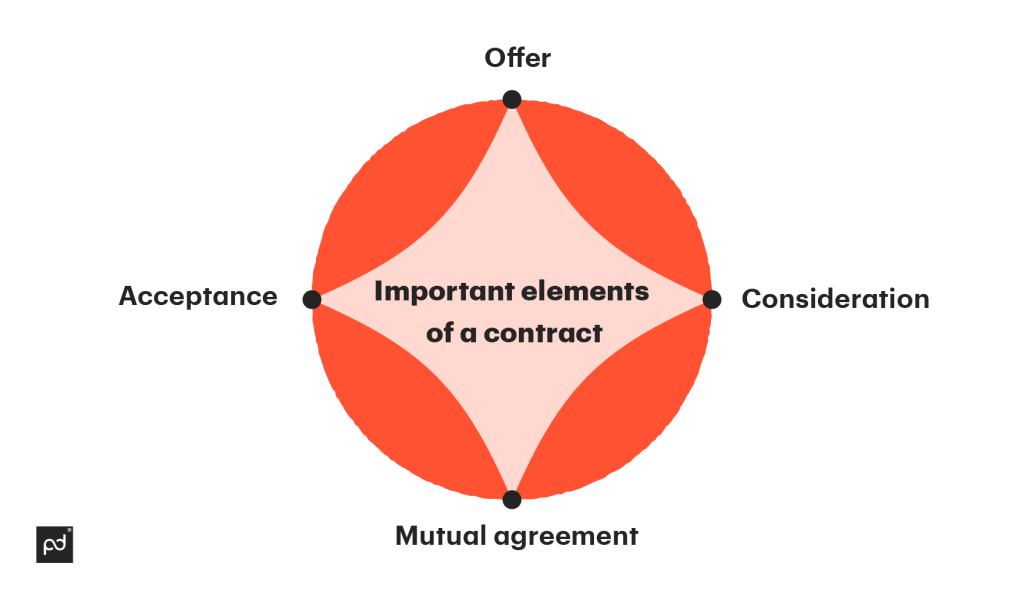 A contract is a binding agreement between two or more parties that contains legalese and can be upheld in court.
For a contract to be legal and valid, it needs to have four important elements: offer, acceptance, consideration, and mutual agreement.
The legality of contracts depends upon the jurisdictions they operate in. For example, in some states of the U.S., peer-to-peer lending investments are not allowed, and hence no contracts regarding the same can be upheld in court.
However, if you create a contract in Hawaii (which allows peer-to-peer lending), the same contract can be upheld in court.
It is widely suggested that businesses (be it freelance or otherwise) operate with contracts for all proceedings.
Documents like legal contracts are usually created when all parties are on the same page (this can be through a series of discussions and counter offers).
Often, businesses employ the help of law firms or legal professionals to create legal documents such as a written contract, and these documents have details like the amount of money to be exchanged, what to do in situations like financial disputes, under which states are terms of the contract valid, etc.
What's the difference between these two?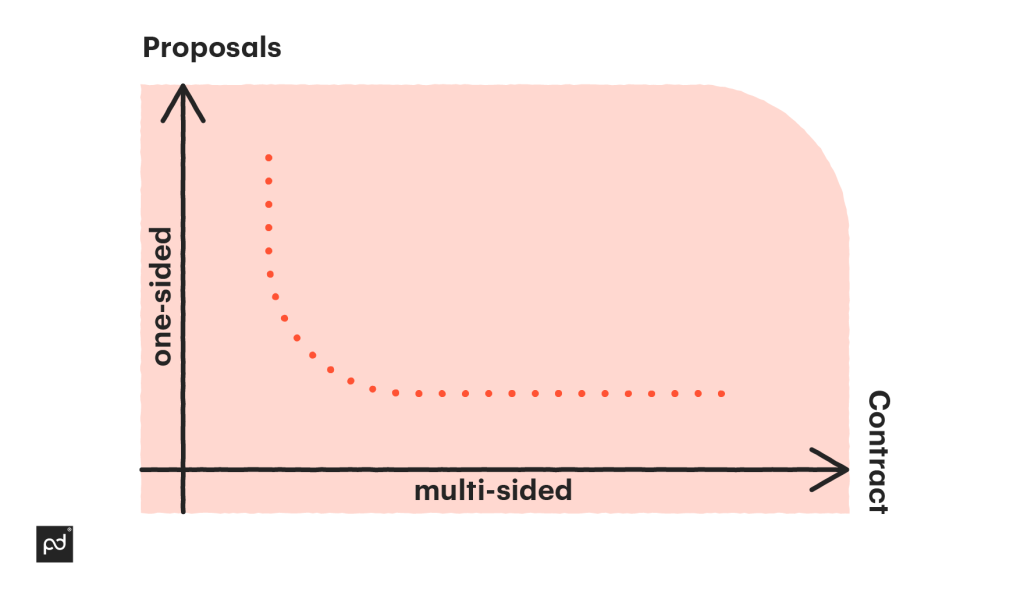 Although there are multiple ways to describe a proposal, the basic understanding is that a proposal is a pitch.
You can pitch your potential clients whichever way you want, and there are no set number of rules you have to operate within.
A contract, on the other hand, is not a pitch — it's a commitment.
It's also a finalized summary of all business discussions, and it must operate within certain rules to be considered legally valid.
In essence, because a proposal is usually a one-sided offer, which a client can either agree to or refuse, it does not classify as a contract.
On the flip side, legal contracts have the mutual agreement of all parties involved, making them two-sided. Because of the same, they can be enforceable by law, as a legal commitment was made by all parties involved.
But here's the kicker: a proposal can turn into a contract if it has all the necessary makings of a contract (ergo, offer, acceptance, consideration, and mutual agreement).
For example, if you submit a proposal, and the client agrees to it as-is, without requiring a counteroffer or an adjustment in timelines or scope of work, then it can become a legal document.
However, our advice would still be to separate these two documents entirely. And here's our reasoning behind it.
1. Consideration might be difficult to determine
In legal speak, considerations refer to the products and compensation exchanged during the course of a contract.
While proposals may have some details on the products/services provided and the compensation received, they don't cover such details as in-depth as a contract.
Additionally, they might not have enough information on the latest date to make payment, late fees, etc., and hence create some confusion.
2. You miss out on the benefits of a contract
If your prospective clients sign the proposal as a way to show interest in further discussing the proposal, then you might run into issues.
For example, even if you proceed to work for the client and, due to some disputes, end up in court with the client — then in such a case, the client can disregard the validity of the contract by stating mutual agreement as reasoning.
If you're in a similar situation, you will end up with the American "loser pays" provision where you will have to pay for all legal proceeds (for yourself and for the client).
How to turn a proposal into a contract?
Alright, let's imagine a scenario where you understand the importance of having a separate business proposal and legal contract, and still want to turn a proposal into a contract, then here's our advice for you: draft the terms of the contract within the proposal.
Include all necessary details, and incorporate all terms and conditions as you would otherwise do in a contract.
Make the terms fair for all parties involved, so that the client has maximum reasons to sign the proposal.
On the flip side, if your main concern is the wait time that comes between sending the client a proposal and then sending them a contract, then you skip the back-and-forth email communication and use PandaDoc's editor to upload both documents at the same time.
Using this service will also allow you to see how your potential clients interact with your documents, and you can edit your future contracts keeping the same insights in mind.
Create proposals and contracts in a few minutes
If you're thinking that developing and uploading contracts and proposals on PandaDoc is going to take just as long as it takes you to draft your manual contract, then you're mistaken.
We have an extensive library of proposal templates and contract templates that are written by experts and pre-vetted by consultants and legal professionals, which means they're optimized in such a way that guarantees the clients sign them asap.
All you need to do is select the proposal or contract that best fits your needs (alternatively, you can upload your own documents into our system), edit the document as you see fit, and send it to your client.
From there on, we'll keep you updated with insights and notifications. Interested?
Take us for a free spin! After 14 days, if you like what you see, it's only $19/month to continue!
Disclaimer
PandDoc is not a law firm, or a substitute for an attorney or law firm. This page is not intended to and does not provide legal advice. Should you have legal questions on the validity of e-signatures or digital signatures and the enforceability thereof, please consult with an attorney or law firm. Use of PandaDocs services are governed by our Terms of Use and Privacy Policy.