There are tons of sponsorship proposal templates out there, but you need to know how to make them work.
You are arranging a fabulous event. You're envisioning entrepreneurs finding investment partners and companies signing documents at the party run under your flag.
But first, you need to attract guests. This may take renting a chic venue, decorating it in a particular way, inviting celebrities and musicians, exceptional catering, and other expenses.
The costs to organize a great event may come to six figures. And the best way to turn an event into a source of revenue rather than an expense is by getting sponsored.
To do so, you need to approach multiple companies with a sponsorship proposal. But how do you write it?
The seemingly obvious but nonetheless best thing to do is to work from a template. Now, you may have already come across a number of sponsorship proposal templates on the internet.
They all make sense, but some fields might have you scratching your head as to how you should fill them.
No worries. We've written this post to guide you through sponsorship basics and the elements your proposal should include to attract funding.
Regardless of your current organizing stage, you'll find several useful ideas, so keep reading.
→DOWNLOAD NOW: FREE SPONSORSHIP PROPOSAL TEMPLATE
Do your homework first
You may be tempted to write a description for your upcoming event and send sponsorship requests to a large email list, hoping something sticks. Not so fast.
Generic outreach hardly ever yields results. Instead, you need to make your offer acutely relevant, and the following four steps will help you do so.
1. Screen your target audience
You probably know your preferred audience cold and have an attendee profile if you have previously arranged an event like the one you're planning.
This is a necessary starting point — you must have an image of your ideal attendee at the point of writing a sponsorship proposal.
But your ideal attendee may differ from the realistic picture of who's out there and available — the people who will show up. And that's the only demographic to consider at this point.
What you need to do is look at your target audience from a slightly different angle.
Ask yourself questions like these:
Who would find the event's topic interesting?
Who would be attracted to attending because of the confirmed celebrities?
Who will be physically able to attend the event at the time and date?
But answering those questions may not be easy, and it's best to rely on real-life data and evidence rather than assumptions.
Here are a few ideas of what you can do to help yourself:
Check out early registrants on Facebook, LinkedIn, and Twitter
Run a survey among registrants
Visit similar events and talk to guests
Check to see if there is an event with a similar audience taking place on the same day in the same city
Finally, you'll need to build the attendee profile that includes the following information:
Age
Gender
Occupation
Marital and parental status
Income level
Education level
Geographic location
Ethnic background
Religious beliefs
Hobbies
Technical knowledge
Tools like Google Analytics and Facebook Insights will help you uncover those details about your target audience — and sometimes the audience of your partners and competitors.
Use this data to take a deeper look at your website visitors and subscribers on social platforms.
Taking all these details into account is not only important to dodge (and catch!) bullets. You will likely end up having a diverse attendee profile.
For example, an event around blockchain could attract digital marketers, software developers, investors, and more. Each of them will represent a separate profile, or segment.
In this case, you'll need to outline all the different segments of your target audience and tailor your proposals accordingly.
The most effective proposal is the one focused on the segment a particular sponsor will be most interested in.
2. Figure out the potential sponsor's wants
The guest profiles you've built at the previous step will guide you as you select target sponsors. We suggest doing so in the following order:
Check out your potential guests' profiles on social media. Browse their subscriptions and make a list of companies you find. The names that pop up twice in your list should fit the bill and make up the core of potential sponsors.
Look at similar companies and add as many as you can.
Screen your candidates.
Read your potential sponsors' blogs and social media publications.
Your best shots are the companies who:
Have sponsored similar events in the past
Have seen recent changes in their management
Affected by major current events in their sector
Have just launched or are launching a new product or campaign
Have brand values corresponding to your event
Operate in these fields.
Refine all those details down to create tailored proposals for each company. For instance, if a company has just presented a new product, it still might have the budget to promote it.
Should your event provide such a promotion opportunity, hit them with it right between the eyes in your sponsorship proposal.
3. Connect the dots
You may see clearly how your event's audience relates to a potential sponsor's business. But you need to expand on this relationship, making that benefits shine like stars across a dark sky.
Imagine you're developing a campaign for the company you're targeting and include selling points like these:
Building brand awareness
Boosting sales
Bolstering brand image
Promoting a product
Here's how potential sponsors see the benefits of sponsoring events.
Of course, you may not be aware of the company's immediate priorities.
But give your prospective sponsor some food for thought, something from which they can take their cue, right from your cover letter.
4. Think through sponsorship opportunities
Once you know which goals you can help the potential sponsor achieve through your event, you can think of the perks.
Of course, they will depend on your event's specifics, but here are a few ideas from Eventbrite, Biletto, and our experience for starters:
Provide free WiFi for guests showing a sponsor's branding on a splash page when attendees connect to it.
Feature a sponsor's logo on the event's website and physical promotions.
Feature a sponsor on your website with a banner ad.
Offer sponsors a space on your Facebook and Twitter profile's cover photo slot.
Include an ad feature for a sponsor in pre- and post-event publications.
Include sponsor information in the event's mailout.
Let a sponsor put up a roll-up, information stand, or trade booth in the event venue.
Distribute a sponsor's materials among guests.
Get a sponsor's representative to speak at the event.
Brand a device charging station after a sponsor.
Set up a branded game lounge, where attendees can relax over games, or arrange other sponsored-themed areas.
Arrange a live stream from the event featuring a sponsor's branding, pre-rolls, and "bumper" videos running before the content starts to play.
Distribute sponsored merchandise like pens, swag bags, lanyards, and water bottles.
Place sponsor branding on staff uniforms.
Cover the floor, the venue entrance, or other objects with branded vinyl wraps.
Set up an interactive wall featuring a sponsor's branding.
Offer a catering menu branded with a sponsor.
Fill the template
You have the attendee profile, a list of potential event sponsors, and a stack of sponsorship options. Now is the time to arrange all that data in a proposal.
The good news is you don't need to write the document from scratch. PandaDoc has already created a nice sponsorship proposal template for you to work from. Let's guide you through the template and suggest a few bonus sections.
1. Start with the cover page
The cover page should provide general details.
Those include the name of the decision maker you're addressing your proposal to and their company name, your name and company, your logo, and your event's title.
But most importantly, the cover should feature a title.
And if you want to differentiate yourself from other proposals on your addressee's table, avoid generic titles like "Sponsorship proposal for ABCDEvent".
Try to develop something more specific, a call to action that immediately relates to the client's business. Check out these examples:
"Present your new wallpaper to the Designer Crowd offline"
"Get in sight of construction managers at the ABCDEvent"
"Climate change: Show that you care at the ABCDEvent"
You get the idea. However, make sure you add "event sponsorship proposal" somewhere on the page, making it easy to spot.
This will help the person responsible for sorting all incoming mail put your document in the right box.
→DOWNLOAD NOW: FREE SPONSORSHIP PROPOSAL TEMPLATE
2. Introduce yourself and your event
Consider the first page of your proposal as a sponsorship letter and write it accordingly.
If you know the recipient's name, address them directly and write as if you were sitting and talking to them.
As you proceed, include these details:
Event name
Date and time
Keynote speakers and entertainers (e.g.: John Doe, the CEO of Kansas Flying Chimps)
Catering and suppliers
Venue and location
What makes your event special (e.g.: why it will be attractive to the sponsor's target audience)
Confirmed sponsors
In the body of your sponsorship letter, emphasize how your event relates to the client's business. Use phrases like "according to our survey, 20% of our attendees are your clients" and similar.
And remember that social proof works better than anything you may say. So, if you have past events in your portfolio, provide testimonials from guests and participants.
Finally, use your sponsorship letter to build trust. List the key people behind the event alongside their photos, brief biographies, and accolades.
This will show the recipient you're transparent and, well, real. People prefer working with people, not organizations.
3. Boast your event's demographics
You've previously created a detailed attendee profile. Now it's time to present that data in a digestible way, highlighting how the potential sponsor's business relates to your audience.
Consider putting together an infographic featuring the most important details — like the one below.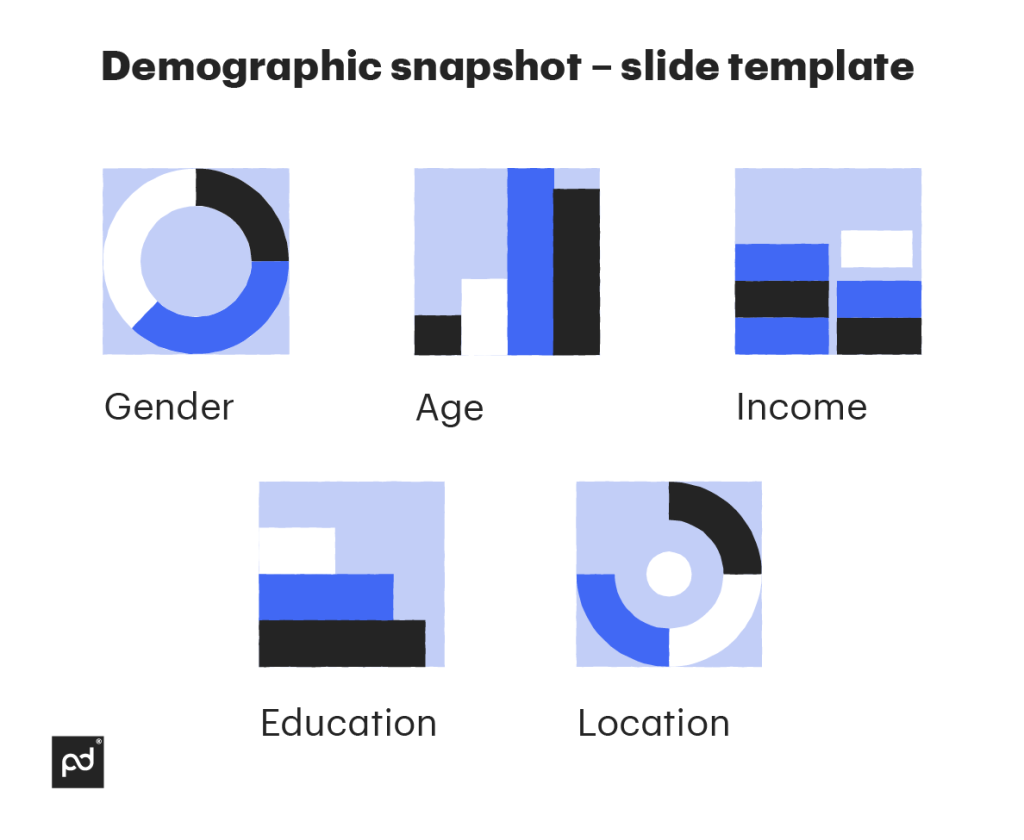 4. Lay bare any cold, hard data
If you have previously thrown a similar event and collected stats, it's now time to use them.
But even if you don't have such information, you may have intelligence from other organizers or general stats. Whatever you've got will work as a selling point.
Think about the following numbers:
Gross revenue from promotions
How many people have checked in for similar events and how many have actually attended them
How many active community members do you have
Your visit-to-purchase conversion rate
How many people have been engaged with similar events online
How many people you can reach out to on- and offline with essential funding
These examples should inspire your imagination to develop your own KPIs based on your event's specifics.
5. Outline your "why"
You've probably chosen a specific potential sponsor because their values resonate with your event's mission. But they may not realize as much until you lay the relationship out in black and white.
Use this section to tell the recipient about your event's objectives.
And make sure those go hand in hand with the sponsor's philosophy (or at least what they describe it to be).
Here is an example from an event for female technology founders:
"We are passionate about helping business owners in tech connect with industry-specific mentors, investors, access to alternative finance, thought leaders, grants, education, support and so much more! Our goal is to use our platform to educate tech business owners on how to scale up their businesses and exit effectively."
This is not the best form as 28 words, 12 nouns, 6 commas, and 2 exclamation points make the sentence difficult to understand. But you get the idea.
6. Tell them where their money goes
"But what do you need my money for?" the prospective sponsor will ask you. Be sure to not leave them any chance to cut you loose here.
Present your spending plan in a pie chart. List things like venue rent, marketing, entertainment, guest housing, catering, staff, presents, and everything that makes up your event.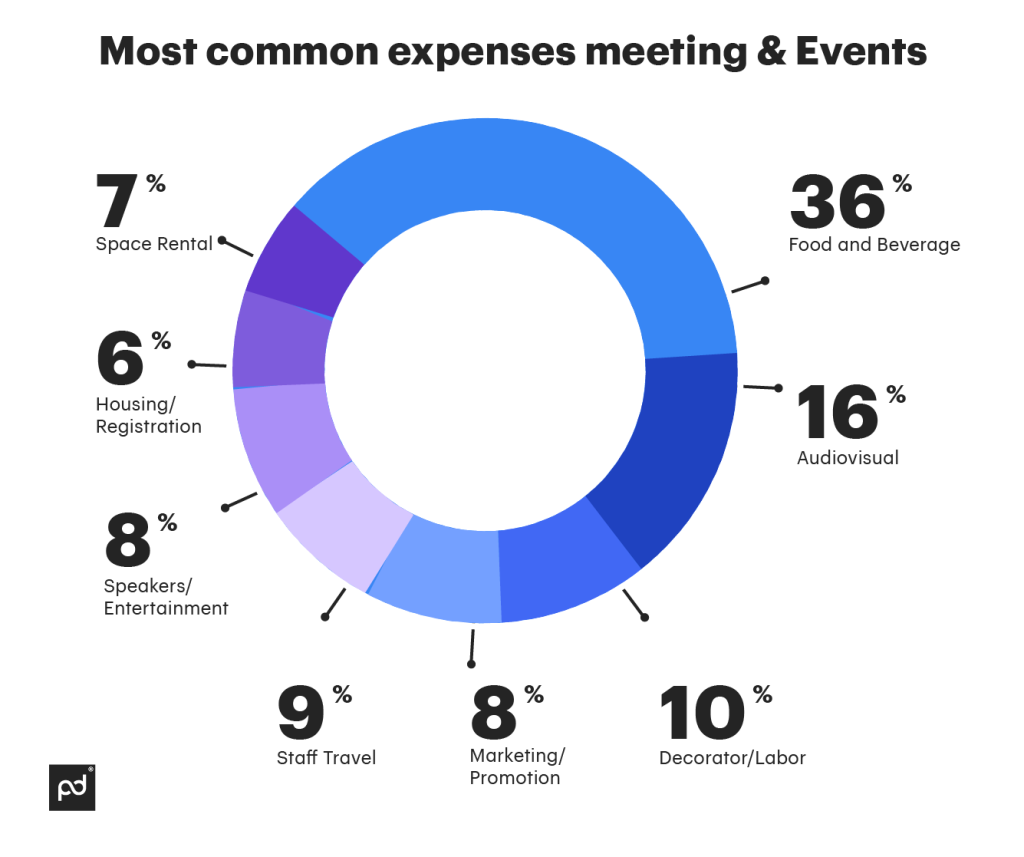 7. Show you're at it with a timeline
Your sponsor will want to make sure you're committed to the event.
And you can prove commitment by presenting the event planning timeline in your proposal. Here's a general idea of what your timeline may look like:

Draw on this example and develop your own, detailed timeline.
8. List sponsorship packages
You've previously put together your sponsorship options. For the proposal, split the list of options into several packages varying in value.
The more valuable the package is, the higher the sponsorship level and the more expensive it should be. Check out this example: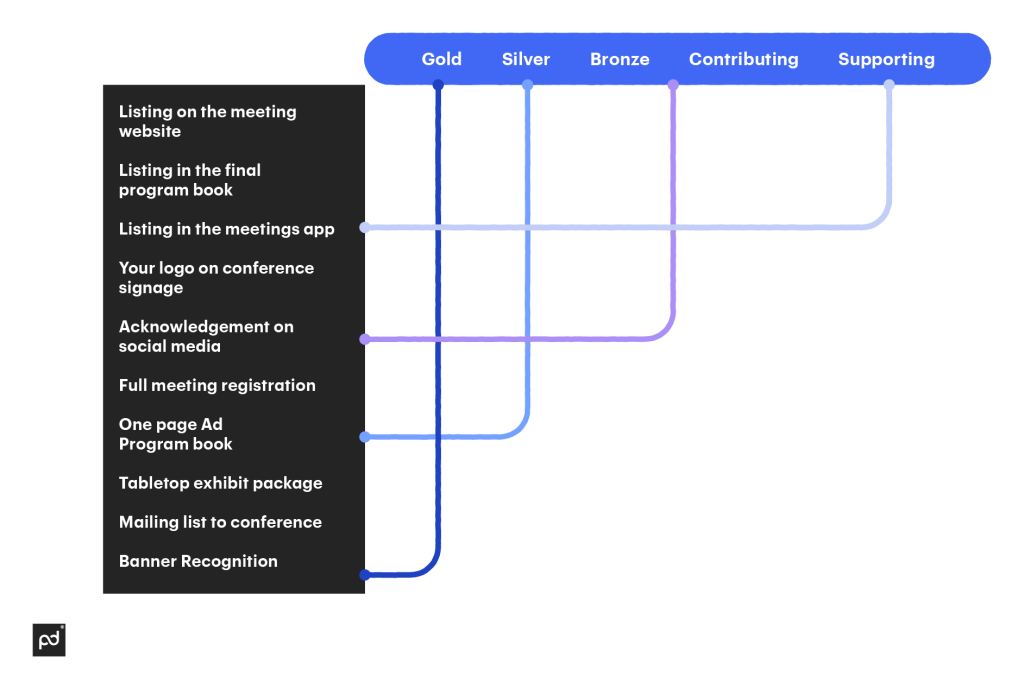 If you're sending your proposal online, you can use the benefits of the interactive template provided by PandaDoc.
For instance, you can allow the recipient to choose a sponsorship package, and the sum will appear in the terms and conditions below.
9. Do the boring stuff: the terms and conditions
Sometimes companies create a separate document called a sponsorship agreement.
But a comprehensive template already has its last page dedicated to this specific purpose to reduce follow-up mail.
On this page, you should include the following details:
Event name
Sponsor company name
Sponsor company address
Your company name
Event date
Amount of the contribution
The date by which the contribution is to be provided
Termination date
Changes and cancellations terms
The page should wind up in a standard signature box and your contact information like phone number and email.
If you're using the PandaDoc template, you've already provided most of those details, and they will appear in the respective fields automatically.
Moreover, you can use electronic signatures to speed things up.
In a nutshell
Do your homework before approaching potential sponsors: build a detailed attendee profile and connect it to sponsors' interests.
After that, you can write your winning sponsorship proposal.
Treat your proposal as a bank loan application. Be open about who you are, what your event is all about, and how you plan to arrange it.
Use a conversational tone and connect your event's goals and audience with the sponsor's goals and audience. And don't forget to present data in easily digestible visuals like diagrams.
As you proceed with your event, you'll need documents for vendor relations, marketing, and more. PandaDoc has you covered with essential templates.
If you haven't used it yet, start your free trial now.
Frequently asked questions
Sure, you can. But to win over your sponsors, consider tailoring each proposal for their needs and business specifics. Then, use the template to create the core and modify it for each recipient, paying special attention to the cover letter.

Consider your users or customers. Check out their social profiles, run a survey and meet people at similar events. As for numbers, ask organizers of similar events for their stats directly. They might be willing to share those, especially if they're in a different city and you pose no threat as a competitor.

First of all, think about how your event is unique from the viewpoint of the potential sponsors. For instance, they may have launched a specific product related to your event's theme.
Disclaimer
PandDoc is not a law firm, or a substitute for an attorney or law firm. This page is not intended to and does not provide legal advice. Should you have legal questions on the validity of e-signatures or digital signatures and the enforceability thereof, please consult with an attorney or law firm. Use of PandaDocs services are governed by our Terms of Use and Privacy Policy.