Think about it: so many of the big moments in your life require a proposal. A marriage. A business deal. A life-changing pitch.
The truth of the matter is, if you don't put forth a proposition, you're pretty much eliminating any chance you have to attain its desired outcome.
However, as the saying goes: It's not what you say; it's how you say it. So, essentially, in a business context, it's not what you write in a business proposal, it's how you present it, too.
We'll also go a step further and add that timing plays an important role as well (and you should know which situations require which kind of proposals).
In today's article, we're not discussing the specifics of a marriage or that pitch for when you're stuck in an elevator with Warren Buffett.
Instead, we're covering how to create a business proposal (and which format to use to best get your point across).
So sit tight and enjoy as we explain the insider tips and tricks of proposal writing and teach you how to construct them in such a way that it captures the attention of potential clients!
Types of proposal formats and when to use them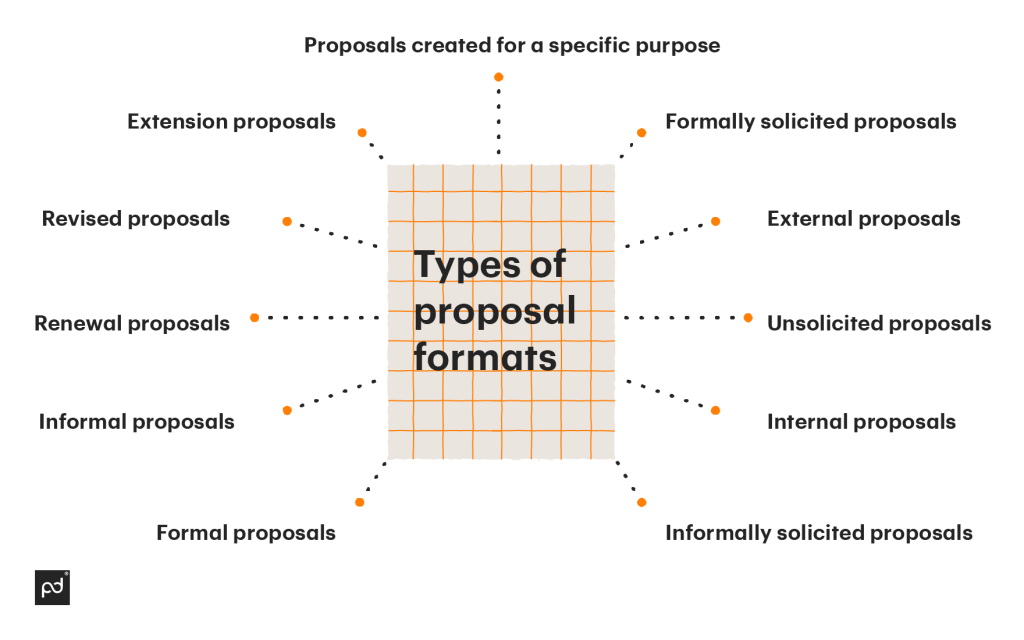 Business proposals can be classified into eleven distinct categories, namely: formally solicited, informally solicited, unsolicited, internal, external, formal, informal, renewal, revised, extension, and specific purpose.
1. Formally solicited proposals
Formally solicited proposals function in business and academic settings. In a business setting, they're usually created when a prospective client sends an RFP (request for proposal) or an RFI (request for information).
They're mainly initiated so the client can understand how the service provider stands out from its competitors.
2. Informally solicited proposals
An informally solicited proposal is just like a formally solicited proposal, except a prospective client doesn't send a business document, such as an RFP, RFI, or RFQ, to the service provider.
That is to say, the prospect is still interested in receiving a proposed solution from the provider, but doesn't want the hassle of sending a business document to request it.
3. Unsolicited proposals
Unsolicited proposals are the ones that have not been requested by a potential client.
When a service provider sends someone an unsolicited proposal, they usually approach the prospect as a cold lead, informing them about the products/services the provider offers, and how they can benefit from the collaboration.
4. Internal proposals
As the name would suggest, internal proposals are created for internal stakeholders of an organization.
These proposals can discuss the business plans of the company, include strategies on how to attain new clients, show new ways of addressing customer pain points, etc.
Oftentimes, such proposals contain sensitive information that can't be shared with a third party.
Here's a guide on how to construct an internal proposal: How To Write an Internal Proposal.
5. External proposals
External proposals are created for potential clients — they address details like project deliverables, payment schedules, project timelines, testimonials, etc.
Additionally, they may also include a cover letter and show a step-by-step on how the company plans to eradicate the client's problems and achieve project milestones.
6. Formal proposals
As an extension to internal and external proposals, formal proposals are written for people outside of an organization.
Usually, they're constructed as a response to an RFP or an RFI.
They also have the razzle-dazzle of formal speech associated with them, so be sure to run your proposals through Grammarly to ensure your tone of voice (TOV) is on-point.
7. Informal proposals
An informal proposal is more or less like a long-form email. In most situations, it's created for people within an organization, specifically to present them with a new idea or approach.
When compared to formal proposals (which are more detailed), informal proposals are far shorter.
8. Renewal proposals
Oftentimes, if you are already working with a client and your contract expires, you need to recreate a new proposal (to pitch an extension of the service) and a renewal contract.
Renewal proposals are typically created when the project has fulfilled all its expectations, and both parties wish to re-enter an agreement.
9. Revised proposals
Imagine a scenario where you submit a formally solicited proposal to a potential client. They like the proposal and wish to move forward with the services.
However, after further discussions, they'd like to alter certain details, such as the deliverables and project milestones.
In such a case, when you recreate a proposal to match the current needs of the client, that proposal will be called a revised proposal.
10. Extension proposals
If you're discussing a client's pain points and you find a gap in addressing their needs — and you believe you can present a better value proposition to them by sharing add-on services — you then create an additional proposal adding on to the original.
This proposal would be called the extension proposal.
11. Proposals created for a specific purpose
Different proposals serve different needs. For example, a grant proposal is written to get a grant from sponsors.
On a similar trajectory, a sales proposal, a marketing proposal, a business proposal, etc., can also be created to serve specific needs.
Companies providing different services, such as web design, social media, graphic design, content marketing, SEO, real estate, copywriting, etc., need to be aware of what kind of pitch they have and then use that as a guide to select a proposal that properly conveys their pitch.
How to create a business proposal template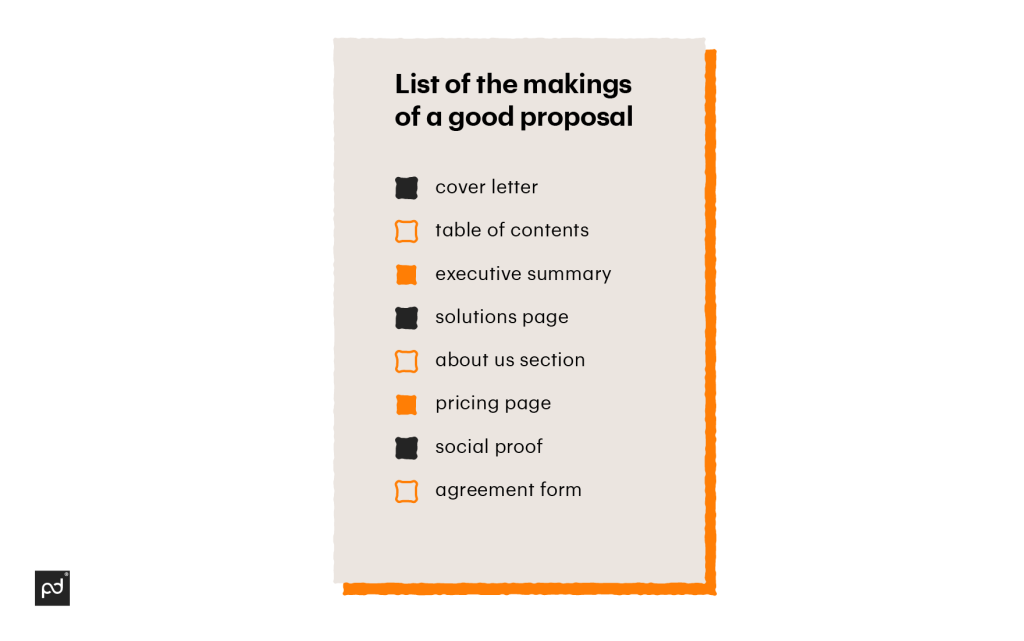 For the most part, if you're pitching to multiple potential clients for the same services, you can create a template to automate the entire process.
Here's how to make a modern business proposal:
Before beginning the process, create a proposal outline by researching the value proposition you're offering, the pain points of potential clients, and a structure that would summarize all important points.
Start with a personalized cover letter that's friendly and encouraging.
From there, add a table of contents and an executive summary, so the client knows what they're going to read before diving into the piece.
Next, make the business proposal effective by adding the proposal and solutions page. Follow up by adding an "about us" section and giving context on pricing.
End the proposal by adding social proof such as testimonials, and then add an agreement form (which is your CTA). You can also go a step further and add terms and conditions.
Learn how to create a comprehensive business proposal (based on data analyzed from 570,000 proposals): How to write a business proposal (the modern way).
Design proposals for all your business needs
If you're stuck in a rut and are having trouble creating a proposal from scratch, then worry not!
PandaDoc has an extensive library of over 167 business proposal templates that are created by experts and vetted by a team of editors, marketers, and writers.
This resource is now available for free!
Additionally, we also have free templates of agreements, contracts, forms, etc., available on our templates page. Get our proposal templates here: PandaDoc proposal templates.
Disclaimer
PandDoc is not a law firm, or a substitute for an attorney or law firm. This page is not intended to and does not provide legal advice. Should you have legal questions on the validity of e-signatures or digital signatures and the enforceability thereof, please consult with an attorney or law firm. Use of PandaDocs services are governed by our Terms of Use and Privacy Policy.